Here are 7 of our favorite flasks to use on hiking trails or while sitting around the campfire.
Innate Trad Flask
If you're looking for an ergonomic, beautifully shaped flask that perfectly fits your hands, then check out the Innate Trad Flask. This conversation starter flask is made of stainless steel and holds 6 ounces of your favorite beverage you like to nip on while hiking and camping. The Trad Flask comes with its own stainless steel funnel to assist in not losing a drop of liquid when filling.
Snow Peak Titanium Curved Flask
If you're looking to up your hiking trail-cred and you want a flask that will not tarnish the taste of your favorite peaty single malt, then you need the Snow Peak Titanium Curved Flask. Titanium is one of the strongest and lightest metals and when formed into a curved flask that will hold 6.4 ounces of your finest spirits, you will most certainly be the talk around the campfire.
Filson Trusty Flask
Do you want a classic leather wrapped, stainless steel, 6 ounce capacity flask? Feast your tastebuds on the Filson Trusty Flask. This flask is made in the USA and wrapped in a vegetable-tanned leather from Pennsylvania based Wickett & Craig. This flask is not only functional but it's beautiful in appearance.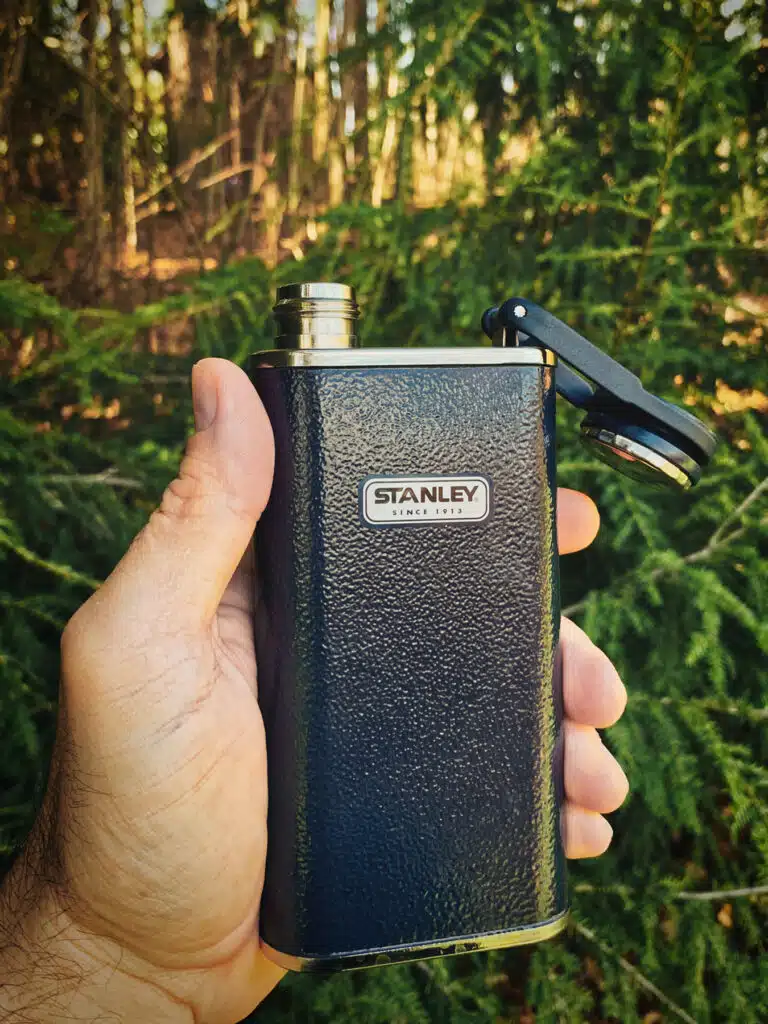 Stanley Classic Easy Fill Flask
If you're looking for a a classic, rugged flask that is easy to clean then the Stanley Classic Easy Fill Wide Mouth Flask is just your type. This leak proof flask holds 8 ounces of your favorite liquid du jour and is made of stainless steel with an attached flip cap.
Nalgene Flask
If you're looking for a simple, durable, lightweight flask for your outdoor adventures, then check out the Nalgene Flask. This 12 ounce capacity flask will fit perfectly in your pocket, your backpack, or your chest waders and is made of durable BPA, BPS and phthalate free plastic.
GSI Outdoors Glacier Stainless Hip Flask
The GSI Outdoors Glacier Stainless Hip Flask is a sleek, simple, and 6 ounce option to be your personal travel companion on the trails and while in camp. This flask has an ergonomic shape that will easily fit in your back pocket or a side pocket in your hiking pack. The flask comes with a polyethylene leash to keep the cap attached so it won't get lost out on the trails.
Hydro Flask The Rocks Cup
Are you looking for a non-traditional flask to contain your favorite hiking beverage? Check out the Hydro Flask The Rocks Cups. This cup comes in a variety of colors, holds 10 ounces of liquid and is insulated to keep your beverages cold or warm for hours. We've put Hydro Flask to the test on keeping liquids cold (and hot) and they truly hold up for a day's worth of outdoor activities.
***If you like outdoor gadgets, you will want to check out The Nomadik Box. The monthly subscription box sends useful and fun gear to enjoy the outdoors.