When it comes to RVing, there are certain personalities that are ideal for this unique style of traveling. Whether it is a couple taking a break from their 9-5 jobs, a family on summer vacation, or a single person venturing out to explore the world, there are certain common characteristics that make them perfect for RVing.
We are sharing the 15 personality traits that are most often associated with RVers, along with the qualities unique to each personality and how to determine which one you are!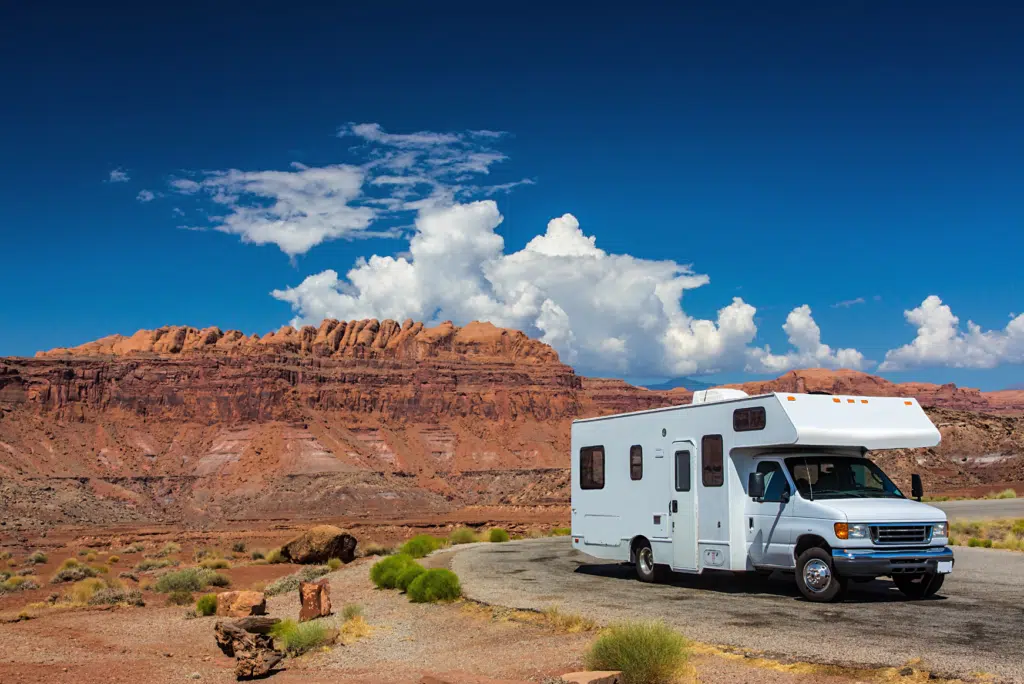 Gig Workers
For anyone that doesn't want to be tied down to a 9 to 5 job all year long, gig working is the perfect solution.
Gig workers usually travel to a different location every few months and work in a different location or setting. Usually these temporary employment opportunities involve great perks that can pad your bank account or save you a considerable amount of money so that you can travel more.
Some examples of gig workers are:
Traveling nurses or doctors
Farm hands
Holiday workers (such as at Amazon distribution centers)
Campground hosts and staff
National Park workers
With gig working, you will probably make even more money per hour for your willingness to travel to the location. Or you could be given free housing, such as a free campsite; free dining; or other perks.
If you are an RVer and a gig worker, you are able to take advantage of opportunities while having your home on wheels with you and not struggling to find temporary housing.
Full-Time Travelers
In the past few years, the number of full-time RVers has grown significantly. This is due to a combination of factors, most notably the increasing ability to work from home and the higher cost of housing lately.
Many working-age people have found that they can take their job anywhere and make a living. So they choose to live and work in a different location every few days, weeks or months.
If your company allows you to work remotely, or if you have a fully-digital job, then all you need is a reliable internet connection to continue working.
Retirees have found that they suddenly have the time to explore and enjoy traveling the world and it can be more cost effective to RV rather than fly and stay at hotels.
When we quit the 9-5 job and sold everything to go full time RVing in 2017, it definitely wasn't as common back then. People questioned how we could do it. Nowadays, full-time RVing is pretty common and is becoming easier.
Sports Enthusiasts
Outdoor enthusiasts often find they can enjoy their sports even more when using an RV for accommodations, rather than a hotel or vacation home.
Whether you are a hiker, fisher, surfer, golfer, fan of NASCAR races, or a mountain biker, you can get into the heart of the action with all the comforts of home.
Not only do you bring your home with you, but you can bring all of your sporting equipment without having to pack it on an airplane or in a car. After all, trying to pack a surfboard or golf bag is usually more hassle than it's worth.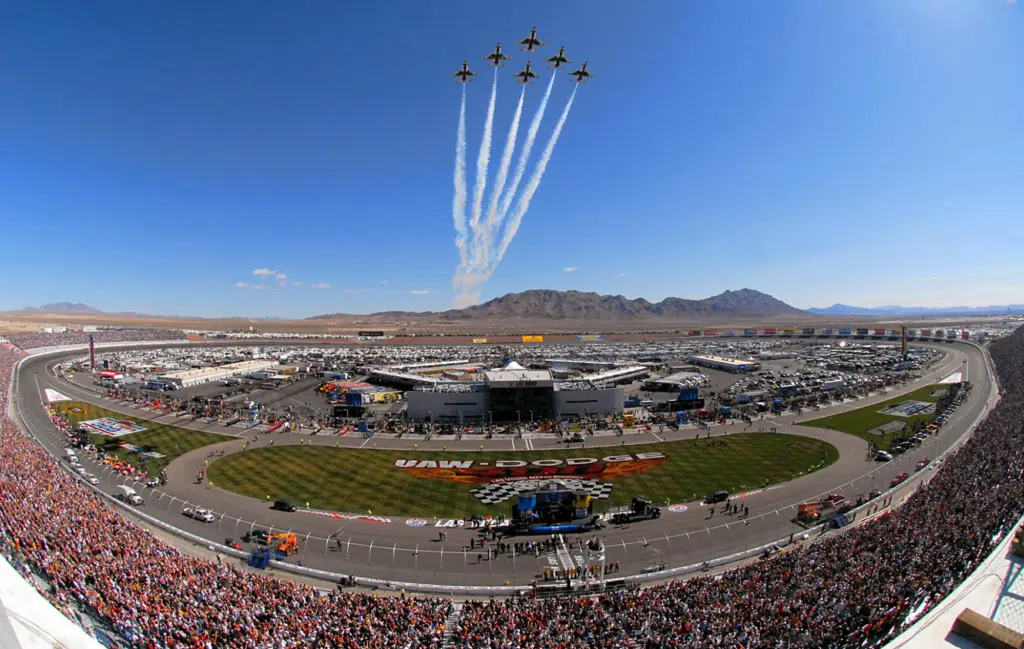 Not only can you bring all of your equipment with you, but you can also get closer to the action when you RV.
For instance, hikers can stay in a state park or national park campground and walk out the door directly onto a trail without needing to drive to the destination.
Surfers can camp next to the ocean. Golfers can park their RV in the golf course parking lot when using a Harvest Hosts membership.
Parking your RV in the middle of the infield for race events, and then tailgating, is one of the best perks of the lifestyle for race care fans!
Sustainable Travelers
If you are worried about your environmental footprint, then RVing and camping can be a great way to lessen your carbon footprint while still seeing the country.
You can make your home on wheels as sustainable and eco-friendly as you want.
For instance, adding solar-panels to your rig can reduce or eliminate your need for electricity.
A composting toilet allows you to dramatically reduce your usage of the sewer system.
Cooking your own food allows you to control the types of food that you purchase, as well as how much packaging it uses and how you take care of any waste.
Eco-tourism is popular among RVers because few other modes of travel allow you to embed yourself in nature and really experience untouched wilderness.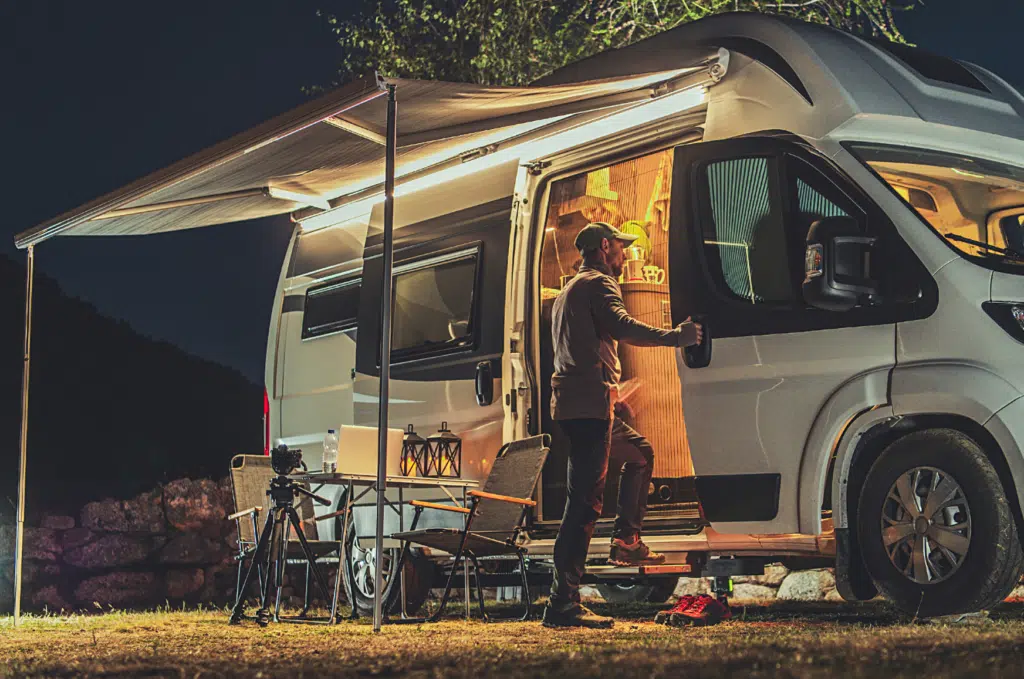 Thrifters and Shoppers
Whether your job or your passion involves picking up treasures during your travels, you will soon find that your car can only carry so much and paying for extra luggage for flights is too expensive.
When you travel by RV, you are able to pick up more treasures at thrift stores, flea markets, swap meets consignment stores and festivals.
While you will still have some size and weight limitations, you will be able to purchase many more treasures when transporting them in your RV.
Pet Parents
Most people cannot easily travel without their pets. Whether you cannot find someone to watch them in your home, or the cost of boarding your pets is too much, it can be easier and less expensive to bring your pets with you.
RVing allows you to bring your favorite four-legged friend with you. It is very common to see RVers with their dogs and cats with them. Some people travel with other types of pets, too.
Just be aware that not all campgrounds allow animals. If you are boondocking or staying in a campground, always pick up after your pets. No one wants to arrive at their campsite and find that they've stepped in dog poop.
Travelers with Special Needs
Many travelers have special needs that are not always easy to accommodate in traditional methods of travel.
Perhaps you have a CPAP machine that is difficult to pack and carry onto an airplane. Or you require oxygen which limits your ability to fly.
Travelers using assistive devices such as wheelchairs or walkers might feel that flying or train rides are too rushed to accommodate their needs.
Individuals with severe food allergies might find it easier to cook their own food rather than worry about how food is prepared when eating out.
Or maybe you have sensory issues and need a quiet mode of travel, or the ability to take a break and regroup.
An RV allows you to always have your home and a comfortable, familiar place to retreat to, as well as bringing all of the items you need for your specific needs.
Memory Makers
It is great to visit family and friends and be able to stay at their place for days or weeks at a time. But let's face it, no one loves sleeping in the guest bedroom with the uncomfortable small bed. Or feeling like you are invading someone's privacy.
An RV allows you to stay at your relatives or friend's house and spend as much time as you would like catching up and enjoying quality time together.
However, you also have the freedom to retreat back to your own space, getting much-needed privacy and rest when you want to.
Plus, you won't feel like you are wearing out your welcome if you are not always in someone else's house.
Another bonus is that you will have your own bed that's comfy, and you can cook your own meals without worrying about messing up someone else's kitchen or taking up too much room in their refrigerator.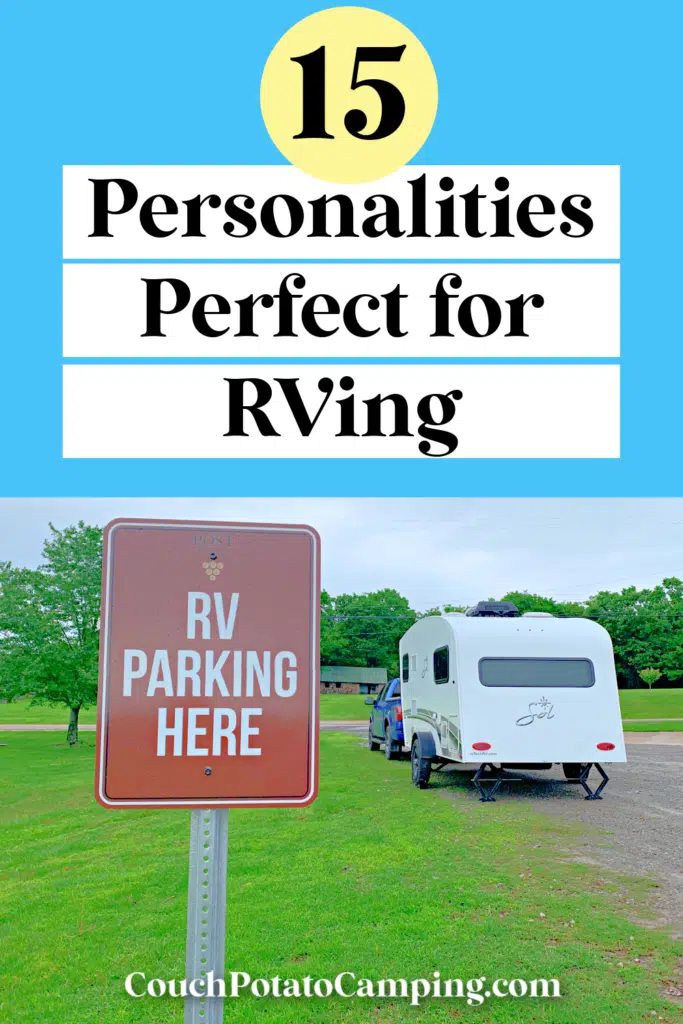 Consummate Host
Perhaps you have friends and family visiting a lot and don't have any space to host them inside your home.
Or, maybe you want to make some extra money by renting out an RV.
Either way, having an RV means you can use it in ways other than traveling yourself.
An RV can give you extra square footage to host family that visit. Or you can outfit your RV and offer it for short term rentals on RV rental sites such as Outdoorsy.
Foodies
While many people enjoy the ability to eat out when traveling, others don't find dining out to be enjoyable (or cost effective).
If you are someone that would prefer to cook your own meals wherever you are, then an RV is the perfect travel solution for you.
Sure, you could rent a vacation home and be able to cook. But that also means needing to buy all of the foods you'll need at each destination. Anything that you don't use would be wasted and possibly put in the trash, which is wasteful. Plus, you will never know if all of your favorite kitchen tools will be available in a rental kitchen.
Traveling in a motorhome or RV allows you to bring all of your favorite foods and spices with you. If you love wine or cocktails, you can travel with your own supplies, too.
Keep Your Daydream is a perfect YouTube channel for RVing foodies. Tricia loves to whip up fancy meals from their RV.
Be sure to see all of our RV-friendly camping food recipes to eat well while traveling!
Budget Travelers
While we wouldn't say that RVing is always cheaper, camping can be a much less expensive vacation that other travel.
If you already own an RV, or if you are tent camping or car camping, then the cost for your travels will be much less than flying or train rides.
Not only is the cost of a campground usually less than a hotel room, you can bring your own food and save on dining out costs. If you boondocks for free, then you will save a lot of money!
However, if you are buying a new RV and financing it, the cost of owning the RV, plus gas and campground costs, can start to rival the cost of traditional forms of travel.
Weekenders
For those who are seeking to escape the stress of their work weeks, an RV allows the opportunity to travel for the weekend without needing to book reservations ahead of time.
Owning an RV can allow you to come home from work on Friday, pack up some food and clothing for the weekend, and head out to the woods for a campfire underneath the stars by Friday night.
See our list of campground guides for some great places to visit for the weekend!
Artists and Show-Goers
Whether you enjoying attending arts festivals, music festivals, horse shows or any other type of special event, an RV makes it easier for you to be guaranteed affordable accommodations at your location.
If you are showing dogs in dog competitions or riding horses in horse competitions, it can be easier and less expensive to bring your own home with you rather than booking a hotel. Plus, there is often designated camping spots available on the premises for those involved with the show.
For anyone who is actively involved in selling items or showing animals, an RV allows you space to bring your animals or necessary supplies with you, especially if you have a toy hauler trailer with extra storage space.
Tailgaters
If you love socializing during sporting events, then an RV with a great kitchen is perfect for you!
Tailgating is an event in itself. Sometimes it is even more fun than the actual sporting event!
When you have an RV with a decent kitchen, especially an outdoor kitchen, you will be able to host a party before or during the sporting event. Outdoor TVs make the entertaining even more special.
Plus, the ability to have lots of seats with you, as well as a private bathroom to use, makes an RV almost essential for any great tailgating.
Budget – Conscious Workers
Let's not forget that many people are suddenly entering the RV world because the cost of housing in 2023 is insane. For many hard-working individuals and families, they simply cannot afford the cost of housing in the city where they need to work.
RVs can be a cost-effective long-term housing solution when you are unable to move to a different city that you can afford. Especially if you are able to buy a used RV, rather than financing.
If you have a friend or family with land where you can park for free, or if you can get an affordable long-term campground rate, then RVing can allow you to afford housing or save up money to pay for a downpayment for a traditional sticks and bricks home.
You might also like these posts: