You are enjoying a beautiful day travelling from one destination to your next, when an officer pulls you over for violating the law.
You have no idea what you did, and when you ask why you were pulled over and told the law you have violated, you are caught off guard completely!
Who knew it was against the law to have your flashers on while driving? If you're in Florida, it's not allowed.
When driving around the country in your RV, you will cross many state lines and, as a result, encounter many different laws. Because states and even cities have their own legal guidelines and unique laws, what is perfectly legal in one area can be illegal in another. There are even some strange laws that you might encounter depending on where you travel.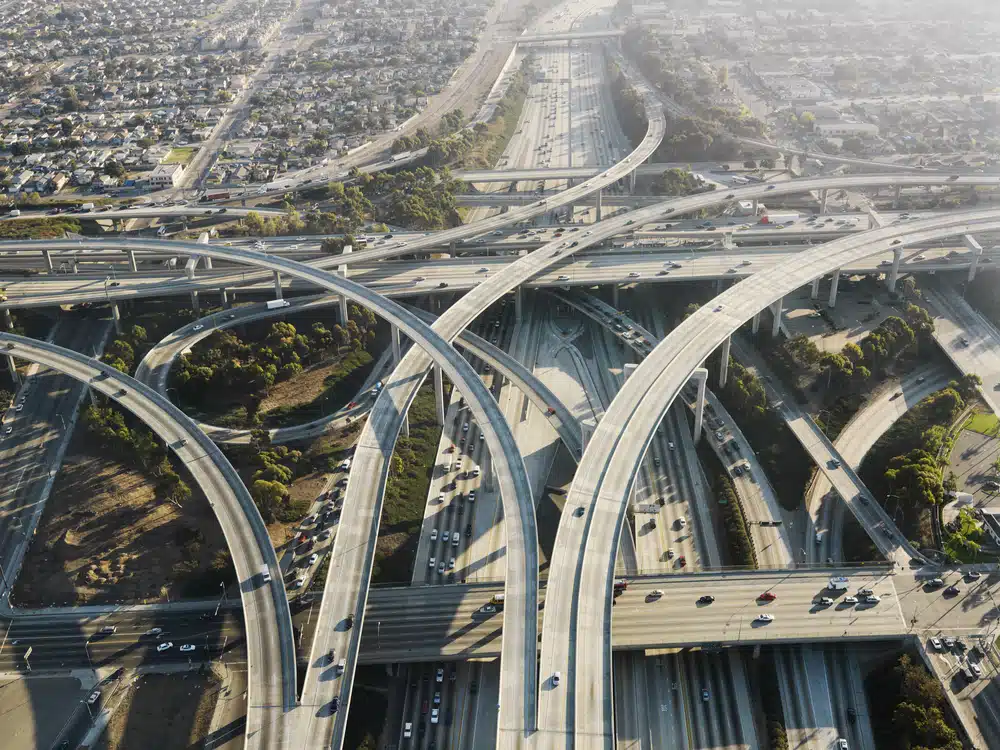 What are these wacky laws?
Before going further, first you need to know how your rig is defined in each state. For example, many people call their 5th wheel trailer a camper, while other people call a camper the unit that sits on the bed of a pickup truck. Do the research to know how your unit is classified and make sure it is defined the same in each state when you are searching for the state laws. Otherwise, you may be wasting your time and following laws that still do not apply to your travel situation!
Once you have your recreational vehicle defined and classified correctly, you are ready to dive into the laws where you will be traveling on your new adventure. The following states are just a few with strange laws relevant to RVers:
California
Voted one of the most unfriendly states for RVing by RV forum users, California has some specific restrictions on RV use.
For example, there are many roads where RVs and motorhomes over 45 feet are not allowed. You will have to plan your travel routes ahead of time to ensure you don't end up on a road your rig is too large for and break the law. On the very wacky side, there's reportedly also been a law against wearing a housecoat while driving in this state. So, ladies, make sure you're properly dressed when driving in the Golden State.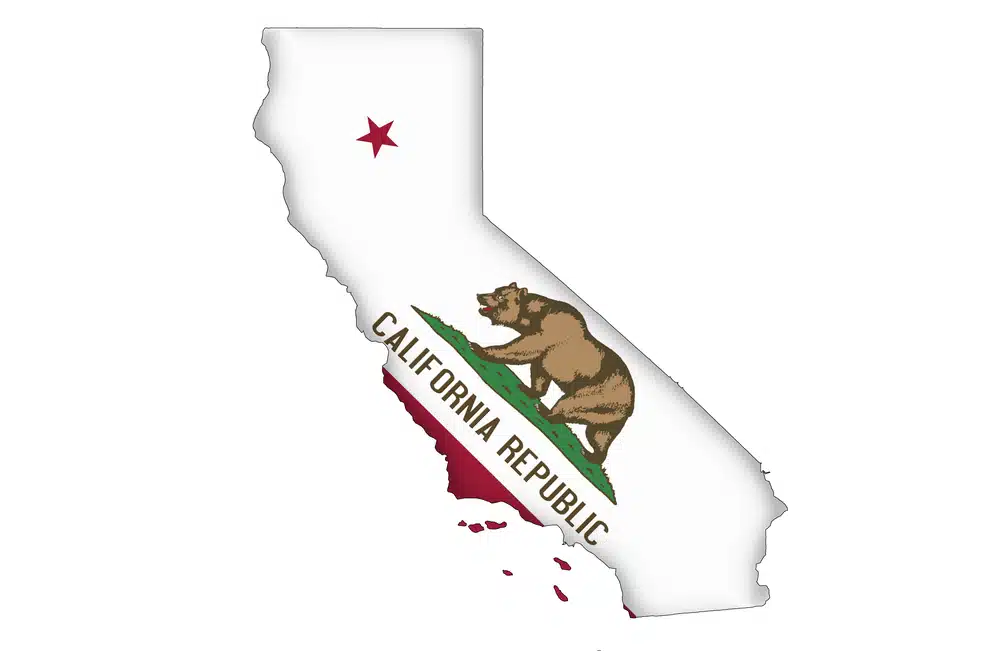 New York
Similar to California, New York also puts restrictions on which roads RVs and motorhomes can travel.
The kicker? RVers report that the roads they ARE allowed on are often riddled with low bridges and overpasses that make it hard to get through. Furthermore, watch out for laws about LP gas, which is prohibited in many tunnels in this state.
Visiting the big apple? In New York City, you aren't allowed to take right turns on a red light unless it's specifically indicated and noted as allowed.
Oregon
In the city of Portland, you cannot take off the wheels from your trailer coach and become exempt from regulations surrounding RVs.
This is basically a law that discourages people from using trailer coaches as stationary permanent residences. However, you can modify your RV without homes to make it a legal dwelling by following local building codes.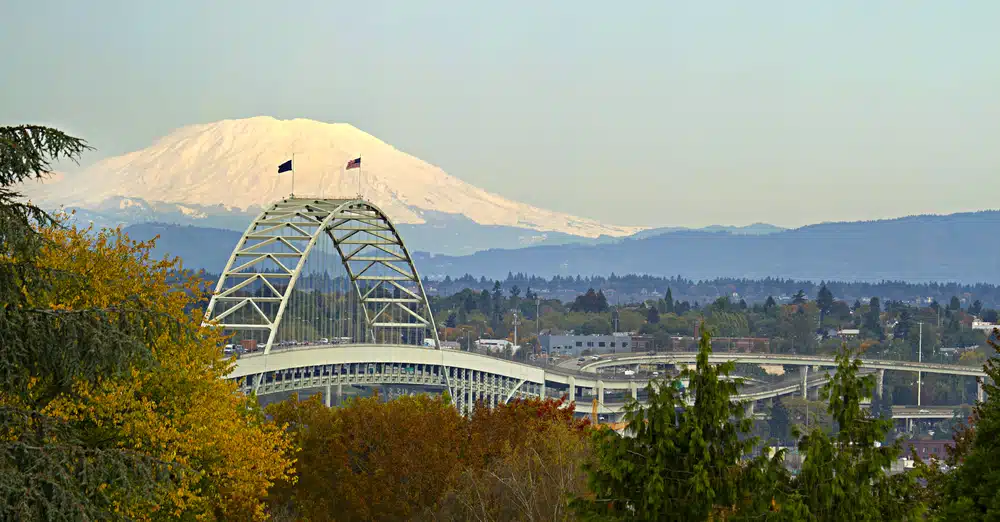 Alaska
Alaska is a great place and beautiful state to road trip across in your RV.
Not only are there amazing landscapes and views, but it is a fairly RV friendly state. In this state, the law allows you to pull off on the side of the road and set up camp just about anywhere. So, free camping it is! However, you do need to be aware that on some roads in Alaska you are required to have your headlights on, day and night.
For example, the Seward Highway is one road on which you need the headlights on. So, make sure you check ahead of time so that you always have your headlights on when they are required to avoid getting pulled over for not following the law.
✅ New To RVing? Check out our essential gear guide for new RVers!
Various States: Width Limit of 8'
If you plan to travel RV style and wander into specific states, it is wise to make your bucket list before you make your purchase!
Some states have put a maximum width limit of 8' as legal on their highways. While this fits most makes and models, it does not fit all. For example, in 1994 Airstream changed the width of their trailers from 8' to 8 ½'. Therefore, if you own an Airstream that is newer than a 1994 model you are not legal on the highways in these states. The states with a width limit of 8' include the following:
Alabama
Arizona
Georgia
Washington, D.C.
Kentucky
Illinois
Louisiana
Michigan
Missouri
New Jersey
New Mexico
New Hampshire
Oklahoma
Tennessee
Various States: No Storing RVs on Residential Property
Watch out where you park your RV, even if you own the property!
Some states have laws against storing an RV on residential property. The legal case of the Purtells is one example. In this case, Vicki and Jeffrey Purtell parked their 38 foot RV in their driveway. However, their neighbors didn't approve. In fact, they were so upset they convinced the city of Chicago to put a ban on parking RVs on residential lots.
The case made it to the federal court when the Purtells had enough and retaliated by decorating their lawn with gravestones engraved with messages for the neighbors who led the charge for the RV parking ban. The court ruled on the side of the police officer who told the Purtells to take down the faux graves. The whole scenario exploded with the start of it being where the Purtell's parked their RV on their own property.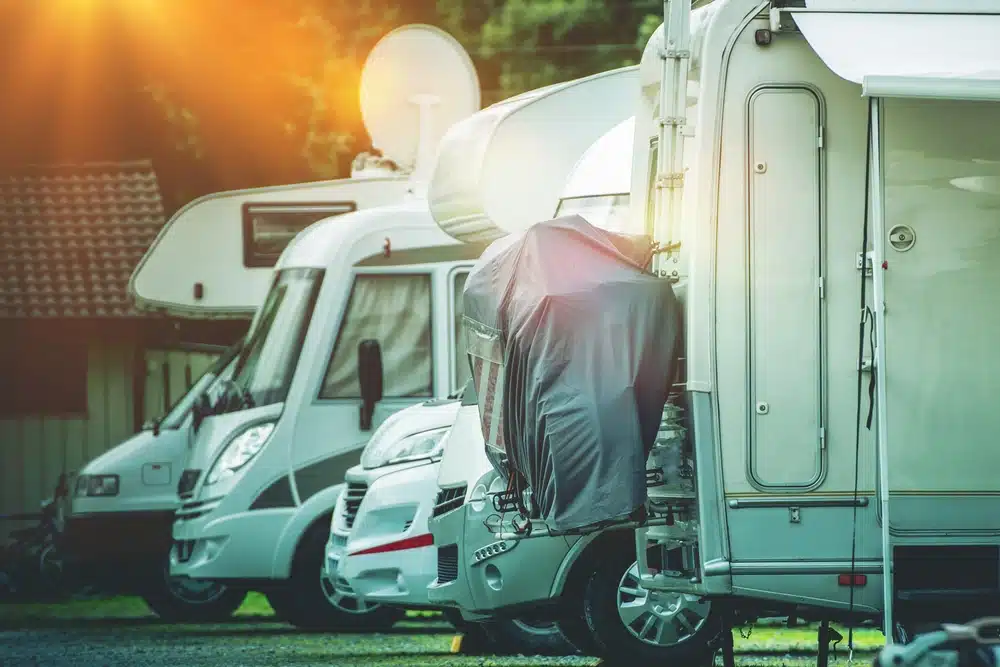 The moral of the story?
Don't get into a feud with the neighbors. Working out a solution in these sorts of cases is usually easier than going to court. Make sure you comply with all municipal regulations. Also, be open to talking with your neighbors should there be any discord regarding where you park your RV. f you need to find somewhere else to park or store your rig, there are typically plenty of safe storage and parking options when your RV is not in use.
Turn Off Your Hazard Lights
In some states, it is illegal to drive with your hazard lights on.
Where should you avoid putting your hazards on? Alaska, Florida, Hawaii, Kansas, Louisiana, and Massachusetts all have laws against driving with your hazard lights on. No matter how badly you need assistance, remember to only put your flashers on in these states if you have to pull over due to an emergency or breakdown. In other states, feel free to use your hazard lights if you are going slowly, using a spare tire, hauling a heavy load, etc.
Passengers in 5th Wheel, Travel Trailer, Truck Camper
Pulling a 5th wheel or travel trailer?
In some states, passengers are allowed to ride inside these towed vehicles (yes, while they are in motion being pulled!) While some states only allow passengers to travel in certain kinds of towed vehicles, other states allow passengers in all of them. For example, in California people are not allowed to ride in a pull trailer, but they are legal to ride in a fifth-wheel trailer during tow.
The following states allow passengers to ride in all types of towed vehicles, including 5th wheels, travel trailers and truck campers:
Arizona
Indiana
Iowa
Michigan
Minnesota
Mississippi
Missouri
Nebraska
Tennessee
West Virginia
Note that some states may require that drivers have a way of communicating with the passengers riding in the trailer.
So, next time your kids beg to sleep in the trailer as you drive through Iowa, you have no legal reasons to give them a firm 'no' to the request. If you are ok with it, you can allow passengers to enjoy your trailer while you drive down the road. Of course, keep in mind this is not a recommendation to do so, simply a reporting of the legalities of it in certain states. It is up to you to make the decision on the safety of letting people ride in a trailer during active tow.
State Lines App
It can be hard to keep up with all the wacky RV and driving laws around the country.
The good news is you can make use of innovative apps like State Lines which provide you with essential information about state specific laws related to RVing. Available in both the Android and Apple store, it does have a small cost of nearly five dollars, which it is well worth in my opinion based on the fact you are getting information to keep you safe on the roads (or at least from getting pulled over and faced with a hefty fine.)
If you prefer not to use an app, or would rather use your computer to stay updated on state road laws, there are numerous websites where you can find a list or do a search. When you are clear on how your rig is defined per state standards and what the driving laws and regulations of each state are, it is much easier to navigate with confidence. There are certainly some strange and unexpected RV and driving laws around the country. While some of them are antiquated and wacky, others seem more reasonable.
In any case, they will keep you on your toes while making your way around the nation. Have you encountered a strange RV law? Tell us about your experiences in the comments below.
**Please note these laws and regulations were up to date at the time this article was written. They can be changed by a state at any time without notice.