When we quickly bought an RV, we didn't know much about camping or living on the road. So when I suddenly wondered can you use a hair dryer in an RV, I was scared that I would spend the rest of our RVing days air-drying my hair. (Which would not have been pretty!)
Thankfully, my fears were unfounded. Which is good news for couch potato campers that still want to enjoy little luxuries in life, such as blow drying your hair, while also enjoying the great outdoors.
HOWEVER, there are SOME limitations on being able to use a hair dryer in an RV. It's not quite as simple as bringing your hair dryer from home and using it wherever and whenever you want.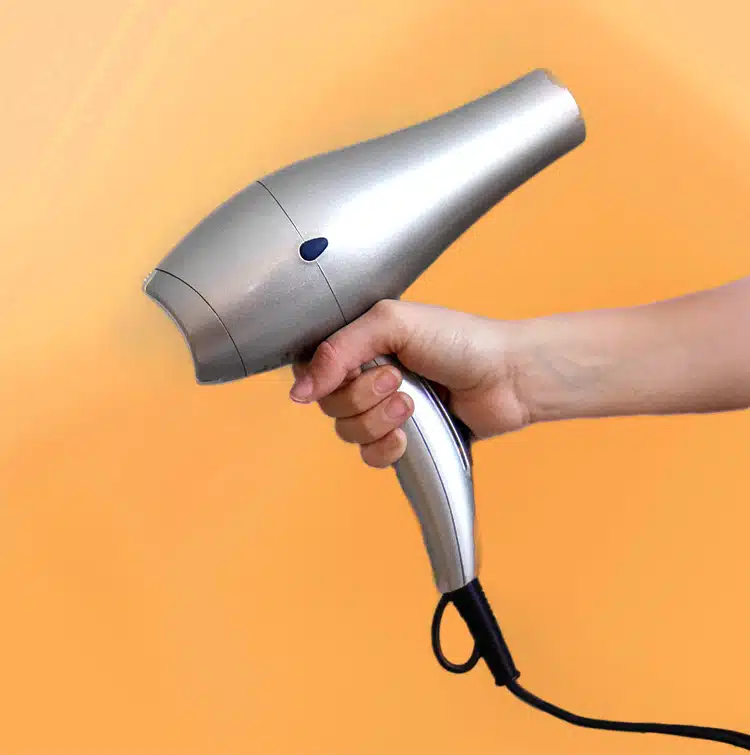 Recommended Hair Dryer
✅ This is the hair dryer we recommend when RVing.
How to Use a Hair Dryer in an RV
Hair dryers are among the small appliances that can draw the greatest power usage. So when you are living in an RV with sometimes limited power supplies, using a dryer could cause a problem. Such as a tripped breaker.
I once tripped the breaker while trying to dry my hair. And quickly realized that I could never again use the hair dryer and have something heating in the microwave at the same time.
And that's what you MUST KNOW. While you can use a hair dryer in an RV, you probably can't use it at the same time with other power hogs such as:
Air conditioning
Microwave
Electric water heater
Toaster oven
Coffee Maker
Electric space heater
Can you use a hair dryer and the air conditioner at the same time?
Probably not, unless your air conditioning is cycling and happens to be in low power mode at the moment you are drying your hair. A smart tip would be to turn off the A/C while using the hair dryer, or turn it to "fan only" while running the dryer.
Your RV only has so many amps of power to use. You cannot use more power than the RV can supply. It is not like in a house, where you can have everything turned on at once, and yet it all still works because you have electricity. (You'll want to see our list of low-wattage toaster ovens, too.)
It will also depend on how you are getting your power. If you are using a 30 amp or 50 amp power connection at a campground, then you will be able to use more than if you were using 20 amp power or trying to run a hair dryer off of a generator.
Do you need to turn off EVERYTHING in your RV before using a hair dryer? No. Here's what is okay to keep on:
TV
Lights
Refrigerator running
Fans
We could get into the nitty-gritty details of amps, making modifications to your trailer to handle extra power usage, and the science behind electricity. But we're thinking that couch potato campers just want to have fun and just get out there and enjoy life. Which is why you should just invest in an RV-friendly hair dryer.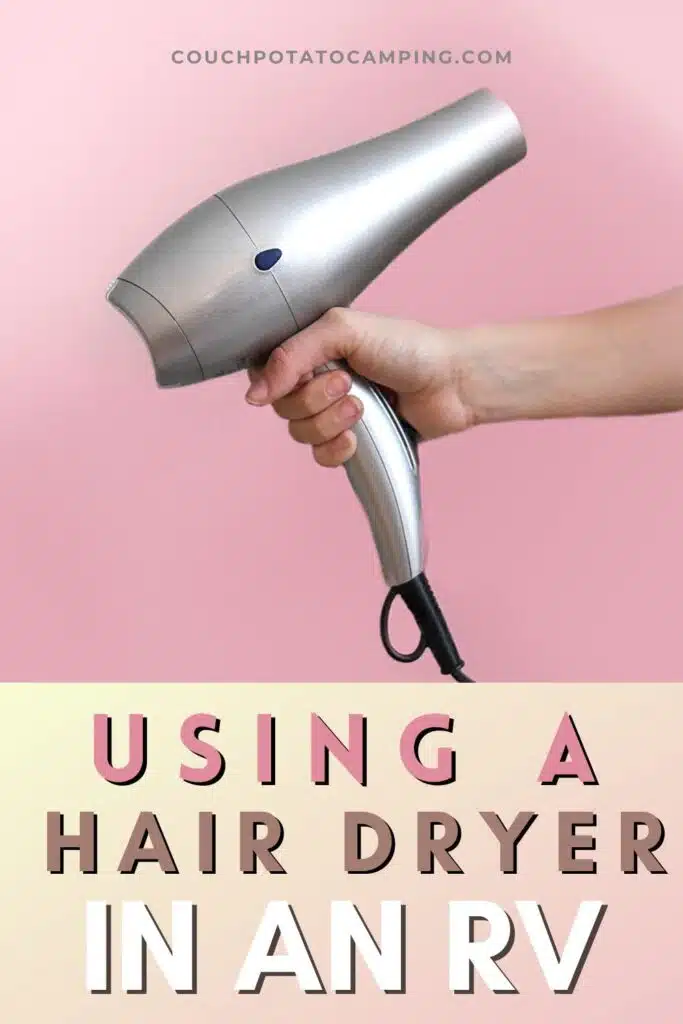 Best RV Hair Dryers
The lower the voltage (watts) of a hair dryer, the easier it will be to use in an RV without tripping a breaker. However, lower voltage means less power. So blow drying thicker hair or longer hair can take a very long time.
These are some of the best options for low voltage hair dryers (and some that are a bit higher in voltage but work better) for RV living.
Best Travel Hair Dryer
This 1000w mini travel hair dryer saves space, which is always important in an RV. Yet it has an impressive amount of power to dry hair.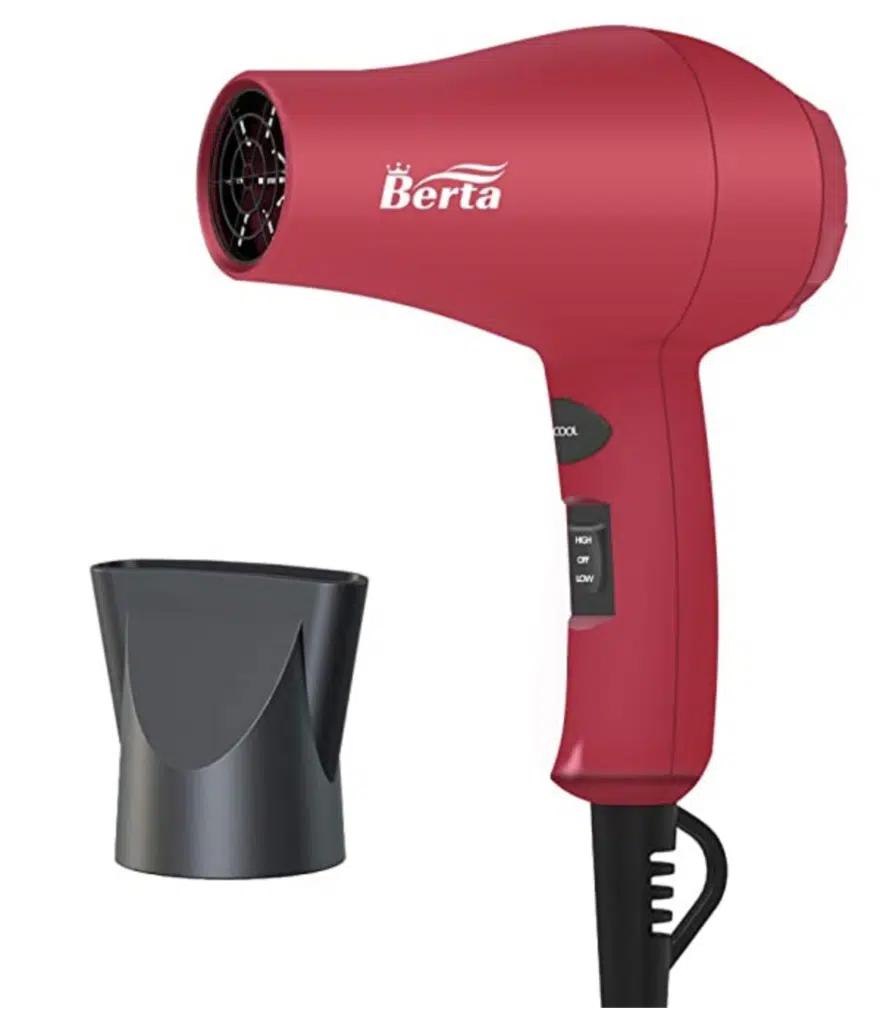 Pros:
High/Low setting
Cool button
Negative Ion technology
Nozzle on end
Cons:
Best Hair Dryers with More Power
These larger hair dryers have a higher voltage, but if you use the tips about using electricity above, you can use them without tripping a breaker. These will be more powerful and dry your hair faster.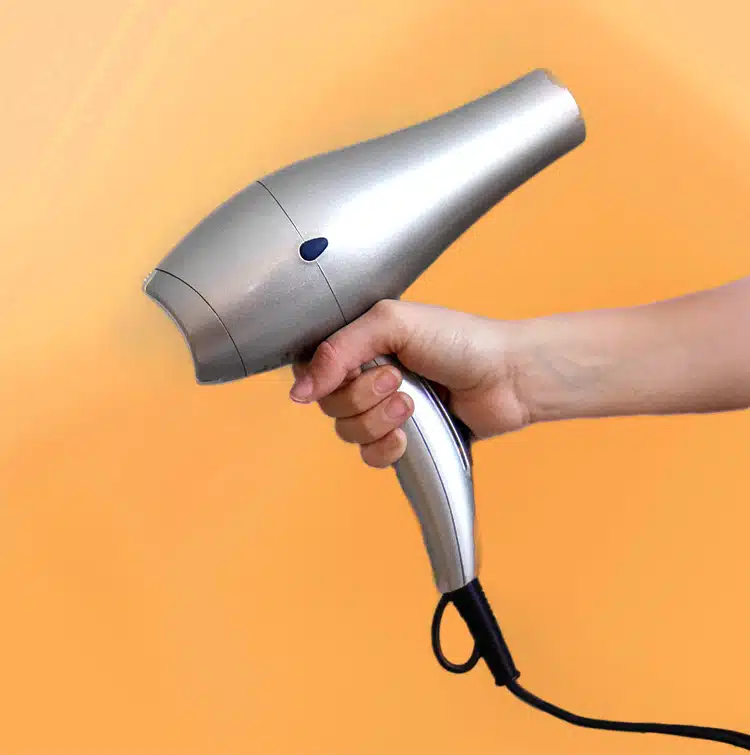 Looking for more low-wattage appliances to use while camping? Check out these guides: