We know from experience, it's hard to find a low wattage toaster oven that will work in an RV! Not because they are not available, but because manufacturers don't always put wattage in the descriptions. Which means you have to spend hours reading reviews and doing research to find a toaster that is 1000 watts or less.
Unless, of course, you use our handy shopping guide! We've done the work for you!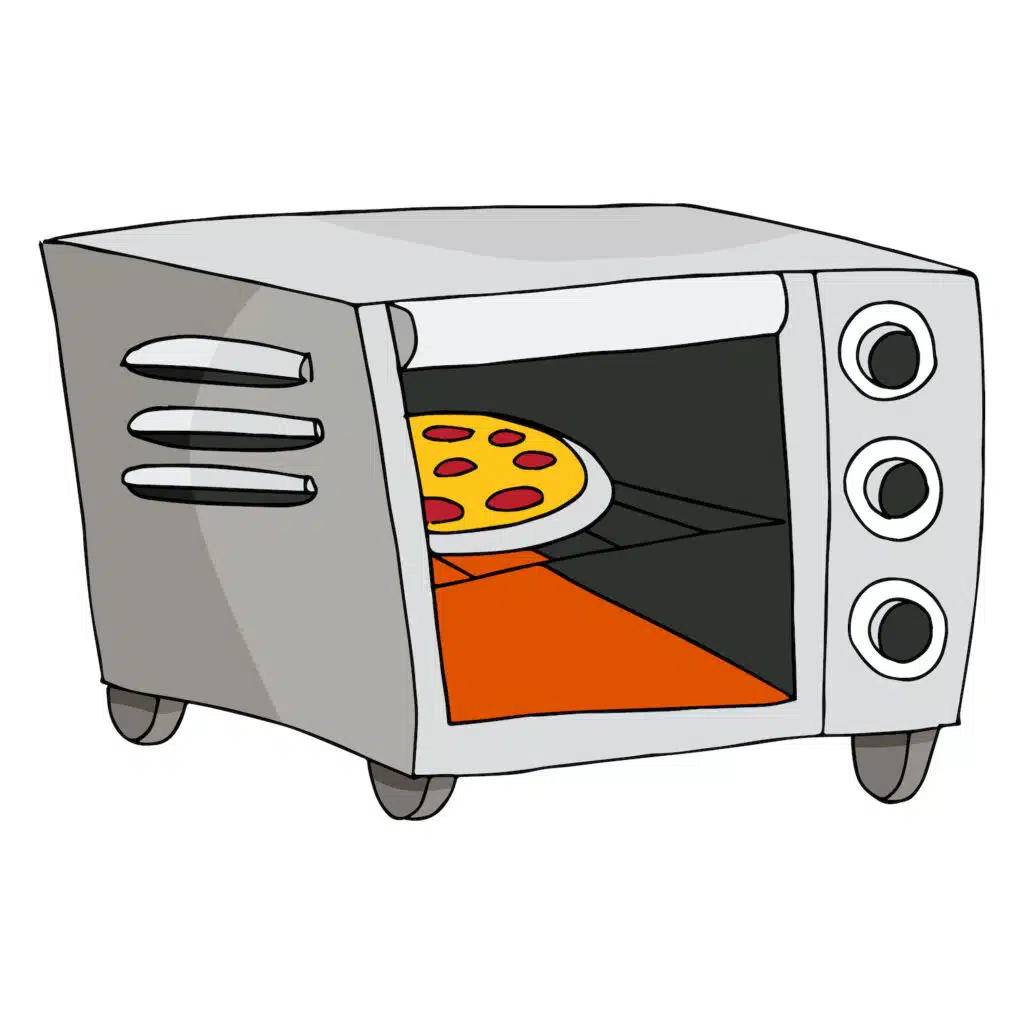 For our reviews, we consider a low-wattage appliance to use 1,000 watts or less of electricity. (Just like our recommendations for low-wattage electric burners and low-wattage hairdryers for an RV.)
We also wanted compact ovens for an RV that weren't too large for small countertops.
There are not a lot of toaster ovens that draw 1,000 watts or less of power. While 2-slice toasters generally use less than 1,000 watts, 4-slice toasters are almost always using more than 1,000 watts.
Do you need a low-wattage toaster oven compared to a higher wattage oven? Not necessarily. But we like to keep things simple and use as little power as possible so that we don't trip a breaker or blow a fuse. Especially if we know we are going to be running the air-conditioning or a heater, too, at the same time (which usually is what happens).
Here's our list of the best toaster ovens and toasters to bring in your trailer when camping.
Why Use a Toaster Oven in an RV?
There are several reasons you will want to bring a toaster oven or toaster with you while camping:
Don't Have an Oven in Your RV Many trailers are not including ovens today. Instead, they use convection oven microwaves. If you prefer not to use a convection oven microwave, or you don't have that option, you will need to bring your own oven for toasting or baking.
Lighting the Pilot Light of a Trailer Oven Scares You Hey, no judgement from us! It scared us, too! There's just something about putting a flame inside an oven and turning on a pilot light to ignite it that doesn't seem appealing. If you just want to turn a dial to get your oven to work, then a portable toaster oven is for you.
Produces Less Heat in Your Rig If you are camping in the summer, you don't want any more heat inside your camper than necessary. You certainly don't want to overtax your air conditioning system. Heating a large oven will cause more heat to escape into the trailer when you open the oven door. A smaller oven suitable for cooking small amounts of foods will reduce how much heat escapes.
You Don't Need a Large Oven If you're not baking a Thanksgiving turkey or a 14-inch pizza, then you might not need a large oven. If you're like us, and just want to cook a few chicken tenders or reheat a few slices of pizza, a countertop oven is all you need.
Don't Want to Use Propane Your RV oven will likely use propane to cook. If you don't want to replace your propane as often, or if you want to use the electricity you are paying for in the campground or via your solar system, then get an electric-powered oven.
Can Run Off of a Generator If you don't have an electric supply, you can still run a low-wattage toaster oven on a generator. It won't draw too much power if you are running your entire rig on the generator. Or, you can plug in the oven directly to a portable generator, such as a Jackery. We love using our noise-less Jackery generator to power appliances when cooking.
Want to Use an Oven Outdoors Chances are if you are cooking outdoors, you are using a griddle, grill or campfire. But in the small chance you want to use an electric appliance outside while enjoying your morning coffee, a portable toaster oven allows you to make your morning toast or bagels without any campfire smoke or lighting up the grill.
This is why we don't use our RV oven! See video below:
Best Low Wattage Toaster Ovens for RVs
Dash Mini Toaster Oven (550 Watts)
We are big fans of DASH appliances, which have a retro look with a small price tag. The Dash Mini Toaster Oven is a very affordable price (around $25) and only uses 550 watts.
The compact toaster oven has retro styling and comes in four fun colors.
This small toaster has a baking tray, oven rack, crumb tray and recipe book included. The trays are removable and dishwasher safe.
Keep in mind, this cute appliance is smaller than an EasyBake oven! It is approximately 7 1/2″ X 7 1/2″ which makes it perfect to add to an RV countertop.
Though it is small, it is still possible to bake small portions of pizza, cookies, bagels, toast and even panini sandwiches. Only one piece of bread or one bagel will fit at a time.
The tiny size makes it super energy efficient, so you won't have to run it for long to cook your food. There is only one temperature to cook at, which is about 400 degrees. So this really is for reheating and toasting, rather than needing to bake a food at a specific temperature.
There is a clicking sound when it is heating, with an audible ding when the cooking is done.
COMFEE Toaster Oven-Broiler (1000 Watts)
About $35.
This 1000 watt COMFEE toaster oven comes in three color choices to suit the aesthetic of your RV kitchen. It bakes, broils, and toasts from temperatures ranging from 150-450 degrees.
Dual heating elements cook the food evenly from the top and bottom. There are also "Keep Warm" and "Bagel" functions for more flexibility when using this small oven.
There is more than enough room to cook 4 slices of bread, or a 9-inch pizza. A bake pan is included, measuring 10.2 X 7.8 inches.
The small appliance measures 14.8 X 11.1 X 8 inches.
A built-in timer is handy when you don't want to use the timer on your phone, or don't have a timer that you brought in the camper.
The broil setting is great for melting cheese on homemade French bread pizzas.
Best Toasters for an RV
If you just want to make toast, and don't need the ability to bake, then an old-fashioned toaster will work for you.
The benefit of just using a toaster is that the appliance is smaller than toaster ovens. Which means it takes up less precious storage space in your camper.
Two-slice toasters use about half of the wattage as four-slice toasters.
Cuisinart CPT-122 2-Slice Toaster (900 Watts)
Around $30.
This popular Cuisinart toaster is very highly rated, with over 14,000 positive reviews.
The white plastic toaster is lightweight (about 2.6 lbs) and compact (about 6.5 X 11 X 7 inches). Extra wide slots allow you to heat thick slices of toast, pancakes, toaster pastries and more.
If you love eating bagels, this is a great toaster for you. There are reheat, defrost and bagel controls. The bagel setting will heat just the upper half of the bagel so that you have a soft bottom and a crispy top.
Of course, there are multiple toasting settings. For normal toasting of bagels or bread, use the Toast mode. The defrost mode will defrost frozen bread or pancakes and then toast it.
Chefman 2-Slice Stainless Steel Toaster (850 Watts)
Around $20.
If you don't want a plastic toaster, this modern style stainless steel toaster is a good choice.
The Chefman 2 Slice Toaster with Extra Wide Slots uses 850 watts and is 10.5 X 6.1 X 7.5 inches.
The cord will easily wrap underneath the toaster and secure in with four hooks, which means you don't have a cord flopping around on the countertop.
This toaster does have defrost, reheat and bagel settings with 7 shades of toast available. The bagel setting will heat on just one side.
Red Black and Decker 2-Slice Toaster (850 Watts)
About $25.
If you want to add a punch of color to your RV kitchen, this Red Black and Decker Toaster is for you!
The simple and streamlined design has just what you need. There are seven toasting levels and a bagel function. That's it. Sweet and simple to use.
There is a bread crumb tray to remove empty crumbs so that they do not create a fire hazard and starting smoking while burning.
Toastmaster 2-Slice Toaster
About $10.
This is perhaps the most simple and cheapest of all of the toasters. If you want simplicity and aren't looking for a long-term investment in an appliance, this is a good choice.
Available only at Kohl's, this Toastmaster toaster is often $10 or less (sometimes down to $4.99), depending on rebates available, sales and using Kohl's cash.
It's simple for using in a trailer and might be a good choice if you are only going to be camping a few weeks a year, or are trying to decide if making toast while outdoors is something you need to do.
Keenstone Stainless Steel Retro Toaster (800 Watts)
About $25-35
Another retro 2-slice toaster with a variety of colors (we like the aqua color!), this Keenstone Stainless Steel toaster has a built in LED-display timer.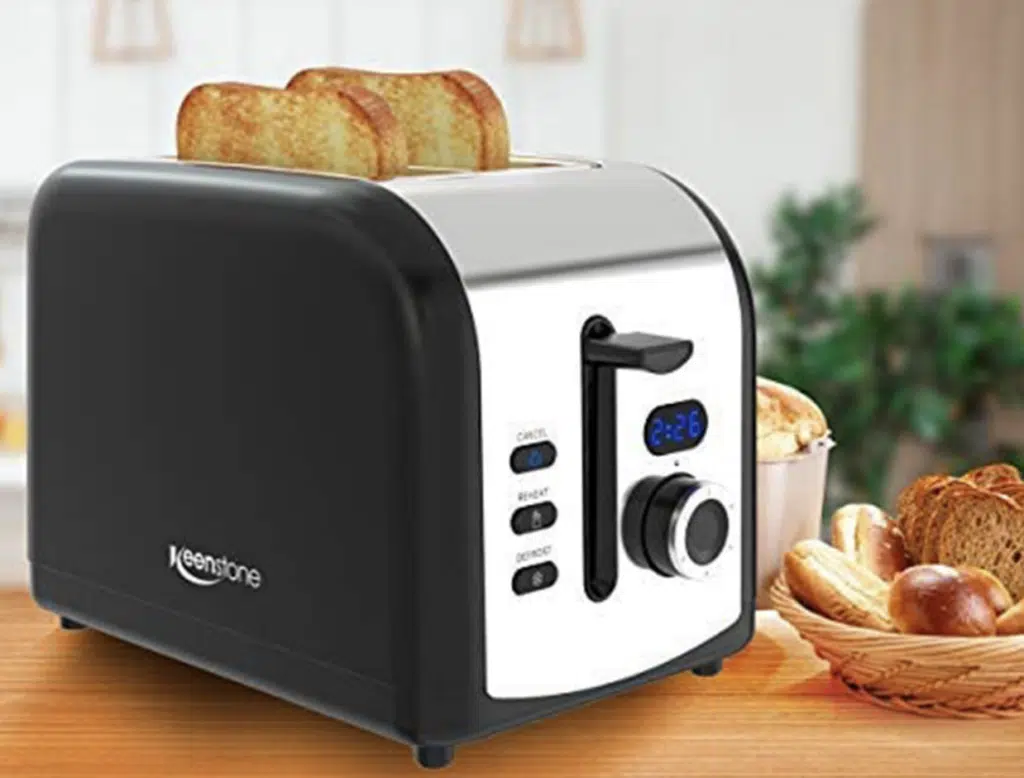 There are 6 shade levels for your toast. As well as a reheat and defrost option.
The digital display timer built into the toaster shows how much time is left before your toast is ready to be buttered and enjoyed.
The extra-wide slots are about 1.5 inches. There is a removable crumb tray, as well as cord wrap storage underneath the unit.
The toaster measures 9.5 X 7.1 X 6.7 inches.
Can I Use an Air Fryer Toaster Oven in an RV?
We have not found an air fryer / toaster oven combo that is low wattage. Most are in the range of 1400-1800 watts.
Does that mean you can't use an air fryer in an RV? No, it doesn't. You just need to be mindful of power draw when using it.
For instance, you probably don't want to use an air fryer while boondocking unless you are familiar with your breakers and how much power you can use at one time.
What Can I Cook in a Toaster Oven?
You might be surprised at what you can cook in a small toaster oven. Even in our home, we prefer to use a toaster oven for most baking because it uses less energy, produces less heat, and takes less time to heat up.
Generally, if an item is small enough to fit in a toaster oven, you can bake it in there! Here are a few ideas:
Chicken nuggets
Mozzarella sticks
Egg rolls
Personal size pizzas
French bread pizzas
Grilled cheese
Panini-style sandwiches
Mini quiches
Garlic bread
English muffins
Waffles
French toast
Roasting vegetables
Broiling meat
We also recommend this popular Toaster Oven cookbook which will give you tons of ideas!
And if you have a Kindle Unlimited subscription, you can get these 250 toaster oven recipes for free!