Surprisingly, one of the hardest things to keep organized while camping is your shoes. If you don't want to be frustrated every day, you will want to know these valuable tips of how to store shoes in an RV.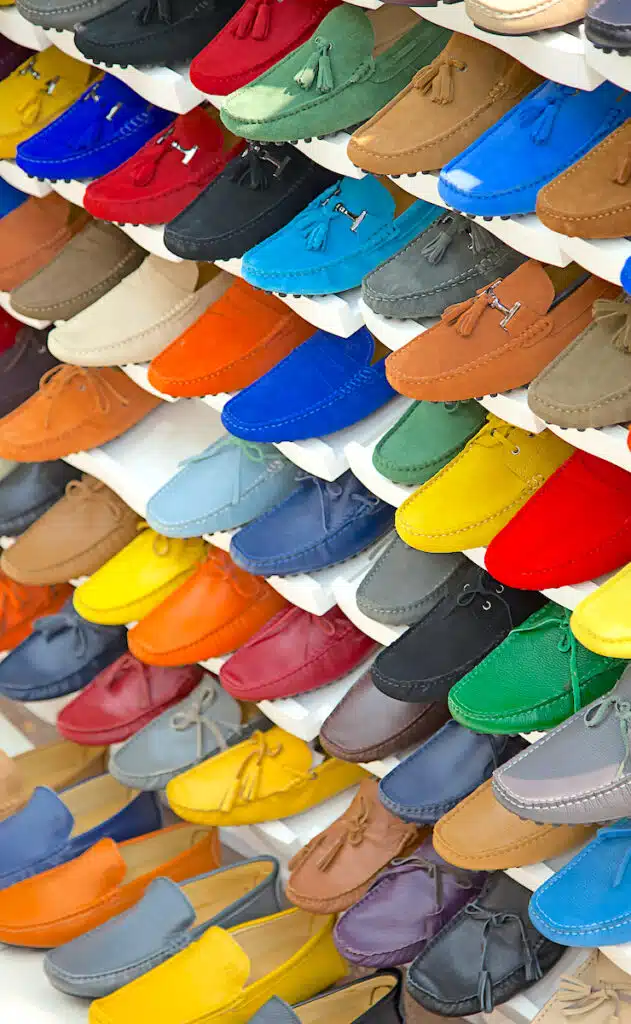 When we full timed in our RV, one of our kitchen cabinets became our shoe storage. Seriously. Because there was nowhere else to conveniently store sneakers, hiking boots and flip flops. We smushed our shoes into the lower cabinet and gave up food storage in order to keep shoes organized.
While many new RV models have shoe storage being added under stairs and in hidden corners by the door (finally RV manufacturers are listening to us!), older models don't have these luxuries.
Still, one or two cubbies for shoes does not solve the problem of how to store shoes for a large family, or when you bring multiple pairs of shoes while traveling.
You will likely need to make some modification to your RV by adding these brilliant products that are perfect for storing shoes in a camper.
Pocket Storage
Perhaps one of the easiest, cheapest and most versatile shoe storage solutions in an RV is pocket storage.
These pockets can be hung on walls, the backs of doors, in cabinets and even on the bed frame under the mattress.
*Helpful hint: You can often cut these pocket systems to fit your unique space if you can't find an exact fit.
Hanging pockets are also great to attach outside your RV. Using either heavy duty magnets or removable Command hooks, hang the storage system on the outside wall of your RV to collect flip flops and sandals after a wet day at the beach or lake. That way you don't have to bring wet shoes inside.
This trick also works great for toys, odds and ends, etc.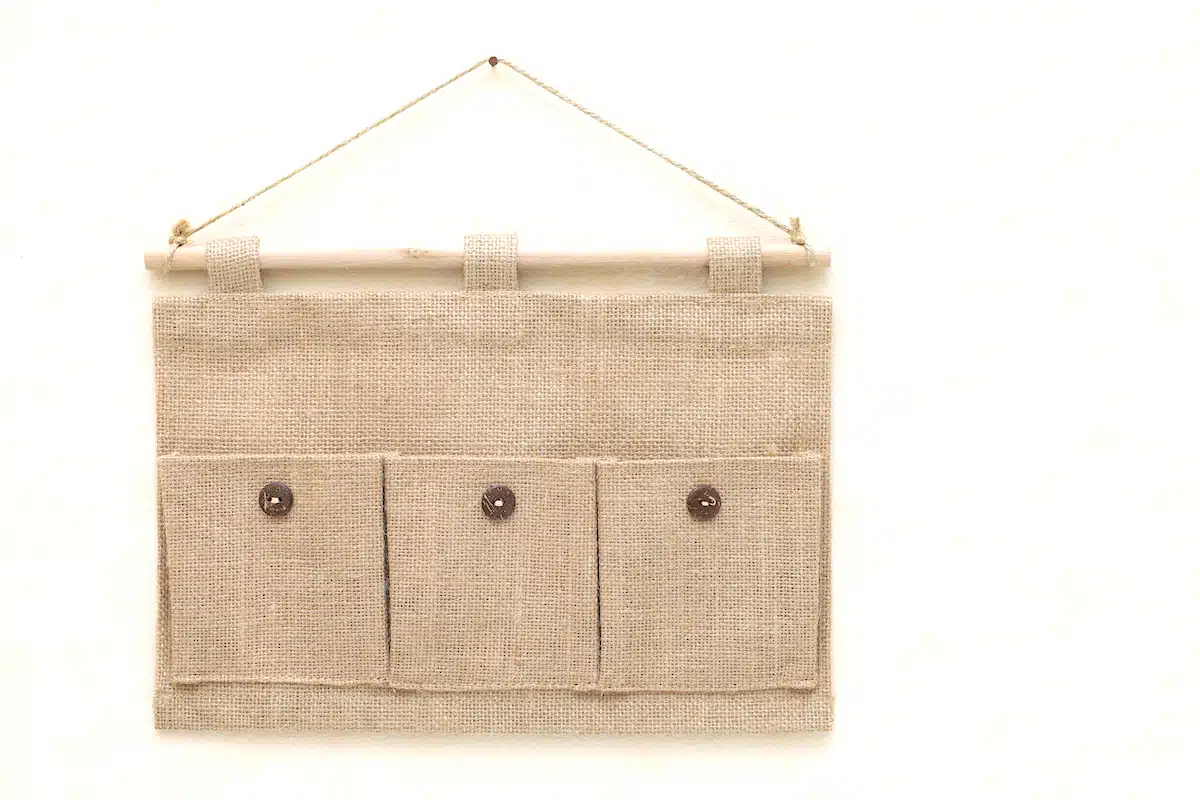 Hanging shoe storage
These portable storage systems work in closets at home. So they can work in your RV, too, if your closets are tall enough. Plus, they can fold up and take very little space when not in use.
Be sure to check out our guide to the best RV clothes hangers, too, for hanging your clothing.
Magazine Racks
Hang a magazine rack on the wall or inside a closet or cabinet to easily store shoes. This works best for slim shoes such as flip flops, slippers or sandals. Definitely not going to work for men's hiking boots.
Storage Bins
Yep, sometimes the easiest way to store stuff in an RV is simply to put it in a clear storage bin and put the bin in an overhead cabinet or a closet. You can stack the bins for even better storage.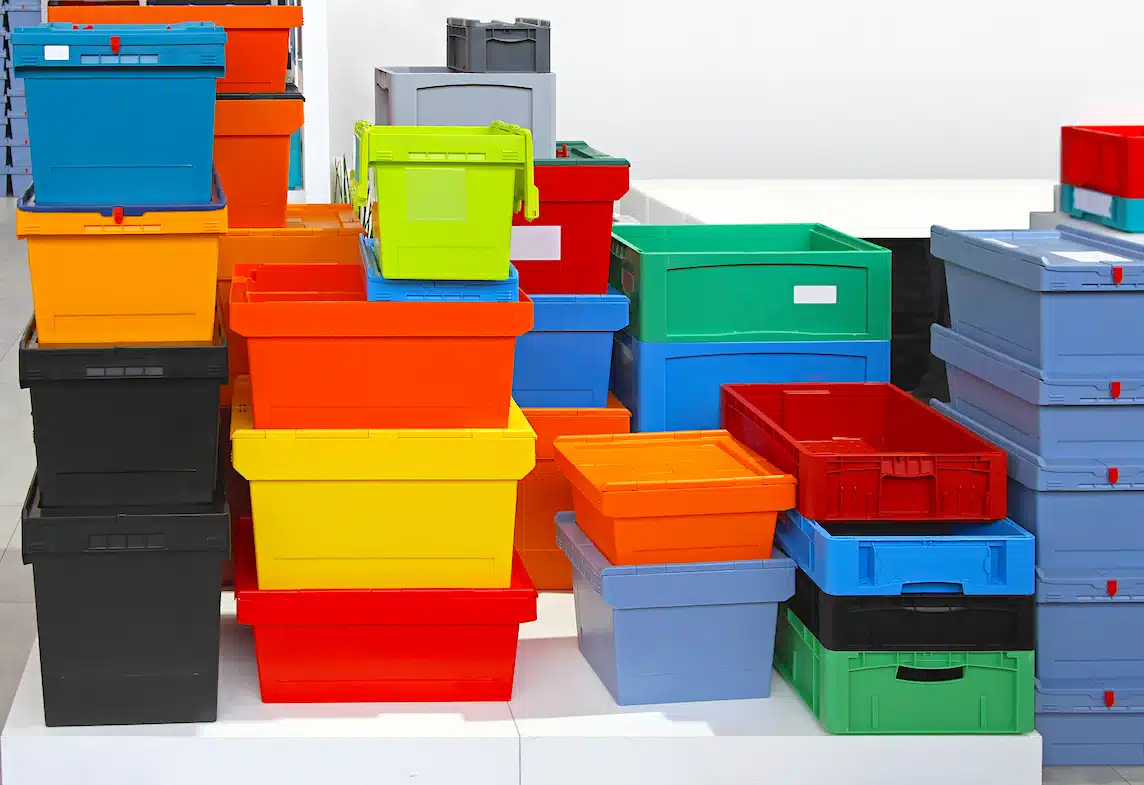 Shoe Racks
If you have a larger motorhome, you probably will have bigger closets. And some modern ones even have built in shoe racks! However, if you have the space but no built-in shelves, shoe racks are a good idea to add to the bottom of the closet to organize your shoes.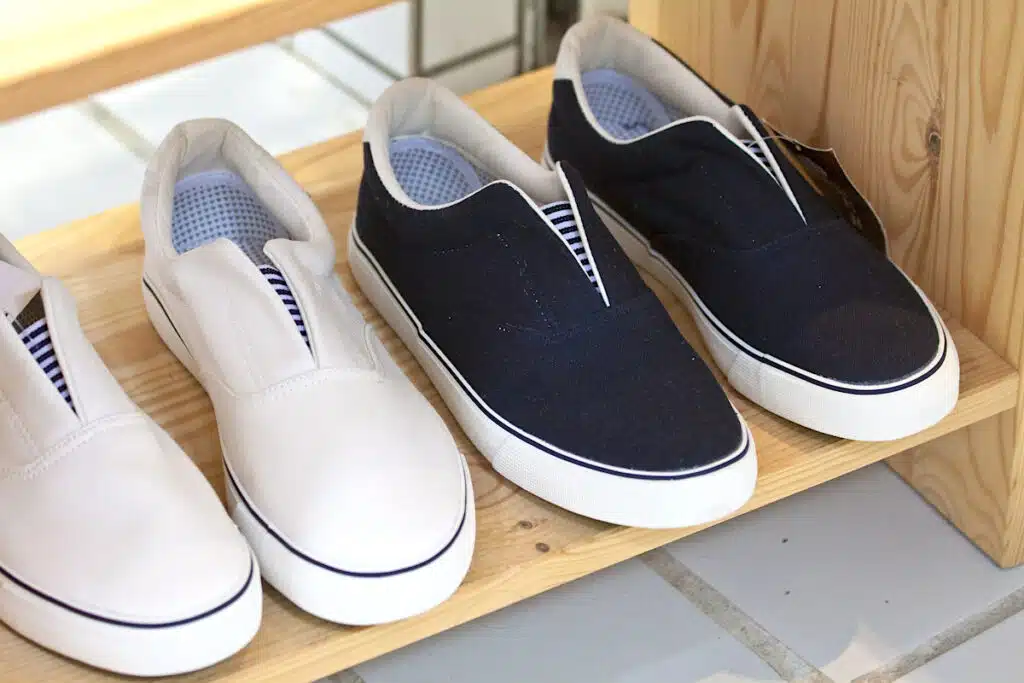 Over the seat organizer
In a Class A, Class C or Class B motorhome, you will have driver and passenger seats in the front. Add an over the seat organizer to store shoes behind the seat. The bonus is that the shoes will be easily accessible near the door.
Storage Nets
Whether you hang them inside a door, in a closet, or from the ceiling, storage nets are the perfect way to stuff a lot of shoes into a storage space.
Command hooks
Add hooks throughout your RV to hang shoes on. For flip flops and sandals, you hang by the toe strap. For sneakers and boots, you'd hang from the heel (with the opening towards the wall). Great locations to add these are:
Inside closets
On kitchen island base
On walls in hallway
Inside cabinets
In cubby holes
Get an Ottoman
If you have room, add an ottoman to your RV. Not only is it really nice to be able to put your feet up (especially if you don't have recliners), but it's also extra seating AND a place to hide your shoes.
I made this popcorn tin storage ottoman for our RV and we love how much we can fit inside. It's great for a pair of dirty hiking boots, or several pairs of flip flops or sandals:
Use All Available Empty Space
You don't have to store your shoes in your bedroom. We couldn't store more than one pair of shoes in our tiny closets on either side of the bed. We had no over-the-bed cabinets (we intended on making some, but sold the RV before we did). And picking up the heavy bed to get to shoes stored underneath was not an option.
So we stored shoes in the kitchen. And you know what, it worked!
Here are some hidden places for shoe storage you might have overlooked:
Under dinette drawers
Pull out sofa drawer
Overhead cabinets
Store shoes in the basement area (storage underneath accessed by a door from the outside)
Under the passenger seat
Get a big bag to hold your shoes and store it in the shower when not using it
Tow Vehicle Storage
Sometimes you just have to use alternative storage ideas. Storing your shoes in your tow vehicle can be a smart solution.
Instead of just throwing them in the back seat, make sure to have a storage bin to keep them tidy.
Prevent Stinky Shoes
Shoes can stink, especially when you're wearing them while sweating outside. And a camper or trailer is small. Which makes those stinky shoes seem like they smell a lot worse!
One of the easiest ways to control odor, without masking it, is to use activated charcoal shoe inserts. These small bags are designed to fit inside shoes. They naturally absorb odors and moisture. And they can be reused for up to 2 years. All you need to do is put the bags in sunshine every month or so to "recharge" them.
Baking soda is another cheap and easy solution to control shoe odor. Just sprinkle in the smelly shoes.
A mesh bag of rice has also been known to work. It's not as great as activated charcoal or baking soda.
Scented sprays, powders and products simply mask the smell. And in a space so small, you don't have room to just mask the odor before it comes back. You need to remove the odor!