As soon as you tell your friends and family that you bought an RV, trailer, motorhome or camper van, they will probably ask you what you're going to name it. You've got to be ready with a great name!
Why do people name their RVs and campers? It's kind of a right of passage. Just like ships and trains are named, you want to name this method of transportation, too.
Here are some great RV name suggestions. Get more helpful hints for picking the perfect name for your rig after this RV names list. We've even got a funny RV name generator to play!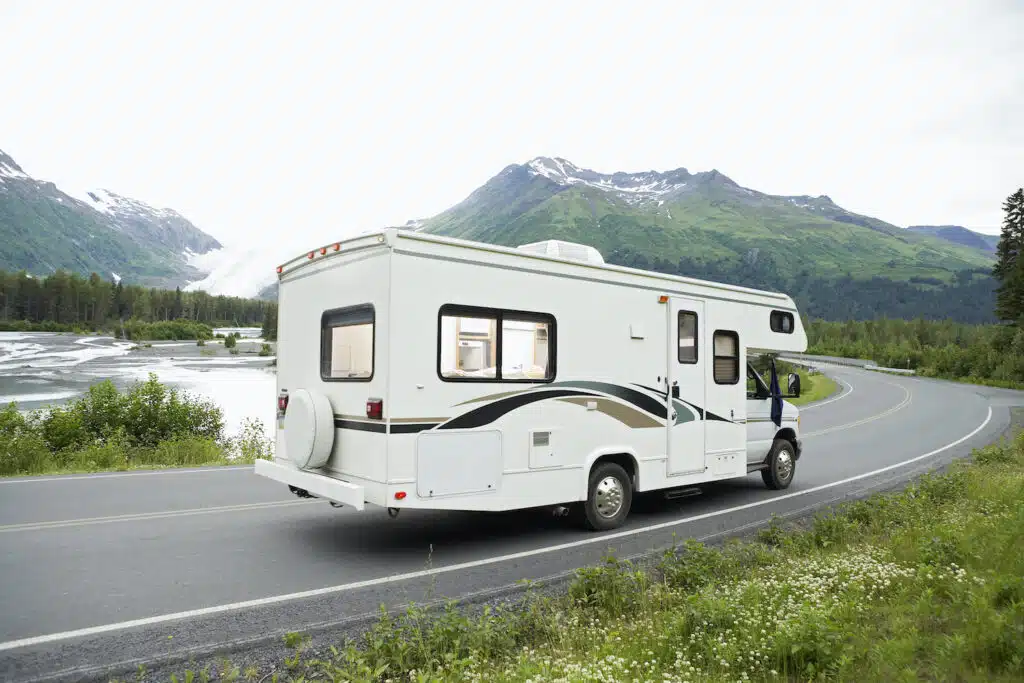 Classic RV Names
Wanderlust
RV There Yet?
Totally Hitched
Just Hitched
Happy Camper
Money Pit
Easy Goin'
Wayfarer
Voyager
Weekend Warrior
Road to Nowhere
Rainbow Chaser
Happy Days
Lazy Days
Cousin Eddie (from National Lampoon's Christmas Vacation)
The Shack
Second Act
Early Retirement
RV (Retirement Vehicle)
Empty Nesters
Cabin Fever
Take a Load Off
Taj Mahaul
Jolly Trolly
Movin' On
Tripper
In For the Long Haul
Love Shack
Party of (fill in the number)
The (Your Last Name) on Tour
Sun Chaser
Happy Glamper
The Dog House
Fifth Wheel's a Charm
Happy Camper
The Pamper Camper
Carefree Camper
Wander Woman
Weekend Woman
Thrill Seeker
Trailer Trash
Overlanders
Party Bus
Queen Mary (or another name)
Harvey
Matilda
Bessie
Big Bertha
Betty
Barbie
Stella
Lucille or Lucy (named after the movie The Long, Long Trailer)
Bugsy
Gidget
Lady
Molly
Captain (insert your name)
Joy
Drifter
Wandering Star
Old Faithful
Going Everywhere Slowly
Lancelot
Bertha
The Mystery Machine
Getting Riggy With It
The PlayStation
Yeti
The Tin Can
Wheelin' and Dealin'
Road Trip Renegade
The Rambler
Road Rambler
The Ship
Ranger
TARDIS
Odin
Serenity
Party Wagon
The Big Bambino
Road Warrior
Fun Finder
White Whale
Pegasus
The Bat Mobile
5-Star Hotel
Tourists in Transit
Road Warriors
Thrill Seeker
Yonder
Magic Carpet Ride
Freedom Chariot
NO9to5
Camp (your family's last name)
Driving Miss Daisy
Stagecoach
CMore (or See-More)
Ramblin Rose
Our Humble Abode
Home2Go
Home on Wheels
Optimums Prime
Taj-Mahaul
Scout
Gypsy Hilton
The Dragon's Lair
Rolling Thunder
Dreamcatcher
Sunset Seeker
A Streetcar Named Retired
The Beast
Free Willy
Serenity Now
Wonderland
Northern Star
Freedom Flyer
Dream Chasher
Elvis
Home Sweet Roam
Sweet Caroline
Weekend Rambler
Leisure Rider
Lazy Safari
Disney-Inspired RV Names
Chip
Eve
Wall-E
The Millennium Falcon
The X Wing
Herbie
Chitty Chitty Bang Bang
Hamilton
Winnie (for Winnie the Pooh)
Brand Specific Names for RVs
Camper Van Names
Miss BHaven
Class Cs
Classy (Class-C)
Short and Sweet
Airstreams
You can officially register the name of your Airstream and get a medallion with your camper's name through the Official Airstream Registry.
Silver Memories
Silver Sky
Fullmetal Chariot
Airabella
Flying Saucer
Mandalorian
Iron Maiden
Spudnik
Stream Bean
Silver Surfer
Tin Can
Silver Lining
Silver Moon
Apollo
Silver Bucket
Silver Wings
Daystreamer
Silverstone
Tin Cup Palace
Space Camp
Silver Bear
Starship
Rosie the Riveted
InTech Sol Horizon
Sun Seeker
Sol Seeker
Sol Sisters
Sol Searcher
Gypsy Sol
Happy Sols
Sunny
Keystone Montana
Winnebago
Casita
Little Egg
Juevito (Spanish for Little Egg)
Nugget
How to Choose the Perfect Name for Your RV
First, you've got to decide whether you want clever camper names or funny RV names. It really helps narrow down your decision.
Maybe you are not looking for cool names but would prefer something sentimental, instead. For instance, naming your camper after a lost family member. Or after a place that you lived or a movie that inspired your wanderlust.
Whatever makes you smile when you say the name is what you should use!
Second, do you want a name that will appear on your RV? For instance, do you want to make a vinyl decal or a window sticker and have everyone see the name? If so, you might not want to have "The Love Machine" across your back window for half of America to see! (Or maybe you do….)
Finally, will you have a tow vehicle? Do you want a name combination that includes your vehicle and your trailer? For instance, Elroy and Judy (from the Jetsons). Or Thelma and Louise.
RV Name Generator
If you want to have a lot of fun coming up with your RV name, use our RV Name Generator!
Just match up two words that correspond with the first letter of your first and your last name. And voila! You'll have your perfect RV name!
Be sure to share this RV Name Generator with friends and family in Facebook Groups, Pinterest and Instagram! They'll have fun doing it, too!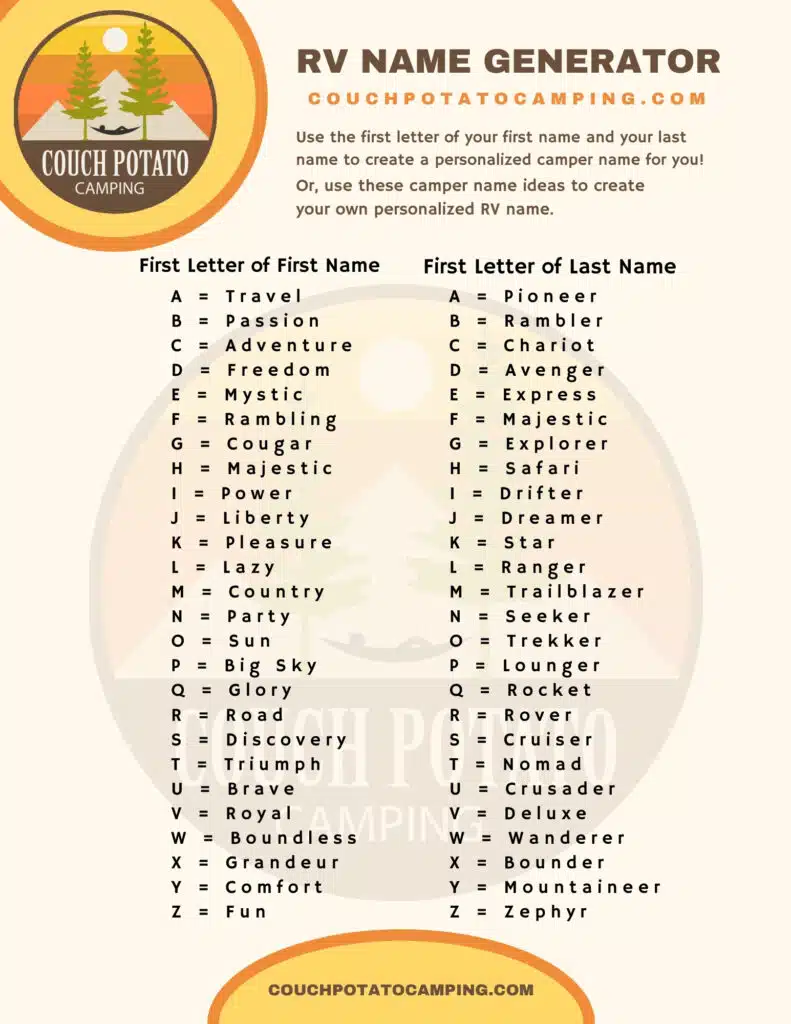 Get a printable version of our RV Name Generator.