If you are camping for more than one to two weeks, chances are you are going to need to do laundry. But what if you don't like the thought of using public laundromats?
These portable washing machines for camping and RVing let you avoid public laundromats. Many people are grossed out at the thought of washing their underwear in the same washers where hundreds of other people have done the same!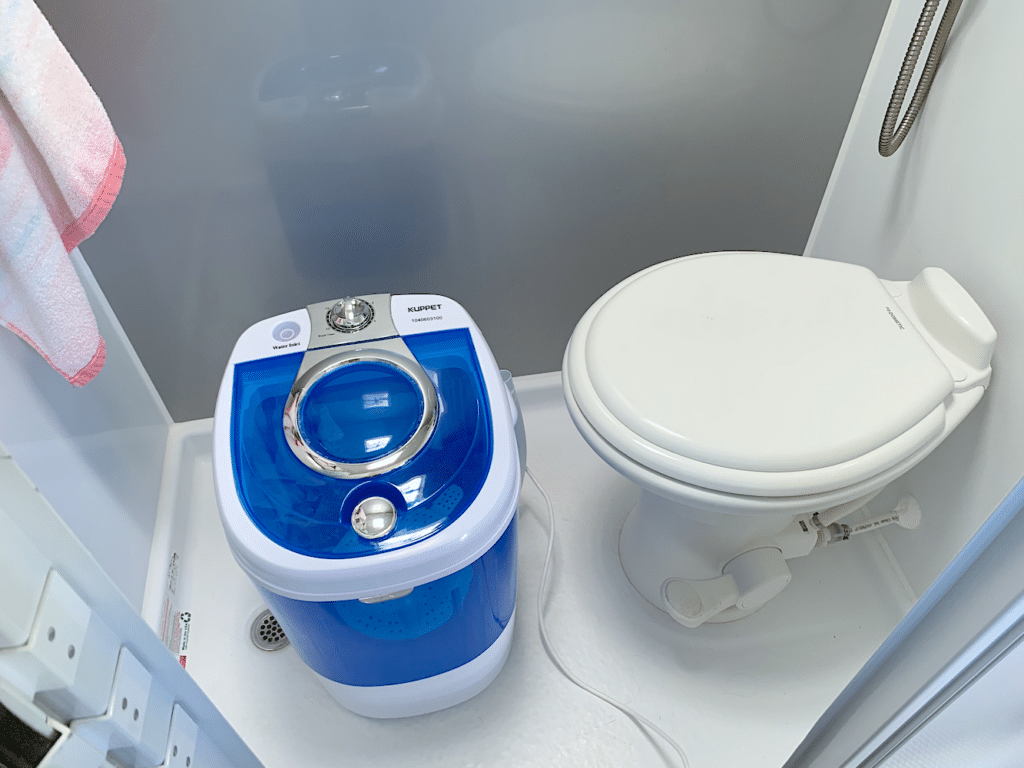 Laundromats can cost a lot of money, too. We've seen prices between $1-$4 for a load of laundry. And that's without the cost of the dryer.
You also need to take time to go to a laundromat. Whether it's in your campground or you are driving to a location in your travels, it does take time to load and unload your laundry, wait for it, return to pick it up, or even drive and find a laundromat.
If you are traveling with small children, you might need to constantly wash bibs, onesies or diapers. But you don't want to plan your day around doing a small load of laundry.
Public laundromats often have problems with damaging clothes, coins being "eaten" by the machine so you have to add more money, and potential theft of clothing left unattended.
If you want to avoid all of these hassles, you can bring your own mini portable washing machine. They come in small sizes and are portable. Plus, they effectively clean your clothing, sheets and towels.
Over time, you could save money by getting your own washing machine for your RV. Here are some great options, including the one that we used.
Best Portable Electric Washing Machines for RV
Washer and Spinner Combination Washing Machine
If you have the room in your rig, you definitely want a combination washer and spin cycle machine. This will wash your clothes, as well as easily remove most of the water so your clothes will dry faster.
Many portable washing machines require you to wring out your laundry by hand. Not only does the process take time, it often is a little hard to do (wringing out a pile of laundry can get tiring).
This twin tub washer and spin cycle combo has dual compartments that can work at the same time. It is larger than other models, but it works more like a traditional washing machine.
You will be able to wash items such as jeans, towels and sheets in this size of a washer. However, blankets and comforters would not fit.
Pros
Timer for washing machine
Timer for spin cycle
5.5 lb wash capacity
Drainage tube that will easily drain water out of tub
Move clothes immediately from washer to spinner
Can wash sheets and towels
Relatively quiet, especially compared to a full-size washer
Cons
Spinner doesn't hold as much capacity as the washer, so you will need to spin in two loads
Weighs 22 pounds
Kuppet Mini Washing Machine
We used the Kuppet Mini Portable washing machine in our Intech Sol Horizon RV. In our 19-foot trailer, we don't have the room for a combination washer and spinner.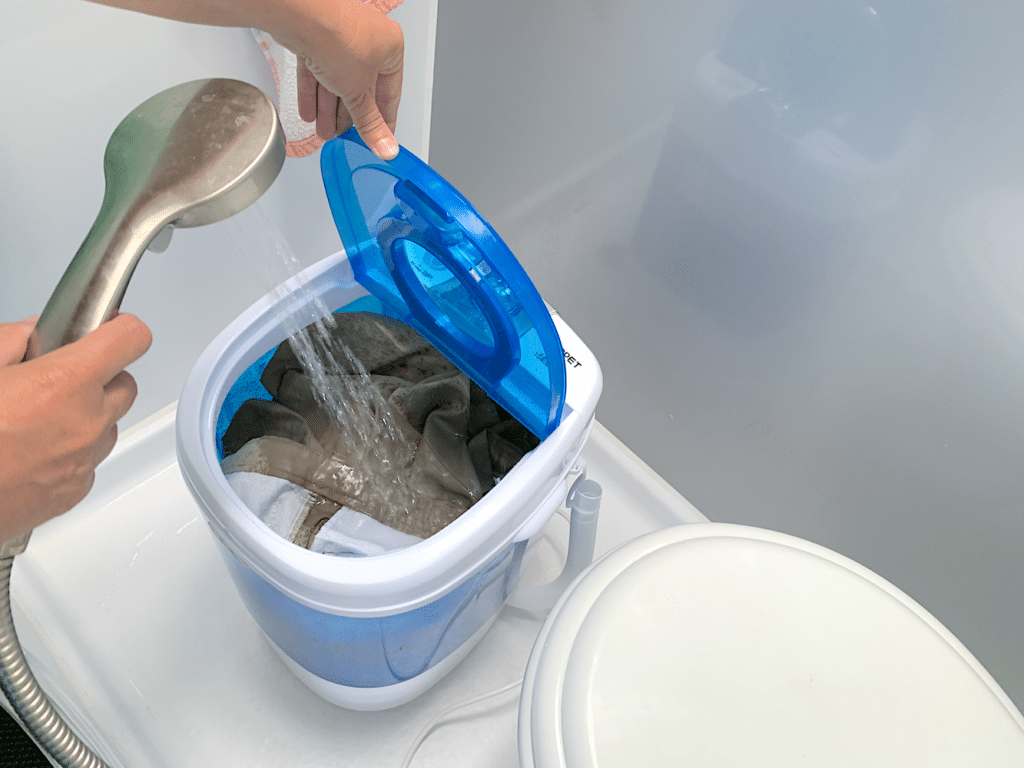 This Single Tub Washing machine has 7.7 pounds of washing capacity, which is actually more than the combination appliance above.
You can see exactly how this washing machine works in our video review:
Pros
12 pounds
Water intake tube
Drainage pipe for removing water
Timer up to 15 minutes for wash cycle
Cons
Have to wring clothes by hand
A little larger than some other choices
Wonder Washer
The Wonder Washer looks like a big blender for clothing. It's not as wide as some other portable washers, which might be great for you when storing.
This electric washing machine will clean the clothes for you, but you will need to wring them out by hand.
Pros
Weighs 8 pounds
Best for lightweight items, such as delicates or women's clothing
Cons
No spinner
Must manually add water
No drainage tube
Must pick up to dump out the water
Best Portable Manual Washing Machines for Camping
These manual, or old-fashioned, washing machines don't require any electricity, so you can use them off-grid. Which is perfect if you are tent camping, car camping, boon docking or enjoying van life.
Styles range from foot-powered to hand crank to using a modern-style washboard with your hands.
The Laundry POD
The Laundry POD looks like an oversized salad spinner, because that kitchen accessory actually inspired this non-electric washing machine.
Using less than 3 gallons of water for a load, this is a great washing machine to use when boon docking. You will need little water and no electricity.
The laundry machine will clean the clothes and spin them to remove excess water. You simply need to spin the handle for it to work.
Pros
Less water usage than other systems
Spins water out of clothes
Fully assembled
Easy to store
Cons
Cannot do a large load of laundry
Wonderwash
This portable washing machine is a bit weird looking, and it isn't exactly space saving. However, Wonderwash might work well for your needs.
We own a Wonder Wash and think it works great. It's just takes up a lot of room with the shape that it is. Which makes it hard to store in an RV.
Weighing less than 6 lbs., it is easy to carry. The hand crank function is located on the side of the unit, which is different than other portable units we cover in this list.
Expect to fit about 6 men's shirts or one pair of jeans in the Wonderwash at a time. I've fit in two pairs of women's jeans. If you are washing RV sheets, we found only one Queen sheet will fit at a time and maybe the pillowcases, too. You cannot get both the fitted and flat sheets of a Queen size set in the washing machine at the same time.
This unit doesn't have a spin cycle, so you will need to wring by hand or use a separate spinner.
Pros
Takes just 2 minutes to clean clothes
Weighs less than 6 pounds
Heavy duty construction
Washes a decent amount of clothes in one load
Cons
Can only fit 1-2 towels at a time
No spin cycle to remove water from clothes
Needs to be assembled
Plunger Style Laundry Cleaner
A small and compact clothes cleaning system, this plunger-style clothes washer takes up little space and is very inexpensive.
Add clothes, water and detergent to any bucket that you have. (This is a great way to save space, because you can use any clean bucket that you would carry with you while traveling that you might also be using for something else.) Then put the plunger in and push up and down to agitate the clothes while cleaning.
This system uses the most strength out of any of the portable washing machines for camping. However, you can choose how much water to use and how big the loads are depending on what size bucket you use. If you want to wash towels, comforters, sleeping bags or bedding, you can as long as you have a big enough bucket.
Pros
Takes up little space. The system comes apart into 5 pieces for easy packing.
Least expensive out of clothes cleaning options.
Simple assembly
Can wash large loads and large items
Cons
Requires a lot of upper body strength
Doesn't have an option for rinsing or spin cycle
Lavario Push style
This push-style washing machine can wash heavy duty clothing, such as jeans and sweatshirts. The unit works with gravity to plunge down, and then natural buoyancy brings the unit back up as you are washing.
Made in the USA, this manual washing machine comes with an optional RV accessory kit for ease with filling with water and draining water.
Pros
An RV accessory kit makes it easier to use in an RV
Made in the USA
Quality construction
Easy to Assemble
Can wash a larger load
Cons
Uses about 10 gallons of water for a load
Pretty big
Clothes come out pretty wet
No spin cycle option
One of the most expensive options
Pedal Powered WOWKU
If you don't have enough strength in your arms, shoulders or hands to manually crank a washing machine, then the WOWKU is for you. This tall, slender unit is pedal-powered with a foot.
Pros
Great if you have leg strength rather than arm strength
Weighs about 6 lbs.
Cons
No rinse cycle
No agitator
Need to hold down lid or sit on lid while pushing pedal
Scrubba Portable Wash Bag
This is the smallest and most lightweight washing system there is for travel. Weighing in at only 5 oz., this is a great product to add to your camping kit in case you need to do laundry and there is no laundromat in sight.
The Scrubba Portable Wash Bag is a waterproof bag with a washboard inside that allows you to manually wash your clothes by "squishing" the laundry around with your hands. It uses old-fashioned technology to clean your clothing in about 3 minutes.
You won't be able to do your sheets or towels with this equipment. However, it is perfect for undergarments, t-shirts, kid's clothes and shorts.
Pros
Uses little water
So small it folds into a compact square
Only 5 oz.
Cons
Can't do a lot of laundry at one time
Must continuously massage the bag with your hands to wash clothes
Need to rinse separately underneath a faucet or hose
No spin cycle
Accessories to Make Laundry Day Easier
None of these portable laundry machines will actually dry your clothes. You will need a way to hang up your clothes to allow them to dry.
An old-fashioned clothesline hung between two trees is among the easiest ways to dry clothes. Try this 2-pack of clothesline that comes with clips for hanging your laundry.
If your RV does not have a retractable clothesline in the shower, you can add one easily.
This Heavy Duty Drying Rack with clips can be hung from a tree, a lantern pole or any structure that will support the weight. With 26 clips, you can dry multiple items using just one hanger.
We have traveled with a Laundry drying rack that folds down flat. It can easily fit underneath your trailer or under the bed. You will be able to get a variety of items on one rack. This is best if you are camping where there are not trees to hang a laundry line, or it is prohibited in the campground you are at.
A Portable Spin Dryer will help to really remove the moisture from your clothing. While you might not have completely dry clothes, it will help you get your laundry done much quicker.
---
Don't think of these small washing machines as a luxury when RVing! They can be used in so many useful ways at home or during an emergency power outage, too.
These portable washers can be used to clean a small batch of clothing, such as baby onesies, diapers, bras, or masks.
During a power outage, you could run the electric washers off of a portable generator, such as a Jackery, which you cannot easily do with a full-size washing machine.