Any Couch Potato Camper who cares about a comfortable night's sleep should instantly find an RV mattress replacement after buying their camper or trailer. While some newer trailers, vans and motorhomes come with decent mattresses now, most older RVs won't. Unless, of course, the previous owner replaced the mattress themselves.
And let's face it, you're still going to want a lot more comfort and luxury than the standard manufacturer's beds.
Wait, how much will an RV mattress replacement cost? Here's the surprising truth – not too much! You'll be surprised!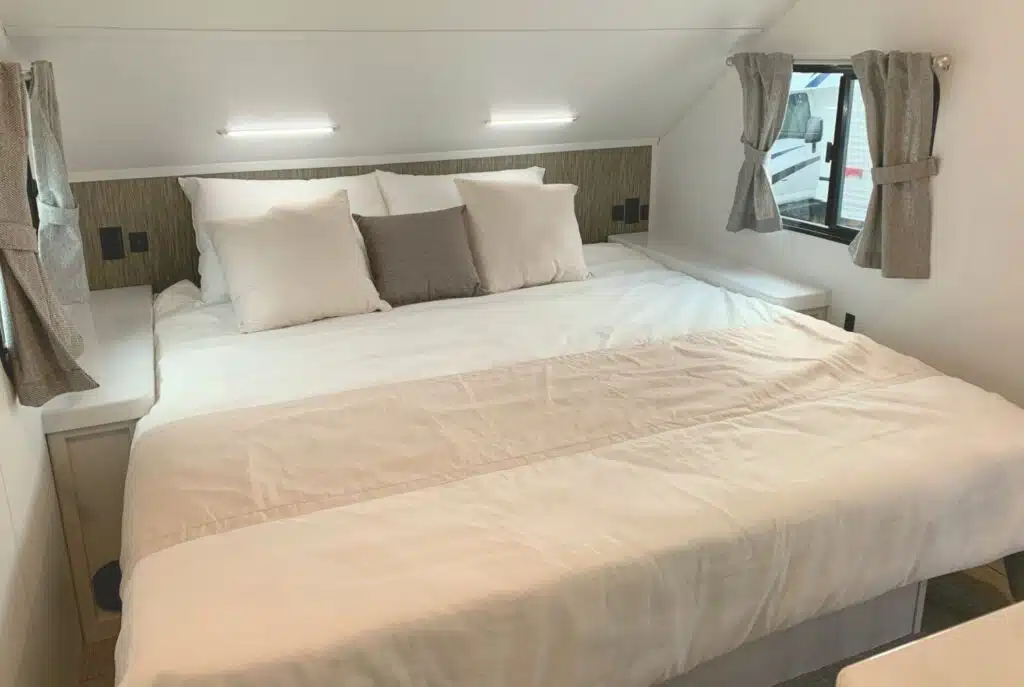 Yep, replacement mattresses for your camper or RV can be really inexpensive. Even if you need custom sizes, such as cut corners. And, when you think about how much your camping vacation is affected if you don't get a good night's sleep (who wants to hike when they were up all night with an innerspring digging into their back?), switching out a bed for just a couple hundred dollars is a small investment to make.
Can You Change Your RV or Camper Mattress?
Yes! We found this out when we bought our travel trailer. The thin innerspring mattress with an old-fashioned blue flower cover was uncomfortable from the minute we laid down on it at the RV dealership. So I KNEW that would have to be replaced.
We ended up adding a mattress topper until the replacement, and it worked really well! Here's what we did:
Then in our Intech Sol Horizon, a 3-inch polyurethane foam slab was the "mattress" that came with our trailer. There are mattress toppers thicker than that! Needless to say, it was uncomfortable and HAD to be replaced.
After doing a lot of research, I found that replacing an RV mattress is not only common, it's also recommended.
And there are plenty of companies that make mattresses just for RVs and campers (I had no idea this was even a thing!).
Are RV Mattresses Different?
The mattress that comes with your RV or camper when you purchase it will likely be different for a lot of reasons:
Weighs less
Convenience, not comfort
Shorter
Rounded corners
Folds in Half
Will you have all of these differences in your RV bed? Maybe not. But they are common.
Weight
Mattresses in trailers and campers have to be as lightweight as possible. This is so you can bring more weight with your personal items so that you don't go over your cargo carrying capacity limit.
Upgrading your bed with a comfy mattress likely won't change your towing capacity that much. Unless you choose a really heavy latex foam and you are already at the maximum towing capacity for your rig.
Convenience
Let's face it, RV manufacturers aren't in the business of selling mattresses. They just simply put a mattress in your trailer so you can start camping from day one.
Many new RVs are coming with luxury mattresses now. But if you don't purchase a high end rig, or if you are buying an older model, then you probably aren't going to get a comfy bed that you'll want to keep.
Short Mattress
One of the weird things about sleeping in an RV is that everything is smaller. Including the mattress. Manufacturers do this so that they can give you all of the creature comforts of home in a moving vehicle. But in order to make that happen, they need to save space where they can. So a few inches are usually cut off from the mattress.
If you are a tall person, you will definitely need to rent or buy an RV or camper that can accommodate a normal size mattress.
Rounded Corners
Again, to make things work in an RV, some mattresses will have rounded corners.
You'll likely never notice the missing corners in a bed. That is, until you try to replace the mattress. Or find sheets that will fit snuggly.
Folds in Half
Many RVs now have beds that fold to be stowed away like a Murphy bed. Or for the slides to come in. Finding a folding mattress can be difficult (unless you go here).
What is the Best, Most Comfortable RV Mattress to Buy?
There are a variety of companies that sell RV mattress replacements. So don't think you have to buy one from the RV manufacturer.
Here's our top picks for different size RV mattresses:
RV Queen and King Mattress Replacements: Normal and Regular
RV Innerspring Mattress
Replacement Mattress for RV Sofa Bed
RV Bunk Mattresses
6 Inch Mattress (or Less)
8 Inch Mattress
Can You Put a Regular Mattress in an RV?
Yes, you can. But only if there is enough room in the bedroom. And only if you can fit one through the door.
It seems simple. But it's not.
If the bedroom has been configured to only have a short RV-size mattress, such as a slide with the bed that comes all the way to the opposite wall when closed, then you will never be able to switch the RV mattress for a regular mattress.
However, if you have the space, you can definitely put a normal mattress in your RV or camper.
That is, IF you can get it inside! Keep in mind, an RV door and hallway and turning radius will be extremely small. It is more narrow than in a home. So you might not be able to just carry in a regular queen or king size mattress, especially if it is an innerspring mattress.
Getting a replacement mattress that is a bed-in-a-box is always the better alternative for replacing a bed in a trailer or camper. Trying to carry in a normal size mattress already unfolded will likely have you finding some nasty words in your vocabulary you didn't realize you knew.