Whether you are dreaming of your next vacation or getting ready to take the plunge and buy a motorhome, these RV movies make you feel like you are taking a road trip across America!
We put together a list of the Best RV Movies you want to watch. After all, we have watched most of these and laughed out loud with all of the RVing antics that we can definitely relate to!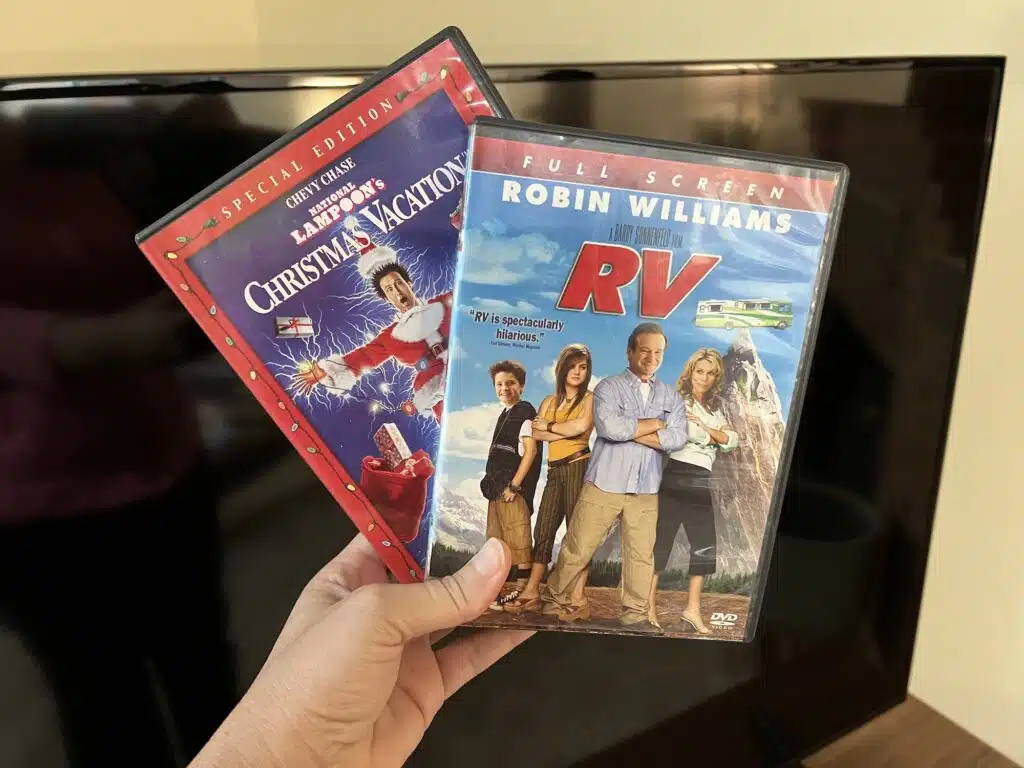 RV (2006)
Without a doubt, RV is one of the funniest and best RV movies ever!
This comedy features Bob Munro, played by Robin Williams, and his family as they venture out on their first RV camping trip.
The all-star RV movie cast also features Kristin Chenoweth, Cheryl Hines, and Jeff Daniels.
The situations they face are funny for anyone who is thinking about RVing, or RVs already. Especially the sewer hose scene!
This movie is so good we highly suggest you buy a copy (especially when it's less than $10) or at least rent it one time!
Also on Walmart.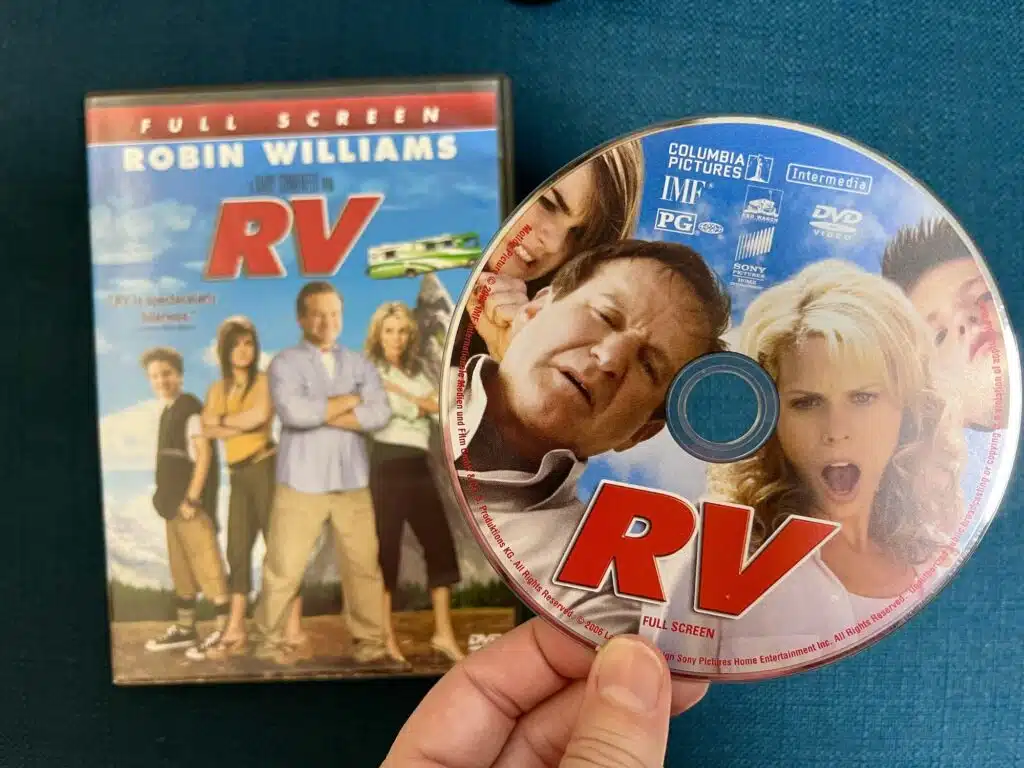 The Long, Long Trailer (1954)
Another all-time classic RV movie, this one was ahead of its time! Lucille Ball and Desi Arnaz, who are famous for their I Love Lucy television show, played a honeymoon couple taking an RV vacation in a huge travel trailer pulled by their car.
Since RVing wasn't as popular back in the 1950s, the fact that this movie was made is surprising.
Even though it is an older film, RVers will love the hilarious antics that Lucy and Desi get into. And to see how perceptions have changed. For example, no one is cooking dinner in the back of a travel trailer as it is moving down the highway!
We especially like the collecting rocks storyline. Anyone who has picked up souvenirs along their travels will understand the weight limit problem!
You can rent this movie on Amazon Prime or buy the DVD, which is sometimes available for around $10.
Also available on Walmart.
We're the Millers (2013)
This Jennifer Aniston RV movie is a adult comedy with Jason Sudeikis, who is a drug dealer that has to go to Mexico to smuggle marijuana back to the U.S.
Creating a phony family as a cover-up to cross the border more easily, the dysfunction crew travels in a Coachmen Encounter Class A motorhome to look like tourists.
Available to rent on Amazon or buy the DVD.
Also on Walmart.
National Lampoon's Christmas Vacation (1989)
"That there is an RV!"
Perhaps the most well known RV movie, even though it takes place at a home! The National Lampoon RV driven by Cousin Eddie is an iconic piece of movie history that everyone recognizes!
We suggest getting the DVD because this holiday classic deserves to be watched every Christmas!
Also on Walmart.
Related Post: Best Summer Camp Movies (and Their Theatrical Trailers)
Meet the Fockers (2004)
The sequel to Meet the Parents is a raunchy comedy starting Ben Stiller, Robert DeNiro, Barbara Streisand and Dustin Hoffman.
A Fleetwood 2004 Pace Arrow Motorhome is key to the storyline. In fact, more than 1,000 Fleetwood dealerships had promotional materials for the movie and the RV as part of the partnership with Universal Studios when the film debuted.
Enjoy the three part series, including Meet the Fockers, with this trilogy DVD.
Or buy the single movie.
Lost in America (1985)
While quitting your job and full-time RVing is common in today's age, it definitely wasn't in the 1980s! Which makes this Albert Brooks and Julie Hagerty movie even more hilarious.
After Brooks is fired, the couple sets off to travel across the U.S. in their Winnebago. They are living off of their nest egg which is rapidly disappearing during their time out of work. (Something that a lot of full-timers will understand!)
We love the quote, " I just dropped out of society, I kind of live moment to moment, we don't do reservation things anymore."
The DVD is available to purchase, or you can rent the movie on Amazon Prime.
Also on Walmart.
PAUL (2011)
An RVing trip to Area 51 after Comic Con actually encounters a real alien looking for help.
This comedy has Simon Pegg, Nick Frost and Kristen Wiig helping Paul, the alien, escape Jason Bateman and Sigourney Weaver.
A hilarious movie that we can't believe we didn't hear of before! A little like E.T., but with a sarcastic alien who is just as funny as the leading men.
We suggest getting the Unrated version available to purchase on Amazon or on Walmart.
Leisure Seeker (2018)
While most of the movies on this list are funny, Leisure Seeker definitely isn't a comedy.
The heartfelt film follows an older husband and wife (Helen Mirren and Donald Sutherland) that are on their way to Key West to Hemingway's house. He has memory impairment and she struggles with their relationship along the way.
You can buy the DVD on Amazon or Walmart, or rent on Amazon Prime.
Spaceballs (1987)
While not a true RVing movie, this one still makes the list with a Winnebago that is a spaceship RV known as Eagle 5.
Get ready to laugh out loud with this Mel Brooks film!
Buy the DVD on Amazon or Walmart. You can also rent Spaceballs on Amazon Prime.
About Schmidt (2002)
Seeing life slipping by quickly after his retirement, Jack Nicholson sets off in an RV to visit his daughter and prevent her marriage to the wrong guy.
Buy it on Amazon or Walmart, or rent the movie.