Trying to get your child excited to go to sleep away camp? Or do you want to relive your happy memories of going to summer camp as a kid?
Those of us who have experienced the thrill of outdoor adventure, bonding with new friends, and overcoming obstacles can attest to the transformative power of the summer camp experience.
It is no surprise that summer camp movies have become an enduring genre in film history because of their nostalgia. From classic comedies like "Meatballs" to heartwarming dramas like "The Parent Trap," these movies celebrate the joys and challenges of summer camp life. They capture the essence of the camping experience and transport viewers to a world of discovery, fun, and personal growth.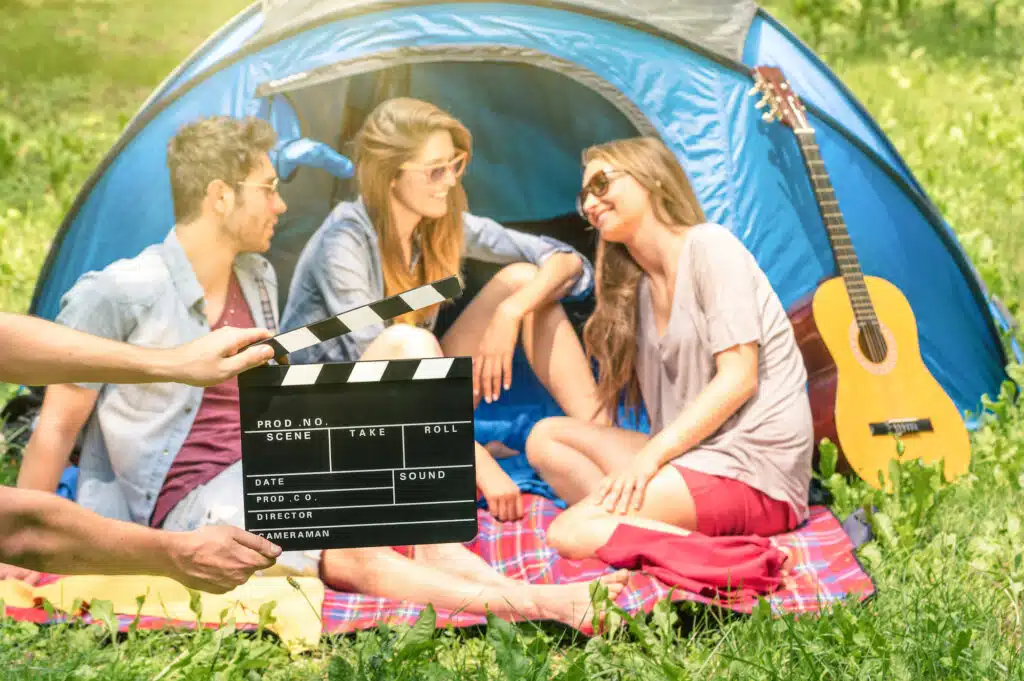 Here are some of the most memorable summer camp movies of all time.
The Parent Trap (1961 with Hayley Mills, 1998 with Lindsay Lohan)
Whether you prefer the classic Hayley Mills version or the modern-day Lindsay Lohan remake, the moral of the story is as clear as day: summer camp is the ultimate solution to family troubles!
When two identical twins end up at the same camp by accident, they initially spend their time driving each other up the wall. But then, they realize they're long-lost sisters and decide to swap places to mess with their parents' heads a bit.
Sure, there's some action outside of the camp, but let's be real – watching these two bratty twins bicker and prank each other is where the real entertainment lies.
Related Post: The Best RV Movies
---
Meatballs (1979)
This original camp flick is pretty lame compared to modern day versions, but let's give credit where credit is due. This movie really got the cheesy camp genre going.
Camp North Star, AKA the Bad News Bears of the wilderness, goes head to head in an Olympiad with snooty Camp Mohawk, who love to play dirty. You'd think North Star was doomed, but, surprise surprise, they end up coming out on top with potato sack races, hot dog eating contests and more! And all the counselors land a hot date, and head counselor Tripper (aka Bill Murray in his first film role) pulls one last epic prank on the camp director.
Ah, the good old days of predictable plots and happy endings.
---
Ernest Goes to Camp (1987)
Although Jim Varney's portrayal of the hapless Podunk character, Ernest, may not have stood the test of time, the story of his journey as a counselor at Kamp Kikakee is still an entertaining watch.
The movie follows Ernest as he takes on the responsibility of guiding a group of troubled youths and ultimately saves the camp from being destroyed by a scheming industrialist.
Despite its flaws, this film is a perfect example of the fun and engaging qualities that a classic camp movie should have.
---
Space Camp (1986)
While this particular camp may not fit the traditional image of cabins and wilderness, it still adheres to many of the genre's favorite elements.
The plot centers around a group of underestimated children who find themselves in an unexpected predicament, forcing them to prove their worth. In this case, the scenario involves being stranded in a space shuttle and having to devise a plan to return to Earth.
To add to the unique setting, there is a friendly robot companion who befriends the protagonist.
Despite the unconventional backdrop, this film still embodies the classic elements of a camp movie.
---
Addams Family Values (1993)
Picture this: a bunch of misfit campers, forced to attend a summer camp for the snooty rich kids. But what if the tables were turned and the underdogs had to endure all the fancy schmancy amenities?
Well, let's just say they wouldn't take it lying down. In fact, they'd probably set fire to the place during a Thanksgiving play.
And the cherry on top? Wednesday (aka Christina Ricci) would lead the way with her deliciously evil aura, convincing the outsiders to unite and skewer their stuck-up counselors on a spit.
It is the ultimate revenge fantasy, folks. Dark, twisted, and oh so perfect.
---
Camp Nowhere (1994)
This movie from the 1990s may not necessarily be considered a cinematic masterpiece, but it offers an entertaining spin on a familiar theme.
The plot revolves around a group of teenagers who have no desire to attend a conventional summer camp. Instead, they coerce their unscrupulous drama teacher (played by Christopher Lloyd) into convincing their parents to pay for a fictitious camp experience.
The group rents an abandoned campground, but when their parents unexpectedly visit, they must improvise and pretend that the site is actually a computer, fat, and drama camp.
The resulting comedic situations provide a lot of laughter, as well as heartwarming themes of the power of camaraderie and life lessons learned through hardship.
---
Heavyweights (1995)
The film Heavyweights is known for its psycho ex-fitness instructor, Tony Perkis, who is played by Ben Stiller. Perkis takes over Camp Hope, a fancy summer camp for overweight boys.
His strict eccentric fitness regime drives the campers to insanity. Although the children manage to lock Perkis up and indulge in their favorite junk food, a counselor motivates them to take responsibility and become healthier.
---
Troop Beverly Hills (1989)
Listen, listen, hear me out! This movie may not even have actual camping, but it's still the best camp movie ever made!
You've got a gang of total underdogs, a leader who's totally unexpected, a rival who's just too darn sincere (and likes to cheat), and a whole lotta traditional values being rediscovered through adversity.
When scatterbrained shopaholic Phyllis Nefler (played by the fabulous Shelley Long) decides to make a Wilderness Girls group in the poshest part of LA, she's got a group of girls who are about as suited for the great outdoors as a pair of stilettos. But boy, does she teach them some life lessons – mostly about how to live it up at the Beverly Hills Hotel!
You just know it's all gonna end happily ever after, with Phyllis getting her hubby back, everyone getting a medal, and us getting the "Cookie Time" song stuck in our heads forever.
---
Indian Summer (1993)
Uncle Lou, portrayed by the renowned actor Alan Arkin, yearns to recapture the golden moments of his past at the real-life Camp Tamakwa in Ontario.
He enlists a group of young adult campers to join him on a journey to rediscover their youth and contemplate becoming adults.
Although the storyline is uncomplicated and anticipated, resembling the likes of The Big Chill and similar films, the exceptional cast comprising of Elizabeth Perkins, Diane Lane, and Bill Paxton compensate for any shortcomings.
---
Wet Hot American Summer (2001)
With an ensemble cast including actors Bradley Cooper, Paul Rudd, Elizabeth Banks, and a pre-fame Amy Poehler, the satirical take on summer camp movies is a comedy that centers around a group of counselors who are constantly chasing each other and dealing with unruly campers.
The camp itself is also in jeopardy of closing down. The film features a cook who is a troubled Vietnam veteran, a talking can of vegetables, and a missile that threatens to annihilate them all. Even with its unusual take on a sleep away camp, this film has become a cult favorite.
---
Moonrise Kingdom (2012)
Camp Ivanhoe, the summer camp featured in Wes Anderson's film, is a picturesque and meticulously designed campsite that is sure to appeal to those who appreciate attention to detail.
However, the film's protagonists, Sam and Suzy, face a difficult journey as they attempt to run away together after falling in love the previous summer.
In the process, they attract the attention of the entire camp, Suzy's parents, local law enforcement, and even Hollywood actors in this charming and satirical portrayal of youthful romance.