When one thinks of a toy hauler RV, they often immediately jump to the large Fifth Wheel, three axle forty-plus feet trailers. Or, they may have a picture in their mind of the Super Class C or even more rare Class A toy haulers. However, for those in the market for a small toy hauler that can be towed with an equipped SUV, small pickup truck, or – depending on the model – a car we have your guide.
We're providing a guide for the best toy haulers that are less than thirty feet in length!
This guide provides a variety of variations and manufacturers who have smartly designed toy haulers meant for transporting your motorized vehicles or large camping gear in the form factor of a travel trailer. Though small in stature, the options are seemingly endless with many of trailers we're showcasing.
All of these trailers can be used for camping at your favorite destination or hauling your kayaks, canoes, quads, dirt bikes, etc. to your rally events or the great beyond.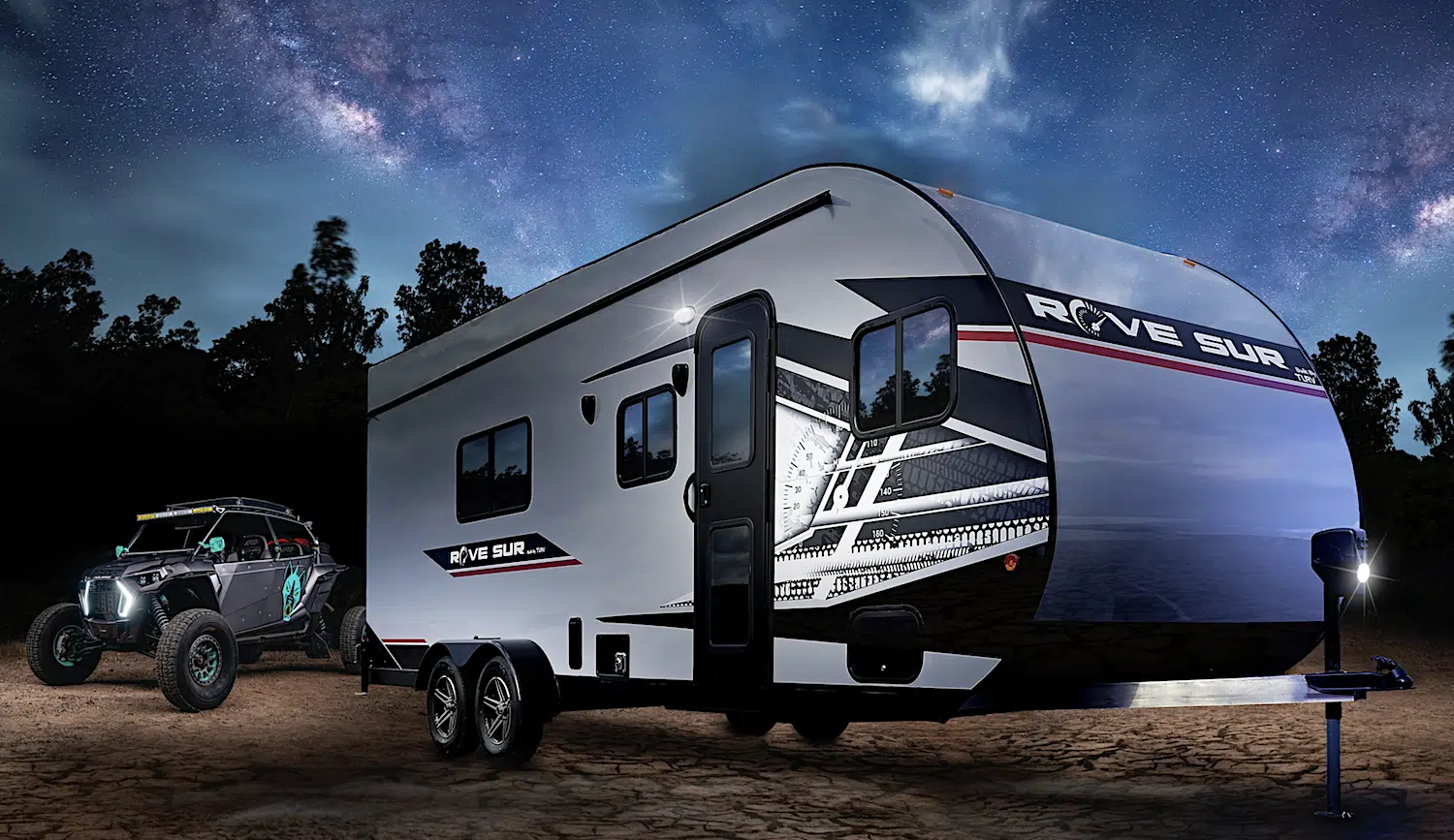 What Is a Toy Hauler?
A towable RV, in the form of either a travel trailer, some larger Class A and Class C, or a fifth wheel, that incorporates an interior 'garage' space – typically at the rear of the RV – capable of transporting via an integrated ramp motorized or non-motorized equipment such as:
Golf carts
Motorcycles
Quads
Snowmobiles
Dirt Bikes
Bicycles / mountain bikes
Canoes
Outdoor camping equipment
Grilles and smokers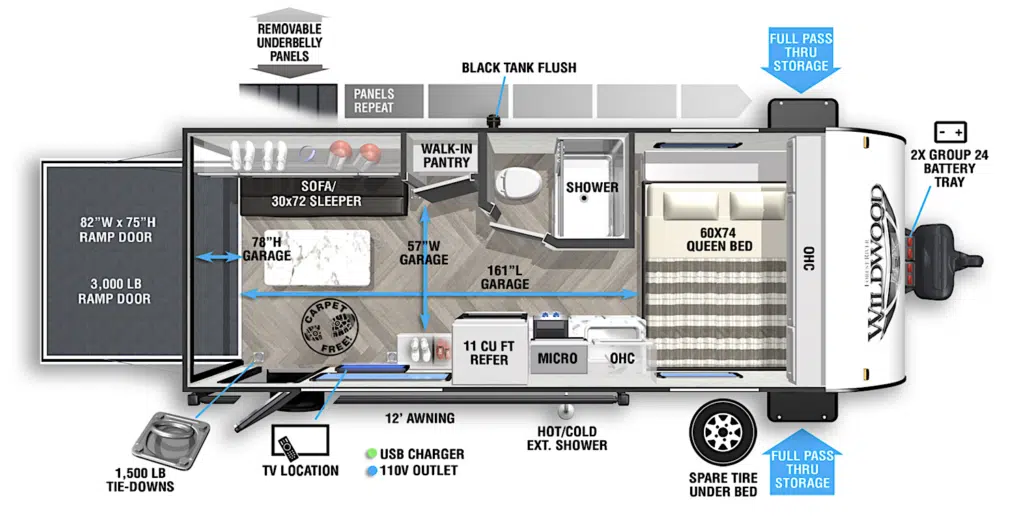 What Classifies a Toy Hauler as 'Small'?
A small toy hauler generally refers to the towable or travel trailer form-factor type of hauler that generally is less than 30′ feet in length and can be towed by a 1/2 ton or less pickup truck or an equipped SUV. It should be noted, depending on the manufacturer and model of the small toy hauler, some incorporate a rear door and ramp that can be converted into a deck space.
15 Best Small Toy Haulers for Adventurous RVers
1. inTech Flyer Discover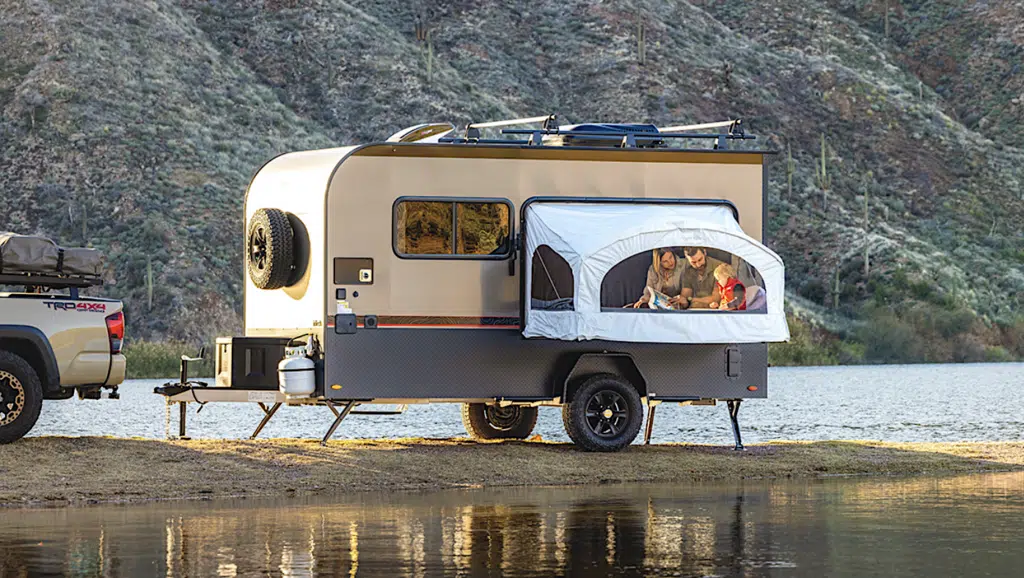 If you're in the market for a small, rugged, single axle toy hauler that can be towed behind an SUV or pickup truck, then we highly recommend the inTech Flyer Discover. The build quality of all inTech trailers are second to none – as previous owners of an inTech Sol Horizon we can attest to this – with its all-aluminum subframe and wall construction.
Available in five different colors – two of which are upgrades (Red Blaze and Midnight Black) – the versatility of Flyer Discover is a unique hybrid of a pop-up camper and a toy hauler. Other exterior features include an all-fiberglass exterior with diamond plate finish on the high-traffic areas and around the trailer's skirt area
The Discover Flyer interior offers a small kitchenette with a stainless steel farmhouse sink, a cooktop, storage shelves & cubbies, a pantry, and refrigerator. Other features include:
(2) curbside tip out 46″ x 81″ beds
Loading rear door / ramp (rated for 2,200 lbs)
2 Burner cooktop
3.1 cu ft refrigerator
(9) 500 lb tiedown rings
Bluetooth Stereo with speakers
Prepped for TV
Black Coin Flooring
MaxxAir Vent Fan
One piece Aluminum roof
(1) 20 lb LP Tank
Prepped for Solar
30 Amp Electrical
8.5 Gallon Fresh Water Tank
5,200 GVWR
A/C (optional)
Roof rack (optional)
LP Furnace (optional)
10′ Power Awning (optional)
What We Like about the inTech Flyer Discover
The inTech Flyer Discover is the perfect dual-purpose, small travel trailer and toy hauler. If you simply need a cargo trailer to take your ATV out on an adventure or you want to get away camping for the weekend with friends or family members, the Discover can easily accommodate both. The build quality of inTech trailers is top notch and given the smaller form-factor of the Flyer line of trailers, it can be easily towed without the need to purchase a large, heavy-duty tow vehicle.
2. Forest River Wildwood FSX 181RT
Toy hauler meets travel trailer for a small family is the best way to describe the Wildwood FSX 181RT by Forest River. With an unloaded, dry weight of 3,204 pounds, the 181RT offers the comforts and amenities of a small travel trailer with the hauling capabilities of a toy hauler.
With the ability to sleep three adults comfortably, a private bathroom with a shower and toilet, and plenty of interior storage, the 181RT provides all the amenities you need for an adventurous camping trip or taking your favorite motorized toy in the outback for a long weekend. Other specifications include:
440 lb hitch weight
1,636 lb cargo carrying weight
10′ – 2″ Tall x 21′ – 8″ long x 90″ wide
43 gallon Fresh water tank
30 gallon Grey water tank
30 gallon Black water tank
30 Amp electrical service
12′ wide awning
11 cu ft refrigerator
2 burner stove
Kitchen sink
Queen size bed
20 lb LP tank
Exterior pass-through storage
82″ wide x 75″ high ramp door
3,000 lb capacity ramp door
78″ high interior height
TV Ready
1,500 lb interior tie downs
What We Like about the Wildwood FSX 181RT
We are impressed with a mainstream RV manufacturer like Forest River designing and producing a smaller toy hauler trailer like the 181RT. The versatility of this towable toy hauler with the option to turn it into a garage on wheels or a comfortable easily maintainable travel trailer gives this design an edge.
3. Palomino Puma Ultra Lite 187TH

If you're looking for a slightly larger toy hauler than the FSX 181RT, then check out its sister Puma Ultra Lite 187TH by Palomino – a Forest River company. With approximately an additional foot in length, the 187TH provides a similar layout, but offers a larger kitchen area an longer interior garage space.
Other interior features of the Puma Ultra Lite 187TH include the option to sleep up to three adults, A/C, LP gas furnace, ample interior storage both in the Queen bed area and the kitchen, and a nearly 9′ long interior garage space perfect for you kayaks, canoes, outdoor equipment, and other toys. This small toy hauler also boasts:
535 lb hitch weight
4,935 GVWR
1,406 lb Cargo carrying weight
10′ – 1″ high x 22′ – 9″ long x 84″ wide
14′ wide electric awning
34 gallon Fresh water tank
30 gallon Grey water tank
30 gallon Black water tank
27″ x 27″ shower in a private toilet room
6′ – 4″ ramp door
6′ – 2″ rollover sleeper sofa
TV and Cable ready
WiFi Prepped
Solar prepped
Front and Rear stabilizer jacks
11 cu ft residential refrigerator
30 lb LP Tank
Back-up camera prepped
Tinted windows
What We Like about the Puma Ultra Lite 187TH
With a total length well under 30 feet, this small toy hauler packs a lot of standard features for those requiring a towable travel trailer with interior garage space. The creature comforts for camping and traveling are not lost or sacrificed with the 187TH.
4. Travel Lite RV Rove 24SUR Toy Hauler
Modern styling combined with an impressive 13′ interior long garage space only begins to describe the Travel Lite Rove 24SUR. This dual-axle 26′ long travel trailer is made from 100% composite exterior material supported by an all-aluminum frame.
This sleek trailer can sleep up to four adults via a front 60″ x 80″ bed and an optional rear drop down bunk bed by Happi-jac. The front half of this toy hauler provides you a private toilet room, overhead cabinet storage, a small kitchenette and a 10.7 cubic foot refrigerator. This trailer is packed with standard options including:
200 lb hitch weight
No sway control or weight distribution hitch is required!
7,000 lb GVWR
Impressive 3,500 lb cargo carrying weight
8′ – 1″ Exterior height
6′ – 6″ Exterior width
26′ – 10″ Exterior length
30 gallon Fresh water tank
30 gallon Grey water tank
5 gallon Black water tank
110″ Exterior awining
Rear door patio kit (optional)
20k BTU furnace
13.5k BTU A/C
20 lb LP tank
30 Amp electrical service
320 Watt Solar Panel
Tuson sway control
HDTV w/ signal amplifier
LED exterior accent lights
What We Like about the 24SUR by Rove
We are truly impressed with the heavy cargo carrying weight of 3,500 pounds offset by the low tongue weight of only 200 pounds. This means if you have an equipped SUV or pickup truck you should consider this small toy hauler as a viable option. And, Travel Lite recommends you don't add sway control or a weight distribution hitch!
5. Carson Trailer Fun Runner Xtreme XL 202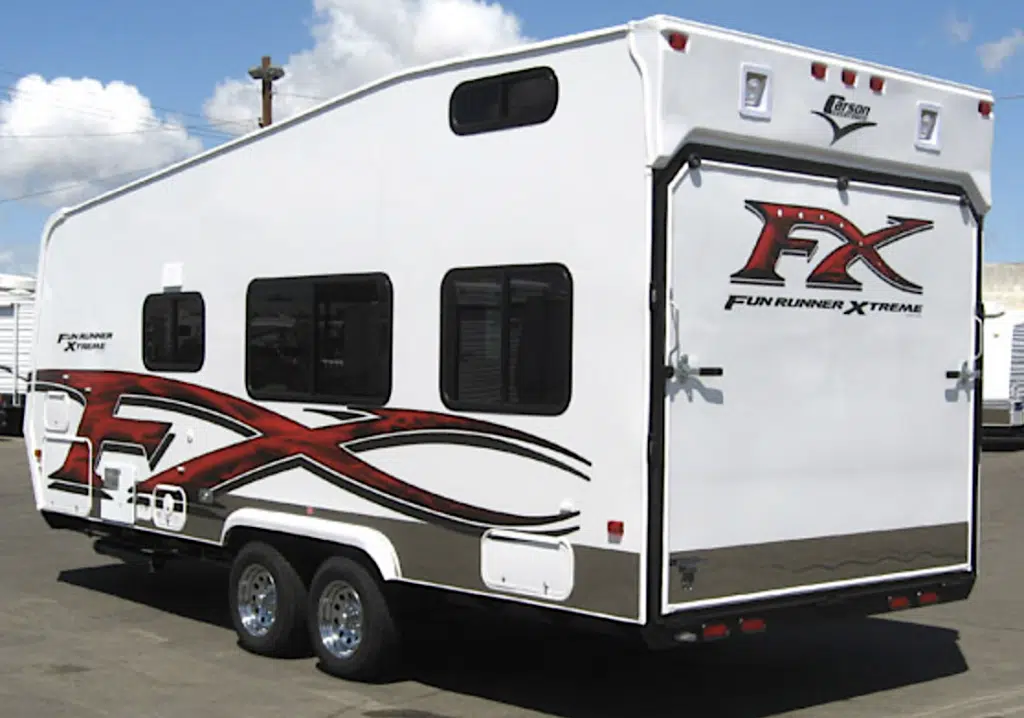 If you're in the market for a dual-axle toy hauling travel trailer less than 25 feet in length, then check out the Xtreme XL 202 Fun Runner by Carson. This is a serious contender with a cargo carrying capacity around 3,000 pounds. Though short in length compared to its larger fifth wheel toy hauler cousins, this travel trailer is ready to get you and your gear to where you're adventures can take you.
One of the most impressive features of the Fun Runner XL 202 is the 96″ wide by nearly 15 feet in length interior garage space. Carson trailer offers an even more impressive list of interior and exterior options you can fit out your trailer as simple or as loaded as you desire. Standard features for the XL 202 include:
Stainless steel kitchen sink
Tinted windwos
TV and Cable prepped
6 gallon DSI Water heater
2 burner cooktop
Single convertible dinette / bed (additional optional)
Interior tie down anchors
45 Amp electrical converter
Full linoleum flooring
760 lb hitch weight
3,8000 lbs dry weight
7,000 GVWR
40 gallon Fresh water tank
22 gallon Grey water tank
22 gallon Black water tank
20 lb LP tank
Private toilet and shower space
L-shaped front kitchen
8′ wide heavy-duty ramp door
What We Like about the Fun Runner Xtreme XL 202
We are thoroughly impressed with the long list of interior and exterior options Carson Trailers provides is buyers. We have toured countless numbers of travel trailers, and we can't think of one that compares to the the XL 202 in terms of customization. One can quite literally specify exactly what they do and don't need in this extremely capable small toy hauler.
6. KZ Escape E20 Hatch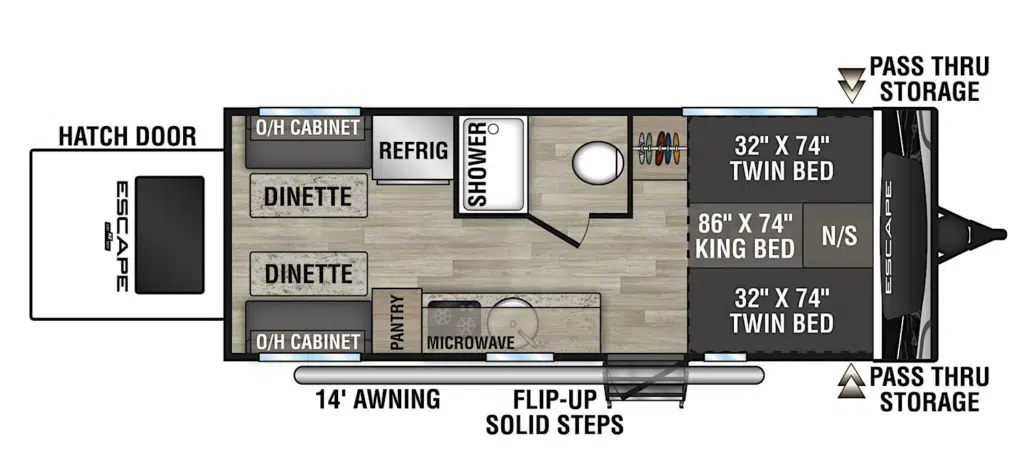 The more KZ trailers we tour, the more impressed we are with this travel trailer manufacturer. This holds true with the KZ Escape E20 Hatch small toy hauler. Well-appointed and smartly designed KZ trailers are found in their line of toy haulers. The Escape E20 marries a well-designed travel trailer more than capable for weekend camping or family outings with a trailer boasting an interior garage space to carry all the gear and equipment your adventures demand.
From the private shower and toilet space to the front bed options of either two twin beds or one single large king size bed, the Escape E20 Hatch provides its owners with the versatility they seek in a multi-functional small toy hauler. Other features include:
540 lb hitch weight
840 lb Cargo carrying weight
4,400 lb GVWR
20 gallon Fresh water tank
30 gallon Grey water tank
30 gallon Black water tank
20 lb LP Tank
20k BTU furnace
78″ Interior height
14′ Exterior awning
Convertible rear dinette / beds
Microwave
Off-grid and off-road package (optional)
Azdel composite wall panels
8 cu ft 12V refrigerator
6 gallon DSI water heater
LED Interior lighting package
What We Like about the KZ Escape E20 Hatch
The build quality and smart floor plans of all the E-series toy haulers by KZ stack the cards high for individuals looking for small form-factor travel trailer capable of meeting multiple functions for their owners.
7. Cruiser RV Stryker ST2313
There are two standout features that caught our attention when looking at the Cruiser Stryker ST2313, a front walk-around king size bed and a separate 30 gallon fuel tank with fuel pump for your toys. This small toy hauler is truly equipped for the adventurous types loaded with motorized toys for the outdoors.
The optional Onan generators couple with the dedicated fuel pump is perfect for owners taking their toys to outdoor events or those who want to get out and off the grid. The interior features will keep you comfortable after a long day hitting the trails. Other standout features are:
Unique dedicated pet bed
Solid surface countertops
Premium sound system
Hardwood cabinet doors
108 gallon Fresh water tank
Rubberized and gas piston shocks
Dual 30 lb LP Tanks
TPO Roof
10 gallon DSI water heater
Cable and Satellite prepped
WiFi prepped
15k BTU A/C
12.5′ up to 16.5′ interior garage length
86″ Interior height
102″ Wide trailr
Aluminum frame
Solid plywood interior construction
What We Like about the Cruiser Stryker ST2313
Put simply, we love the build quality and the attention to detail for true outdoor adventurers in the Stryker ST2313 design. An optional generator on a travel trailer is quite unique within the RV industry. That, coupled with the separate fuel tank and fuel pump to serve your motorized toys is brilliant and makes this small toy hauler standout.
8. Happier Camper HC1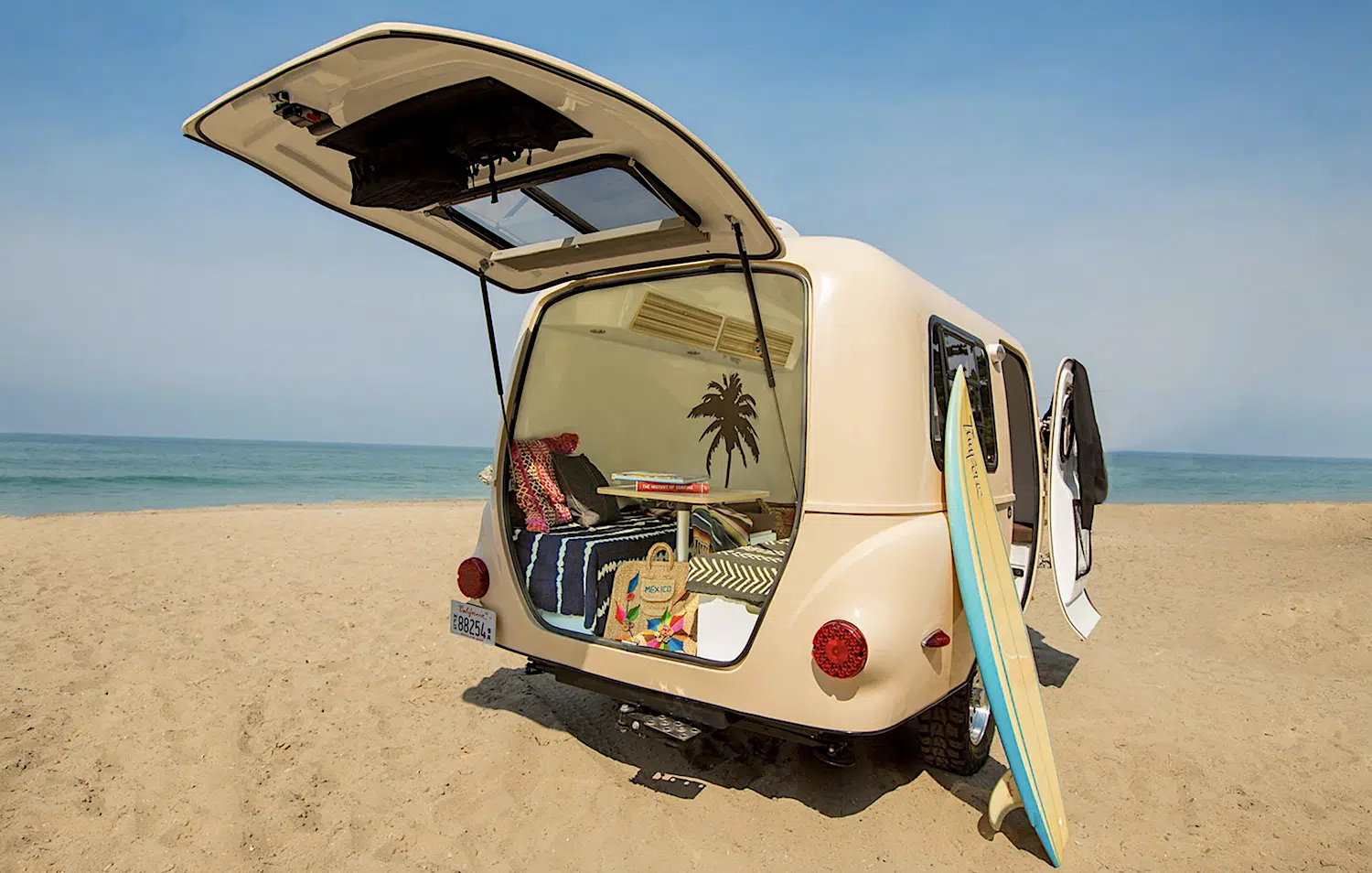 Fun, nimble, and functional are three words to describe the Happier Camper HC1. The potential uses for this compact, all-fiberglass travel trailer are well beyond what you see at first glance. Weighing in at only 1,500 pounds, this small camper and gear hauler can be towed by small SUV's, small pickup trucks, and if properly outfitted even cars.
With a rear door that not only brings the outdoors inside, if configured properly, you can also utilize this trailer as a small toy and gear hauler. The open and modular floor plan can be configured to be either a fully functional camper or completely remove everything from the inside to yield a near 10′ long by 6′ feet tall interior space to transport your gear. Other features include:
1,100 lbs dry weight
3,500 lbs GVWR
7′ wide x 13′ long x 7′ – 8″ tall
Includes stabilizer jacks
Optional rooftop fan or A/C
Fiberglass double-hull construction
150 lb tongue weight
Bed width 6′ – 11″
Inside height 6′ – 1″
Interior cube component design
Off-grid solar prepped
Fits in single car parking space
What We Like about the Happier Camper HC1
Not all campers and adventurers want or have the space to store a large or even mid-sized toy hauling travel trailer. The Happier Camper HC1 can easily be stored in one's driveway or side or backyard. With its full fiberglass construction it is durable and strong and will stand the test of time throughout its lifespan. It's modular interior makes it easily convertible from full camper to full toy hauler in the matter of minutes.
9. Genesis Limited FB230

Genesis Supreme, a family-owned RV company based in California, has developed and tested their lines of travel trailers and fifth wheels to meet the extreme rugged and climate of the Southern California deserts. To get you out in those types of environments or in the forest camping for the weekend, we are highlighting the Genesis Limited FB230 toy hauler.
There are many impressive features about the FB230 that caught our attention. First, the large front bathroom is incredible when compared to most small toy haulers. With many toy hauling travel trailers, the bathroom space is sacrificed to accommodate a larger interior garage space. Genesis has a smart floor plan with the FB230 by providing ample creature comforts with a large garage space to transport your toys. Other amenities include:
24″ x 40″ Tub and shower
Kitchenette with sink
2 Burner cooktop
Refrigerator
26.5′ long x 8.5′ wide
16.5 long interior garage length
Power retractable 60″ x 80″ bed
Retractable sofas
5,654 lbs dry weight
644 lbs hitch weight
4,246 lbs Cargo carrying weight
100 gallons Fresh water tank
27 gallons Grey water tank
27 gallons Black water tank
Arctic package (optional)
18k BTU furnace
13.5k BTU A/C (15k BTU optional)
Powered front jack
What We Like about the Genesis FB230
The interior cargo carrying space without sacrificing a bathroom that enables you to travel in comfort is one of a huge list of standard features the FB230 offers. We highly suggest you check out the full list of options and included specs the Genesis toy hauling RV's offer.
10. Glacier Ice House 18THEXP
We've toured and highlighted hundreds of RV's and travel trailers over the years. The Glacier Ice House 18THEXP has to be one of the most unique and highly functional small toy haulers we've ever discovered. Though designed specifically for winter ice fishing on a frozen lake, the 18THEXP can also be used as a fully functional camper or dedicated toy hauler.
The interior of the Ice House 18THEXP is like walking into a finely appointed woodsy cabin. Beautifully appointed with all-wood Cedar cabinets and interior finish, the Ice House also boasts 7 dedicated ice fishing holes on its rugged and durable floor with included tie-downs to transport your gear and toys. Other notable features and specifications included are:
Dual pane windows
TV / Cable prepped
2 outside flood lights
2 – 30 lb LP Tanks
A/C prepped
30k BTU furnace
Hydraulic drop down chassis
18′ long w/ 10′ long interior cargo length
Seamless EPDM rubber roof
20 gallons Fresh water tank
22 gallons Grey water tank
12 gallons Black water tank
What We Like about the Glacier Ice House 18THEXP
The Glacier 18THEXP ice fishing and small toy hauling trailer is so unique that it stands out in a class of its own. Beauty meets multifunction with this design we had to include on our list of toy hauling travel trailers.
11. inTech Flyer Explore
The inTech Flyer Explore is the small sister to the larger inTech Flyer Discover. Though smaller, that doesn't mean function and comfort are sacrificed. The Flyer Explore is a great rugged multifunctional small toy hauling travel trailer that is easily converted from camper-only to camper and toy carrier.
The Flyer Explore is constructed with inTech's signature all-aluminum cage and subframe construction. The exterior of the Flyer Explore boasts insulated all-aluminum wall and roof panels. The unique design of the Flyer Explore provides a tip-out bed that does not sacrifice your interior cargo carrying space while providing an interior kitchenette and outdoor slide-out electric cooler and grill station. Other features include:
2,110 lbs dry weight
485 lbs tongue weight
2,990 GVWR
Up to 1,410 lbs Cargo carrying weight
30 Amp electrical service
Solar prepped
Rear cargo door 2,200 lbs rated
1 – 20 lb LP Tank
8.5 gallons Fresh water tank (optional)
MaxxAir Vent Fan
6 – 500 lb rated takedown rings
What We Like about the inTech Flyer Explore
As previous owners of an inTech Sol Horizon, we can't say enough good things about the entire line of inTech RV's and included in that list is the Flyer Explore. While small and easily towable with nearly any equipped vehicle, this functional small toy hauler is perfect for those who are adventurous and want to get outdoors with their toys, but not have to manage or store a large travel trailer.
12. Plā 350 Ultra Lite Travel Trailer
With two available lengths and two available models – the 1210 and the 1412 – the Plā 350 Ultra Lite toy hauler is great option for transporting your side-by-side or your quad to the great beyond. With the durability by a welded frame box coupled with the amenities you need to spend a few days off the beaten path, you should definitely consider this trailer that can be pulled by an equipped SUV or small pickup truck.
A multifunctional rugged interior also provides the camping comforts you need when traveling. Featuring a fold-away bed and sofa and kitchenette at the front of the trailer provides a clear 6.5′ interior height to fit your larger motorized toys or kayaks and canoes. Other standard and optional features include:
30 Amp electrical service
12V and USB-A and USB-C outlet provided throughout
Composite non-slip flooring
Sleeper sofa
Modular track system on the exterior
Power exterior awning
Frameless dual-pane windows
Single 3,500 lb axle
What We Like about the Plā 350 Ultra Lite
Though this is a small trailer, the available options are quite large. There are multiple packages you can specify when purchasing, such as the 'All Weather Protection Package' or the 'Above & Beyond Package' that provide you the customization you need for your small toy hauler. Items such as a 2,000 pound rated rear ramp door, closed cell insulation, one-piece aluminum roof or composite all-metal wall panels.
13. Rockwood Geo Pro G19FBTH
We've included the Rockwood Geo Pro G19FBTH because we believe this is the perfect toy hauler for those with more long and narrow outdoor equipment. Due to the floor plan and interior design of the G19FBTH, it is a solid travel trailer with a rear loading door for those with kayaks, canoes, skis, long surfboards, paddles, dirt bikes, eBikes, etc.
This small toy hauler is perfect for those who may need more creature comforts found in campers and RV's but with the ability to transport longer outdoor toys. With that design intent in mind, you get a full bed, a more spacious bathroom, a large kitchen and lounging area with a retractable sleeper sofa. This RV also features:
581 lb hitch weight
3,433 lb dry weight
20′ – 2″ long x 10′ high x 92″ tall
31 gallons Fresh water tank
16 gallons Grey water tank
27 gallons Black water tank
12′ wide exterior awning
72″ sleeper sofa
60″ x 74″ full size bed
11′ – 8″ interior cargo length
13.5k BTU A/C
Optional 200 W solar panel (1 is standard)
Tongue mount bike rack (optional)
AirGlide suspension (optional)
20k BTU furnace
What We Like about the Geo Pro G19FBTH by Rockwood
We commend Forest River, owner of Rockwood, for designing and producing a smaller toy hauling travel trailer that focuses on owners who don't have the need to transport wide motorized equipment or toys, but rather individuals that merely need to get their long and narrow outdoor toys to their destination.
14. Forest River Wolf Pup Toy Hauler 18RJB
A towable toy hauler with a party deck in less than 30 feet in length, is that possible? Yes, with the Wolf Pup Hauler 18RJB by Forest River. With an upgraded interior finish package, a larger than standard kitchen area and a sizable private bath with dedicated sleeping area featuring a Queen-size bed, the 18RJB in the Explore series by Wolf Pup offers adventurous outdoor types who seek a higher level of living and camping standards all of this.
Other standout features include:
426 lb hitch weight
3,435 lb dry weight
4,999 GVWR
1,564 Cargo carrying weight
22′ – 9″ long x 10.5′ tall x 84″ wide
12′ exterior awning
26 gallons Fresh water tank
23 gallons Black water tank
20k BTU furnace
Upgraded sound system available
Night shades
55 Amp converter (Camping Package)
High Flo Water Pump (Camping Package)
What We Like about the Wolf Pup 18JRB by Forest River
We love the numerous amount of package upgrades offered on this small toy hauler. It's unbelievable how you can customize this travel trailer and fine tune it to your specific needs. The list of optional packages are seemingly endless and include:
Wolf Pup Limited Package
Safety Package
Adventure Package
Black Label Package
Advantage Package
Camping Package
15. Jayco Jay Flight Octane 222
The Jayco Jay Flight Octane 222 small toy hauler has a unique layout and floor plan that maximizes every corner of this shorter toy hauler providing its owners with all the amenities found in a typical travel trailer, but with the added bonus of a rear ramp door and nearly 14′ feet of interior cargo carrying garage space.
The corner-centric design of the interior provides for a Queen-size corner bed adjacent to a corner three-fixture corner, private bathroom including a large shower, toilet and sink base with medicine cabinet. The living space has a full kitchen and a unique flip-up bar top with stools. At the rear, if you're not using it as a storage space, you have a convertible queen sofa bed with indoor & outdoor table. They have literally thought of it all in this toy hauler.
Additional features and specifications include:
820 lb hitch weight
8,250 GVWR
2,465 lbs Cargo carrying weight
26.5′ in length
11′ – 2″ in height (w/ rooftop A/C)
8′ – 6″ wide
18′ awning
8′ – 6″ garage length
53.2 gallons Fresh water tank
39 gallons Grey water tank
39 gallons Black water tank
Sleeps up to 6
Microwave, LP cooktop and stove
Captains chairs (optional)
What We Like about the Jayco Jay Flight Octane 222
Regarding the Jayco Jay Flight Octane 222 floor plan, we appreciate the different approach Jayco took by placing the bed space and bathroom in the front corner of the trailer. This frees up the living area and provides more space to the rear interior garage space. All of this smartly designed into a small toy hauling trailer that is less than 30′ feet in length!
Related Articles