Even though your campsite gives you lots of space outside your RV, sometimes you are looking for something a little more solid, clean and enclosed for your pets and kids.
These RVs with patios extend your living space at the back of your trailer, where the view is usually the best! The porches allow you to let your pets roam without needing to put up fencing at your campsite, your kids can run around and you don't have to worry about them, or just step outside in your bare feet after cooking breakfast and enjoy sipping coffee in a comfy chair.
If you want to instantly increase your usable living space with an elevated patio deck, these are the models you want to consider!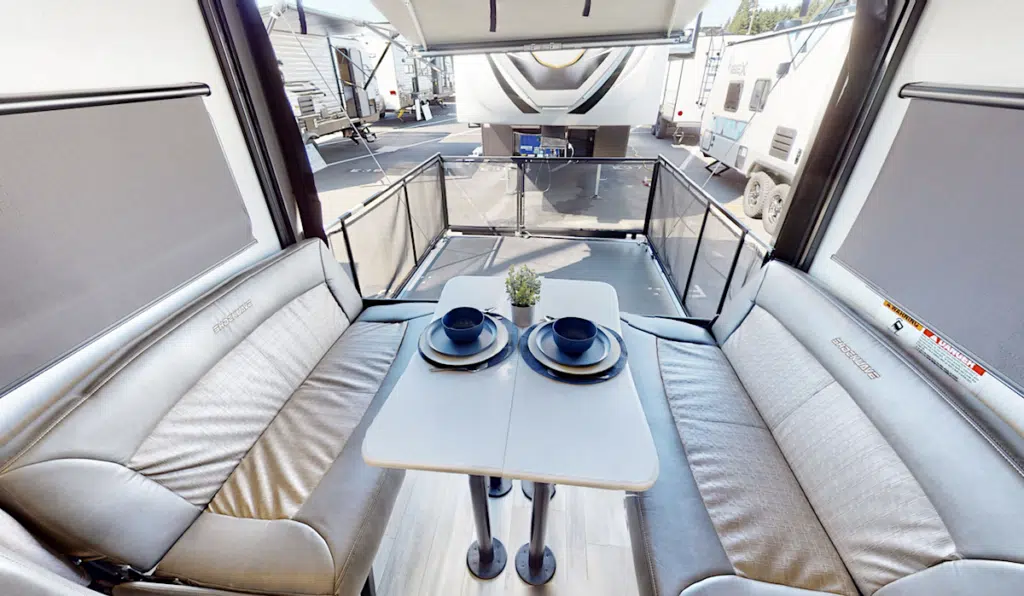 RVs with a Back Patio
Grand Design Momentum 399TH
Not one, but TWO porches come with the Grand Design Momentum 399TH floor plan! This one is definitely unique!
The 43 foot long Fifth Wheel has a back porch AND a side patio! Combine those outdoor living spaces with the luxurious interior Grand Design is known for and you won't be disappointed with this RV if you are craving ways to enjoy the outdoors.
---
Forest River Shockwave 24QSGMX
The Forest River Shockwave 24QSGMX is a smaller travel trailer that still boasts a pretty nice back patio!
Measuring in at 27.5 feet in length and 12 feet tall, this Shockwave has a cargo carrying weight of 2,625 pounds and a rear cargo door that can be set up as a patio.
The patio area comes with railings around all three sides and has a retractable awning that covers the porch so you can be shaded from the sun or rain!
This one is perfect for letting kids and pets roam around freely outdoors.
---
Jayco Seismic Luxury 3512
The Jayco Seismic Luxury 3512 is a premium toy hauler with a rear EZ Lift tailgate that can transform into a party with its own dedicated stairs.
The back porch has fencing around three sides, as well an an electric awning that covers the patio. There are doors that open from the toy hauler garage area to the back porch, which is nice if you want to close off the patio area during inclement weather or to keep bugs out.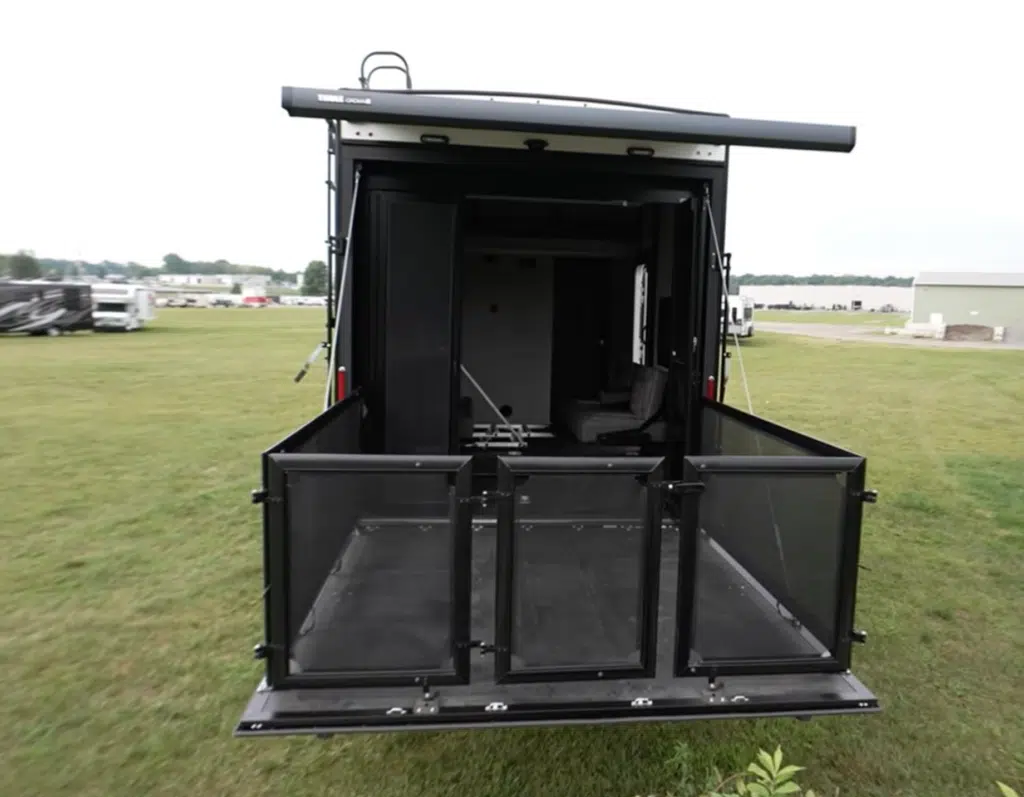 The Seismic 3512 is just over 41 feet in length and can carry up to 3,325 pounds of cargo.
The rear garage space is 12.5 feet in length, more than ample to carry your favorite toys on your next adventure.
---
Thor Outlaw Class C 29J
A Class C RV that is also a Toy Hauler with a back patio? This is like finding a unicorn in the wild!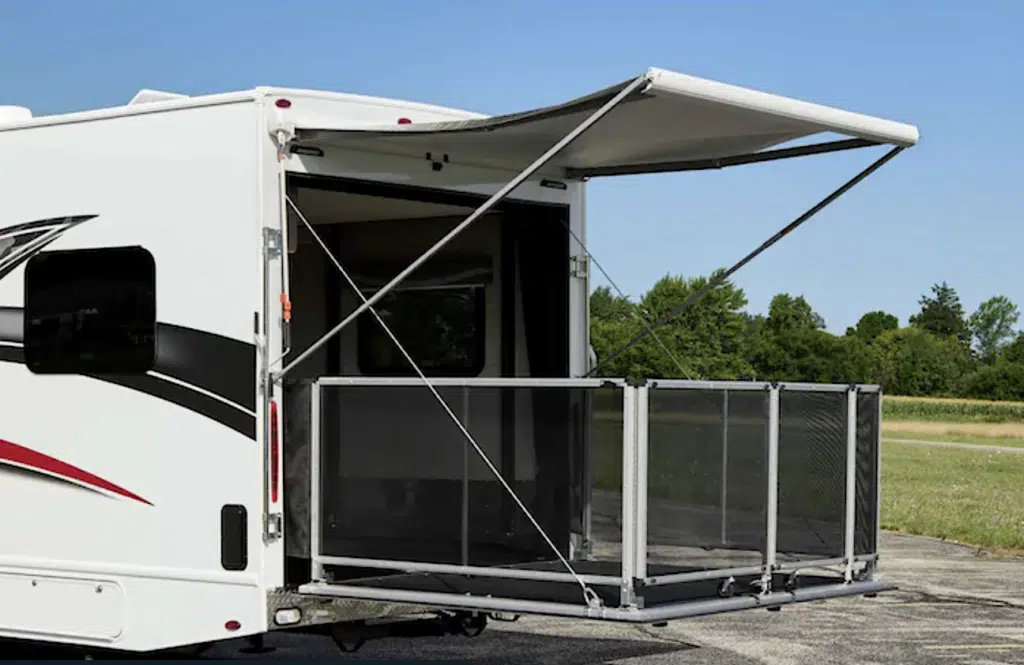 The Thor Outlaw Class C 29T is a unique motorhome that gives you everything you love about Class C RVs, with the added bonus of a rear garage.
Plus, there is an awning that extends over the porch, along with screen curtains to keep bugs outside.
The sun deck can easily be folded down in the back, with screen railings that quickly pop up to secure the patio.
---
Luxe 48FB Toy Hauler
If you don't mind towing a long trailer, then the Luxe 48FB Toy Hauler with two patios could be the perfect one for you!
You will truly be camping in luxury with this floor plan.
The back patio has solid doors that close between the interior living space and the exterior patio. An awning does cover the back living space.
The side patio has stairs leading on the porch with a large hand rail to grasp. There are sliding glass doors between the interior and exterior living space.
This patio has an awning cover, as well as an outdoor TV, which makes it a great place to watch the game!
---
Dutchmen Voltage 4145
All the comforts of home meet the functionality of toy hauler with a folding rear patio in the Dutchmen Voltage 4145.
A screen enclosure protects the interior from bugs.
Measuring just over 43 feet in length and boasting an impressive 4,391 pounds of cargo carrying capacity, this fifth wheel is sure to meet all of your comfort and toy hauling needs.
---
Cherokee Wolf Pack 355 Pack 14
The best way to describe the Cherokee Wolf Pack 355 Pack 14 is a cozy cabin on wheels with an impressive attached garage and rear folding patio.
There are sliding screen doors leading to the patio area.
---
KZ Durango Gold G382MBQ
This isn't the first time we've been impressed with a KZ trailer. The KZ Durango Gold G382MBQ fifth wheel takes that to a whole new level.
This is one of the rare RVs that is not a toy hauler but has a back patio. The patio deck has dedicated stairs with a large handrail to the platform outside.
There are sliding glass doors between the porch and the interior living room/kitchen area. The railings are mesh screen.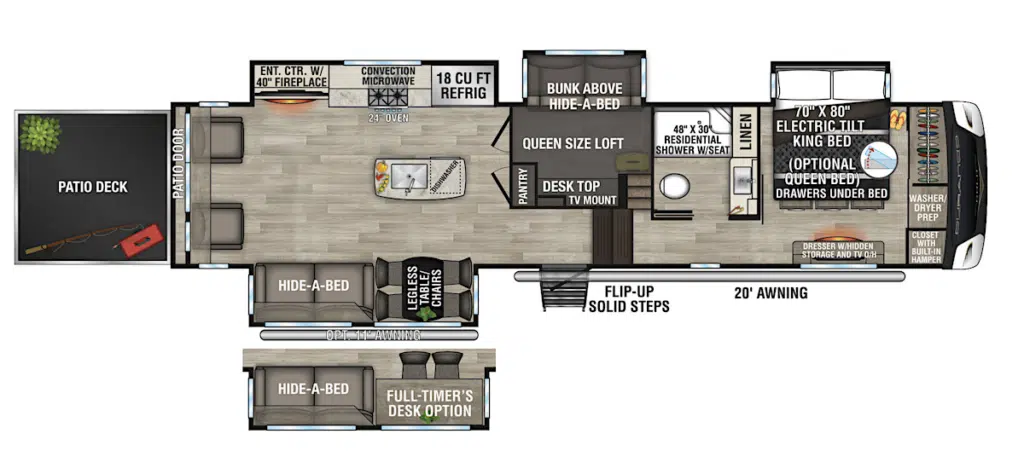 This 42-foot fifth wheel is not only beautiful on the inside, its floor plan options are brilliantly designed for either the occasional adventurer or for someone looking to work on the road and chill on their rear patio at the end of a day of working and hiking.
---
Country Coach Veranda
A Class A Motorhome with a side patio is rare! If you can find a Country Coach Veranda, this one is luxury living with a unique floor plan.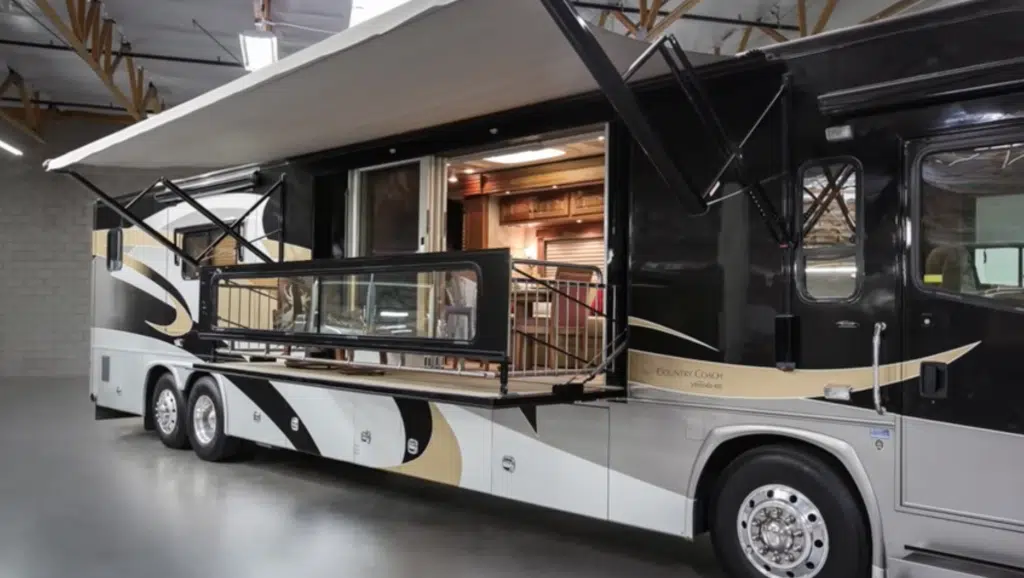 Unfortunately, this model is no longer available, but you might find a used one for sale.
The side patio extends outward and downward with a push of a button for ease and convenience. The railings are already attached when it extends outwards. Plus, there are glass doors between the interior of the motorhome and the side patio.
---
Be sure to check out these RV guides, as well: