Camping at Disney's campground, Fort Wilderness, is one of the most affordable ways to stay on Walt Disney World Resort property in Orlando, Florida. Did you know that you don't have to own camping equipment in order to enjoy a wilderness vacation? This is the super secret way you can stay at Disney's Fort Wilderness Campground!
Yes, you can rent an RV to camp at Disney World or you can book a cabin at Disney's Fort Wilderness Resort and Campground. But if both of those options are still too pricey, you can rent a tent at Disney World and they will set it up for you!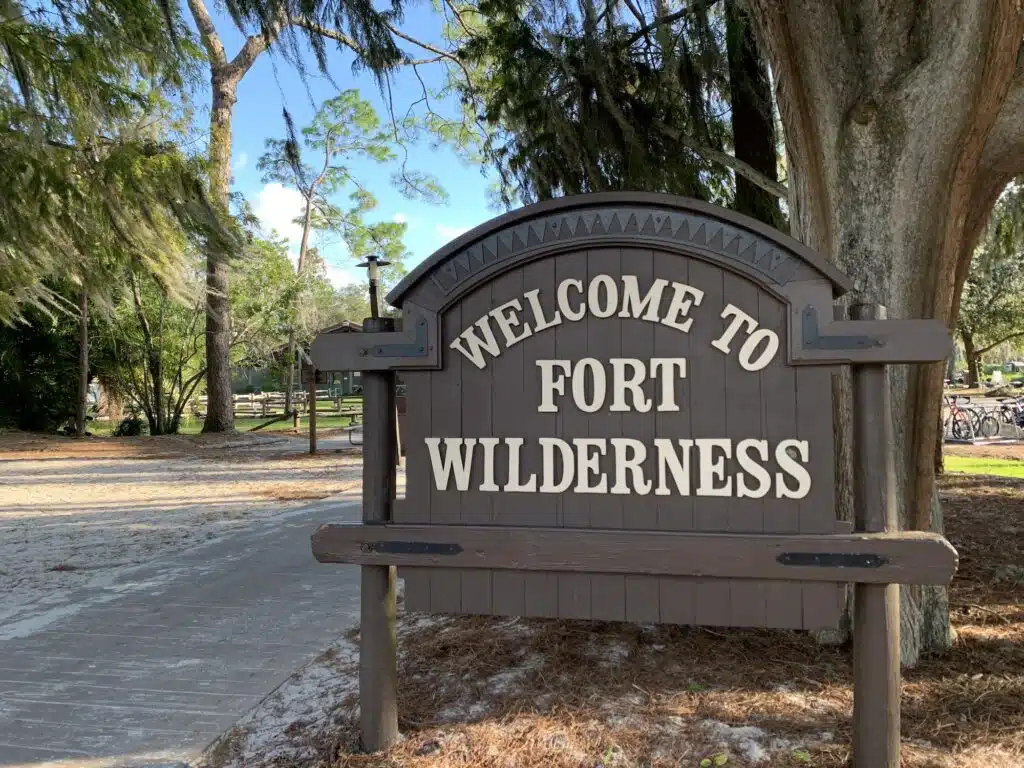 How to Rent a Tent at Disney's Campground
If you don't own a tent and want to experience camping at Disney World, you are in luck. Fort Wilderness Resort and Campground rents tents and will even set it up at your campsite for you! Plus, they will remove it from the campsite at the end of your reservation.
This is the perfect way for beginner campers to get a taste of camping.
If you prefer to spend your time enjoying Walt Disney World rather than trying to figure out how to pitch a tent, this option is for you!
It is also ideal for anyone that doesn't have the packing space to bring a tent with them.
How Large is the Tent?
The tent is 12 feet X 9 feet. Keep in mind, the picture shown on the Disney website is not like the actual tent that you will receive.
The photo below shows an actual tent rented from Disney's campground: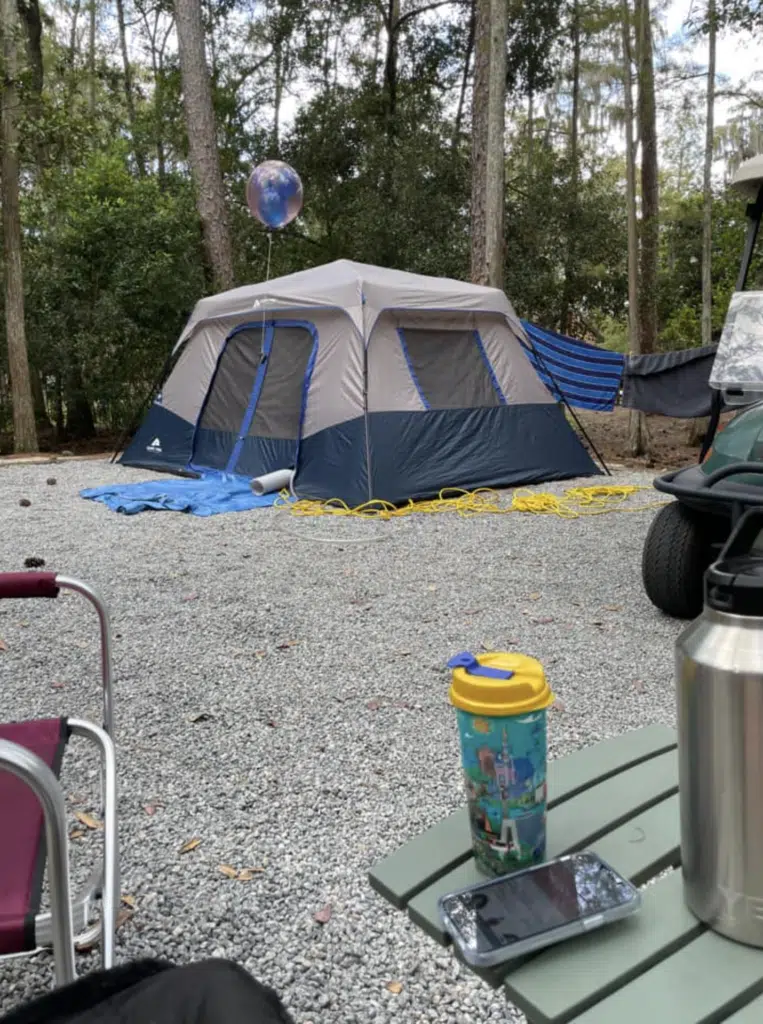 Disney World states that 8 people will fit in the tent.
A queen size air mattress, along with two twin air mattresses, can fit into the tent snuggly.
In our opinion, you could not sleep 8 adults in the tent. Three adults and three children is pretty tight.
How Much Does it Cost?
Around $45 a night, after tax. This is for the tent rental only. The cost of your campsite will be an additional charge.
Can I Book a Tent Online?
No. Though a cast member has told us that you can click on the Amenities tab to reserve, we have not found that to be the case.
Only links to RV rentals can be found under the Amenities Tab on the Fort Wilderness Resort and Campground website.
What Phone Number Should I Call?
You want to call Group Rentals at (407) 939-4686. Select Option 7 for group camping.
We have also been told to call Recreation at Walt Disney World. No one will probably answer the phone, so you will probably need to leave a voicemail and they will call you back.
Do I Need a Campground Reservation?
Yes, you must reserve a Fort Wilderness Resort and Campground site before you can rent a tent. When talking with the cast members, they will require your campsite reservation number.
Look for the "Tent or Pop-Up Campsite" option among the campsites. These are the least expensive, and they generally have more availability than the other types of sites.
The Premium, Preferred, and Full-Hook Up sites are ideally suited for RVs.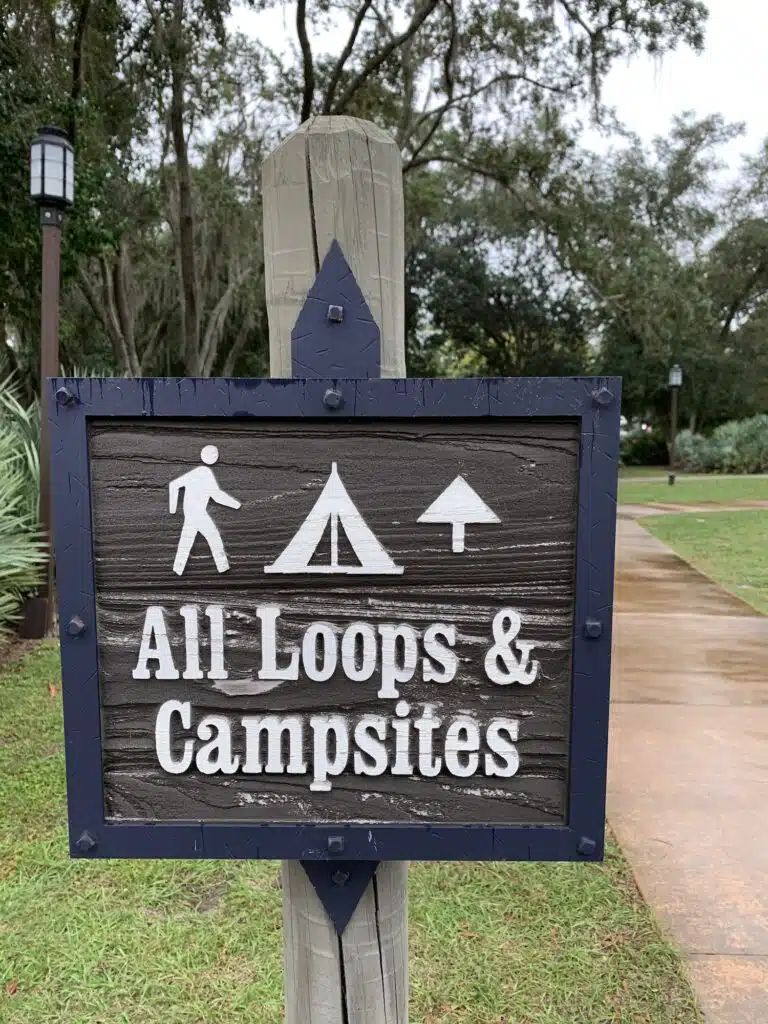 Cost Comparison To Buying a Tent
If you do not have a tent, you could buy one when you get to Orlando instead of renting a tent at Disney World. But is it cheaper to buy a tent rather than rent one?
It depends on how long you are staying, and how many people will be camping. You will need to factor in the convenience of having it set up for you and torn down, as well.
This 9-person tent is actually 2 feet larger than Disney's. If you were spending six nights or more, then it is cheaper to buy this tent instead of renting. Amazon purchases can be delivered to Fort Wilderness, so you could have it shipped there.
If you are not a large family, buying a tent will easily pay for itself in just a couple nights. This 2-person tent costs less than a 2 night tent rental at Disney's campground.
Walmart is located nearby the campground. You can order a tent online at Walmart and have it delivered to the store for pickup. This is great if you are arriving by car or truck and have the space to put a tent in your vehicle.
For instance, this 10-person tent with 3 rooms and a screen porch costs less than 3 nights of a tent rental.
Or, get a very basic tent for up to 4 people for less than a cost of a one-night rental.
Where to Get Camping Supplies
Since deliveries are allowed to Fort Wilderness Campground, you can purchase necessary camping supplies such as air mattresses, pillows, camp stoves, lights and fans online. Just have your items shipped to the campground.
You can bring your own items with you. Even if you are flying, you could pack a lot of the necessary camping supplies in a suitcase.
Walmart, Target, Publix, and the Dollar Tree are located nearby for essentials.
Some supplies are for sale at the two general stores in the campground. However, expect a mark-up in prices.