Want to try camping but don't want to give up the good life? We hear you! We're all about the ease of RVing, but as Couch Potato Campers, we still want plenty of amenities to make travel fun.
These are some of the very best luxury travel vans that we have found of 2022. Prices and amenities vary widely, but they all have one thing in common: you can go camping without roughing it!
WHAT IS A LUXURY TRAVEL VAN
In the motorhome and RV industry, a travel van is considered a 'Class B' vehicle. Class B vans often are 19′ to 24′ in length, they are 8′ to 9′ wide, 8′ to over 11′ tall, they may or may not have slide outs, and they are built on existing van platforms and chassis from manufacturers such as Mercedes-Benz, Ford, Fiat, etc.
Luxury travel vans usually have more upgraded features than the mass-produced vans usually found on dealer's lots. They are models with a smaller annual production number or run due to their ability to be highly customized by the client.
Due to the current nature of the RV industry, price is not often a key indicator of luxury. However, many luxury travel vans are more expensive when compared to other standard RVs and Class Bs. Prices range from $130,000 to well over $200,000.
The level of finish and types of features are what set these vans apart from the others. Luxury travel van manufacturers have the skilled trades people and resources to provide their clients custom finishes, unique materials, and non-standard interior and exterior features.
While there are large RV manufacturers that offer luxury van models, most are usually produced by smaller, dedicated custom RV and Class B companies.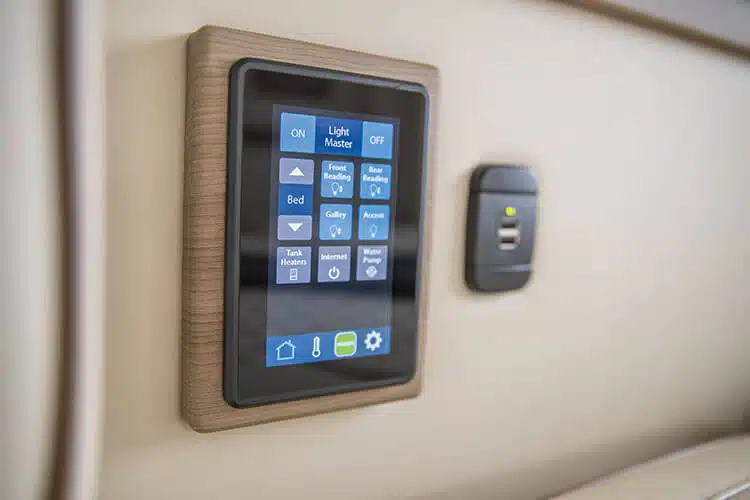 FEATURES TO CONSIDER WHEN BUYING LUXURY TRAVEL VANS
INTENDED USE
The first thing to consider when customizing or purchasing a luxury travel van is what is your intended use or intended mission for the vehicle.
For example, are you purchasing or having a custom van created to be used more like a high-end RV for roadtrips and outdoor adventures and activities?
Are you using the vehicle as more of a plush people-hauler to transport your friends, family, or guests between destinations?
Or are you looking for a van that is a multi-use vehicle, with a hybrid of uses?
Understanding how you will use your vehicle will greatly impact the type of van you purchase and the added interior and exterior features you may require.
PRICE
As with many luxurious, custom, or unique items, the price of a luxury travel van can vary greatly. In many ways it is the difference between a standard boat versus a custom designed yacht.
Depending on your budget, the sky is the limit with the level of custom finish you want. In general, however, new luxury travel vans – depending on the model and manufacturer – start in the $130,000 price range with more customized conversions going for well over $200,000.
There are many factors driving the final cost such as:
Level of finish and customization
Types of interior finishes
Type of Class B van chassis utilized
Amount of technology incorporated into the design
Size of the Class B van
Capacity of fresh, black, and grey water tanks
On and off-grid capabilities
Highway driving vs. 4×4 off road capabilities
✅ Click Here to learn about the gear you need to start your Luxury Travel Van experience.
NUMBER OF PASSENGERS
When designing or purchasing a van, consider how many passengers – on average – you plan to bring on a typical journey.
This not only factors into how many seats with seatbelts you will require, but it also factors into how many sleeping arrangements you need.
For every person the travel van can sleep they will be required to have a dedicated seat with a seatbelt.
FUEL TYPE: GAS OR DIESEL
The type of engine and fuel type is another high-level feature you will want to consider when customizing or purchasing your van.
The max weight of the travel van, which includes the chassis plus any additional interior or exterior fit-out features as well as the number of passengers and cargo carrying capacity, will factor into the engine and fuel type.
Another feature that will affect your fuel type – gas versus diesel – is if you plan to tow any small vehicles or trailers behind your van.
FEATURES AND LEVEL OF FINISH
The level of finish and number of interior and exterior features you plan to incorporate into the design of your vehicle will affect not only the price, but the weight of the van.
For example, if you plan to use more exotic or solid wood cabinets and millwork, utilize gold trim accents versus brass, or you want to have premium leather seat covers and accent panels versus synthetic or man-made leathers, all of these features are considered and factored into your dream design.
Other features to consider are:
Do you need a bathroom and toilet?
Do you want a kitchenette?
Will you require additional technology such as satellite connectivity?
Would you like premium sound systems?
Are there upgrades for better Wi-Fi and 5G cell connectivity?
Is premium television, satellite TV, or theater-like viewing options necessary?
PRODUCTION LEAD TIME
Many of the luxury travel van manufacturers are smaller companies that solely focus on custom van models with lower annual production run numbers of their models. This gives the manufacturers the opportunity to deliver higher quality and unique designs for their clients.
Because of this, the client may incur a longer lead time for delivery of their luxury travel van when compared to larger, mass-produced Class B manufacturers.
BEST LUXURY TRAVEL VANS
THE ULTIMATE TRAVELER BY ULTIMATE TOYS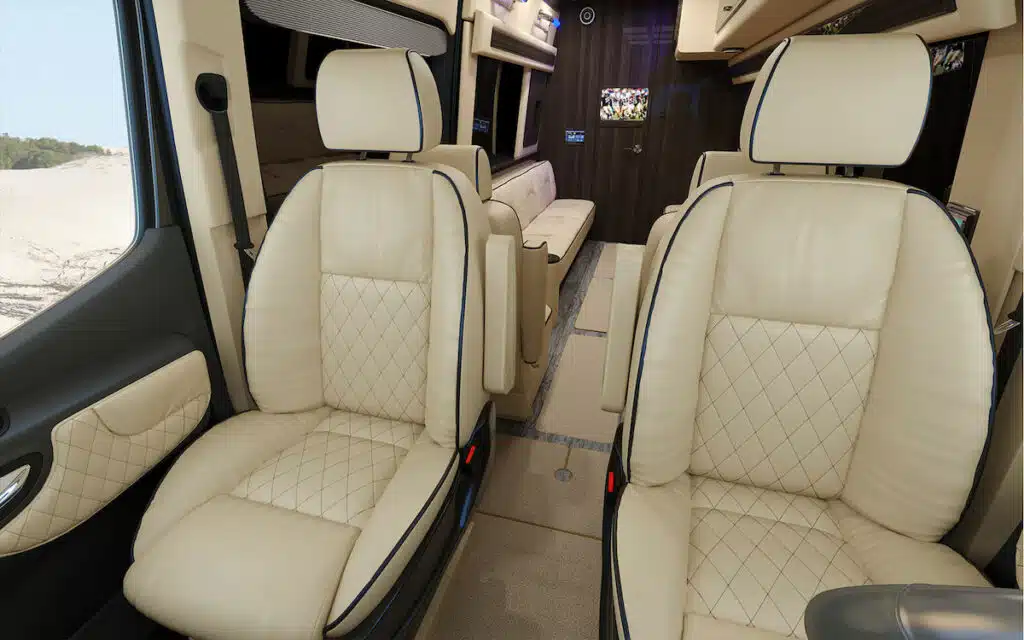 Ultimate Toys' Ultimate Traveler luxury travel van offers first class quality that stands above its competition. Constructed on the 3500 170" EXT Mercedes-Benz Sprinter van chassis, with seating for up to 10 people.
The Ultimate Traveler has many standout features such as: a full wet bath, a full kitchen area, four finely appointed captain's chairs, two convertible sofa/beds, a lighted cabinet bar, two TVs, and much more all in a 24′ long cabin.
The interior design and feel of the Ultimate Traveler is like that of private jet. The open floor plan is both spacious and naturally lit with the numerous windows that run nearly the full length of the van.
Everything inside the Ultimate Traveler feels bespoke including its premium entertainment and sound system, the interior lighting package, and hand-crafted woodwork.
SUPREME SPRINTER BY LCW AUTOMOTIVE GROUP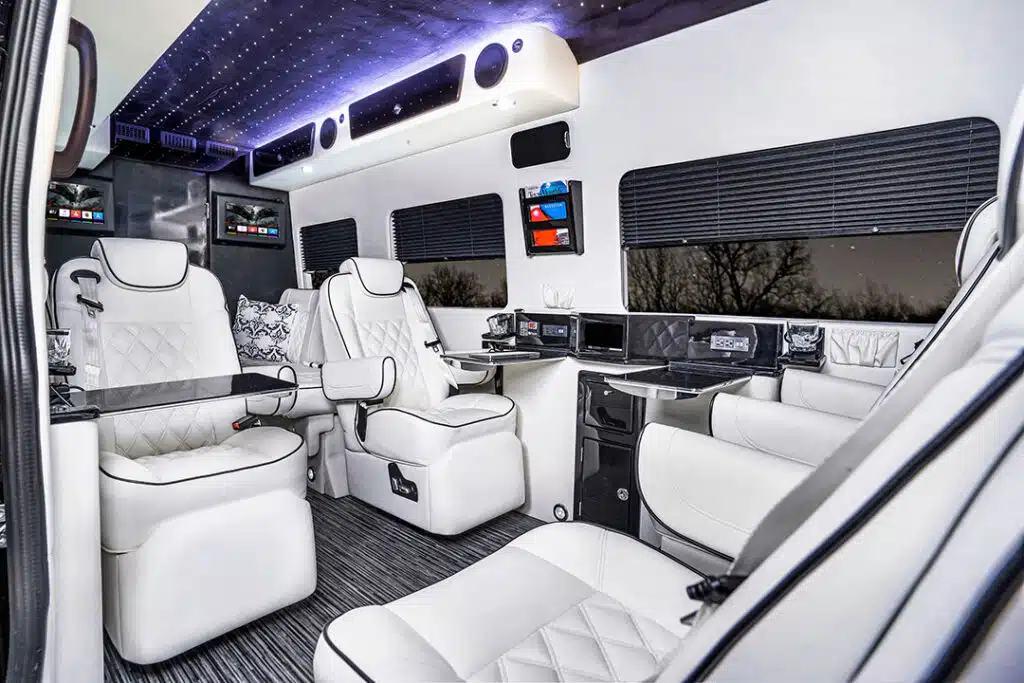 The Supreme Sprinter manufactured by LCW Automotive Group is on the cutting edge of all that a luxury travel van can offer. LCW Automotive Group has forty-plus year history of creating luxury vehicles extending back to the 1970's when they started created luxury limousines.
One can choose from multiple floor plans when purchasing their Supreme Sprinter luxury travel van. You will immediately see the custom-crafted interior finish in their custom passenger transport vans are unlike anything on the market today.
LCW says it the best, "Our Supreme build includes state-of-the-art features such as orthopedic captain seats that keep you snug and comfortable on long trips. Our Optional Rear Luxury Powder room and dual independent air conditioning systems make sure you have all the amenities of home. All of this is supported by Smart TV's, Apple TV & digital master cabin control to truly make you feel like you are flying above the clouds."
THE SANCTUARY BY THOR MOTOR COACH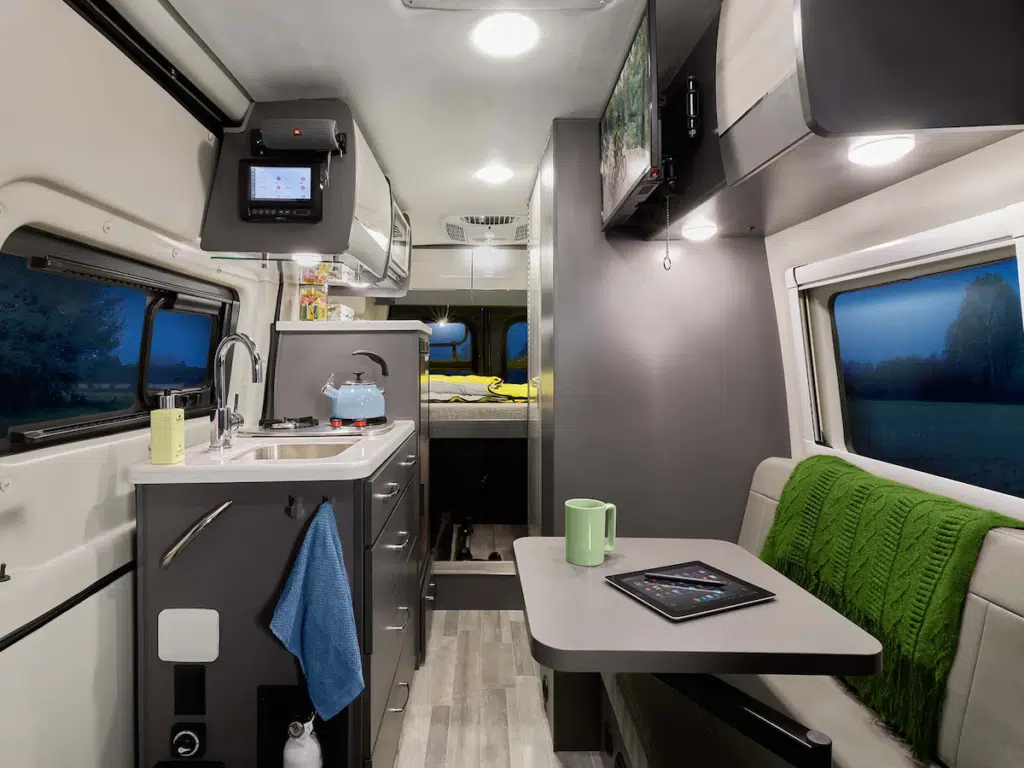 If you're looking to get off the beaten path in style, then you should check out The Sanctuary by Thor Motor Coach. This luxury travel van rides high on a 4×4 Mercedes-Benz Sprinter van chassis that is equipped for the adventurous travelers to get out into the wild.
The Sanctuary luxury travel van offers owners solidly constructed interior finishes that are suited to those living the active outdoor lifestyle. All the creature comforts – a wet bath and kitchen area with living space – are available in two distinct floor plans.
We personally love the exterior features provided on The Sanctuary, such as the rugged off road tires complimenting the 4×4 lift kit package, the additional exterior LED light-bars, the Thule accessories, and roof mounted solar panel to assist in topping off your luxury travel van's house batteries.
UNITY BY LEISURE TRAVEL VANS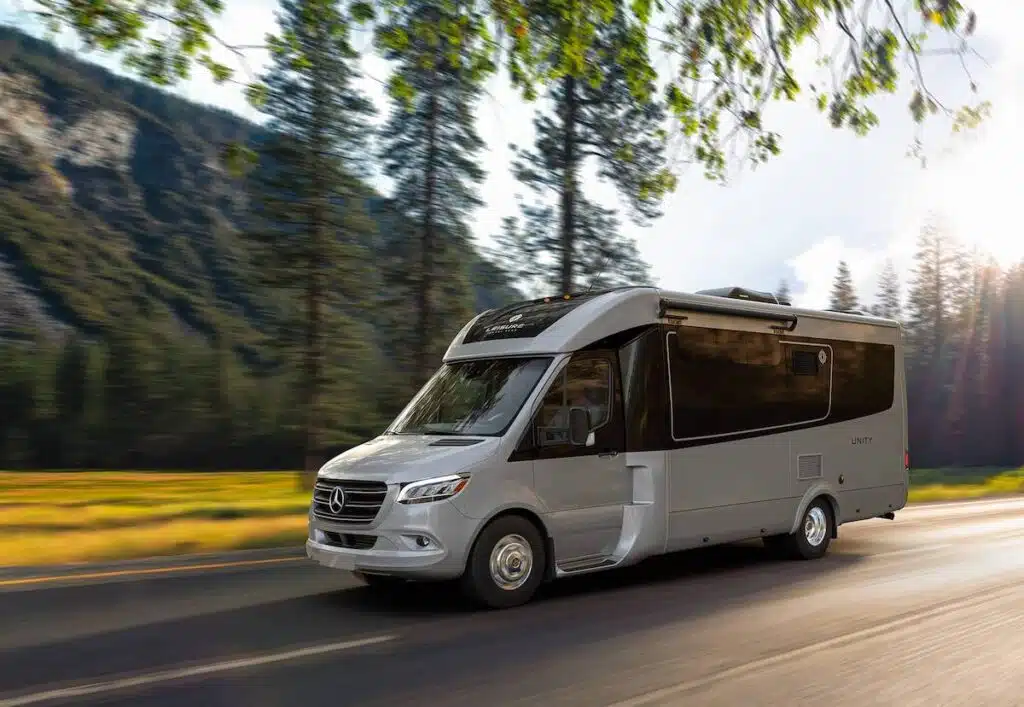 Leisure Travel Vans are one of the most popular and well known luxury travel vans in the industry. Manufactured in Canada but sold all over North America, the Unity by Leisure Travel Vans is one of their most popular and well-appointed models.
Currently, the Unity line of travel van models offers five different floor plans. Some with and without slide outs and three different types of bed arrangements including a Murphy bed, a corner bed, and twin beds layouts.
All of the Leisure Travel Van Unity's are on the premium Mercedes-Benz Sprinter 3500 chassis boasting their rugged 3.0L V6 turbo Diesel engine.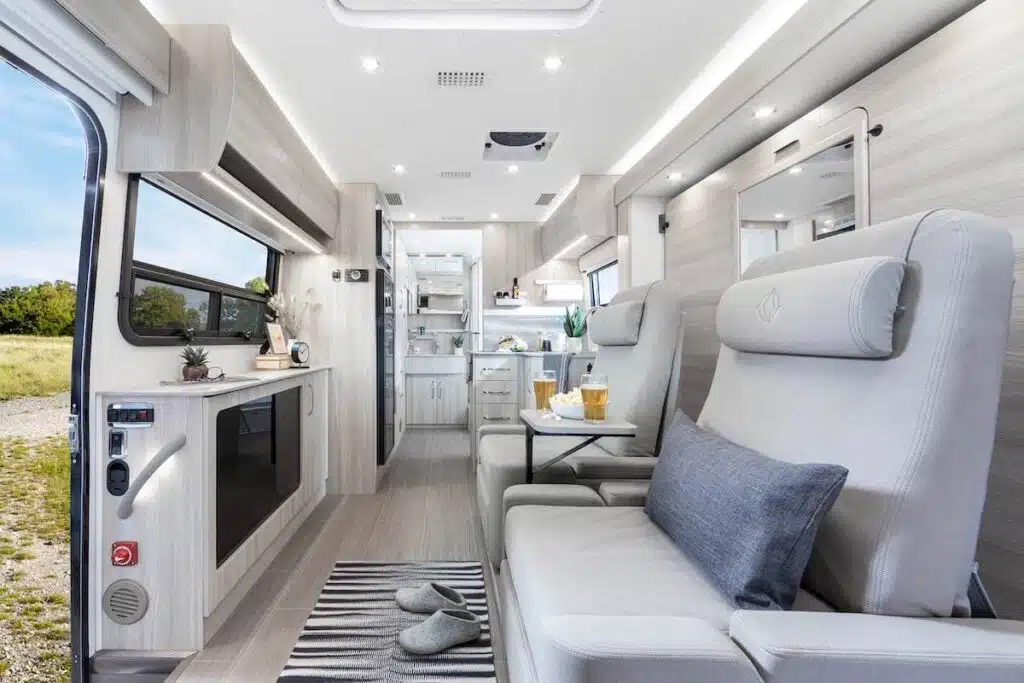 There are many features we love about all of the Leisure Travel Van models. However, two that stand out are the level of detail and quality of finishes the Unity models offer as well as the spacious bathroom layouts – some of the largest in this size of luxury travel vans.
INTERSTATE BY AIRSTREAM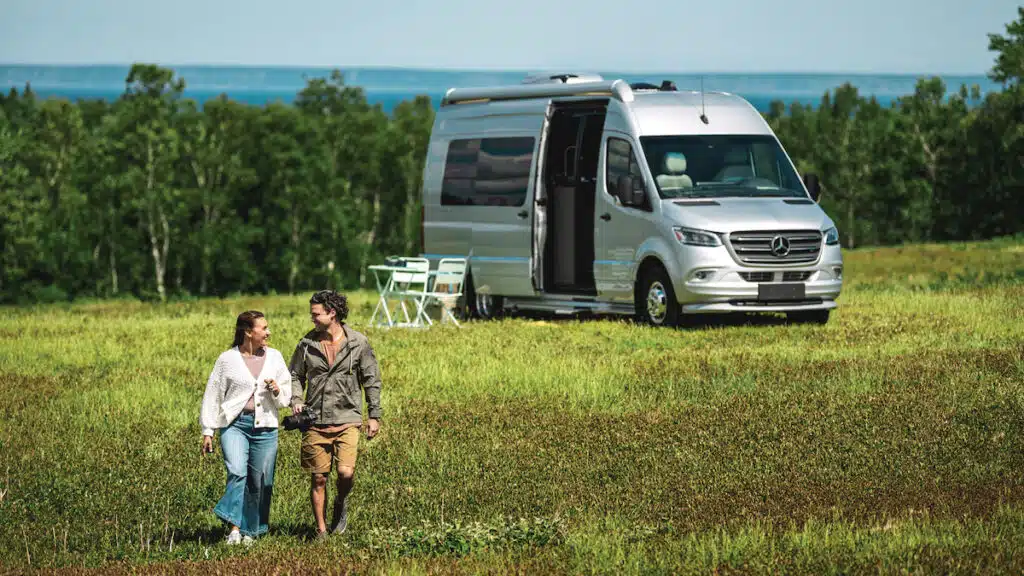 Nothing is more synonymous of road travel in the United States than hearing the word Airstream. One immediately conjures up visions of sleek, aluminum trailers whisking down the American highways. For those looking to embrace the heritage of an Airstream but are looking for a more luxurious solution beyond their iconic travel trailer, then you should explore Airstream's Interstate luxury travel vans.
The Interstate models of luxury travel vans are a true Class B solution built on the Mercedes-Benz Sprinter chassis. The Interstate line of travel vans offer a nimble and well-appointed RV solution with a fit and finish you would expect from Airstream but leveled-up to meet the standards of their typical buyer.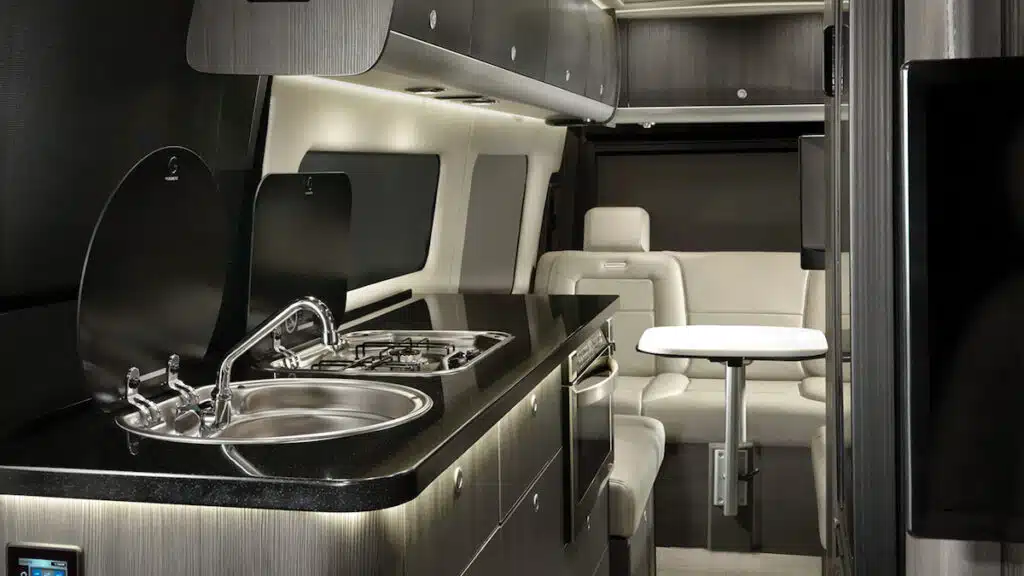 Airstream's Interstate line of luxury motor coaches offer a variety of floor plans, lengths, seating configurations, and amenities to suit your specific travel needs.
One thing is certain, the build quality of all Airstream's some of the best in the industry which is prevalent on the Interstate line of travel vans.
PATRIOT BY AMERICAN COACH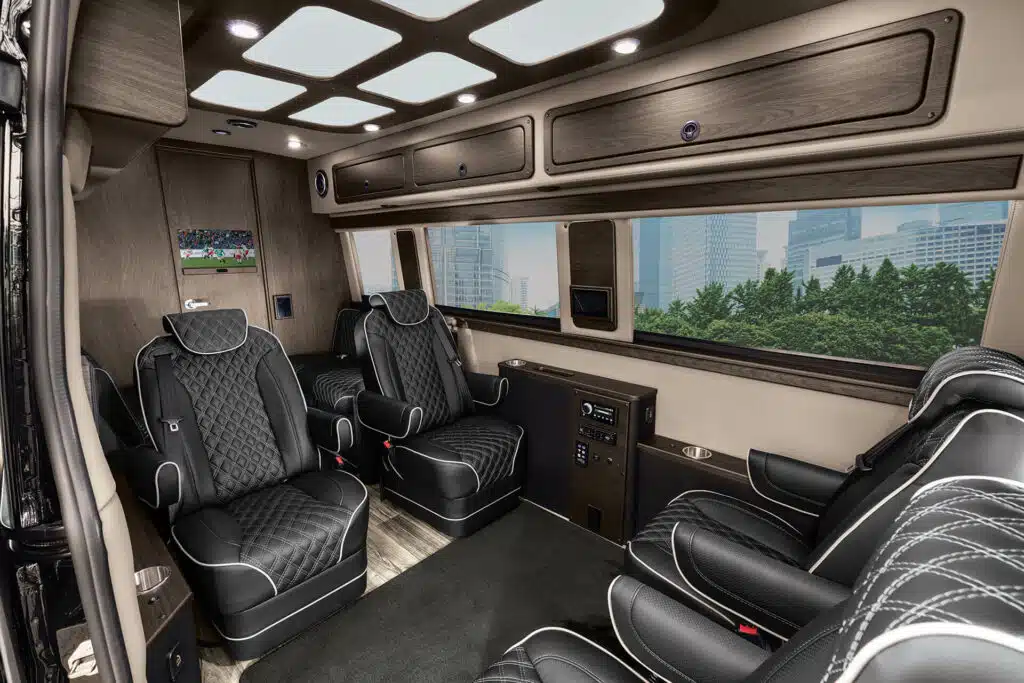 The Patriot manufactured by American Coach is one of the most elegant and luxurious travel van manufacturers in North America. American Coach is a part of the REV Recreation Group, a transport vehicle company providing some of the best, high-end Class B and RVs in the industry.
American Coach offers to model lines of the Patriot: The American Patriot and the American Patriot Cruiser. Within each of these luxury Class B van lines are various iterations and models with floor plans and layouts that can accommodate nearly every final intended use you can imagine.
Considering other types of RVs in addition to luxury travel vans? Check out these guides: