Once you spend a night rolling to the side of the bed because your RV is not leveled, you will realize how important RV leveling blocks are!
Leveling blocks will even out your rig on uneven surfaces, which can make a more comfortable living environment as well as allowing all of your systems to work properly. In fact, you might not be able to put out a slide if your camper is not level!
If you own or are using an RV that does not come equipped with a self-leveling system – typically hydraulically driven – then you will definitely want to carry some form of leveling blocks for your RV.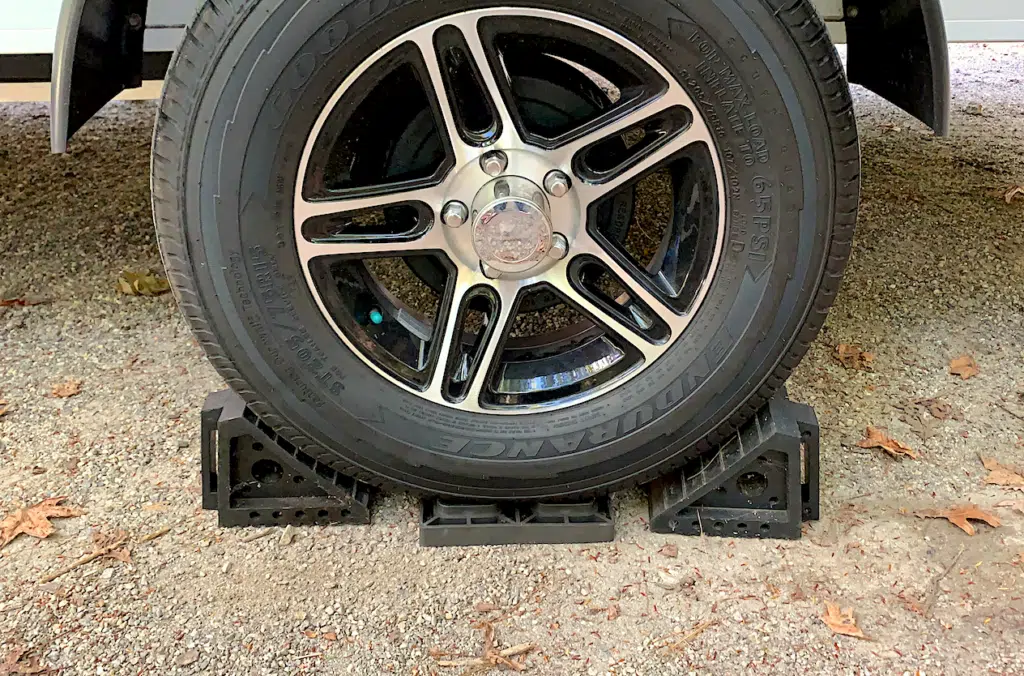 There are various types of RV block levelers available. You might be confused as to which type is best.
Don't worry. We're here to help you choose which type of system is best for you and your rig.
Using Wood to Level Your RV
A lot of people want to save money while RVing and they will bring lumber to use as makeshift leveling blocks.
While using stacks of 2X dimensional lumber is an option to level your camper or motorhome, they can be heavy to carry on your trip.
Thick pieces of lumber can be really difficult to adjust properly. Especially when you need just a little bit of leveling.
These pieces of wood can take up valuable cargo space, and they are very heavy.
While you can save a few dollars by using 2 X 4s to level, there are easier ways to level your camper. These RV leveling products do not cost a lot of money for the ease and convenience they bring.
Types of Leveling Blocks For RVs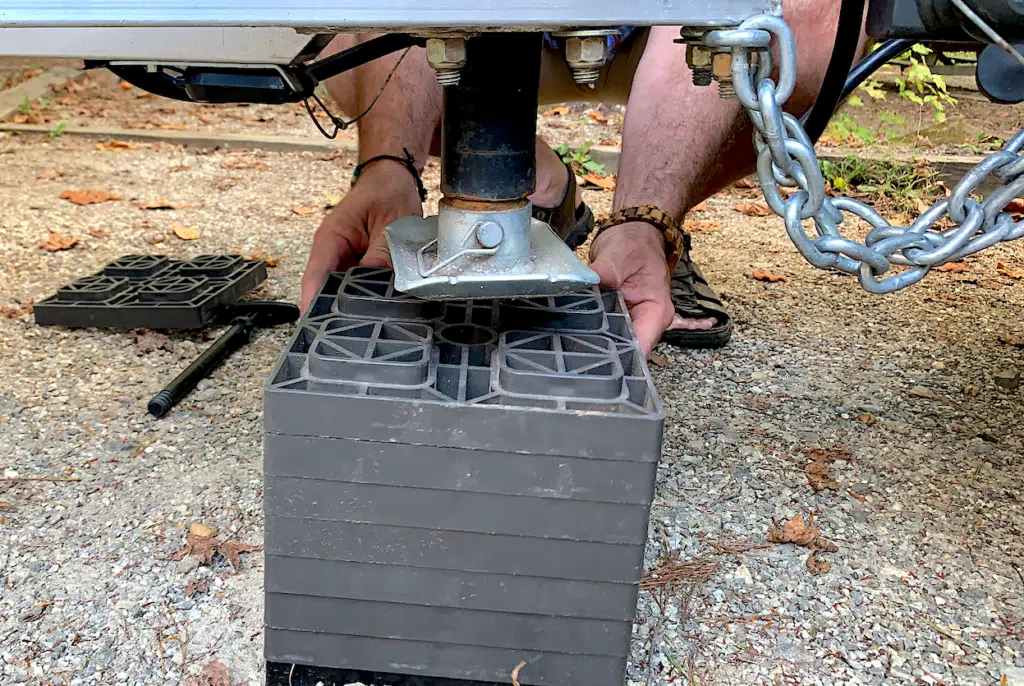 Stackable Interlocking Leveling Blocks
Stackable, interlocking leveling blocks allow you to increase the height of your RV as much or as little as necessary. They also make building a pyramid-like structure easy.
Most RV leveling blocks look like large Lego blocks. The interlocking blocks are approximately 11″ x 11″ and they come in variety of colors, depending on the manufacturer.
You might want to choose very bright colors, such as yellow, so that you don't forget to pack up the leveling blocks before you leave. Or, you can choose a darker shade so that they are not an eye-sore at your campsite.
These types of blocks can accommodate a range of 3,000 to 10,000 pounds of weight.
Pros
Lightweight
Stable and durable
Able to increase height easily as needed
Stackable for storage in your cargo space
Reasonably priced
Can be used for leveling the tongue jack on trailers
Use under trailer stabilizing jacks for sites with soft surfaces
Cons
Not a leveling solution for heavy RVs
Open forms can get clogged with rocks
Sites with heavy slopes will require more than on set
Require additional wheel stabilizing/chock solution
Ramp Levelers
RV leveling ramps are a pre-formed, one-piece block. These typically have three different pre-determined height levels that raise your RV, often to a max of 4″ +/-.
Many leveling ramps are capable of supporting up to 11,000 pounds each.
Pros
One piece units
Lightweight and easy to store
Require no additional adjusting
Reasonable cost for the amount of leveling
Cons
Level heights are pre-determined
Micro height adjustments are not an option
Additional wheel chocking is required, no integrated solution
✅ Check out our list of essential RV gear!
Leveling Ramp Blocks
Leveling ramp blocks are curved, ramp-like levelers. These types of RV levelers require you to only drive your RV backwards or forward onto them to set your desired level height.
Their curved shape makes it easy for the user to see the leveling occur in real-time.
Due to their curved form, many blocks may act as wheel chocks or wheel stabilizers as well as leveling devices.
Pros
Durable and solid leveling solution
Broad range of height adjustability
Lightweight and easy to store
May also act as a wheel chock
Accommodate tires up to 32″ in diameter
Many can handle up to 30,000 pounds of weight
Cons
Can slip out from under the wheels when adjusting
Most expensive leveling solution of the three options
Single-purpose use, not versatile
Max height is 4″ +/-
Best Leveling Blocks For RVs and Campers
For each of the three types of RV level block solutions, we selected the best for your consideration.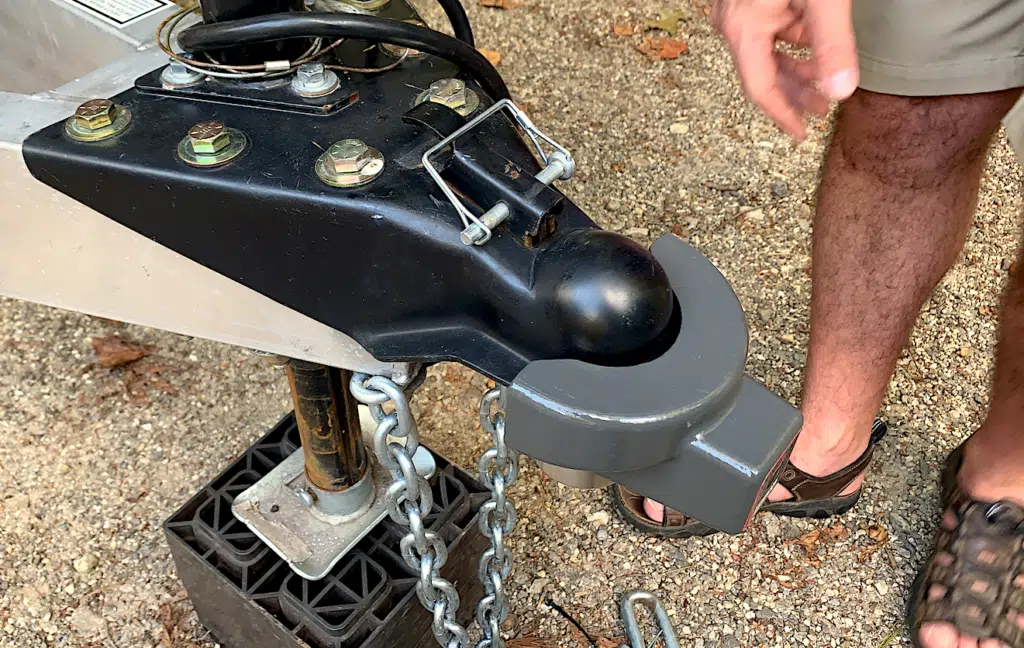 Stackable Interlocking Leveling Blocks
For all of our RVs we have utilized the Camco FasTen 2×2 Leveling Blocks for use under our stabilizing jacks, to level our trailer from front-to-back under our trailers' hitch/tongue, and to level our campers on sloped sites.
We suggest getting two sets of these in the event you are camping at paved or unpaved campsite that has a lot of cross slope.
Ramp Levelers
If you prefer to use a ramp leveling solution for your trailer or motorhome, we suggest the Zone Tech Automotive Multi Leveling Ramps.
Sold in a set of four, these durable, non-slip ramps can hold a maximum weight capacity of 11,000 pounds per axle.
Leveling Ramp Blocks
The best level ramp block solution in our opinion are the Andersen Camper Leveling System with the included rubber mats.
Sold in a 2-pack, you will need additional sets if you have a multi-axle trailer or a Class C with a dually rear axle.
Best Wheel Chocks For RVs and Campers
Not all RV leveling block products have integrated wheel stabilization or wheel chocking included. To have a safe and stable camper or trailer once your desired level is set, you will want to stabilize your RV wheels to prevent rolling and forward or backward movement.
Here are three types of RV wheel chocks and camper wheel stabilizers we suggest: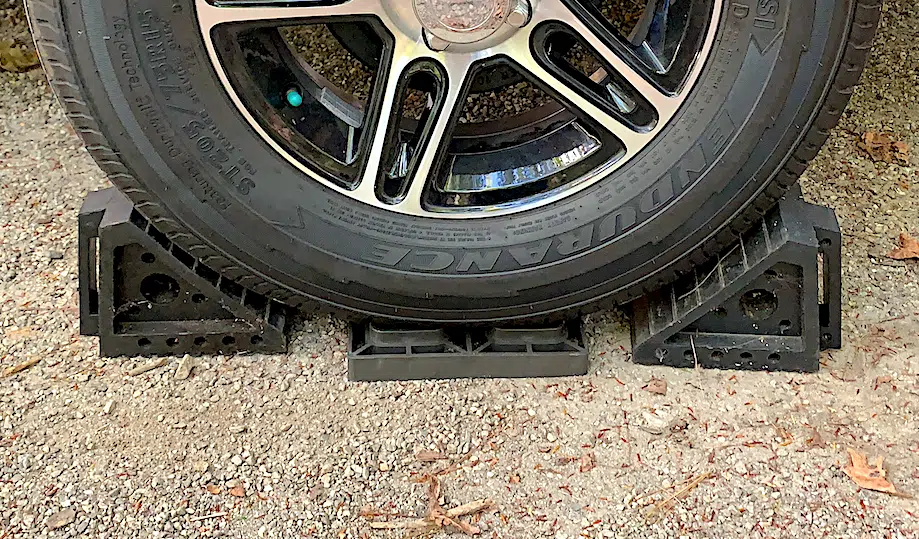 Wheel Chock Scissor Stabilizers
There are a variety of manufacturers that now offer the scissor type wheel stabilizer. These type of wheel chocking solution are specifically used for RV's or travel trailers with duel or triple axles and are placed in-between the tires compressing them to halt their movement.
We suggest the X-Chock Wheel Stabilizers for owners of duel or triple axle travel trailers and fifth wheels.
Heavy Duty Rubber Wheel Chocks
For maximum versatility and durability for owners of motorhomes, single axle trailers, or travel trailers and fifth wheels, the MAXXHAUL 70472 Solid Rubber Heavy Duty wheel chocks are a great solution.
The solid rubber wheel chocks are rugged, are easy to store, and are a durable cost-effective wheel stabilization solution for RVers.
These chocks are surprisingly affordable, definitely a smart investment, and are also at available at stores such as Harbor Freight.
Alternative Budget Friendly Wheel Chock
If you are looking to save a few dollars and be budget conscious, there are alternative wheel chock solutions to the more expensive Scissor Stabilizers. For this, we recommend plastic wheel chocks such as the Camco 44414 Wheel Chocks.
Plastic wheel chocks such as the Camco's come in packs of two and are made of UV protective plastic and are designed for wheels up to 26″ in diameter.
Wheel chocks made of plastic benefit from they never rust when exposed to ground moisture or rain, they will never require maintenance of moving parts, they are lightweight, and they are a solid chocking solution for travel trailers, boats, campers, and small trailers.