You just bought your new – or new to you – RV. Awesome! Congratulations! Now, you're probably asking yourself, "So now what do I do now?" or "What RV supplies, equipment, and gear do I need for my first adventure?" We've got you covered. This list of RV specific gear and gadgets are essential to fit out your new RV and not leave you hanging on your first adventure.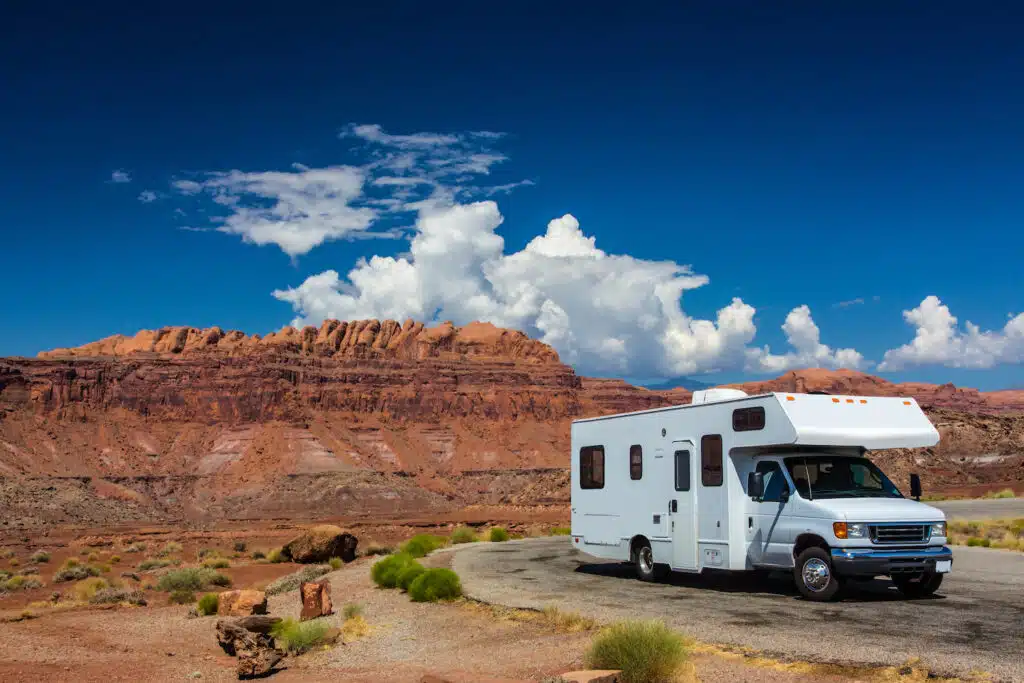 Here is the essential gear for your first RV trips.
While the type and styles of RV's differ – Class A versus Towables versus Fifth Wheels – we've created a list of the essential RV gear you will need if you're new to RVing and are applicable regardless of the type of RV you just purchased.
This list of gear and gadgets by no means is the end all of items you will need for continued RV travel. However, this list of gear will help you get on the road and traveling, and not leave you saying once you get to your destination, "I wish we had brought…..!"
Important RV Papers and Documents
Prior to hitting the road on your first RV adventure be certain to gather all of your important documents into one location such as an envelope or bag. Documents such as:
Insurance documents for your RV (and tow or towed vehicles if applicable to your setup)
Warranty information for your RV
Tax, tag, and title information (for all vehicles you're taking on the trip)
RV and RV equipment user manuals
Extra set of RV specific keys (for exterior storage doors, entry door(s), hitch locks, etc.)
Tool Box
We suggest bringing a small tool box containing basic tools that you may need on your trip. While it's unlikely you will be taking on any major repairs, it's always good practice to have your best set of tools handy just in case. Here are the basic tools we suggest brining:
Leveling Blocks
It is quite rare that you will arrive to your awesome destinations and your RV sites will be perfectly level. To avoid sleeping on an incline and having doors mysteriously close on their own, we suggest purchasing leveling blocks for your RV.
Wheel Chocks
We can't stress enough the importance of chocking your RV wheels. Regardless of the type of RV you purchased, chocking your wheels will keep you and your travel mates safe and stable.
Tire Lug Wrench (Multi-Size Heads)
Having a tire lug wrench with multiple size heads is important for many reasons. One being your RV lug nuts, which you should check frequently are snug prior to traveling, may have a different size head than your tow or towed vehicle. Be sure to check the size of your RV lug nuts prior to purchasing this item.
RV Lift Trailer Stabilizer Leveling Scissor Jack Socket
If you purchased an RV with manual (non-electric) stabilizers you will want to pick up a 3/4″ RV Lift Truck Trailer Stabilizer Leveling Scissor Jack Socket that can be attached to your cordless drill. This will save time and your shoulder blades during set up and break down of your RV site.
Head Lamp/Flashlight
Having a flashlight in a known location in your RV is quite handy. We also suggest getting a headlamp for your RV. I can't tell you how many times I needed to perform a small task in bad lighting where I truly needed both hands free.
Rain Poncho
It's inevitable….it's going to happen. We suggest keeping a rain poncho or rain coat handy for rainy days. You will, at some point in your RV adventures, need to either set up or break down your RV site and rig in the rain. While the rest of your crew is stowed safe and dry in your RV or tow vehicle, you will be outside doing the heavy lifting in the rain. From personal experience, let me tell you, it's not fun doing this in the rain without any protection.
Battery Jumper Cables
If you don't already carry a set of battery jumper cables, it is good practice to have these handy in the event your RV or tow vehicle battery decides to change your travel plans without notice.
Batteries
We suggest bringing an extra set of the major types of batteries – AA, AAA, C, D, and 9V, that may be used in your RV interior components. Prior to purchasing extra batteries, take a quick inventory of the various types of batteries used in your RV as certain items in RV's may take watch batteries and not use your standard batteries you typically purchase. A few items I suggest checking:
RV specific remote controls: TV's and stereo equipment
Exterior lighting and Levelers remote controls
RV smoke detectors
Extra Vehicle Fluids
Depending on if you own a motor vehicle, you have a tow or towed vehicle, or have a portable or on-board electric generator, it's always suggested you bring a quart of engine oil and transmission fluid. Validate via your user manuals your rig set up for the specific types of engine fluids you require.
Tow Hitch Ball Grease
If you have a towable RV, whether it's a travel trailer or fifth wheel, it's always good to grease your tow hitch ball or connector.
Tire Pressure Gauge
We can't stress enough that validating your tire pressure on your RV is a good practice prior to every time you leave a location or plan to move your RV. Having a quality tire pressure gauge will ensure your RV's tires are operating at the suggested tire pressure for your vehicle.
RV Sewer Hose and Fittings
The infamous RV 'stinky slinky' as it's commonly referred to. Having a set of quality RV sewer hoses and fittings is key to keeping your RV clean and ready for the next adventure.
RV Sewer Tank Treatment
Each time you drain your RV's black tank you will want to add RV Sewer Tank Treatment chemicals to assist in the breakdown of black tank solids.
We personally prefer Happy Campers Holding Tank Treatment and you can read our review on how well it works.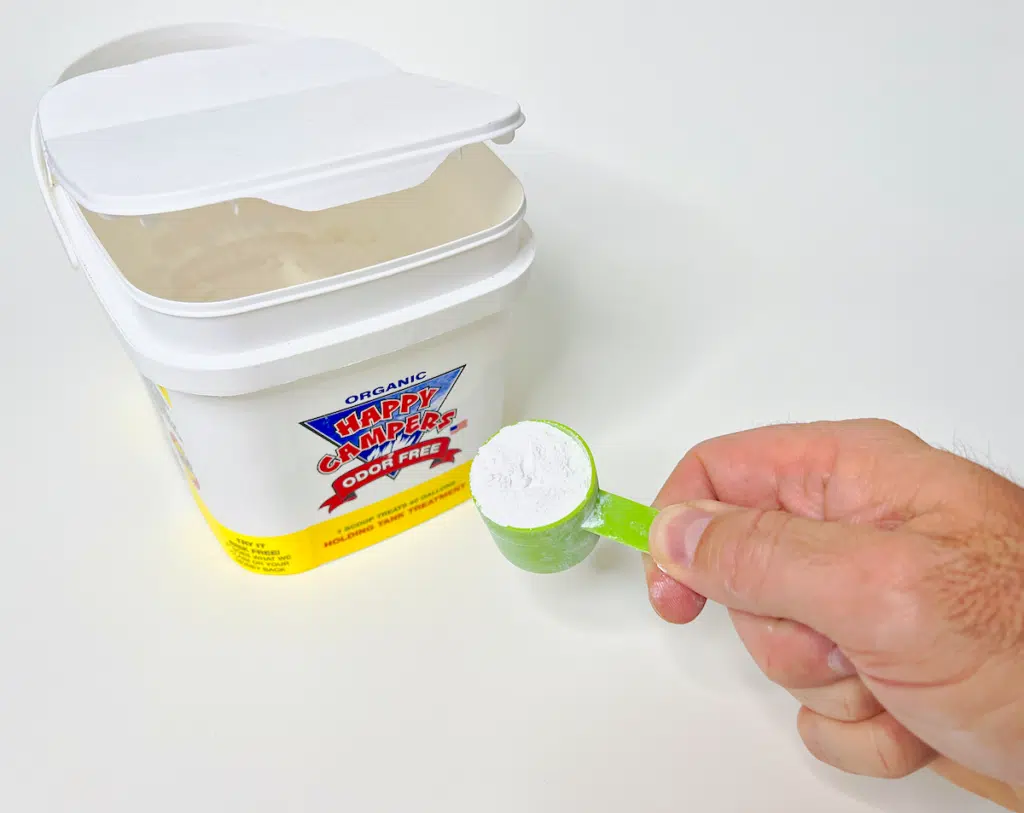 RV Toilet Paper
We know you love your favorite toilet paper at home. It's the softest, it's smells great…..we get it. That said, leave it at home. Be certain to purchase RV specific toilet paper for your travels. You do not want to bring and use normal, residential toilet paper in your RV. Standard residential toilet paper will not break down in black tank and it will clog your black tank.
RV Sewer Black Tank Flush Wand
If your RV doesn't come equipped with a black tank flush connection, we suggest purchasing a black tank flush wand to assist in cleaning out your black tank after every black tank dump.
Disposable Gloves
When you are dumping our RV tanks (always remember black tank first then dump your grey water tank) you should use disposable gloves. These will keep your hands free of any unwanted particles that may splash or leak on your hands when dumping your tanks.
Trash Bags
You'll need them…bring them. Pick up a box of quality trash bags for your adventures. Also, if you didn't purchase that suggested rain poncho we mentioned earlier, a large trash bag can be retrofitted into a make-shift rain poncho….just saying.
Work Gloves
I always, jokingly, said to my wife that the term 'RV' could be loosely translated from Latin meaning, "injured hands". I can't tell you how many times I've hitched our RV without wearing work gloves or was working underneath on our RV without gloves and somehow I nicked, cut, or mildly injured my hands. RVing is a physical means of travel, get some quality work gloves….your hands will thank you.
Potable Water Hose
To keep your crew hydrated, the dishes clean, and your toilets flushing you will want to pick up a potable water hose for your RV. You don't want to use a standard garden hose as a means of conveying potable water into your rig. We suggest getting at a minimum a 25′ long potable water hose and having on hand a secondary 10′ long potable water hose. Why you ask? Not all RV sites are created equal. It is quite possible that you will experience RV sites with the domestic water source is far away from your RV's domestic water connection. Having an additional 10′ of potable water hose has saved my 'rear bumper' many times.
Potable Water Filter
Working in tandem with your potable water hose, you will want to have a potable water filter connected to your potable water hose. You will find that not all potable water sources are created equal. Having a potable water filter will help keep out any particles in the water and assist with the taste depending on the type of filter you purchase.
Water Hose Elbow
To reduce the strain on your RV's domestic water connection fitting, we suggest getting a 90 degree water hose elbow fitting to attach your potable water hose to your RV.
Water Pressure Reducer
If you plan to connect your potable water hose to your campsite's domestic water connection, you will want to use a water pressure reducer. Using the reduces will ensure that you do not blow out a plumbing fitting in your RV in the event your domestic water source has a spike in pressure or is just inherently a higher water pressure than your RV requires.
Water Hose Splitter
When RVing I always used a water hose splitter at the domestic water source provided at our campsite. This gave me the option to have one hose connection dedicated to our potable water hose and filter and a second water connection serving my non-potable water hose to wash things off our equipment, wash off the RV, etc.
Non-potable Water Hose
We suggest having a length of non-potable water hose (a.k.a. garden hose) in your setup. There's always something that needs to be rinsed off it seems when you travel. You also will want to use your non-potable water hose to rinse and flush your sewer hoses and fittings and to use for your black tank flush wand. Do not use your potable water hose for these activities!
Water Hose Spray Nozzle
We always carry a spray nozzle for our non-potable water hose.
RV Power Adapter
An RV power adapter (a.k.a. a 'dog bone') is something you will want to have in your essential gear roster. Be sure to purchase the correct adapter for your RV's amperage (either 20 amps, 30 amps or 50 amps). I can't tell you how many times I was about to hook up our RV (30 amps) to the campsite provided 30 amp power source and it didn't work properly or there was a swing in voltage and I had to hook up to the 50 amp power connection. Having a 'dog bone' saved my 'rear bumper' and allowed us to have full hookups with no power issues.
RV Power Cord
An RV Power Cord should've been provided with your rig when you purchased it, however, if it was not provided be certain to refer to your RV's owner's manual to purchase the right amperage cord for your specific RV. Typically these are either 15 amps, 30 amps, 50 amps.
RV Power Surge Protector
I highly suggest purchasing an RV Power surge protector, that is specific to your RV's amperage. As previously stated, you cannot always assume the RV site's power source is always going to provide 'clean' power to your rig. Having a power surge protector will ensure your RV's power source at the pedestal has a good connection and is providing 'clean' power that does not fluctuate which may damage your RV's electrical components.
Power Extension Cord (110V / 15 Amp)
It's inevitable that you will need a 110V power source for a whole multitude of reasons when your RVing. Having a 110V / 15 amp extension cord will always come in handy.
Power Extension Cord Adapter (110V / 15 Amp)
In tandem with the 110V / 15 amp extension cord, I suggest having in your tool box an extension cord connecter. I have stayed at many campgrounds and RV parks who provided a 110V/20 amp power source at the pedestal, but it didn't have a ground point.
Extra RV Fuses
Having an extra set of RV specific fuses in your gear roster will ensure you staying functioning while out on the road. Take an inventory of your RV specific fuses in your RV's fuse box to ensure you get the correct mix of fuse wattages.
Coax Cable
If you're planning on traveling and staying at campgrounds that offer Cable TV connections at the pedestal, it's handy to have a length of coax cable to keep your RV's televisions connected. I've found in most RV sites, 25′ length of coax cable was sufficient to span between the Cable source and our RV's Cable input connection.
Roadside Emergency Kit
It goes without saying, taking a basic roadside emergency kit is great practice if you plan to travel extensively in your RV.
First Aid Kit
It also goes without saying, taking a basic first aid kit is great practice for your RV travel adventures.
Fire Extinguisher
While most RV's come equipped with a fire extinguisher, in the event your did not you should purchase one and store it in a known location within your RV.
Barbecue Grill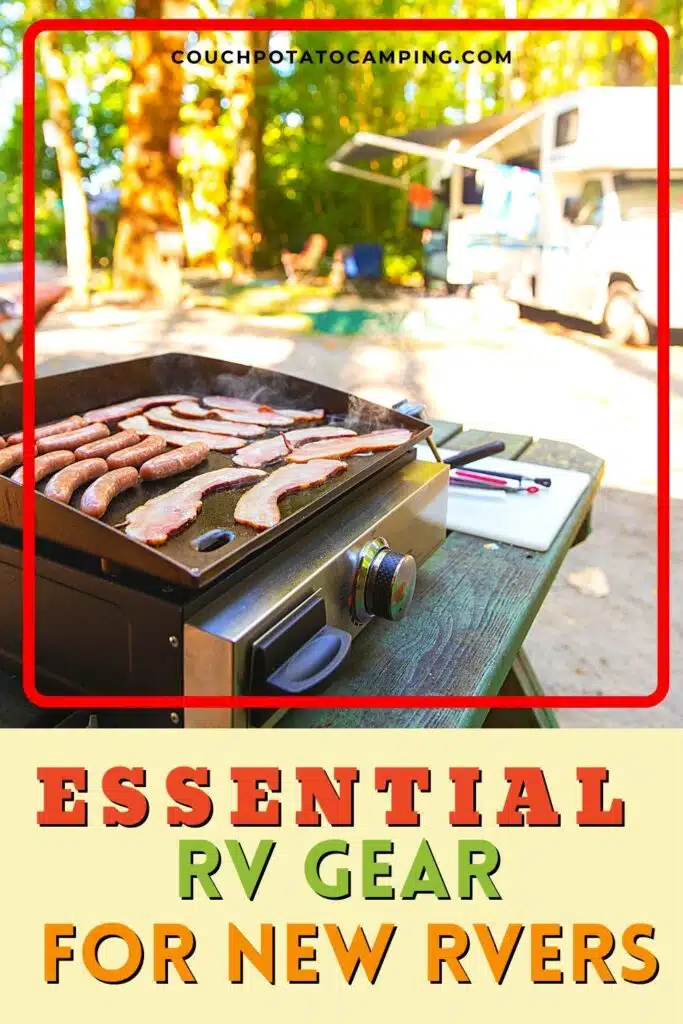 Regardless if you're on the 'Team Propane' or 'Team Charcoal' grilling approach, having a barbecue grill for your RVing travels is a great way to stay outdoors and set the tone for your camping dining experiences.
Barbecue Grill Accessories
If you plan to grill a lot on your RV trips, be sure to take a basis set of barbecue grill accessories. Your fingers will thank you.
Outdoor Chairs
You bought your RV; you're ready to travel; you arrive; and son of gun you have not place to sit outdoors. You forgot to bring a set of portable outdoor chairs. Outdoor chairs are one of the most overlooked and forgotten items left behind on RV trips.
Outdoor Portable Table
In tandem with your portable outdoor chairs, you should seriously consider bringing a portable or collapsable outdoor table for your RV experience.
Fire Starter
If you want to have a campfire, bring a fire starter on your RV trips. This will save you time and ensure a quick flame time to create your ambiance.
Portable Shovel
Having a portable shovel in your gear setup is good practice. You may have the occasion where you need to dig out a vehicle tire that is stuck in the mud or you want to create your own campfire spot. They are light and typically don't take a up a lot of real estate in your storage area.
Tree Saw or Axe
Bringing along a tree saw or small axe is good practice for several reasons. The first and obvious is if you want to process firewood for your night campfires. Another good reason is I've been to several heavily wooded campgrounds and RV parks where I needed to remove a small tree branch that was hitting our RV.
Broom
You're traveling to the great outdoors. Guess what, some of that great outdoors will find its way into your RV. Bring a broom and dust pan to keep your rig clean.
Fly Swatter
The struggle is real people! A fly swatter is most likely the cheapest piece of gear you can buy for your RV, but it can potentially be one of the most used items. Don't even get me started on the mosquitos while RVing in the Florida Everglades in March.
Rope
Though you won't find yourself needing hundreds of feet of it; having a length of rope in your gear storage will always come in handy for that one instance when you need to tie off or strap something down.
Duct Tape
I mean…come on. Duct tape….need I say anything else on this topic.
Optional Essential RV Gear
3 Ton Floor Jack
If you're the proactive type of individual and you're comfortable (and in a safe location) to change a blown or flat RV tire, then I suggest bringing a 3 Ton Floor Jack. FYI your car jack either won't be able to handle the weight of your RV wheel load and most likely it will not extend high enough to reach a secure mounting point for a jack. Please confirm the load rating on your RV wheels prior to purchasing 1 ton vs. 2 ton, etc.
Tire Puncher Repair Kit
I always keep a tire puncher repair kit in my vehicle at all times but in case you usually don't having can save you if you have a small hole in one of your RV tires.
5 Gallon Gas or Diesel Can
Keeping a 5 gallon can of gas ( or diesel depending on your RV) can save you if you run out of fuel or if you plan to bring a portable electric generator.
6 Gallon Potable Water Can
Keeping a 6 gallon potable water can is great to have for the unique campgrounds or RV parks that only have a communal potable water source and not a domestic water connection at your specific site. These are great to have in these instances to help keep your RV's potable water tank topped off for showering, cleaning, and flushing the toilet.
Portable Electric Generator
If your RV does not come equipped with an onboard electric generator and you plan to boondock or camp off the grid a lot in your RV, having a portable electric generator is a great way to keep your lights on, your RV batteries charged, and will give you the ability to run your RV's A/C unit and 110V outlets. Prior to purchasing a generator, be certain to validate your RV's specific power requirements so you can properly size the wattage of your portable electric generator.
Portable Tire Air Pump
Having a portable tire air pump is a great way to keep your RV and tow or towed vehicles tires filled to their proper operating air pressure. These are great to have when you're in a location where you cannot easily get your RV into a gas station's air pedestal or if you're out in the great wild and need to top off your vehicle's tires.
RV Backup Camera
Though not required, but great to have; an RV backup camera system is a nice to have when backing your rig into an RV park's site. Our RV was equipped with a camera system that was able to be on the entire time we were traveling down the road, acting as a review mirror behind our travel trailer that was 40 plus feet behind the driver's seat.
If you don't want to wire a camera system (we understand!), check out this easy-to-install solar-powered back up camera that doesn't require wiring.
Outdoor Area Rug
An outdoor area rug is great to have under your outdoor portable chairs and table. It keeps your feet out of the dirt and can help with reducing the dirt and grime that will be tracked into your RV.
Portable Ladder
If your RV does not already come equipped with a permanently mounted exterior ladder, then consider bringing a portable and foldable ladder. You never know when you're traveling and you may need to safely get up on the roof of your RV to make a minor repair or to clean the roof or the tops of your slides off.
Better Bed
Factory installed mattresses from an RV company are notoriously uncomfortable and really bad. But you might be concerned about having to pay a lot of money for a custom RV mattress. Check out our easy and economical solution for a comfortable custom RV mattress.