You do not want to be boon docking in the middle of the forest and run out of propane. You also don't want to discover you have no propane left in your tanks on a cold night when you need the heat to stay warm.
The problem is, you can't see propane levels through the tanks. While there are a lot of sensor monitors in your rig, there aren't propane tank level monitors. Which is a problem, because you need propane to cook, heat water and run your heater in most rigs.
While you may have started your trip with full propane tanks, there is no real way of knowing how much you are using each day. That is why you need an RV propane tank monitor.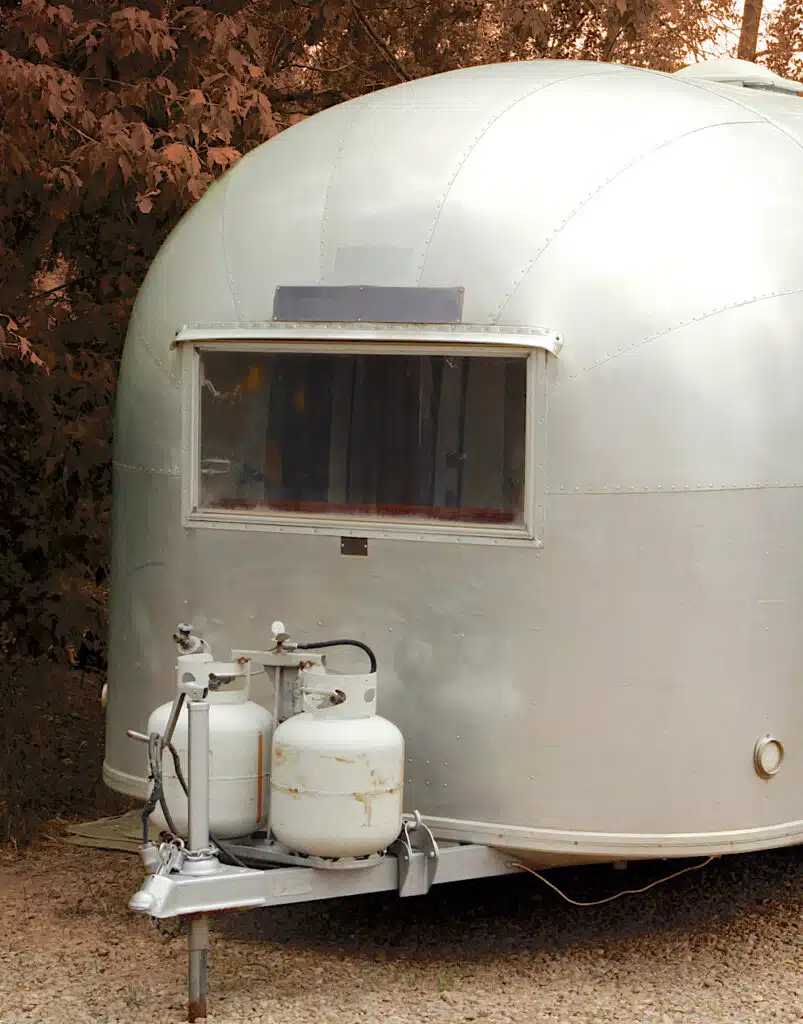 When we first started RVing, this situation occurred to us many times. Especially as full-time RVers when we were using the propane daily every week.
After having to take one-too-many cold showers and shivering on chilly nights because we didn't have enough propane, I wised up and did some research.
We found the best propane level monitoring options and soon installed a propane tank level monitor on our RV's LP tanks.
To conserve our propane for needing less refills, we also started using portable electric burners and a low-wattage toaster oven to conserve gas, as well as electric heaters when we had electric hook-ups.
There are a variety of RV propane tank monitoring systems and gauges on the market. Each is different and varies according to how analog or digital you want to go. We have listed our picks for the best of each type below.
What Is A RV Propane Tank Monitor
A propane tank monitor is a device that is installed on your liquid propane tank to monitor your tank levels. It uses either a mechanical or electronic method to measure the tank level.
The monitor is either permanently or temporarily mounted to the tanks. Temporary mounts make it easy to use even on RV rentals.
Propane tank level monitors can also include tank scales. These are handheld devices that measure the remaining fuel capacity based on the weight of your tank versus its designed total fuel capacity.
Electronic RV propane tank level monitors work by measuring tank level readings using a sonar-like signal sent through the tank from a remote sensor placed on the bottom of the tank. Then, via BlueTooth, the level reading is sent back to the person's smartphone via an accompanying app.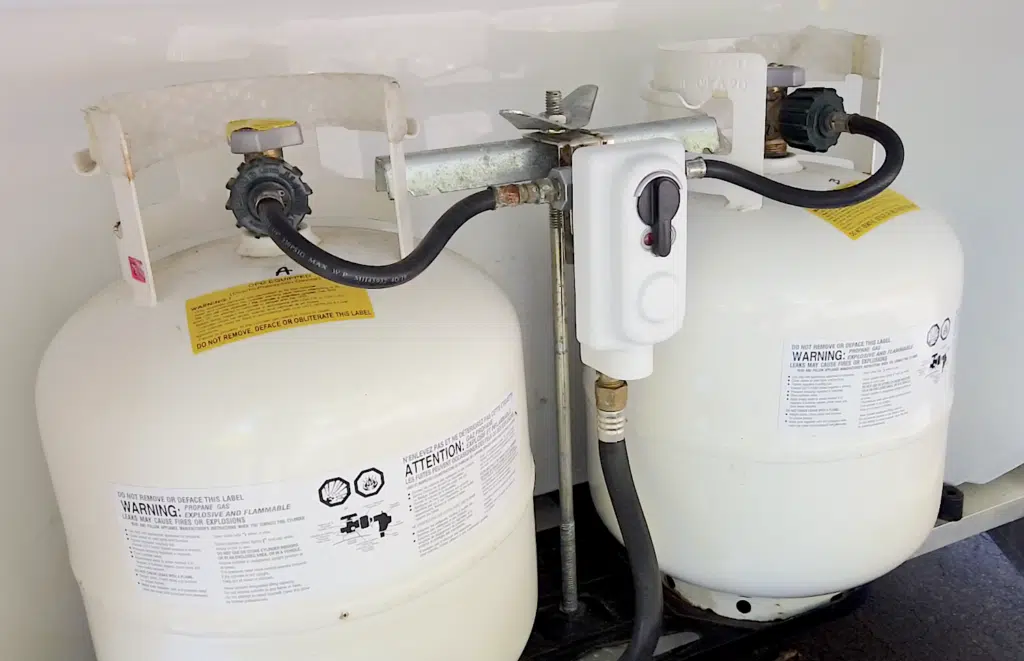 Be sure you invest in a water flow meter and tire pressure monitor, too, when RVing and camping.
Types of Propane Tank Monitors
Propane Tank Gauge
If you are looking for a simple, mechanical RV propane fuel gauge that is more analog and not too flashy, then check out the GASPRO Propane Tank Gauge Level Indicator.
Also available on Walmart.com
This gauge can accommodate tanks from 5 to 100 pounds of capacity,
We like many aspects of this type of tank level monitoring device such as:
Solid brass construction
Fuel level adjusts reading for ambient temperature
Easy to install
No electronic components that can fail
Can be used on RVs, campers, propane fire pits, grills, etc.
It fits both old and new style propane tanks
Does not require you to remove the propane tanks to use effectively
Propane Tank Scale
A lesser known but equally great solution for monitoring your RV's propane tank levels is the Flame King Tank Digital Scale.
Also available on Walmart
This propane tank scale with a digital read out is usable for propane tanks from 5 pounds up to 40 pounds of capacity.
The tank scale is easy to use. Simply unhook and remove the propane tank from your RV, set it on level ground, then hook up the scale to the tank's handle. Then lift the tank so that it is hanging, supported only by the tank scale. A digital reading will appear on the handle of the scale.
The only con of this type of system, unlike the others we are highlighting, is it does require you to completely remove your propane tanks from your camper or RV for an accurate reading.
Wireless Propane Tank Level Indicator
If you're looking for a set-it and forget-it electronic RV propane tank level monitoring system, we suggest the AP Products 024-1002 Propane Tank Gas Level Indicator.
Also available on Walmart.com
This BlueTooth enabled wireless tank level monitoring system uses a magnetic sensor which is placed the bottom of each tank you plan to read.
Plus, it has a smartphone app that is available for either iOS or Android smartphones.
Just place the monitor on the bottom of each tank you plan to monitor, download the application on your smartphone, sync the wireless monitors with the app, and let the fuel level monitoring begin.
We have used this system on both of our RVs. Each had different sized propane tanks, one with 30 pound tanks and the other with 20 pound tanks.
Magnetic Propane Tank Fuel Level Indicator
If you are looking for a simple, no hassle and reusable RV propane tank level indicator, then we suggest the magnetic Kona Propane Fuel Leave Indictors.
Also available on Walmart.com
With this type of system, there are no electronics involved. There are also no smartphone apps to download and no batteries that will run out or deteriorate over time.
The magnetic fuel level indicator is easily removable and has a visible, color coded propane level read out.
Once you place this monitor on your tanks, you wait approximately 10 minutes. Then a valid level reading is available.
This type of monitor works for both butane and propane tanks.