Camping with kids is fun until you try to figure out how to prevent them from rolling off their narrow bunk beds or over-the-cab mattress. Many RV beds that are geared for children to sleep on are high off the ground, which can lead to a painful fall in the middle of the night. That's why you need to buy an RV bunk bed rail or safety net.
Surprisingly, most RV manufacturers do not install children safety restraints for upper level beds that are most often used for children. (Thor Motorcoaches do install safety nets in some RVs we've seen.)
So you will need to install a RV Bunk Bed safety net (or other restraint) yourself. You can rest easier at night when you use a bunk red rail, a bed safety net or a soft bed bumper to keep babies and kids from rolling out of their bed.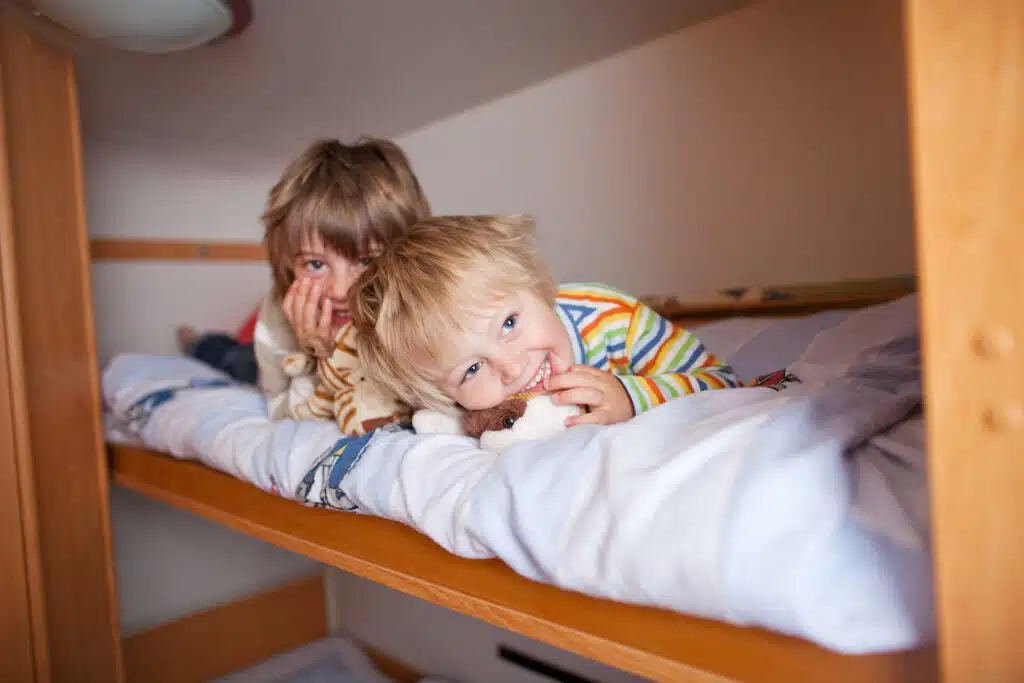 When traveling with children, this is a small investment (around $30-50) that can have a huge impact on your family. No one needs to find emergency care for a fall when out in the middle of nature and away from urgent medical care.
Helpful Tip: For over-the-cab mattresses, have children sleep with their feet pointing towards the inside of the RV, rather than sleeping horizontally on the mattress. This way, if they roll they will roll into the walls, not off the bed onto the floor. It's still a good idea to have safety rails, but this is an extra layer of protection.
You'll also want to see our top picks for the best RV sheets!
Best RV Bunk Bed Rails
Please keep in mind that most of the bed rails and bed safety nets available are intended for use with a box spring or a mattress frame. RVs generally do not have these options.
Buying one of those systems will only lead to frustration and a delay in using a safety restraint for a bed. We've picked the best items that will work specifically for campers, so you don't have to do any more research.
Foam Bed Rail Bumper
Among the easiest solutions is to use a foam bed guard rail. These foam bumpers are soft and require no installation or tools whatsoever!
The foam bumpers look like really wide pool noodles! They are made of a soft foam molded into a steep curve so that kids and adults won't roll over the bumper in the middle of the night.
Unlike using just pillows, these foam bed bumpers have non-stick grips on on the bottom, plus a non-slip grip pad to keep it securely in place.
The cover can be removed and washed, which is always important with bedding. The entire bumper is designed to be put underneath a fitted sheet, so it will stay protected and relatively unobtrusive when using.
These soft bed rails can be moved and tucked into a corner during a travel day, or for when you or your kids want to stretch out in bed to watch TV or play a game.
Expect to pay between $30-45 for one to two foam bed rails.
If you are tight on space, consider this travel foam safety bed rail. It folds in half and packs away, taking up less room in your RV during the day.
Inflatable Bed Bumpers
Perhaps you are worried about the grandchildren rolling out of their bunk beds, but they don't travel with you all of the time. That is when inflatable bed guards are a great idea!
These Inflatable Bed Rails are easy to inflate or deflate. When you are not using them, the air can be let out of the inflatables and packed away easily.
This 2-pack is surprisingly affordable, and can be used on two different beds. Grip strips underneath the bed guards will help to keep from slipping.
If you travel frequently, not just by RV, these are great to have because they are so easy to pack. So if you cruise or stay in a hotel or guest house with children, you can bring these easier than the long molded bed guards.
ComfyBumpy Three-Way Bed Rail
We don't know of any RV that has box springs for the beds used by kids. Yet so many bed rails can only be secured by a box spring, which doesn't make sense in a camper. That's why we are thrilled with this ComfyBumpy bed rail that can be used in three different ways, including:
Drilling into a wood base
Using with slats
Attaching to a box spring
The variety of uses is important because not every RV bed is the same and you want flexibility to use with your rig and to possibly use in another RV should you need to.
This bed rail comes in two different colors and two different sizes to customize for your unique needs. It is a universal fit for all bed sizes, from single to King size mattresses.
The bed rail easily folds down out of the way. There is no need to worry about installation for the three ways of attaching it to a bed. Video tutorials are included for ease of installation.
This bed rail guard is very similar, but comes in an additional color.
Waterproof Safety Bumper with Straps
Similar to a foam safety bumper, this waterproof wedge safety bumper is secured to the mattress with long straps similar to a seat belt.
It's easy to use this system with RV mattresses of different thicknesses and sizes, because the straps are pulled tight and secured.
The extra long size will fit over or under the sheets. The waterproof cover is perfect for kids who have night time accidents.
Two different patterns are available.
DIY Bunk Bed Rails
Many RVers have made their own bed rails customize to their RVs. If you are looking for something permanent and aren't afraid to use power tools, you can build your own from lumber.
Here are some ideas of how to make wooden bed rails.
Less Junk, More Journey built a toddler bedroom in their Airstream, along with wooden bunk bed rails. Here's how they did it: