Excited to visit the theme parks in Orlando? You will definitely want this helpful list of the RV parks and campgrounds near Universal Studios. .
While Orlando is one of the most popular travel destinations in all of America, there are very few RV campgrounds in the city. You will be surprised that you won't get to camp next to your favorite attractions (other than at Walt Disney World). Expect to do a bit of driving to get to the theme parks.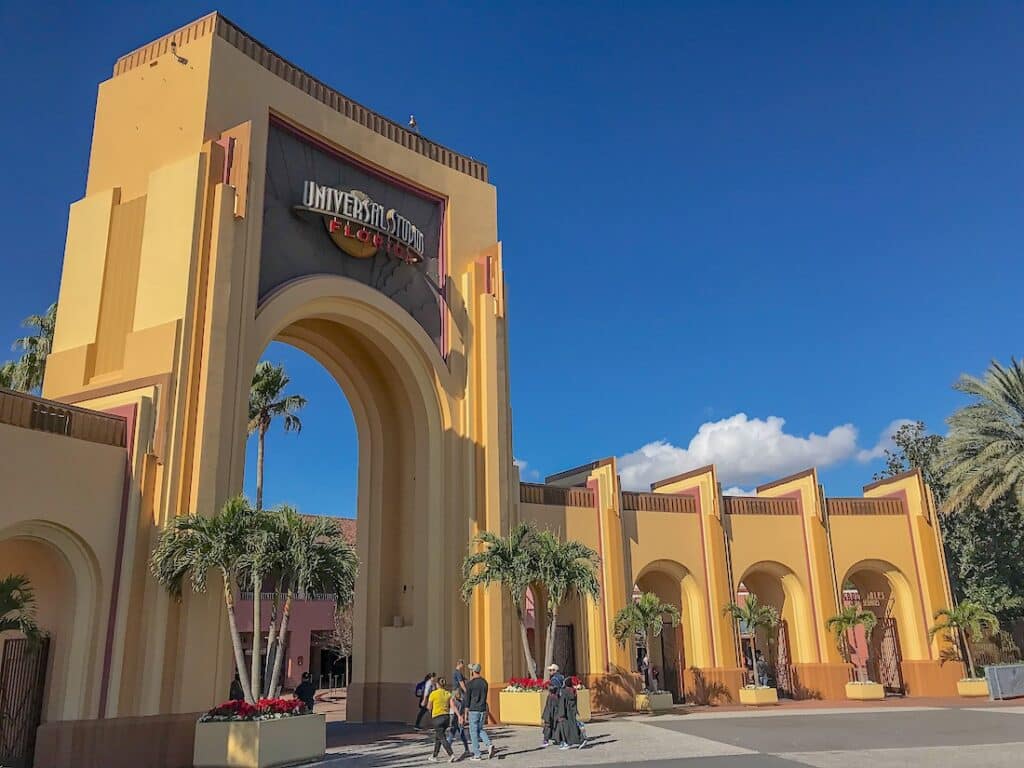 And keep in mind that 15 miles distance in Orlando can take 30-60 minutes or more to drive with traffic.
✅ Need help planning your Universal visit, such as best restaurants or what gear you need? Check out these helpful Universal Orlando travel tips.
Campgrounds and RV Parks Near the Universal Orlando Resort
Turkey Lake Campground
The closest RV park to Universal Studios Orlando is Turkey Lake Campground at Bill Frederick Park, an Orange County park in Orlando. Not only is it one of the few places you can park close to the city, Turkey Lake is also one of the top five fishing lakes in Florida.
An unusual amenity at this park is a Drone Zone, which is a dedicated flying area for drones. There is even multiple power outlets in the Drone Zone for recharging your equipment.
Full hook ups and partial hookups are available in the 36 sites, which start at $20 per night. Cabin rentals with air conditioning are also available.
Amenities include:
Swimming Pool
Boat rentals
Fishing pier
Playgrounds
Disc golf
Volleyball
Trails for walking and biking
Bath house
Orlando | Kissimmee KOA Holiday
Located 16 miles from the Universal Orlando Resort area, the Orlando | Kissimmee KOA Holiday offers a lot of amenities! Plus, you will find the RV sites, camping sites, and Deluxe Cabin options you expect from a KOA Holiday RV park. This family friendly RV and Camping destination has something for everyone.
The Orlando | Kissimmee KOA is in the heart of Central Florida's tourist corridor, which makes it easy to see all of the theme parks (including Disney and Sea World) and fun things to do in Orlando.
Amenities include a heated pool and spa, 24-hour laundry facilities, a playground for the kids, outdoor sports fields such as basketball, and a fitness center.
Full hook-up sites
WiFi and Cable available
Cabins for Rent
KampK9 Dog Park and Wash Area
Campsites that can accommodate a large RV
The Campsites at Disney's Fort Wilderness Resort
You're not reading this incorrectly, we ARE suggesting Disney's Fort Wilderness campground if you plan to visit the Universal Orlando Resort. Quite arguably the most popular RV park and campground in Orlando if not in the U.S., it is also one of the closest to Universal Orlando, being only 14 miles away.
Disney's Fort Wilderness Campground, the largest in Central Florida, is situated on 750 wooded acres with over 800 campsites that can accommodate various sizes of RV's and tent campers. (Check out this secret way to camp at Fort Wilderness even if you don't own a tent.)
There is SO much to do at Fort Wilderness! And even if you don't want to travel with your own rig, you can rent an RV at Disney's Fort Wilderness for your camping experience.
Or you can stay in the Fort Wilderness Cabins. These fully conditioned cabins, come in various sizes from 1 to 2 bedrooms and smaller camping cabins with similar amenities such as: WiFi, refrigerator, Cable TV, and more.
Full hook-up RV sites
Cable TV and WiFi Connectivity
Concrete patio, picnic tables, and grills
Multiple swimming pools and beach area
Bike and boat rentals
On-site restaurants
Active social community (check out the Fort Wilderness Scavenger Hunts that guests organize to spread joy and have fun)
Sun Outdoors Orlando Championsgate
Situated approximately 22 miles away from Universal Orlando, Sun Outdoors Orlando Championsgate is a year-round RV and camping option for visitors to the area.
This destination resort offers premium RV sites, rental cabins, glamping tents, a fishing pond, and 2 swimming pools. Other amenity highlights include:
Full-hookup RV sites
Free WiFI and Cable
Laundry Rooms
Conditioned Comfort Station/Restroom Facilities
Orlando RV Resort
If you are a member of or enjoy staying in Thousand Trails RV parks, the Orlando RV Resort offers all the amenities you expect from Thousand Trails properties. This year-round park offers newly upgraded RV sites and resort amenities such as additional 50 amp campsites, upgraded pool areas, 167 new RV sites and more.
The Orlando RV Resort offers other on-site features such as creek/lake front sites, cabin and cottage rentals, exercise and aerobics classes, and a children's playground. The RV Park is located in Clermont, Florida due west of the Walt Disney World Resort with easy access to Interstate 4 and Highway 27.
Other amenities include:
Camp store
Cable TV hookups
Fitness and Business centers
Laundry facilities and a clubhouse
Dog park and game room
Orlando NW | Orange Blossom KOA Journey
If you are looking for a RV and camping location situated away from the crowds and traffic, but easily accessible to the Universal Orlando Resort then check out the Orlando NW | Orange Blossom KOA Journey.
The Orlando NW | Orange Blossom KOA Journey offers 80 plus year-round camping sites, full-hookup RV sites, and several sites are 100′ in length for larger RVs. The park also offers KampK9 for your fury family members, children's playground, and firewood and propane available for purchase on-site.
Free Wi-Fi and Cable TV hookups available
Swimming pool (open year-round)
RV storage area
24 hour laundry and bath facilities
Winter Garden RV Resort
Winter Garden RV Resort is located just 15 miles from the Universal Orlando Resort and is part of the Encore RV Resorts and Thousand Trails systems. This campground is situated amidst pine trees but conveniently located near shopping areas (Aldi and Harbor Freight is across the street) and downtown Winter Garden, Florida. Plus there is a Giant Recreation World RV dealership across the street in case you need supplies.
The campground offers full-hookup RV sites, heated pools, a playground, long-term RV storage, playground, and the following other amenities:
WiFi and High speed internet
Basketball Court, game room, and fitness center
Clubhouse and laundry facilities
Restroom and shower facilities
Kissimmee RV Park
Located approximately 17 miles from the Universal Orlando Resort, the Kissimmee RV Park (formerly the Orange Grove Campground and RV Park) has full-hookup, shaded and sunny RV sites for those with solar, and has tent camping sites.
Though situated near all the major attractions in the Orlando area, the Kissimmee RV Park also offers pet friendly amenities, clean restrooms, a recreation hall, heated swimming pool, free Wi-Fi at the recreation hall and the following other amenities :
Concrete RV patios and picnic tables at each site
Bathhouse and laundry facilities
Cable TV and Internet connectivity
Propane sales on-site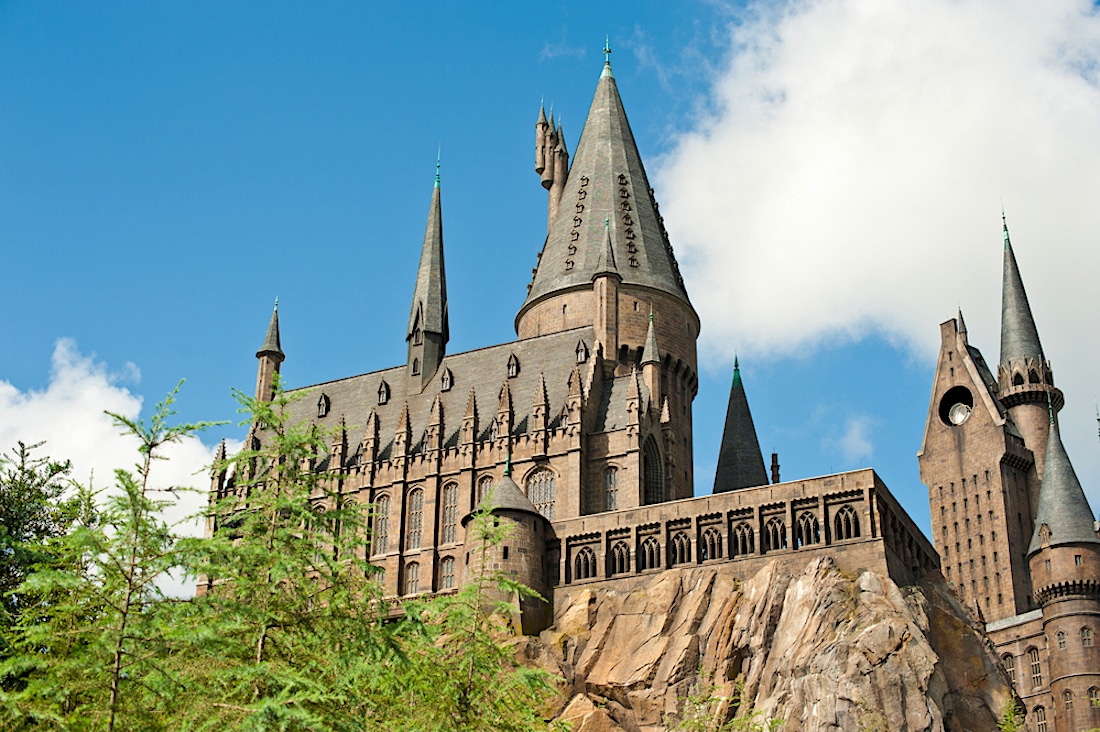 Sherwood Forest RV Resort
Stay close to the Universal Orlando Resort at the Sherwood Forest RV Resort. Also a part of the Encore RV Resort and Thousand Trails RV networks, this large campground offers travelers hundreds of campsites and amenities for those visiting Central Florida.
Located only 12 miles from Universal Orlando, the Sherwood Forest RV Resort provides its guests the closest RV resort to Universal Orlando set in a well maintained setting with all the amenities you expect from a campground with high marks. The park offers:
Swimming pool and hot tub
Bathhouse and laundry facilities
Banquet hall and game room
Full-hookup sites
Mini-golf, fitness center, and playground
Tropical Palms Resort
If you are looking for an RV campground close to all the Orlando attractions with an island getaway feel then the Tropical Palms Resort offers its guests something unique.
Located approximately 13 miles from Universal Orlando, this 69-acre campground with rental cabins provides a list of amenities and a tropical island feel. Tropical Palms is also a part of the Encore RV Resort and Thousand Trails network offering a list of amenities including:
26 new and upgraded RV sites
Vacation cottage and cabin rentals
Clubhouse, restaurant, and laundry facilities
Craft center, camp store, and planned activities
Full hookup sites
Swimming pool with poolside games and activities
Movie nights and live music (select nights)
On-site theme park ticket sales
Ponderosa RV Park
Conveniently located near the Florida Turnpike and only 21 miles away from the Universal Orlando Resort, the Ponderosa RV Park is a hidden gem offering guests with an array of amenities while boasting 200 RV campsites.
If you're looking for a more manageable size RV park and campground with a lot of amenities, then Ponderosa RV Park is perfect for adults and families looking to getaway while being just minutes away from all the major attractions in the Orlando area.
Don't have an RV? No problem. There are two rental cabin options that include either an A-frame Cabin with 2 full beds, WiFi and A/C and Heat or the more appointed Camping Cabins that accommodate up to 4 people, a full kitchen, bathroom, Cable TV, WiFi and A/C and heating.
Other campground features include:
Full RV site hookups with 20, 30, and 50 amp electrical
Heated swimming pool
Playground, laundry facility, and recreation facility
3 recently renovated Restroom and Bath houses
RV storage area
Shady and paved sites
Cable TV and Phone hook ups for long term residents
Free Wi-Fi
Trimble Park
Located in Mount Dora, Trimble Park is part of the Orange County Parks and Recreation Department.
This campground won't work for everyone, since the maximum length of your RV can only be 35 feet and maximum height is 12 feet. It is also more than 30 miles away from the theme park.
There are only 15 sites in the campground, as well a spot for group tent camping. With lakefront views and county park prices, you can see why these sites book up quickly. You will also get more privacy at this park with their larger sites.
Just be warned, with all of this nature there are a lot of bugs that will be at your campsite!
Amenities include:
Bath house
Pet friendly
Boat ramp
Playground
Hiking Trails
Fishing
Water and electric hook ups
Fire pit and benches
Magnolia Park
This Apopka campground is 20 miles from Universal Studios.
Peacocks and other birds do roam the grounds of Magnolia Park campground situated next to Lake Apopka. There are 18 campsites available.
Amenities include:
Electric and Water
Dump station
Playground
Bike Trails
Bath House
Moss Park in Orlando
One of the most favorite hidden gems of campgrounds in all of Orlando is Moss Park. So many campers love staying there, including our friends Melanie and Andrew of Life's Sweet Journey.
Moss park is over 1,500 acres, so this county park is way bigger than many other county park options. This campground is around 27 miles away from Universal Orlando.
In 2022, there are electrical upgrades taking place in the campground, with individual campsites being closed at certain times.
Amenities include:
Playground
Volleyball Court
Fishing
Canoeing
Lake access ramp just for campers
Kelly Park Campground
Another campground around 30 miles away in Apopka is Kelly Park/Rock Springs.
Kelly Park is extremely popular as a day visit and the county park often closes early in the day because it reaches capacity limits. In fact, during the summer, the park has been known to close only an hour after opening because it is so crowded. People get in line as early as 4:30 a.m. just to get inside!
The waterfront park is the ideal way to get in the water and enjoy tubing and floating or kayaking. You can walk to the Spring from one of the 26 campsites in the park. Campsites 13 and 14 are closest to the spring.
Amenities include:
Water and electric hook ups
Dump station
Swimming area
Playground
Volleyball
Bath house
Pavilions
Some pull through sites
Clarcona Horse Park
Clarcona Horse Park in Apopka is an Equestrian park with 28 RV sites. The sites look like a traditional campground, close together, rather than a more spacious county park.
There is no dump station at this campground. It is located about 13 miles from Universal Studios Orlando.
If you like this list of RV parks near Universal Studios Orlando, you might also like to know how to park your RV at Universal Studios Hollywood.