I had no idea that Fort Wilderness Scavenger Hunts even were a thing until a fellow Disney-loving friend mentioned them. I quickly hopped on Facebook to discover a somewhat secret, "underground" community of generous and kind-hearted campers that love to surprise and delight campground guests.
Fort Wilderness Scavenger Hunts are unofficial, non-Disney sanctioned hiding games throughout the campground. Members of the Facebook group are given photo clues and cryptic messages about items that have been hidden throughout Fort Wilderness Campgrounds and Cabins at Walt Disney World Resort. The first person to find the item wins, keeping the souvenir prize.
The wonderful thing about these scavenger hunts is that campers in the group buy these prizes themselves. Many people spend a lot of time and money picking out the perfect Disney souvenirs to bring a smile to both kids and adults. They will patiently collect a bag (or more!) of items to bring with them on their next camping trip and hide over several days.
What Kind of Items Can You Find on a Fort Wilderness Scavenger Hunt?
There are a wide variety of gifts and souvenirs that are hidden in the campground for other campers to find. Among the most popular are:
Puzzles
Coloring Books
Magnets
Chalk
Magic Towels
Disney dolls
Happy Meal toys
Stuffed plush animals
Water tumblers
Notepads
Earrings
Pins
Stickers
Car toys
Bubbles
Ornaments
Holiday decorations
Some bigger items I have seen given away also include blankets, MagicBand covers, Disney Crocs, T-shirts, tote bags, etc.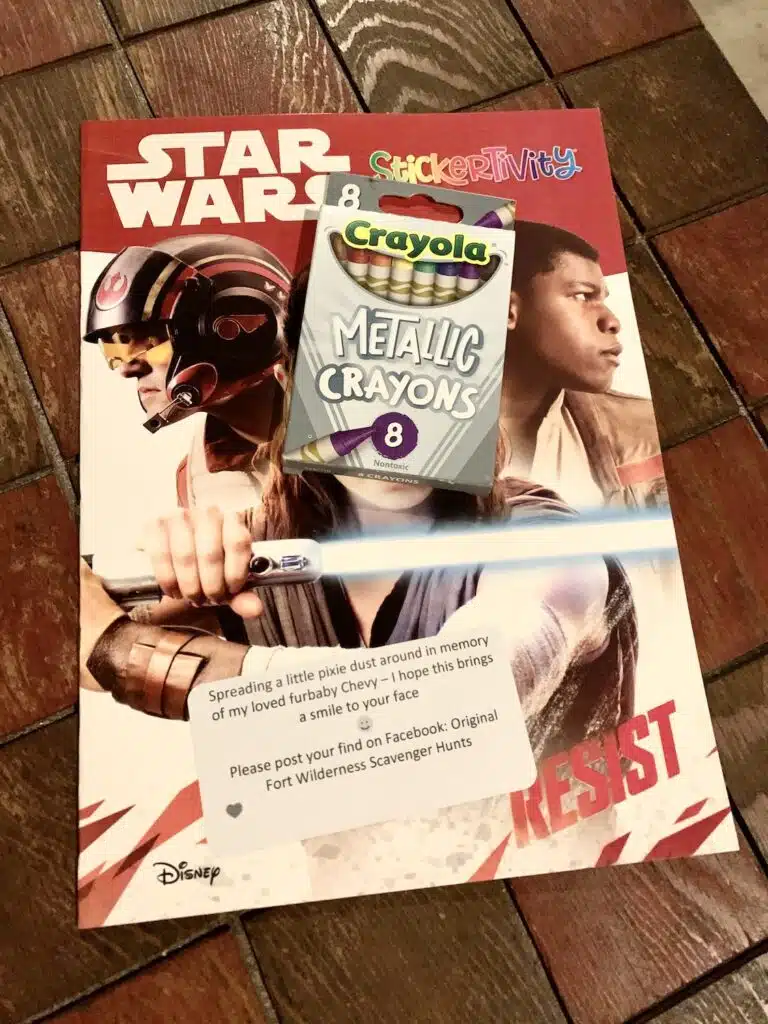 For the adults, sometimes there are alcoholic beverages that are available to find. Hunters would need to find the location where the drink is then handed to them (a child should not be allowed to accidentally find the item).
Not everything is Disney themed. Many prizes are just fun items that kids will enjoy, even if they are other characters.
Where Are the Prizes Hidden?
Scavenger hunt prizes are hidden across the campground, usually near a location that gives a visual clue as to where to find it. For instance, a gift might be placed near a campground loop sign, on a phone booth, or placed on a table.
The more popular locations for finding items include anywhere around the Settlement, bus transportation huts, Pluto's dog park, and by campground loop or campsite signs.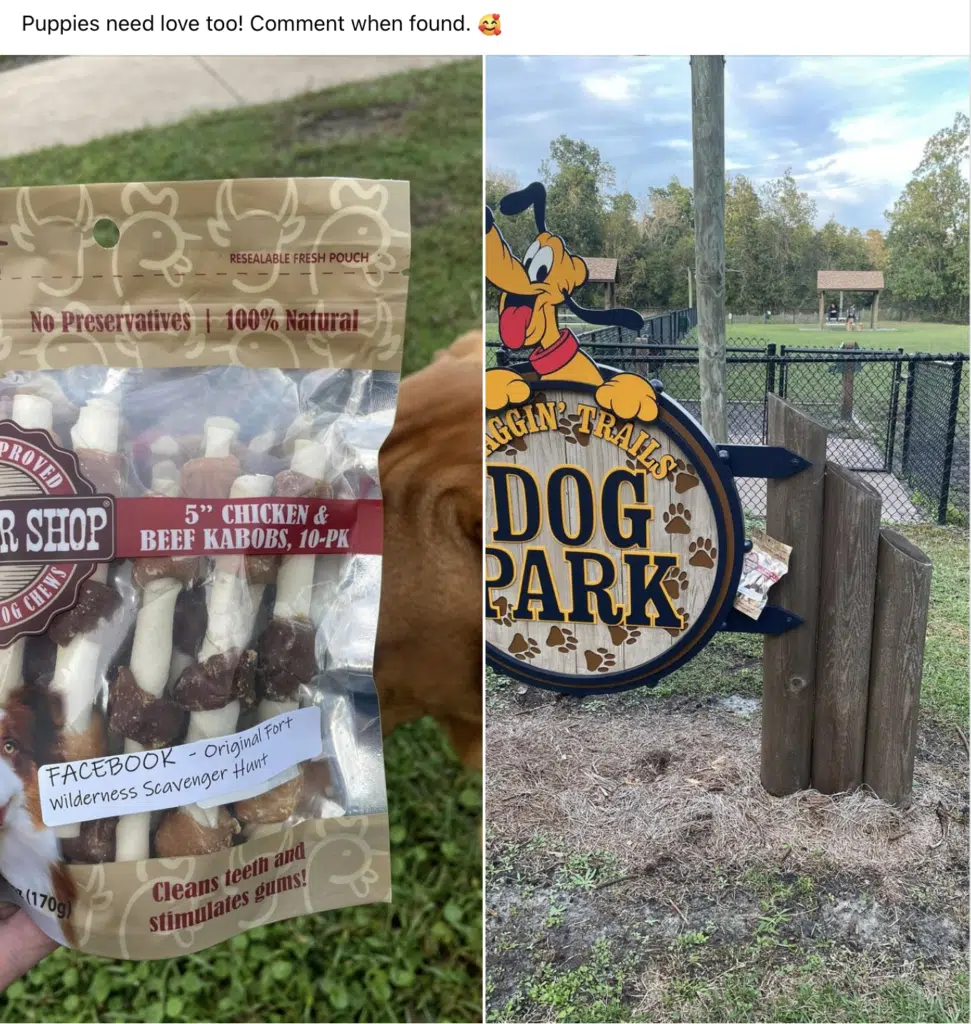 You would not find a prize hidden in a field somewhere, since there is so much land at the Fort. And there would be no visual clue to help others find them.
Prizes are not often found at the front of the campground, either.
Sticker labels are available in the Facebook group to print out and attach to items that are hidden. That way, you know for sure that the item you found is part of the hunt, not a child's lost toy or item.
How Do I Join the Fun with the Fort Wilderness Scavenger Hunts?
To play the game, you must join the Original Fort Wilderness Scavenger Hunts Facebook group. Members will post a photo of what they hid and a visual clue of where they hid it. As soon as you see the clue, it's time to hunt!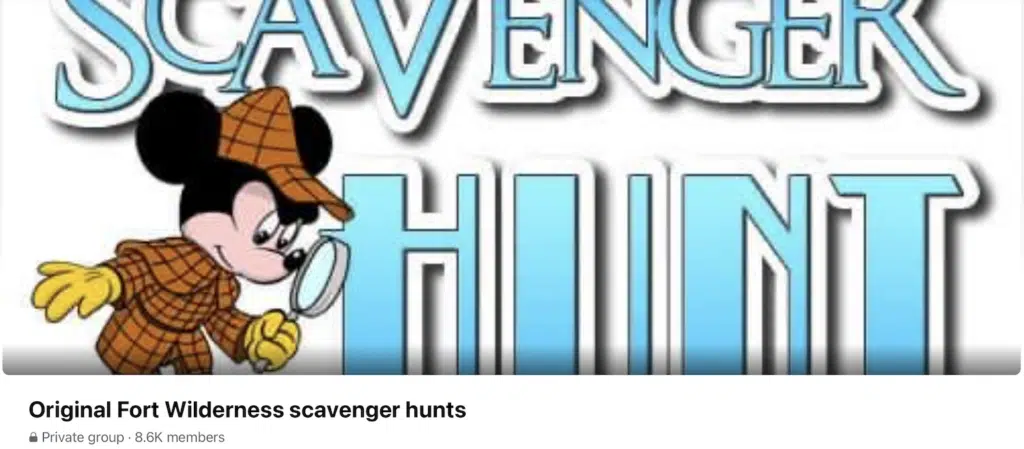 Many campers use a golf cart to quickly ride to the area of Fort Wilderness they think the prize might be hidden. Often, it's a quick-paced game, with the gifts found in a matter of minutes.
Some items are not posted on the group. I've found many items that did not have clues posted in the Facebook group.
After finding a prize, go back to the Facebook post and leave a comment that it has been found.
Many people are an active member of the Facebook group even if they aren't currently camping at Fort Wilderness. It's a way to see what prizes are popular, where the best hiding places are, and to build a community of fun-loving Disney campers. In fact, there are often some posts with campers offering pin trading or giving away food or items they won't be taking with them when leaving.
If you plan on camping at Disney World in Orlando, you definitely want to join in on the fun of the Fort Wilderness Scavenger Hunts!