Looking for a unique change from your traditional camping tent? If you want to stand out in the campground, or just try something new, you definitely need to see these best teepee tents for camping!
Here's a look at the difference between a tent and a teepee, as well as which teepees are best for camping in any kind of weather.
Keep in mind, these are modern day, portable teepee tents. They might not look like the ancient tipis that you remember from history. You won't be tying together wooden poles or unfolding heavy canvas tarps, but you will enjoy the same benefits of teepee tent camping.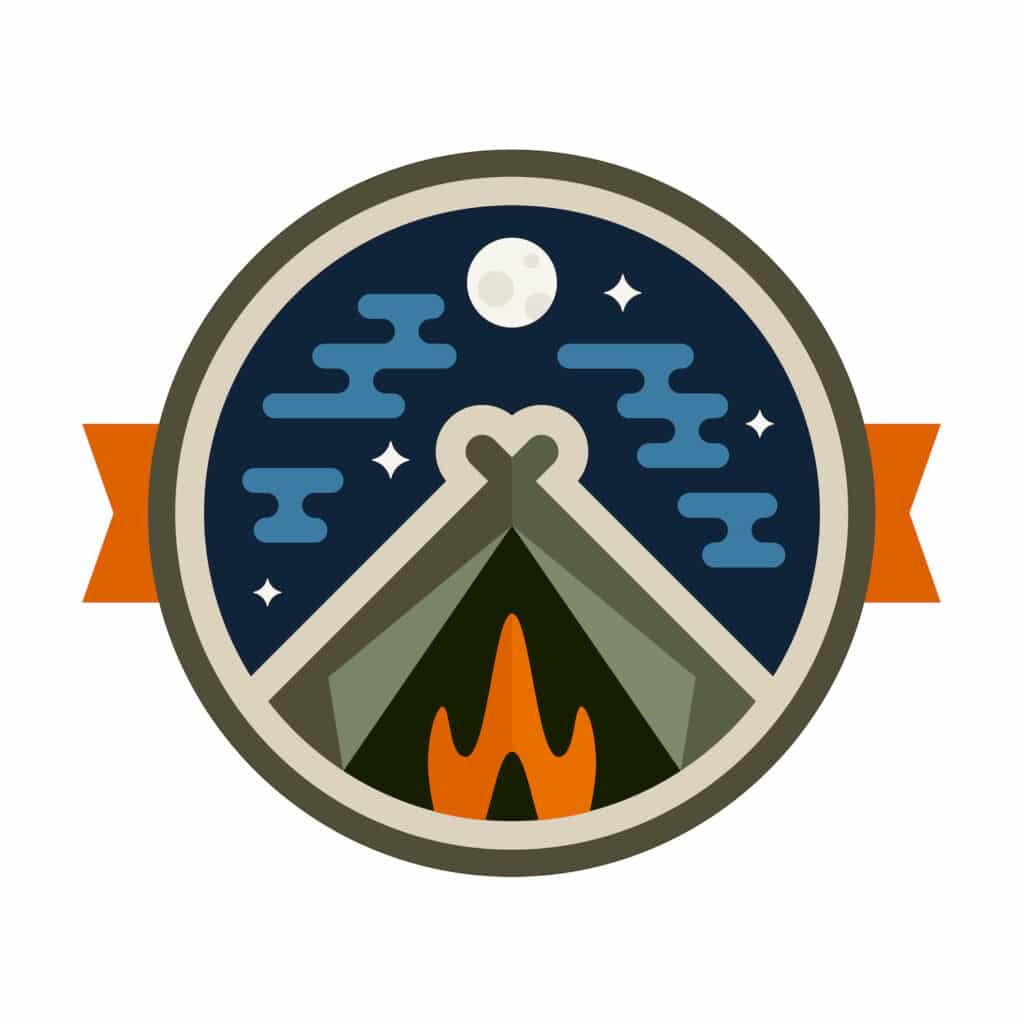 What's the difference between a teepee and a tent?
Teepees and tents look relatively similar, but there are differences between the two. Historically, teepees have been used as dwellings by indigenous Americans across North America and are usually associated with the Sioux tribes.
Today, the main difference between a tent and a teepee is their shapes. A tent is generally a piece of material stretched over several poles, creating a spherical shape. A teepee is conical, with straight poles that collect at the cone's point.
Part of the reason for this design is so it is possible to have a fire at the center of a traditional teepee. The smoke is able to billow out from gaps near the top to create a chimney effect.
(We do NOT recommend using a fire inside these modern day teepee tents unless the manufacturer states that it is safe to do so.)
Best Teepees To Buy for Camping
If you're thinking about exchanging your tent for a teepee, you might be unsure of which teepee is right for you. Whether you're camping in sun or snow, here are a few of the best teepees for camping today.
Latourreg Pyramid Teepee
Campers searching for a simple, no-nonsense teepee should check out the Latourreg Pyramid Teepee. This teepee is easy to set up, with four poles that slip through sleeves and fix into the ground with pegs. It also comes with a carry bag for easy transportation.
The Latourreg Pyramid Teepee is perfect for summer getaways, with a breathable mesh door flap and four ventilation holes to help you stay cool on even the warmest nights.
However, you may want to opt for a different teepee if you're looking to use it on rainy winter nights.
The dimensions of the Latourreg Pyramid Teepee are 85″ x 85″ x 78″ and can sleep 2 or 3 people, depending on whether you use air mattresses or sleeping bags.
WINTENT 4 Season Waterproof Teepee Tent
Campers searching for a teepee that's ideal for year-round camping can't go wrong with the WINTENT 4 Season Waterproof Teepee Tent. The tent is made from a thick, waterproof 300D Oxford Cloth, a popular material among high-quality tent manufacturers.
The teepee also has taped seams, so there's no chance of getting wet during a sudden downpour. If you're camping in summer, there's a bug mesh so you can open up the tent and let it breathe without getting eaten up by mosquitoes.
One of the best features of the WINTENT 4 Season Waterproof Teepee Tent is the 4.7″ stove pipe vent, so you can cook inside the teepee and keep your crew warm. The teepee's floor covering and the material around the stove pipe vent are heat proof, so you don't need to worry about accidental fires.
The dimensions of the WINTENT 4 Season Waterproof Teepee are 134.4″ x 134.4″ x 93.6″. This WINTENT teepee should comfortably sleep 3 to 4 people with a camp stove in the middle.
For more tips on camping in cooler weather, check out our guide of How to Pack for a Fall Camping Trip.
GeerTop Teepee Camping Tent
There are few teepees on the market that are easier to set up than the GEERTOP Teepee Camping Tent. This spacious teepee features just one central pole and reportedly takes less than 10 minutes to set up.
One of the best features of this teepee is its double layers for added insulation and waterproofing. The two layers can also be separated, in case you don't need one of them during the summer.
The teepee is made from 150D polyester, which is incredibly durable and difficult to tear, meaning this teepee should last for several years.
The GEERTOP Teepee Camping Tent is heavy-duty, perfect for families, and packs away into a convenient carry bag.
The dimensions of a GEERTOP Teepee Camping Tent are 157″ x 150″ x 70.9″, and it sleeps 5 to 6 people.
BaiYouDa Family Camping Teepee
If you're looking for a teepee with added stability, look no further than the BaiYouDa Family Camping Teepee. This teepee has over two dozen anchors to ensure your teepee stays in place regardless of the weather.
As with many of the best teepees for camping, the BaiYouDa Family Camping Teepee is super simple to construct, with a set-up time of under ten minutes.
The teepee features a mesh door flap and a mesh vent at the top so you can stay cool in the summer. These vents also zip up so you don't get wet in rainstorms.
The tent's waterproof fabric stands up against the rain, with one reviewer stating that they camped in the rain for three days without a drop getting inside. That being said, its single wall construction may not be the best in frigid temperatures.
The dimensions of the BaiYouDa Family Camping Teepee are 122.8″ x 122.8″ x 78.7″.
Many reviewers state this teepee is surprisingly spacious and can sleep 3 to 4 people.
Blackdeer Teepee Tent
Campers looking to stand out on their next camping trip will want to take a look at the Blackdeer Teepee Tent. These teepees boast funky designs with unique color palates and patterned sides you and your fellow campers are sure to love.
But these teepees aren't just style over substance. Blackdeer Teepee Tents are waterproof and have aluminum poles for improved stability.
As with any great teepee, Blackdeer Teepee Tents have a mesh door flap and several vents to keep you comfortable in the summer.
The dimensions of a Blackdeer Teepee Tent are 87″ x 87″ x 71″, making it a similar size to the Latourreg Pyramid Teepee.
The Blackdeer Teepee Tent will comfortably sleep 2 to 3 people.