If you are preparing for a day-long backpacking or camping trip, your meal preparation should include a box or bag food storage solution for your mid-journey lunch. A solution that is quick and easy to use, one that won't slow you down on your hiking journey.
Depending on your meal preferences, there are a host of insulated, compartmentalized, dishwasher safe lunch boxes which offer enough space for a quick meal on the go, but will not waste space in your backpack.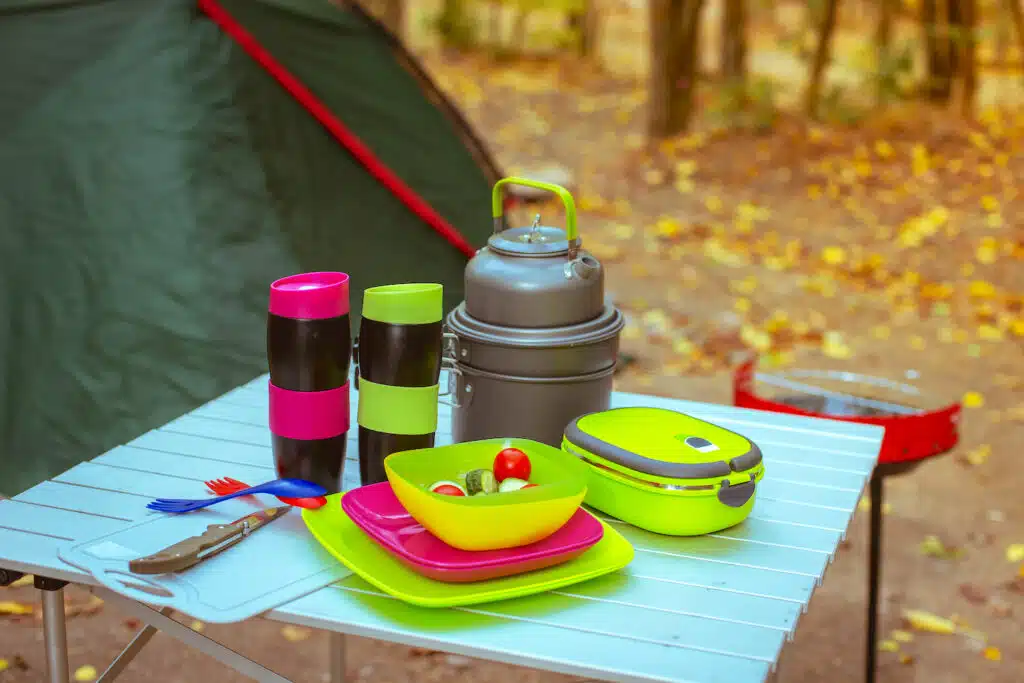 Lunch Box Supplies
Here are some of the camping lunch box supplies you should consider taking with you to keep your meals organized and cold if desired.
Lunch Bags or Boxes
Water Bottle or water bag
Ice Packs
Snack Packs (trail mix dried fruits, etc.)
Eating utensils (reusable or single use)
Foldable drinking cup or vessel
Packets of condiments (salt, pepper, ketchup, etc.)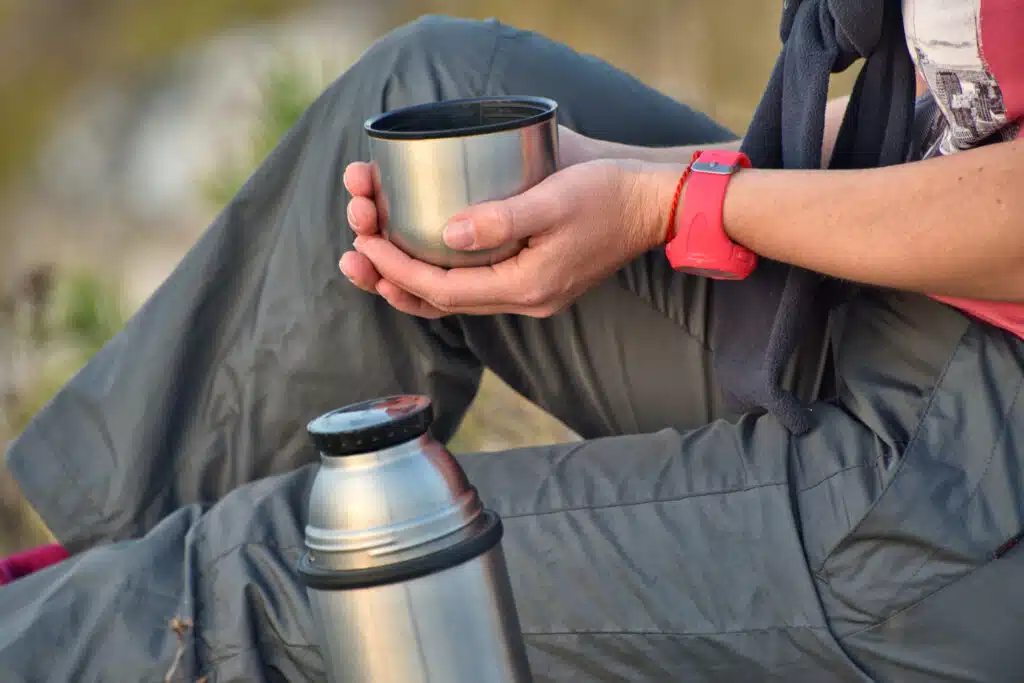 Lunch Box Considerations Prior to Purchasing
As avid campers and backpackers know, planning ahead is key to a successful trip to the great outdoors. The same can be said about purchasing the right lunch box for your next camping trip.
Here are a few things we suggest you consider prior to purchasing your next camping lunch box.
Final Intended Use
The word 'camping' can have a broad range of meanings depending on the individual. For some, camping may mean traveling down the road in your RV for several days to reach an epic destination. For others, camping may mean epic backpacking excursions that may be single-day or multiple days in length.
If your lunch box goals are to keep food items cold for a period of time, then this will drive the type of food container you choose and you will need to purchase additional ice packs to maintain the desired temperature. Your lunch box may want to be hard sided and insulated.
Your journey may require you to keep the weight of the items in your backpack down, with food items only being contained and not chilled. In this instance you may want to consider a soft sided food container with small or large compartments.
Heading on a journey that will entail rugged terrain, bumps and rattles on your gear? For this type of trip, you may want to consider a more solid, stainless steel lunch box that can take other gear in your pack hitting it as you conquer the trails.
Capacity
The capacity, often measure in milliliters, of your lunch box or lunch bag will truly depend on the number of meals it will be serving. For example, if you're taking day-long hike you may only need a small, uninsulated food container to support one meal and a snack along the way.
However, if your trip will take you across several miles and several days of exploring, then your lunch box may need to have enough compartments to easily organize several meals and multiple snack breaks along the way.
Portability
The portability of your lunch food container will be determined by the means of travel you're planning to utilize. If you're in your RV or camper and you have long travel days on the road, then having a lunch box that can easily fit in a cabinet is a different solution then a lunch box that you will be carrying on your back over several miles of hiking and tent camping.
In the later situation, you may want to consider a soft sided, lightweight lunch bag solution to help reduce the overall weight of your pack and give you more flexibility to conform to the inside of your backpack.
Materials
Lunch boxes and lunch bags are available in a variety of materials. From synthetic nylon or polyester tent-like fabrics with zipper closures, to malieable vinyl with draw string closures. There are also more hardened solutions such as compartmentalized stainless steal boxes to fully insulated hard sided cooler-like gear.
Choosing the right material of your lunch box for your mission is a smart approach to not overpacking or weighing yourself down with unnecessary equipment that may be better suited for an alternative camping or hiking excursion.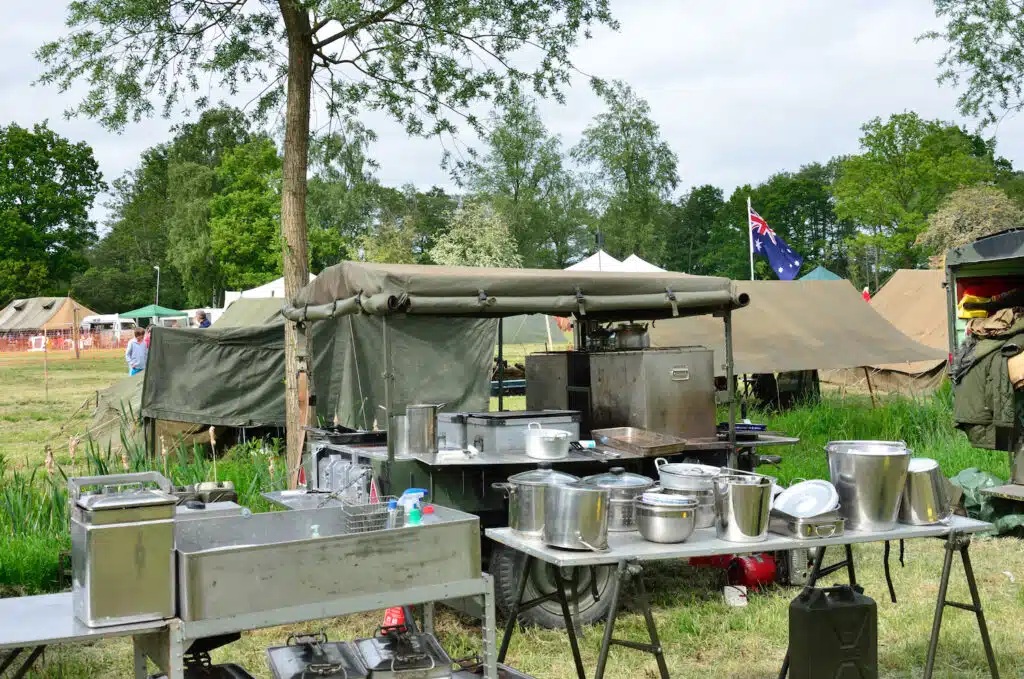 Ease of Use / Easy to Clean
The type of journey you're planning will also determine the ease of use and how you plan to clean your lunch box. Unpleasant odors can get trapped in the seams, zippers, and corners of an insulated lunch box from leftover food residue. For a camping or backpacking journey where you won't have access to a dishwasher, you may want to consider a lunch bag or box that is water resistant and can easily be hand washed using your water source or a stream or river.
On the flip side, if your camping adventure entails an RV, travel trailer, or van equipped with a sink and on-board hot water source, then we suggest purchasing a lunch box that is dishwasher safe. In this example, you can hand wash the box in hot water during your journey, then once you return home you can throw it in your dishwasher for a final cleansing and sterilization prior to storing it for your next adventure.
Best Lunch Boxes For Camping
Afranti Stainless Steel Lunch Box
For more rugged journeys, check out the Afranti Stainless Steel Lunch Box. This container comes in 27 ounce or a larger 40 ounce sizes with a food-grade silicone seal around the cover and two compartments on the inside. It's easy to clean either on the trail and it is dishwasher safe when your return home.
Yeti Daytrip Lunch Box
Dubbed an insulated fortress, the Yeti Daytrip Lunch Box is a perfect insulated, cold storage solution with a food-safe interior material, includes closed-cell insulation, all wrapped in a water-resistant exterior material indicative of other Yeti products.
Arctic Zone Titan Deep Freeze
If you're looking for a portable, soft sided lunch box that will most definitely keep your food items cold then check out the Titan Deep Freeze by Arctic Zone. This impressive food container has SuperFoam insulation with a Therma-Flect radiant barrier in which you're able to insert multiple cold packs keeping your food cold for up to 6 hours.
Thermos Stainless King 47 Ounce Food
The Thermos Stainless King Vacuum-insulated Food Jar offers several options of food containment in one, singular rugged vessel. With a total capacity of 500 milliliters, you can either use the full jar for hot or cold food containment, or utilize the provided two microwave safe containers that will fit inside the vessel. With the included outer cap one can use it as a serving bowl or drinking cup.
Under Armour 12-Can Soft Cooler
If you would prefer a soft-sided lunch box, then try the Under Armour Soft Cooler. With an outer material constructed of durable, coated polyester and nylon and an interior liner made of BPA-free material, this insulated lunch bag can hold wither 12 or 24 ounce cans with room for ice packs or it can accommodate other smaller food containers that is great for camping or a long day at the beach.