Class B camper vans present a unique blend of comfort and functionality, making them a favored choice among solo travelers, couples, and small families. However, for those looking to expand their versatility, it's not uncommon to consider the towing abilities of these vans. But can Class B vans tow a small car or trailer?
Yes! With general towing capacities ranging from 2,000 to 5,000 pounds, it becomes feasible, though with considerations, to tow another small vehicle. When towing with a Class B camper van, factors such as weight management, vehicle choice, and the importance of auxiliary braking systems are crucial to ensure both the safety and longevity of your Class B.
We provide a comprehensive towing guide to help owner of Class B motorhomes or those looking to purchase a Class B camper van. Having an extra vehicle with you on your journey is a great way to extend and expand your outdoor adventure's reach!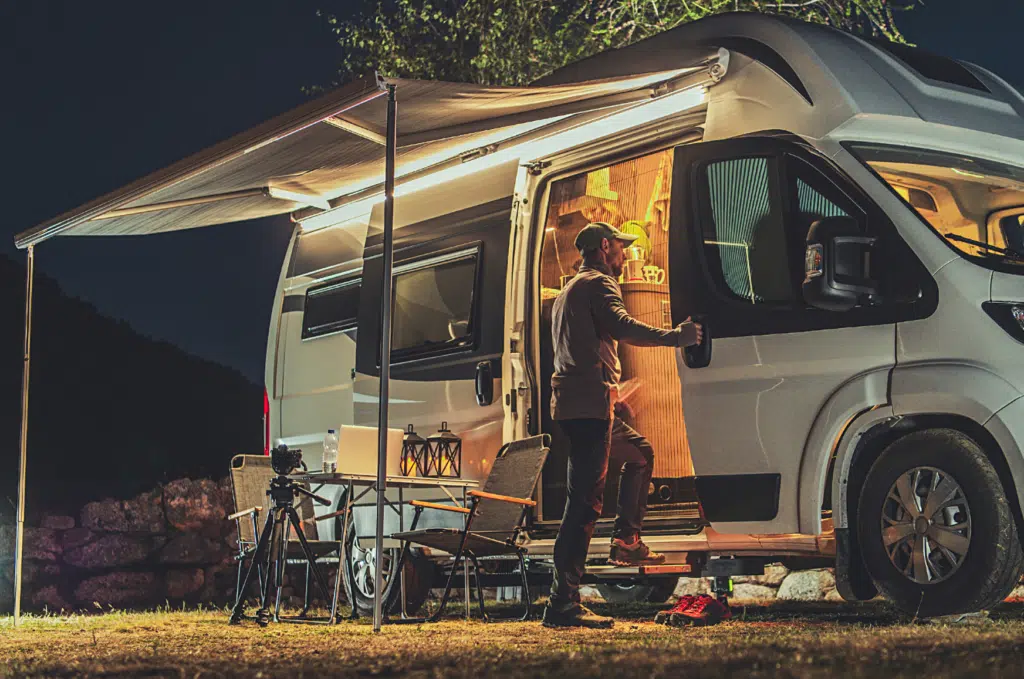 Diving into Towing Capacities
At the onset, it's vital to ascertain the towing limits of your Class B camper. Depending on the make, model, and engine, they generally can tow between 2,000 to 5,000 pounds. Being knowledgeable about your vehicle's capacity is crucial. Neglecting the limits of your Class B's towing capacity can increase the wear and tear on your van and compromise safety. For specifics, always refer to the vehicle's documentation or reach out to the manufacturer.
Can Your Class B Camper Tow a Car?
Yes, it can! But keep in mind that Class B campers, while versatile, have limitations compared to other larger vehicles. To tow safely, certain considerations are paramount:
Essential Towing Tips with a Class B Camper
Towing Abilities of Class B Campers

General Capacity: Generally, Class B camper vans have the capacity to tow between 2,000 and 5,000 pounds. This range, although not large when compared to a pickup truck or Class C motorhomes, offers enough flexibility for various towing needs.
Knowing Your Vehicle: It's crucial to understand the specific capabilities of your Class B van before attempting to tow. Overloading your Class B with an overweight toad vehicle can quickly degrade your van's powertrain (engine and transmission) and compromise its safety.
Manufacturer's Guide: Always consult the manual, the gross vehicle weight rating (GVWR) of your Class B van's hitch, the total weight of your towed vehicle, and the manufacturer's specifications to understand the exact towing capacity of your particular model. Also, consider finding the tongue weight of the trailer if flat towing.

Towing a Car with a Class B Camper

Feasibility: It's indeed possible to tow a car using a Class B camper van, but users should be wary of the van's limited towing capacity.
Weight Considerations: For perspective, while a lightweight car might weigh around 1,500 pounds, a robust vehicle like a Jeep Wrangler can weigh in around 5,000 pounds. This implies that, for most towing needs, owners should preferably choose subcompact to mid-sized cars to remain within safe towing limits.

Choosing the Right Vehicle to Tow (RV Toad)

Purpose of a Toad: The RV toad, also colloquially called a "dingy", is the vehicle you'll tow behind your Class B. This separate vehicle can be especially beneficial for local errands, sightseeing, or exploring areas where the larger camper might not be as maneuverable. To help reduce the towed weight, owners use a tow dolly for their towed vehicle or they may incorporate a tow bar if flat towing small size vehicles.
Vehicle Choice: Many prefer selecting cars with attributes that enhance their travel experiences, such as vehicles designed for off-roading or navigating challenging terrains. However, when towing with a Class B camper van, the weight and compatibility of the chosen vehicle become paramount. Consider towing small cars, jet skis, a small boat, or travel trailers with a low dry weight.

Weight Management While Towing

Importance of Adherence: One of the most crucial factors when towing with a Class B camper is staying within the recommended weight limit.
Safety Margin: To maximize safety, it's typically recommended not to exceed 80% of the vehicle's total towing capacity. This safety margin considers the fact that manufacturers often rate vehicles at their utmost limits. Be mindful of the amount of weight you are carrying – the cargo carrying capacity – on your Class B van as it will affect its tow capacity. The weight of the vehicle or travel trailer being towed factors into the overall safety margin.
Understanding GCWR: The Gross Combined Weight Rating (GCWR) represents the maximum allowable combined mass of the towing vehicle and the towed vehicle. Adherence to this is vital to prevent reduced performance, heightened wear and tear, and potential safety risks.

Importance of Braking Systems

Auxiliary Braking: When towing a considerable load, the primary vehicle's braking system may be insufficient on its own. Hence, integrating a dependable auxiliary braking system into the towed vehicle is essential.
Role of Brake Controllers: These systems activate the brakes on the towed vehicle, assisting in halting when the primary vehicle's brakes are applied, ensuring a smoother, shorter stopping distance.
Safety Precautions: Given the increased weight when towing, it's crucial to allow more distance between your camper van and vehicles ahead. It's also recommended to decrease speed under conditions where sudden stops may be required.
✅ Click Here to Read About the Importance of Tire Pressure When Towing!
Highlighting Top Class B Campers for Towing
Here are some of the most popular Class B camper vans and their general towing specifications:
Leisure Travel Vans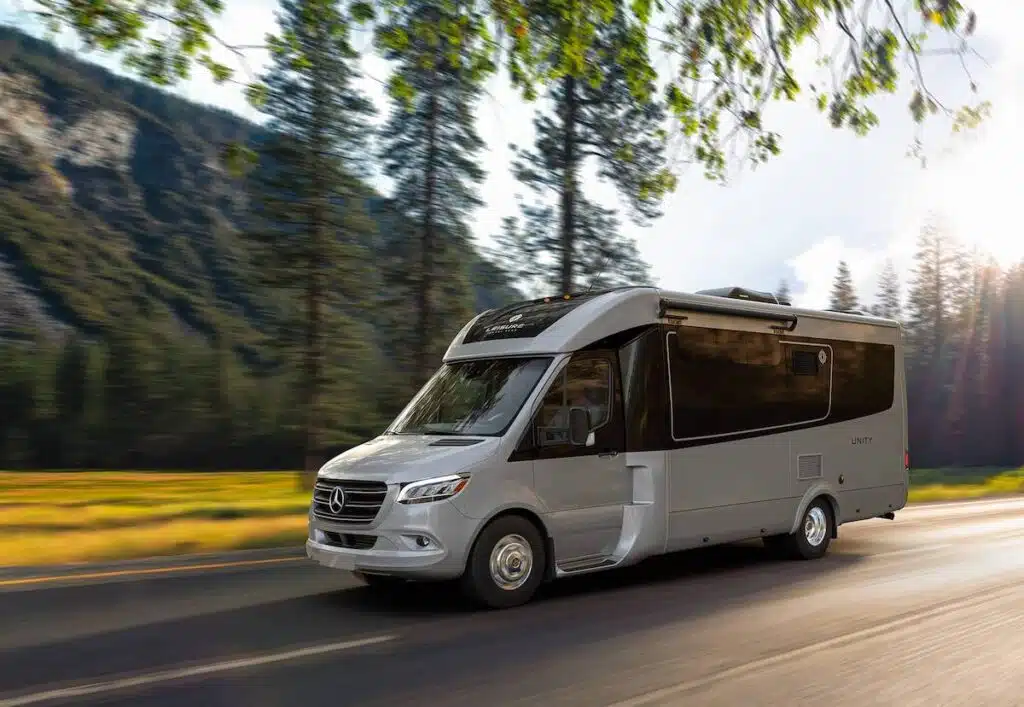 Distinguished in the world of luxury Class B camper vans, Leisure Travel Vans artfully fuse elegance with practicality. These sophisticated vehicles are renowned for their cutting-edge design, top-notch build quality, and unparalleled attention to detail. As part of their well-curated lineup, models and floor plans like the Unity, Serenity, and Wonder have been captivating the hearts of nomads, retirees, and vacationing families alike. Each of these vans boasts thoughtful layouts, making optimal use of every inch of space while providing luxurious amenities typically reserved for larger, more cumbersome RVs.
Whether you're keen on a rear lounge, a split twin bed setup, or a drop-down bed design, Leisure Travel Vans cater to diverse tastes and preferences. Furthermore, their efficient power units and chassis—often Mercedes-Benz or Ford-based—ensure reliable performance and maneuverability, making the journey as delightful as the destination.
The towing capacity of the Leisure Travel Vans will vary depending on the model and the chassis – Mercedes-Benz versus Ford Transit van. However, in general Leisure Travel Vans can tow between 2,000 and 5,000 pounds.
American Coach Patriot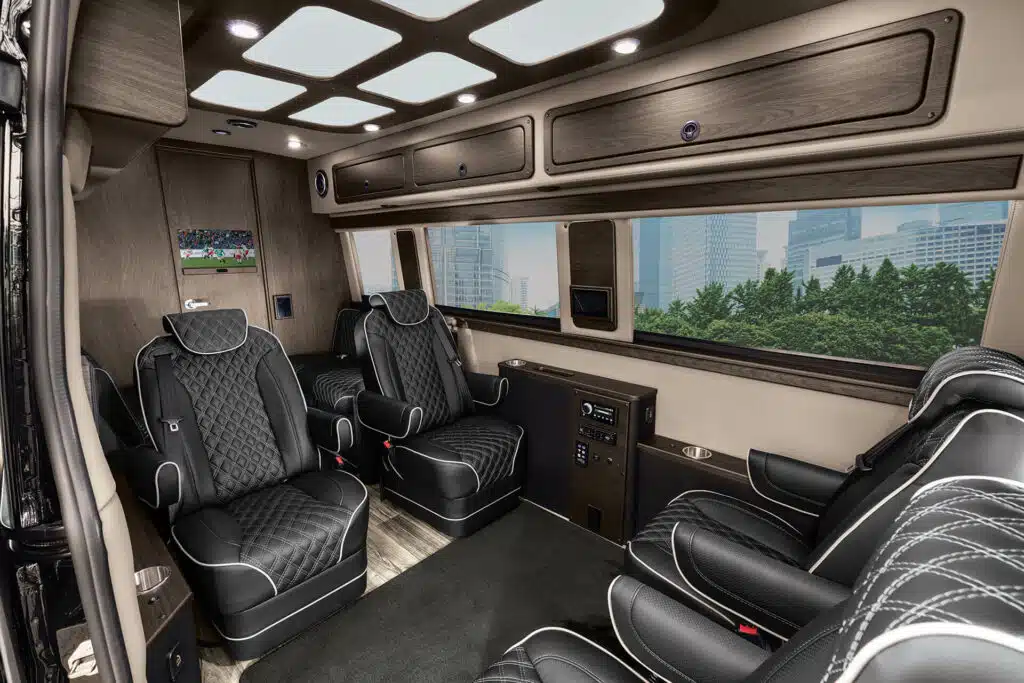 The American Coach Patriot is where luxury meets performance. Proudly built on the revered Mercedes-Benz Sprinter chassis, it combines the design brilliance of American Coach with the reliability and engineering excellence of Mercedes-Benz. At its heart lies a 7-speed automatic transmission mated to a turbocharged diesel engine, ensuring that every journey is both smooth and fuel-efficient. Beyond its performance metrics, the interior of the Patriot is a symphony of luxury and practicality, ensuring travelers have both the comfort they crave and the reliability they require.
A towing capacity of 5,000 pounds further adds to its credentials, making it an excellent choice for those who might want to tow a smaller vehicle or recreational equipment on their journey.
Winnebago Revel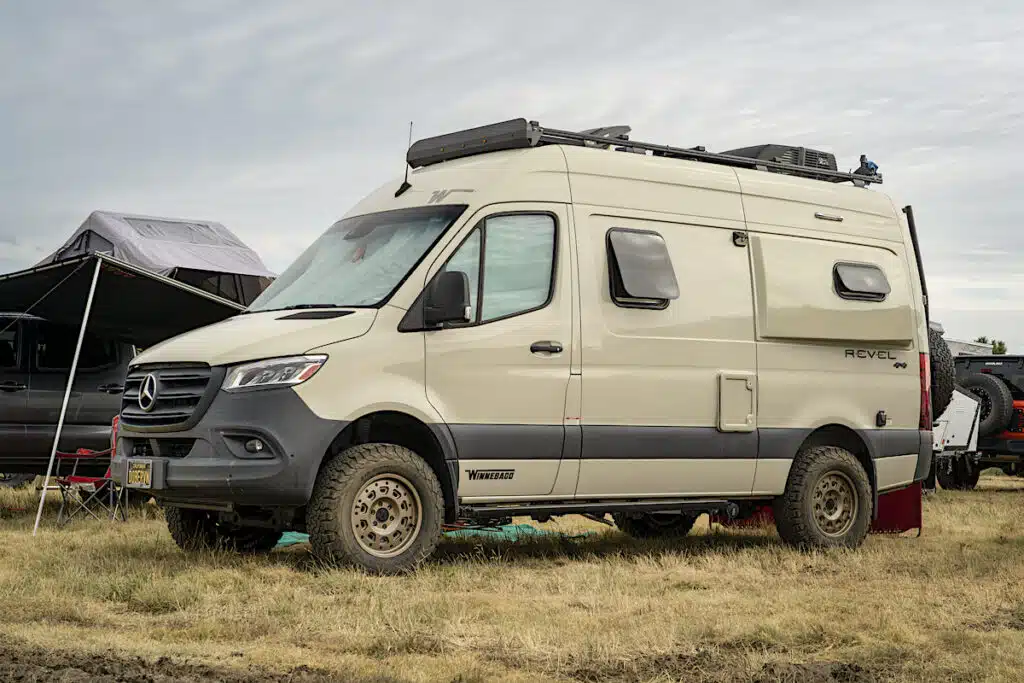 Winnebago's Revel is not just another camper van; it's a call to the wild. Built for the rugged at heart, this 4×4 machine is tailored for those who see adventure beyond the paved roads. The power unit, a 3.0L V6 turbo-diesel engine, ensures that the Revel doesn't just look the part but plays it exceptionally well. Whether it's the desert dunes, forest trails, or snowy paths, the Revel's robust build and powerful engine can handle varied terrains with ease. The towing capability of up to 5,000 pounds ensures that adventurers don't have to leave behind any essentials, be it a dirt bike, jet ski, or a small trailer.
Designed with both the thrill-seekers and comfort-lovers in mind, the Revel is truly an all-rounder, ready to accompany you on every twist and turn of your adventures.
Airstream Touring Coaches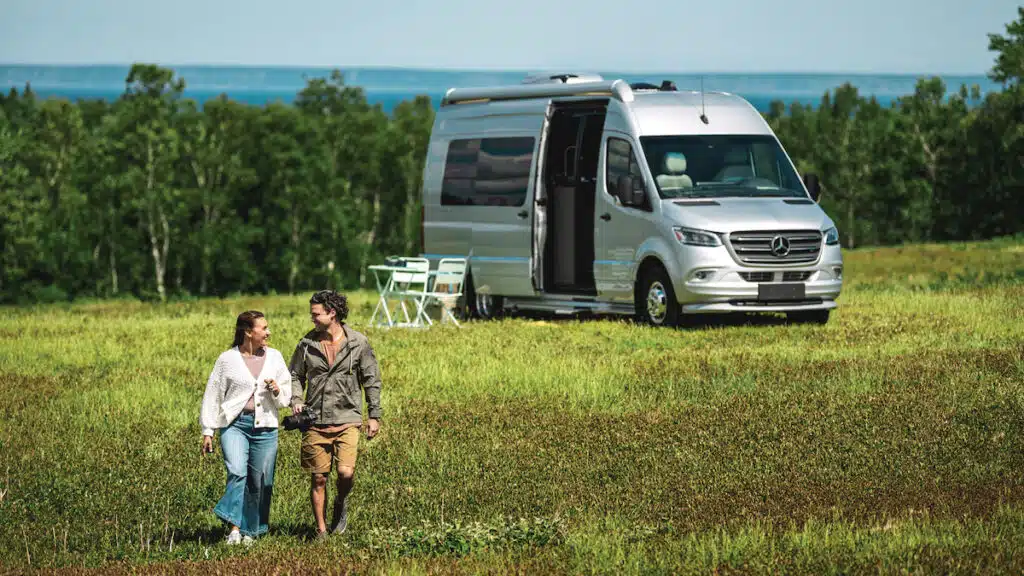 Going beyond the realm of their signature silver-bullet trailers, Airstream extends its legacy into the world of touring coaches. A name synonymous with quality, Airstream's coaches, much like their trailers, are an embodiment of craftsmanship and advanced design. Their lineup, including models such as the Interstate 19, 24GL, 24GT, and Atlas, not only offers diverse interior layouts and sizes but also possesses commendable towing capability.
Each of these models can comfortably tow around 5,000 pounds, making them versatile enough to hitch a boat, ATV, or a small trailer. This range allows users to choose a coach that best aligns with their travel requirements, whether it's a weekend getaway or an extended road trip.
Related Content