Class C motorhomes are unique in the RV industry. With their cut-away front cabs and spacious interiors, they are the convergence of functional interior space, convenience, and ease of use. For some, their RV adventure may require bringing an additional car towed behind their Class C.
Not all Class C RVs have the same towing capacity!
Similar to pick up trucks having a wide range of towing capacities for travel trailers and fifth wheels, the same holds true for Class C motorhomes. We will clarify the terminology required to calculate your Class C RV's towing capacity and answer the basic questions you have prior to your next outdoor adventure.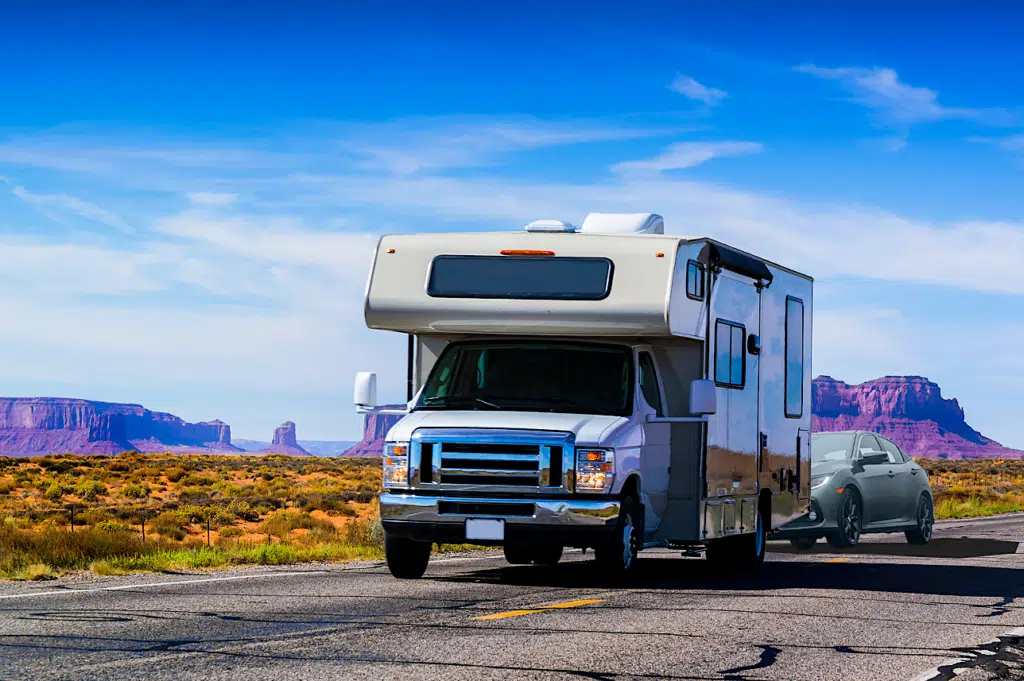 Can a Class C Motorhome Pull a Trailer?
Though Class C motorhomes may have similar models and sizes, they are not all the same. It is quite possible for two identical Class C motorhomes to have different towing capacities, even when placed side-by-side.
When assessing the towing capacity of a Class C motorhome in order to determine if it can haul a trailer, it is important to take several factors into consideration.
First and foremost, you need to validate the towing capability of a specific motorhome, based on its vehicle model and VIN (Vehicle Identification Number).
It is vital to research and confirm the cargo capacity, gross vehicle weight, etc. of a specific make and model of a Class C motorhome before making broad assumptions.
How To Determine the Towing Capacity of a Class C Motorhome
When trying to decide whether a Class C RV can tow a vehicle, there are a few numbers you need to know to make the calculation. Each of these numbers is known by a different name.
We have put together a glossary of the ratings that you need to know:
Terminology Required to Calculate Towing Capacity
Gross Vehicle Weight Rating (GVWR) – Per J.D. Power: defined as the weight of the vehicle itself, plus its maximum allowable payload in terms of passengers, cargo and accessories within the cab or bed. It excludes any weight towed behind the vehicle on a trailer. The GVWR for most types of cars can be found on the placard attached to the inside of the driver's side door as well as in the owner's manual.
Curb Weight – Per J.D. Power: the weight of the vehicle by itself, excluding any added load from passengers, cargo, accessories or other items separate from that of the vehicle's original manufactured parts and equipment. Curb weight does include the weight of gasoline, oil and other fluids necessary for operation. Curb weight is generally provided by the manufacturer.
Trailer Tongue Weight – the weight measured trailer's hitch tongue will apply to a tow hitch ball.
Maximum Hitch Weight – the maximum weight or capacity a particular tow hitch or ball can safely withstand under normal operating conditions.
Cargo Carrying Capacity (CCC) – The maximum allowable weight of all people, cargo, accessories, fluids, gear, etc. a motorhome or trailer can safely sustain for safe and normal operation. This is determined by the motorhome or trailer's manufacturer and provided on the label either on the driver's door or on or near the main entry. Keep in mind, this includes food, clothing, outdoor play equipment, water in the fresh or grey tanks, furniture or decoration upgrades, etc.
Gross Combined Weight Rating (GCWR) – Per J.D. Power: represents the total weight limit of a fully loaded truck plus a fully loaded trailer. Subtracting the motorhomes's curb weight and payload from its GCVWR defines its towing capacity.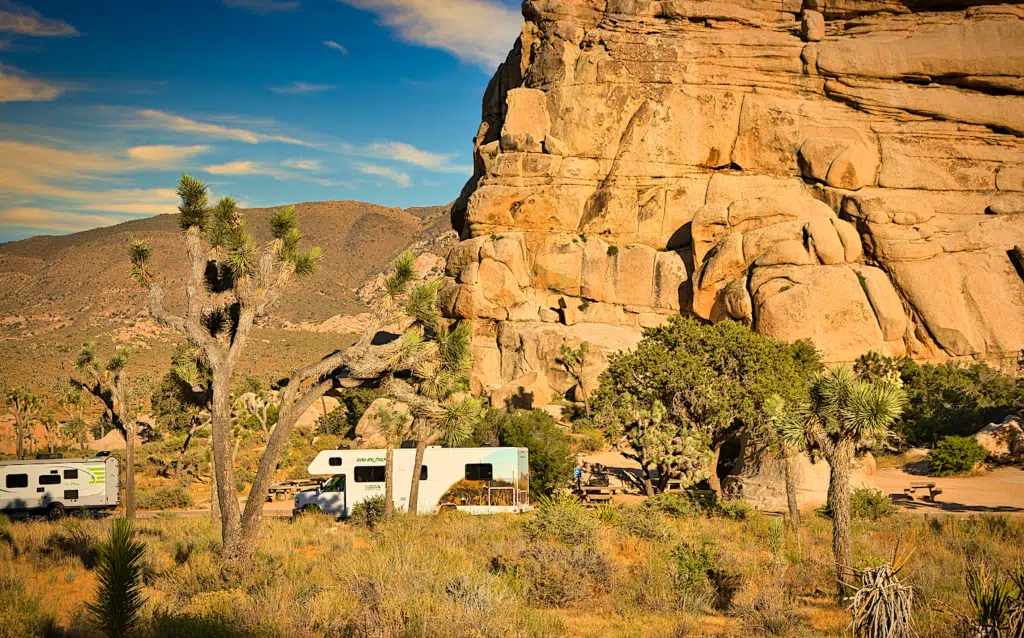 What Is Max Towing Capacity?
If you are wondering how to calculate the towing capacity of your Class C RV, you will need to do some research to find these numbers .
For towing purposes, you will need the following numbers as noted on the motorhome and trailer manufacturer's ratings (typically located on the driver's door or motorhome/trailer's entry door).
Motorhome's Gross Vehicle Weight Rating (GVWR)
Motorhome's Cargo Carrying Capacity (CCC)
Motorhome's Curb Weight
Trailer's Maximum Weight
Trailer's Maximum Tongue Weight
Motorhome's Gross Combined Weight Rating (GCWR)
Example Calculation: A Class C Motorhome with a GCVWR of 25,000 pounds. If it has a curb weight of 15,000 pounds and its maximum CCC is 2,000 pounds of payload, then towing capacity would be 8,000 pounds.
This is how the calculation was determined:
Step 1
15,000 lbs. (curb weight) + 2,000 lbs.(CCC) = 17,000 lbs. (GVWR)
Step 2
25,000 lbs. (GCWR) – 17,000 lbs. (GVWR) = 8,000 lbs. Maximum Towing Capacity/Maximum Trailer Weight
Step 3
Verify the Class C motorhome's maximum hitch capacity – see hitch manufacturer's label on the motorhome's rear hitch. In this example, the tow hitch should have a minimum capacity of 8,000 lbs. or greater (preferably 10,000 lbs. or greater to provide for a margin of safety).
Step 4
Verify the trailer's tongue weight. The trailer's tongue weight should be less than the tow hitch ball on the trailer hitch. The maximum capacity of the tow hitch ball is provided by the tow hitch ball manufacturer – typically stamped into the metal on top of the tow hitch ball.
Step 5
Verify the trailer's maximum trailer weight. In this example, the maximum trailer weight should be no greater than 8,000 lbs. (preferably less than 8,000 lbs. to provide for a margin of safety).
How Do You Increase A Motorhome's Towing Capacity?
Increasing your Class C's towing capacity may require significant modifications to your RV. Modifications that will alter the original design and engineering of your motorhome above and beyond the manufacturer's OEM.
Rear axle and drive train
Suspension/Springs
Chassis or sub-frame
Transmission and gear ratio upgrades
Fuel efficiency may decrease
Electrical system (i.e. alternator output)
Brakes and braking system
Is Increasing My Motorhome's Towing Capacity Illegal?
Prior to any modifications to your Class C motorhome, you should verify with your particular state's laws if increasing your Class C RV's towing capacity is legal. Each state takes a slightly different approach to this type of major modification to a manufacturer's designed maximum towing capacity.
Is Increasing My Motorhome's Towing Capacity Dangerous?
Increasing your Class C RV's towing capacity exceeding the manufacturer's original engineering specifications and design can potentially be dangerous. We never recommend major modifications to your RV that will reduce or impeded the margins of safety provided by the motorhome's intended and designed safe ranges of operation.
Something to consider, if you do modify your motorhome's towing capacity and an incident occurs, your insurance company will evaluate any and all original and any modifications done post-production to confirm if the modifications were the root cause or assisted in the cause of the accident or damage to your RV. This may result in you being liable for any damaged caused to your motorhome and others involved in the incident.
The Difference Between a Tow Bar and Dolly Towing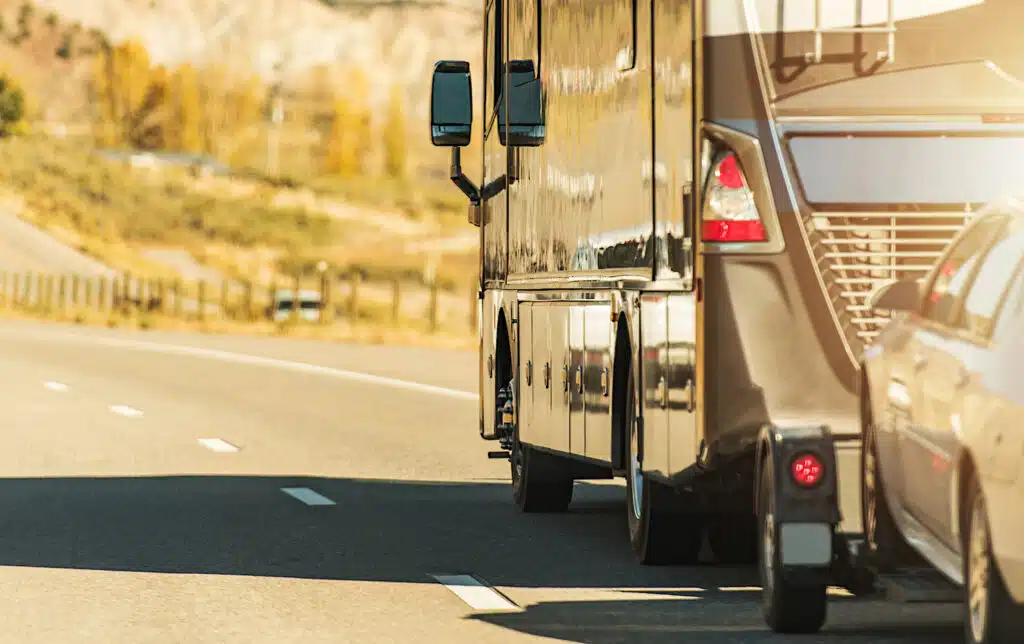 What is a Tow Bar?
A tow bar – commonly called a tow hitch – can be used to securely attach a vehicle to the rear of a recreational vehicle.
This method is quite simple as many tow bars are designed to be installed by a single person. The bar can be mounted to either the vehicle being towed or the RV itself. However, a base plate will need to be purchased for the vehicle being towed.
When you are finished towing for the day, the tow bar can be conveniently stored in either of the vehicles.
What is a Tow Dolly?
A tow dolly is an advanced towing solution. It features two wheels, an axle, and a hitch.
With a tow dolly, you have the ability to transport any kind of vehicle you would like behind your RV without any extra mileage being added to the vehicle. This is a major benefit when you sell or trade in the vehicle.
It is not necessary to utilize a base plate when utilizing a tow dolly. However, it may be necessary to remove the driveshaft from the vehicle if it is four-wheel drive, rear-wheel drive, or all-wheel drive.
This product can potentially provide an additional 500-1,500 pounds to your towing weight. You should confirm and modify your motorhomes towing capabilities accordingly.
Depending on the location, you may need to invest in a tow dolly with brakes.
Also, depending on which state you vehicle is registered in, you may need to acquire a license for the dolly.
Is Gas or Diesel Motorhome Better For Towing?
There are several factors one should consider prior to purchasing a Class C motorhome that will be towing a car or trailer. They include:
Initial cost of a diesel drivetrain vs gasoline – Diesel is more expensive
Continued annual maintenance cost of diesel vs gasoline engines – Gasoline is cheaper
Fuel costs: diesel vs gasoline – Diesel is more expensive
Fuel efficiency: Diesel is more fuel efficient
Fuel availability: Gasoline fuel stations are more prevalent in certain areas than diesel
Maximum towing capacities: Diesel max. is higher (10-15K lbs. vs Gasoline 5-8K lbs.)
Drivability: Diesels have a higher towing capacity at a lower RPM
What is the Best Car to Tow Behind a Class C Motorhome?
A vehicle equipped with either rear-wheel drive and manual transmission or four-wheel drive and manual transfer case can generally be flat-towed.
Though it is possible to flat-tow an automatic transmission vehicle, it can be a costly and complex process. Your local RV dealer can install the necessary equipment to make your vehicle ready for flat towing. Special equipment such as a driveshaft decoupler may be required to be installed.
One should always confirm with their specific model year of their car, to confirm if it can be towed safely since modifications from model-year to model-year may change. Here are our suggested vehicles to tow behind Class C RVs:
Jeep Wrangler
Mini Cooper
Honda CR-V
Ford F-150 (2009 – 2018)
Honda Civic
Chevrolet Colorado
GMC Canyon
Chevrolet Spark
Class C Motorhome Towing Capacity Chart
The following is a short list of Class C Motorhomes and general max tow capacities to give you a quick idea of what type of model to look for. As makes and models change every year, it is necessary to confirm all towing noted capacities prior to purchase.
Class C Motorhome
Thor Chateau 31W
Coachmen Leprechaun 319MB
Jayco Melbourne 24K
Winnebago Navion 24J
Forest River Sunseeker 3050S
Fleetwood Jamboree 30F
Tiffin Wayfarer 25RW
Gulf Stream Conquest 6237LE
Dynamax Isata 3 24FW
Nexus Ghost 36DS
Coachmen Freelander 27QB
Forest River Forester 3051S
Jayco Greyhawk 29MV
Newmar Bay Star Sport 2813
Thor Motor Coach Four Winds 31E
Tiffin Wayfarer 24TW
Fleetwood Tioga Ranger 31D
Winnebago View 24D
Gulf Stream BT Cruiser 5245
Nexus Viper 25V
Coachmen Prism 2200FS
Entegra Odyssey 26D
Fleetwood Pulse 24B
Forest River Sunseeker LE 2250SLE
Gulf Stream Conquest 6245
Jayco Redhawk SE 22A
Nexus Triumph 24T
Thor Motor Coach Quantum RC25
Tiffin Wayfarer 25RW
Winnebago Minnie Winnie 31K
Coach House Platinum III 261XL DT
Dynamax Isata 5 28SS
Fleetwood Jamboree 30F
Forest River Forester LE 2351D
Gulf Stream BT Cruiser 5240
Jayco Melbourne 24L
Newmar Bay Star 3626
Renegade Villagio 25FWS
Thor Motor Coach Synergy SP24
Winnebago Vita 24F
Max Tow Capacity
8,000 lbs
7,500 lbs
5,000 lbs
5,000 lbs
7,500 lbs
8,000 lbs
5,000 lbs
7,500 lbs
5,000 lbs
10,000 lbs
8,000 lbs
7,500 lbs
7,500 lbs
5,000 lbs
8,000 lbs
5,000 lbs
5,000 lbs
5,000 lbs
7,500 lbs
5,000 lbs
3,500 lbs
7,500 lbs
5,000 lbs
5,000 lbs
7,500 lbs
7,500 lbs
5,000 lbs
8,000 lbs
5,000 lbs
7,500 lbs
5,000 lbs
10,000 lbs
8,000 lbs
5,000 lbs
7,500 lbs
5,000 lbs
5,000 lbs
5,000 lbs
5,000 lbs
5,000 lbs
Related Articles