RVing is a popular recreational activity for many people, and it is often seen as a good option for those who want to explore the country without having to invest in a traditional home on wheels.
Unfortunately, there is a lot of misinformation out there about RVing that can lead to people making wrong decisions. In this blog post, we will be discussing some of the most common myths about RVing, and why they are wrong.
We will also provide some tips and tricks on how to find the right RV for your needs. By the end of this blog post, you should have a better understanding of the truth behind RVing myths and be better equipped to make the best decisions when it comes to investing in a recreational vehicle.
RVing Is Expensive
One of the most popular myths about RVing is that it is expensive. And we agree, it can be!
But just like any type of travel, there are a variety of ways to spend or save money. RVing can definitely be inexpensive if you skip the fancy RV resorts and buy a trailer or motorhome that you can afford without financing.
Camping is one of the most budget-friendly ways to enjoy travel if you put some thought into it and do some advanced planning.
Some of the ways to reduce the cost of an RVing vacation or full-time living are:
Use Campground Membership programs for discounted (or free) campsites
Boondock on public lands for no cost
Travel more slowly, staying in one place for longer to avoid gas costs
Only buy as much camper as you will need
Buy a used trailer or camper to save money
If you can't afford to pay cash for your RV, then it might not be financially smart to get one. The interest rates on recreational vehicle loans can be high!
You Need To Be A Mechanic
A big myth about RVing is that you need to be a mechanic to successfully enjoy the RV lifestyle. And we'll admit, sometimes it does seem that way!
However, you do not need to have a lot of mechanical abilities when starting out RVing. You do need to have the desire to learn, though, or a lot of money and time to have someone else fix the problems. It is that simple.
While it is true that RV maintenance and repair can be complex and require some technical knowledge, most RV owners are not mechanics. Most RV owners can carry out basic maintenance tasks, such as replacing a flat tire, changing a light bulb, or fixing a broken refrigerator, without being a mechanic.
If you do encounter a problem, there are likely a variety of ways that you can fix it without needing to know how to do it beforehand. These are all of the ways that we have found help when trying to fix RV problems:
Ask in a Facebook Group. There is always a Facebook group for every type of RV out there. Joining one of these groups can give you access to tons of people who know the systems that you are dealing with and who might have the answer to your problem. Personally, we had a problem with our Intech Sol Horizon air conditioner that we couldn't find the answer to. One post in the Facebook group led to another owner suggesting a YouTube video that showed exactly how to fix the problem.
Watch YouTube. There is an answer to everything on YouTube. Seriously. That's how we learned about RVing in the first place, since we had never towed a vehicle before we started full time RVing. We have tutorials on our own YouTube channel for a variety of fixes, including how to install a new RV lock, as well as how to replace an RV blind and how to install a MaxxAir Fan Cover.
Ask Fellow Campers. RVers are some of the most helpful and friendly people! If you are having a problem at a campground, ask some of the people in campsites around you if they might know of a solution. When we were camping in Grand Escalante National Monument, we noticed the most horrible smell from our neighbor's RV (yeah, it happens). After talking with him, we found out that his sewer hose had some sort of problem that was really hard to fix. My husband offered to help him fix it, to which our neighbor politely declined because he had help coming. But that's what RVers are like…they'll help fix your stinky slinky and all of the waste that goes through it just to help you out.
Go to the Dealership. If you have a new RV or one still under warranty, ask the dealership about how to fix the problem. It could be repaired by the dealer, but be forewarned, your RV might be in the shop for weeks unless you make specific demands about time frames up front and in writing. Our previous RV that was still under warranty took 4 months to fix, even after repeated phone calls and visits to the dealer.
Find an RV Repair Mobile Service. People who will come to your RV and fix repairs onsite are becoming more popular. If in doubt, ask your campground or a local dealership about mobile RV repair options available in your area.
It Is Hard to Find a Campground
While you might hear a lot of stories about difficulties in finding campgrounds, you usually won't have a problem if you are flexible with your plans.
The most coveted campgrounds will be sold out up to a year in advance, for sure. That's because everyone is trying to get one of a few campsites that are raved about on YouTube.
However, you can still find plenty of places to stay near the most popular tourist destinations.
For instance, when we went to Yellowstone National Park, we would have loved to stay inside the park. However, the only campground that could accommodate our size of RV was fully booked.
Instead, we chose to stay at the KOA Livingston in Montana (see our video review) and were delightfully surprised at how much we loved the campsites (and the full hook ups for air conditioning!).
If you absolutely must stay inside a National Park to make your trip memorable, then, yes, you probably will have difficulty with reservations unless you plan far ahead in advance or have a smaller vehicle that is able to take advantage of size-restricted campsites.
But if the journey is more the adventure than the campsite (and your vehicle isn't TOO large which will limit the types of sites you can book), you will almost never struggle to find a campground somewhere in the area you want to stay.
You Can't Bring Pets
Pets are definitely welcome at many (not all) campgrounds.
In fact, one of the biggest reasons why people RV is so that they can bring their fur babies with them!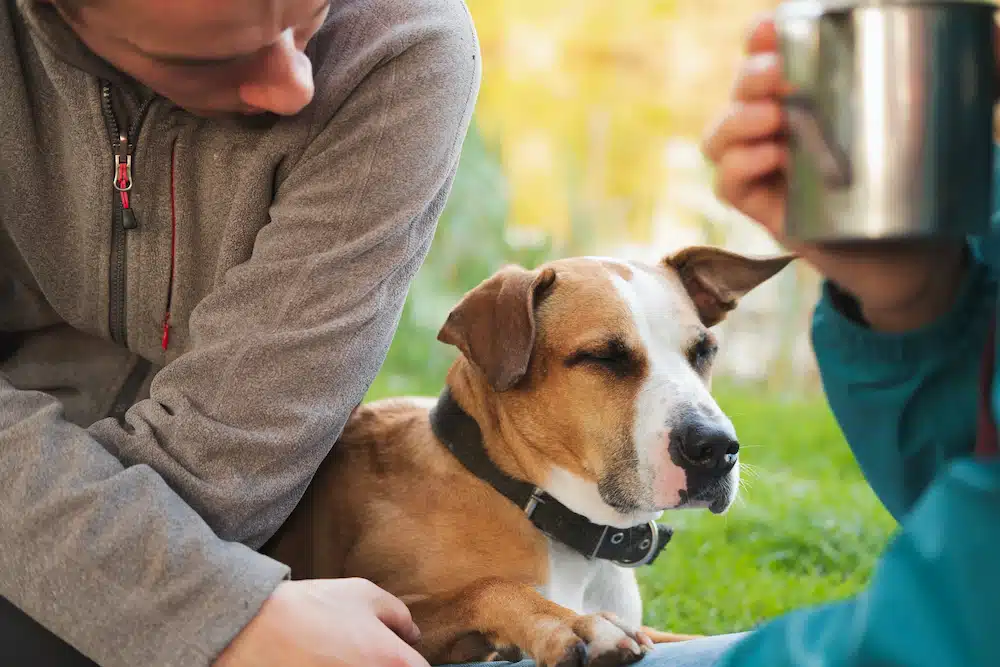 You will need to ask about any restrictions at each type of campground that you visit, including the different rules at private campgrounds, as well as state campgrounds and National Park campgrounds.
You Need A Special Driver's License
An often misunderstood myth about RVing is that you need a special driver's license.
While some states may have laws that require a separate driver's license for RV's, most states in the U.S. simply require the same driver's license that you use for your automobile.
It is important to check with your local DMV to ensure you have the proper license for your specific type of RV.
You Need To Know A Lot About Cooking
Many people are under the impression that living in an RV means you must cook every single meal you eat. And that they all have to be cooked on an outdoor grill.
If you don't like cooking, or feel like you are not a good cook, don't worry! You won't go hungry on your RVing or camping adventures!
We have found that many campgrounds actually have restaurants on site or nearby. Even private campgrounds, such as the KOA Arco that we stayed at near Craters of the Moon National Monument that had a cafe that would deliver food to your campsite!
Or the Big Texan campground that would bring a limousine to your campsite to pick you up to go to a steak dinner.
And many of the state and national park campgrounds we have stayed at have had food courts nearby.
A lot of destinations have plenty of restaurants and cafes in town, too. So you can always support local businesses.
However, there are some destinations and places where you really do need to know how to cook or bring your own prepared food with you. If you are new to cooking, don't worry. We've got some great camping recipes that are easy to make ahead for camping meals.
Try some of these favorite camping foods:
You Won't Be Able to Find a Job
One of the bigger myths is that you won't be able to find a job while full-time RVing.
This is simply not true. While it may be more difficult to find a traditional 9-5 job, the RV lifestyle is perfect for those who want to pursue freelance, contract, or remote work.
There are countless online job boards and resources specifically designed for RVers, and many RVers find success with this type of employment.
The RV lifestyle provides the freedom and flexibility to work from anywhere, so if you're looking for a job while RVing, don't let this myth stop you! From Gig workers to campsite hosts, and other season work opportunities, there are many options for those who want to earn a few extra dollars while traveling the country.
✅ Check out our article on ways to save money while RVing!
You Need to Buy a New RV
One of the most common RV myths is that you need to buy a new RV.
In fact, we would suggest you DON'T buy a new RV. Let someone else take the depreciation hit on a brand new vehicle and you can buy a used RV for much less!
When we purchased our Intech Sol Horizon, we bought it used. However, you couldn't even tell because the previous owner had taken such great care of it.
RVs Are Uncomfortable and Cramped
Travel trailers, motorhomes and toy haulers are more spacious than some city apartments these days. Seriously.
While you can always find models that feel tiny without a lot of space, there will always be other models that might give you more room than you have in your own home.
You can find RVs with separate bedrooms, dedicated living areas, or even outdoor patios.
Keep in mind, the purpose of RVing and camping is to get outside and explore more! You won't find yourself inside your rig as much as you might think.
Related Post: Class C RVs with Bunk Beds
Camping is Roughing It
Yes, you could rough it in a tent while camping. Or maybe you feel like you are roughing it in a pop-up camper with no bathroom and no air-conditioning.
However, camping in an RV is definitely NOT roughing it!
With showers, big screen TVs, recliner chairs, wine racks, ice makers and dishwashers, you will definitely not feel like you are roughing it while camping!
Unless, of course, you choose a more basic style of camping going off-grid or boondocking.
It's Just Too Confusing
Boondocking. Dry Camping. Lithium vs. Traditional Batteries. Black tanks. Shore power. Solar generators vs. Gas generators.
There are a lot of RVing terms that you might not understand. And it seems like campers are speaking a different language.
Don't worry! You don't have to know all of these details in order to have fun camping!
There are a lot of people, especially YouTubers, that love to push the boundaries of camping or get into the nitty gritty details that most RVers don't need to know or care about.
If you just want to spend a week at a Camp Jellystone campground with your plugs in the electrical supply, then that is fine.
If you never want to install solar and go camp out in the middle of the wilderness for a week, there is nothing wrong with that at all.
Living in an RV is Cheaper Than a Sticks and Bricks House
Ah, we have heard this argument so many times. We honestly believed it, too, while watching YouTubers talk about how much money they are saving by RVing.
Yes, you definitely can find money-saving ways to bring your expenses down each year compared to home ownership.
But there are a lot of drawbacks, too. Most importantly, you are never gaining equity in your vehicle as you would be with a house. Which is fine in the short-run, but not in the long run. Because you are almost never going to sell your RV for a lot more than you paid for it.
When we started full-time RVing, we calculated our cost of living per day in our townhouse at the time was $60. After a year on the road, we found that we were spending almost $90 a day while RVing for the same basic needs, which included RV payments, insurance, all of the RVing gear we needed, electricity, gas, propane, RV maintenance, Wifi plans and campsites.
Let's put a BIG caveat to these numbers: We were traveling quickly and going to all of the most popular destinations. So, we were spending more than someone that would stay a week or a month in one place and not go to popular destinations.
We also only full-timed for a year. If you are going to full-time for three years or more, without switching rigs, then you would definitely enjoy more cost savings if you traveled slow and stayed longer in destinations.
You will find someone that can show that they save tens of thousands of dollars a year by RVing and you can find plenty of people that talk about how much more expensive it was to give it all up and full-time RV. We know a lot of these people that secretly complain in private about the costs, but no one wants to talk about that, right?!?
It's all going to depend on what your lifestyle is like before and after your decision to go full-time RVing.
RVing is For Old People
RVing was only for retired folks in the previous decades. Those who had plenty of time to travel after retiring from their jobs.
However, in the past 20 years or so, there has definitely been an uptick in young families and young couples who are now RVing.
According to the RV Industry Association Annual Report in 2021, 22% of RV owners are between the ages of 18 and 34.
You will find a mix of young couples, young families, empty nesters and retirees at all campgrounds.
No matter what your age, you will find someone else to socialize with.
RVing is Lonely
If you want solitude, then you can find it. But RVing definitely isn't lonely!
You will probably start a conversation with your RVing neighbor at the campsite. Or you could join in on organized activities at campgrounds where you stay.
Some campgrounds with long term stays offer social events such as Bingo, cards, crafts, movie nights, etc.
Social media and RV membership groups also help ease the loneliness. You can find like-minded people who might be traveling where you are and meet up with them.
RV rallies for owners of specific types of RVs or interests (such as Full Time Families rallies) let you meet plenty of people who share common interests and you can foster friendships.
RVing is Only for Long Trips
While a lot of the RVing videos you might watch on YouTube are from full-timers or people that travel for months at a time, that's not a great representation of how most people use their RV.
In fact, the majority of RV owners use their rig for 2 weeks or less each year, with many using their camper only for weekend trips.
Conclusion
There are a lot of myths about RVs out there. You have to tune out all of the negativity and get some of the real facts. RVing can be as expensive or as cheap as you want it to be. You can make camping complicated or just enjoy the simplicity of being outdoors. Don't let what other people complain about keep you from experiencing an adventure!