Class C RVs are a perfect mix of ease of use and affordability for owners who venture into the great outdoors with several family members. Many owners of Class C RVs often bring several family members or friends – both young and old – on their adventures. To provide more comfort there are several Class C RVs with smart floors plans offering bunk beds in addition to the traditional rear bedroom and over-the-cab sleeping area.
RV manufacturers have recognized the demand to sleep more individuals in Class C's, especially for owners who do not want to make the additional financial commitment for a similar Class A RV. Here are some best Class C RV's with bunk beds that will comfortably accommodate 4 or more passengers!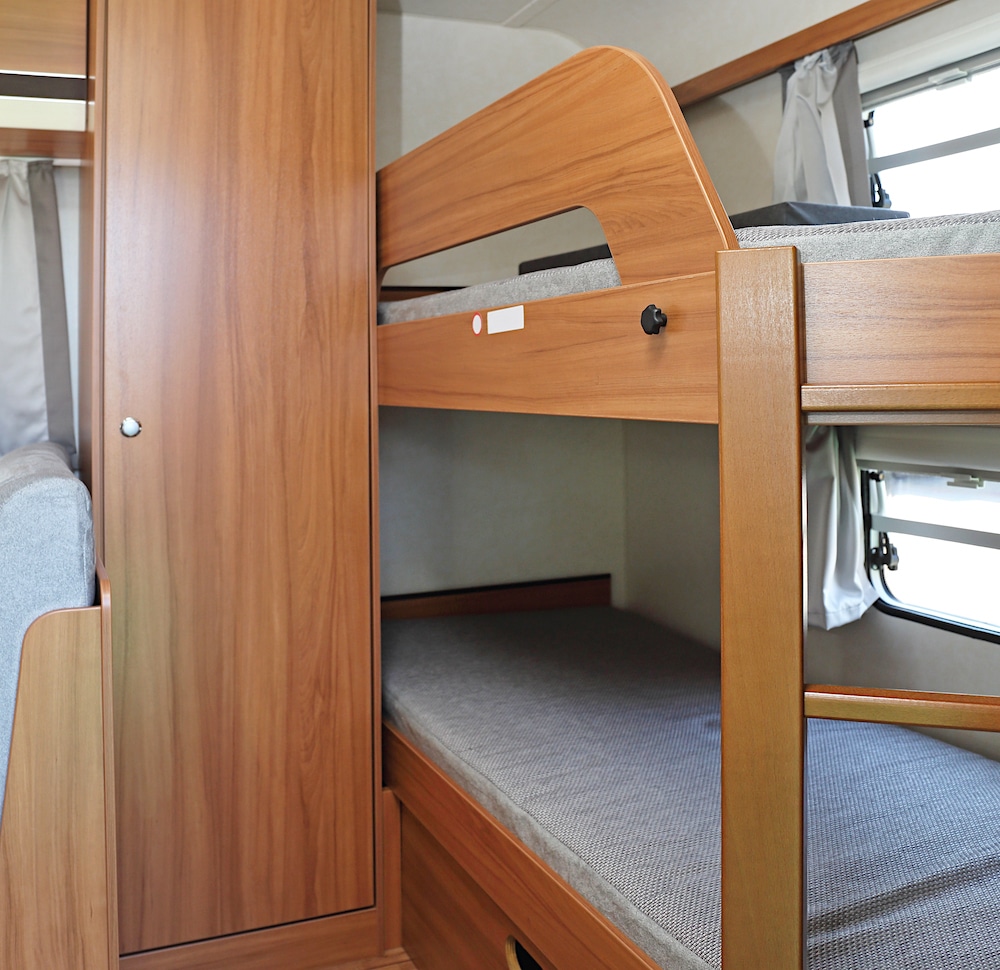 2023 Entegra Coach Odyssey 31F
The Entegra Coach by Odyssey is quite possible one of our favorite Class C RV's for a host of reasons. The Odyssey 31F is capable of sleeping 9 passengers while offering well-planned layout accommodating a family of 6 or more. Let us take you through the sleeping accommodations.The top bunk bed over the cab can hold an impressive 750 lbs and features a LED TV at one end, a handy storage cubby at the other and a large wind shield window to take in starry night skies.
In the rear of the RV you have a 60″ x 74″ Queen size bed. Moving toward the front of the RV, there are two 28″ x 72″ bunk beds across from the bathroom each with an industry leading 300 pound capacity. Next, in the living area The 68″ Jack-knife Sofa converts to a bed capable of sleeping two adults. Across from the sofa, the 42″ x 70″ dinette converts to a bed for either 1 or 2 children or 1 adult. Finally, the cab-over bunk at the front of the RV can sleep two adults with an impressive 750 pound capacity!
The spacious interior layout of the Entegra Odyssey 31F is spacious in all ways possible. From the walk around bed in the rear to the open living and kitchen area. Interior storage is plentiful with a plethora of overhead cabinets in nearly every area and the wardrobe and drawers in the bedroom space.
Key Features:
Large window in over-cab bunk
Sleeps 9
Full wall slide-out
4-seater dinette
Jack-knife sofa bed
Full-size fridge freezer and pantry
3-burner stove, oven and microwave
Double-entry bathroom
41 gallon grey water tank
31 gallon black water tank
47 gallon fresh water tank
32′ – 6″ overall length
Ford E450 chassis / 7.3L V-8 350 HP
7,500 pound tow hitch
55 gallon fuel tank
Tire Pressure Monitoring System (TPMS)
18′ Wide power awning with LED lights
Multiple external storage compartments
External grill hookup
External TV with speakers
✳️ Click Here To Learn About the Best Bunk Bed Safety Rails.
2022 Coachmen Leprechaun 300BH
We have enjoyed touring Leprechaun RV's for years. We are always amazed at their efficient use of space offering some of the best floor plans amongst Class C's. The same can be said for the Leprechaun 300BH. This RV's layout offers the amazing balance of achieving an open, airy interior space while providing a 9-person sleeping capacity.
The variety of sleeping arrangements in the 300BH are impressive. At the rear of the RV is a walk-around 60″ x 80″ Queen size bed. Mid-RV is a smartly designed 2-person dinette/lower bunk with an upper flip-down 30″ x 74″ bunk. The living area offers two separate sleeping opportunities via a 42″ x 71″ dinette capable of sleeping 1 adult or two small children and a 72″ sleeper sofa for two adults. Above the front cockpit is a large 57″ x 95″ bunk bed that can easily accommodate two adults.
Throughout this RV, a seemingly common thread across the Leprechaun family of Class C RV's, is a smattering of overhead cabinet storage with the bedroom receiving an impressive amount of hanging wardrobes – 3 in total.
With all pros, there are sacrifices. If we had to list one con about the 300BH's floor plan it is the smaller bathroom. The sink counter space is limited when compared to other similar Class C RV's, but the bathroom space is efficiently laid out to accommodate a moderately sized shower and linen storage cabinet.
Key features:
Exterior length: 32′ – 11″
Fuel capacity: 55 gallons
50 gallon fresh water tank
29 gallon fresh water tank
34 gallon grey water tank
55 gallon fuel tank
11′ wide exterior awning
L-shaped kitchen counter-top
Mid-RV entry door
Living area TV on swing-arm across from sofa
Mid-RV TV across from bunk area
2022 Forest River Sunseeker 3250DSLE
The Sunseeker RV by Forest River is another Class C RV – comparable in layout to the Leprechaun 300BH – offering comfortable sleeping quarters for 8 people. We chose the 3250DSLE because of its unique mid-RV bunk and sleeper sofa arrangement.
Providing two separate seating areas the Sunseeker provides larger families or those traveling with larger groups the ability to diversify the seating options, which on rainy days would be a blessing to 8 passengers in a small space.
This RV offers a walk-around 60″ x 74″ Queen size bed in the rear, a kid size sleeping sofa with a 28″ x 72″ flip down bunk directly above across from the bathroom. Moving into the living and kitchen area, a comfortable sofa with seatbelts is directly across from the four-person dinette capable of sleeping two small children or 1 adult. At the front, over the cockpit, is a 60″ x 80″ bunk bed spacious enough for two adults.
The single bathroom offers a24″ x 32″ shower/tub arrangement with ample storage space via a linen cabinet under the sink storage. Outside the bathroom, directly across from the kids' sofa and bunk, is their dedicated TV. In the main living area a larger TV is mounted on the wall on an extension arm making it viewable from either the over-the-cab bunk or placing it across from the living room's sofa.
While the interior layout of this Class C is not as open and spacious feeling as others, we do recognize the functionality of this floor plan providing larger families the ability to have the kids hanging out in their mid-RV area while the adults can be partially secluded in the main living area.
Key features:
Sleeps 6-8
2 Slide outs
10.7 Cu. Ft. refrigerator
15k BTU ducted roof air heat pump
40″ TV in the front living area
Slide out awning covers
11′ wide exterior awning
Maxx Air Roof vent and fan (kitchen)
Optional solar power charging package
7,500 pounds hitch (E450) / 5,000 pounds (E350)
32′ – 3″ in length
44 gallon fresh water tank
39 gallon black water tank
39 gallon grey water tank
55 gallon fuel tank
2023 Jayco Redhawk 31F
One of the most notable features of the Jayco Redhawk 31F is nearly every seating area – except those in the cockpit – can convert into a bed allowing you to sleep a total of 9 passengers! Combine that amazing feature with an open floor plan with one slide out makes this Class C RV with multiple bunk beds a winner with large groups traveling to see the great outdoors!
The sleeping arrangements are plentiful, so let's start in the rear of the RV with the walk-around 60″ x 74″ Queen size bed. Just outside the sliding bedroom door are two 28″ x 72″ bunk beds located on the RV's one and only – but large – slide out. The living area offers three sleeping options. There is the 68″ jack-knife sofa large enough for two adults, the 42″ x 70″ dinette conversion to a bed that can sleep two children or one adult and the cab-over bunk bed with an impressive 750 pounds capacity.
Interior storage is spread graciously throughout the Redhawk 31F via overhead cabinets, a kitchen pantry, and an impressive wardrobe and drawer cabinet in the bedroom. The well-planned layout also incorporates a duel-entry spacious bathroom boasting a 32″ radius, corner shower.
Key features:
Optional 190W Solar panel package
Prepped for satellite TV
Digital antenna and booster
Outside shower
4,000 Watt generator
55 gallon fuel tank
7,500 pound tow hitch
15k BTU ducted A/C (optional 2nd unit)
Optional Apple Car Plan & Android Auto
Ford E450 Chassis / 7.3L V-8 350 HP
Tire Pressure Monitoring System (TPMS)
Frameless Windows
2023 Thor Motor Coach Quantum LF31
If you're looking for a Class C RV that has both a beautiful exterior and sleeps up to 7 people then you should definitely check out the 2023 Thor Quantum LF31. This RV is a fine mixture of great design, spacious interior layout, and is large enough to take your entire crew for a roadtrip they won't forget!
This mid-entry Class C offers the balance of spacious comfort with ideal sleeping arrangements for up to 7 passengers. The rear bedroom offers a 60″ x 75″ walk-around Queen size bed. Mid-way down the one, large slide out are 2, stacked 27″ x 72″ bunk beds. The remainder of the sleeping options include a 68″ jack-knife sofa for two more adults, a 71″ dinette for two small children or 1 adult, and a cab-over bunk bed measuring 54″ x 96″ with a built-in skylight.
Another boon for large families is the duel-entry, well-planned bathroom featuring a 32″ radius corner shower and skylight plus a medicine cabinet for all of your toiletry storage needs. The open kitchen area offers pantry with a medium-sized refrigerator and double kitchen sink.
Some of extra features that make the Quantum LF31 stand out are the full body exterior paint, the duel bunk beds with 2 windows and TVs, the large exterior storage capacity, the stainless steel refrigerator, and the bright and storage equipped bedroom.
Key features:
Full wall slide-out
4-seater dinette
Tankless water heater
Full-size fridge freezer and pantry
3-burner stove, oven and microwave
Double-entry bathroom
28 gallon grey water tank
28 gallon black water tank
40 gallon fresh water tank
32′ – 8″ overall length
Ford E450 chassis / 7.3L V-8 350 HP
8,0000 pound tow hitch
55 gallon fuel tank