Having a washer and dryer in an RV can provide a great deal of convenience, allowing travelers to do laundry on the road without having to stop at laundromats or other facilities. This is an important feature for many full-time RVers, and those who travel for more than a week at a time.
Or perhaps you are traveling with a baby or small children and you have to wash clothing and bedding frequently.
If you are looking for a small Class C RV with a washer and dryer, our list will guide you to some of the best options for you in 2023.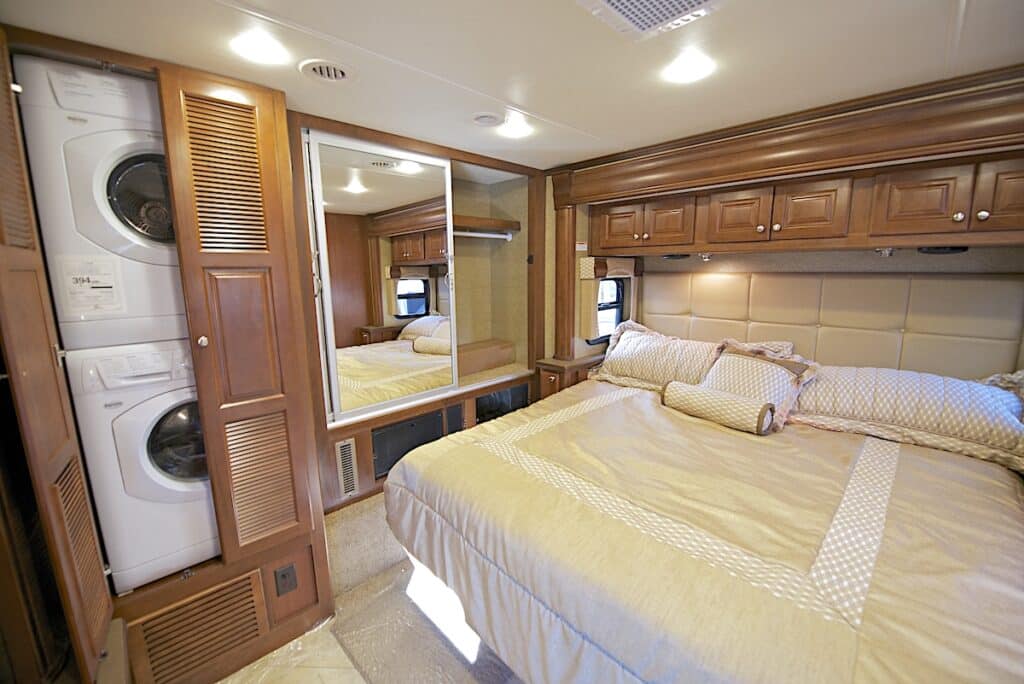 Important Things to Know About RV Washer and Dryers
RV Washer and Dryers can come in two separate, stand alone appliances or one combo appliance that both washes and dries in the same load.
Each travel trailer or motorhome is unique with the space allowed for washers and dryers. If you are purchasing your own appliance, but sure you know the dimensions you need.
RV Washers are designed to use less water because water supplies are not always plentiful and strong at campsites. Even so, you need to make sure that your water pressure and supply is sufficient before doing a load of laundry.
While RV washers and dryers are definitely a convenience, don't expect them to be as powerful as residential appliances. You might notice that the clothes are slightly more damp after a load of laundry, or it takes longer to dry.
RV-sized washers and dryers usually do smaller loads of laundry than residential washer and dryers. You might find yourself needing to do two or three loads instead of one.
Just because your RV brand and model states that is has a washer and dryer attachment doesn't mean that you are getting the appliances in your rig. If you are buying new or even used, confirm that you will receive the appliances as part of the contract.
We didn't have a washer and dryer in our RV. We chose one of these portable washing machines instead, and it worked pretty well. See our video review.
Buying an RV Washer and Dryer On Your Own (Without the Dealer)
Did you know that you can buy a stackable RV washer and dryer or a combination unit on your own? Yep, you don't have to pay the outrageous cost at the RV dealership to get these appliances.
Whether you are trying to save money, or you purchased an RV with washer and dryer hookups but no appliances, you will be very happy to know that you can easily buy a compact washer and dryer to use in an RV.
This compact washer and dryer combo is a great choice that you can order on Amazon and have delivered to your home for installing on your own.
Using an RV Washer and Your Gray Tank
Be mindful of the capacity of your RV's gray water tank before doing a load of laundry!
The water from the rinse cycle will discharge from your RV washer into your gray water tank. This can be a large volume of liquid suddenly added to your gray water tank.
If your tanks are nearly full or very small, you probably should dump your gray water and empty your tanks before doing a load of laundry.
RV vs Residential Washers and Dryers
Here some of the key differences between a residential washer and dryer and an RV washer and dryer:
Size and Capacity
One of the most significant differences between residential washers and dryers and those designed for use in an RV is their size and capacity. Residential washers and dryers are typically much larger and have a greater capacity than their RV counterparts.
This is because they are designed to handle the laundry needs of an entire household, while RV washers and dryers are designed to meet the more modest laundry needs of individuals or small families living in recreational vehicles.
RV washers and dryers can either be two separate appliances or a single combo unit.
Power Requirements
Another significant difference between residential washers and dryers and RV washers and dryers is their power requirements. Residential washers and dryers require a significant amount of power to operate, typically 240 volts.
In contrast, RV washers and dryers are designed to operate on the 120-volt electrical system found in most recreational vehicles.
This lower power requirement means that RV washers and dryers are generally less powerful than their residential counterparts and may take longer to complete a cycle.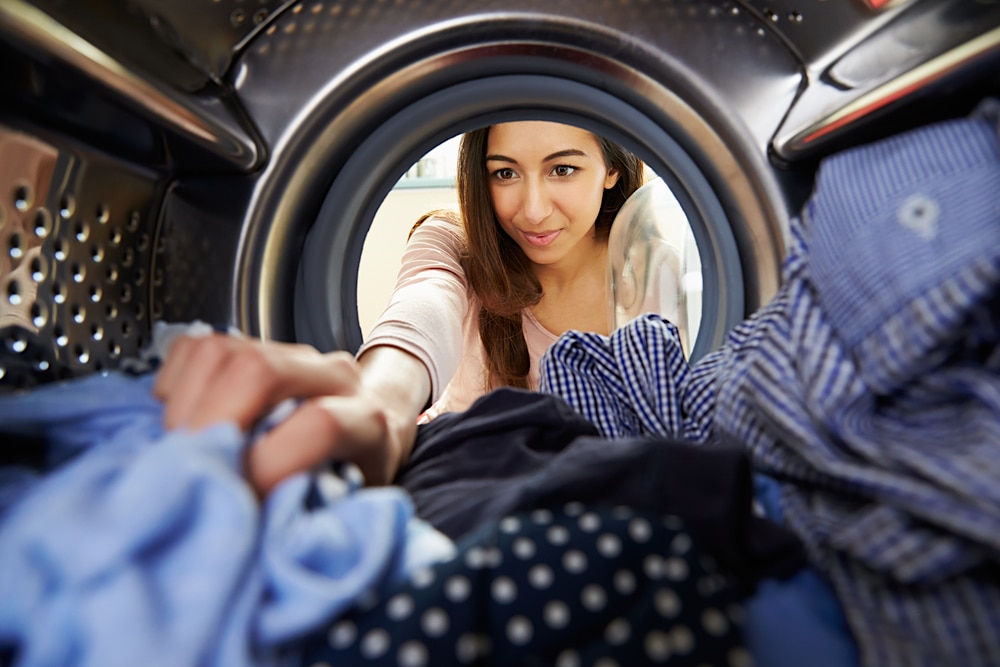 Water Usage
Water usage is another important factor to consider when comparing residential washers to RV washers. Residential washers are designed to be connected to a home's water supply, which typically provides a steady stream of water.
However, RV washers typically rely on the limited water supply available in a recreational vehicle. As a result, RV washers are designed to be more water-efficient than their residential counterparts, with some models using as little as five gallons of water per load.
✳️ Check out our article on biodegradable soaps for RVs and camping.
Portability and Installation
Portability and installation are important considerations when choosing between a residential washer and dryer and an RV washer and dryer. Residential washers and dryers are typically heavy and require professional installation, which can be expensive and time-consuming.
Unlike their residential counterparts, RV washers and dryers are designed to be lightweight and compact, making them easy to install and move as needed.
Class C Motorhomes with Washers and Dryers
Thor Motor Coach Quantum KW29
The Quantum line of Thor Motor Coaches are a premium line of Class C RV's.
This particular model comes with a King-size bed and lots of closest space, which we love!
The Quantum KW29 comes prepped for a washer and dryer in the rear bedroom area. That might be needed as this motorhome can sleep up to 7 people.
Coachmen Leprechaun 311FS
We have loved the smart layout and spaciousness of the Leprechaun 311FS for years. When we knew that our first travel trailer was just too big for us, we started seriously looking at the Coachmen Leprechauns as an alternative and we still love this floorpan.
From the extensive pantry space and exterior storage, to the huge closet in the rear bedroom, this Class C RV offers an optional washer and dryer in the well designed bathroom, too.
It is perfect for full-time travel if you want a smaller rig.
Jayco Seneca 37L
In the world of motorhomes, the Jayco Seneca line of RVs is often referred to as "Super Cs".
The Seneca 37L offers an optional washer/dryer combo in the rear bedroom area. With the trim level and spaciousness of a Class A motorhome, but in a the Class C layout, the Jayco Seneca 37L offers a large living space, residential refrigerator, bunk beds, and a large kitchen area all under 40 feet in length.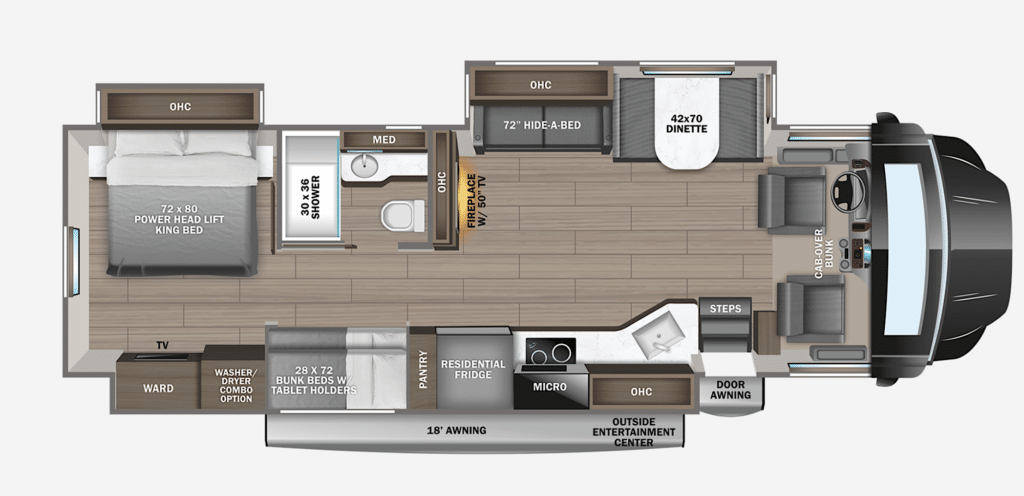 Tiffin Wayfarer 25 JW
If you are searching for a smaller Class C RV less than 26 feet in length on a Mercedes Chassis that has a washer/dryer combo, then the Wayfarer 25 JW by Tiffin is the Class C motorhome for you.
Tiffin is well known for its upgraded interior trim packages and quality builds. The washer/dryer combo is tucked away behind the interior casework between the refrigerator and the rear bathroom.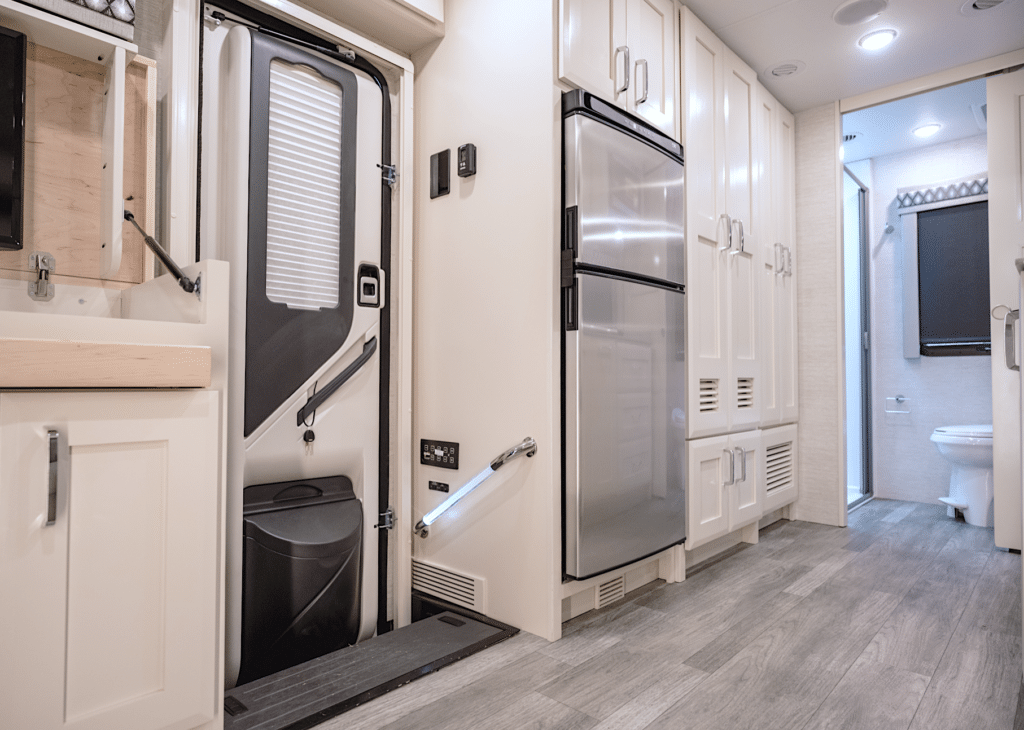 Entegra Accolade 37K
Another Super C motorhome that is offered with an option washer/dryer combo is the Enter Accolade line of Class C RVs.
Currently, there are three different models within this line. Focusing on the Accolade 37K, it offers a large king-size rear bed, a large kitchen and living area in the center of the RV, and all the comforts of a Super C cab area.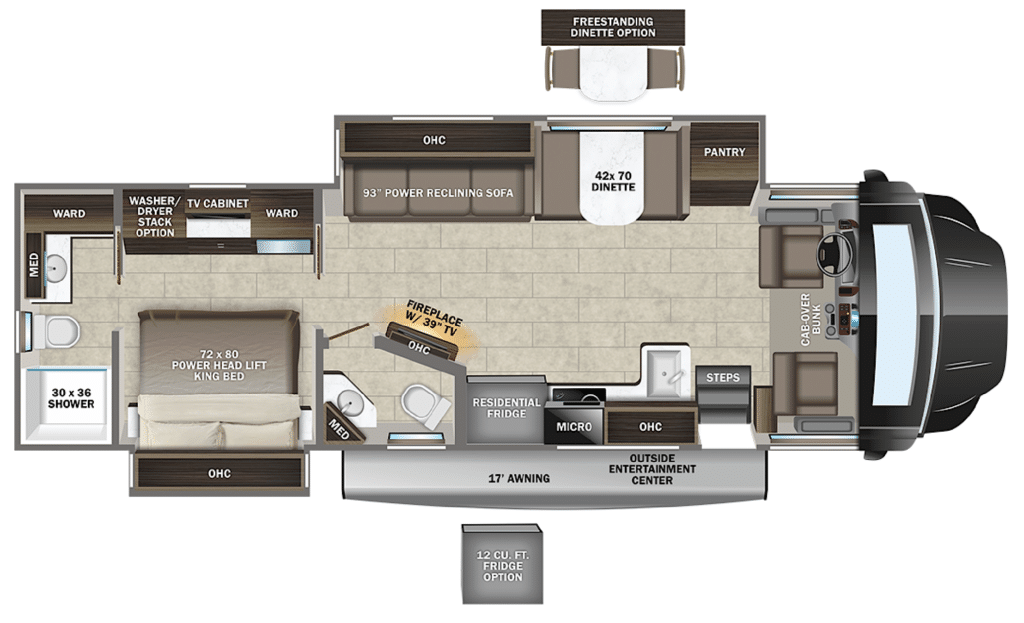 Dynamax DynaQuest XL Explore 3700BD
With an open floor plan and luxurious finishes of a Class A motorhome in a Super C chassis, the DynaQuest XL Explore 3700BD offers and impressive layout, capable of sleeping up to 10 people, bunk beds, open living and kitchen area, and an option washer and dryer – all under 40 feet in length!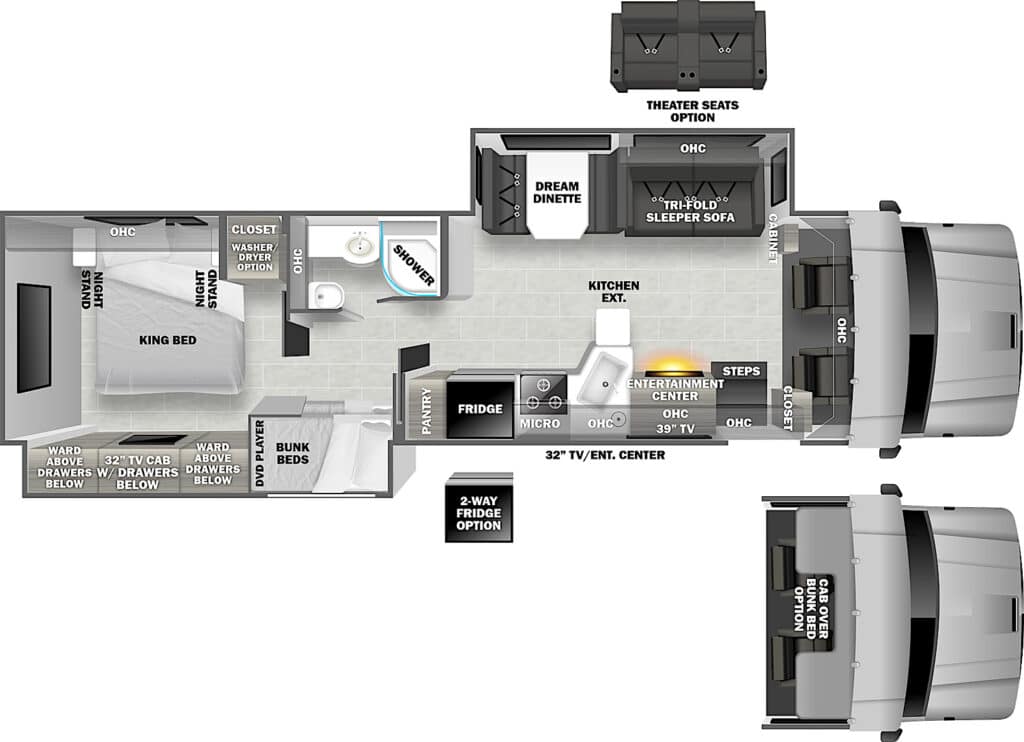 Related Articles