Are you looking for an effective black and gray tank treatment for your RV or camper? Do you want a product that will stop the nasty odors coming from your black tank? Our Happy Campers holding tank treatment review will show you why we think it's the best holding tank treatment for RVs!
For years, we have used Happy Campers tank treatment with successful results. We were camping in Florida and the Southeast where the warm temperatures can really make your black tank smell bad pretty quickly. Using Happy Campers with each tank flush has prevented any blank tank odor! In fact, we have never had the dreaded poop or pee smell in our trailer.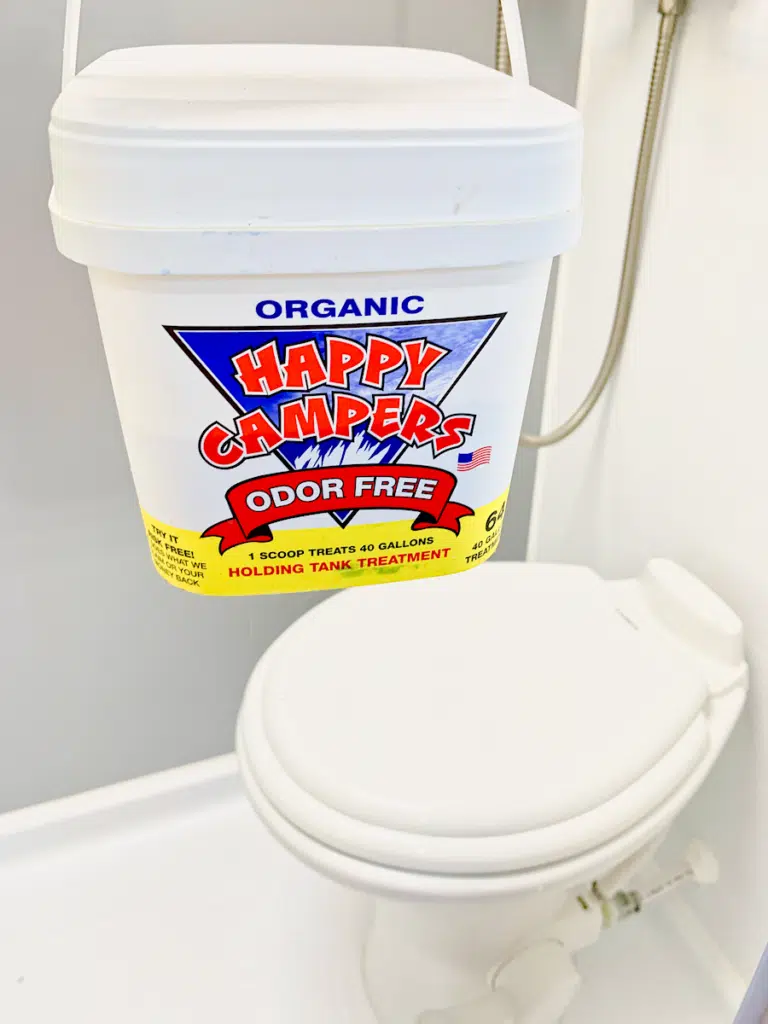 We are so happy with this product that we have added it to our list of the 65 Essentials for New RVers.
Prior to using Happy Campers, we tried various other drop-in black tank treatment products. We were not totally happy with how they worked.
Plus, Kim is very sensitive to smells, especially chemical smells or artificial fragrance smells. Most holding tank treatments have artificial fragrances to help mask odors. Which is really not necessary if the product works correctly. Happy Campers has no smell when using it.
The organic and bioactive treatment system doesn't have any nasty chemicals such as formaldehyde.
What Is A Holding Tank Treatment?
A holding tank treatment is a product specifically made to clean your RV or camper's black or gray tanks. Using zinc salts and minerals, Happy Campers is an organic and biodegradable product that works like an enzyme to break down and liquify the biological solids and paper products in your black tank.
The bioactive treatment powder also helps reduce the dreaded odors that often come out of RV toilets, showers and sinks from human waste, dirty water, food particles and mildew. It is septic-tank friendly.
Related Post: Can You Use Drano in an RV?
Removing solids such as poop residue and toilet paper pieces can clean the sensors in your RV, allowing your tank sensors to work better. However, RV sensors almost always fail and are known for not working properly.
While Happy Campers can help keep the sensors clean, it cannot make sensors work that are prone to failing and breaking.
You can see how much toilet paper builds up in your tanks at the end of our video on how to dump and flush your tanks. Even after several flushes, toilet paper bits were still coming out in the repeated flushes.
When To Use Happy Campers
When should you use a holding tank treatment in your camper?
To be honest, you don't have to use a tank treatment. Your tanks will work fine at dumping waste without adding Happy Campers. However, you might find that your tanks smell if you don't use a treatment. And your tanks can get coated with debris from peeing and pooping, soap residue, food waste, etc.
If you decide to use a black tank treatment, here is when to use it.
After each dump of your black or gray holding tank.
Use Happy Campers on a travel day to help clean the inside of your tanks while traveling down the road. The water sloshing around in your tanks while driving can reach places easier than when staying still in a campsite.
Add it to your holding tank prior to long-term storage of your RV or camper (but not in freezing weather).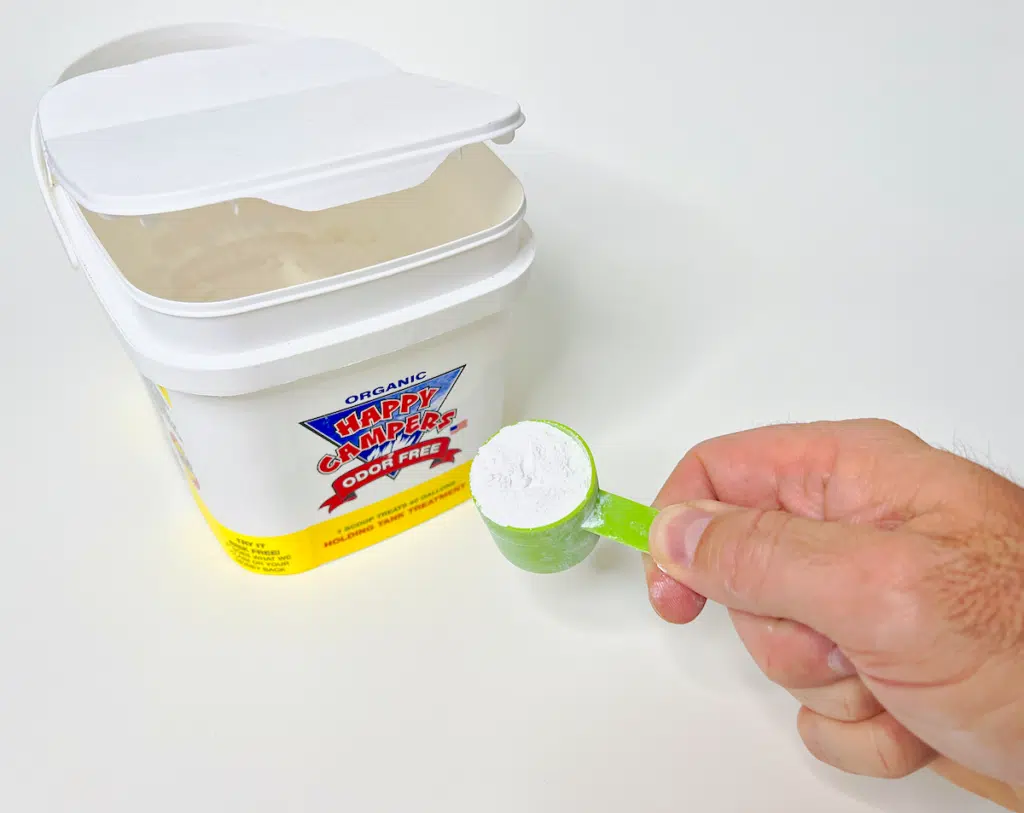 How To Use An RV Holding Tank Treatment
There are a variety of ways to use this holding tank treatment, in both the black water tank and the grey water tanks. If you have a combination black/gray water tank, you can use Happy Campers in the combo tank.
Do NOT use Happy Camper in your freshwater tank!
Black Tank
Dump and remove the contents of your RV's black tank via your sewer hose into a sanitary connection.
Add approximately 1 gallon of fresh, clean water in your toilet bowl or a bucket.
Sprinkle 1 scoop of the Happy Campers tank treatment into the gallon of water and stir until dissolved.
Flush the toilet or pour the dissolved tank treatment solution into your black tank.
Gray Tank
Dump and remove the contents of your gray tank via your sewer hose into a sanitary connection.
Close the drain of your RV's sink (either the kitchen sink or bathroom sink) or in the shower. Fill with approximately 1 gallon of fresh, clean water.
Add 1 scoop of the Happy Campers treatment to the gallon of water and stir until properly dissolved.
Immediately open the drain to your sink and allow all of the mixture to flow out into the gray tank. Afterwards, rinse the sink out with clean water to remove any residual mixture.
Using for Long-term Storage
Prior to putting your RV or camper in storage during non-freezing weather conditions, follow the same instructions for adding Happy Campers to your black tank. The holding tank treatment will help to control odors and break down residue while in storage.
Do not use Happy Campers in your black or gray tanks for long-term storage in cold or winter weather conditions. You do not want water in either holding tanks if there is the possibility of freezing temperatures.
Related Posts:
Happy Campers Review
We have been very happy using Happy Campers in our RVs. There has never been a problem with odors in our travel trailer, even in temperatures that reached near 100 degrees.
The sensors in our RVs have not worked perfectly, but they do work pretty good and have not completely failed. We believe that using Happy Camper has kept those sensors cleaned to help us know how full our tanks are and whether or not we need to dump them.
We are very happy to have a product that does not smell. The scent of artificial lemon or orange used in the other tank treatments is nauseating and we think makes the RV smell horrible. Thankfully, Happy Camper has no chemical odors.
Since this is a powder and not a tablet or puck, you can customize the amount you use to work for your RV. For instance, one scoop will treat a 40-gallon tank. If you have a 20-gallon black water tank, then just use 1/2 scoop and you can double the amount of treatments that you will get from one container.
Pros
Environmentally friendly and organic biodegradable treatment
Septic-tank safe
No harsh chemical smells
Prevents or lessens clogs, sludge or crystals buildup
Treatment for both black and gray holding tanks
Cost per tank treatment is low
64 Treatments in one container (1 scoop treats a 40-gallon tank)
Fights odors even in hot climates (above 100 degrees)
Breaks down toiler paper and solids
Combats odor in the tank, not just masking odors
Cons
The product is a fine powder, so be mindful when placing in toilet or tanks
Can form clumps when stored in warm conditions
NOT a fresh water holding tank treatment
Not available to ship to California because of the state's laws
Conclusion
If you are worried and disgusted about smelling nasty odors from the toilet in your RV, Happy Campers holding tank treatment is the perfect solution. Not only will it make your camper a more pleasant home to stay in, the holding tank treatment can help with preventative maintenance to maintain your sensors.