Make-ahead camping breakfast meals let you leisurely start the morning and enjoy the peace and quite of the day without needing to get to the campfire to start cooking.
Our bacon, egg and cheese burritos are the perfect camping breakfast to bring with you!
These freezer-friendly breakfasts can even be made weeks before your camping trip to save you time before you head out.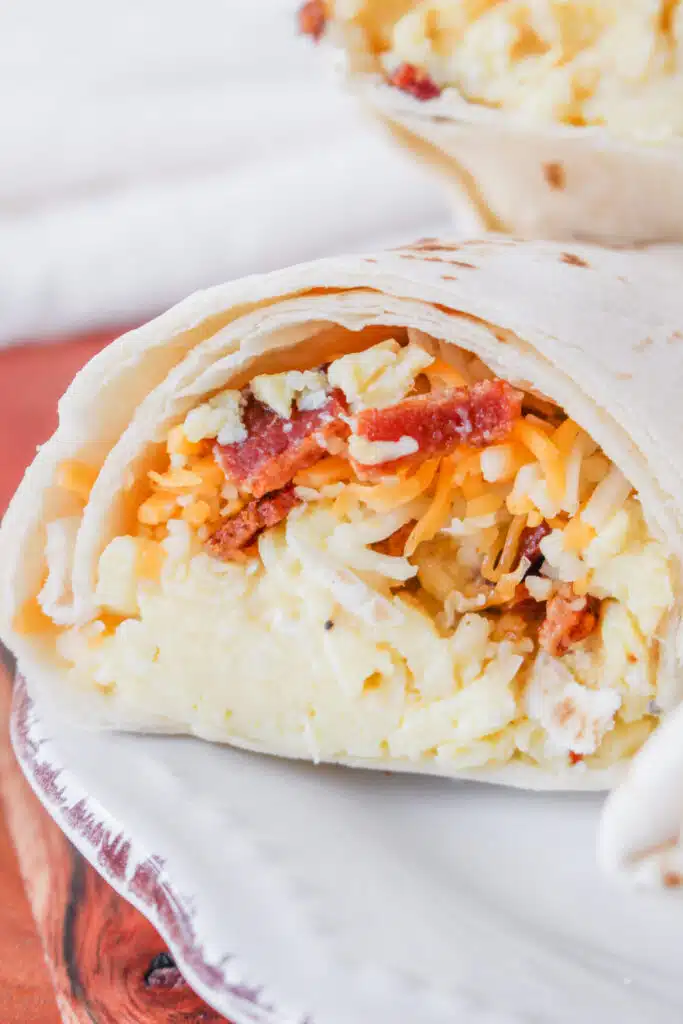 Make-Ahead Breakfast Burritos
These breakfast burritos are a favorite of ours because they can be made ahead of time and frozen.
Make and assemble these a few days up to a few weeks before your camping adventure. We also have a Slow Cooker Breakfast Burrito with Hashbrowns that can also be frozen as a make-ahead camping breakfast.
Here are some helpful tips when making breakfast burritos to freeze:
Heat the tortilla for about 15-20 seconds in the microwave before assembling the burrito. This allows the tortilla to fold and bend more easily. Which means you won't have any cracks in the tortilla which would allow the stuffing to escape.
Allow the eggs and bacon to cool before adding to the tortilla.
Wrap up each tortilla tightly. Then wrap in either plastic wrap, parchment paper, or aluminum foil. Or put each one in a plastic zip top bag.
While you don't have to wrap the burritos in plastic wrap or foil, it does help keep them together without unraveling until they are frozen solid.
Don't add toppings to your burrito before freezing. The toppings might not freeze well.
For the best results, freeze in a single layer on a baking sheet. Then transfer to a freezer bag to store.
We would store these in our Dometic freezer/refrigerator combo. Check out our review video to see how much food we can bring with us while camping!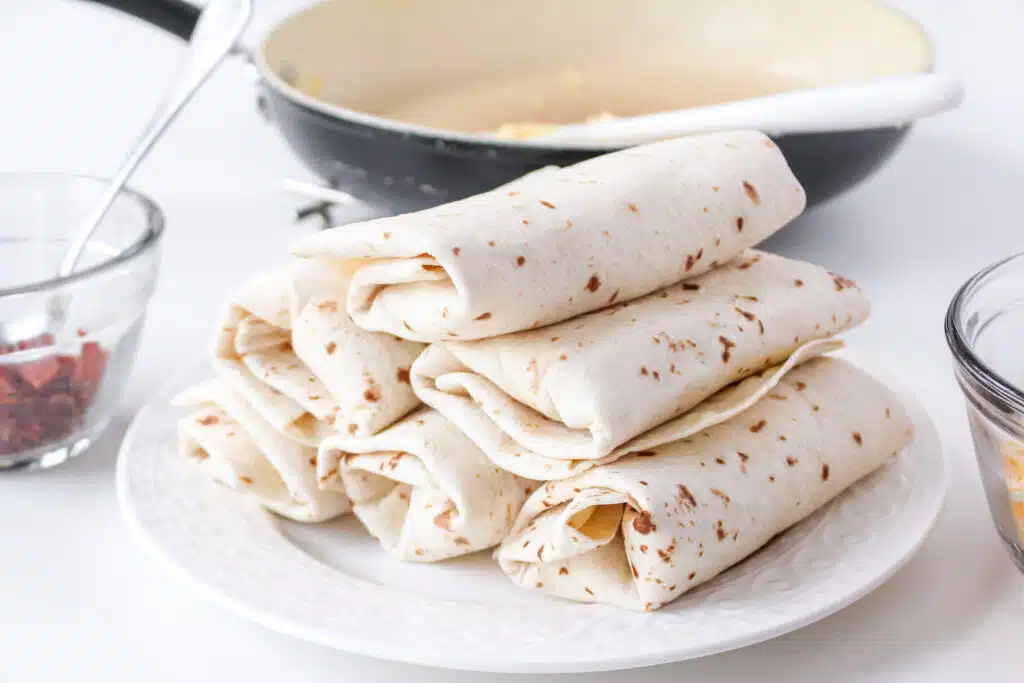 How to Reheat Breakfast Burritos
These make-ahead meals are simple to heat up in the morning!
You can put the burritos in your refrigerator or cooler to defrost overnight. This is the preferred method if you are going to cook these over the campfire in the morning.
Frozen burritos can be removed from your freezer right before heating up.
Before cooking, make sure to remove the burrito from the plastic wrap or aluminum foil if you used it.
When heating with a microwave, place the egg bacon and cheese burrito on a microwave-safe plate or a paper towel. Then heat for 1-2 minutes.
If you have a low-wattage toaster oven in your RV, you can reheat the burrito in the toaster oven. An air-fryer would work, too. These methods will crisp up the tortilla.
Or add these burritos to a cast-iron pan and heat over the campfire. This will make the tortilla extra crispy!
Be sure to see our other easy make-ahead breakfast meals: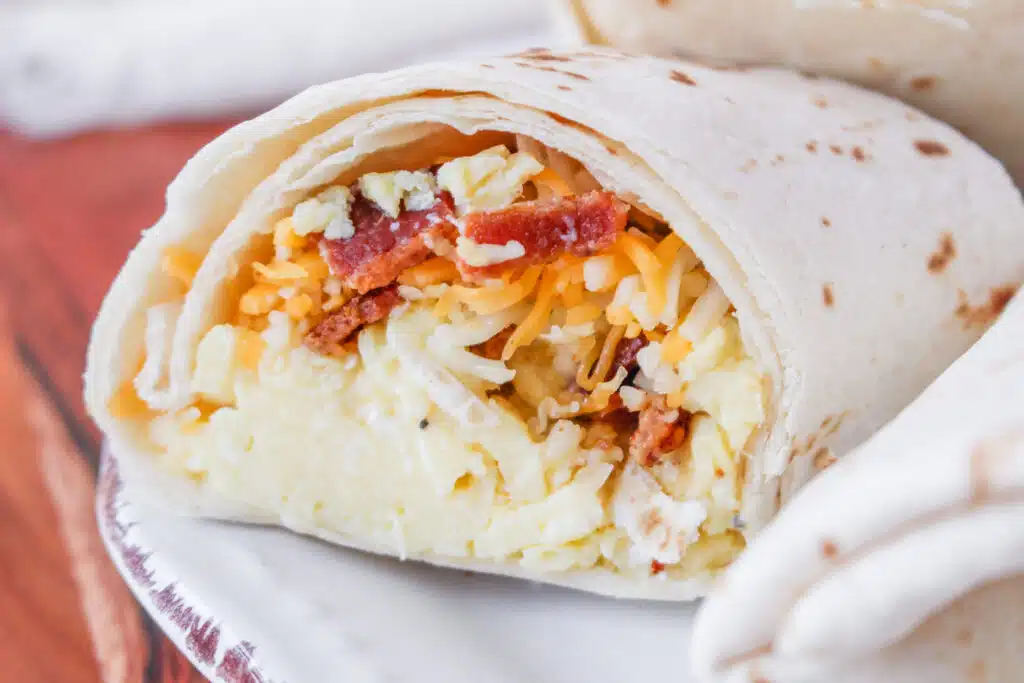 Helpful Tips
I like to stuff these burritos with a lot of filling! That's why we use a dozen eggs to make 8 burritos. If you like a smaller burrito or rolled up taco, then you can make 12 of these.
Either flour or corn tortillas can be used.
Freeze these burritos up to 3 months for best flavor. Anything over 6 months would not be suggested.
You could substitute sausage instead of bacon if you would like.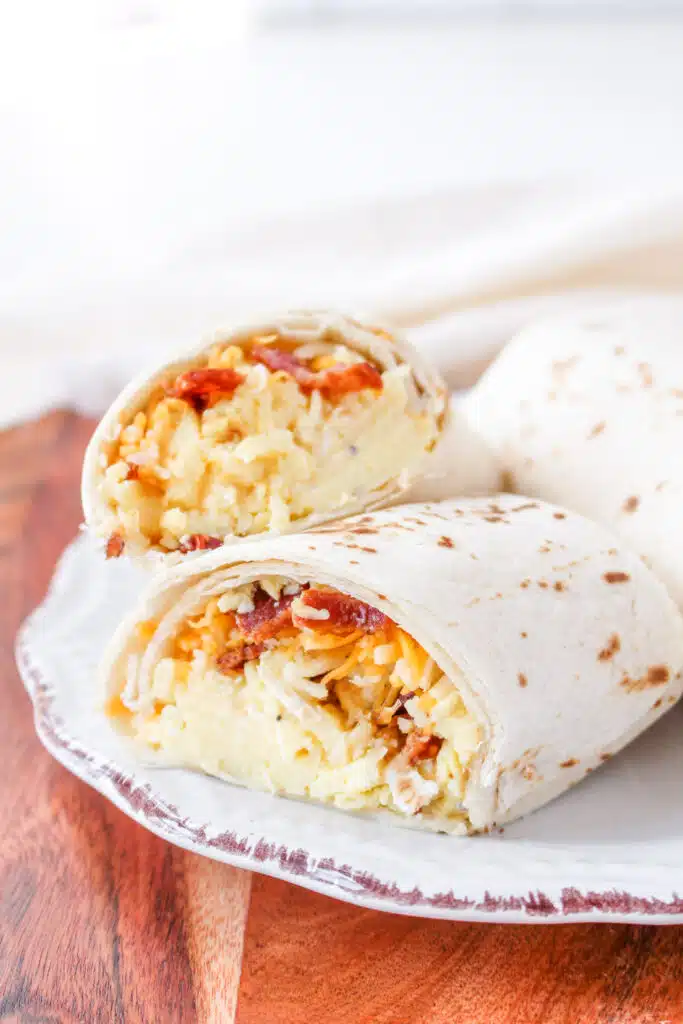 Bacon Egg and Cheese Breakfast Burritos Recipe
Prep time: 20 minutes | Yield: 8 Burritos
Ingredients
12 eggs
2 tablespoons milk
1 teaspoon salt
½ teaspoon black pepper
½ teaspoon onion powder
3 tablespoons butter
8 burrito-sized flour tortillas
8 slices bacon, cooked and crumbled
1 cup shredded cheese (we like a Mexican or fiesta blend cheese the best)
Directions
Whisk the eggs together with the milk, salt, black pepper, and onion powder until frothy.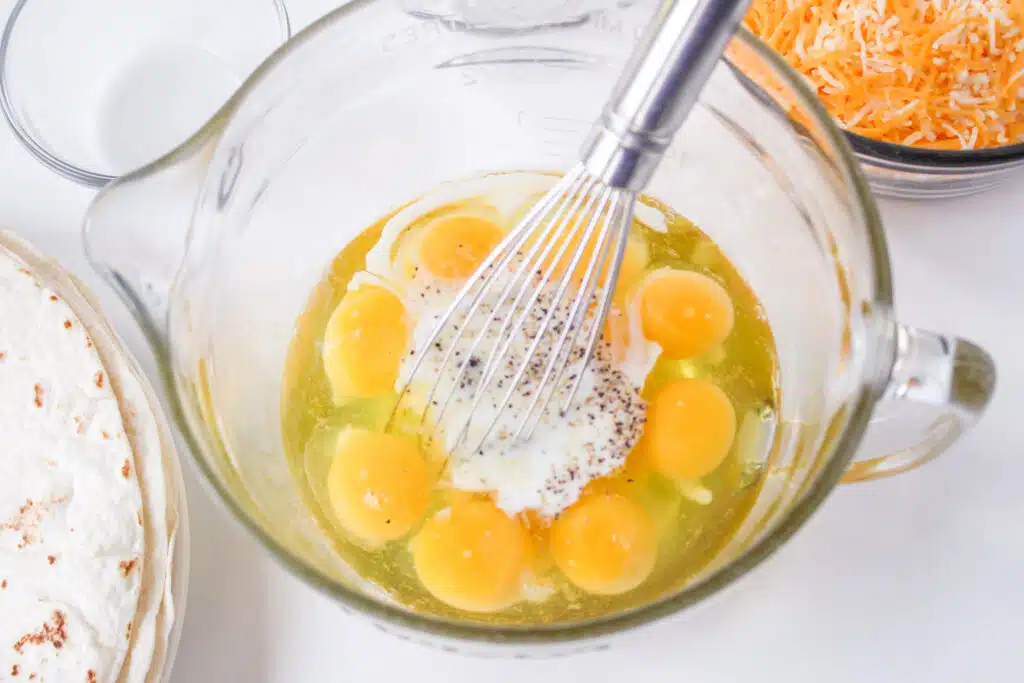 Heat a 12 inch skillet over medium heat. Put the butter in the skillet and allow to melt completely, swirling to cover the bottom of the skillet.
To the butter, add the whisked egg. Cook, stirring often to scramble, until the eggs are completely cooked through and firm.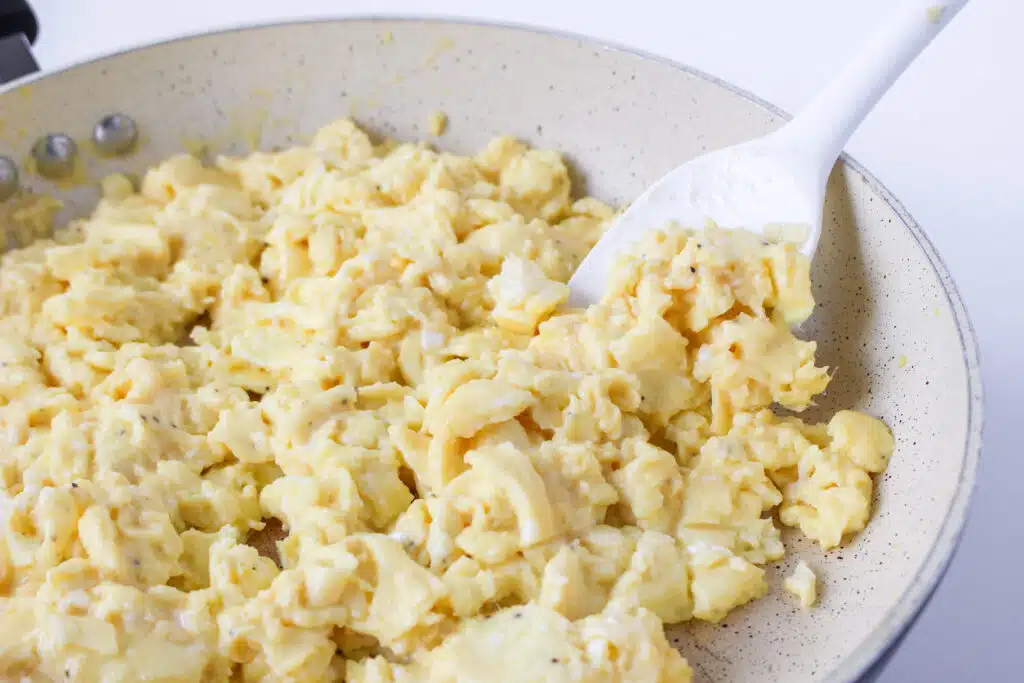 To make the burritos, place a tortilla on your countertop or a plate. Add about 1/4 cup of scrambled eggs to the tortilla.
Top the eggs with one piece of bacon that you have crumbled up or cut up into small pieces.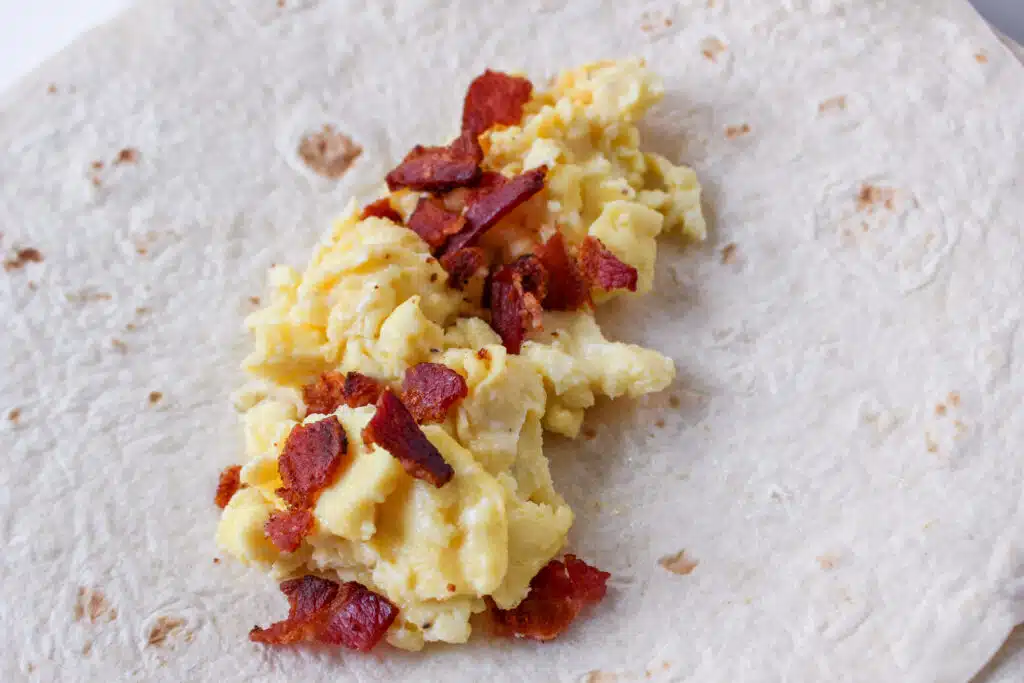 Top the bacon with about 2 tablespoons of shredded cheese.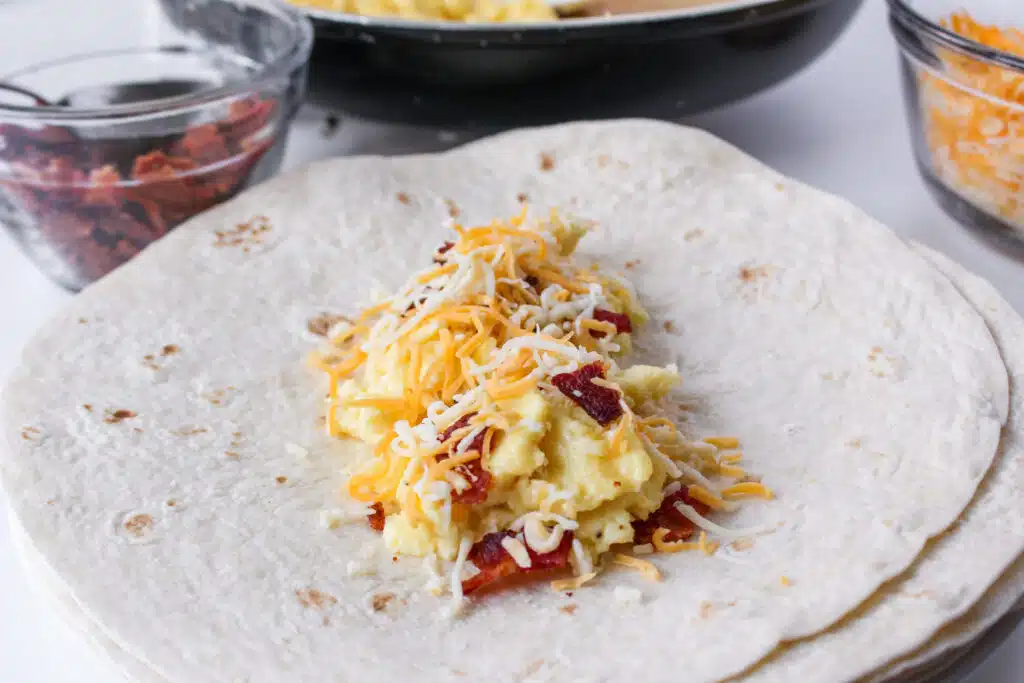 Fold the tortilla side into the middle. Then, fold over the third side and roll the center over to close.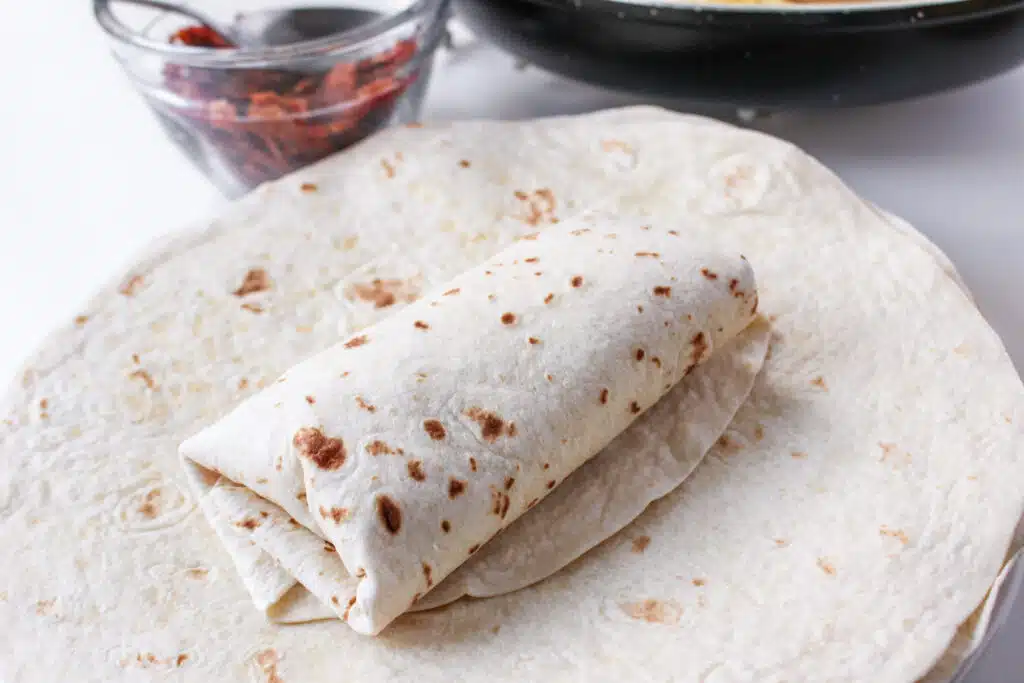 Serve the burritos with salsa, avocado or fresh fruit if you would like.