If you really want to get away from it all when camping, but you still want electric and water hook-ups, this is a great campsite for you! The Lake Fort Smith State Park Campground is small but very spacious. And it's a great place to stay if you are driving I-40.
We stopped here on the way from Little Rock, Arkansas to Oklahoma.
Lake Fort Smith State Park Campground
Location: Mountainburg, Arkansas
Type: State Park
Hook Ups: Water, Electric and Sewer available (not all sites have same amenities)
Number of Sites: 30 RV sites
When We Stayed: April 28-29, 2021
Our Site: #11
Rate: $39.69/night with taxes included
What We Liked About Lake Fort Smith Campground
This state park is among the nicest and most modern that we have seen in a while. The facilities were new, well taken care of, and clean.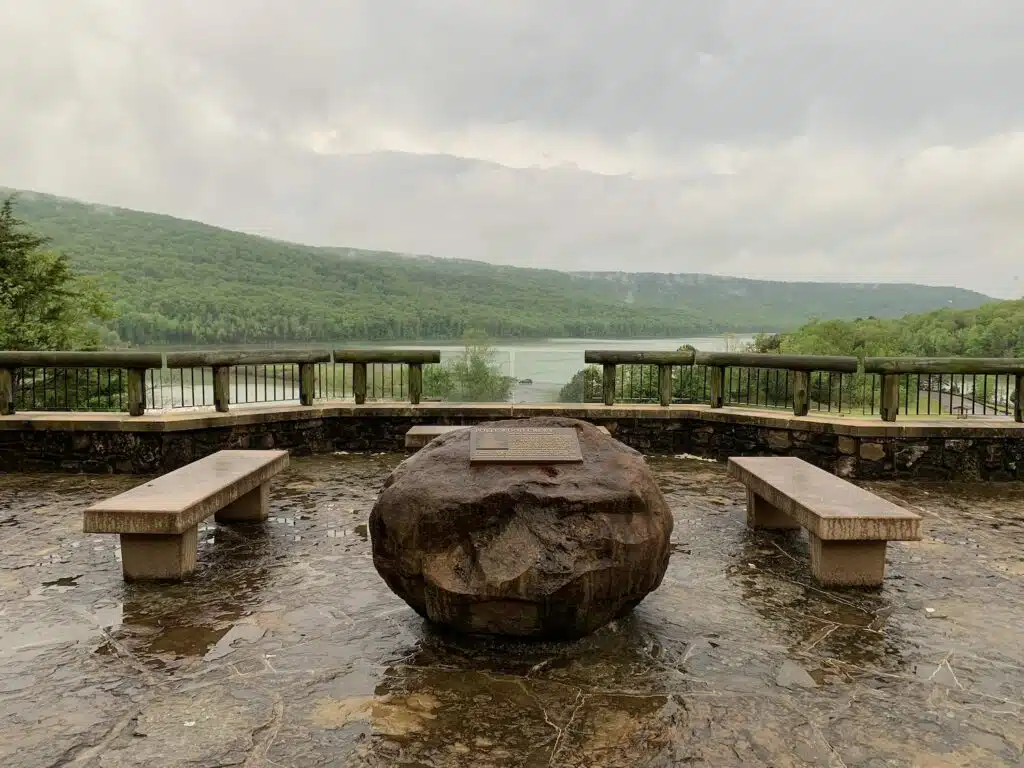 It was impressive to see how much of the state park was designed around accessibility for all.
The original state park, which opened in 1973, was closed in 2002, as two lakes were combined into one larger lake to accommodate the increased need for water resources for the booming population. Today's new state park was opened in 2008.
Many of the campsites were huge, with plenty of privacy!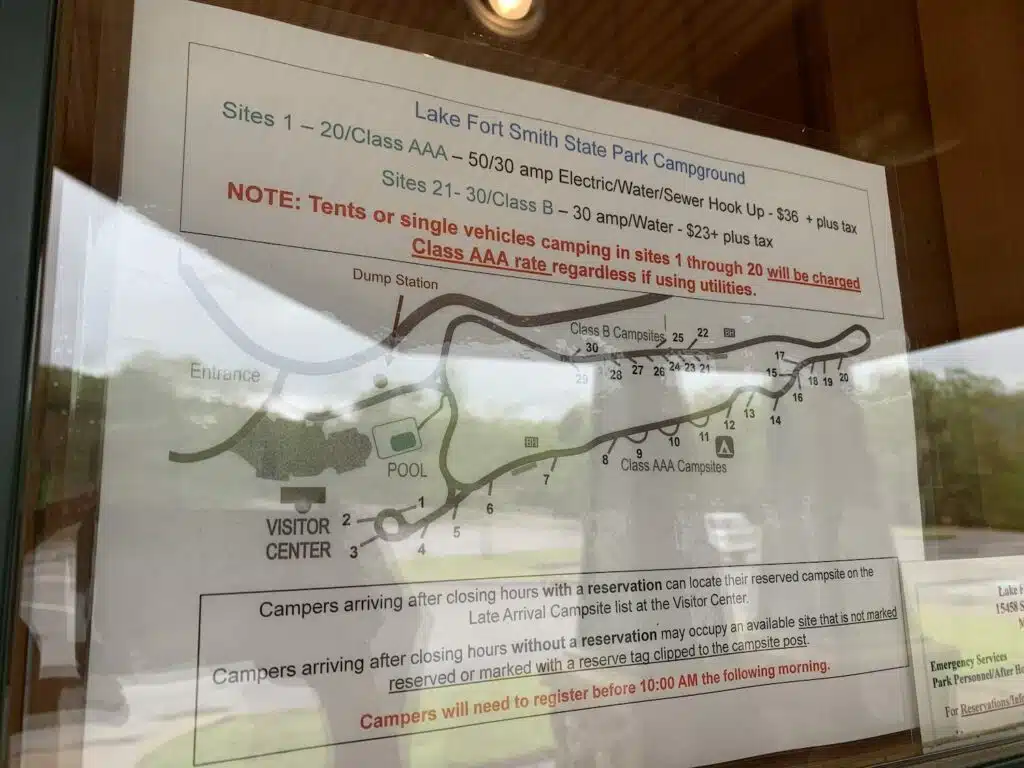 The park was very quiet and peaceful when we stayed. However, we were also there during severe weather and not everyone was out and about after the weather front passed through. So we're not sure what it would be like on a normal day.
The bathhouses were very spacious and clean.
Helpful Tip! The Class AAA sites say they only have 50 amps on the website description. But we were happy to find 30 amp service at our site.
Our Camp Site
We stayed in Campsite #11. It was a pull-through campsite and we were really pleased with how much room was in between us and the neighbors!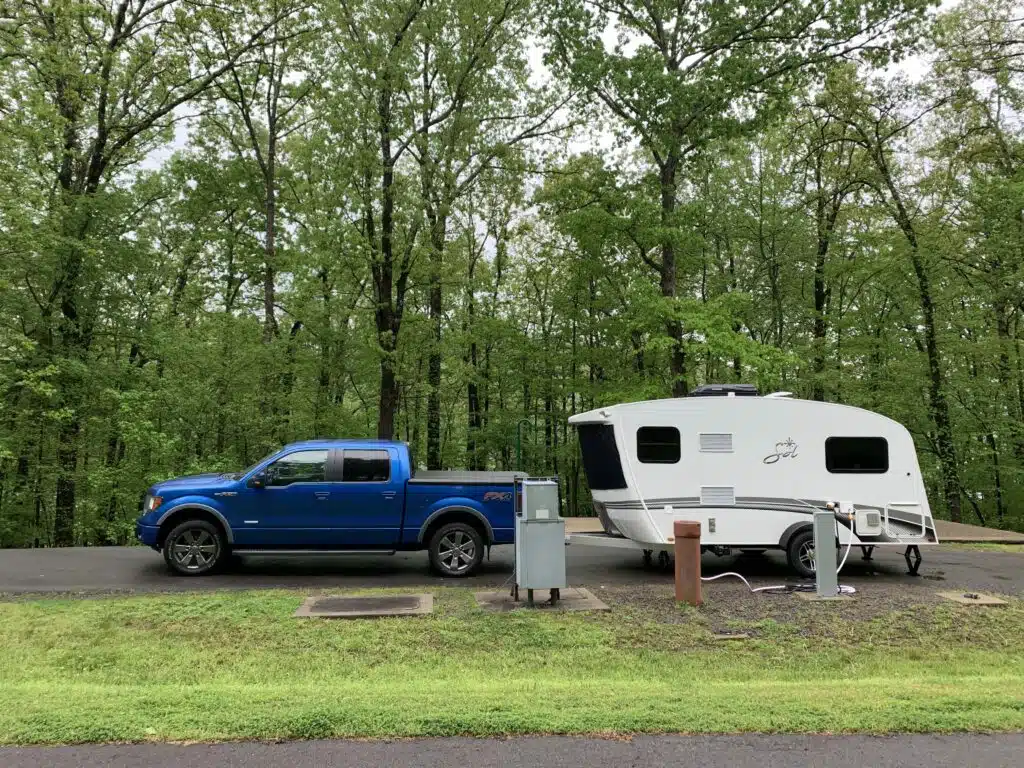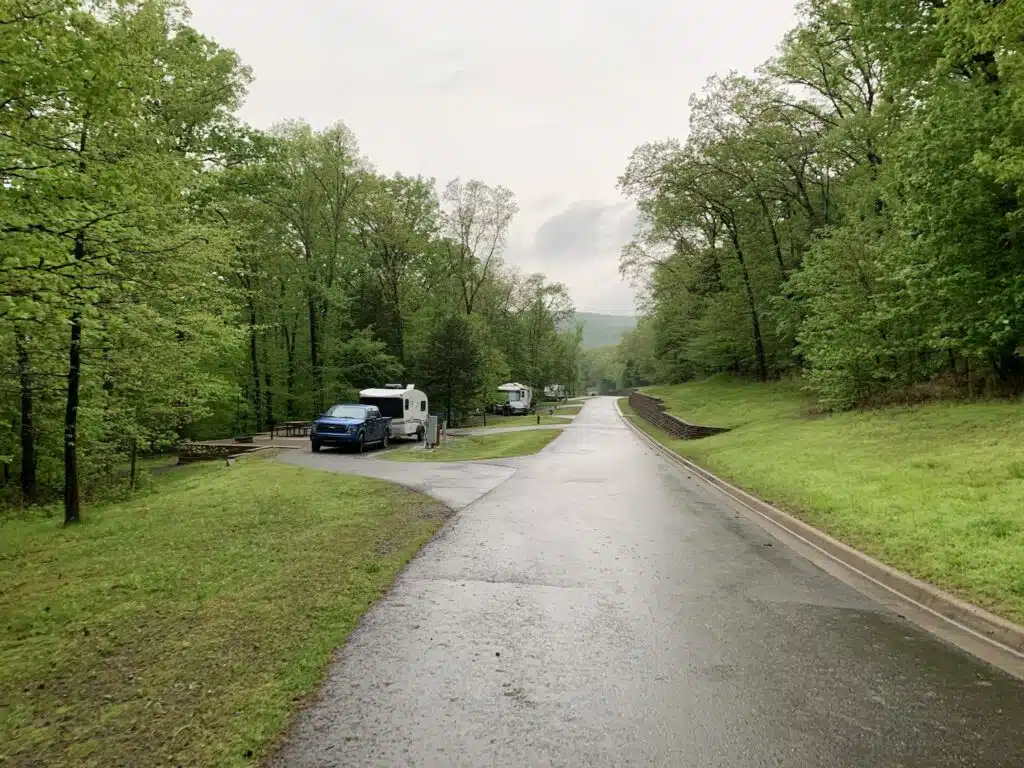 Not every campsite is a pull through at the state park.
There are two different classes of campsites at Lake Fort Smith Campground: Class AAA and Class B. The Class B campsites are not just reserved for Class B types of RVs.
Class AAA are the most expensive of the campsites. They come with electric, water and sewer. Class B campsites are smaller and less privacy. They have electric and water only.
Check out average campground costs across America in our planning guide.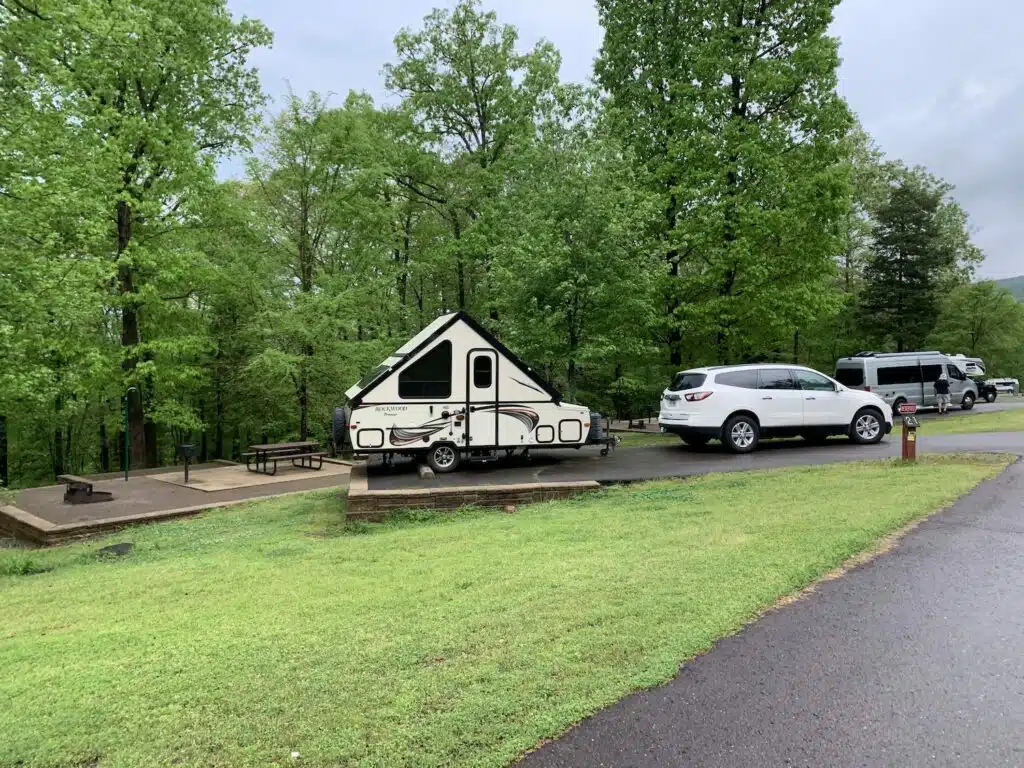 The site was a pull-through. It was plenty wide enough and long enough to accommodate large RVs, which were all around us.
It was very spacious, with a flat pad for a tent or outdoor dining tent. A grill and lantern post were at the site. We had very limited water views in the distance. We could have walked down to the lake, but were unable to because of flooding when we were there.
The campground is definitely big-rig friendly. Most RVs there were large fifth wheels and travel trailers. We saw some campers with boats parked in their campsites.
See more of our site, as well as other sites in the campground, in our video:
Recreation
A huge swimming pool area is available and looks really nice! It wasn't open for the season while we were there, but we could appreciate how many different water play areas the pool had. There is an admission charge even if you are staying in the campground.
The marina has boat rentals for kayaks, pedal boats and motorized boats.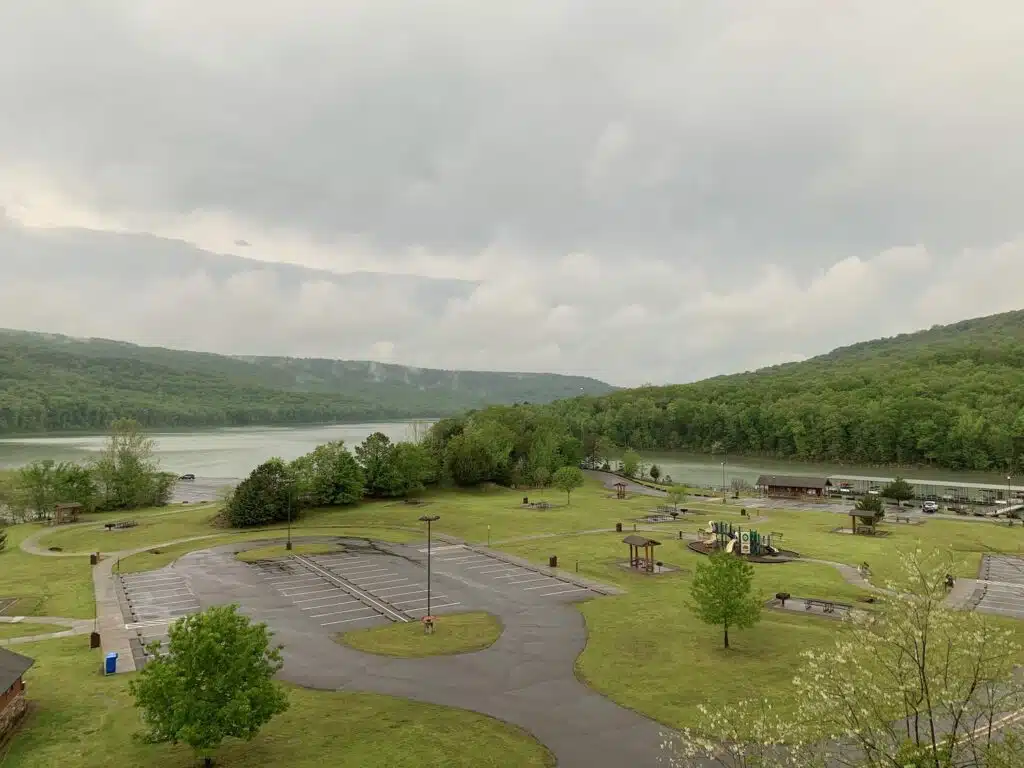 Fishing, hiking, kayaking and mountain biking are big here.
There were some really great picnic pavilions with lake views that were modern and accessible. It would be great to enjoy a picnic here if you were not enjoying activities on the lake.
Cell Phone Coverage
None. Absolutely none. We didn't have cell phone service until we drove a mile outside of the park, and then it was a weak signal.
What We Didn't Like
No Cellular Service
NO Wifi! NO Cell Service!!!
We were really surprised to arrive to the state park and discover there was no cell service at all. There wasn't even Wifi available at the Visitor Center (at least we didn't find any).
This was actually quite scary because when we got to the campground, a severe thunderstorm was rolling in, followed by hail storms and tornado warnings. We had no way to look up information online, including what county we were in for the weather reports. While we could get over-the-air television stations, we had no idea where we were in relation to what they were showing on the map (we were visitors, after all). And since weather reports are generally give by county, we had no idea if we were in a county that should be prepared for tornadoes.
In fact, cell service didn't become available until 1 mile after driving outside of the state park.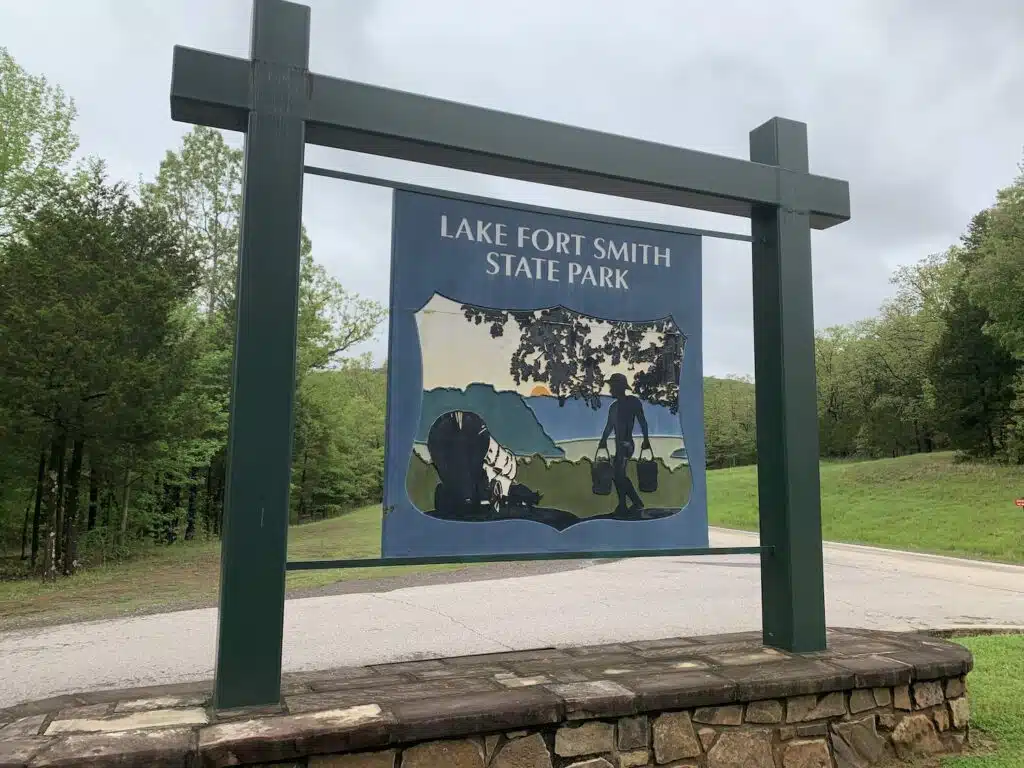 Hours of Operation
The pool is closed on Mondays and Tuesdays, even in the summer. From early September to late May, the marina has reduced hours and is not open every day.
Restricted Lake Access
You cannot swim, stand-up paddle board, water ski or jet ski in the large lake.
What's Nearby
We chose this campground as a nice overnight stay in nature on our drive along I-40. We didn't spend much time in the area or check out the surrounding area. However, there didn't seem like there was a whole lot around.
*Be sure to see all of our Campground Guides as you're planning your travels.