When we started full-time RVing a few years ago, we were trying to budget the cost of campgrounds each month. Estimates we found said that $30 a night for campsites was a typical average, using a mixture of private campgrounds, National Park campgrounds and boon docking.
Surprisingly, we found that our average campsite costs were much higher than that and ended up spending a lot more money than we anticipated. In fact, we unhappily discovered that the average cost of camping per night was more than the average daily cost of our home, including utilities and internet.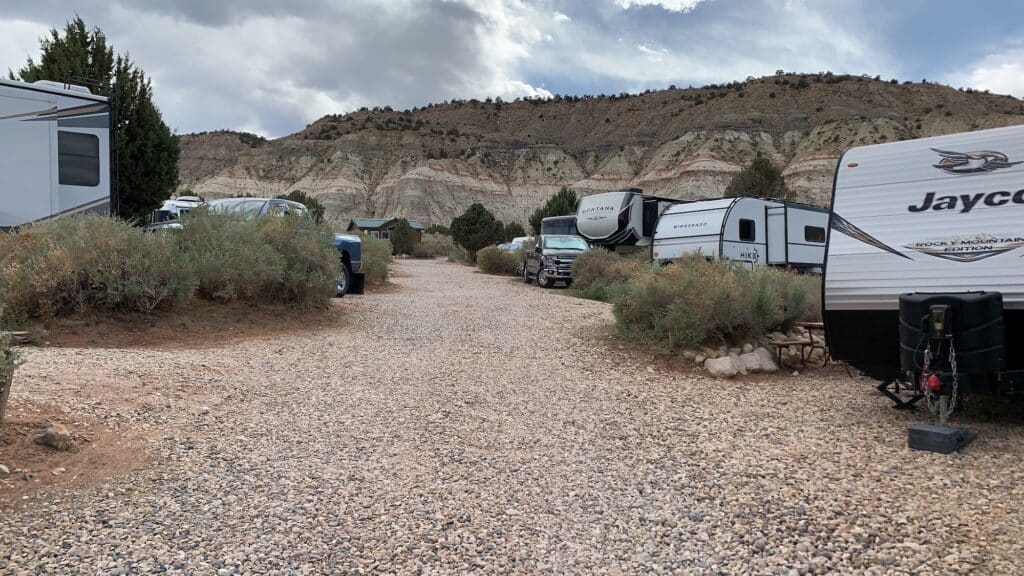 During our travels, we spent an average of $65 a night in order to be close to tourist attractions, keep a pace that allowed us to see as much as possible in a year, and have the amenities and Wifi needed to work on the road.
In 2022, the average cost of campsites in the USA are rising because of the unprecedented demand. There are fewer campsites than people who want to go camping. Prices are increasing and availability is scarce.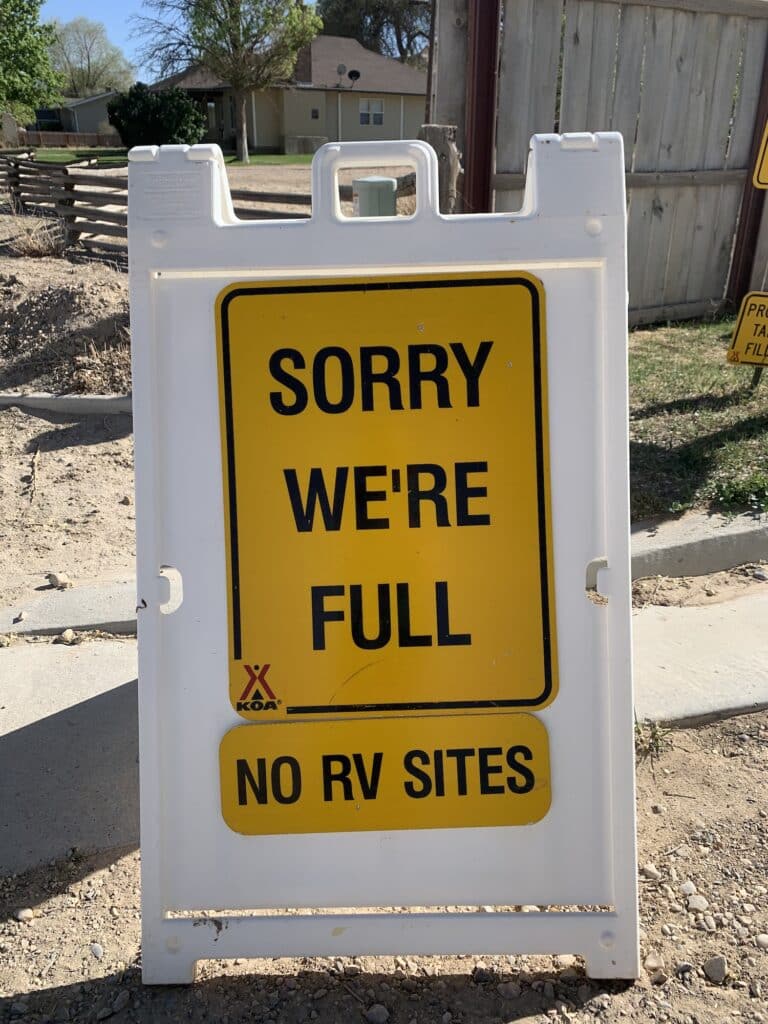 Knowing the average cost of camping can help you decide whether or not it is a wise investment to start RVing or camping. Being familiar with average camping prices can also help you decide where to camp, what part of the country to camp in and how to go camping, whether it's tent camping or RVing.
Here's how this article is organized, so you can find the information you need:
Why Camping Prices Vary Widely
List of Our Average Campsite Costs in 2021
National Park Campground Costs
State Park Campground Costs Per Night
Private Campground Average Costs
RV Resort Campground Costs
Tent Camping Prices
RV Parks (Long Term) Campsite Costs
Why Camping Prices Are So Different
It is very difficult to narrow down the average cost of camping because so many factors affect the campground prices. It is like comparing hotel rooms on a vacation. You will find costs range from inexpensive to very expensive, and it depends on where you are staying and how many amenities you get.
Here are some of the many reasons why campground costs vary so widely:
Amenities
Every campground and even individual campsites have different amenities. These amenities can include:
Campground hosts on staff
Hookups
WiFi
Dog Parks
Gravel Pads
Fire pits
Picnic tables or outdoor furniture
Hook Ups
Prices for campsites usually are dependent on the types of hookups you have. Full-hookups, which include power, water and sewer dump, will cost more than if you have no hookups at all.
Often, you can find partial hookups campsites that will cost less than full hookups. Usually these come with water and electric, but no sewer connection.
If you don't mind driving the campground's dump station, or an off-site dump station, you can save a little bit of money because of the inconvenience.
Time of Year and Seasons
Campsite prices will be higher when they are in greater demand.
Florida campgrounds will be most expensive in winter time, when everyone is trying to escape the cold up north and travel in warmer weather. New England campgrounds will be most expensive in summer, during the few months that the weather is nice and there is not snow on the ground.
Prices can be reduced during unfavorable seasons and weather. For instance, it is miserable camping in the deserts of New Mexico in August, so prices will be less.
Times of the year, regardless of the weather, will also impact prices.
In Central Florida, campsite prices skyrocket around Daytona Bike Week in March and Spring Breaks in March and April. In South Dakota, campground prices are highest during Sturgis Bike Week in summer.
Location
Where you stay will affect how much you will spend on camping. For instance, if you camp at one of the few campgrounds in Asheville, NC, you will spend a lot more money than if you camp 45 minutes away in Hendersonville, NC campgrounds.
If you are staying at campgrounds near a theme park, such as Dollywood, expect to pay more than if you stayed in a campground an hour away.
The further out you are from popular tourist destinations, the less expensive it will be.
Size of Your RV
Bigger RVs and travel trailers need more space, which means more land set aside for the campsite. These bigger sites often cost more money because the campground can't have as many of these size of sites, compared to smaller RV sites.
Disney's Fort Wilderness Resort is a perfect example of this. They have a variety of different types of sites. Their basic, Full-Hookup campsites accommodate up to 50 feet, while the Premium Sites accommodate up to 60 feet. On a night in June 2022, the Full Hook Ups Site was $133, while the Premium Site was $169.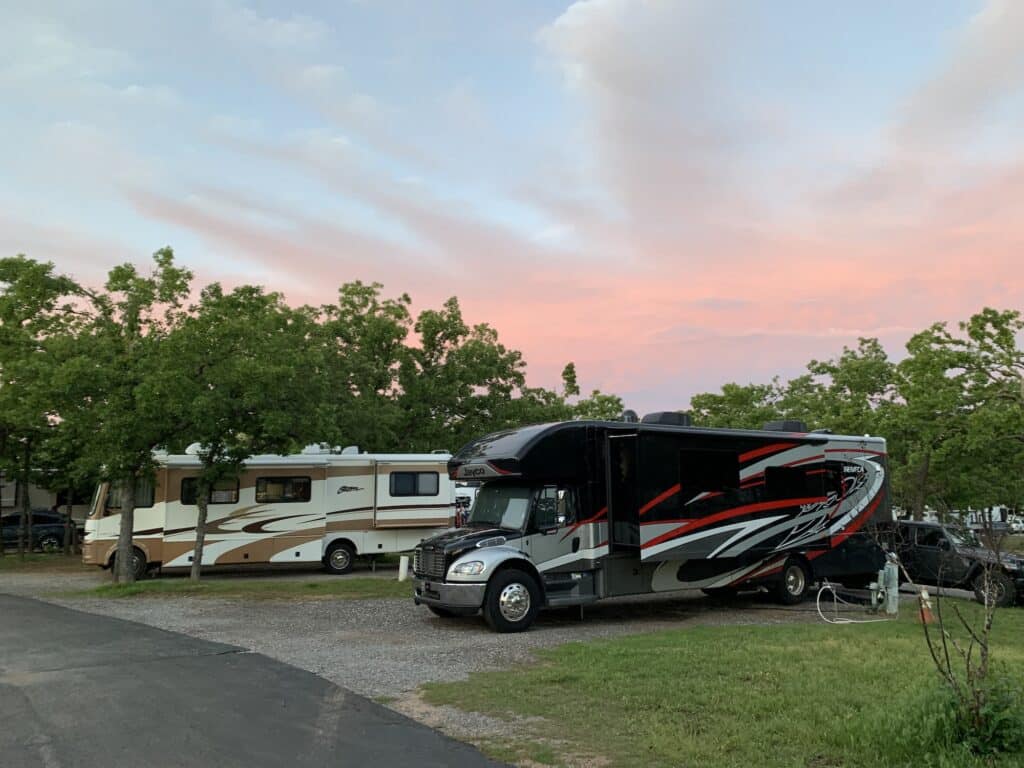 At Camp Margaritaville RV Resort in Pigeon Forge, their Super sites are 70 feet long, while their Standard sites are 21-51 feet long. The price difference for the same day is $119 for a Standard site and a $199 for a Super site in July 2022.
Convenience
There are many different factors in what can be called convenience at a campground.
One of the biggest is whether or not you have a pull-through site or a back-in campsite. Campers that do not want the stress or hassle of backing their vehicle into the campsite can be charged a premium fee for use of a pull-through campsite.
Some campgrounds, such as Camp Margaritaville, charge a fee for guaranteeing a site number. The $20 fee in June 2022 ensures that you get the campsite that you would like, which could mean choosing a site close to a bathroom, close to the restaurant or further away from the crowds.
Another example is a Disney Fort Wilderness site. If you want the convenience of being closer to the marina and general store, their Premium Meadow Campsite is $191. Sites without the close proximity were $169 for the same night in June 2022.
How Many People
Campgrounds often limit the amount of people you can have staying in a campsite in order to prevent large groups from disturbing nearby campers.
Read the rules of the campsite reservation to see how many people are included in the base registration. You may need to pay extra for additional people staying with you each night.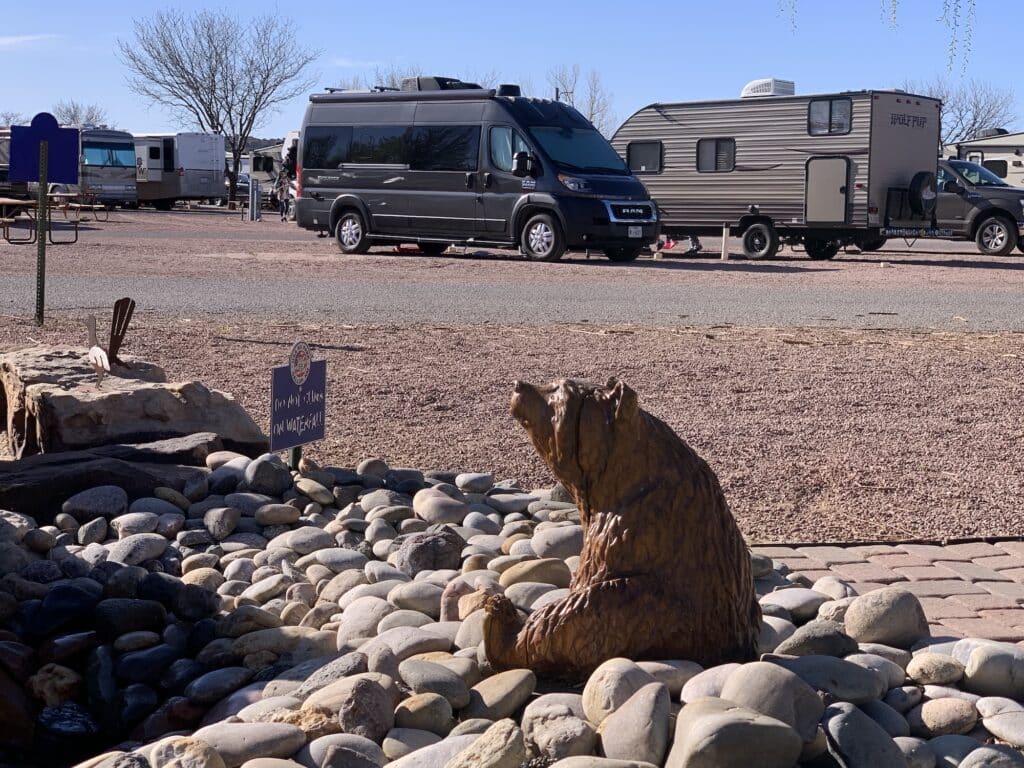 Extra Vehicles
While a tow vehicle is often included in the campsite price, you might not be able to have an extra vehicle without paying an additional fee.
We have seen people with several vehicles all at one campsite, such as additional vans and cars, with people sleeping in the vehicles as well as the RV. Campgrounds do not allow multiple dwelling units in one site and will charge you a fee to prevent this from happening.
How Long You Are Staying
Paying a nighty rate at a campground can be more expensive than paying a weekly rate or a monthly rate.
Some campgrounds, but not all, will offer a discount for staying 7 nights or more. Many offer monthly-stay discounts.
Discount Programs
If you are a member of one of the many RV camping memberships, you can save money on campsite costs.
Fees
Some campground reservation programs charge a fee for reserving a campsite, in addition to the site cost.
Recreation.gov fees are a great example. In June 2022, the reservation fee is $8 online, $9 by phone and $3 if reserving in person. That is in addition to the cost of the campsite.
Cancellation fees can also impact your average cost of camping. If you are someone that has to change your plans frequently, you might have higher costs because of cancellation fees.
In the case of Recreation.gov, which handles a majority of National Park campgrounds, the change fee is $10 and the cancellation fee is $10.
For instance, we had a campground reservation in South Carolina as we were traveling. On the day of travel, we decided we just wanted to keep going and get further along our route without wasting time. Because of the cancellation fee, we had to pay for the full night's stay even though we cancelled our site. However, we were able to drive several more hours that day, allowing us to get home sooner.
Our Average Campsite Costs: 2021
During our travels in 2021, we kept a list of our nightly campsite costs as we traveled America. Here are the nightly prices, including tax, that we paid. Highlighted links are the specific campgrounds we stayed at.
Campground
State Park, Tennessee
Private RV Park, AR
Private RV Park, OK
State Park, NM
Private RV Park, NM
Private RV Park, UT
Private RV Park, UT
Private RV Park, Utah
Private RV Park, Utah
National Park, AZ
Private RV Park, NM
Private RV Park, TX
Private RV Park, OK
State Park, Tennessee
National Park, TN
Private RV Park, GA
Disney Campground
Private RV Park, SC
State Park, GA (video)
Campsite Cost
$28.00
$42.32
$34.50
$39.69
$25.00
$18.00
$35.63
$75.43
$70.95
$60.07
$68.57
$18.00
$60.84
$69.69
$42.00
$45.90
$35.59
$30.00
$25.00
$47.25
$127.00
$47.36
$36.88
National Park Campground Costs
America's National Park campgrounds are some of the biggest values for camping. You can stay in amazing campgrounds with scenic views for a very affordable rate.
In June 2022, the cost of a campsite at St. Mary Campground in Glacier National Park is $23 a night. At Jumbo Rocks Campground in Joshua Tree National Park, the cost per night is $20.
Our stay in Grand Canyon National Park's Mather Campground in 2021 was $18 a night.
In general, we have not found campsites to be more expensive than $30 a night. So budget $20-$30 a night for National Park Campgrounds.
Keep in mind that National Park campground costs don't include the cost of admission to the park. You will need to pay daily or weekly entrance fees. Or get the America the Beautiful National Parks Annual Pass to save a lot of money if you are visiting more than one National Park in a year.
There are National Parks passes that give discounts on camping, up to 50% off the campground prices. These are reserved for the Seniors Pass and the Access Pass.
State Park Campground Costs
State park campgrounds can often be just as nice as National Park campgrounds. They are also an inexpensive way to go camping and enjoy beautiful scenery while in nature.
Fees for state park camping are usually more expensive than national park campgrounds. Expect to pay $25-$45 a night for campsites.
Many state parks charge admission fees to the park, in addition to the campsite fee. The fee might be included in the campsite cost, or you may need to pay a daily fee for each day of your stay.
Some states offer the chance to pay for a non-resident entrance pass to avoid paying a lot of fees in admission.
Montana offers a Non-Resident Entrance Pass which offers campsite discounts as well as free entrance.
Georgia requires a parking fee for their state parks, which is included in the cost of an annual ParkPass if you choose to purchase one. The parking fee will be added to your campground reservation only once, regardless of how long you are staying. The ParksPass fee can be reduced or eliminated for Seniors, Veterans, Military or Georgia residents who check out a ParksPass through their library.
State residents can often get discounted rates on campsite fees, compared to out-of-state campers. There can be an extra fee of $5-30 per night for campers staying at a state park campground in one of 18 states without showing proof of residency in that state. In Oregon, non-residents pay 25% more than in-state campers.
Why the increase in fees? Residents of a state are paying state income tax to support living in the state, which includes upkeep to the parks. Consider it a perk of paying state income taxes to get a reduced campsite price.
State Park Campgrounds That We Love:
Private Campground Costs
Private campgrounds can be found across the USA and are often the perfect answer for staying near a popular destination when you can't get a highly-sought-after National Parks or State Parks campground reservation.
Some private campgrounds are national chains, such as KOA or Jellystone campgrounds. Others are small, family-owned campgrounds. There is a wide variety of types of private campgrounds, and the prices fluctuate widely.
It is rare, though not unheard of, to get a private campground for $30 or less a night. On average, expect to pay $35-$90 for private campground sites a night.
Campground chains, such as KOA, often offer rewards programs to accrue points for free stays.
Our Private Campground Reviews:
RV Resorts
RV resorts are different than private campground. While a private campground can certainly be a resort, not all of them will have the amenities that an RV Resort does.
RV resorts are known for having fancy amenities that you might find at hotels. Examples include:
Pool
Hot tub
Tennis courts
Restaurant
Sporting activities, such as horseback riding
Planned activities
Social gatherings
Transportation options for getting to tourist destinations
RV Resort campsite prices will be much higher than any other type of camping. Expect to pay $100-$200 a night for these luxury campgrounds.
Disney's Fort Wilderness Resort and Campground is the perfect example of an RV resort. In fact, it might be one of the most famous and most popular camping resorts in America!
Fort Wilderness offers their guests a resort-style pool with lifeguards, scheduled social activities, rentals and an on-site restaurant. The campground has two camp stores with souvenirs, foods, drinks and camping supplies.
Disney also offers bus and boat transportation for campers to get to the theme parks. Several restaurants are available at the campground. Scheduled social activities are available daily, and there are recreational opportunities such as horseback riding and horse and carriage tours.
With all of these hotel-style amenities, expect a price tag similar to a hotel. Disney's resort campsites start around $100 a night and increase during the most popular times of year.
Camp Margaritaville is another example of an RV Resort.
Tent Camping Prices
Tent campsites are often less expensive than RV campsites. That is because they don't need to be as big, and they probably don't offer as many hookups.
For instance, many tent campsites will have a water connection and possibly an electrical outlet connection. But they won't have sewer hookups. And that keeps the cost down.
Not all tent campsites are deeply discounted, though.
Expect to pay $15-45 if you are reserving a tent camping site in a campground.
RV Parks
Not to be confused with RV campgrounds, RV parks are generally long-term stays where you can camp for months or even a year or more without needing to move.
These are especially popular with full-time RVers, travel nurses, and anyone living in their RV in lieu of living in an apartment or home.
Because these RV parks are guaranteed reservations for a long time, they can charge less per night. The businesses don't have to worry about finding different campers to stay every night and not making enough money. They just need one camper to stay for a month or longer.
Campsite costs might just be for parking, with additional costs for electricity and/or water added on depending on usage.
RV parks can be found across the USA, but they are especially common in warm weather states such as Florida, Texas, New Mexico and Arizona.
We stayed at an RV park in North Carolina that offered monthly rates of $550 plus additional fees for electricity if we went over a certain limit each month.
Depending on location and amenities, you can expect to pay $400-$1,000 a month for RV Park campsites for longer stays.