We own a 2021 Intech Sol Horizon RV and are thrilled with it! We looked for quite a while for a small RV with great build quality and an affordable price point.
We feel that the value you get with an Intech RV is worth it! For reference, we also looked at a lot of small models such as Tabs, NuCamps, Casitas and Airstreams.
So, if you are trying to decide on whether or not you want to buy an Intech Sol Horizon (or other sister brands such as the Sol Dawn or Sol Eclipse), here are the pros and cons that we have found.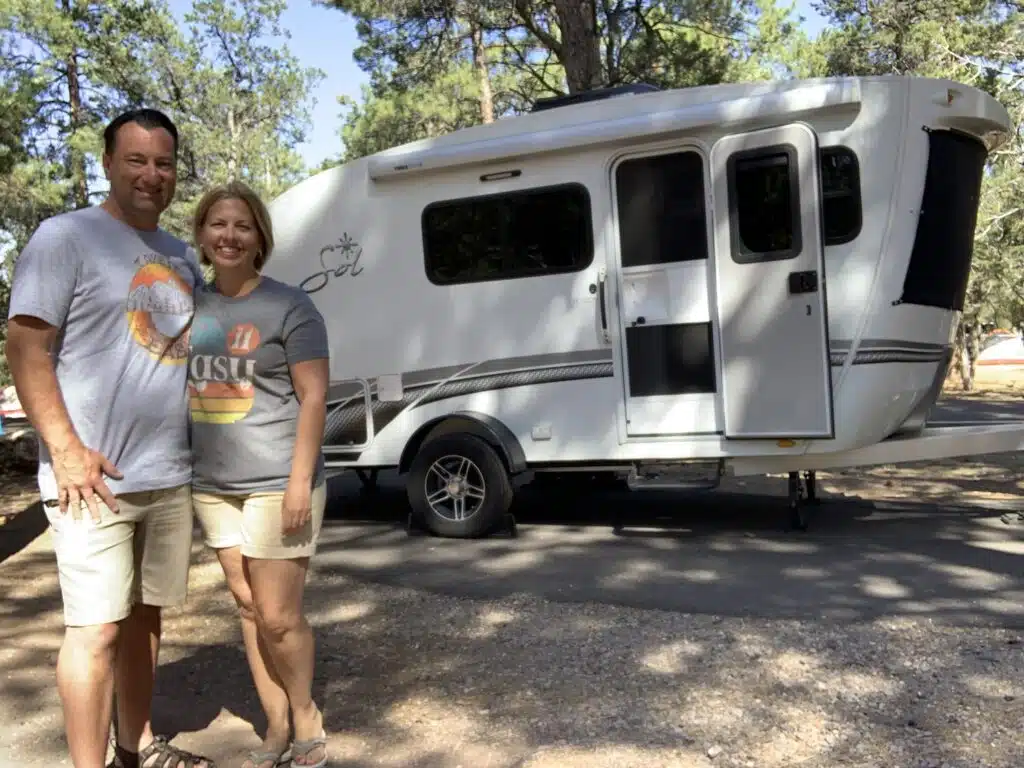 Be sure to subscribe to our YouTube channel for video tours and reviews, as well as helpful tips for traveling in an Intech RV.
Pros – What We Love About Our Intech Sol Horizon
1. Small 19-Foot Size
We started RVing in a 33-foot Forest River Salem travel trailer. It was great, with a fireplace and plush lounge chairs and a kitchen island (here's a video tour).
However, over time, we grew tired of trying to find campsites that would fit larger RVs, especially when we wanted to camp in National Parks. And driving a longer RV has its own challenges, from not being able to find places to park to needing sway control.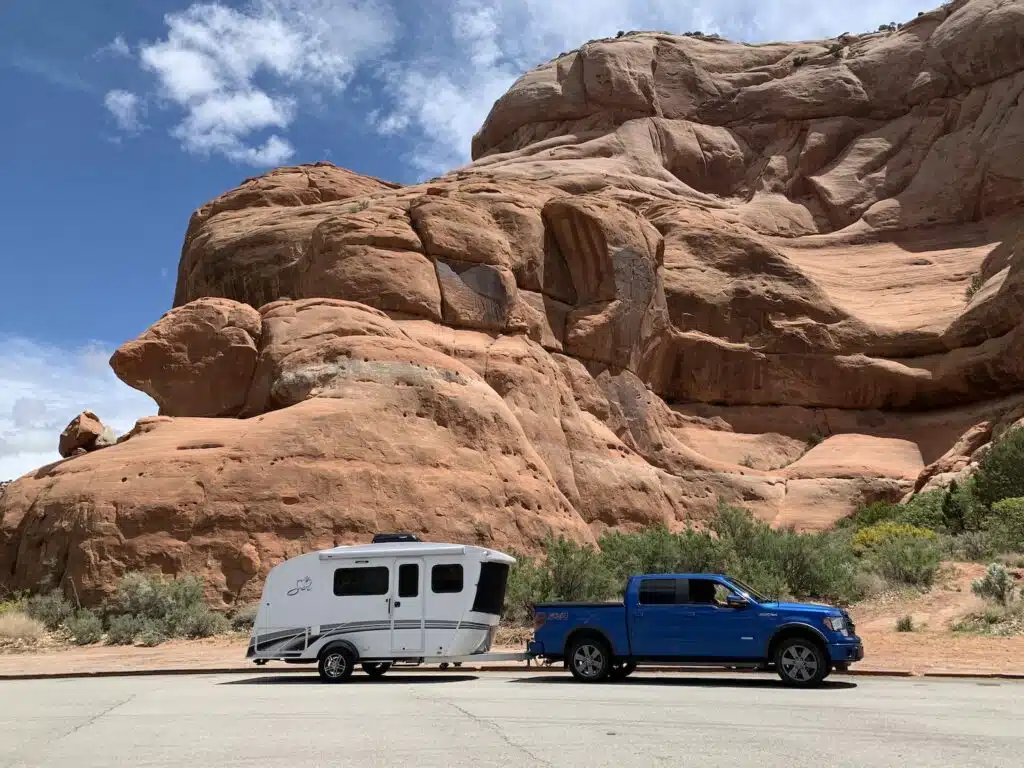 The 19-foot size of our Intech Sol Horizon is exactly why we chose it. The small size lets us easily find campsites in National Parks and State Parks. In fact, during our recent cross country tour, we were able to score a great Grand Canyon campsite (see our campsite review video) because we had a smaller rig.
We also have had more success getting last minute campsite reservations because we are small and the only spots left were for smaller vehicles.
We are able to more easily pull into parking lots and drive down narrow roads, too.
2. Quality Construction
The build quality of an Intech RV is impressive. It is one of the main reasons that people are flocking to Intech trailers right now. The moment you step into a trailer and start opening the doors and cabinets you can feel the solid build quality.
3. Large Window
The large picture window over the dinette is one of the main reasons we love the Intech Sol Horizon. This wrap around window lets you see great views of where you are camping. It's a feature that is not found in many RVs.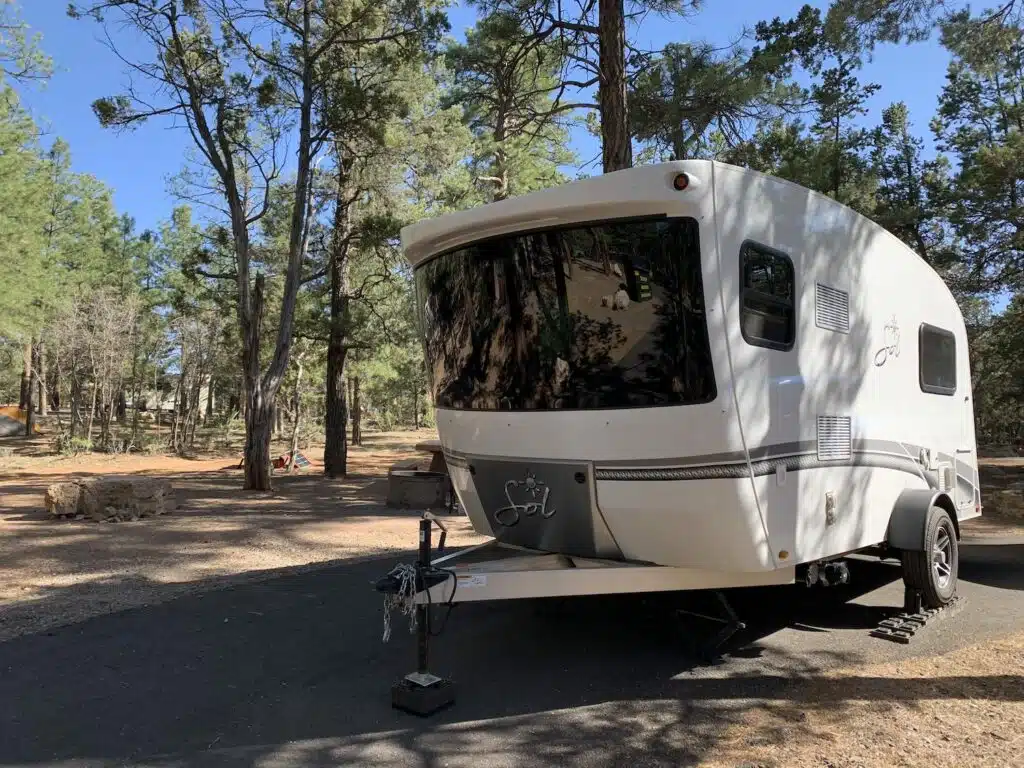 Don't worry about being on display with having such a large window, though. It's tinted to where you can easily look out, but people can't easily look inside. In fact, it's fun to watch other campers checking out your rig while you are inside watching them and they don't know you can see them!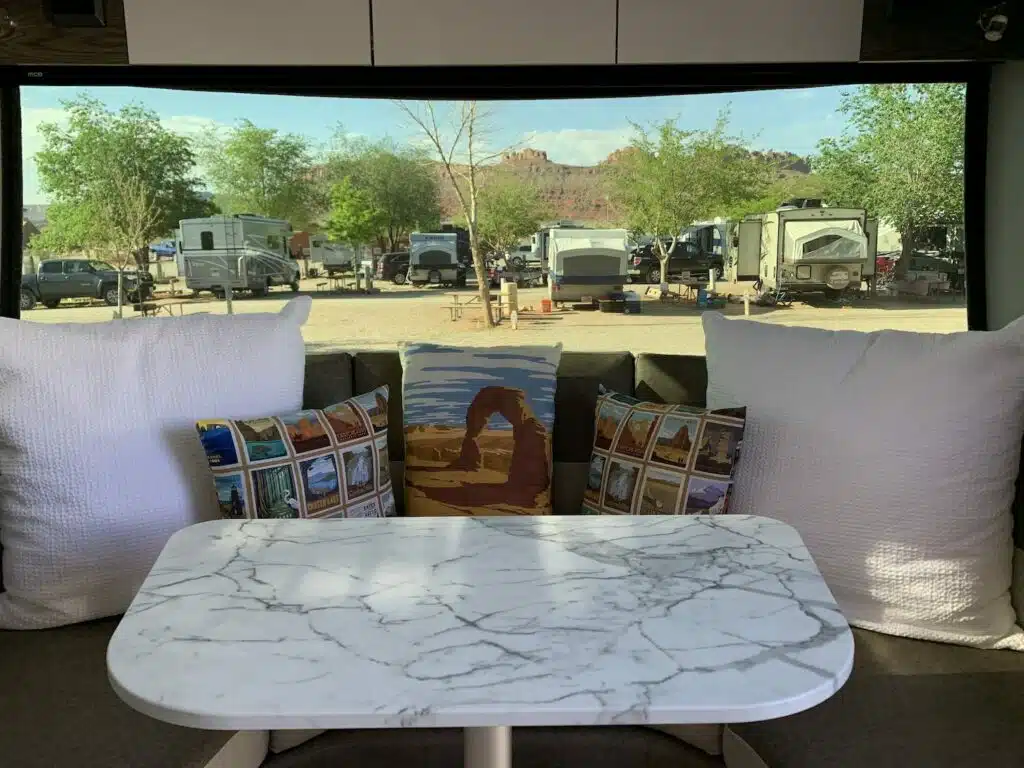 We've tested the lighting at dusk, as well. Even with the lights on inside, it's hard for someone outside of the camper to see clearly inside until they get very close to the window.
The picture window is made of automotive glass. And, there is a slightly padded windshield protector that is included with your base model price that covers the window to protect it when traveling.
4. Fiberglass
In our Forest River Salem, we had a problem with moisture intrusion and the closet had become a moldy mess, unbeknownst to us. We never knew that there was a water leak that soaked the wooden walls.
With fiberglass, you don't need to worry about water intrusion ruining wood walls or floors.
Fiberglass RVs also hold their value longer with less depreciation. You can generally buy a fiberglass RV and sell it for more money on the dollar than trying to resell a stick-built RV.
5. Bathroom Size
We absolutely did NOT want an RV with a wet bath. That was one thing that I said I would never do. But as soon as I saw the Intech RV wet bath, I changed my mind.
Intech's wet baths are 25% bigger than most standard RV wet baths. And it makes a huge difference! That was the number one thing we worried about when peeking inside a Sol Horizon. As soon as we both tried out the bathroom and made sure we could move around, lift our arms inside to shower and not be cramped, we knew that we'd be okay with this wet bath.
The space is more than enough to take a shower. My six-foot tall husband has plenty of room to shower. The shower head is ideally positioned. And I really think I like this shower more than the ones in other RVs.
If you are worried about having a wet bath in an RV, I encourage you to stand in the bathroom of a Sol Horizon and see just how spacious it is.
6. Marine Grade Flooring
RV floors get really dirty. You are constantly dragging dirt and debris from outside indoors. These marine-grade floors are easy to wash and wipe down. And they don't show the dirt.
I didn't know how much I'd like this flooring until we started camping more often and realized it was easier to clean these floors rather than laminated wood-look floors in most RVs.
7. Thoughtful Details
Everywhere you look inside the Sol Horizon, there are thoughtful details that you can tell the designers really listened to the needs of campers. The location of lights and USB ports, the location of hooks, bungee cords on the open shelves, etc.
These might not be huge selling points, or even noticeable things, when you are thinking about buying. However, as you are living and traveling in your Intech trailer, you will be quite thankful for the small conveniences.
8. MaxxAir Fan
We've often used the MaxxAir Fan for cooling instead of the air conditioning. It's great to have.
There is a Fantastic Fan in the bathroom, too. So two vented fans in one 19-foot trailer. It really helps with keeping humidity out by opening the fans after showering.
9. Large Farmhouse Sink and Cover
The huge sink is a winner with us! Not all RVs have a sink so spacious! We actually store things in the sink while traveling, such as plants, cleaning supplies, dirty pots and pans, etc.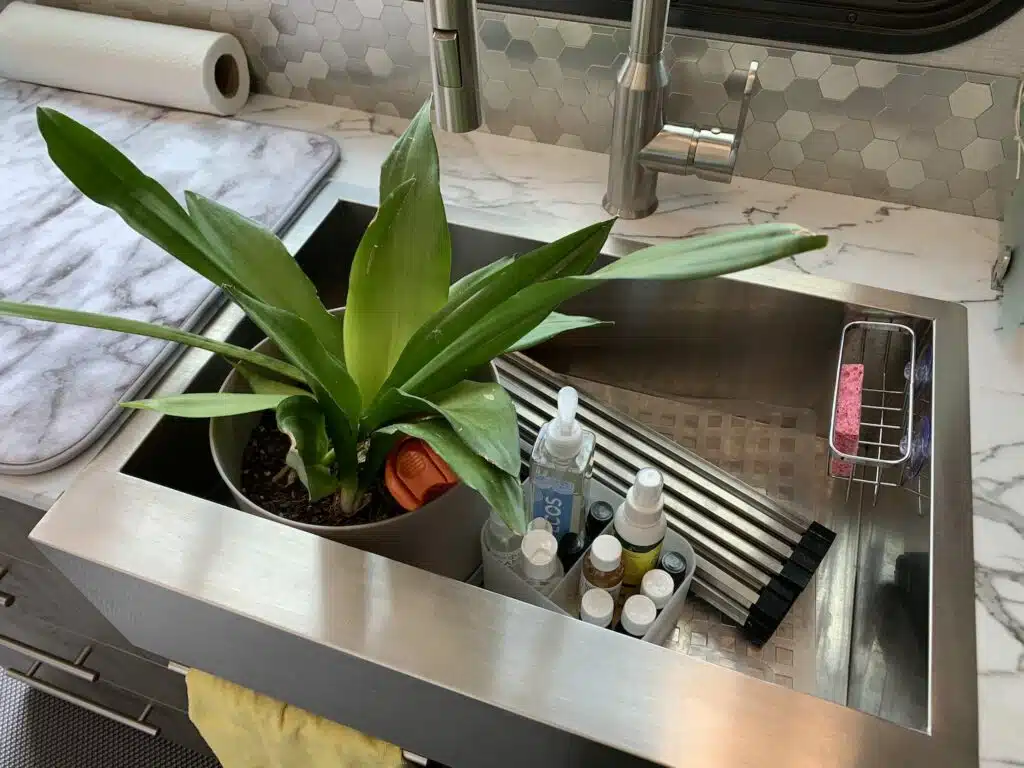 We really appreciate the rolling cover that fits over the sink to create a surface space. I didn't think that I'd use the cover so much. It's great to use the covered sink as a place to store my contact solution, contacts and a glass of water while sleeping.
10. Euro Decor
We like the clean, modern and fresh decor of Intech RVs. It might be called Euro styling by manufacturers, but we just think it's modern-day decor that makes sense in the 21st century.
11. Spacious Dinette
RV dinettes generally aren't comfortable, but the Sol Horizon's is definitely roomy and comfy! There is more than enough space for three adults (or more) to sit. The cushions are deep and we actually use the dinette more of a lounger than to sit upright and eat.
We prop ourselves up in each corner, stretch out our legs on the cushions, and it's more like a couch while watching TV.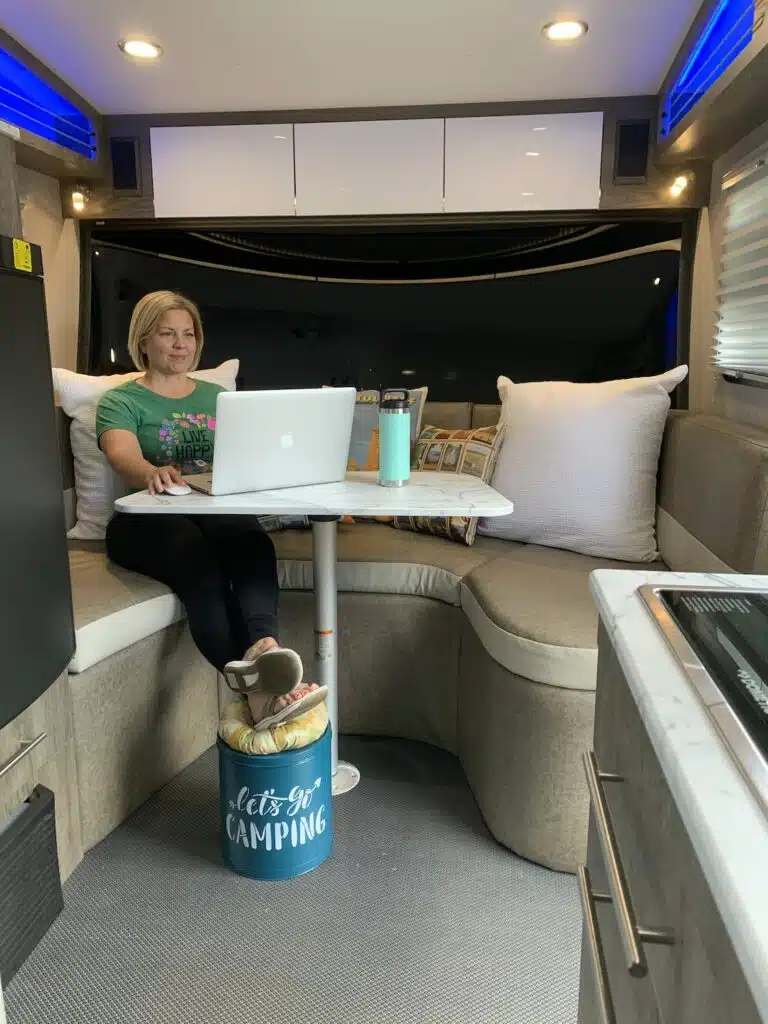 The cushions are so deep that I have a hard time having my feet touch the floor, so I made this storage ottoman from a popcorn tin and it really works great! It's the perfect size and stores away easily.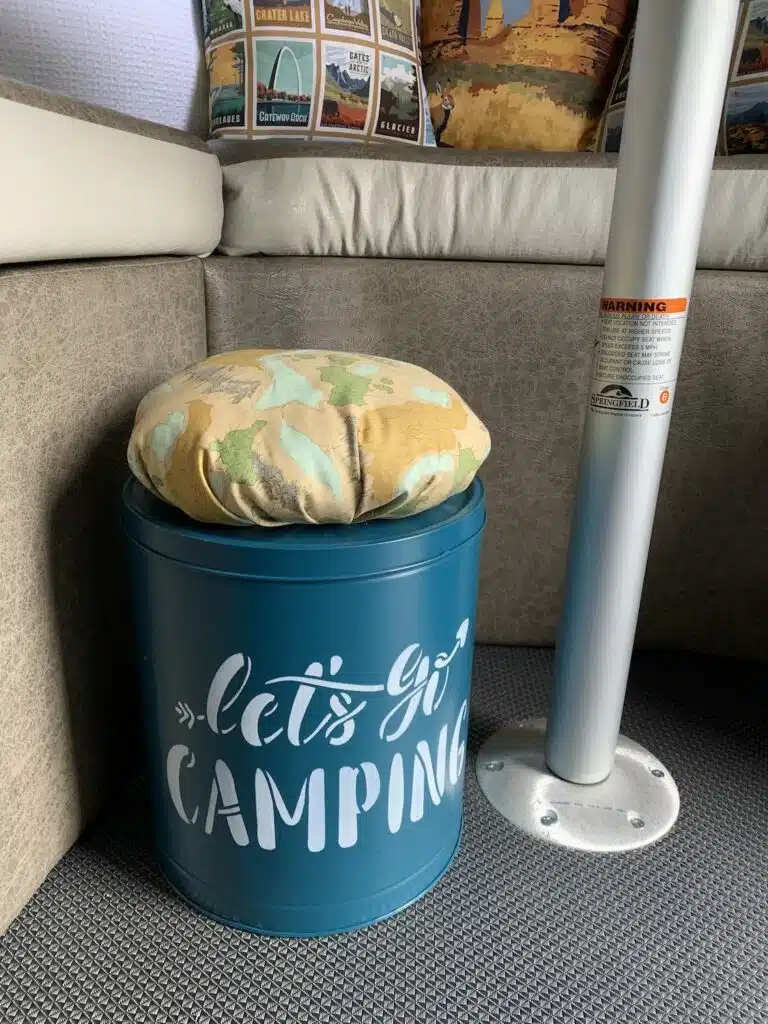 The table can be removed and stored in the cabinets above. When you remove the table, the camper feels really spacious. Some people remove the table and install a Lagun table instead.
12. Outdoor Kitchen
We never thought we needed an outdoor kitchen. We are completely happy using a portable grill on a portable table as our cooking set up. And honestly, that's what we still use when cooking.
However, we are thrilled with the ability to store a Dometic Freezer/Refrigerator combo in the outdoor kitchen area. We bought our used Sol Horizon and it didn't have this outdoor refrigerator included, so we bought it on our own (which probably saves money from paying a dealership to include it in your purchase price).
The griddle is a nice feature and a lot of people use it. We're just not huge fans of using a griddle versus using a grill. You could leave it out and have extra storage in the area, instead.
13. Oversized Air Conditioner
The 13,500 BTU air conditioner is bigger than needed in a trailer this size. Which means it cools down fast in the RV.
14. Quieter Heater
The furnace in our Forest River Salem was so loud that I never wanted to use it. Instead, we used heat from the electric fireplace.
The heater in the Intech Sol Horizon is much quieter. Not perfect, but definitely quieter than others I've heard.
We did end up buying a portable electric heater to save on propane costs and reduce the noise. This is the electric heater we bought which will shut off if its knocked over, though to do it over again I'd like a heater with a timer.
15. Storage Under Sink
This might sound weird, but we really appreciate the big storage area under the sink. Often, in RVs, there is no place to put a trash can. And no one wants to look at their trash piling up in the walkway.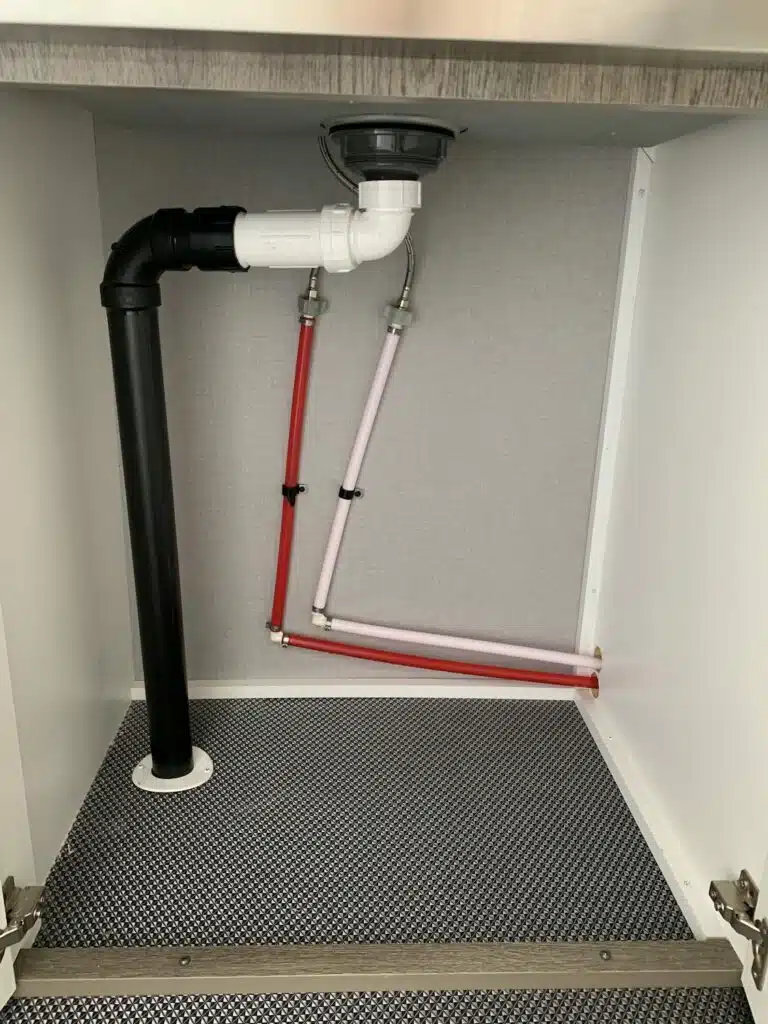 Think about it, if there was not a large cabinet that could house a trash can, where would it go in an RV of this size? You would have to hang it on the door or store under the table, which isn't great.
We are able to store two plastic milk crates on top of each other on one side of the cabinet (we use those for clothing and shoe storage), and then we put a trash can (decorated with our free Trailer Trash graphic) and extra paper towels on the other side.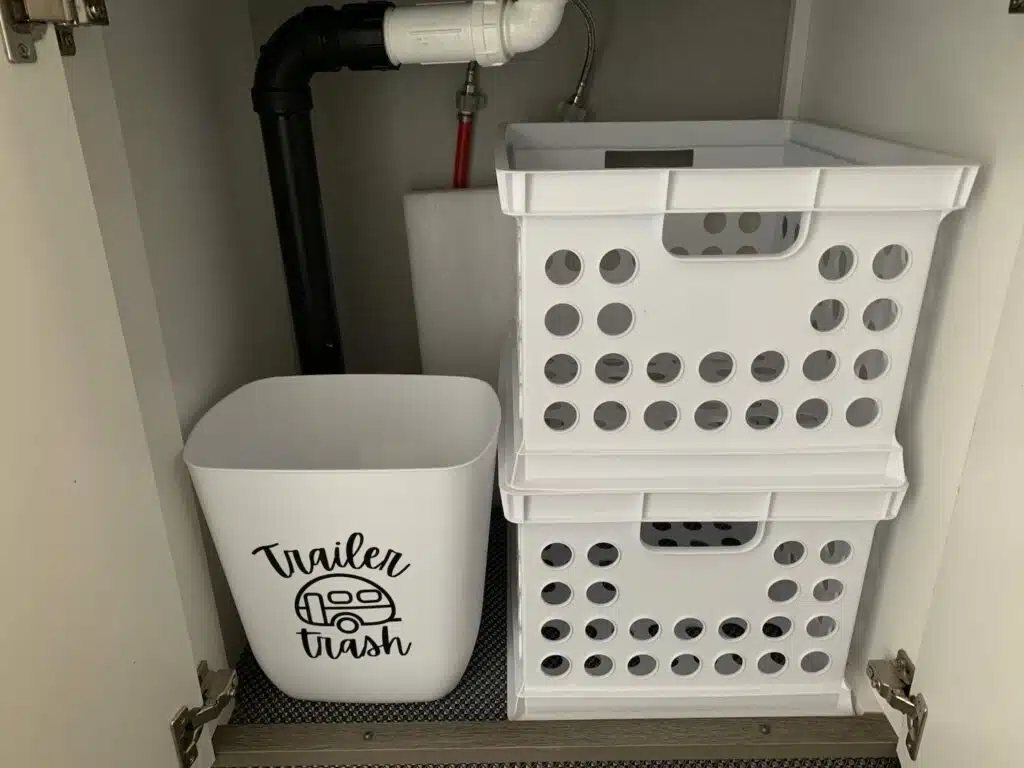 The space is so big that we could store this portable washing machine in there, too. (See our video review of this washing machine.)
We have seen other Sol Horizon owners install pull out drawers and even modify it to be a cat litterbox area.
16. Basement
The outdoor exterior storage is bigger than we expected. In fact, we fit a portable washing machine in its box in the basement area. And still had room for a drying rack, extra provisions, plastic storage containers and lots more stuff.
The basement is long and deep, so you might want to get some larger plastic containers that are easy to pull out to organize your supplies.
17. Blue Lights
The blue lights are cool! We thought they were gimmicky and that we wouldn't use them. But honestly, we use them more than the clear lights that are also available on the light fixture. (You push the button once for the blue, twice to get the clear light.)
It's nice to have a soft light in the trailer sometimes, especially when watching TV. And the blue lighting in the open shelves is a nice touch.
Related Post: 15 Best Personalities for RVing
Cons – What We Don't Like About Our Intech Sol Horizon
1. The Bed
We wish there was a better way to get a queen size bed inside this RV. However, the bed position seems to be the only way to have a large bed in a small trailer.
The queen size bed is surrounded by 3 1/2 walls. There are three sides completely against the wall, and the open side is covered by part of the bathroom wall. This makes getting in and out of the bed really difficult. The person laying next to the window has to climb over their partner to get out.
In addition to it being a pain for the second person, it's a HUGE pain to make the bed! And I mean HUGE! Making this bed has brought much cursing and sweating.
Zippered bedding is an option for it to be easier to make the bed. And even though zippered sheets are expensive, we have to say they are totally worth it for the Sol Horizon.
2. Window Blinds
The window blinds in the Intech Sol Horizon break very frequently. This isn't necessarily an Intech RV issue, but more the blinds themselves, which are notorious for breaking in all RVs.
We've had the back window blind broken twice. What happens is that the strings fray and break, leaving the window blinds to not work. You can restring the blinds with a stronger string or even fishing line.
The blinds are covered under warranty, and when our kitchen blinds broke, too, we put in a warranty request. We were shipped new blinds to install in less than a week. It's just that we had to do the labor.
3. Lack of Insulation
This is not a four-season RV. It just is not. However, even when the temperature dips to 50 degrees or so, it can become miserable to sleep on the bed.
The walls surrounding the bed are not well insulated. Which means that cooler temperatures – not even cold temperatures – cause the walls to suddenly become chilly. If you are the person sleeping next to the wall, you will feel the cold radiating off of the walls.
We woke up one too many times freezing in the middle of the night. My pillow would be freezing cold, except for the place where I laid my head. The sheets were freezing except where I was laying. All of the walls were frigid, even the bathroom wall which is on the interior.
After one especially bad night of no sleep because of cold weather, we went to Walmart to buy blankets to stuff against the walls. They actually worked! We bought these cheap grey flannel-like blankets and folded them to tuck in against all of the walls. The twin size is under $6 and works behind our heads on that wall. The queen size is under $10 and works perfectly on the long side of the bed.
I also tucked these pillows against the walls that I had made for the dinette. The pillows worked really great for insulation, however it means lack of space on the mattress.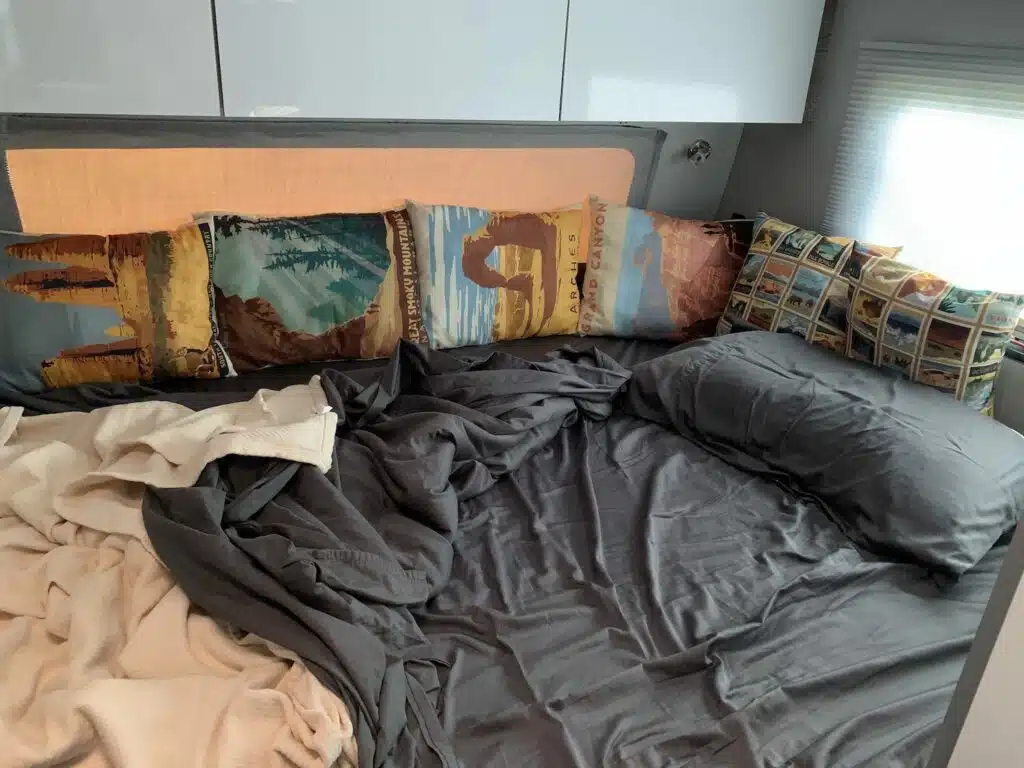 These are much cheaper solutions than trying to add in more insulation, reflective layers, etc. It works if you are worried about possibly being caught in some cold weather from time to time. But we wouldn't use these solutions for winter camping.
4. Tables Over Bed
I despise the tiny little tables stuck into the corners of the bed area. They are just about pointless. I worry about waking up in the middle of the night and hitting my head on the one by the window. Or kicking the one at the foot of the bed.
Also annoying is the one by the foot of the bed doesn't have a power or USB plug nearby. Which means I can't plug in a fan and set it on the table, as I want to.
5. Lack of Clothing Storage Space
Yes, there is plenty of places to store clothes. But the cabinets that make sense to store clothing – over the bed – are slanted in such a way that they barely hold anything. You can't stack up clothing, such as t-shirts or shorts, in those cabinets because it slopes inwards so much. (Check out the exact dimensions in our Intech Sol Horizon specs guide.)
You'll need to roll your clothing to fit in those cabinets.
Also, there is really no place to hang clothing. Some people like hanging up shirts or pants if they are working or going somewhere nice. While there is a drop down clothes hanger on the wall, it makes it impossible to sleep on that side of the bed if you were using the clothing hanger to hang clothes (you'd definitely want to use these RV-friendly clothing hangers if you were using it).