Who doesn't like pizza? Probably no one. Campers, though, are usually stuck with buying pizza from a restaurant because RV ovens are definitely not big enough to cook a huge pizza pie!
Our pizza pull apart bread recipe satisfies your pizza cravings when camping. Using a crust made out of store-bought biscuits, you can easily customize this bread with your favorite pizza toppings.
When at your campsite, you can easily warm up the pizza pull apart bread in foil over the campfire, microwave smaller servings, or heat bread slices in an RV oven.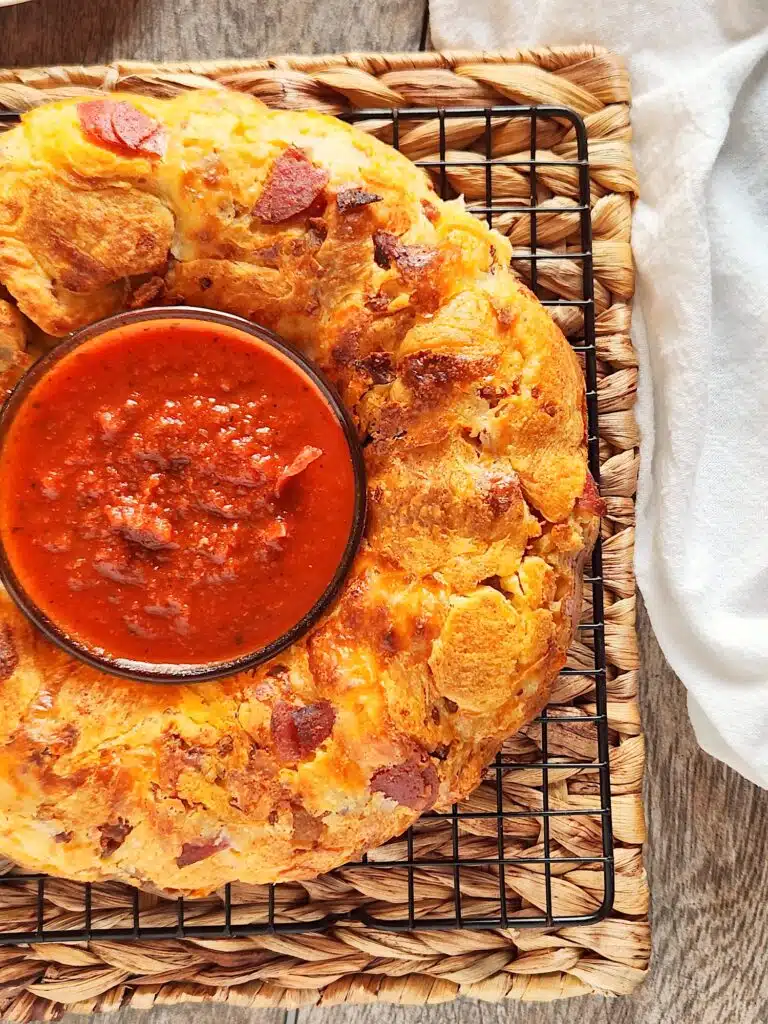 We recommend having a low-watt toaster oven in your camper van or RV to easily heat food using electricity, rather than trying to deal with a gas oven (which are notoriously hard to use and heat unevenly).
This make-ahead pizza bread can be brought with you for movie nights or eating around the campfire.
And you know how pizza is great for breakfast? Well, this recipe is perfect for enjoying in the morning. Why not start a new camping tradition with pizza bread for breakfast?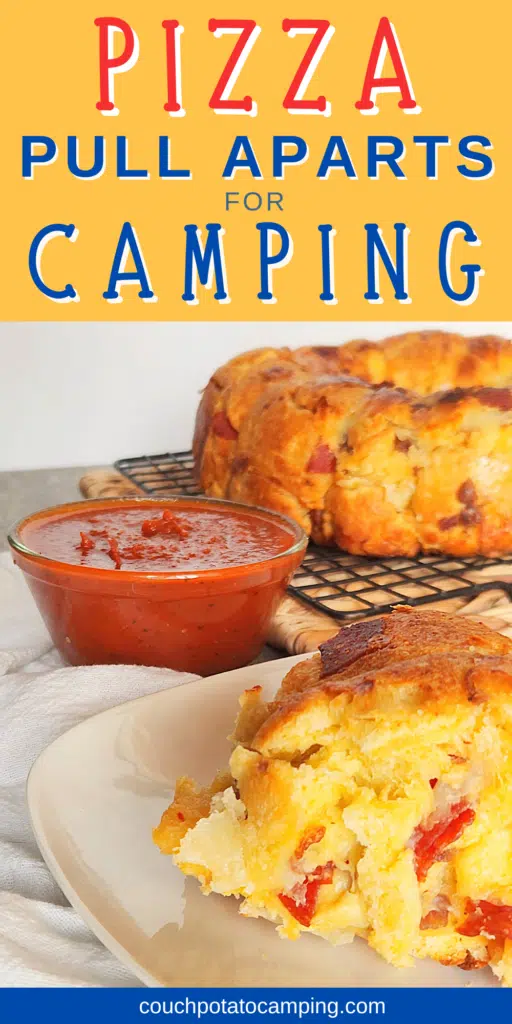 We also think it is the perfect lunch for travel days, especially when you heat it up while driving with a portable oven. This mini corn dog muffins recipe is also perfect for eating on lunch breaks.
(See our YouTube video with our favorite ovens for camping and travel.)
How to Customize the Pizza Toppings
While our recipe uses pepperoni, bacon bits and garlic, you can personalize this pizza bread to suit your taste. Everyone has their favorite pizza toppings, so be sure to use your favorites in this recipe.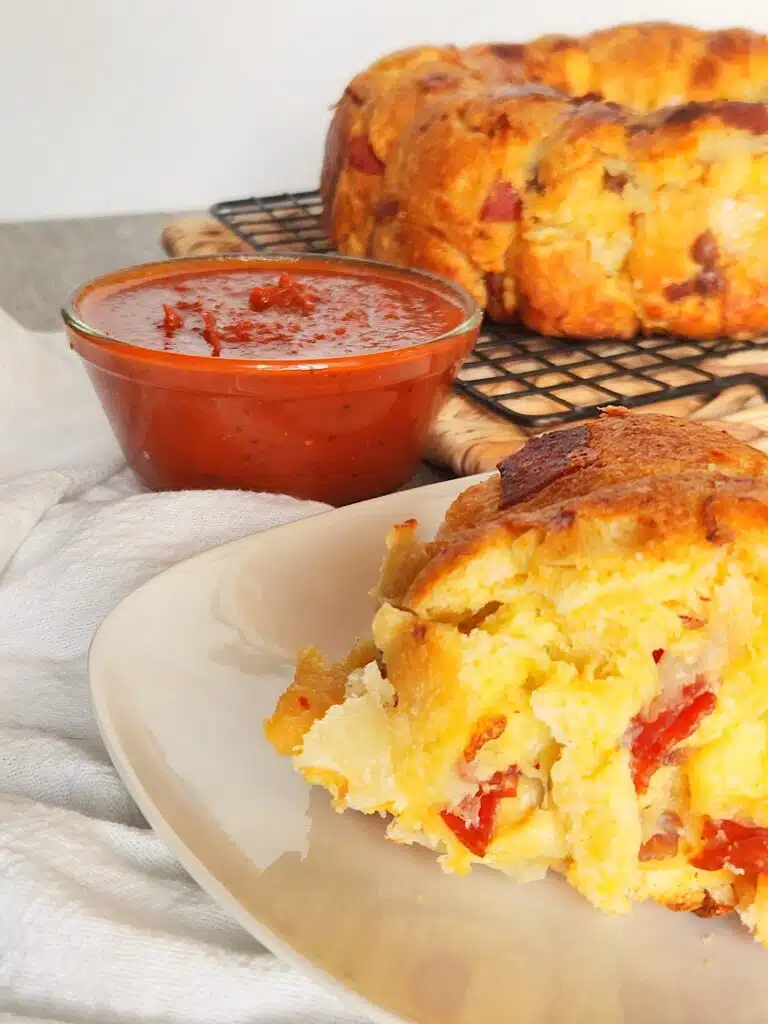 Just be sure to add dry ingredients when possible. Extra moisture will affect the way that the bread bakes.
For instance, you would not want to add pineapple chunks, because there is too much liquid in the fruit.
Some pizza topping ideas to add are:
Sausage crumbles
Olives (make sure they are drained)
Hamburger (drain the grease before adding)
Ham cubes
Anchovies
Green Peppers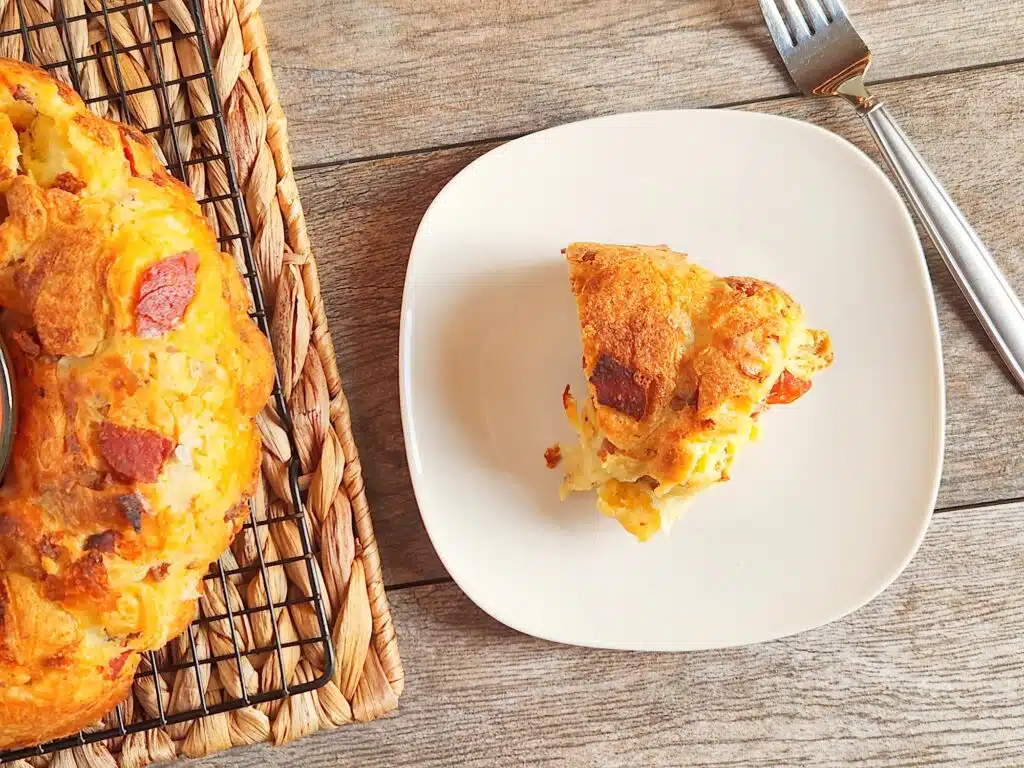 Pizza Pull Apart Bread Recipe
Prep: 10 minutes| Cook Time: 35 minutes | Total Time: 45 minutes
Servings: 8
Ingredients
2 cans of store-bought biscuits
1 cup bacon bits
1 cup chopped pepperoni
½ cup melted butter
1 Tablespoon garlic
2 cups mozzarella cheese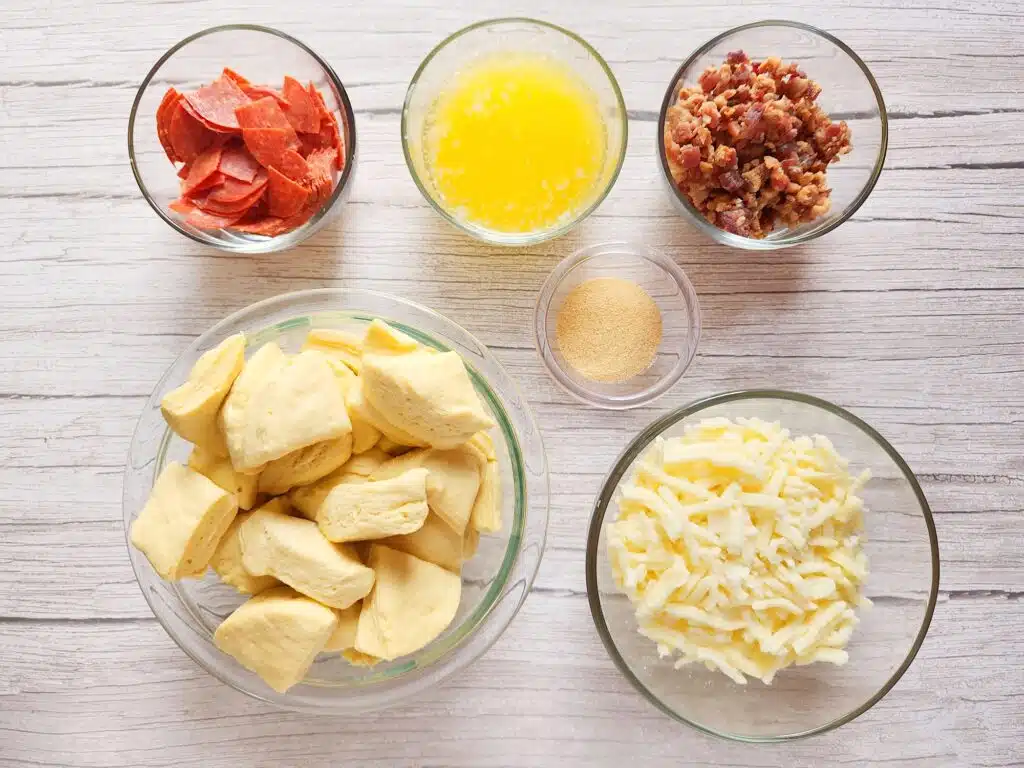 Directions
Step 1
Preheat oven to 350 degrees F. Generously grease a bundt pan and set aside.
Step 2
Cut your biscuits into quarters and add them to a large bowl.
Step 3
Add bacon, pepperoni, butter, garlic, and mozzarella cheese to the bowl with the biscuits.
If you are using any other toppings, now is the time to add those in, as well.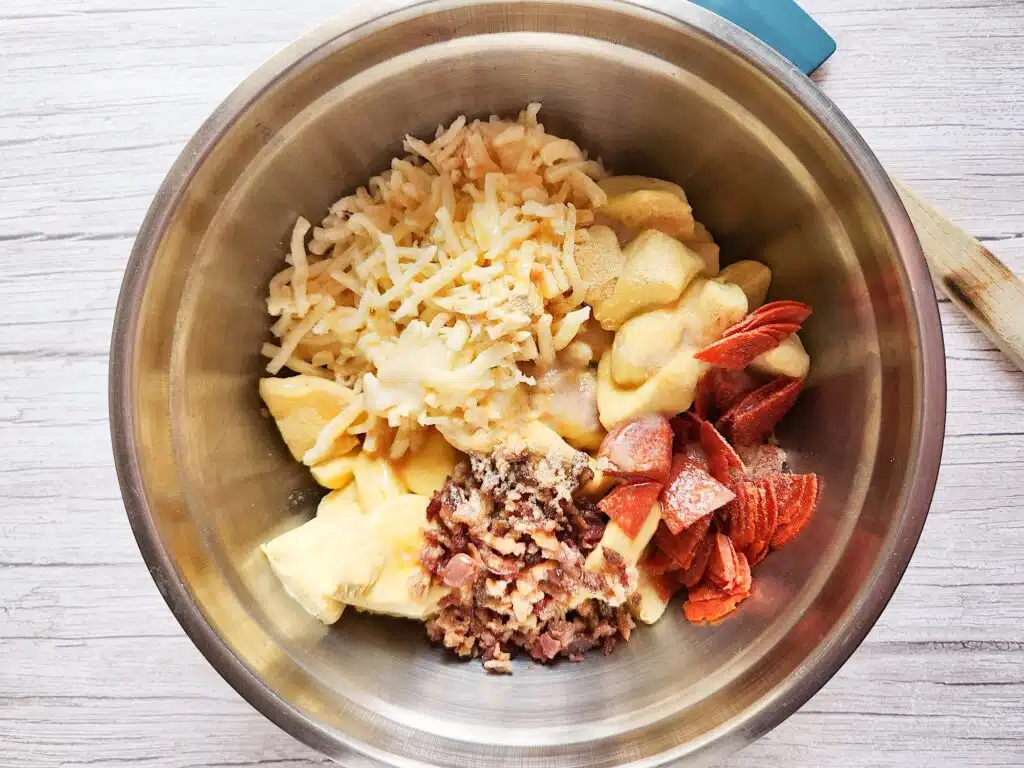 Mix all of the ingredients together until the biscuit pieces are coated with cheese and toppings.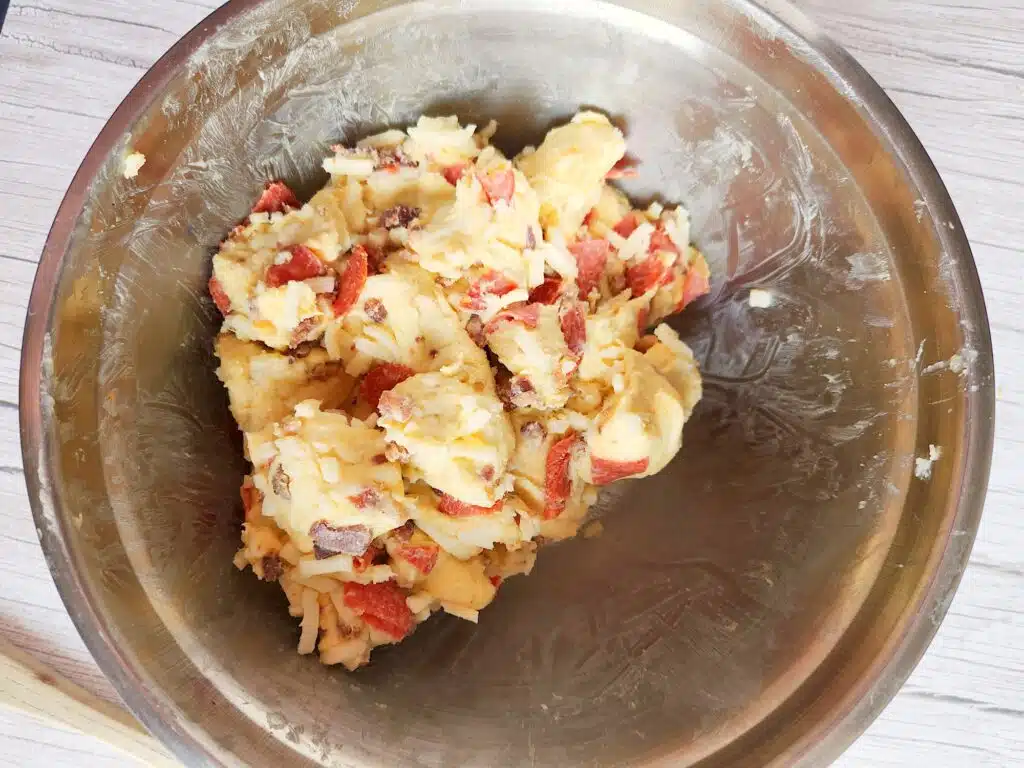 Step 4
Add the bread mixture to the bundt pan in small pieces. Evenly spread the biscuits around the pan.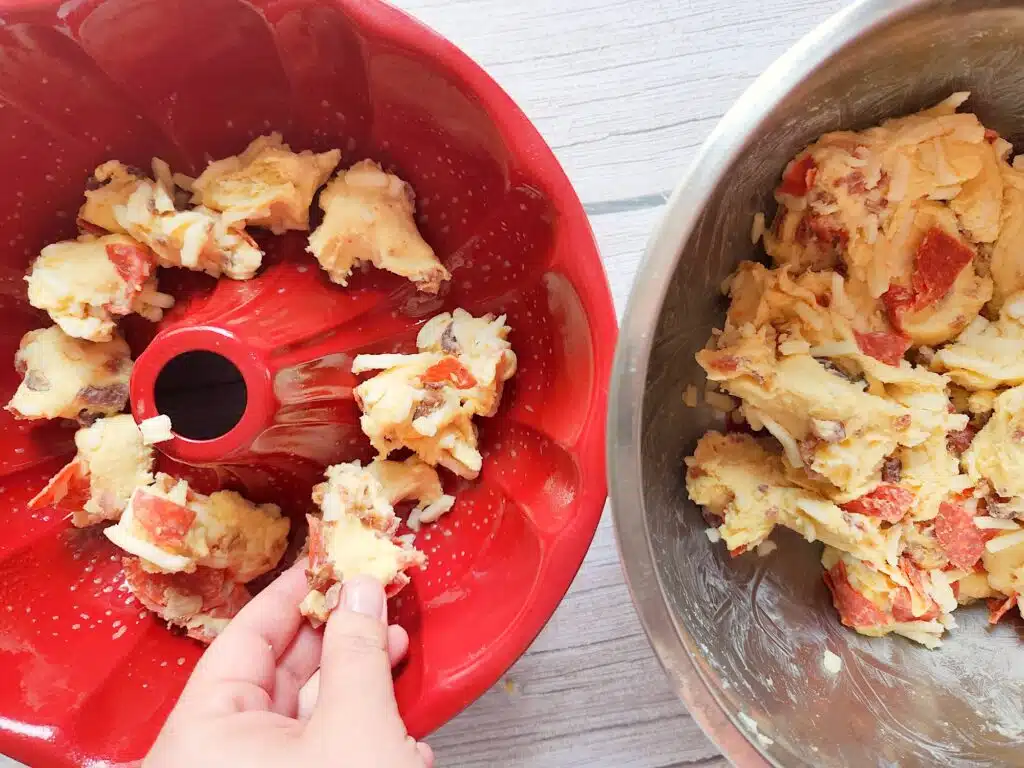 Step 5
Bake for 30-35 minutes.
Remove from pan when cooled. Wrap in foil or put in a plastic container to bring with you camping.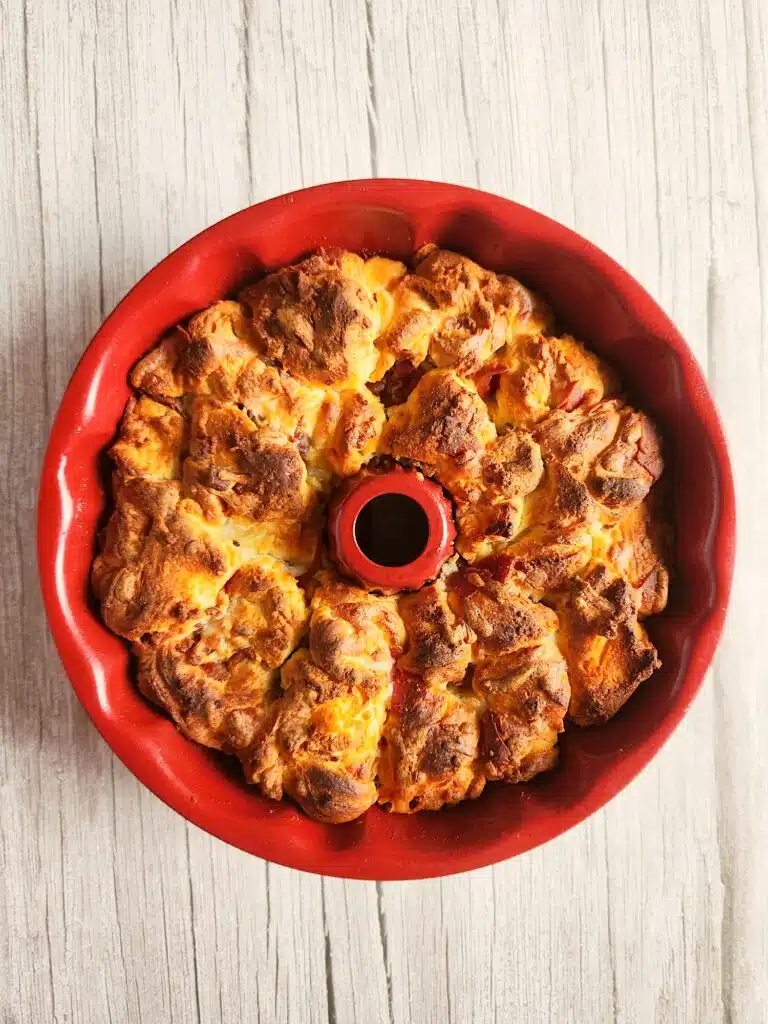 Helpful Tips
While you can make this recipe ahead of time, it won't last for a long time. Eat it within 2-3 days.
Be sure to bring some marinara sauce or pizza sauce with you to dunk the bread pieces in to taste just like pizza!
If you'd like to change the cheese, consider using cheddar cheese instead of mozzarella cheese.