Whether you want to stop wasting money on paper plates and plastic cups or you just honestly hate doing dishes, you might think that an RV with a dishwasher is just a dream. However, they do exist!
You might be a full-timer that doesn't want to do dishes after every meal. Or maybe you are a true Couch Potato Camper who wants to enjoy little luxuries even while outdoors (hey, we hear ya!)
Our guide shows you the best RV dishwashers, both RVs with dishwashers built in and portable RV dishwashers that you can buy to add to your camper on the countertop.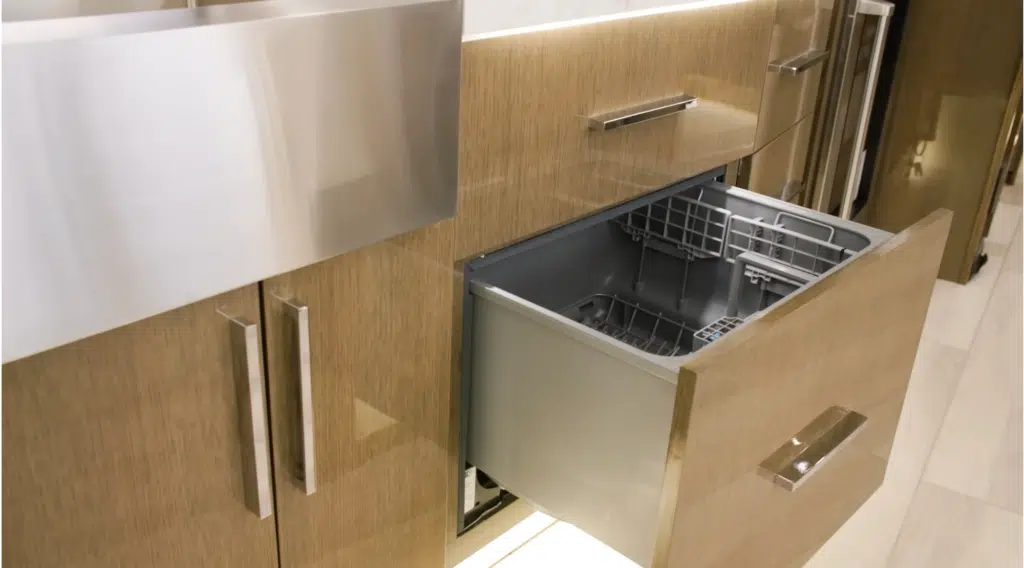 RV Dishwashers: What You Must Know
We admit, the thought of not having to hand wash all of our plates, bowls, cups and utensils every time we use them, and then trying to find a place to dry them, is really tempting!
Related Post: Best Space Saving Drying Racks
However, there are some limitations when it comes to using an RV dishwasher that you should be aware of before dreaming of chore-free days in the kitchen:
RV dishwashers are not going to be as big as residential dishwashers. They might be a drawer dishwasher, or they could be a slim two-shelf system.
Often, camper dishwashers are made to look like cabinetry. You might not even know they are in the RV!
You will need to have water hook ups when running a built-in dishwasher unless you have a huge freshwater tank.
This large kitchen appliance is going to eat up some energy, so if you are not connected to electric, then make sure you have enough in your battery bank.
Waste water will need to flow into your gray tank, just like water from the shower or sinks. You will need to be aware of how full your gray tank is before using.
What Type of Detergent to Use
RV dishwashers, including the countertop dishwashers mentioned below, use the same type of dishwasher detergent that you use at home, including:
Powder
Liquid
Tablets or Pods
While you can use any type of dishwasher detergent, keep in mind that the harsh chemicals will end up in your gray water tank. Or outdoors if you are using a compact dishwasher and you dump the waste water outside.
We always suggest using a biodegradable soap if possible. Choosing a detergent with as little phosphates and harsh chemicals as possible will help protect nature, as well as reducing problems in your gray tank.
Dishwasher detergents we suggest (and use ourself) are:
Benefits of a RV Dishwasher
Before you start thinking that a camper with a dishwasher is too posh, keep in mind there are a lot of benefits to having this appliance in your RV kitchen.
You will use less water with a dishwasher compare to hand washing plates, cups and utensils. Then portable dishwashers on our list use between 1.3 and 3 gallons of water for the entire load.
Without an unlimited hot water heater, you will find that there is only a little bit of hot water to do your dishes at at time. This was our problem in our first RV. I would need to wash dishes in three batches because our hot water would run out quickly. Dishwashers have built-in heating elements which provide hot water sanitation no matter what your water heater capacity is.
No need to have dishes strewn throughout your camper drying on towels and dish racks and sink covers. You can save space with the drying function on these dishwashers, which is important in the tiny living space of an RV.
Some of the dishwashers have a UV light which helps to kill bacteria and viruses. Something that might be beneficial if you are immunocompromised.
You will save money in the long run if you are currently buying paper plates, plastic utensils and plastic cups. Especially if you are a large family or camp a lot during the year. Disposable products aren't cheap anymore.
This more sustainable way of doing dishes prevents a steady stream of disposable plates, bowls, cups, utensils and serving dishes from entering the landfills.
RVs With A Dishwasher
Here is a list of the Best Class A, Class C, and Fifth Wheel RVs and motorhomes that have dishwashers.
The dishwashers are either standard with the floor plan or have an optional dishwasher upgrade available.
Newmar Dutch Star 4369
The 2023 Newmar Dutch Star model 4369 Class A diesel pusher motorhome has an optional stainless steel front dishwasher drawer.
The dishwasher looks great next to the standard Stainless Steel convection microwave and a Whirlpool 19.7 cu.ft. refrigerator.
Newmar King Aire
The King Aire Class A diesel pusher model 4569 by Newmar comes standard with a Fisher & Paykel wood panel front dishwasher to compliment the other premium kitchen appliances such as a Viking stainless steel microwave and a Viking stainless steel 22 cu.ft. refrigerator.
American Coach American Dream 45A
The sleek and beautiful American Dream 45A by American Coach Class A motorhome offers a dishwasher as a standard feature in their list of kitchen appliances, which also include a residential-style refrigerator and residential over-the-range microwave.
Tiffin Phaeton 40 IH
Tiffin's Phaeton 40 IH Class A motorhome has an optional dishwasher drawer on its list of kitchen appliance features.
Standard appliances include a residential style refrigerator and a convection microwave oven.
Tiffin Allegro Bay 38 CB
If you are in the market for Class Super C motorhome that has an optional drawer-style dishwasher, then we suggest the Tiffin Allegro Bay 38 CB.
Other standard kitchen appliances include a residential refrigerator and convection microwave oven.
Fleetwood RV 40G Discovery LXE
As Fleetwood Class A motorhomes likes to say, "bigger is better!"
The 40G Discovery LXE comes with a drawer-style dishwasher in its big and beautiful kitchen.
Entegra Coach Cornerstone 45B
Entegra Class A motorhomes are some of the best on the road. The Cornerstone 45B with its open floor plan and spacious kitchen has a top-of-the-line Fisher & Paykel dishwasher.
Forest River Riverstone 391FSK
If fifth wheels are more your style, then check out the Forest River Riverstone 391FSK.
Its unique front kitchen is both spacious and has a dishwasher.
Best Built-in RV Dishwasher Brands
Do you need to replace your dishwasher in your motorhome? Or perhaps you are doing an RV mod and installing a dishwasher?
Here is a list of some of the top built-in RV dishwasher brands and model numbers:
Westland Sales DWV335BBS Dishwasher
Furrion FDW18SAS-SS Dishwasher
Splendide® – Vesta Built-In Dishwasher
SPT SD-2213S Dishwasher
Danby DDW631SDB Dishwasher
EdgeStar DWP62SV Dishwasher
Fisher & Paykel is the top of the line for RV dishwashers, however the other brands are used often in motorhomes and fifth wheels.
Best Portable Dishwasher For RVs
Dishwashers are usually available in the higher-priced RVs and motorhomes, which may not be in your price range.
You can buy a portable countertop dishwasher for your RV. These small kitchen appliances will give you the convenience of not having to do dishes, without the expense of installing a dish washer in your RV. The price ranges are around $250-$400.
Surprisingly, these portable dishwashers use around 1-3 gallons of water to wash all of the dishes. Even if you are boon docking, you could easily run these dishwashers with water supplies that you bring with you.
Weirdly, many of these portable dishwashers have fruit baskets to wash your fruit, too. Who knew?!
AIRSMEN Portable Countertop Dishwasher
This highly rated countertop dishwasher is less than 17 inches deep and 17 inches wide. And it is only 18 inches tall. It is the perfect size for your RV!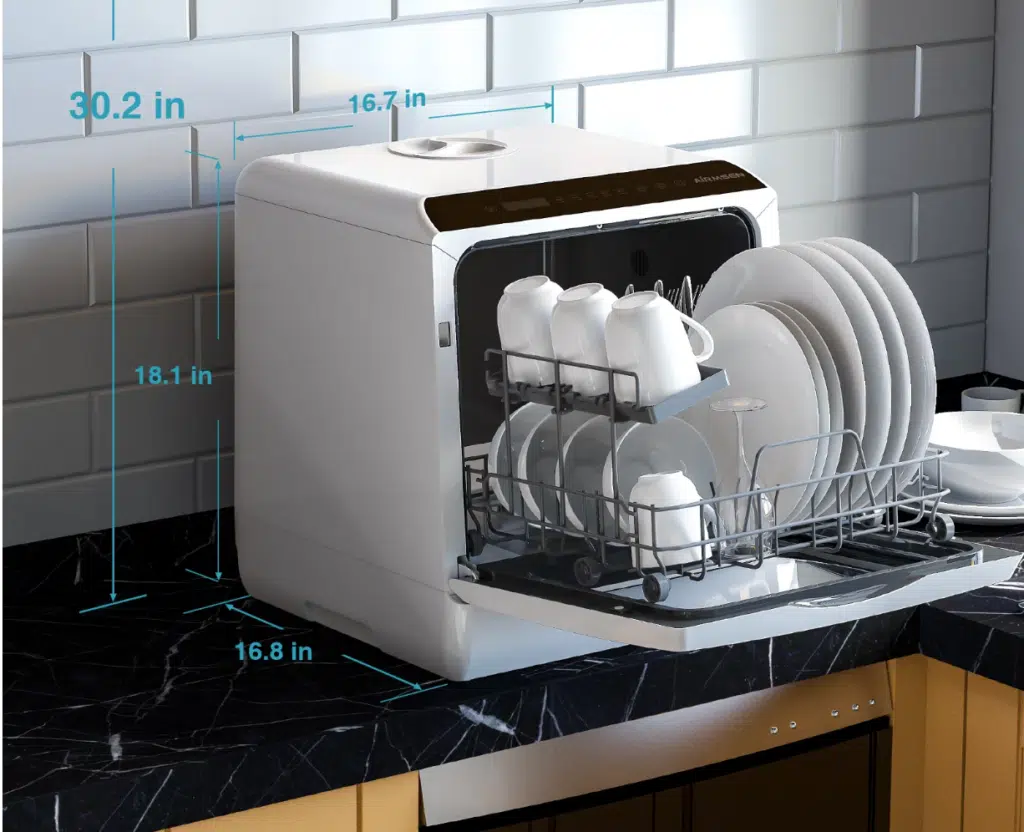 Why We Like It
While the AIRSMEN countertop dishwasher can be connected to your kitchen faucet for convenience, you can also use the built-in 5 liter tank so that you don't have to use a hose. This is also perfect if you happen to be boon docking and have water with you, but not in your fresh tank.
Depending on the type of washing you do, expect a load to take about 60 minutes to wash. There is also a 60-minute hot air drying function, too.
---
HomeLabs Compact Countertop Dishwasher
When you need to wash more dishes, the hOmeLabs Countertop Dishwasher is what you want. While this portable dishwasher is slightly bigger than others on the list, it gives you a lot more washing room for more cups, plates and silverware.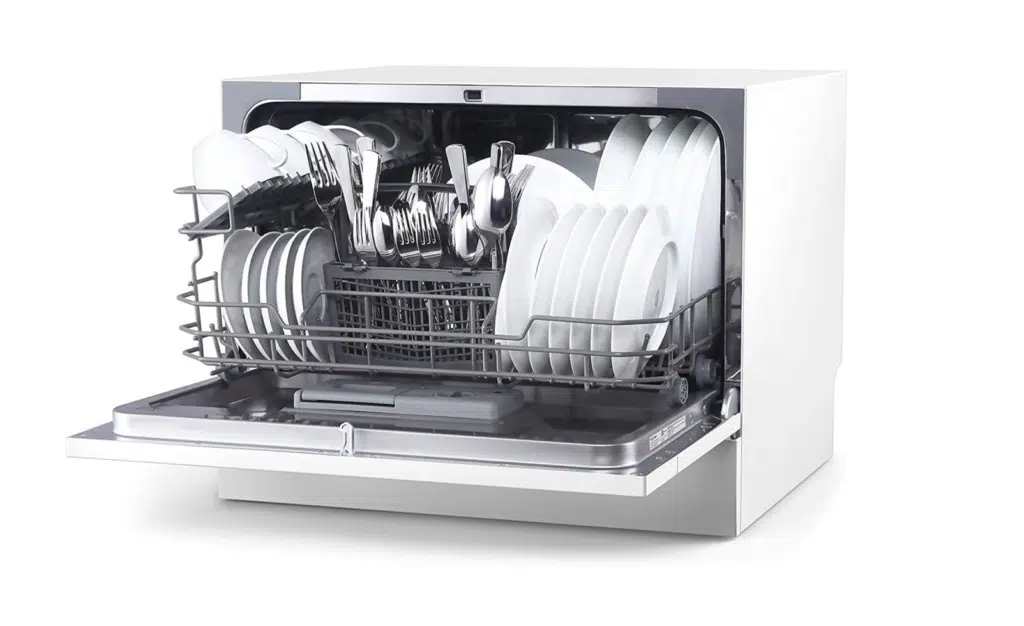 Why We Like It
Being able to wash 6 place settings at once means you can run the dishwasher less frequently. This model also has a rinse-aid dispenser, which can help your dishes look cleaner without any spots or streaks.
Also available on Amazon.
---
Danby Countertop Dishwasher
Danby is one of the brands of RV dishwashers that are often installed in motorhomes. You can get their portable countertop dishwasher, too.
The Danby Countertop Dishwasher is another larger model that cleans 6 place settings at once.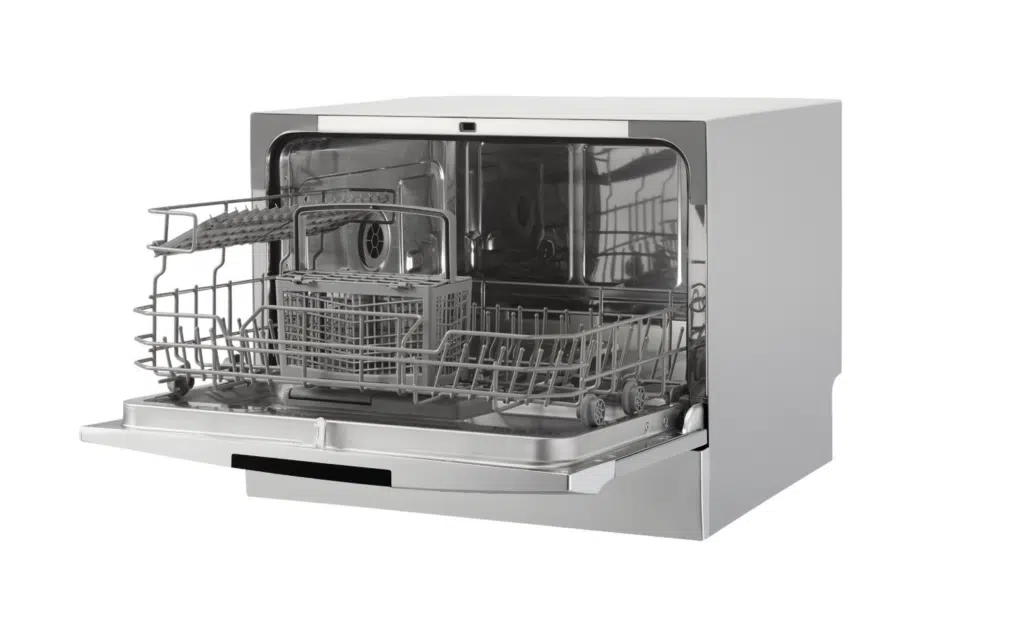 Why We Like It
Only 3.1 gallons of water are needed to run a load of dishes. You probably would waste more than that hand washing your dishes!
Also available on Amazon.
---
Farberware Compact Dishwasher
Super cute and tiny, this Farberware Compact Dishwasher is perfect for cleaning dishes for a couple people. It has a 5 Liter built in tank so that you don't have to hook it up to a kitchen faucet.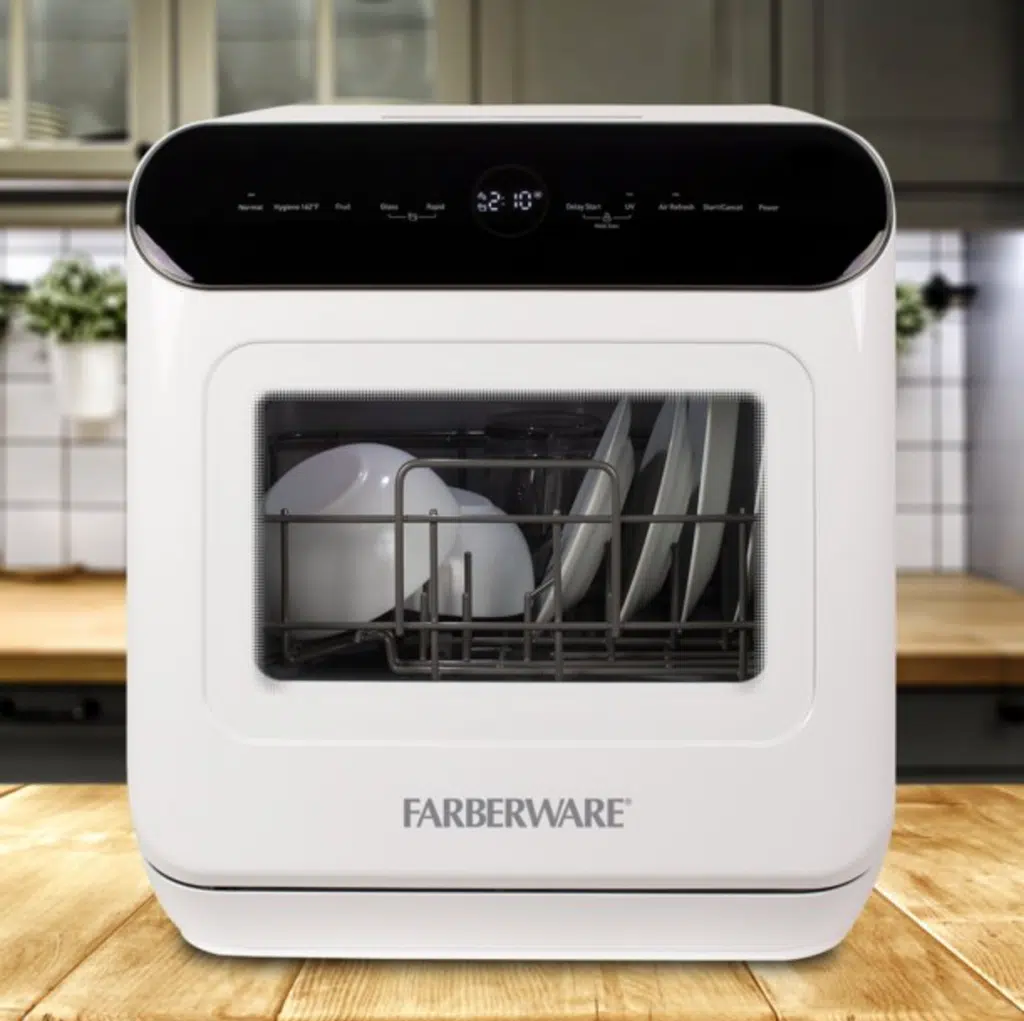 Why We Like It
A UV LED light helps to kill bacteria and viruses during the washing cycle. Only 1.3 gallons of water are used during the washing, which is less than you would use while hand washing and rinsing your dishes!
Also available on Amazon.
---
Slim Line, Standing Dishwasher
If you have a lot of room in your toy hauler or motorhome and often feed a crowd (such as tailgating parties), then you might want a larger portable dishwasher.
This type would be great in a toy hauler that has a sink or bathroom in the back for the connection.
The SPT SD-9263W Dishwasher is a slim line, tall dishwasher on wheels. While it definitely needs more room than a countertop version, it could easily be used in an RV as long as it is located near a sink.
---
If you love RV mods and making your camper more functional, consider adding these RV-friendly appliances to your kitchen, too: