If you love camping with your pets, why not give them a camping name? Every time you call your dog or cat's name, you will be reminded of great times in the outdoors that you have spent together.
Our Epic List of Camping Names for Dogs and Cats will give tons of ideas for what to name your next fur baby!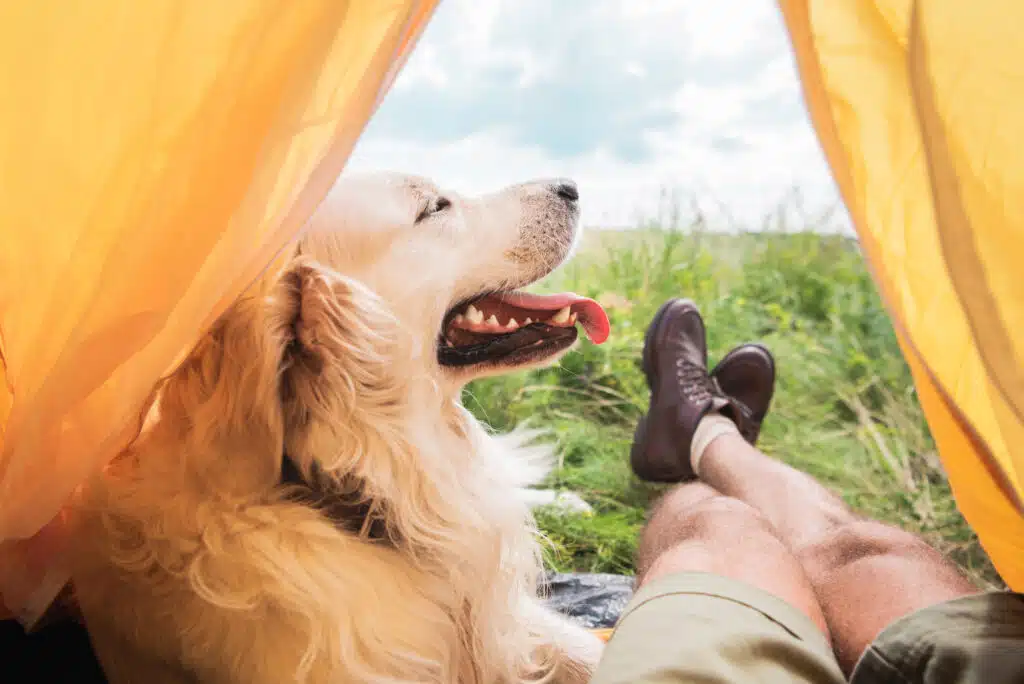 Camping Names
These classic camping names for dogs and cats are inspired by the tools used for camping, the experiences that you have in nature, and the fun activities that families love to do when outdoors.
Adventure (or Addy for short)
Arrow
Ash
Bandana
Blaze
Bonfire
Boots
Campy
Canoe
Canteen
Clay
Cabin
Camper
Canopy
Canteen
Charcoal
Cocoa
Coleman
Columbia
Compass
Cooler
Corduroy
Cot
Duffle
East
Ember
Fire
Fisher
Fleece
Ford
Frisbee
Grove
Gypsy
Hammock
Hot Dog
Hunter
Igloo
Kayak
Kindling
Lantern
Major
Marshmallow
Moon
Muddy
North
Paddle
Poncho
Propane
Pullover
Ranger
Rugged
Scout
Smoke
S'more
South
Spork
Star
Toasty
Trail
Trail Mix
Twig
Wade
West
Woody
Yeti
Zippo
Be sure to see our guide to camping with dogs!
RV Names
If you travel with your pets in your travel trailer or motorhome, then why not name them after your RV? There are plenty of great RV brand names that make perfect dog or cat names, whether you already own that RV brand or are hoping to get one soon!
Ace
Alliance
Bigfoot
Casita
Chinook
Cruiser
Dutchmen
Dynamax
Entegra
Escape
Fleetwood
Heartland
InTech (see our Intech Sol Horizon guides!)
Jayco
Lance
Little Guy
Newmar
Nexus
Northstar
NuCamp
Oliver
Palomino
Regency
Renegade
Shasta
Sol
Starcraft
Thor
Tiffin
Winnie (for Winnebago)
Want to name your RV? See our Huge list of camper names!
Nature Names (Plants: Flowers, Herbs, Fruits, Vegetables, Spices)
If you love being out in nature to be surrounded by lush plants and wildflowers, then these nature dog names are for you.
Acorn
Alfalfa
Almond
Amaryllis
Apple
Apricot
Aster
Azalea
Bamboo
Barley
Basil
Bay (Bay leaf)
Begonia
Berry
Blossom
Bluebell
Blueberry
Brier
Bramble
Buckeye
Buttercup
Cabbage
Cactus
Calla
Camellia
Carnation
Cayenne
Cherry
Chrysanthemum
Cinnamon
Clementine
Clover
Clove
Coconut
Coleus
Coriander
Cosmos
Cotton
Daffodil
Dahlia
Daisy
Dandelion (or Dandy)
Durian
Fennel
Fiddlehead
Fig
Flax
Fleur
Flora
Forsythia
Freesia
Gardenia
Gerbera
Ginger
Heather
Hemp
Herb
Hibiscus
Holly
Honeysuckle
Huckleberry (or Huck)
Hyacinth
Iris
Ivy
Jasmine
Juniper
Kale
Kumquat
Laurel
Lavender
Leaf
Lemon
Lilac
Lily
Mango
Marigold
Morel
Moss
Myrrh
Myrtle
Oleander
Orchid
Oregano
Palm
Parsley
Parsnip
Peach
Peanut
Peony
Pepper
Periwinkle
Petunia
Peyote
Pinecone
Pistachio
Poppy
Potato
Primrose (or Prim for short)
Pumpkin
Quince
Reed
Rhubarb
Rose
Rosemary
Rue
Rye
Saffron
Sage
Saguaro
Sakura
Saskatoon
Sedge
Snapdragon
Snowdrop
Sorrel
Sugar
Sunflower (or Sunny for short)
Sweet Pea
Tansy
Taro
Thistle
Thorn
Thyme
Tiger Lily
Tomatillo
Tulip
Valerian
Verbena
Viola
Violet
Wisteria
Yam
Yarrow
Yucca
Zinnia
Ready to make some delicious camping meals? See our big list of camping recipes!
U.S. National Park Names for Dogs and Cats
Do you live near a National Park that you visit all of the time? Maybe you have a favorite National Park site. Or perhaps you adopted your pet while traveling near a National Park site.
These are all great National Park names for dogs and cats from the names of parks or famous destinations within the NPS system.
Acadia
Baker (Mount Baker)
Baddy (Badlands National Park)
Bryce
Carolina
Cascade (Cascade Mountain Range)
Cayuga (Cayuga Trail)
Crater (Crater Lake)
Denali
Elbert (Mount Elbert in colorado)
Glacier
Guadalupe (Guadalupe Mountains)
Joshua (Joshua Tree National Park)
Katmai
Kauai (Hawaiian island)
Kenai (Kenai Fjords)
Kodiak (Kodiak National Wildlife Refuge)
Logan (Mount Logan)
Mammoth (Mammoth Cave)
Mariposa (Mariposa Grove in Yosemite)
Maui
McKinley (Denali was previously known as Mount McKinley)
Montana
Pacific (Pacific Crest Trail)
Rainier (Mt. Rainier)
Sequoia
Shenandoah
Smoky (Great Smoky Mountains National Park)
Teton (Grand Teton National Park)
Theodore (Theodore Roosevelt National Park)
Yellowstone
Yosemite
Zion
Tree Names for Dogs
There is nothing better than camping in a forest with towering trees soaring to the sky around your campsite. If you love being outdoors and hiking as you are surrounded by old-growth trees, then these are great pet names.
Acacia
Alder
Ash
Aspen
Balsam
Baobab
Beech
Birch
Cashew
Cedar
Chestnut
Cork
Cypress
Dakota
Dogwood
Douglas
Elm
Elwood
Ficus
Gingko
Hawthorne
Hazel
Larch
Linden
Magnolia
Mahogany
Maple
Mesquite
Oak
Olive
Palmetto
Pine
Ponderosa
Poplar
Redwood
Sassafras
Sequoia
Spruce
Sumac
Sycamore
Tamarack
Walnut
Willow
Yew
Weather Names for Dogs and Cats
Camping is all about being in nature, no matter what the weather. These weather names for dogs will remind you of the strength and power of not only Mother Nature, but also your pets.
Aqua
Autumn
Breeze
Breezy
Cloud
Cloudy
Cyclone
Dew
Fog
Frost
Gusty
Hail
Hurricane
Lightning
Misty
Niña
Niño
Rain
Rainbow
Raindrop
Rainy
Sky
Snow
Snowflake
Snowy
Spring
Squall
Storm
Stormy
Summer
Sunny
Sunshine
Thunder
Tornado
Windy
Winter
Earth Formations Pet Names
Have you visited a landscape that left an impression on your heart? Is there a place in the world with unique formations that you love to visit time and time again? These pet names celebrate the rugged, unique and unusual parts of our world that are waiting to be explored.
Alpine
Beach
Bluff
Boulder
Brooks
Canyon
Cliff
Coral
Cove
Creek
Delta
Field
Fjord
Forest
Geo
Gulch
Gully
Harbor
Lake
Marsh
Meadow
Mesa
Mountain
Ocean
Peak
Pond
Prairie
Rapid
Ravine
Ridge
River
Rocky
Sand
Savanna
Shore
Shoal
Sienna
Stream
Summit
Thicket
Valley
Volcano
Crystals, Gemstones and Precious Metals Names for Dogs
Crystals, gems, rocks and precious metals are all thought to have their own power and energies. These dog names are perfect when you want to harness those energies for your pets.
Or, if you just like how pretty the gemstones and metals are!
Amber
Amethyst
Aquamarine
Beryl
Bronze
Coal
Copper
Crystal
Diamond
Emerald
Flint
Garnet
Gem
Gold
Jade
Jasper
Marble
Obsidian
Onyx
Opal
Pearl
Pebble
Ruby
Sapphire
Silver
Slate
Topaz
Animal-Inspired Pet Names
Many dogs and cats are named after other types of animals. Whether you are looking for a strong dog name like bear or a cute cat name like bunny, you are sure to find one that you like in this long list of animal pet names.
Badger
Bear
Beaver
Birdie
Buck
Buffalo
Bug
Bull
Bunny
Colt
Cricket
Crow
Doe
Dove
Duck
Ducky
Falcon
Fawn
Fox
Froggy
Hawk
Hippo
Lynx
Marmot
Moose
Mouse
Newt
Oso (Spanish for bear)
Otter
Polar
Puma
Raven
Sparrow
Squirrel
Starling
Talon
Toad
Turtle
Weasel
Wolf
Wolverine
Wren
Yeti
Mountain Names for Dogs and Cats
Strong and rugged, these are mountain names from around the world that are perfect for your pets.
Ailama
Alborz
Alcazaba
Allegheny
Alps
Andes
Anzer
Aoraki
Appalachian (or Appalachia)
Askja
Aspen
Baxter
Benna
Bernina
Blackburn
Cadillac
Cameroon
Canali
Cascade
Castor
Caucasus
Chimborazo
Cumberland
Devi
Echo
Elbert
Elbrus
Erebus
Everest
Fairweather
Fuji
Gasherbrum
Gongga
Himalaya
Hope
Humphreys
Ipala
Irazu
Jazzi
K2
Kamet
Karakoram
Kenya
Kidd
Kilimanjaro
Kinabalu
Lhotse
Logan
Major
Makalu
Matterhorn
Mountain
Namcha
Nona
Olympus
Orizaba
Ozark
Pamir
Peak
Rainier
Ridge
Rocky
Rupee
Shasta
Sierra
Summit
Toubkal
Weston
Wila
Did you find a name in our huge list of camping names for dogs and cats? Let us know in the comments what you chose and what type of pet you have!