If you are interested in RVing but don't want to get a big trailer, then a Scamp is for you. For Couch Potato Campers who want the flexibility to go camping, but don't want to swap their Subaru for a half-ton truck, a Scamp Camper is one of your best options.
Scamps are easier to tow, easier to park, and among the most affordable trailers you can find with all of the amenities that they have. If you are a casual camper or just dipping your toes in RVing, getting a Scamp is an excellent idea.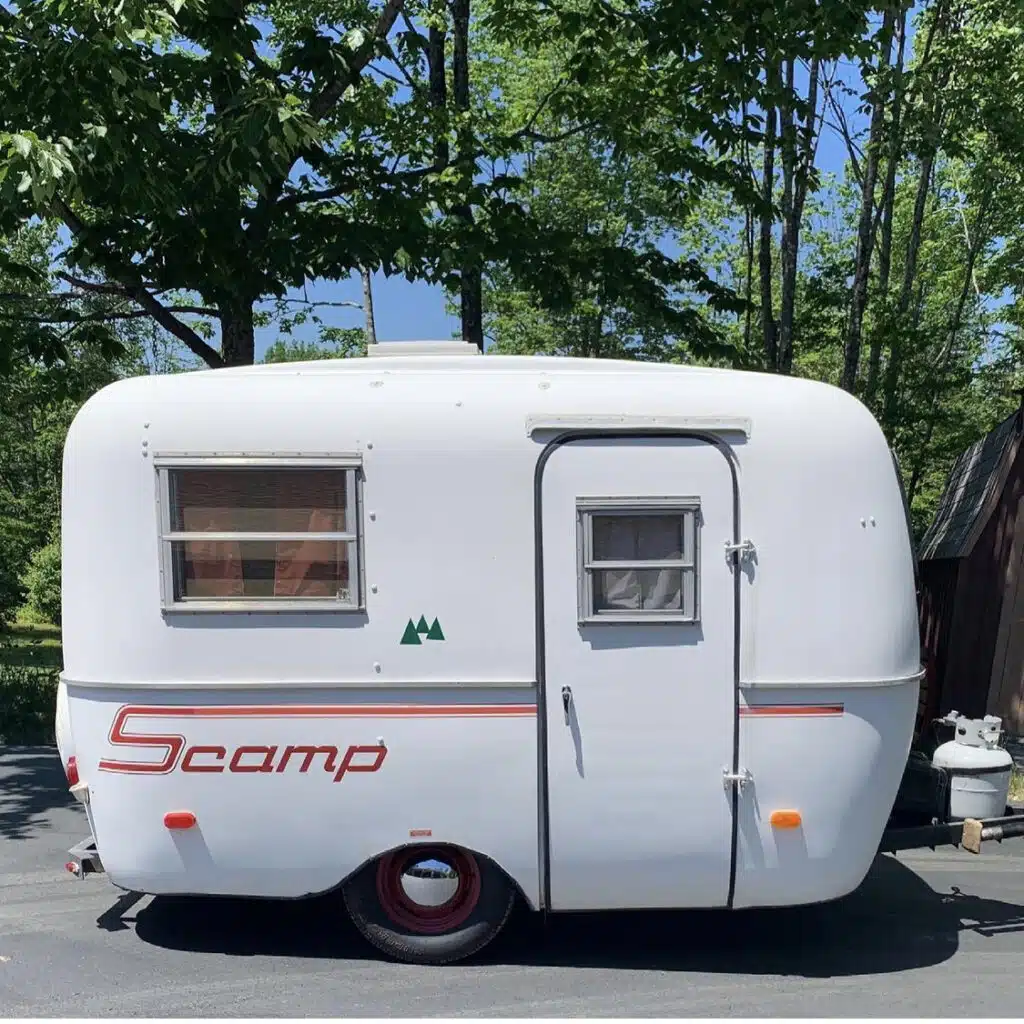 Are there more spacious RVs? FOR SURE! But you don't want to spend a lot of money and time investing into an RV if you're not even sure you'll like it!
At some point you'll say, I can get a trailer double that size for the same amount of money. And, yes, this is true. However, the resale value on that camper won't be the same as a Scamp. And there is much more of a learning curve with a larger trailer, which could mean more stress and not actually enjoying the experience.
Benefits of a Scamp Camper Trailer for First Time RVers
These small RVs (which resemble eggs!) are perhaps the perfect way to get introduced to RVing. If you are a tent camper who is wondering what it would be like to travel with an indoor bathroom, this one is for you!
Despite their size, Scamp campers come with everything you need for life on the road, with even their smallest and most basic model featuring a bathroom, a kitchen area, and water hookups.
Use existing vehicle (Such as a Subaru, truck)
Short length is easier to back-up
Fit into normal parking spaces
Less expensive than larger trailers
Better gas mileage than larger RVs
Can stand up in a Scamp, unlike a teardrop camper
Cook indoors, rather than outdoors with a teardrop camper or tent camping
Smaller size means more options for campgrounds and boon docking
No need to deal with black tanks (if you don't get the bathroom option)
Fiberglass construction is better
Holds retail value. If you decide RVing isn't for you, you can sell the trailer for close to what you paid for it.
Will last a long time. Many original owners from the 1970s still use their Scamp RVs!
Might fit in a garage (depending on size of the Scamp and your garage) which means no storage fees if you don't have room to park it at your home.
Don't like it? Makes a great playhouse or guest room in your yard or driveway!
While these sound like the perfect trailers to get right now, keep in mind the wait list is about a year long for Scamps. And used ones rarely are sold. Your best bet for finding a used Scamp is to join Facebook groups such as:
Scamp Trailer Classified
Scamp Owners of America
Molded Fiberglass RV for Sale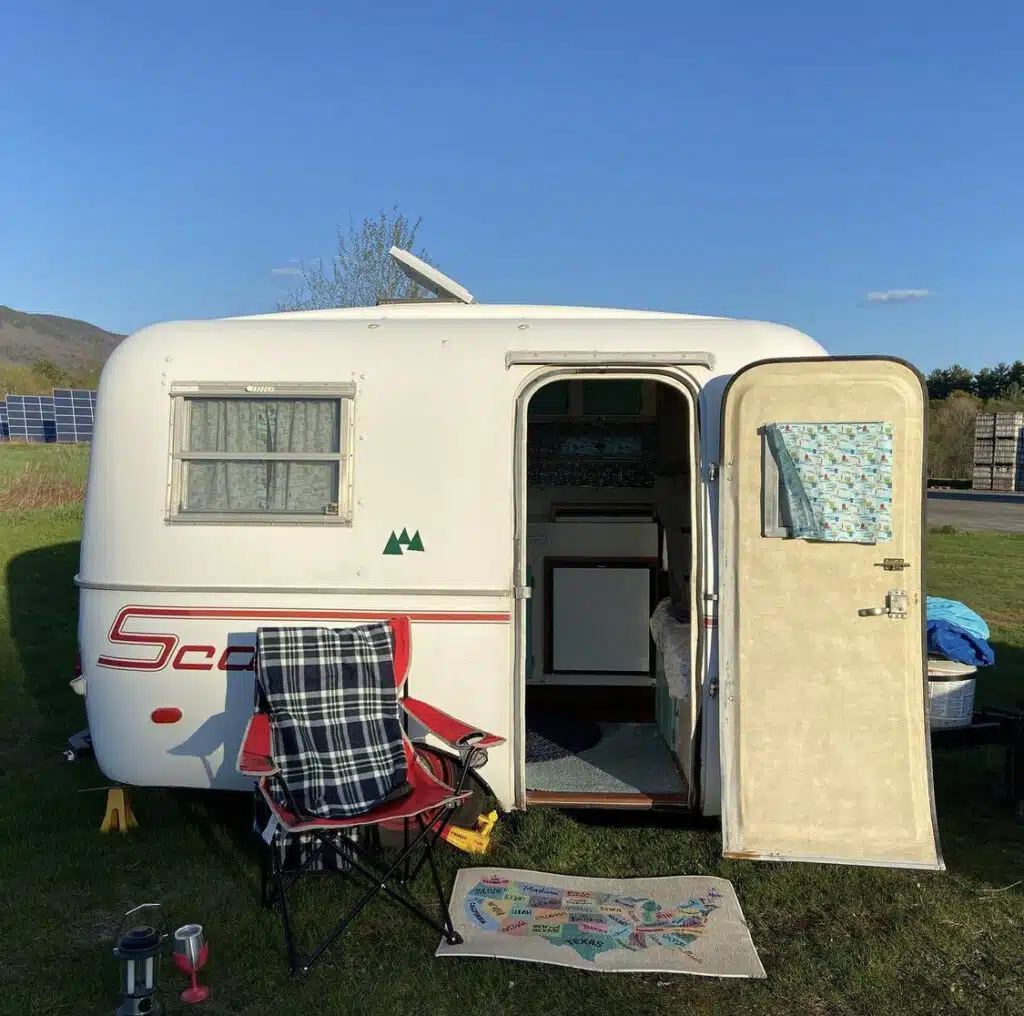 Scamp: Made in America, Family Owned
Scamp is a company manufacturing travel trailers based in Backus, Minnesota. Scamp was founded in 1972 by Duane Eveland, Gerald Eveland, and Gladys Coffland. Duane Eveland caught the eye of a representative from trailer manufacturer Bolar American, who hired Duane to help manufacture new trailer models for the US market.
Unfortunately, Bolar American went out of business in late 1972, leading Duane Eveland and his siblings to found Scamp. While the first few years were difficult and their factory was in poor shape, Scamp began to flourish, building over 700 trailers within five years.
By 1981, Scamp had gone from manufacturing just their 13′ trailer to all 3 of their current models. Scamp suffered a major setback in 2006 when their factory burnt down due to an electrical fire. It forced the company to build a new, 37,000 square foot facility on the same spot as their old factory.
Today, Scamp is a well-respected company manufacturing high-quality small trailers for campers across the continental US. It's also still a family business, with Duane Eveland's son, Kent, now managing the company.
What is a Scamp Camper?
Scamp campers are advertised as being lightweight, easy-to-tow, and durable.
The trailers are made from hard shell fiberglass and can be towed by a variety of vehicles, ranging from small cars to trucks.
Scamp trailers come in three different sizes:
Each size also has a deluxe version, with a choice between an oak or birch hardwood interior. There are also several floor plans for the 13′ and 16′ models.
To keep these campers compact, the beds fold out over the dining table or the sofa, depending on which floor plan you choose.
Scamp RV 13′ and 13′ Deluxe
Scamp's smallest model is a 13′ trailer ideal for small families. You'll have a choice between a floor plan with extra bunk beds or a full bathroom, depending on the size of your crew. So, that's right. You can get an RV without a bathroom if you'd like.
The Scamp 13′ Deluxe models have two different layouts. One version has a front dinette. Another version has a front bathroom and closet, but not dinette, which is ideal if you enjoy eating outdoors anyways.
What is the size of a 13′ Scamp? Just like its name, the length is 13 feet, with a 7'6″ height and 6'8″ width.
Inside, the trailer is 6'3″ high. You'll have 10 feet in interior length, with a width of 6 feet 6 inches.
Scamp 16′ and 16′ Deluxe
For a bit more space, with a larger toilet area, this is the model that you want. It's still very small compared to other RVs and is much easier to tow and park.
The 16′ is more flexible in design, with five different floor plans to choose from.
With these models, choose from a side dinette or side bathroom. The side dinette option is great if you don't want to be bothered with turning the dining area into your bedroom at night.
The 16 foot Deluxe model has additional layout options. This is when it pays to start talking directly with the manufacturer to see all of the options available.
These scamps are the same height and width as the 13′ foot Scamps, with a longer interior length of 13 feet.
Scamp 19′ and 19′ Deluxe Fifth Wheel
Yep, this is the smallest fifth wheel you will find! If you like the idea of a queen size bed in a loft setting, then this one is for you.
This is Scamp's largest model. There's only one layout for the standard fifth wheel, with a couple options for the Deluxe model.
These RV campers can sleep six (although we wouldn't recommend six adults).
If you want a rooftop air conditioner, this is the model for you. A sofa converts to bunk beds, too.
While the width of this Scamp is still 6'6″ the height increases to 8'10", making it a viable alternative for taller campers. The length inside is 17'10", a lot more room than the smaller models.
Despite their modest size, Scamp trailers come with everything you need for a comfortable getaway.
What is the Average Cost of a Scamp Camper?
The cost of a Scamp camper differs depending on the size of the trailer, the floor plan, and whether you opt for the deluxe model. One great feature about Scamp is their trailers are customizable; however, this makes it tough to work out pricing without contacting Scamp directly for a quote.
Generally, Scamp campers cost anywhere from around $16,000 for a basic 13 foot model to over $23,000 for a deluxe 19 foot fifth wheel. When buying a Scamp, you will also want to factor in shipping costs if you don't pick up at the factory.
Scamp will ship to anywhere in the continental US, but you will pay more the further you are from their factory in Minnesota. A great option is to plan a road trip to Backus and pick up the trailer directly from their facility.
We have seen used Scamp RVs for sale ranging from $10,000-$20,000 based on the year and size.
What is the Average Weight of a Scamp Camper?
Again, the weight of a Scamp camper differs depending on the size and model. Of course, you'll also need to factor in the camper's weight with and without fuel and cargo.
13′ Base Model Scamp trailers can weigh between 1,200 and 1,500 pounds
16′ Scamps weight between 1750 and 2600 pounds, depending on the model.
19′ Scamp fifth wheels range from 2,000 to 2,900 lbs.
Therefore, campers should pick a vehicle that can tow at least 3,000 lbs to haul a Scamp trailer safely.
Considering trailers on average weigh between 4,000 or 5,000 pounds, Scamp campers are a great lightweight alternative.
What is Standard with a Scamp Camper?
Their basic 13′ model comes with:
Two burner propane stovetop
Kitchen sink
1.9 cubic foot refrigerator
45 amp power converter
12 volt water pump
R15 insulation
12 gallon freshwater tank
Screen door
Window over range
Cabinets
Bathroom (or bunk beds)
Spare tire with cover
Mounted rear stabilizer jacks
Exterior LED lights
Single LP Tank and Gauge
Extra Options for a Scamp
These extra options are not standard in a Scamp when ordering directly from the factory. Each extra costs an additional fee. Fees below were reported by Youtuber Lady and the Scamp in November 2020.
If you are buying a used Scamp, some of these options might be in the model that you buy. You will not pay for them separately if buying a used trailer.
Keep in mind that prices are going up with RVs and likely will be more than this for 2022 models.
Water pump ($180)
Grey water tank ($375)
Gas water heater ($480)
Air conditioning ($799)
Furnace ($420)
Electric brakes ($275)
Awning ($1,050)
Second set of tail lights ($180)
TV package with DVD player ($800)
Roof fan ($250)
Backsplash ($100)
Backup camera ($500)
Outdoor shower ($400)
Solar Panel Kit ($475)
Choice of wood for cabinets
Useful Extras for a Scamp camper
While Scamp campers are durable, they're made from fiberglass, meaning they're easily scratched. If you plan on picking up a Scamp camper, consider buying yourself a trailer cover to protect its shell.
Reports from some customers state that Scamp's basic models aren't fitted with a water pressure regulator. This means your camper's pipes could get damaged over time if a city's water pressure is higher than recommended for your Scamp.
Check out our list of RV essentials for newbies to make sure you have everything you need!