Small, fiberglass trailers are more expensive than larger RVs built with wood and steel. It is an unexpected fact of buying an RV that might have you scratching your head. Why can you get a bigger trailer for less money when these small trailers cost so much more?
When we were looking to buy our next RV, we were introduced to the world of fiberglass camper trailers as an option. Though the price point was definitely higher than we were expecting, we soon found out why. We are so glad we bought our InTech Sol Horizon for so many reasons!
As owners of a fiberglass camper, let us show you the many benefits fiberglass trailers have, as well as some of the best brands to choose from.
This is a list of all of the trailers that we narrowed our search down to when deciding which one to buy. We did extensive research on finding the best brands that kept their resale value. These are the best fiberglass camper trailers out there!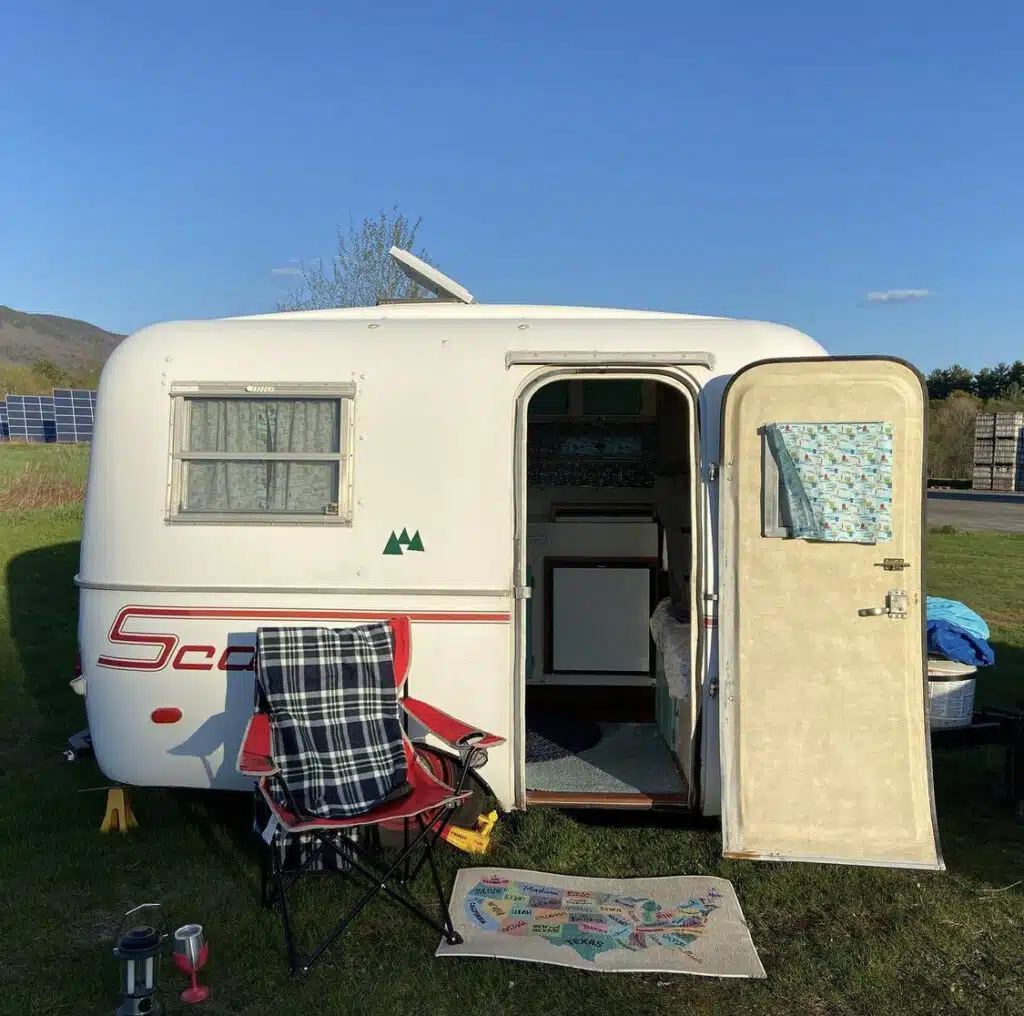 Our Top Picks
In a hurry? Here are our top choices to choose from:
Scamp or Casita for a cozy trailer that is easy to tow and easy to store at home.
InTech Sol trailers for more space and modern amenities.
Oliver trailers for the most luxurious campers with a small footprint.
Top Fiberglass Camper Brands
Casita
One of the most well-known fiberglass travel trailers is the Casita. It was one of the first fiberglass camper trailers in production and over the years they have become known for being durable, reliable and efficient.
This is one of the first RVs we looked at when deciding to choose a small trailer. Our friends Marc and Julie from RV Love had just bought a Casita after selling their large motorhome. Knowing how much we love them and that they make good choices, we were instantly intrigued as to why they would choose this brand!
So, after a quick text to Julie to make sure she hadn't lost her mind, we started looking into Casitas, too.
Casitas are made out of high-grade marine fiberglass which is extremely light-weight yet super durable. This makes it an excellent choice for an RV!
Inside, the design is smart and functional. You can get a lot of living space inside one of these tiny trailers because they are so well designed. Not only do you get a kitchen and a bathroom, but there is also a bed and seating and a dining room table, depending on the model.
There is an ingenious use of space. Storage spots pop up where you least expect them, and the overall layout is ergonomic.
Not all Casitas will have a bathroom. When new Casitas are built at the factory in Rice, Texas, owners have a choice of choosing a Standard or Deluxe model. What is the difference?
A Standard Casita will have a bathroom inside the trailer. This will be a wet bath with a toilet. A wet bath is a bathroom with a toilet that is also used as the shower facility.
A Deluxe Casita will not have a bathroom or a black water tank. Instead of the bathroom, you can fit in bunk beds to sleep two more people, or to be used as storage space.
If you are buying a new Casita directly from the manufacturer, you will be given this option. However, if you are buying a used Casita, be sure to confirm whether there is a bathroom or bunk beds inside the layout.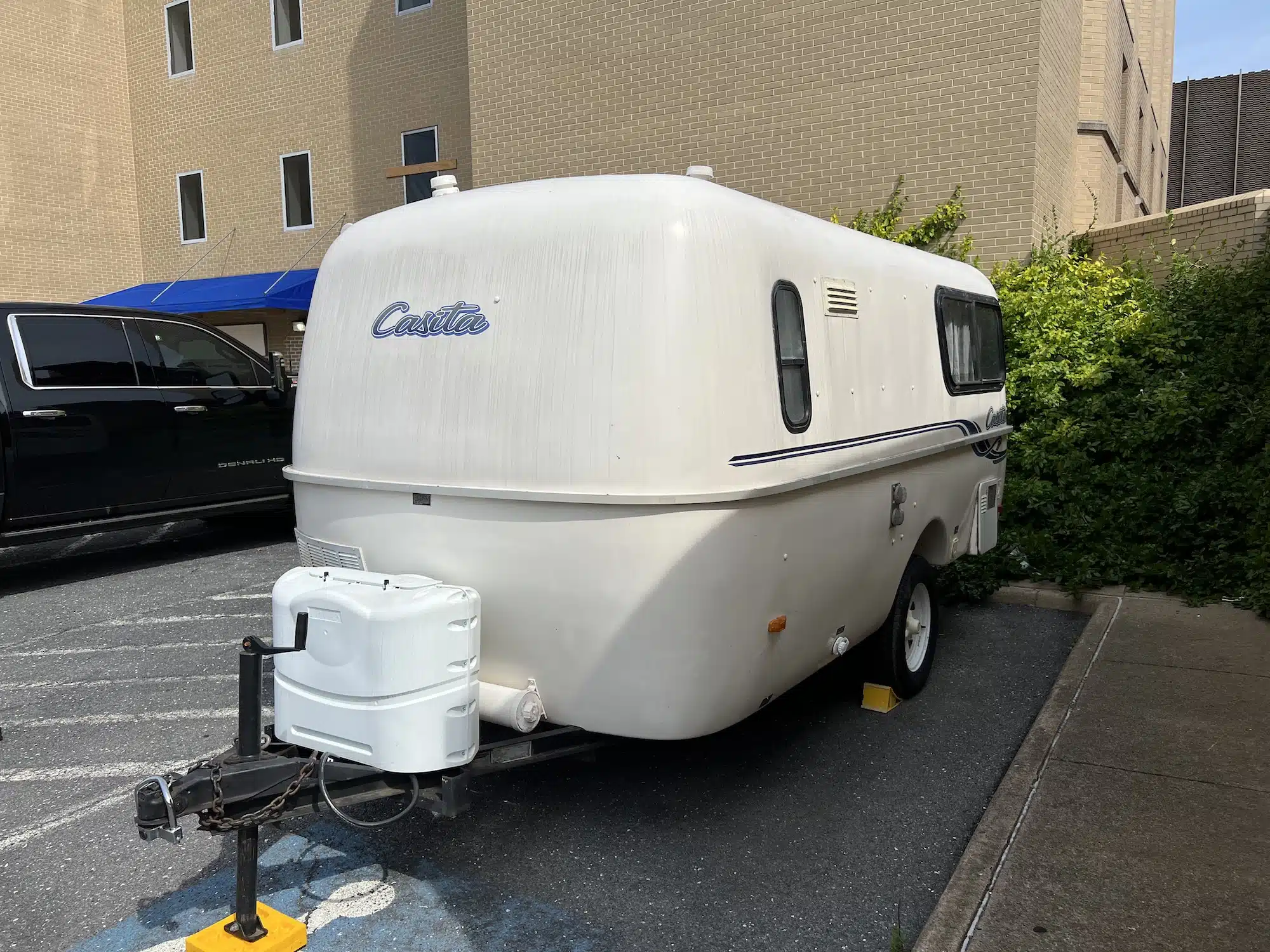 There are five different Casita models in varying lengths. As a Texas-based company, all of their models are named after U.S. ideals. They include:
Spirit (Sleeps 3-5)
Independence (Sleeps 2-4)
Heritage (Sleeps 4-6)
Freedom (Sleeps 2-4)
Liberty (Sleeps 2-4)
All Casita models have the exact same length, exterior height, interior height, width and dry weight. There are no variations between the models.
Length: 17′
Height: 8′ 11″
Interior Height: 6'2″
Overall Width: 6′ 8″
Dry Weight (Standard): 2,210 lbs
Dry Weight (Deluxe): 2,480 lbs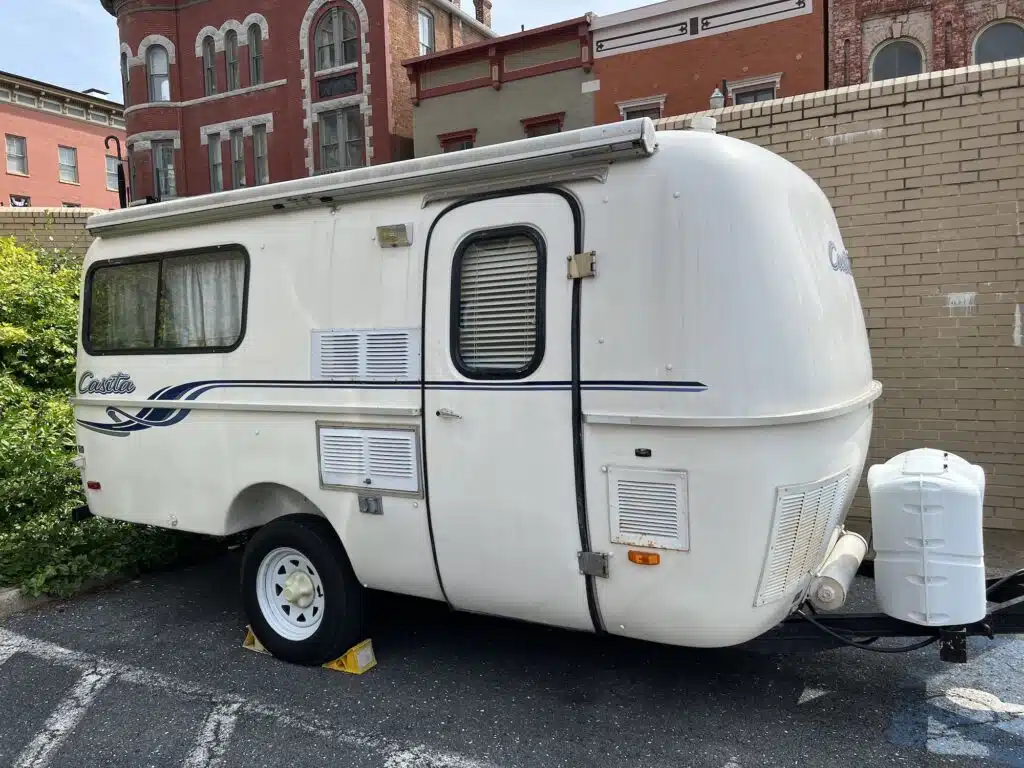 Why We Didn't Choose a Casita
While we liked the size and amenities of a Casita, we found that the space was just a bit too small for us. The bathroom seemed really small, and neither one of us was excited about having a wet bath to begin with, much less a really small wet bath.
The carpet on the walls was another big concern of ours. First, it is just weird. Second, we knew that we would be buying a used Casita rather than a brand new trailer and didn't want carpeting that could be harboring pet dander, mold, smells, etc.
InTech
This is the brand we chose and we couldn't be happier!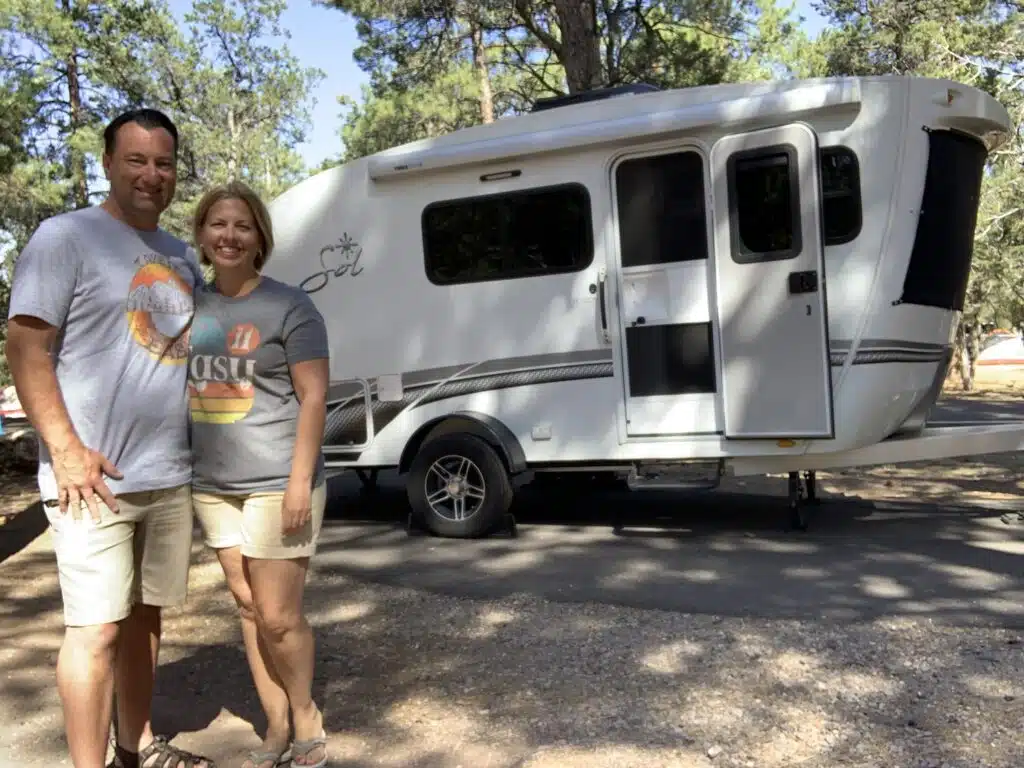 InTech was just coming onto the scene when we started looking for small RVs. They had only been manufacturing for about 3 years before we discovered them via a YouTube recommended video.
Honestly, if we hadn't been watching RV Love's videos on their Casita trailer (which probably was the reason we were recommended the video), I'm not sure if we would ever have found InTech on our own!
We bought a used InTech Sol Horizon. At the time, the price was still pretty high compared to larger RVs we could find.
Be sure to see our video tour of our Sol Horizon:
InTech has several product lines, with a variety of different models in each product line.
Their RV product lines include:
Flyer (Small, sporty models)
Luna (No bathroom)
Sol (More plush and spacious)
Terra (More like a traditional travel trailer, definitely roomy and luxurious)
O-V-R (Vehicles for overlanding)
The Sol models are the fiberglass campers that have bathrooms and many are still light weight enough to pull with a car or SUV.
Most of the fiberglass campers on this list are 3,100 lbs or less. If you are looking for lightweight trailers, consider these InTech models:
Sol Dawn: Dry Weight of 2,650-2,731 pounds
Sol Eclipse: Dry Weight of 2,695-2,871 pounds
We love our InTech Sol Horizon because the bathroom is 25% bigger than most wet baths and it had a true Queen-size bed. See our real-life review of the pros and cons of InTech trailers.
Scamp
Another one of the most well-known fiberglass trailers is Scamp. These cuties are tiny and compact and perfect for minimalist camping.
Scamp is a great trailer for towing with a car or towing with an SUV. They are a smart way for first time RVers to try out camping without having to buy a new vehicle or a lot of fancy equipment.
These compact campers are so small they might just fit in your garage! They are the perfect choice if you don't have a lot of storage space and need to tuck the trailer into a corner of your driveway or behind your home.
All Scamps, even the smallest ones, can have a bathroom in them. Which is surprising!
There are three different lengths of Scamp Trailers:
While the 13′ and 16′ models can be towed with a standard hitch, the 19′ model is a small fifth wheel-style trailer that will need a different towing set up.
Scamp 13 Key Features:
Exterior length 13' – 0″
Exterior height 7' – 6"
Exterior width 6' 8"
Interior length 10' – 0″
Interior height 6' – 3"
Interior width 6' – 6"
Super insulation (R15)
30 amp power converter
12 volt lighting
1.9 cubic foot refrigerator
12 gallon fresh water tank
Approximate weight 1300-1600 pounds
Hitch weight 120-160 pounds
✅ Click Here to read about the best half-ton truck to tow your trailer.
Why We Didn't Choose a Scamp
These camper trailers are small, really small! And we wanted more storage space and bigger bathroom facilities.
Oliver
When budget isn't an issue, then the Oliver Fiberglass Camper trailer is the ultimate choice for comfort and durability!
Crafted in Tennessee with an acute attention to detail, Oliver's trailers are made almost entirely of fiberglass. This doesn't just give them their sleek and polished appearance, it also offers unparalleled resistance to the elements.
What sets Oliver apart is its double-hulled design. A shell inside a shell, if you will.
This offers enhanced insulation, keeping the interiors cozy during chilly nights and cool during those sweltering afternoons.
A fiberglass trailer is just one of many easy ways to stay warm in an RV.
Every inch of the interior space is meticulously planned. The fittings? Luxurious. The fixtures? Modern. There's an air of sophistication that whispers rather than shouts.
And every model, regardless of size, is fitted with high-grade materials to ensure longevity.
Oliver Legacy Elite II Key Features:
Dry hitch weight: 490 pounds
Dry axle weight: 4,900 pounds
GVWR: 7,000 pounds
Interior height: 6′ -6″
Exterior Height (w A/C): 9′ – 8″
Exterior Width: 7′ – 0″
Exterior Length: 23′ – 6″
Sleeps 3 / Seats 6
Fresh Water: 32 gallons
Grey Water: 32 gallons
Black Water: 15 gallons
Molded fiberglass wet bath w/ toilet
Why We Didn't Choose an Oliver
If money was no issue, this is the trailer that we would have bought. We absolutely love the interior design and look. However, it is a pretty high price tag for these trailers.
Even still, when we talk to Oliver travel trailer owners, they all say how much they love their camper, so if you are going to keep your trailer for a while, this could be a great investment!
With few Oliver trailers being produced, it is also hard to find a used Oliver trailer to buy. People love them so much that they keep them forever.
Used trailers are not a significant cost savings, either, which is just one more reason to love fiberglass trailers. Their value holds steady.
Escape
When you think of lightweight fiberglass camping trailers, the Escape travel trailer by KZ is a great choice. Crafted with meticulous attention to detail and unparalleled quality, the Escape camper trailer is more than just a vehicle, it is an outdoor experience.
This fiberglass trailer brand definitely doesn't have a retro look or a modern design. Instead, it is geared towards off-roading and adventure camping. If exterior appearance matters to you, keep this in mind.
While many trailers look like simple boxes on wheels, Escape fiberglass camper trailers have a sleek, aerodynamic design. This not only adds to its visual appeal but also aids in fuel efficiency, reducing drag when you are cruising on highways or tackling winding roads.
Escape ensures that each trailer undergoes a thorough quality check, ensuring that you get nothing but the best.
Escape E17 Key Features:
UVW: 3,320 pounds
Dry hitch weight: 550 pounds
Dry axle weight: 2,770 pounds
GVWR: 4,000 pounds
Interior height: 78″
Exterior Height (w/o A/C): 112″
Exterior Width: 90″
Exterior Length: 22′ – 0″
8 cu. ft. refrigerator
Fresh Water: 20 gallons
Grey Water: 30 gallons
Black Water: 30 gallons
Heating: 20K BTU furnace
Nest
When many people think of camping, they think of Airstream. The brand is known for quality and innovation in the trailer industry. With its signature aluminum trailers recognized the world over, Airstream has long been a staple in the RV community.
However, Airstream has branched out beyond their aluminum trailers with modern-day designs. The Nest by Airstream is an alternative for small trailers that can be towed by a car.
Nest is definitely a departure from the iconic silver-bullet look of traditional Airstreams. This camper is a blend of form and function, showcasing a sleek, fiberglass body.
With its minimalist yet sophisticated design, Nest caters to those who appreciate both aesthetics and practicality.
Surprisingly spacious for its modest exterior dimensions, the Nest provides everything one needs for comfortable traveling and living. It measures 16 feet in length, making it perfect for solo travelers or couples seeking cozy quarters without compromising on essentials.
For a trailer of its size, the Nest is generously equipped. From a well-appointed kitchenette with essential appliances to a cozy sleeping area and a full bathroom, every inch is optimized for maximum utility.
Furthermore, the Bluetooth-controlled LED lighting ensures a perfect ambiance, be it day or night.
Nest 16U Key Features:
Dry hitch weight: 375 pounds
Dry axle weight: 3,400 pounds
GVWR: 4,000 pounds
Interior height: 6′ -6″
Exterior Height (w A/C): 9′ – 6″
Exterior Width: 7′ – 1″
Exterior Length: 16′ – 7″
Sleeps 2
Fresh Water: 24 gallons
Grey Water: 30 gallons
A/C: 13.5K BTU
3.2 cu. ft. refrigerator
Molded fiberglass wet bath w/ toilet
All of these fiberglass campers with bathrooms can be the perfect introductory trailer when towing with a car or SUV. Or they are perfect for established campers who are looking for an investment in a quality trailer that will last for decades.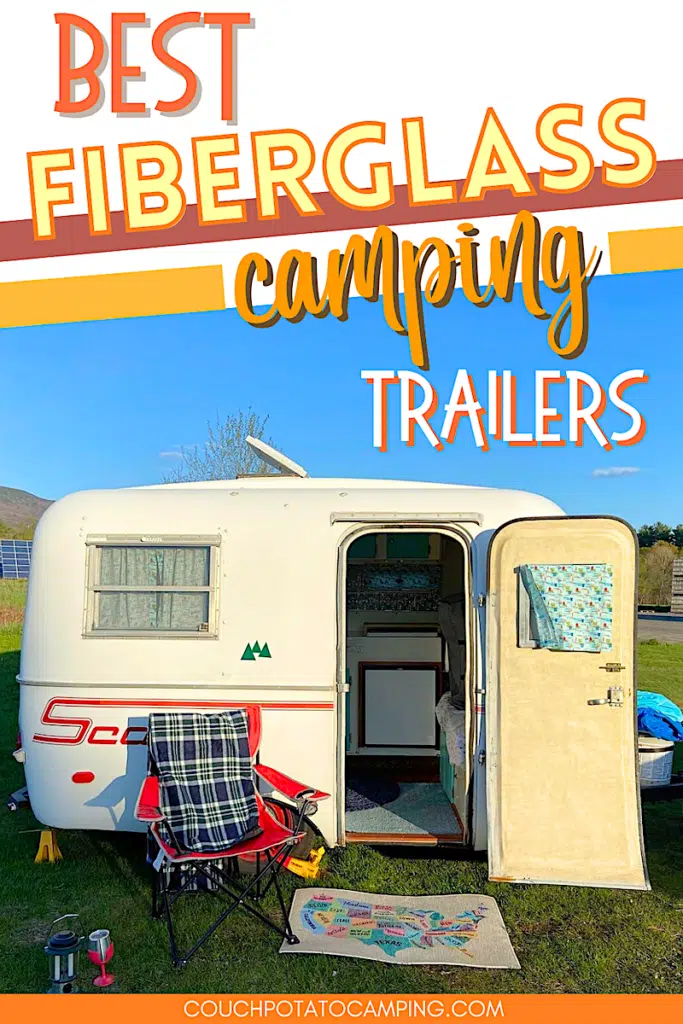 Related Content