Making a camping meal plan can seem difficult when you don't have a refrigerator or oven to use when cooking meals. There is no need to be stressed, though, because there are hundreds of non-perishable foods that you can bring to make delicious recipes!
Our epic list of non-perishable food for camping is guaranteed to make meal planning easier for breakfast, lunch and dinner! We have simple ideas for effortless meals that your family will love.
This big list of 317 ideas are all foods that do not require refrigeration. You will not need to bring a cooler with you for these items.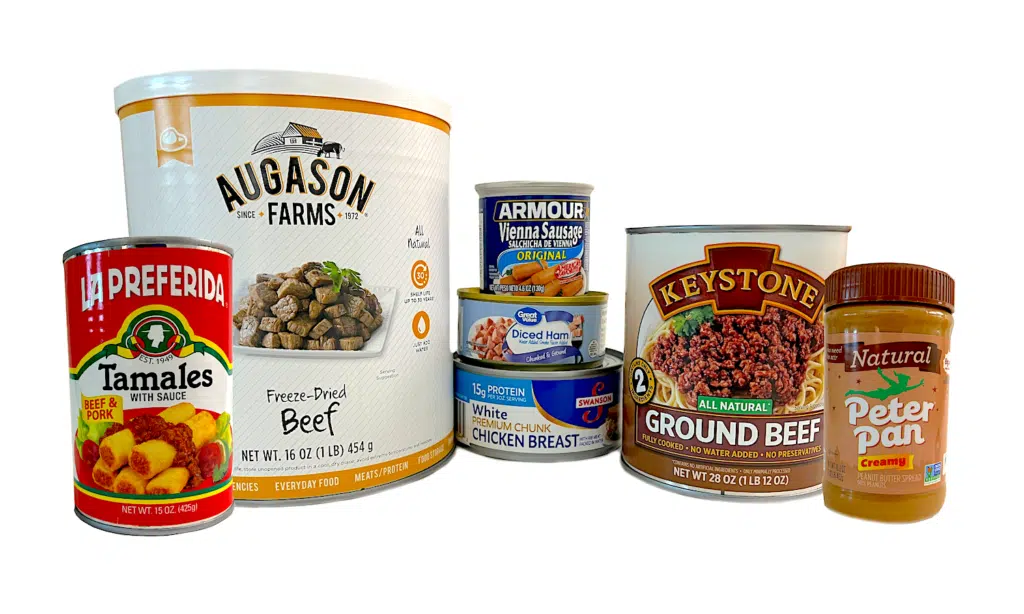 Our Best Tips for Using Non-Perishable Foods
Make sure that you actually like the taste of a food before deciding it will be part of your camping recipe. You do not want to be relying on a food item for a meal only to find out that you don't like it.
Cans with flip-top lids are perfect in case you don't bring a can opener.
Plastic cups with fruit, vegetables, soups or rice will be less heavy to carry to your campsite than glass or tin cans.
Wait for sales and stock up then. You will be surprised at how often non-perishable foods go on sale.
If you are bringing canned foods, make sure to have a manual can opener (that doesn't require electricity).
Bring along a pair of scissors to open packaging.
Be ready to pack out your trash if necessary in remote camping destinations. Keep a few small plastic grocery shopping bags tucked away to put all of the waste in after your meal or snack.
Many foods might need to be prepared. For instance, canned tuna needs to be mixed with mayo to make an easy tuna salad sandwich. Think about how you will eat the foods and bring the supplies you will need, such as a bowl, utensils, paper plates, disposable cutlery, cutting knives, etc.
Consider how you will prepare the foods. While you might assume that you will cook over a campfire, if there is bad weather or a burn-ban, do you have a propane stove or solar oven to prepare meals with instead?
Hand wipes and hand sanitizer are a must! Wash your hands before eating, after eating and clean up food prep with convenient hand wipes.
Meats and Proteins
Proteins are such an important part of a meal when you are active and outdoors hiking, swimming or just setting up camp. Thankfully, there are so many ways to bring non-perishable meats and vegan proteins with you.
Peanut Butter
Canned Tuna
Canned Chicken
Canned Meat
Canned Salmon
Canned Turkey
Canned Sardines
Canned sausages
Freeze Dried Meat Substitute (Beef flavored)
Spam
Sardines
Tuna packs
Tuna packs with spices/mayo in it
Canned Chili
Beef Stew
Peanut Butter Powder (We have found that Sam's Club has the best value)
Nuts
Canned Beans
Dried Beans (black beans, black eyed peas, navy beans, pinto beans, red beans, white beans, garbonzo beans)
Almond butter
Sunflower butter
Cashew butter
Freeze-dried cheese
Parmesan cheese (such as Kraft, sold in spaghetti sauce aisle)
Sunflower seeds
Chia seeds
Flax seeds
Hemp seeds
Pumpkin seeds
Soups
Country ham (usually doesn't have to be refrigerated)
Lentils (Green, Red, Brown, Yellow, Black)
Caned Ravioli
Powdered Protein Drinks/Mixes
MREs (Meals Ready to Eat)
Freeze dried meals (such as this Italian Lasagna in a bag)
Peanuts
Cashews
Pistachios
Almonds
Brazil nuts
Hazelnuts
Macadamia nuts
Pecans
Pinenuts
Walnuts
Mixed Nuts
Wheat berries
Quinoa
Whey protein shakes
Dried egg powder
Powdered milk (We found that Sam's Club variety is the most delicious)
Corned beef hash
Dinty Moore stew
Anchovies
Deviled ham
Vienna sausages
Canned oysters
Canned mackerel
Canned pork
Waxed cheeses
Shelf stable cheese (such as Laughing Cow)
Canned mackerel
Canned ground beef
Freeze dried ground beef
Freeze dried chicken
Freeze dried pork
These low-wattage burners can be used with a portable power supply if you want a hot meal without a campfire.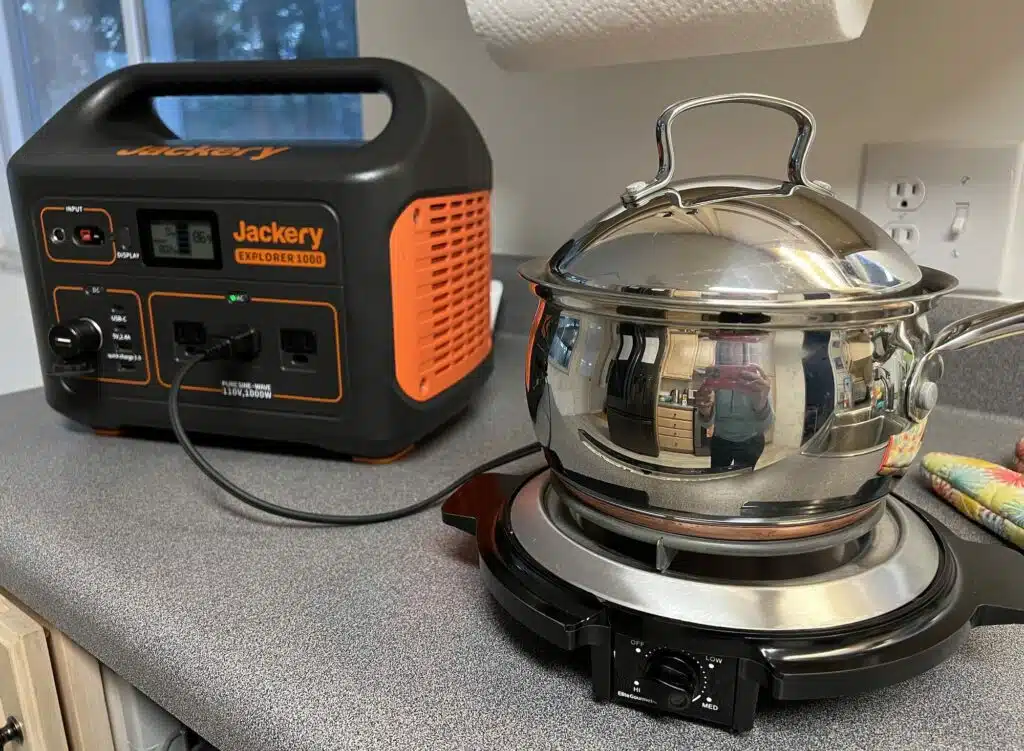 Pastas, Breads, Crackers, Rice
Anyone else love carbs as much as I do? These are the perfect pairings for your meats and proteins to make a balanced meal.
Any of our Make Ahead Camping Breakfast recipes
Granola Bars
Power bars
Dry cereal
Oatmeal, old-fashioned
Instant oatmeal packs
Loaf of bread
Bagels
Baguette
Hamburger buns
Hot dog buns
Hoagie buns
Tortilla wraps
Rice cakes
Pre-made muffins (such as our banana nut muffins, orange chocolate chip muffins, or pumpkin banana muffins)
English muffins
Pancake mix that just needs water
Cornbread mix that just needs water
Biscuit mix that just needs water
Grits
Cream of Rice
Cream of Wheat
Cream of Buckwheat
Graham crackers
Saltine crackers
Oyster crackers
Dried potato flakes
Pasta
Gluten free pasta
Canned Spanish Rice
Bisquick
Rice
Minute Rice
Macaroni and Cheese Boxes
Cup-a-noodle
Ramen soup
Breakfast Bars
Quinoa
Barley
Millet
Couscous
Buckwheat
Soba, made from buckwheat
Rice noodles
Chow main noodles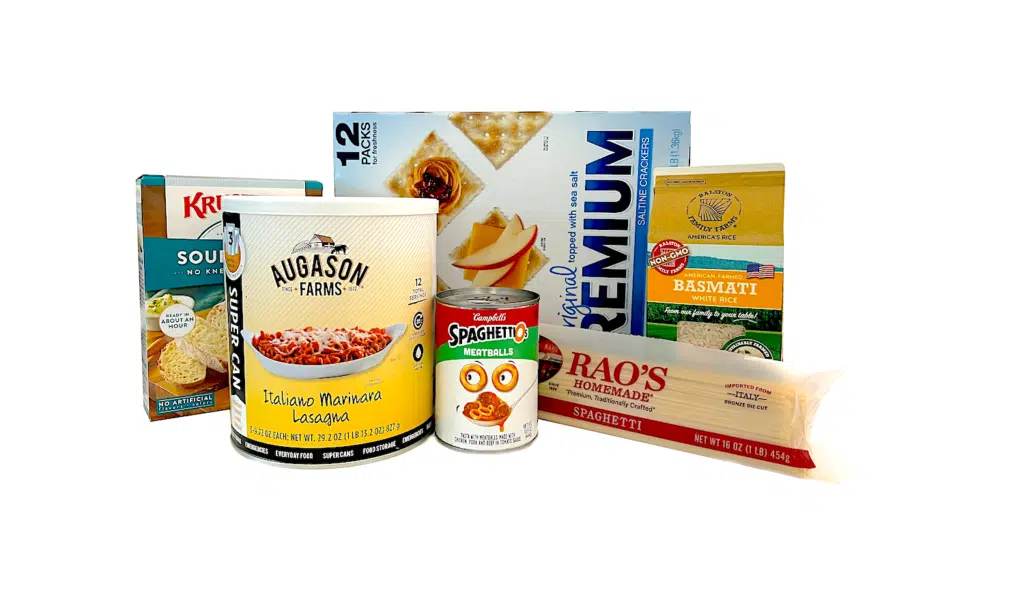 Fruits and Vegetables
It is very easy to bring fruits, vegetables and other produce items with you when camping. Almost all fruits and veggies can be brought fresh without needing refrigeration.
Canned vegetables and fruits, as well as plastic cups, are quick and easy to bring. You won't have to worry about the produce getting bruised when traveling.
One great thing about bringing canned fruits or vegetables is that you can use the liquid in other meals that you are making. For instance, if you choose fruit packed in water, rather than heavy syrup, you can use that liquid to make instant oatmeal packets or add to water for a flavoring.
Canned vegetable liquids can be used to make soups, rice or pasta. Don't ever let that nutrient-rich liquid go to waste!
Canned green beans
Canned peas
Canned corn
Fresh corn on the cob to grill
Canned Tomatoes
Fresh tomatoes
Sun dried tomatoes
Dried Vegetable Powders
Dried Fruit powders
Dried banana chips
Dehydrated strawberries
Raisins
Dried apricots
Canned mixed vegetables
Canned potatoes
Salsa
Canned baby foods (these are great, even if you don't have young children)
Applesauce
Canned Pumpkin
Sweet potato
Tomato Paste
Pasta Sauce
Pizza sauce
Mandarin oranges
Pineapple
Peaches
Pears
Fruit cocktail
Grapefruit
Pie filling
Dried cranberries
Coconut flakes
Dates
Mangoes
Prunes
Olives
Artichoke hearts
Beets
Carrots
Green chillis
Spinach
Sauerkraut
Asparagus canned
Canned chestnuts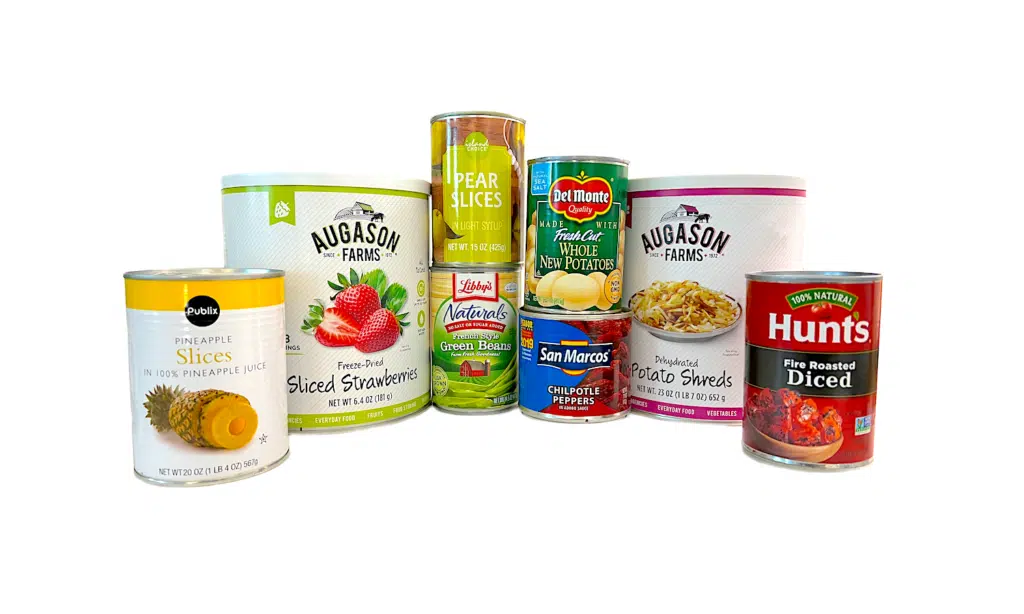 Snacks
You are guaranteed to get the munchies when sitting around the campfire, hiking during the day, or after an afternoon dip in the river or lake. These are some great non-perishable snacks to have on hand.
Goldfish crackers
Chex Mix
Tortilla chips
Plantain chips
Graham crackers
Animal crackers
Pop Tarts
Rice Krispy treats
Peppermint Candies
Butterscotch
Werther's Originals
M&M candies
Skittles
Jolly ranchers
Gummy bears
Candy canes
Gum
Trail mix
Pretzels
Dried chickpeas
Kale chips
Cauliflower chips
Dried veggie sticks
Pita chips
Dried cheese crisps
Popped popcorn
Rice cakes
Potato Chips
Snack Pudding Cups
Canned Cheese
Cheese dips
Potato Chip Dips
Bean dips
Corn nuts
Little Debbie Snacks
Pre-packaged snacks
Cookies
Lollipops
Cheese and crackers snack packs or individually wrapped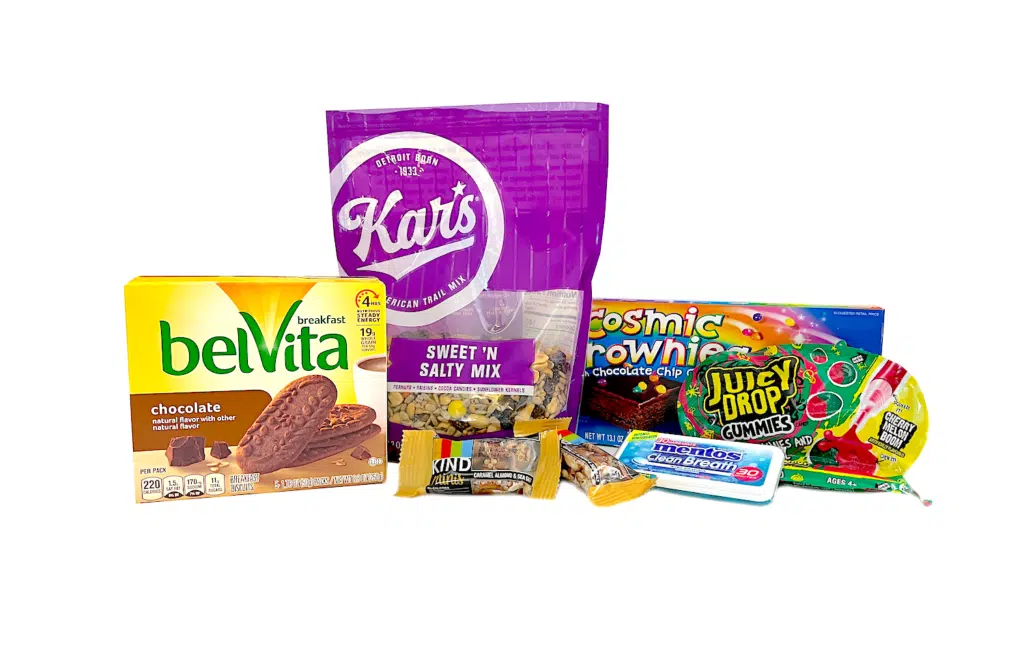 Drinks
Most drinks are going to be shelf-stable until opened. If you don't have a camping cooler, it is best to buy individual serving sizes of drinks so that you don't waste the rest.
Dried drink flavorings are perfect for camping off-grid. As long as you have a water supply, you can have a variety of hot or cold drinks all day long.
Instant Coffee
Coffee beans (and grinder)
Freeze dried coffee
Tea bags
Cold brew tea bags
Lemondade Mix
Flavored Water Drops
Kool-Aid
Bottled Juice
Canned Juice
Evaporated Milk
Sweetened Condensed Milk
Shelf Stable Milk (Dollar Tree has some surprisingly good varieties)
Almond Milk
Oat Milk
Soy Milk
Rice Milk
Cashew Milk
Shelf Stable Chocolate Milk
Soda
Seltzer
Alcohols
Hot Chocolate Packets
Hot Cider Mix
Gatorade – bottled or powdered
Crystal light
Ovaltine
Hershey's Chocolate powder
Cocoa powder
Malted milk
Powerade
Pedialyte
Electrolyte drinks
Powdered milk
Juice boxes
Dried fruit juice powder
Canned vegetable juice
Wine
Coconut milk
Coconut water
Canned coconut cream
Beer
Condiments
Many of these items come in single serve packets from restaurants, take-out meals, etc. It's wise to keep these to use when you go camping.
Sugar
Cocoa
Powdered Creamer
Salt
Pepper
Garlic Powder
Onion flakes
Hot Sauce
Chili Sauce
Salad dressing
Ketchup
Soy sauce
Coconut Aminos
Mayo
Mustard
Relish
Horseradish Sauce
Arby's Sauce
Onion powder
Olive oil
Coconut oil
Crisco
Bouillon
Dried onion and spice packet mixes
Honey
Pickles
Hot peppers
Chicken broth
Beef broth
Vegetable broth
Mushroom broth
Ghee (doesn't need refrigeration)
Basil
Cinnamon
Ginger
Cumin
Avocado oil
Stevia
Vanilla extract
Vinegar
Syrup
Sugar
Jelly
Jams
Parmesan cheese (over hot pasta, mac and cheese)
Canned butter
Iodized salt
Powdered sugar
Dried mustard
Red pepper
Rosemary
Oregano
Tabasco sauce
Worcestershire sauce
Chocolate chips
Chocolate syrup
Baking chocolate
Apple cider vinegar
BBQ Sauce
Be sure to see all our camping recipes for easy meal planning ideas!