Whether you are new to camping and want to try a small travel trailer, or you just don't want to have to buy a new vehicle to tow a camper, these travel trailers under 2,500 lbs. are the perfect fit for you!
Small, lightweight campers are easier to tow. You usually don't need to add on sway control for campers this size.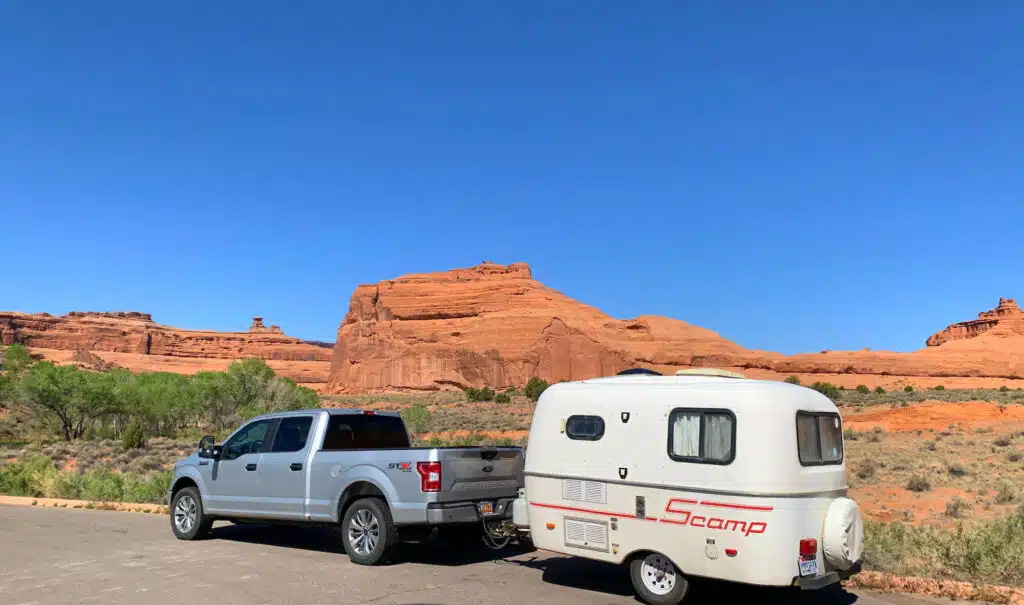 They also are easier to find a campsite for. And you don't need to purchase a new vehicle for towing.
Plus, you can often store these small trailers in your garage or driveway, unlike larger travel trailers.
These lightweight travel trailers 2,500 lbs or less might not have as much space or amenities as the bigger campers, but you gain a lot of freedom with the light weight options. Most of these trailers have bathrooms and are enclosed from the elements. Only a few are pop-up trailers.
We're sharing out favorite camping trailers under 2,500 lbs GVWR (Gross Vehicle Weight Rating). Not the dry weight or UVW (Unloaded Vehicle Weight).
What's the difference?
GVWR is the total amount of weight that the trailer axle can carry, including the dry weight of the camper empty, plus any cargo, fluids or water in the tanks, optional equipment and accessories. The dry weight, or UVW, is not an accurate representation of what your camper will weigh when you are actually using it to travel or camp.
After all, have you ever brought an RV with you to go camping that doesn't have any food, clothing, outdoor gear or water? Nope, we haven't, either.
2022 GoSun Camp365 Solar Powered Trailer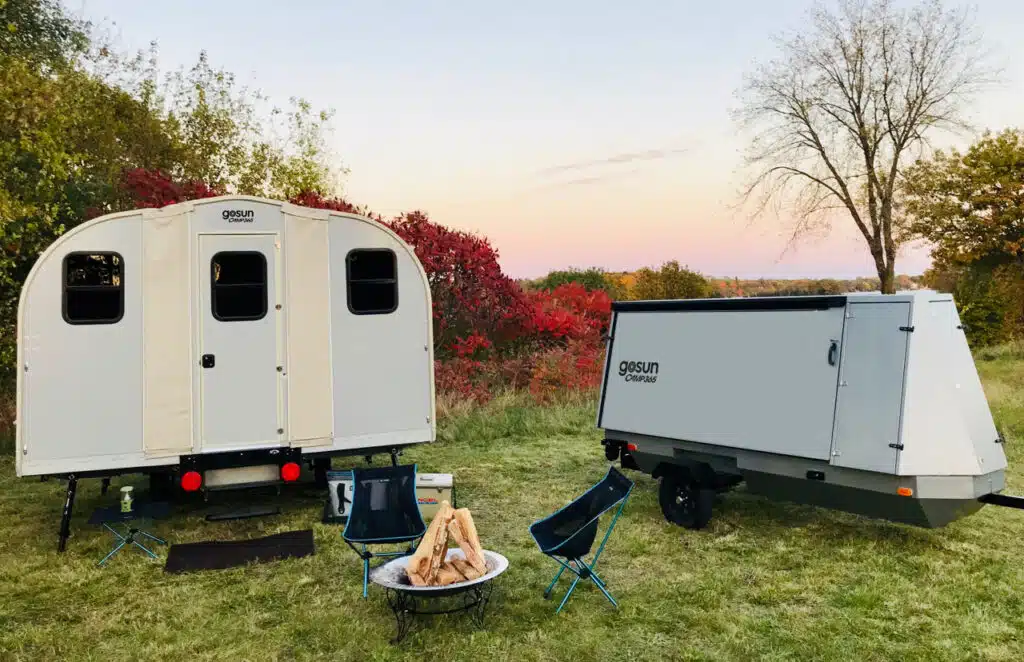 If you're looking for a lightweight RV that is solar powered and perfect for off-grid camping, then check out the GoSun Camp 365 trailer.
GoSun, well-known for their line of innovative camping appliances, has teamed up with AWOL Outdoors Inc. DBA CAMP365, to create their latest product: a self-contained, solar-powered, 1,800 pound travel trailer that can be towed by just about any vehicle!
The GoSun Camp365, when folded up, can fit in normal-sized garages and standard parking spaces. It takes less than 10 minutes to setup into a 100 square foot space measuring 7 feet, 6 inches in height and 11 feet, 8 inches in width.
Here are some of the key features:
No large tow vehicle is required
Lightweight at 1,800 pounds
solar powered with system pre-installed
Trailer is 4 feet wide when fully closed
Height of the collapsed trailer is 6 feet, 8 inches
Pre-installed with GoSun line of solar appliances
Offers an emergency power system
Proprietary leveling system
11.25 inches of ground clearance
GoSun Water purification system
24 gallon fresh water tank
Multiple portable power banks
Exterior awning
Aluminum frame
2021 Aliner LXE
Want a small camper with a King size bed and a built-in shower and toilet? Then the Aliner LXE is a great choice for you!
This small camper weighs less than 2000 lbs. Yet it seems roomy thanks to it's 8 foot height in the middle of the A-frame peak. Plus, a pop-out dormer helps to create extra space.
Lots and lots of windows help make this trailer feel light and bright inside, as well as giving extra ventilation for a cross-breeze to cool you off.
The sofa pulls out to be a queen size bed, unless you want a king size bed. Then you can add the dinette table near the pull out sofa, add another cushion, and then it's a king size bed.
The height of the camper when closed is 57″ – less than 6 feet high. The length is 15 feet with a width of 78 inches – 6 1/2 feet. Which means you can store this trailer in your garage if you'd like to. Which means you don't have to pay for storage.
A cassette toilet means you don't have to drive to a dump station quite as often to get rid of your grey and black tank. Which means you might be able to boondock a little more if you can make the 11-gallon fresh water tank stretch further by bring extra water (here's the foldable water-storage jugs we recommend).
The toilet and shower are stored in a cubby that opens up to create a makeshift bathroom. It's not a lot of privacy, but it gets the job done.
With a hitch weight of 180 lbs., you can start camping with your minivan or SUV if you don't have a truck.
Adding the optional rear hard dormer will give you a bit more space to move around inside this compact camper.
Every Aliner is built by hand in Pennsylvania.
The company states that it takes just 30 seconds to pop up the camper.
While this camper might seem like a perfect fit, you'll want to check out the video of this Aliner owner for his honest review of using the trailer and see if his concerns are the same as yours.
Key features:
King size bed
2 propane tanks
Cassette toilet
Marine grade flooring
Propane heater
Command A/C and Heat Pump
USB ports
Outside grill (optional)
Front Hard Dormer
Rear Hard Dormer (optional)
14 inch tires
Outside shower
Under sofa storage accessible from outdoors
Fantastic Fan
3-way (gas, electric and battery) 3 cubic foot Dometic refrigerator and freezer
Microwave
2-burner stove
Front and rear diamond-plate rock guard
2022 ROVE LITE 14FD
This lightweight RV is specifically made for people who want to camp but don't have a tow vehicle for larger trailers. Weighing in at 1,714 lbs., this camper has a GVWR of 2,500 lbs., which means you can still bring more than 700 lbs. in supplies and accessories.
Travel Lite Trailers were originally a truck camper manufacturer but have started manufacturing ultra-lightweight travel trailers such as the Rove Lite. The aerodynamic teardrop design makes it easy to tow.
The 5,000 BTU air conditioner is mounted on the side, not on the roof. Which gives you a lower height of the trailer, so that you might be able to fit it into storage more easily.
There is no wood in the sidewalls or the roof or floor of this RV, which means no worry about water intrusion.
A wet bath provides both a shower and a toilet in one area, which saves space, yet still gives you the convenience of a nice shower while camping!
The dinette has bench seating and folds down into a bed. The sofa folds down into a bed. So you could really leave the bed down all of the time if you'd like.
There's a lot of storage in this camper – more than you might think. Thanks to open shelving storage with cargo netting, and not doors, you can stuff in more items into the storage nooks.
We like the fresh, modern decor of the 2022 Rover Lite 14FD, with lighter colors and faux wood accents. It's a farmhouse look that is popular.
However, the company would be smart to just remove the tiny little curtain valances which don't look good. Of course, you could easily remove them yourself.
The two outside storage units are accessible from the inside, which is great for storing clothes and food, or on rainy and cold days when you don't want to go outdoors to get your stuff.
Key Features
10 gallon fresh water tank
30 gallon grey tank
5 gallon black water tank
Tankless on demand water heater
20 lb propane tank
2 burner stove
3 Cubic Foot 3-Way Referigerator
No cassette toilet
30 amp connection
Fantastic Fan
13" Custom Lite-weight Aluminum Wheels
2000 lb. Axle with Electric Brakes
Rear Stabilizer Jacks
5,000 BTU Air Conditioner Side Mounted
20,000 BTU Furnace
Awning
Pre-wired for Solar
Outside shower option
Exterior speakers (optional)
Front stabilizer jacks (optional)
Here's another Rove Lite review:
2019 R-Pod 178
Measuring 20 ft across and with an unloaded weight of just over 2,600 lbs, this 178 model of the R-Pod trailer by Forest-river has a simple yet cozy floor plan.
In the front you have the U-shaped dinette that could comfortably seat 6 guests and which folds down into a Queen size bed – very generously sized for a spare bed in a trailer this size.
And in the rear, you have a full Queen size bed with plenty of storage space beneath, so this trailer can comfortably sleep 4 adults.
In the middle of the R-Pod you have your kitchenette with 2-burner stove and sink with the option to add a microwave. There is also a 3-way fridge freezer, plentiful cabinet space for storage and a wet bath complete with a Fantastic fan to freshen the place up after cooking and other camping aromas!
To entertain travelers on gloomy days, you have the option to include a 24 inch TV that is attached to a swing arm, so if you want to watch some TV at the dinette or in the bedroom on cozy nights indoors then you have this option.
You also have a Bluetooth stereo system with HDMI ports and internal and outdoor speakers if you want to stream radio or music from your mp3 device tanks to a USB port.
Key features:
Wet bath with lockable door and Fantastic Fan
Power awning with LED light strip
Spare tire & bike rack hitch
U-shaped dinette converts into Queen bed
2-burner stove with optional microwave
3-way fridge freezer
Bluetooth entertainment system
Plenty of cabinet space and fold-out clothes line
AC and furnace
Exterior shower unit
Pre-wired for solar connectivity
Spacious L-shaped external storage unit
2022 Forest River Rockwood Tent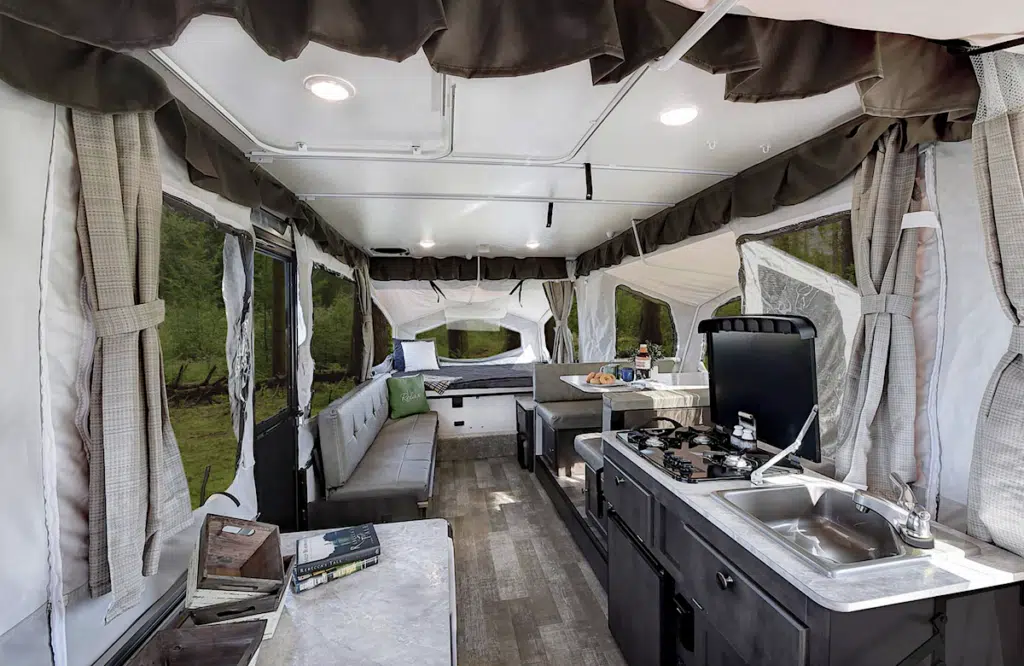 The Forest River Rockwood Tent has several travel trailer models within this line you can choose from. A few are over 2,500 pounds; however, model numbers such as the 1940F, 1980, and the 2318G all within the Freedom Series are under this weight threshold.
The Rockwood Tent falls within the pop-up style of travel trailer though compact, they have a list of standard options packed in their small, lightweight stature.
The Freedom Series each offer two fold out beds at the opposite ends of the trailer. Depending on the model you choose, the bed sizes will vary.
For example, the bed sizes in the 1940F offer a double size bed on the rear and a queen size bed on the front. The 2318G, however, offers a queen bed in the rear and near-king size bed towards the front.
All the travel trailers within the Freedom Series provide dinette seating, with the sizes and configuration varying between the various models. Other standard interior features within the Series are a swing kitchen with a refrigerator, cooktop, and sink configuration.
Key features:
Optional shower and Port-A-Pottie available on the 2318G model
Wood plank flooring
30 Amp power
TV outlet w/ Cable & Satellite
Two 20lb. LP Bottles with Cover
USB Charging Ports
Hot Water Package (All models)
12V Refrigerator with 100W Roof Solar Panel
20K BTU Furnace
Power Roof Lift
Optional 13,500 or 15,000 BTU Low Profile Roof Air
Roof Vent Fan
2022 Safari Condo Alto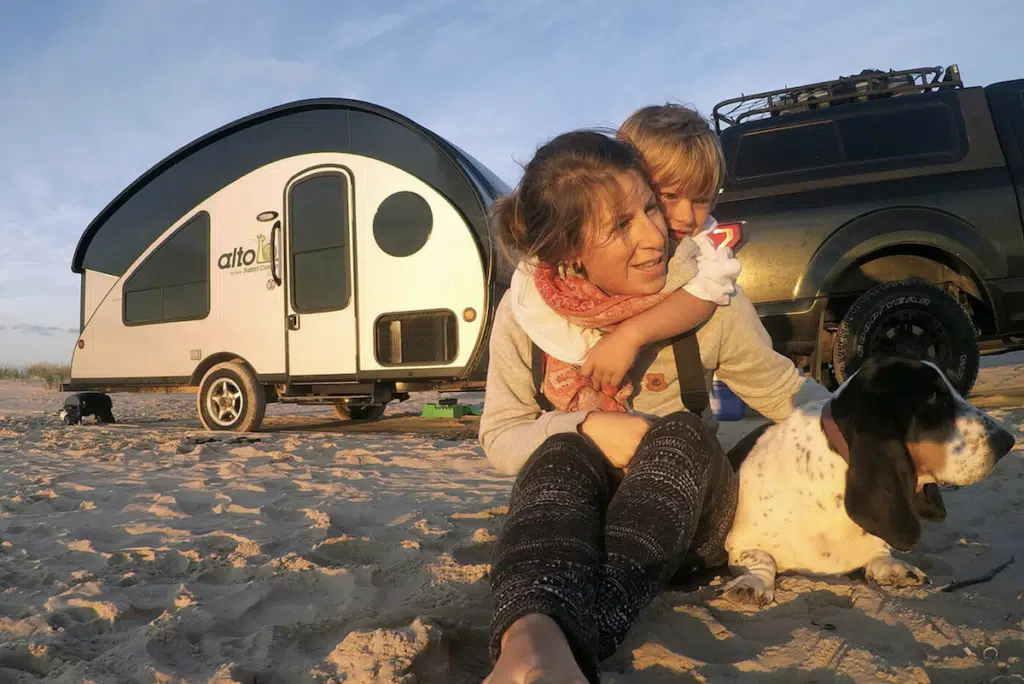 If you're looking for an innovative, ultra-light travel trailer that is compact but spacious, then you should check out the Safari Condo Alto. This is a tear drop style travel trailer like none other we've seen.
The Safari Condo Alto weighs in less than 2,000 pounds.
One of the most amazing features of the Safari Condo Alto is the unique roof that lifts up to make the interior space taller for easily walking around. By pressing an electric switch, the roof raises up from the front of the tear drop (similar to how a slide works on an RV) for more spacious room when camping. However, putting the roof down creates an aerodynamic and sleek design when towing and storing.
Another feature that makes this small RV stand out among the rest are the huge holding tanks! These tanks are larger than some RVs that are three to four times this size!
Featuring an all aluminum floor, frame, and articulated roof, the Safari Condo Alto series of trailers has a low center of gravity riding on its independent 'Flexride' system.
Key features:
60 gallon fresh water tank
60 gallon grey water tank
46 gallon black water tank
Fixed flush toilet
Ability to sleep 3-4 people
30 A 120 V electrical inlet
20lb. LP Bottles with gauge
Exterior shower outlet
Space heater / Hot Water heater combo
2021 Forest River Flagstaff E-Pro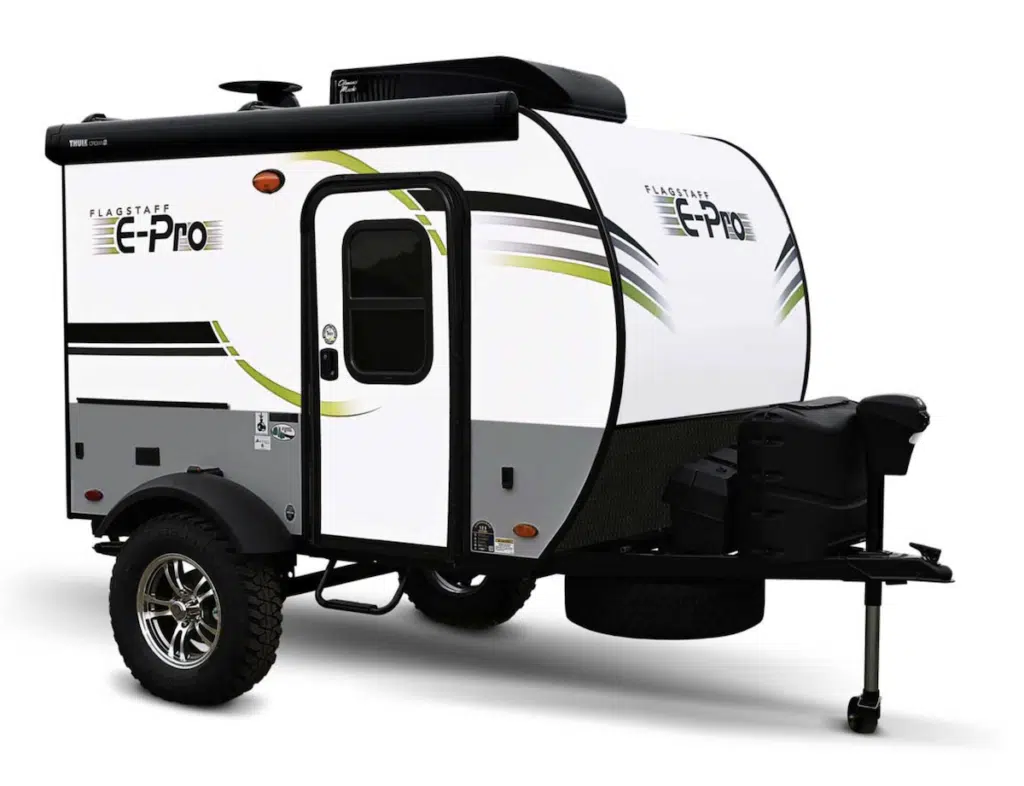 The Flagstaff E-Pro single axle trailer by Forest River is nimble and versatile travel trailer option that weighs just under 1,800 pounds. The Flagstaff E-Pro offers a lot in a little package.
The interior features hard-sided, conditioned sleep quarters with a couch that converts into a bed.
Windows open for cross ventilation.
You will find a 12 Volt TV with DVD Player, and an AM/FM stereo with Bluetooth connectivity.
The E-Pro exterior offers a roof mounted solar panel, exterior rear kitchen area, exterior accessed storage, and a Teton All In One Wi-Fi Booster/LTE Prep & Antenna to keep you connected.
Key features:
4 Frame Mounted Stabilizer Jacks (Only 2 on 12SRK)
Magnetic Baggage Door Catches
Outside Shower
Teton All In One Wi-Fi Booster/LTE Prep & Antenna
Outside Griddle with LP Hookup
Two 20lb. LP Tanks
Ground Solar Prep
190 Watt Roof Mount Solar Panel w/ 1000 Watt Inverter (100W 12SRK)
Spare Tire w/ Carrier
15" Mud Rover Radial Tires and Lift Kit (Step extension on the 12SRK)
Power Tongue Jack
2024 Scamp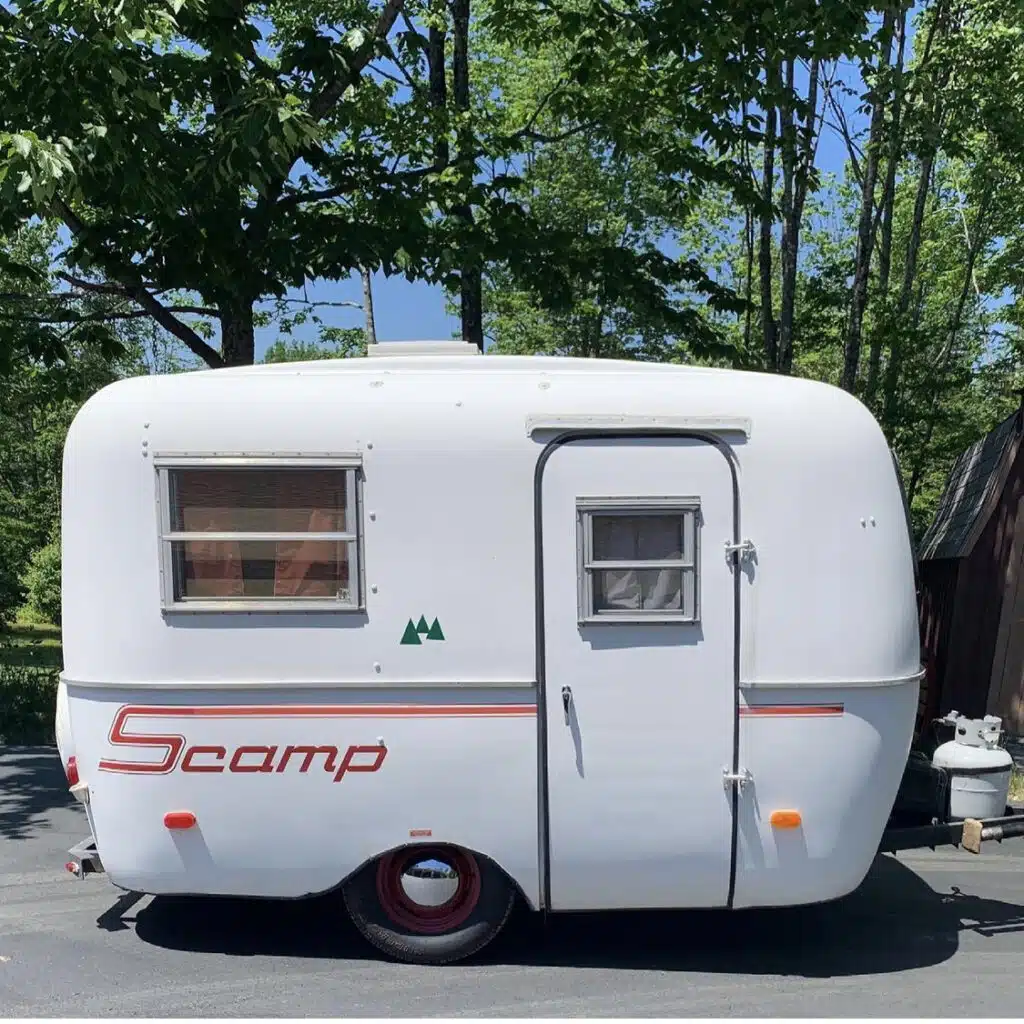 If you're goal is to hit the open road in a custom-built, fiberglass, and light-weight travel trailer, then check out the Scamp Camping Trailers. These made-to-order camping solutions are offered in three lengths; 13′, 16′, and the larger fifth wheel style 19′ travel trailer.
Keeping with the 2,500 pounds limit, we suggest either the 13′ or 16′ models. They have a 200 pound and 300 pound tongue weight, respectively. With these numbers, a Scamp can be towed with many types of cars, SUVs, and trucks.
Each of the 13′ and 16′ Scamps come with either the Standard package or upgrade to the Deluxe feature packages.
Though small and nimble, the Scamps offer a load of options within either level of finish.
Key features:
2 Burner Propane Stove
Prep for A/C
Kitchen Sink
Cabinet Over Sink
Spare Tire & Cover
Mounted Rear Jacks
Door Step
Electric Brakes
2" Receiver
LED Exterior Lights
45 Amp Power Converter
Outside GFI Outlet
Battery Disconnect
Switch
City Water
Grey Water Tank
12 Volt Water Pump
12 Volt USB Station
Roof Vent
Water Heater
Refrigerator
Single LP Tank & Gauge
44″ or 54" Bed
Choice of Oak or Birch (Deluxe Model)
Dry Flush Toilet
Sink in Bathroom
Roof Air Conditioner
Heatstrip for Air Conditioner
Glass Stove Top (Upgrade)
Furnace (16,000 BTU)
Group 27 Battery Pack (Upgrade)
Backup Camera
Solar Panel Kit
2022 Roulotte Pro-lite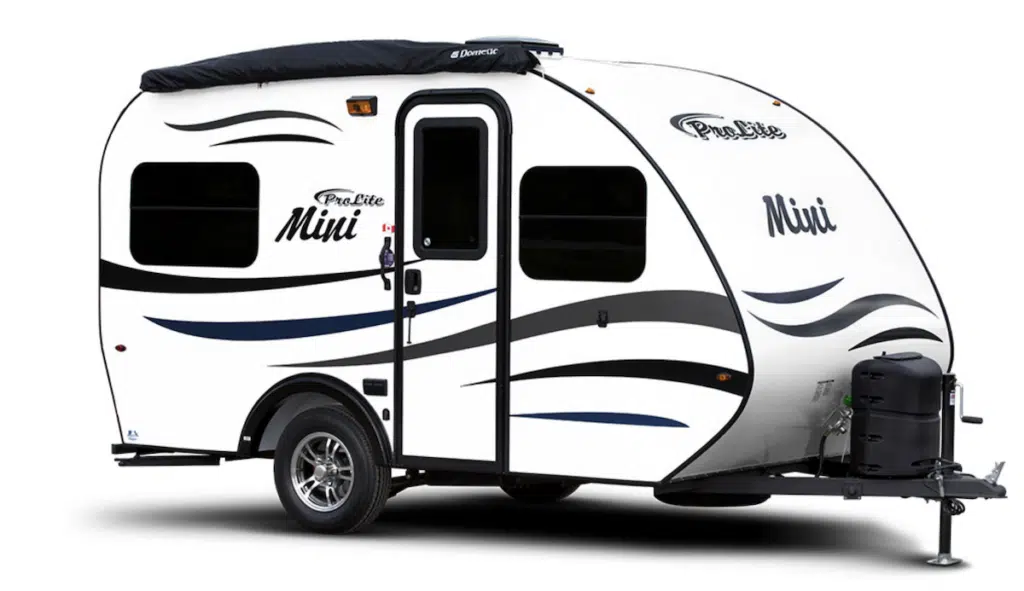 With a wide range of models well under 2,500 pounds, we can't say enough positive things about the Roulotte Pro-lite series of light-weight travel trailers.
The Roulotte Pro-lite models coming in varying lengths ranging from 12 feet up to just under 20 feet.
The positive aspects of the Pro-lite series are the wide range of interior layouts, the numerous interior features you may or may not require for your camping needs, and the range of people one may need to sleep on their outdoor adventures.
Roulotte most certainly has a Pro-lite series travel trailer that will suit your basic camping needs of something as simple as a hard-sided tent on wheels all the way up to a fully loaded self-sufficient travel trailer.
Key features:
All fiberglass exterior walls and roof
Stabilizing jacks
A/C and Heaters (larger models)
20 Amp or 30 Amp electrical (depending on the model)
20lb. LP Bottles with gauge
Electric brakes
2022 Aliner Ascape
The Aliner Ascape travel trailers offer a compact and innovative approach to light-weight camping trailers. With a range of weights from 1,630 up to 1,750 pounds and a tongue weight range of 170 to 230 pounds, the Ascape is a perfect compact and well appointed travel trailer solution for those without large tow vehicles.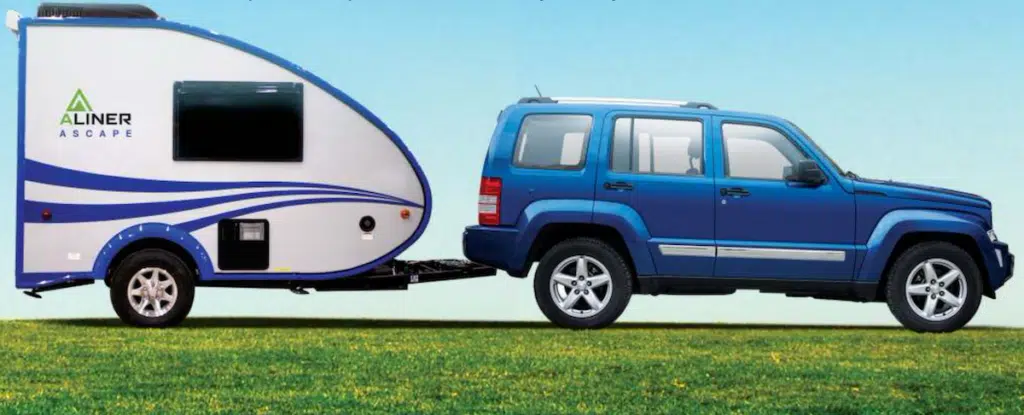 The interior features and layout of the Aliner Ascape offers two dinnette seats that convert to beds, flatscreen TV's, a kitchen area with a sink, 2 cooktop burners, 3 cu. ft. refrigerator, and a wet bath shower and toilet combo.
Key Features:
All fiberglass exterior walls and roof
LED Running Lights
Automotive Finish
Electric Brakes
Aluminum Wheels with full size spare
Dexter torsion axle
4 Stabilizer Jacks
13 Gallon Grey Water Tank
18,000 btu heater
Surburban 6 gallon porcelain lined water heater
Shurflo Electric Water Pump
Detachable power cord
Dropped Floor for increased Interior Height
Solid wood cabinet doors
2022 InTech RV Luna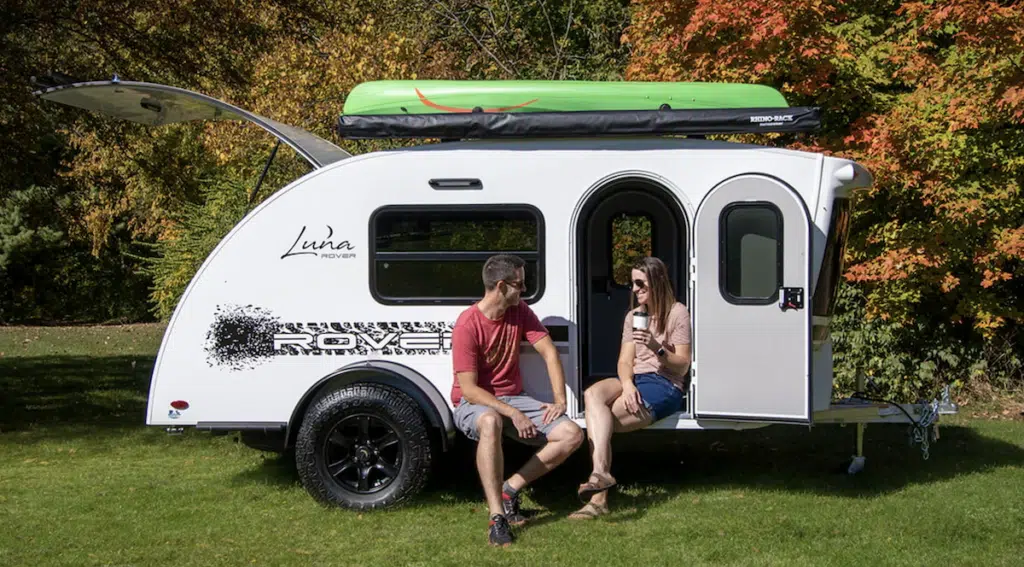 If you are looking for a unique and head-turning, light weight travel trailer that is sure to spark conversations and questions from curious strangers, then check out InTech RV's Luna!
We owned an InTech RV's larger Sol Horizon, so we can attest to the quality and smart design of the InTech RV line of travel trailers. It was seeing the Luna that introduced us to the InTech RV lines of travel trailers.
With a dry weight of approximately 1,850 pounds, the Luna offers an all aluminum frame and chassis surrounded by an all fiberglass exterior wall and roof panels.
The smartly designed Luna offers an InTech signature large front window to bring the outdoors into your cozy, conditioned interior space.
The exterior of the Luna offers an outside rear kitchen area with a microwave, sink and optional freezer/cooler.
Key features:
Tongue weight of around 270 pounds
Cassette toilet option
8.5 gallon fresh water tank
60″ x 80″ bed configuration
Bluetooth Stereo w/(4) Speakers & 32″ TV
8K BTU A/C
30 Amp electrical service
Zamp Solar Prep
(1) 12V Outlet w/(2) USB Ports & (1) 120V Outlet
MaxxAir Vent Fan
Sylvan Sport Go Pop-up Campers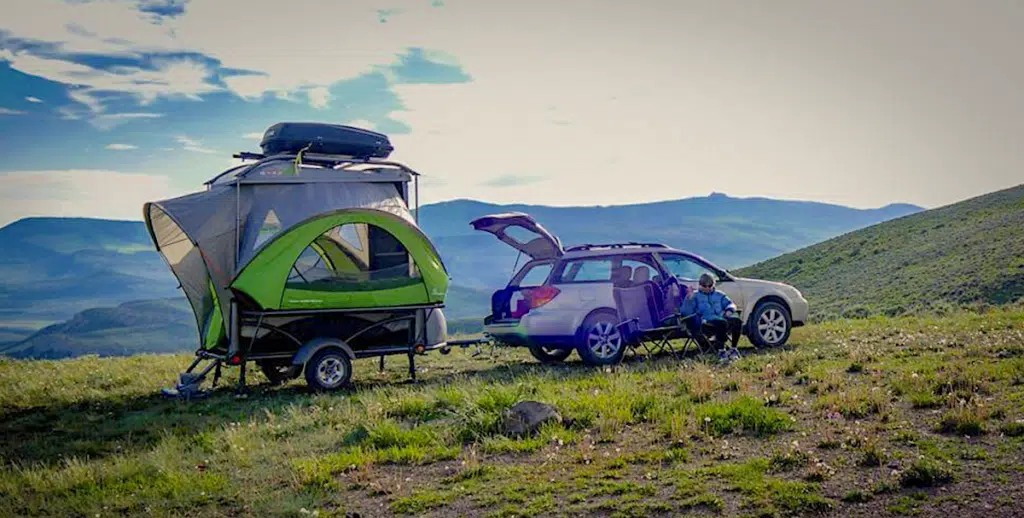 The Sylvan Sport Go pop-up camper is one of the most unique, light-weight camping trailer systems on the market. The Sylvan Go base frame system is a highly versatile trailer that can be configured and arranged for your specific camping needs.
One of the many incredible features of the Sylvan Sport Go camping system is its ability to be adapted to meet multiple camping and adventure requirements. From merely a cargo carrying trailer to a fully functional retractable sleeping system on wheels, the Sylvan Sport can meet your mission critical requirements plus is durable and multi-functional.
The Sport Go tent pod configuration can sleep up to four people with an interior standing height of 6 feet, 4 inches.
The waterproof tent set up is fast and offers a retracted sleeping area 80″ long by 116″ wide.
In the gear toting mode, the Sport Go can haul up to 960 pounds of equipment on a platform capable of accommodating ATVs, bikes, kayaks, storage containers and more in a space 48″ wide by 84″ deep.
Key features:
Overall trailer dimensions: 140″ x 75″ x 52″
Dry weight: 840 pounds
Dexter torsion axle
13″ ground clearance
1-1/4″ or 2″ receiver hitch
Tongue weight 84 pounds
Tent pod 84″ x 120″ x 78
Bed platform capacity 500 pounds
Aluminum frame, tig welded with two-step powder coat finish
2022 Coachmen Clipper Express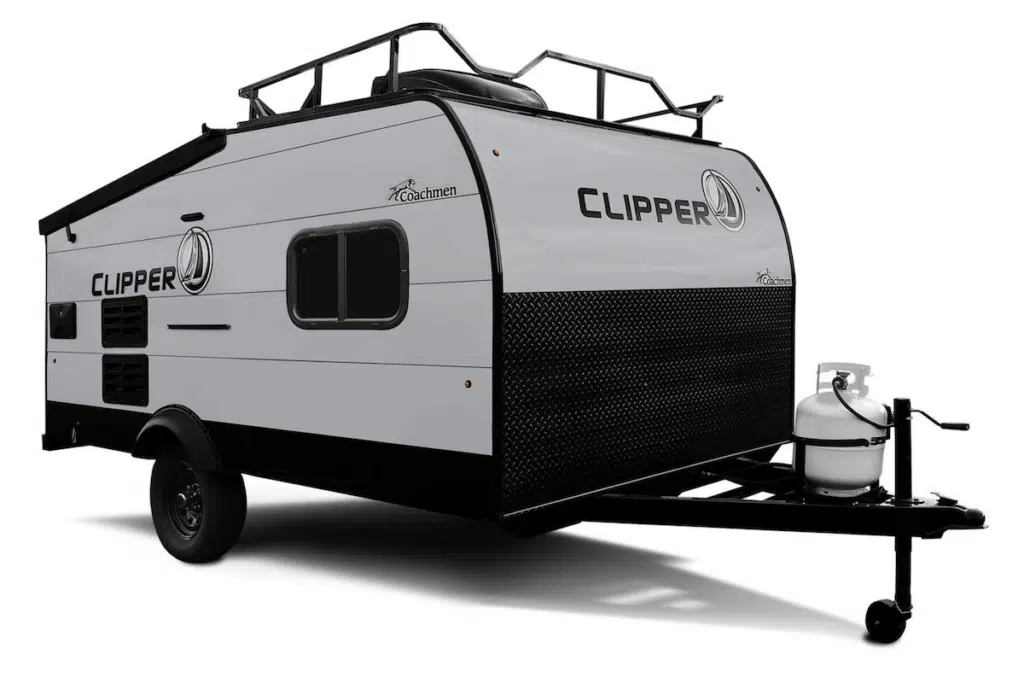 The Clipper Express models of camping trailers by Coachmen are an easy to set up and tow.
With a range of weights from slightly over 1,400 pounds to 2,200 plus pounds, the Clipper Express offer a camping trailer solution with multiple interior layouts that many vehicles can tow.
Coachmen offers a rugged off-road packed for the Clipper Express for those that want to get away beyond the crowds that provides a lifted axle assembly, front and stabilizer extensions, and rugged 15″ tires.
Key features:
E -Coated Tubular Steel Frame
Heavy-Duty Tongue Jack with Wheel
Wide Trac Ultra Lube Spring Axle
Electric Brakes
Radial Tires with steel rims
(4) Heavy Duty Scissor Style Jacks
Laminated Fiberglass Roof
Automotive Grade Metal
LED Exterior Lights
One-Piece Screen Door
Aqua-Shield Tenting Material
16 Gallon Fresh Water Tank (9.0TD V-Package)
35 Amp Converter – Trickle Charger (N/A 9.0TD Basic)
120V GFI Recept (N/A 9.0TD Basic)
Flex Rod Tech Add-A-Room
Patio Light (N/A 9.0TD Basic)
Residential Laminated Countertops
Deep Bowl Acrylic Sink (9.0TD V-Package, 12.0TD XL Deluxe, 12.0TD MAX)
12V On Demand Water Pump (9.0TD V-Package, 12.0TD XL Deluxe, 12.0TD MAX)
DSI 6-Gallon Water Heater (9.0TD V-Package, 12.0TD XL Deluxe, 12.0TD MAX)
20,000 BTU Furnace (N/A 9.0TD Basic)
12V LED Interior Lights
Bluetooth Stereo (N/A 9.0TD Basic)
120 Watt/12V Refrigerator/Freezer Cooler (9.0TD Deluxe, 9.0TD V-Package)
Jayco Hummingbird Travel Trailer
While the Jayco Hummingbird Travel Trailer was discontinued by Jayco tin 2020, there are still quite a few available as used campers. This was one of the most popular lightweight travel trailers for years.
It is still a newer RV, so we included it in this list, even though you won't find a new one on an RV lot.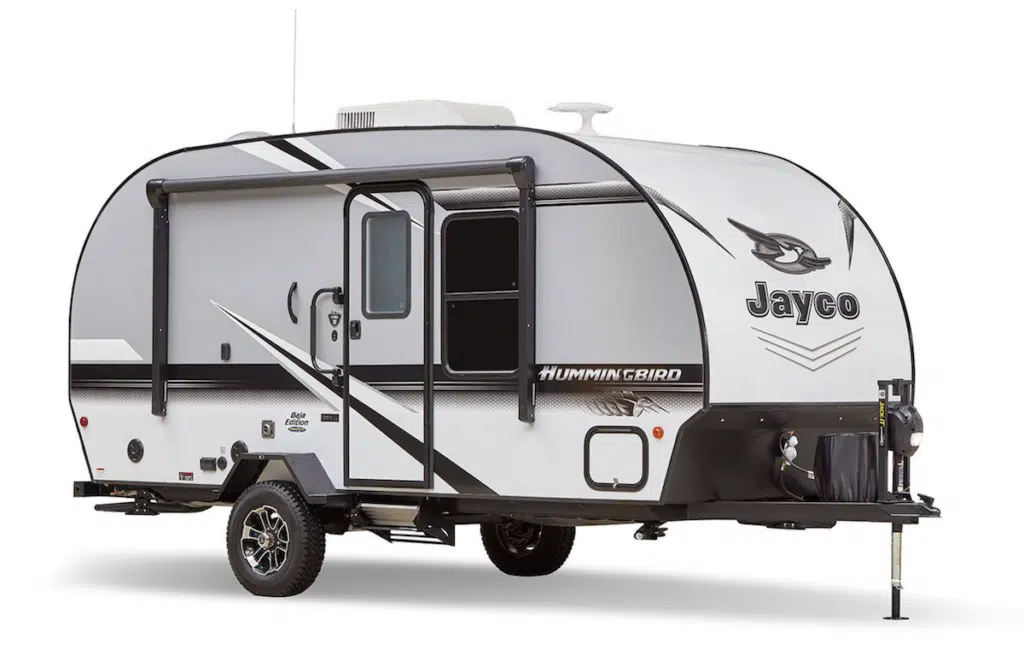 See a tour of these lightweight trailers:
Key features:
60 gallon fresh water tank
60 gallon grey water tank
46 gallon black tank
Fixed flush toilet
Ability to sleep 3-4 people
30 A 120 V electrical inlet
20lb. LP Bottles with gauge
Exterior shower outlet
Space heater / Hot Water heater combo
Conclusion
These are the best travel trailers under 2,500 lbs. that are great for camping. As you can see, you don't have to give up luxury or amenities while RVing, even in small campers.
If you are thinking about getting a camper van instead, check out our list of the Best Luxury Travel Vans.