When it comes to purchasing a camper for your half-ton truck, it can be overwhelming to navigate through all of the options available. It's important to do your research and make sure you're getting accurate information from dealers.
Unfortunately, some dealers may not be knowledgeable about the capabilities of your truck, resulting in misleading information. They may provide weight information about a general model of trucks versus your truck's particular specifications.
It is crucial to have a clear understanding of your truck's towing capacity, payload capacity, and other important factors before making a purchase.
To make your search easier, we have compiled a list of the top choices for half-ton truck campers. However, it's important to keep in mind that each camper has its own set of specifications and weight limits. It's essential to carefully read through the manufacturer's specifications and ensure that your truck can handle the weight of the camper you're interested in. Additionally, make sure to consider your personal camping needs and preferences, such as the number of people you'll be camping with and the amenities you require.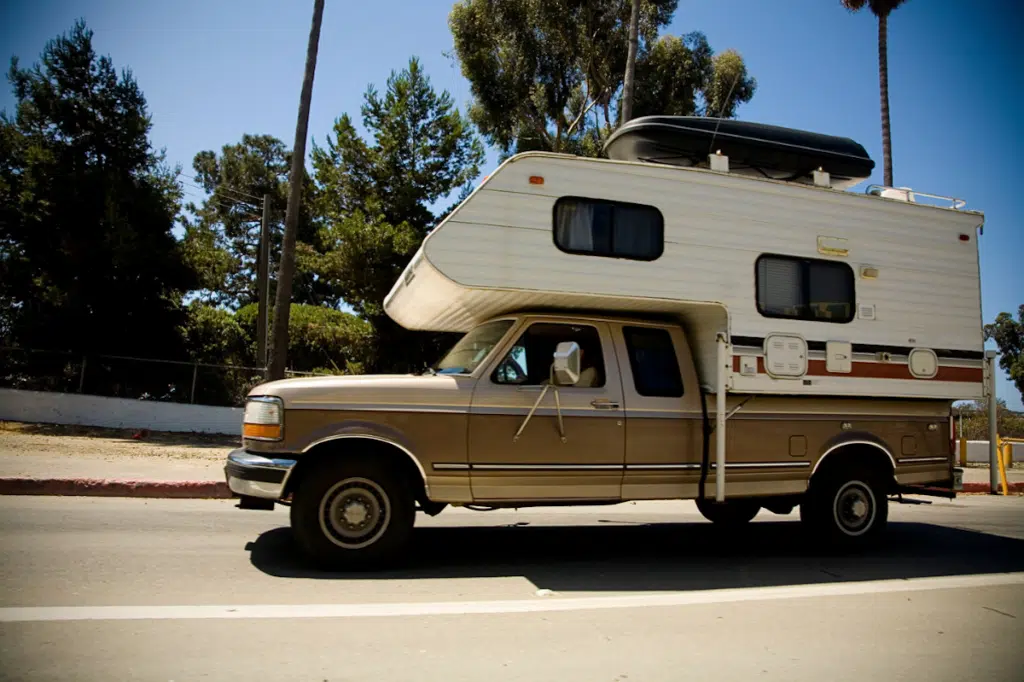 Understanding the Half-Ton Truck Camper Concept: How Does it Work?
A truck camper integrates seamlessly with your truck's bed, transforming it into an extension of your vehicle. This attachment doesn't significantly alter your vehicle's mobility; driving and parking remain more or less the same. It paves the way for adventures in remote locations that wouldn't accommodate larger RVs like motorhomes, travel trailers, or fifth wheels.
An added advantage? Truck campers are detachable, allowing you to utilize your truck for everyday activities when you are not out exploring the wilderness. This is great because you don't need to buy a tow vehicle and an RV, which is often common. Instead, you can use your truck and purchase a truck camper unit.
Truck campers, much like RVs, boast a variety of floor plans, trim options, and dimensions.
Just like there are different types of trailers for different types of trucks, there are campers crafted specifically for the needs of half-ton pickup trucks. These are lightweight models, tailor-made to fit truck beds ranging from 5.5 to 8 feet perfectly.
Selecting the Right Truck for a Half-Ton Camper
There are a LOT of half-ton trucks available in the market. The most well-known examples are:
Ford F-150
Chevrolet Silverado 1500
Ram 1500
GMC Sierra 150
Toyota Tundra
Nissan Titan
If you are considering buying a half-ton truck camper, it's essential to consider the camper's weight in relation to your chosen truck.
See our guide to the best half-ton trucks for towing.
Ensure that the camper aligns with the truck's payload capacity, which is the combined allowable weight of cargo in the cab and bed. Overburdening your vehicle might lead to challenges in handling and driving, presenting potential dangers.
The payload capacity isn't constant, it can fluctuate considerably even among trucks of the same brand and model. Various elements, such as added features, the design of the cab, engine type, and other options, can impact the payload.
We know this topic can be confusing! That's why we created a guide for how to calculate how much your RV can tow.
It's noteworthy that certain contemporary half-ton trucks boast a payload exceeding 3,300 pounds, though this will vary by make and model of the truck.
Confirm your truck's specific payload capacity noted on the truck manufacturer's sticker on the driver's door. The information provided is unique to your truck and can be used to calculate the max payload capacity.
Be cautious, when calculating your maximum payload capacity you include items such as vehicle passengers, additional cargo not permanently affixed to your truck, etc.
Comparing Half-Ton and Full-Size Truck Campers: What You Need to Know
Half-ton truck campers stand out due to their compact and lightweight design. To maintain this lightness, manufacturers often forgo extraneous features that would add unnecessary weight.
Consequently, these campers tend to accommodate fewer individuals, with a maximum sleeping capacity usually for 3 to 4 people.
Instead of built-in holding tanks, many of these models prefer to simplify by either offering reduced capacities or adopting portable solutions for water and waste storage.
In essence, half-ton campers offer a more streamlined, straightforward, and minimalist approach to truck camping when juxtaposed with their more substantial counterparts in the market.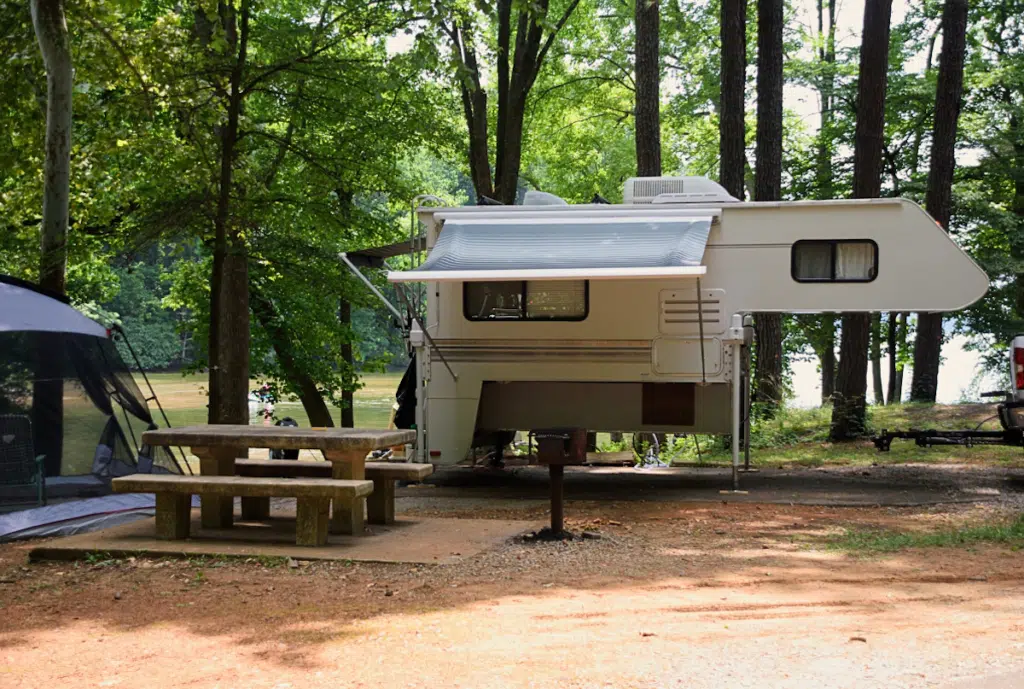 Top Half-Ton Truck Campers
1. The Adventurer 80RB
If you're looking for a truck camper perfect for half-ton trucks with bed lengths ranging from 5-foot-5-inches to 8 feet, then consider the Adventurer 80RB. This camper stands out not just for its dimensions but also for its impressive array of standard features.
Key Features:
One of its notable offerings is the exclusive 72-inch roll-over sofa, which effortlessly transforms into a 40-inch by 72-inch sleeping space. This is in addition to the spacious queen bed nestled above.
For those who value functionality, the camper incorporates a wet bath, foot-flush toilet, and windows fashioned from tinted safety glass.
The camper's kitchen, or galley, comes equipped with a two-burner cooktop, a 4 cubic foot refrigerator, and a gleaming stainless steel sink.
Those looking for enhanced comfort will appreciate the optional features, which include a low-profile air conditioner, an awning, and a microwave.
Specifications:
In terms of dimensions, the Adventurer 80RB boasts an overall height of 7-feet-8-inches (inclusive of the AC unit) and spans a length of 15-feet-10-inches.
This places it as the most elongated model among half-ton truck campers on display.
Despite its size, it weighs a manageable 1,762 pounds when dry. This weight aligns it closely with other fully equipped models within the half-ton segment.
Regarding interior space, the camper's floor extends for 8-feet-4-inches, granting occupants ample room for movement.
As for water storage, three tanks come as standard. The freshwater tank has a capacity of 15 gallons, while both the black and gray tanks can hold 5 gallons each.
2. Upcountry 775 by Travel Lite
Travel Lite offers the innovative Upcountry 775U from in their line of truck campers. Made with aluminum and laminate materials, this lightweight camper is a testament to customer-driven improvements.
Travel Lite has listened closely to user feedback, resulting in a design that boasts enhanced durability and modern aesthetics. The upgraded camper addresses concerns of water intrusion with superior seals while offering a sleek profile. Remarkably, it does so without compromising on affordability or its commitment to true off-grid camping experiences.
Key Features:
Positioned as the intermediate model in the Upcountry range, the 775U is tailored to complement F150 or Dodge 1500 short box trucks. It is endowed with a range of amenities to enhance the camping experience for half-ton truck owners.
Among its standard offerings are a 12V refrigerator, a stainless steel two-burner stovetop, a 20K BTU furnace, on-the-go tankless water heater, and solar panels.
Specifications
Measuring an exterior length of 15 feet (181 inches) and a floor length of roughly 7.5 feet (89 inches), the 775U is both compact and efficient. Its dry weight stands at 1,722 pounds.
As for its water storage capacities, it can hold up to 13 gallons in the fresh water tank, and both the gray and black water tanks have a 5-gallon capacity each.
The Upcountry 775U prioritizes both comfort and utility. It houses a comprehensive wet bath, complete with a shower and toilet. The camper can comfortably accommodate three people, courtesy of its 60-inch by 74-inch cabover bed aligned in a north-south direction and a convertible dinette.
The only add-on option not present by default is the 13.5K BTU air conditioner.
3. Northstar Liberty
The Northstar Liberty has been designed to seamlessly fit short bed trucks ranging in size from 5 feet 6 inches to 6 feet 10 inches. Weighing in at a mere 1,775 pounds when empty, this camper is a lightweight powerhouse. The unit's concise dimensions comprise a floor length of 7 feet, a total length reaching 14 feet 5 inches, and stands 8 feet tall – this height can slightly increase if you opt for the rooftop AC unit.
Key Features:
Despite its compact size, the Northstar Liberty boasts an array of amenities. Notably, it houses a versatile 3.7 cubic foot refrigerator that operates in three distinct modes. Additionally, chefs will appreciate the two-burner LP stove, while the auto-ignition furnace ensures a cozy environment.
Completing the interior is the inclusion of insulated windows which help maintain desired temperatures.
After an adventurous day outdoors, the indoor shower becomes an oasis, complemented by a modern cassette toilet. As dusk turns into night, comfort takes center stage with the queen-sized memory foam mattress oriented in a north/south direction, promising a restful night's sleep.
For those who value added features, the Liberty does not disappoint. Potential add-ons include a roof-mounted air conditioner, a microwave oven for quick meals, and a pre-installed stereo system to set the mood.
Related Post: Best Microwaves for RVs
Specifications
To ensure prolonged usability, the Northstar Liberty is equipped with a 20-gallon fresh water tank and a 13-gallon tank dedicated to gray water.
The cassette toilet introduces a standalone 4-gallon fresh water tank and a separate 5-gallon black water tank, ensuring optimum sanitation during your journeys.
4. Lance 650 Half-Ton Truck Camper
Dating back to 1965, Lance has carved its niche in the truck camper industry. One of their standout offerings, the Lance 650, has been crafted for half-ton trucks with 5-foot and 6-foot short beds. Despite its compact size, this model incorporates features found in its bigger counterparts.
Key Features:
Ensuring your comfort during chilly nights, the camper is equipped with a robust 18K BTU ducted furnace. In the kitchen area, you'll find a two-burner stove, a refrigerator with a capacity of 3 cubic feet, and a sleek rectangular sink.
For entertainment and relaxation, there's a queen-sized bed with a cushioned pillow top mattress and a stereo system with both internal and external speakers.
Related Post: Best RV Sheets
For convenience, the 650 model boasts a wet bath, equipped with a marine-style foot pedal toilet. An exterior cleaning station ensures that the interior remains spick and span. You also have the option of adding a microwave, an awning for the exterior, and a roof-mounted AC among other upgrades.
Specifications
The compact yet efficient design of the Lance 650 has a dry weight of 2,061 pounds. It spans a floor length of 6-feet-10-inches and extends to an overall length of 15-feet-6-inches.
When fitted with the optional AC, the camper stands tall at 8-feet-1-inch, ensuring spaciousness inside.
When it comes to water storage, this camper leads the pack. The tanks can store up to 22 gallons of fresh water, 15 gallons of gray water, and 16 gallons for wastewater. These generous capacities make the Lance 650 ideal for those longer getaways.
5. Capri Retreat
The Capri Retreat distinguishes itself with a distinctive retro aesthetic, available in three diverse floor plans tailored to bed lengths ranging from 5 feet 5 inches to 8 feet. Customers can indulge in the luxury of personalizing their purchase, from the external details to the finer nuances of the interior, thanks to the factory's direct ordering system.
These campers start at a competitive rate of approximately $18,500, which is inclusive of installation charges and tax.
Key Features:
At the entry-level, the Retreat boasts a spacious queen-sized bed situated above a secondary 48-inch by 80-inch bed – a perfect provision for guests or family.
While this basic model omits amenities like tables, refrigerators, sinks, stoves, or showers, they are available for inclusion either individually or through comprehensive package deals.
One noteworthy feature available for the Retreat is the full stand-up one-piece fiberglass shower. It's not only an uncommon sight in most truck campers but is particularly rare for half-ton truck models.
Specifications
In terms of size, the floor space of these models spans between 6 feet and 8 feet 5 inches, while the exterior length extends anywhere from 11 feet to 13 feet 5 inches. Regardless of the chosen model, all campers share a consistent interior standing height of 6 feet 4 inches.
The weight obviously varies with the model. The most basic design, suitable for a 5-foot-5-inch bed length, has a dry weight starting at 1,050 pounds. In contrast, the 8-foot bed variant, when equipped with all the bells and whistles, weighs in at approximately 1,760 pounds.
6. Scout Yoho
Built with the spirit of adventure at its core, the Scout Yoho base unit is reminiscent of the Capri Retreat, designed for those who embrace minimalism. Priced at $22,495, this camper doesn't simply offer a one-size-fits-all package. Instead, it is crafted to suit your individualistic needs.
Key Features:
At its core, the Yoho is equipped with essentials such as solar power, LED lighting, a portable power station, and a unique portable water storage system coupled with a filtration mechanism. Additionally, it comes standard with a 4.9-gallon Jerry can, complemented by a charcoal filter and a spray wand, ensuring that fresh water is always at your fingertips.
What sets the Yoho apart is the freedom to personalize. Depending on your preference, you have the liberty to add a 45L portable fridge/freezer, a two-burner portable stove, gear racks, and even an awning to enhance your outdoor experience.
For those who lean towards luxury even in the wild, the Yoho can be upgraded. Add-ons like a combined fridge/freezer, a cozy 4.5K BTU fireplace, a portable toilet, and an additional cooktop can be integrated for a more comfortable expedition.
Specifications
The Yoho boasts a dry weight of 934 pounds, standing tall with an overall height of 78 inches. It stretches 121 inches in length, and its floor dimensions are an impressive 69.75" in length by 41.5" in width.
It's essential to note that the Yoho skips on black or gray water tanks, keeping its design straightforward.
7. Four Wheel Camper Fleet
Four Wheel Campers has introduced two models suitable for half-ton trucks, namely the Fleet and the Swift. While these campers can comfortably fit on vehicles like the Toyota Tacomas, potential buyers should be aware that mounting them on trucks like the Chevy Colorado or GMC Canyon might void the warranty due to size constraints.
Among these two, the Fleet model is garnering more attention, specifically because it caters to standard bed trucks. Moreover, it provides a wider variety of floor plans compared to its counterpart designed for short-bed trucks.
Key Features:
Priced starting at roughly $16,500, the Fleet Camper's base model can accommodate trucks with a bed length of 6.0 feet or more. This mid-sized truck camper, without any added extras, weighs around 1,045 pounds.
However, it's essential to remember that introducing substantial options will proportionately increase the truck's weight.
In terms of dimensions, the floor length stands at 80 inches, while the roof extends to 128 inches. The interior headroom, when extended, is a comfortable 6 feet 4 inches, and when packed away, the overall exterior height, inclusive of the vent, is 54 inches.
Spanning 75 inches in width, the Fleet can comfortably sleep 3 to 4 individuals, contingent on the chosen floor plan.
Prospective owners can choose from five distinct floor plans, ensuring a customized experience. The options are: roll-over couch, side dinette, front dinette, shell, and flatbed configurations.
Specifications
The Fleet model boasts a fresh water capacity of 20 gallons. Additionally, there's an option to include a 6-gallon water heater.
Notably, the Fleet does away with grey or black water holding tanks. Instead, it dispenses used greywater through a designated drain or external outlets.
For those concerned about sanitation solutions, portable toilet facilities can be added as an option.
8. nuCamp Cirrus 620
The NuCamp Cirrus 620 is a compact yet feature-rich camper that offers numerous standard amenities. At the heart of this camper is a well-equipped kitchen that houses a stainless steel single-basin sink, a two-way refrigerator, and a cooktop with two burners.
Essential utilities like a 210W solar kit, a discrete cassette toilet, a backup camera, and the innovative Nautilus water system also come as standard inclusions.
Key Features
For those concerned about comfort during their travels, the Cirrus 620 does not disappoint. It boasts a spacious queen-sized bed positioned overhead. Additionally, there's a versatile dining table that can be effortlessly transformed into an extra sleeping space.
While the standard features are plentiful, some optional upgrades can enhance the experience even further. Noteworthy among these are the side awning, the powerful 9200 BTU air conditioner, and a handy microwave.
Of special mention are the Battle Born Batteries – our top pick for efficient and durable lithium batteries.
Specifications
Despite its abundance of features, the Cirrus 620 remains impressively lightweight at approximately 1,500 pounds. Its compact frame measures 12-feet-8-inches in length and stands at a height of 8-feet-2-inches.
Water storage has been optimized to minimize visits to dump stations; it can store 18 gallons of fresh water and has a capacity for 12 gallons of gray water.
For added convenience, the camper also comes with a 5-gallon cassette for the toilet.
Related Links