If you love oatmeal and want a fun breakfast to enjoy while away from home, our Cookies and Cream Overnight Oats recipe is perfect for you! This easy camping breakfast can be made ahead of time. Plus, it is easy to transport and pack up before going on your camping adventure.
You won't even need to use a stove or boil water to make this oatmeal. As long as you have a cooler or refrigerator with you, this portable breakfast is great for camping!
We like to indulge a little while camping. Why not have some fun while on vacation? Which is why adding cookies to the oatmeal is a fun treat to make this breakfast special. Your grandkids or kids will think you are awesome for giving them cookies for breakfast!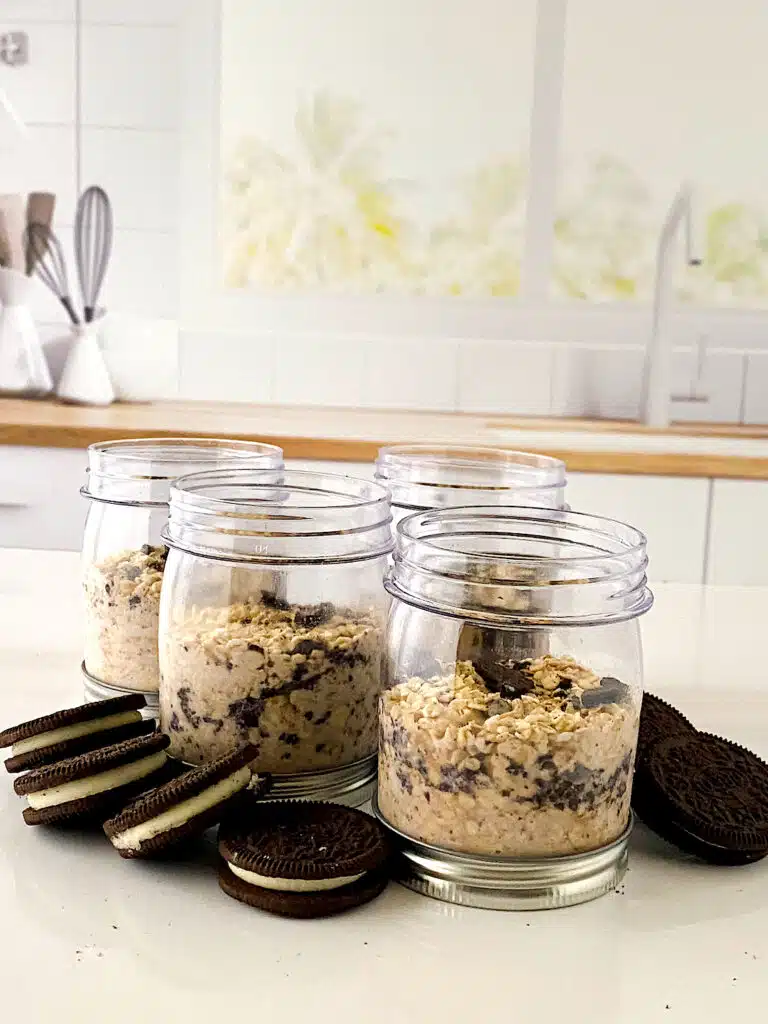 If you haven't noticed, we love eating cookies for breakfast! Our homemade fig newton cookies are another fun breakfast idea.
For another fun indulgence, see our Cookie Dough Overnight Oats recipe and our Banana Oatmeal Breakfast Cookies, too.
Easy Travel Breakfast
Some days you need a breakfast that does not make a mess while cooking. And doesn't require a lot of cleanup.
While bacon, eggs and pancakes are delicious to eat, there is a lot of time spent cooking and cleaning up the mess afterwards.
On travel days, you usually won't have the time or desire to cook a hot breakfast while also trying to break down the campsite to leave.
Or you might want a delicious breakfast that can be brought to eat while driving. If you have an early morning, bringing food with you to eat while traveling is much easier than trying to eat a meal beforehand. Especially if you have kids or grandkids traveling with you.
These make-ahead jars of oatmeal take just a couple minutes to prepare the night before, and the individual jars are perfect for bring breakfast with you.
Overnight oats are almost always made in mason jars. While most mason jars are glass, you can find plastic mason jars, which are the perfect solution for campers! You don't have to worry about glass containers at the campsite.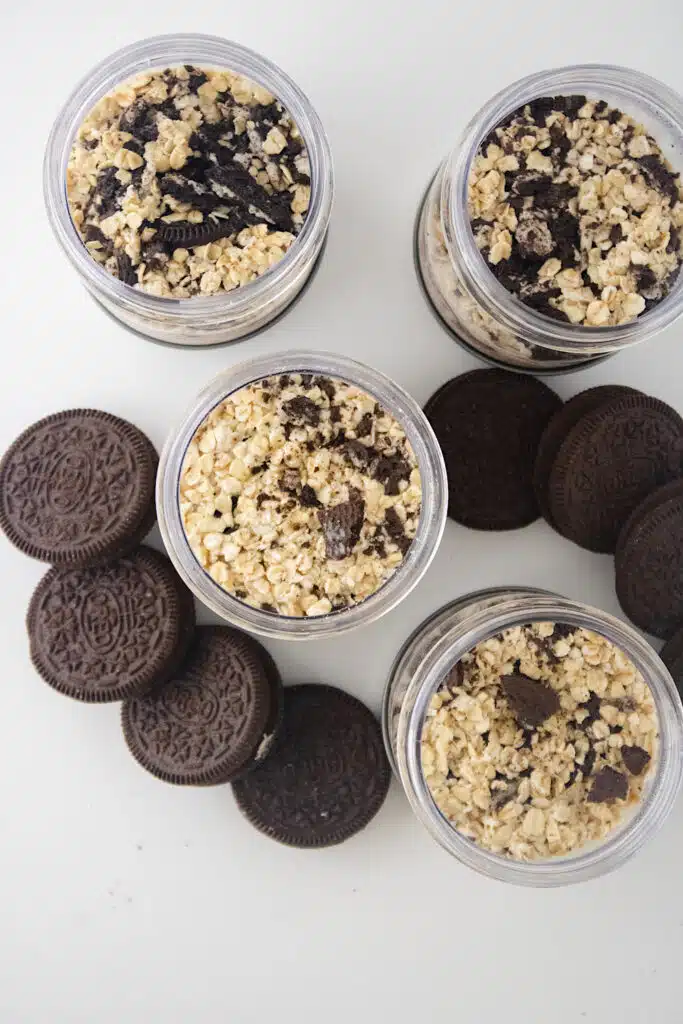 Cookies and Cream Overnight Oats Recipe
This recipe make four 8-oz jars, which is 32 ounces of oatmeal. You could also make two 16-oz jars, instead.
Ingredients
2 cups Old Fashioned rolled oats
2 cups milk (we use whole milk, but you can use a plant-based milk such as almond, soy or coconut milk if you would like)
6 – 8 OREO cookies or other brand of chocolate cream cookies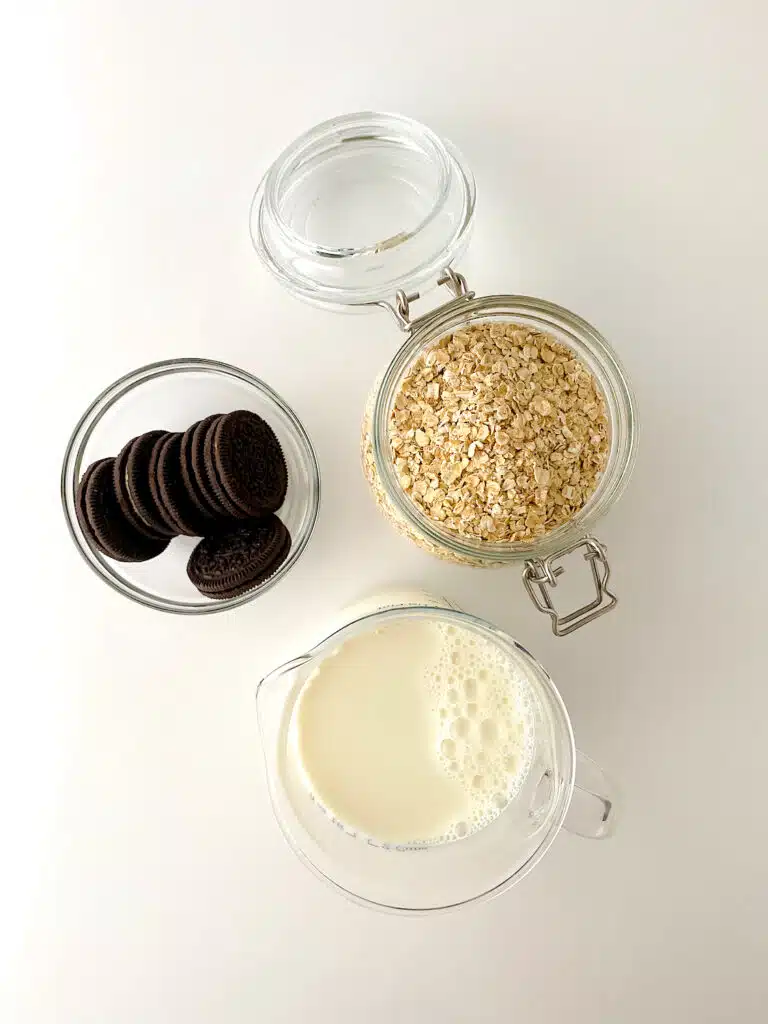 Instructions
Step 1
Chop up the cookies into small chunks.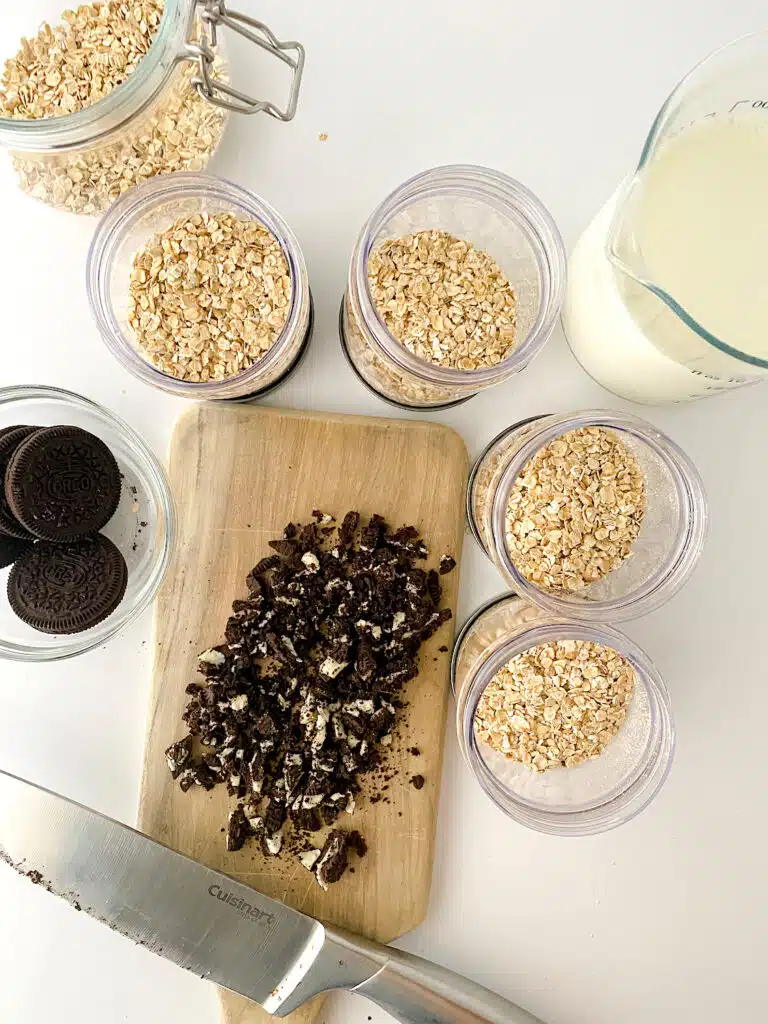 Step 2
Add a layer of 1/2 cup oats in each jar.
On top of the oats, add a layer of cookie crumbs.
Then pour 1/2 cup milk over the oats and cookies in each pint-size mason jar.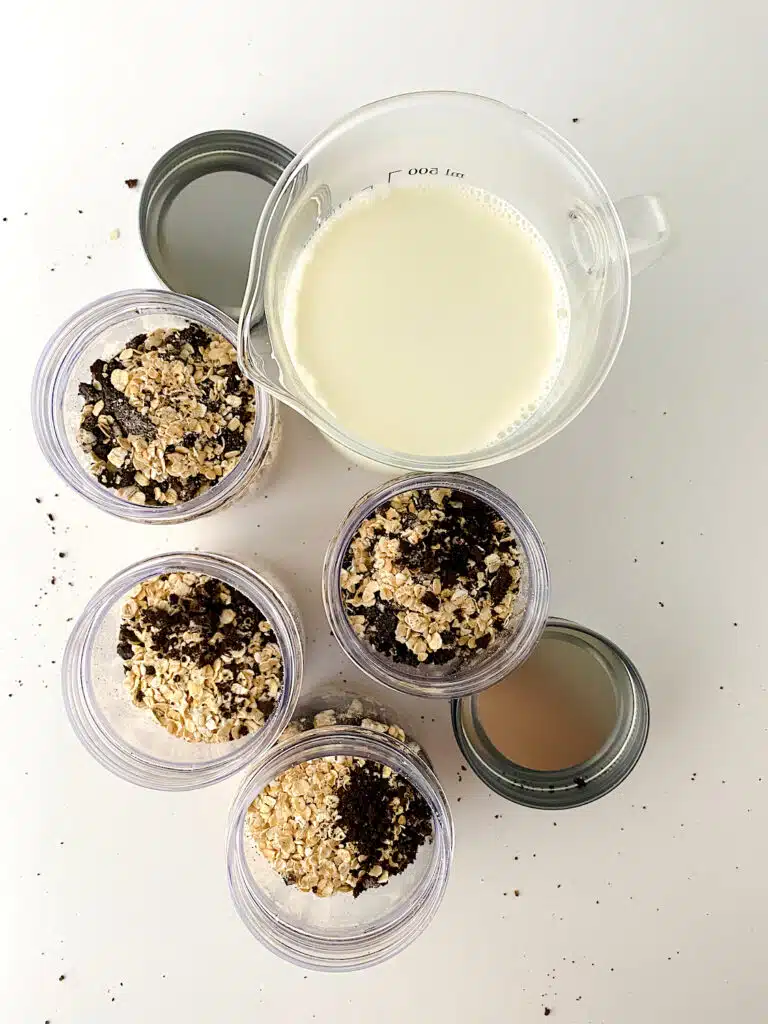 Step 3
Place an airtight lid (the mason jar lids are perfect) on each jar.
Refrigerate overnight or at least 8 hours.
Step 4 (optional)
If you would like, add some additional chopped cookies to the top of the oatmeal before eating.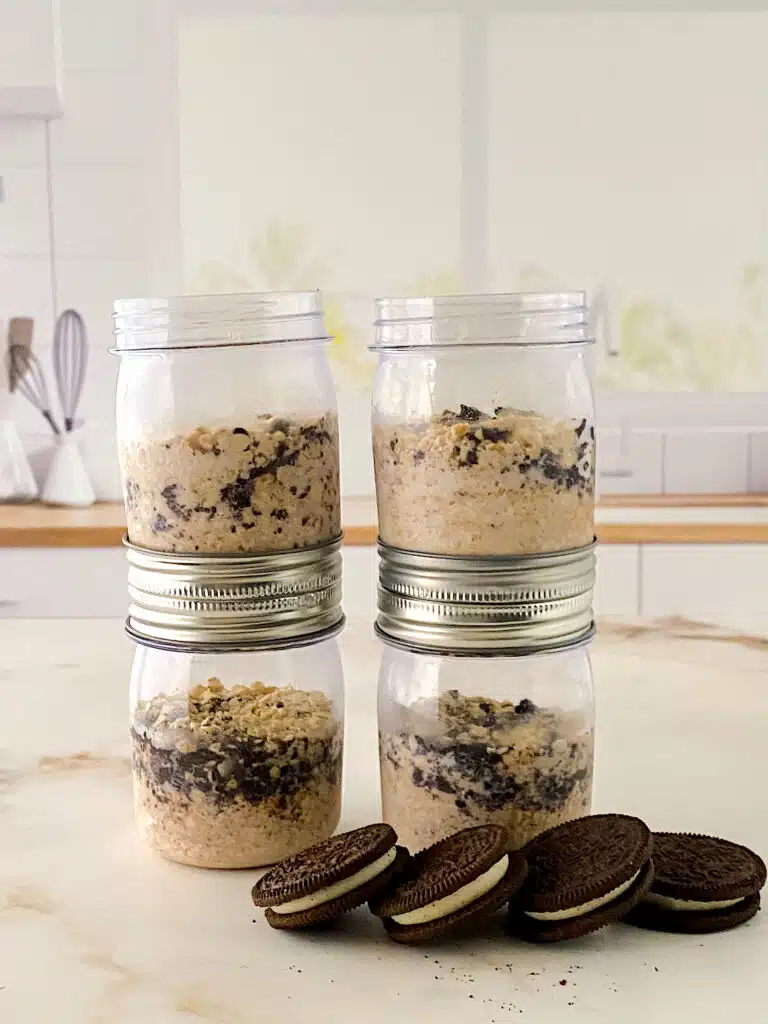 Want to add more protein to these cookies and cream overnight oats? Stir in some protein powder before eating.
You might also want to see these easy camping breakfast foods to bring with you: