You may be familiar with pinwheel sandwiches, but did you know that you can make fruit pinwheels as an easy dessert?
These sweet desert pinwheels are a delicious treat that couldn't be any easier to make! Just roll the ingredients together to make a dessert that needs no utensils or plates.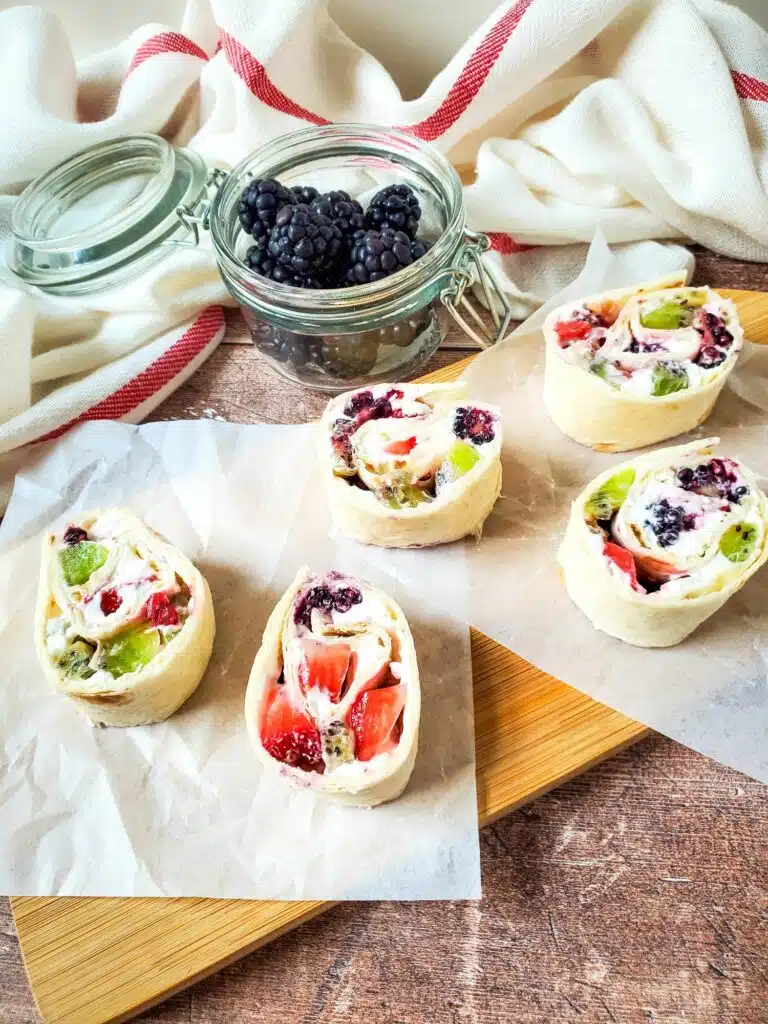 Plus, you can customize them however you want! So use your favorite fruits and roll up one of our favorite camping desserts!
Why you will love this recipe
Customize with your favorite fruits.
Sneaky way to eat more fruits!
Incredibly easy to make! Just roll the ingredients together.
Easy to serve. No utensils, plates or bowls needed which means easy clean up!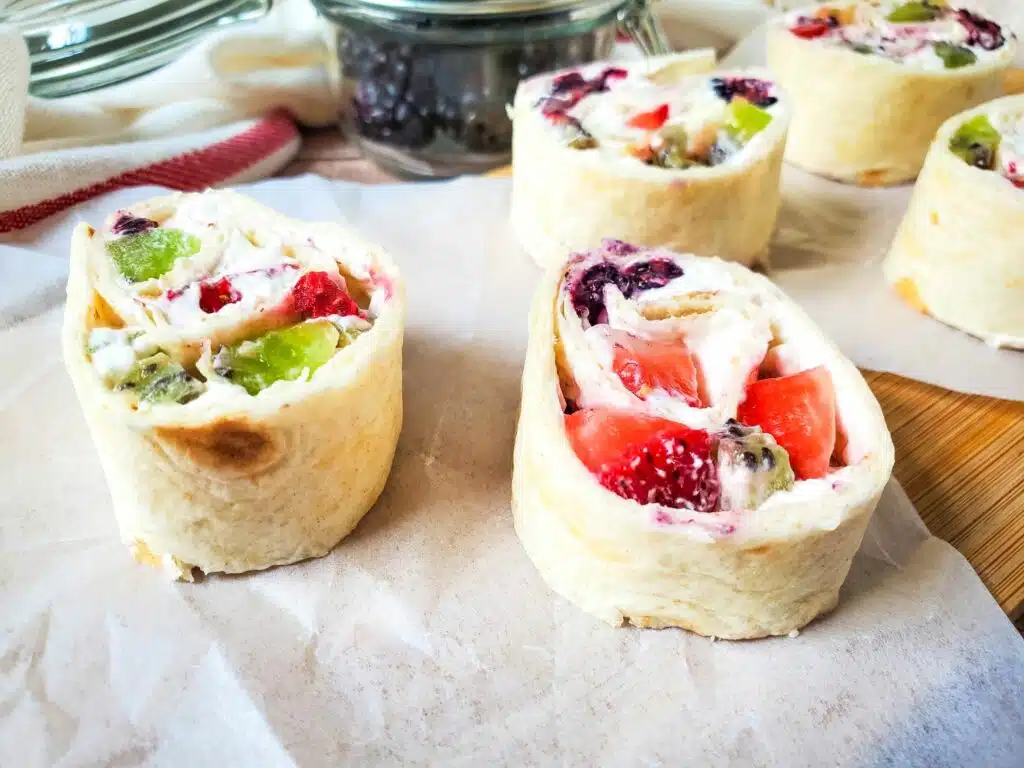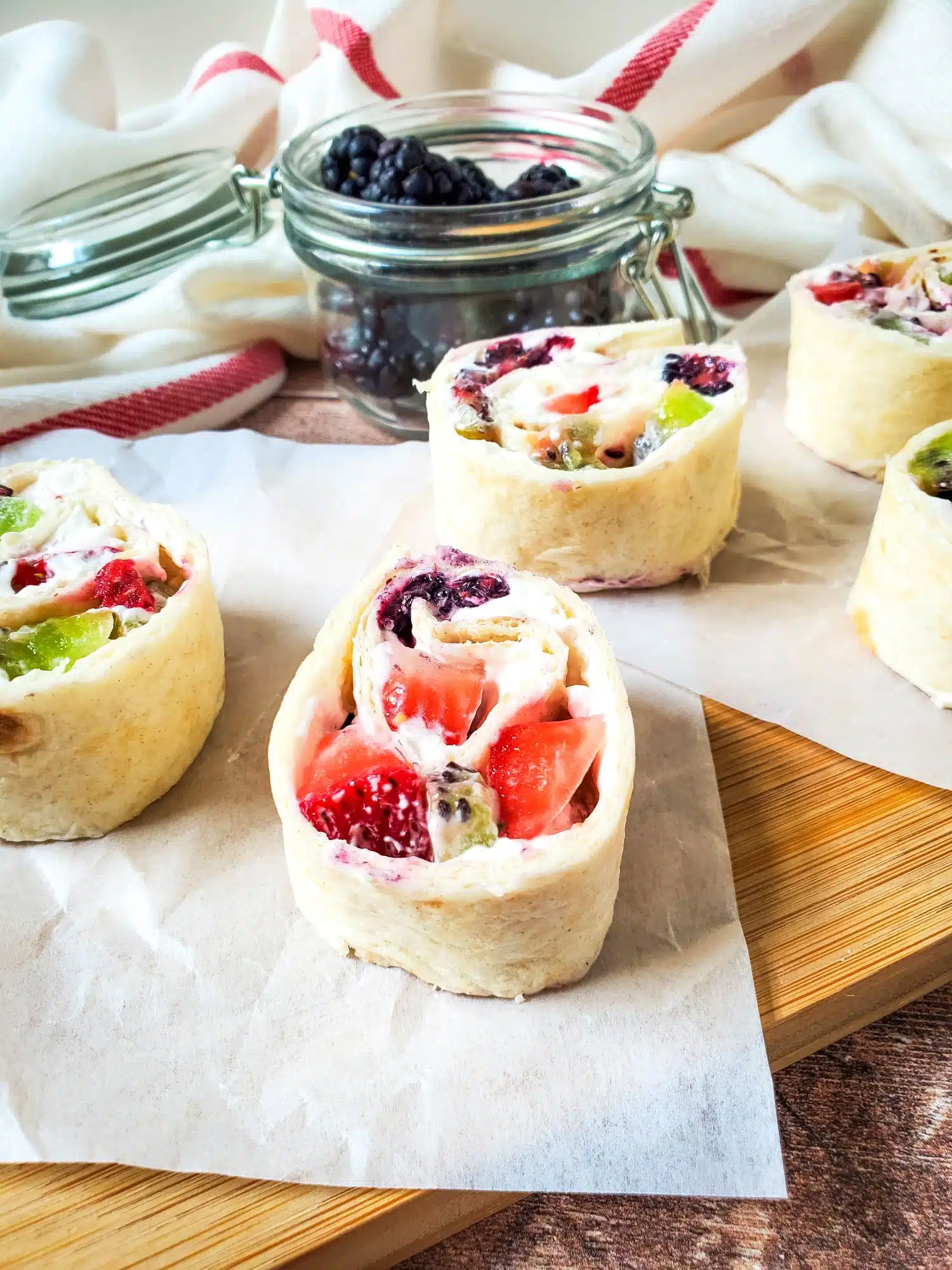 Helpful Tips
You could use different types of fruit in this recipe too, like raspberries, blueberries or mandarins.
Don't use extremely juicy fruit, like watermelon.
Add nuts for some crunch.
Make immediately before serving. This dessert does not store well.
Dairy-free whipped topping and cream cheese are available if you need to avoid dairy.
Gluten-free tortillas are a great substitute if you need to avoid wheat.
Love easy camping recipes? Check out these pinwheel recipes, too:
Fruit Pinwheels Recipe
Servings: 24 | Prep time: 20 minutes | Down time: 1 hour
Ingredients
⦁ 8 oz package cream cheese, softened
⦁ 1 ½ cups whipped topping, thawed
⦁ 2 tbsp powdered sugar
⦁ 6 oz package blackberries
⦁ 10 medium strawberries
⦁ 3 kiwi
⦁ 4 large flour tortillas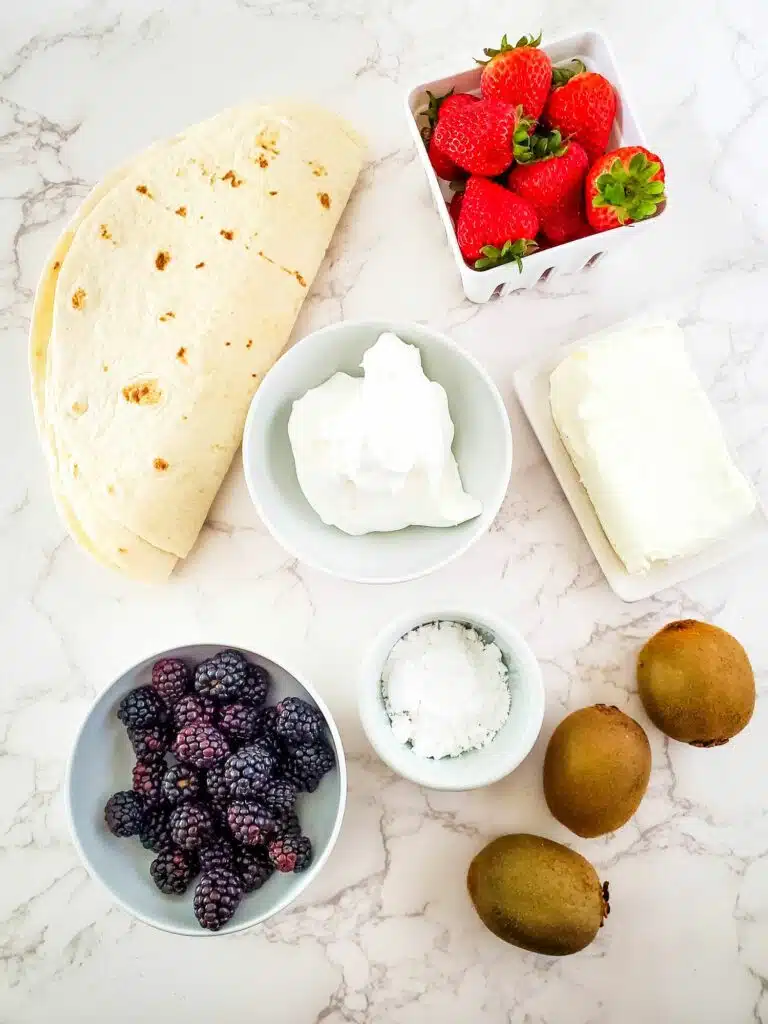 Directions
Step 1
In a medium bowl, mix together the cream cheese, whipped topping and powdered sugar. Set aside.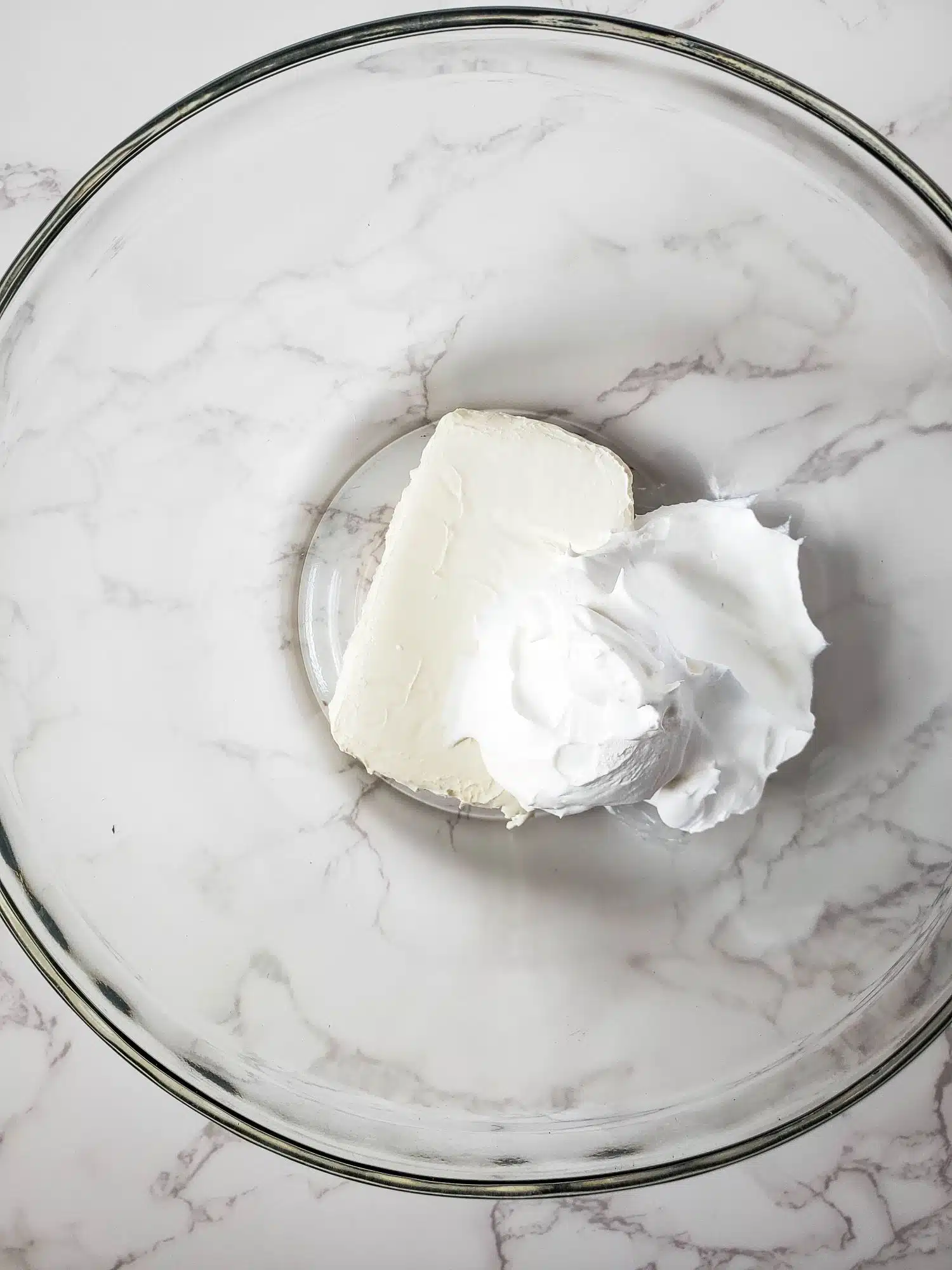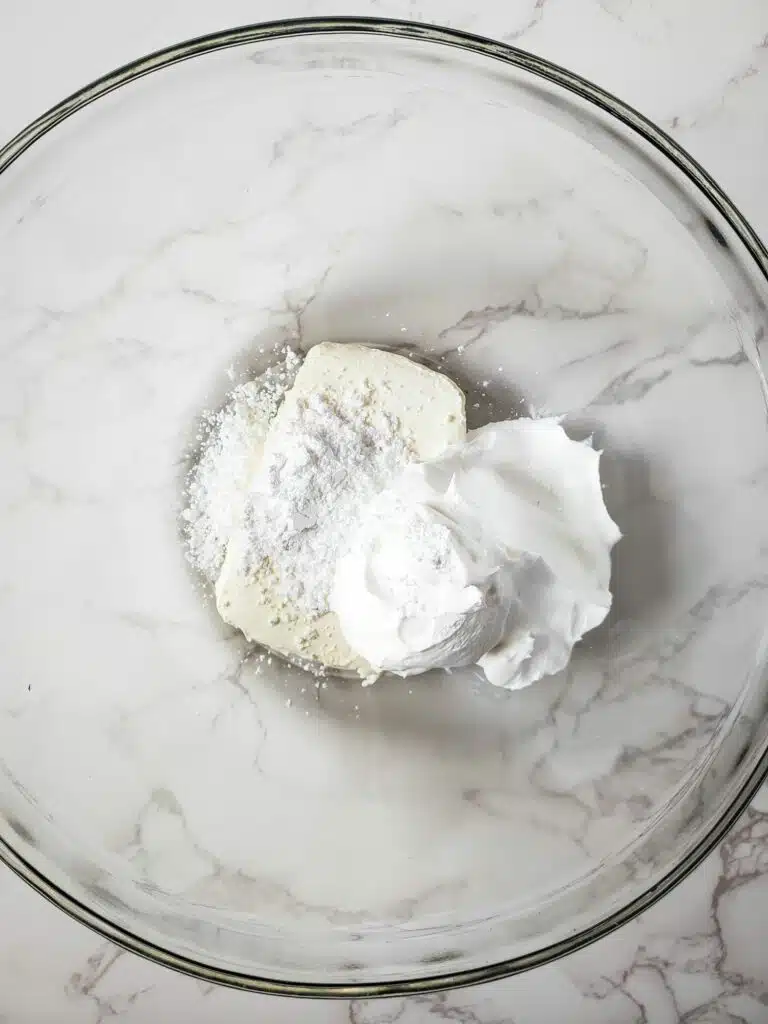 Step 2
Cut your fruit into ¼ inch pieces.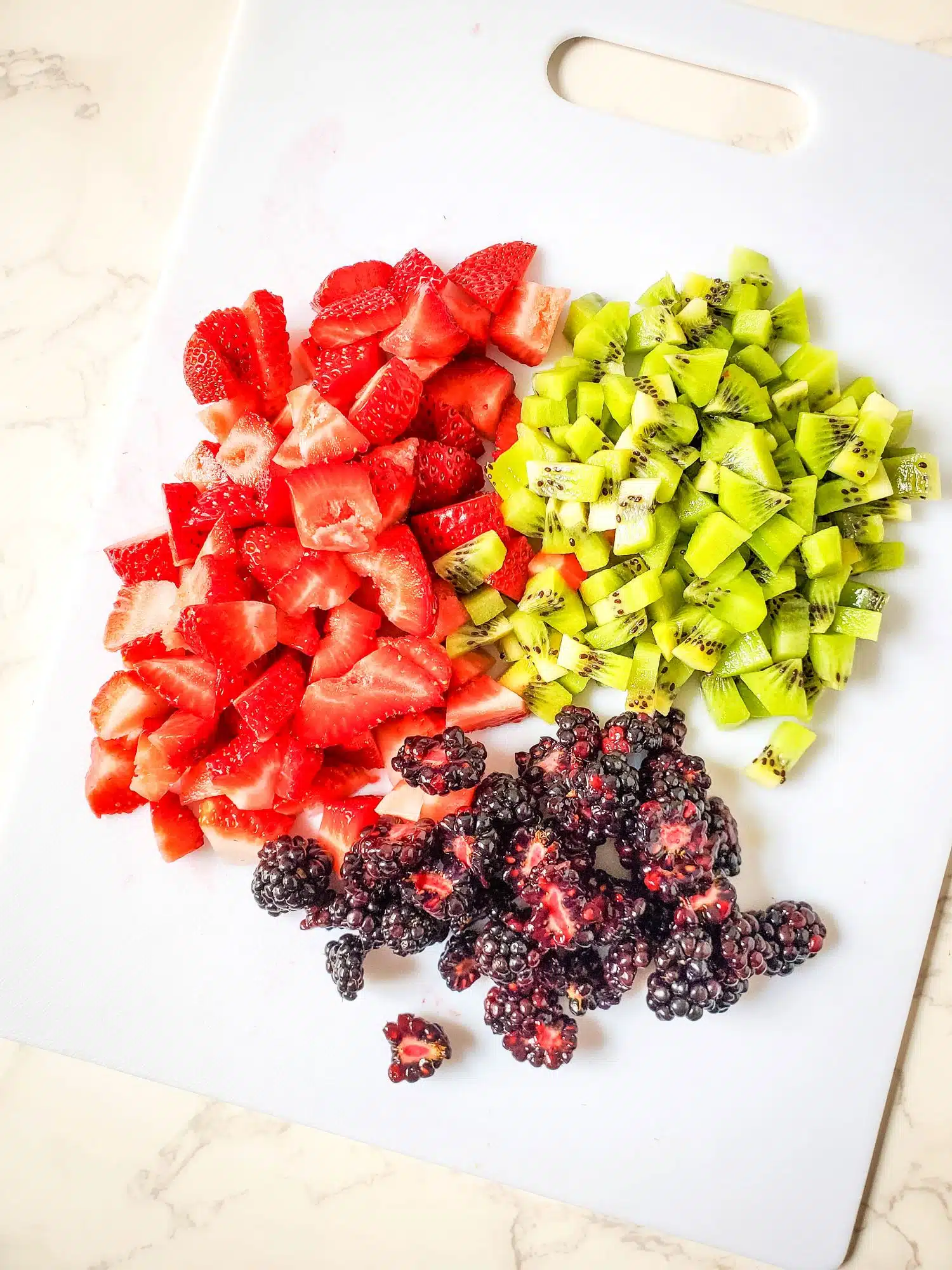 Step 3
Spread one fourth of the mixture onto each of the 4 tortillas.
Sprinkle one fourth of the fruit onto each tortilla.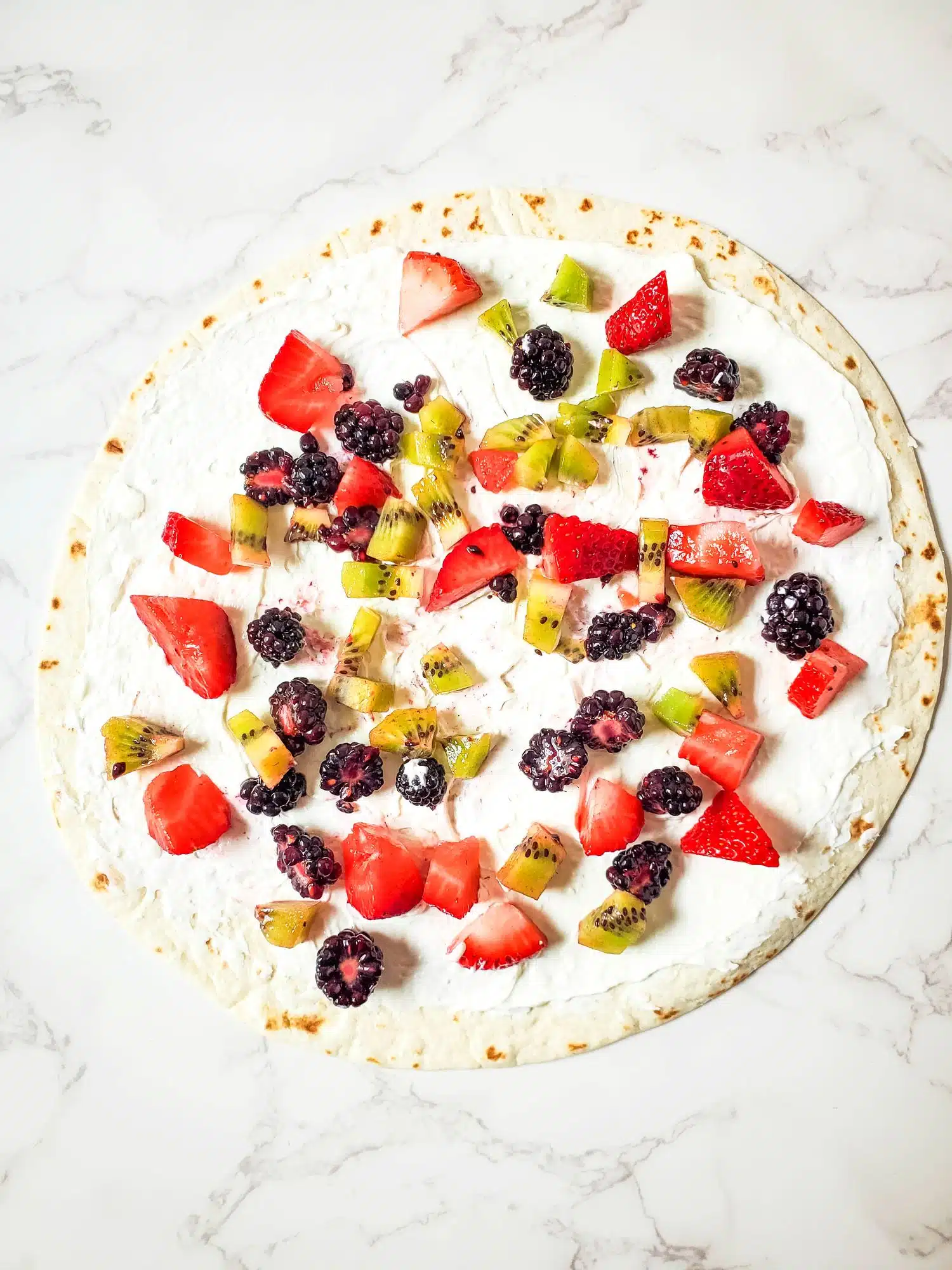 Step 4
Start from one end, and roll the tortillas up, the wrap in plastic wrap.
Refrigerate for one hour.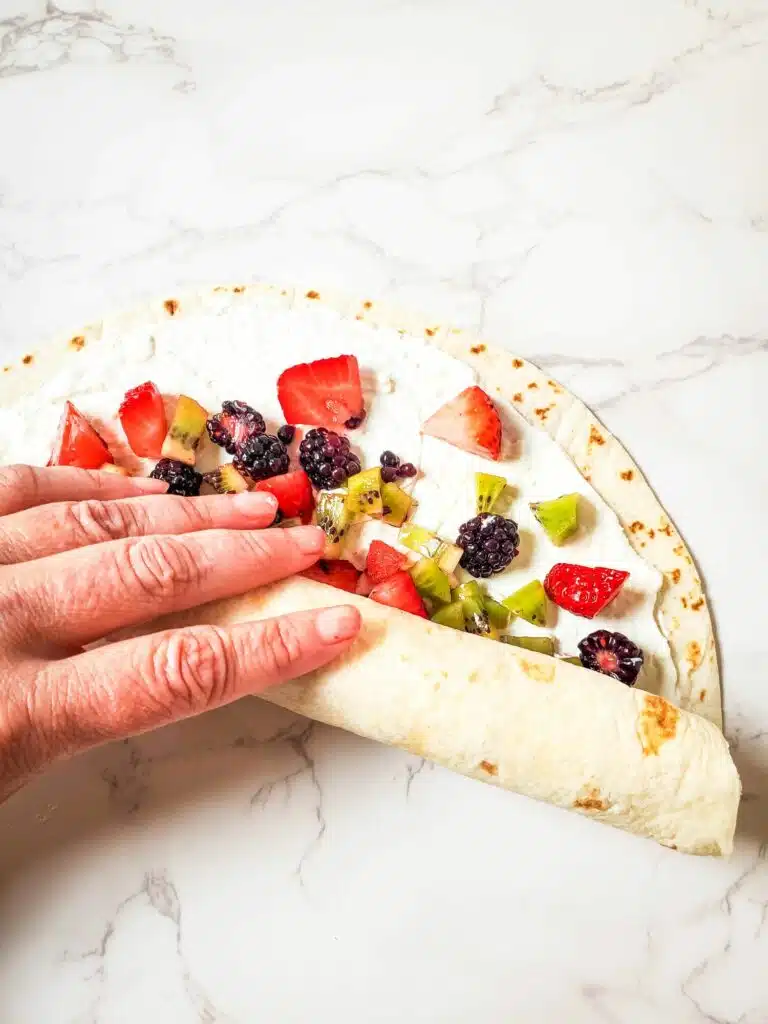 Step 6
Remove plastic wrap, and cut the ends off, then cut into one inch pieces.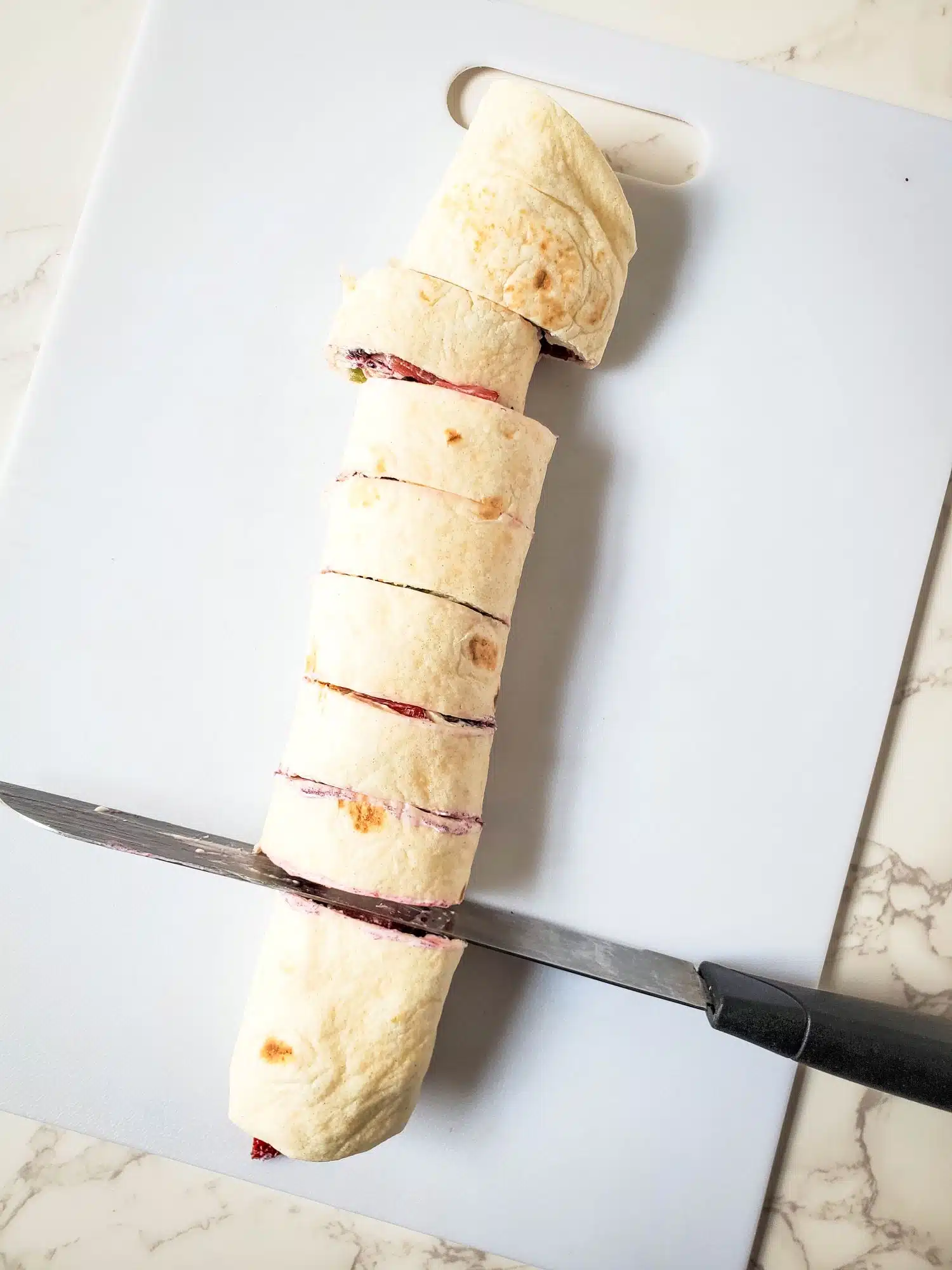 Step 7
Arrange on a platter to serve, and enjoy!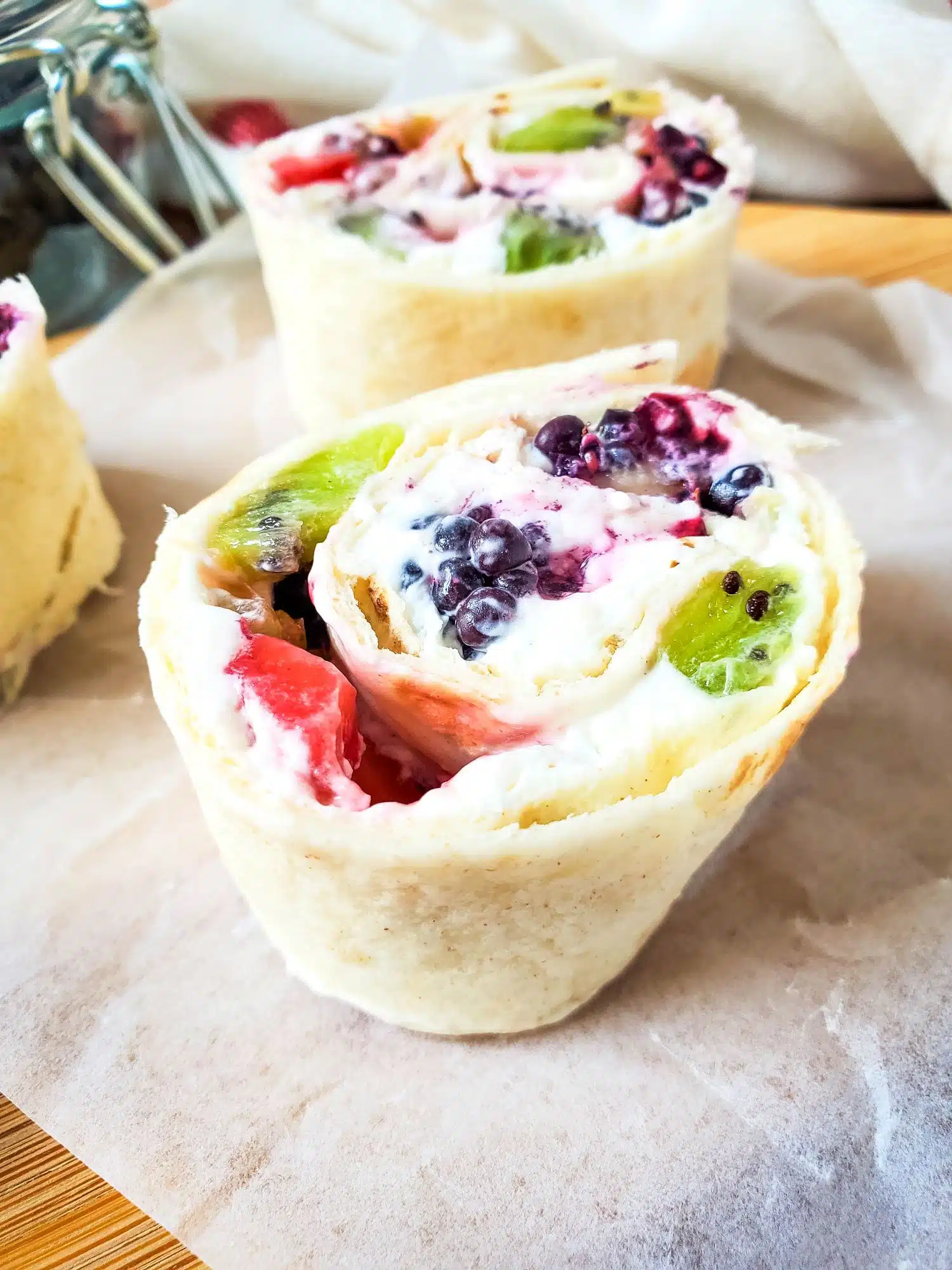 Be sure to Pin This Fruit Pinwheels recipe so you will remember it for later!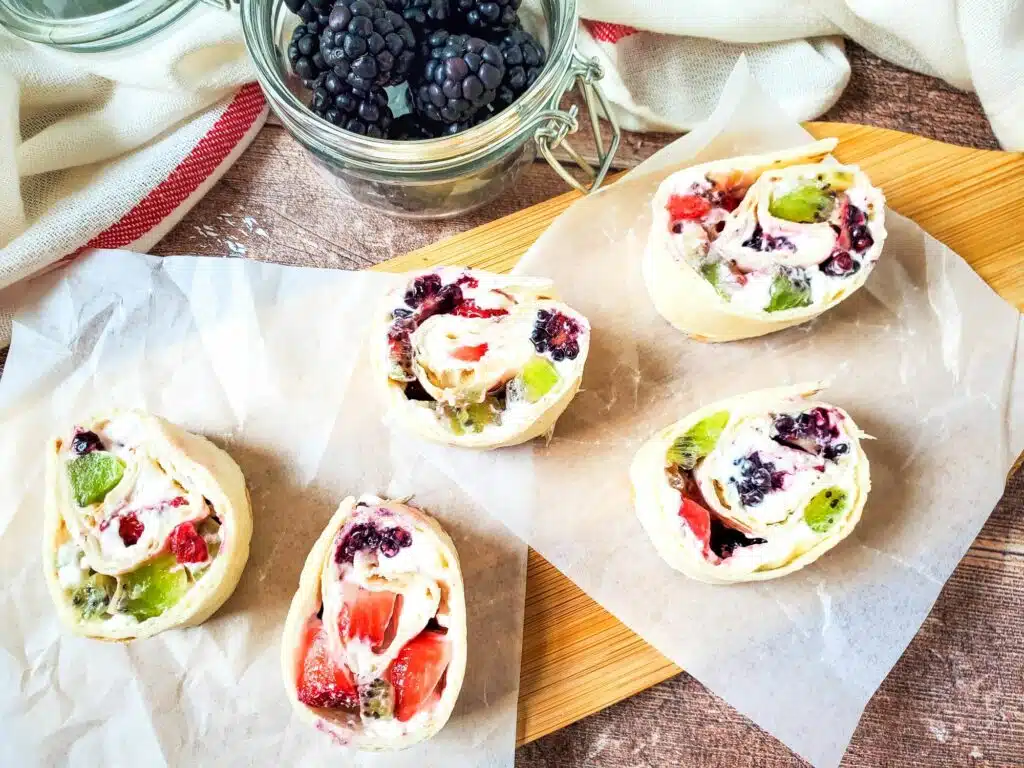 Our rainbow fruit kabobs are also a healthy fruit dessert that is perfect for camping!