If you are planning a meal outdoors when camping, you want foods to be simple, easy to make and use as little utensils as possible.
These rainbow fruit kabobs might be the perfect camping appetizer or healthy dessert! Not only are they easy to make, but they don't have to be refrigerated and they are the perfect finger foods!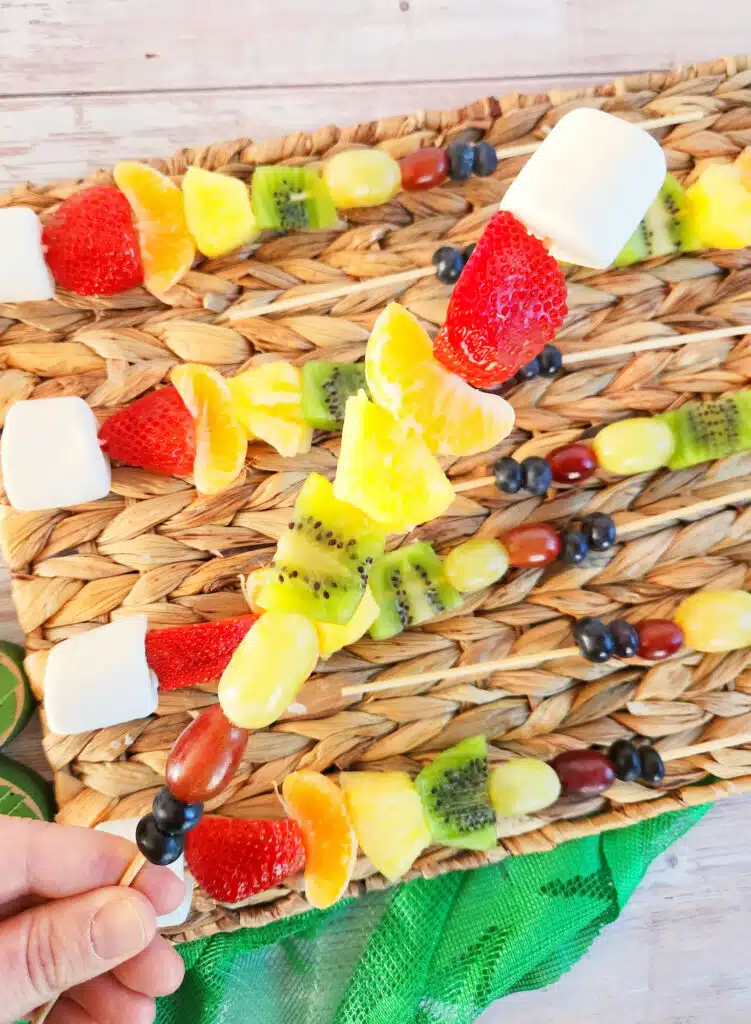 If you are trying to sneak fruits and veggies into your kid's meals, these colorful fruit skewers are the perfect way to encourage them to eat produce!
This is an easy recipe to make ahead of time and bring to the campsite. Or make in the morning to have during a cookout later in the day.
If making ahead of time, add the marshmallows right before serving so that the white marshmallows don't become stained with dye from the strawberry, or become hard or soggy from storage.
Be sure to see all of our fun camping recipes!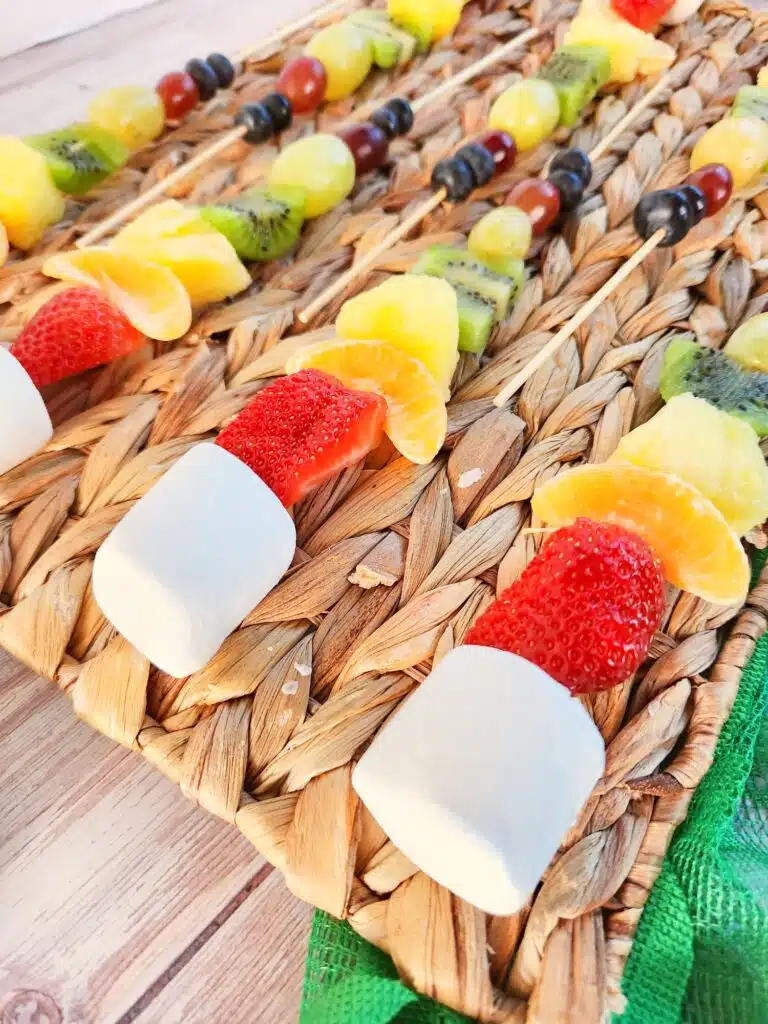 Rainbow Fruit Kabobs Recipe
Servings: 10 Kabobs
Prep: 10 minutes | Assembly Time: 10 minutes | Total Time: 20 minutes
Ingredients
10 marshmallows
20 blueberries
10 red grapes
10 green grapes
3 kiwi, cut into pieces
10 pieces of pineapple
1 clementine, peeled
3 strawberries, cut in pieces
10 bamboo kabob sticks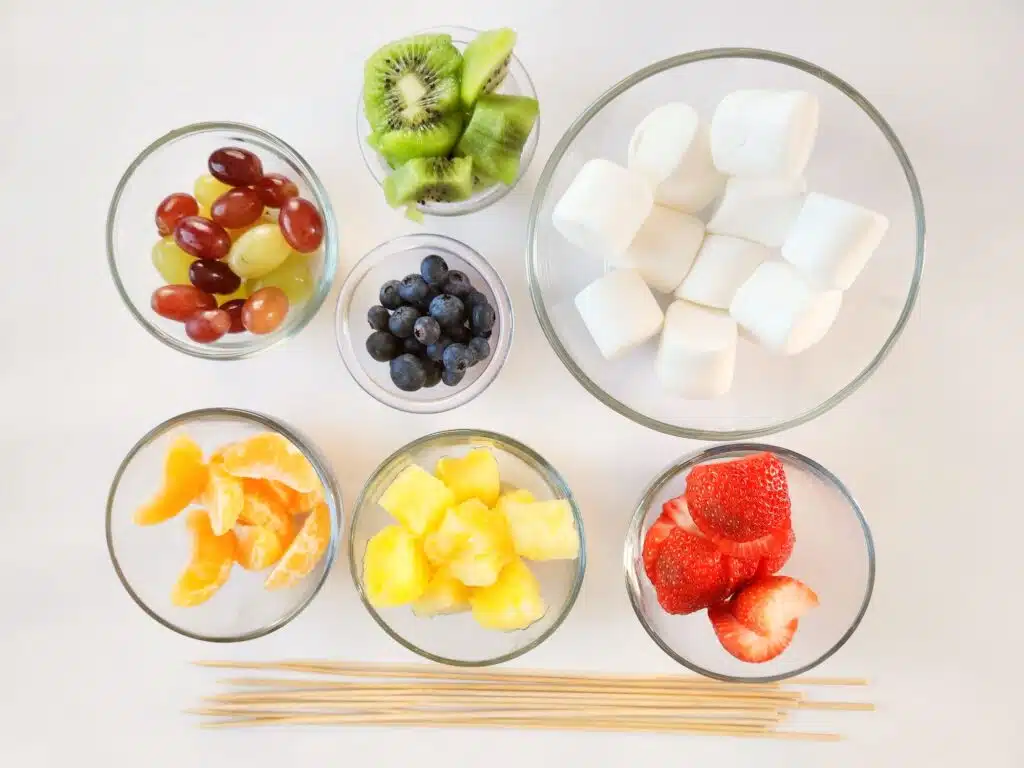 Directions
Push fruit down on the kabob sticks in order of the color of the rainbow.
To make the rainbow skewers, topped with a white cloud, put the ingredients on this order:
2 blueberries
Red grapes
Green grapes
Kiwi
Pineapple
Clementine
Strawberry
Marshmallow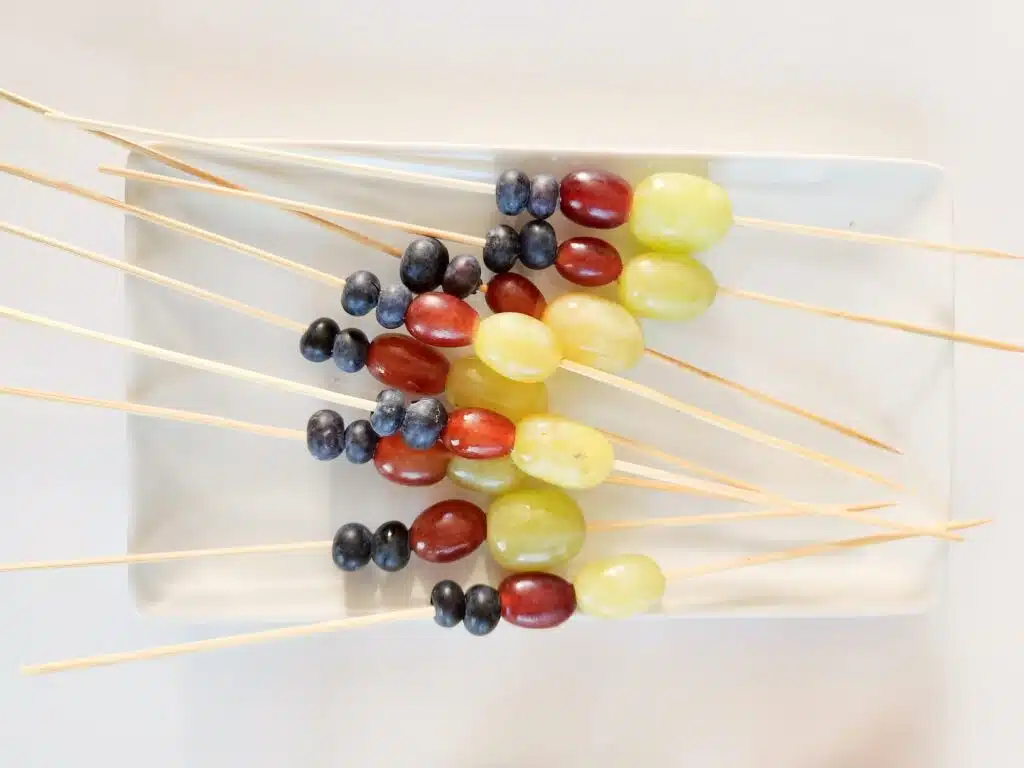 Substitutions
If you want to substitute different fruits, that is fine! If you are trying to keep the rainbow colors, though, here are some suggestions:
Red: Cherries, watermelon
Orange: Tangerines, oranges, mandarin oranges
Yellow: Bananas
Purple: Plums
These fruit skewers are perfect side dishes for any meal. Be sure to see our other delicious side dishes, including Orange Fluff Salad, Pink Fluff Salad and Old-Fashioned Pea Salad.