Want a quick, easy and mess-free way to have delicious food while camping? Then you will want to try out these hobo packets!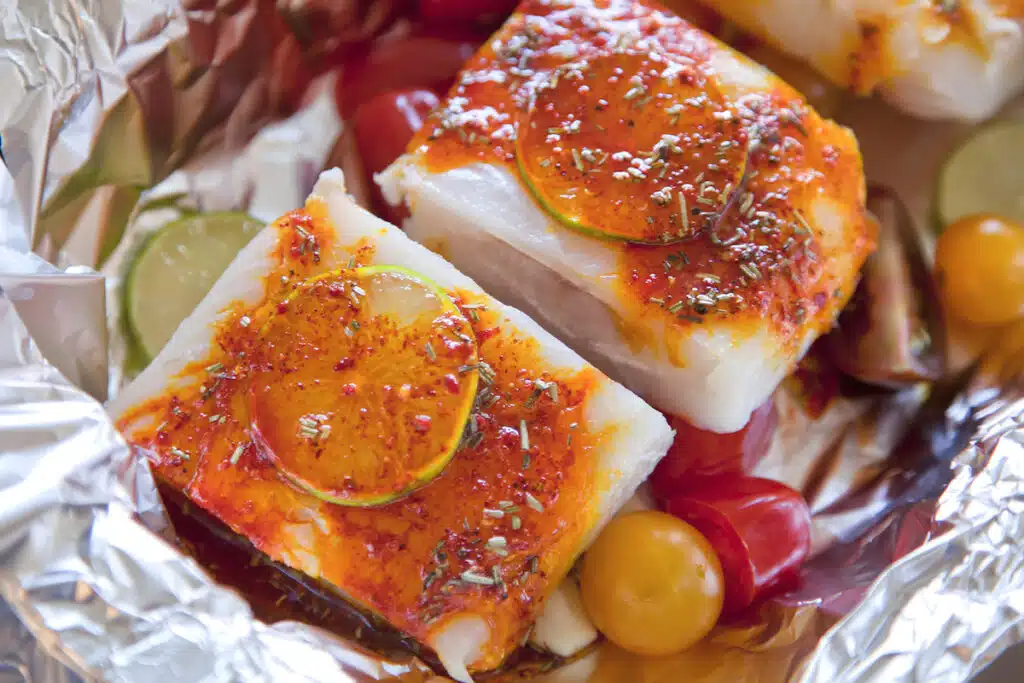 What Are Hobo Packets?
Though the name doesn't do much to sell the benefits of this type of camp food, hobo packets actually are really great ideas for camping and RVing!
Hobo packets are simply food wrapped in aluminum foil or dinner foil that is meant to grill over a campfire. By combining a lot of different ingredients, you can make a very tasty meal for little money or effort.
The wonderful thing about hobo packets is that you don't have to have a lot of pots and pans to clean. In fact, all you need to do is recycle or throw away the aluminum foil afterwards!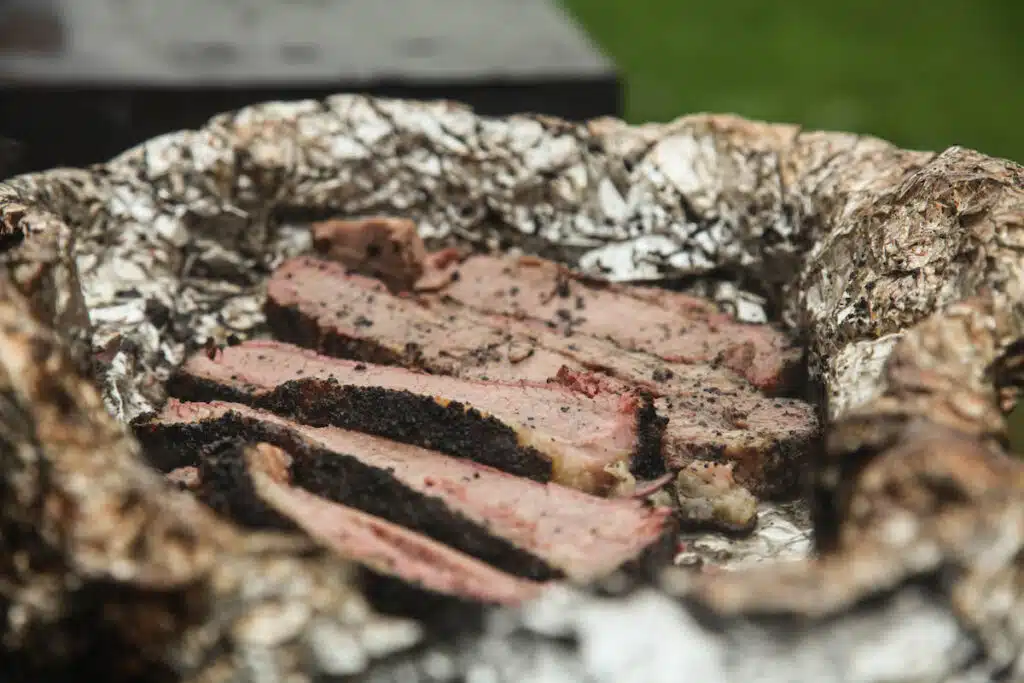 How to Make a Hobo Packet
It's really easy to make a hobo packet meal. While ingredients can always be changed, there is one thing that you always need to start with.
And that's aluminum foil. Specifically, HEAVY DUTY ALUMINUM FOIL!
This is not the time to try to save money with the cheap aluminum foil that easily rips!
If you only have standard aluminum foil, use two or three sheets for the best results.
Tear off about 2 feet (or 24 inches) of aluminum foil. You might be able to use less, but it depends on how much food you put in the hobo packet.
Consider using cooking spray on the foil to prevent sticking of the food.
Add food into the packet.
For meat, cut the meat into small strips or chunks to cook faster. Or pound into a thinner slice of meat.
For vegetables, cut them into small slices or chunks so that they cook faster.
Start to create the packet. Bring the foil together in the middle, long side first. Fold the foil (or kind of roll it down), until it touches the food inside.
Then, start folding the foil from each end. You can roll it up, too.
How Long Does it Take to Cook Foil Packets?
Allow at least 20-30 minutes to cook a hobo packet on an open campfire. The time will really depend on whether you are using raw meat and vegetables. Or whether you are using pre-cooked meat or veggies from a can.
If you are using raw foods that need more cooking, plan on 45-60 minutes to cook.
You can always see how the food is cooking by unrolling the edge of a foil packet and peeking inside. Just be sure to use oven gloves because the foil will be hot!
Can You Cook Foil Packets in the Oven?
Yes!
If you see some hobo packet recipes that you like, but have no plans to go camping any time soon, you can try them in the oven.
How Do You Cook Tin Foil Dinners in the Fire?
While combining food for an easy meal in an aluminum foil hobo packet is easy, you might be concerned about how to actually cook them on the fire.
Should you put the foil in the fire and let the flames cook the food and tin foil? No. You will burn the food and it won't be good!
The secret to cooking tin foil dinners on a campfire is that you want steady heat that doesn't get TOO hot.
So, putting a hobo packet on a campfire grill grate above the fire is a great idea.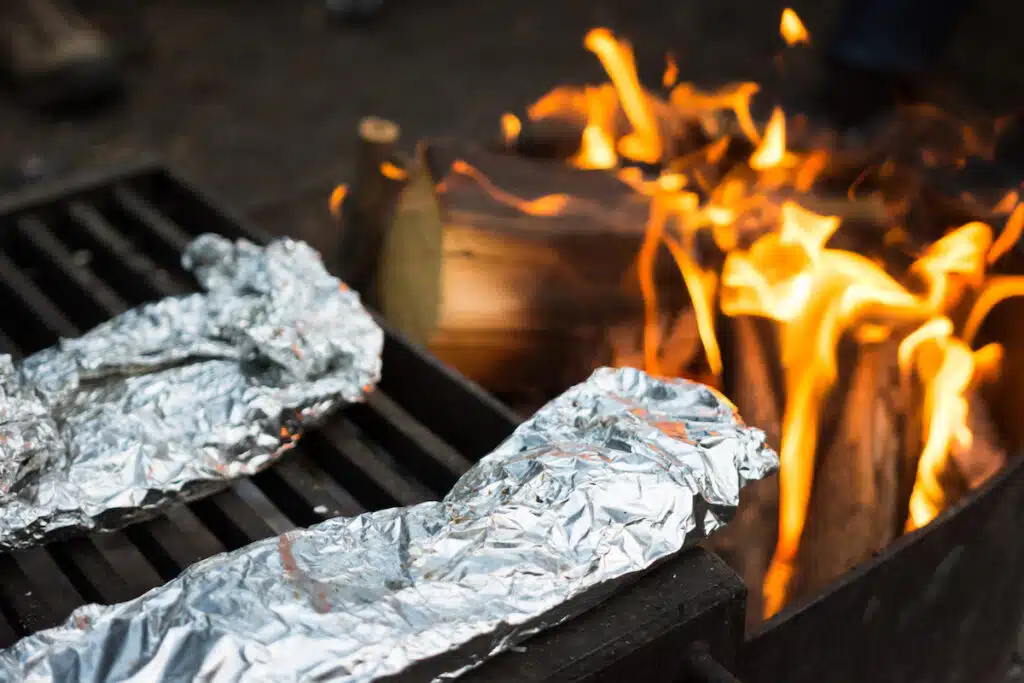 Or you can place the tin foil packet on hot coals that are simmering with no open flame. Choose coals that are white and ashy. These have been simmering for a long time and offer steady heat. Bright red coals can be burning too hot.
Burying your hobo packet under hot coals is also an option. This way it cooks from both the bottom and the top. Just make sure your foil packet is sealed tightly, otherwise you will have ash in your food!
Always start with the meat side (if there is meat in the recipe) down. That way the meat will cook first. And you can make sure that the meat is cooked all of the way through.
Helpful Tips for Cooking Hobo Packets
For the best hobo packet meals, use the following helpful tips:
Add just a little bit of moisture in the tin foil packet so that the veggies steam while cooking. If there is no moisture (such as water, soup, sauce, etc.) then any veggies or starch could end up crisping up instead of getting soft.
An ice cube added to the hobo packet will provide moisture
Sauces, such as salsa, BBQ sauce or soy sauce will add moisture
Salad dressing, melted butter, or tomatoes (which naturally contain a lot of moisture) will also work to keep food soft
Turn the hobo packet a few times (at least 2) to ensure even cooking
Always use camping tongs or oven gloves when touching the hobo packets during and after cooking
Open the hobo packet carefully. The hot steam inside can escape as you open it, possibly burning fingers or other body parts if you are too close.
Great Hobo Packet Recipes
Now that you know how easy it is to make a hobo packet for camping, you will want to try it out! Here are some great recipes to try.
Main Meals
Desserts
If you like these easy hobo packets for camping meals, be sure to see our pizza pull apart bread and mini corn dog muffins, too.