When you need a side dish or dessert for a potluck or family gathering, you just can't go wrong with Orange Fluff Salad!
This classic recipe is a deliciously sweet and fruity side dish for most occasions. Made with just a handful of ingredients that can be customized to your liking, it is a satisfying salad to bring to a cookout, tailgate party or BBQ.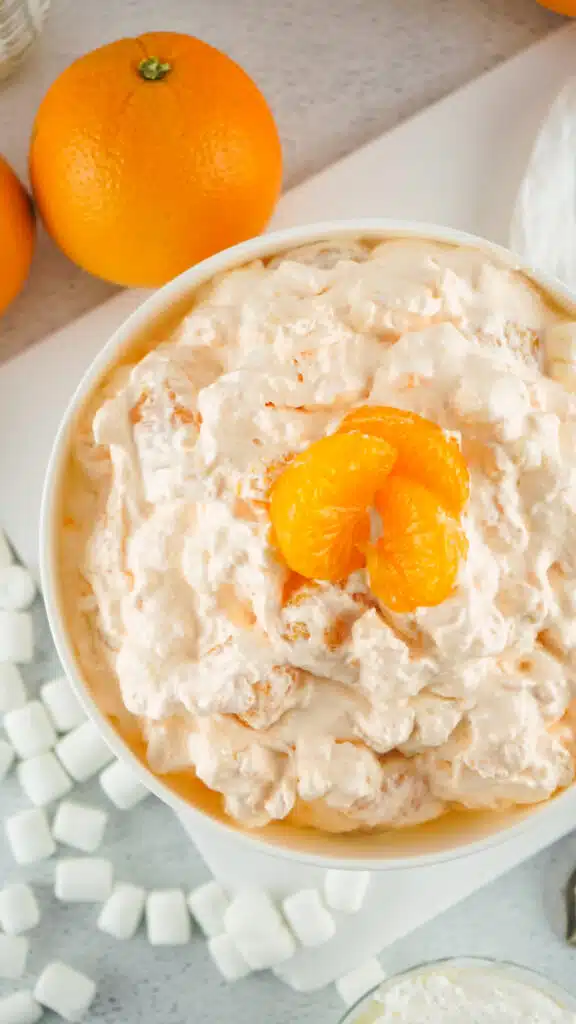 Just like our Pink Fluff recipe, this makes a great camping salad because you don't need too many refrigerated items to make this at your campsite. Whipped topping and cottage cheese are the only ingredients that need to be stored in your refrigerator or cooler prior to assembling the salad.
Plus, this salad takes only 5 minutes to make!
Be sure to see more of our side dish recipes perfect for BBQs and picnics:
Additional Flavor Variations
This perfect thing about this orange creamsicle fluff salad is that you can change the fruit flavors to change up the taste.
All you need to do is swap out the Jell-O flavor and the matching fruit. Here are some ideas:
Strawberry gelatin with chopped fresh strawberries
Pineapple gelatin with canned pineapple
Cherry gelatin with maraschino cherries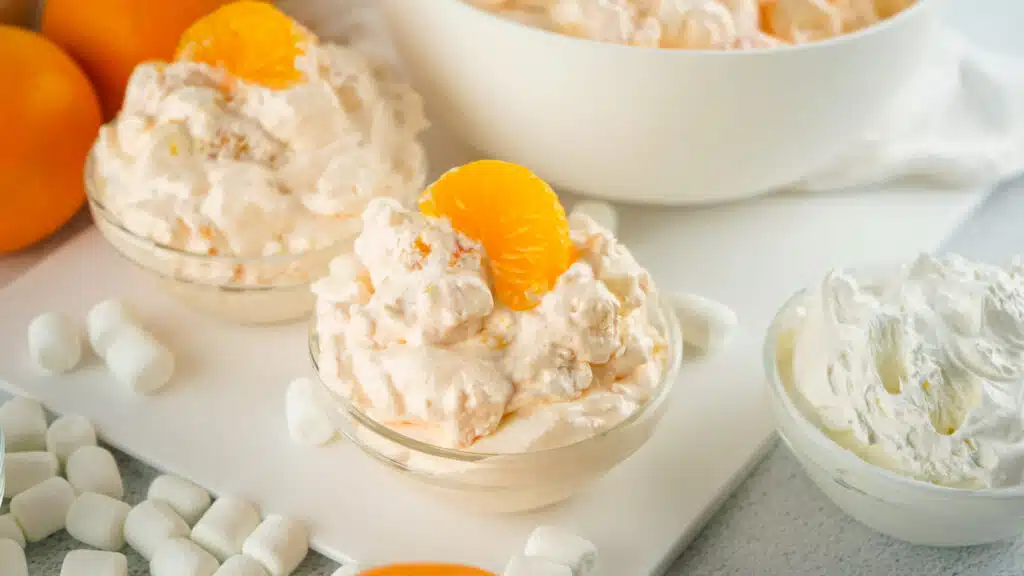 How to Make Orange Fluff Salad
Prep Time: 5 Minutes | Serves: 6-8
Ingredients
1 8-oz. Tub Whipped Topping (such as Cool Whip)
1 3-oz. Box Orange Gelatin Powder (such as Jell-O)
1 Can Mandarin Oranges, drained (14 ounces)
1 ½ Cups Mini Marshmallows
1 Cup Cottage Cheese
1 Cup Sweetened Shredded Coconut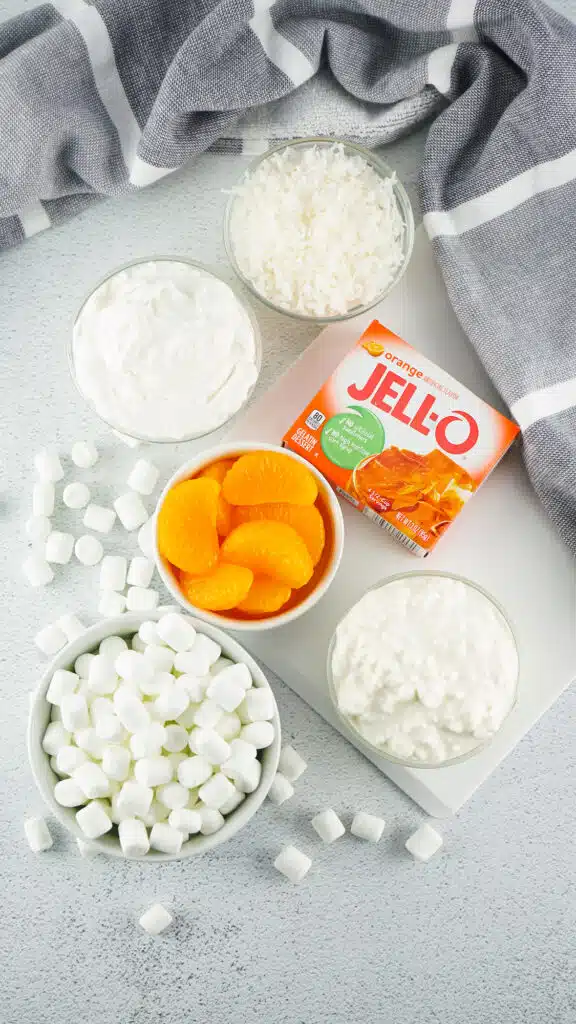 Directions
Combine the whipped topping and orange gelatin powder in a large mixing bowl. Stir together until no white streaks remain.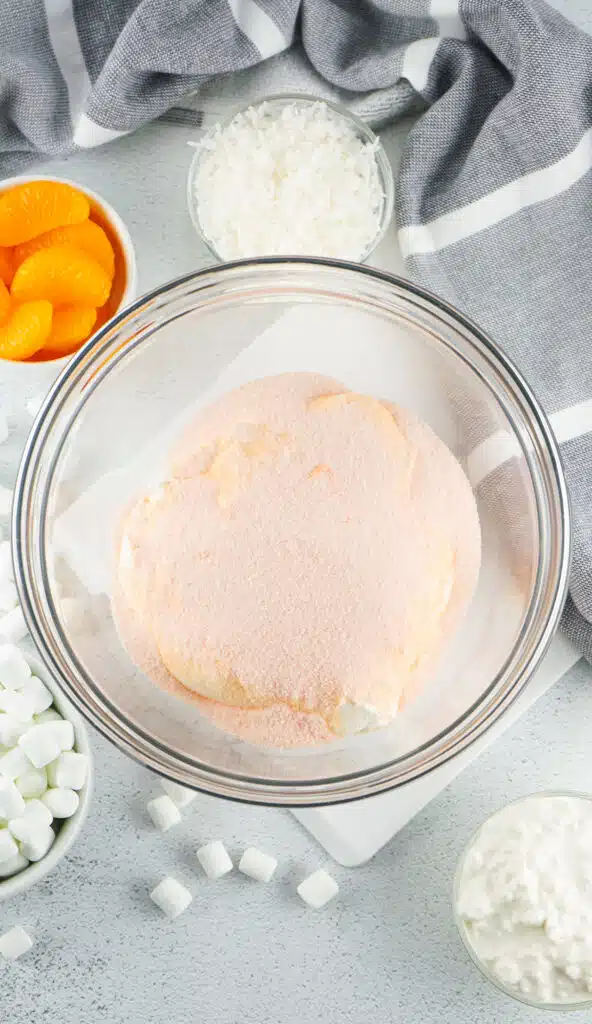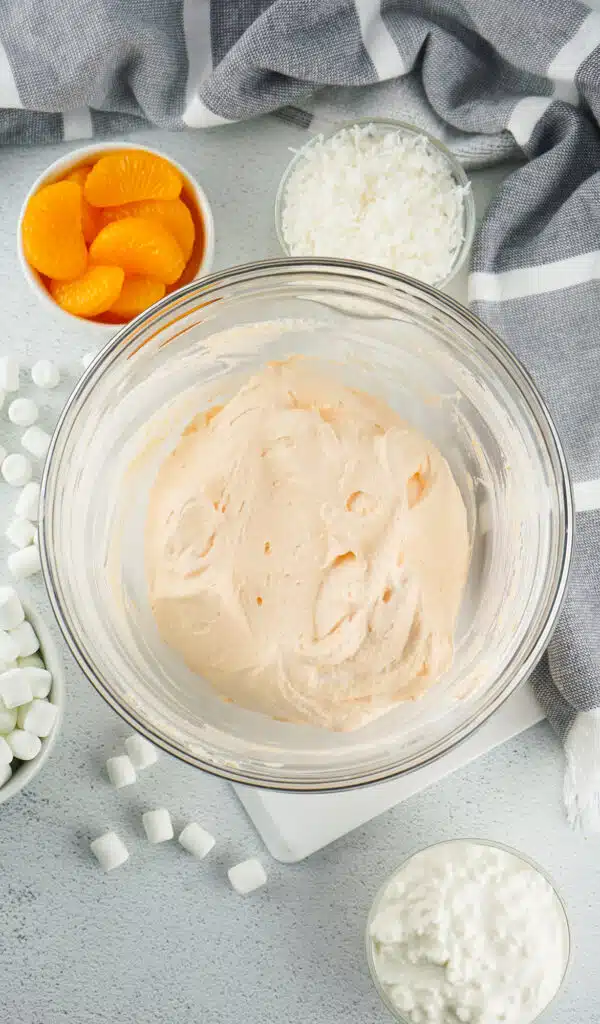 Add the remaining ingredients into the whipped topping mixture. Fold them together, stirring gently, until fully combined.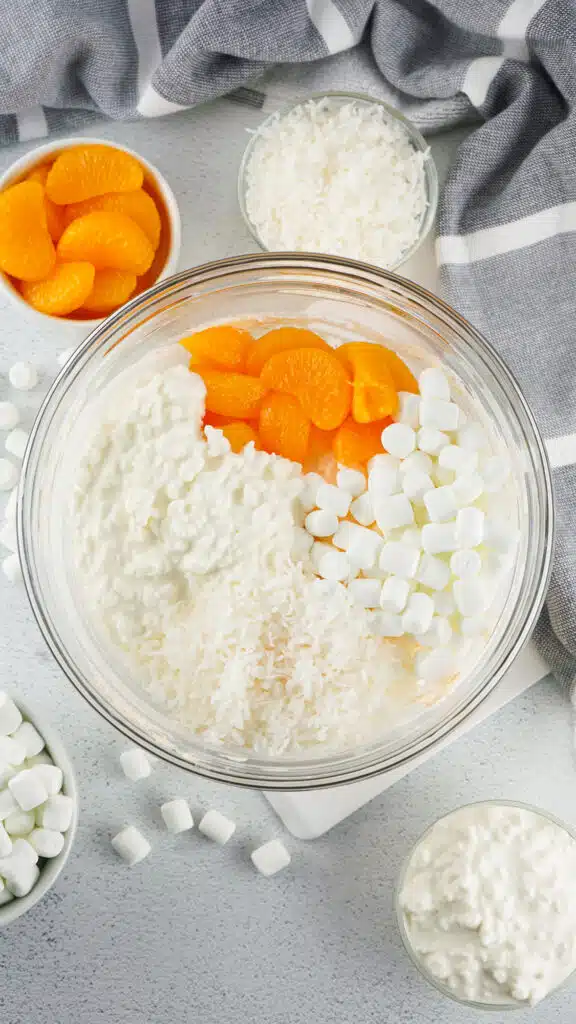 Serve immediately or store in the refrigerator, covered.
Helpful Tips
Orange fluff dessert can be stored in the refrigerator for up to a week. You will want to cover it with plastic wrap or a lid when storing it so that it doesn't dry out.
Do not freeze this dessert ahead of time. It doesn't freeze well.
You can make mandarin orange fluff in advance! In fact, I highly suggest doing so in order to get the best flavor out of the dish.
The marshmallows will get softer and gooier after storing for a day or two. Don't worry! This is normal. And I think it tastes better that way.
If you have been storing the orange fluff salad with cottage cheese for a day or two, you will want to stir it well before serving. Some of the liquid from the fruit will condense on the top, which is normal, but not great for presentation.
You can add in fruit cocktail or chopped nuts if you would like.
Be sure to see all of our easy camping recipes!