When you want a tailgating side dish that will have everyone raving, Dr. Pepper Baked Beans are a perfect choice! This easy recipe uses canned baked beans and Dr. Pepper to make sweet and savory beans that are the perfect accompaniment at BBQs and picnics.
The best part is that you don't need to cook this easy baked bean recipe on the stovetop! Just mix all ingredients together and pop in the oven or over the campfire and you are done!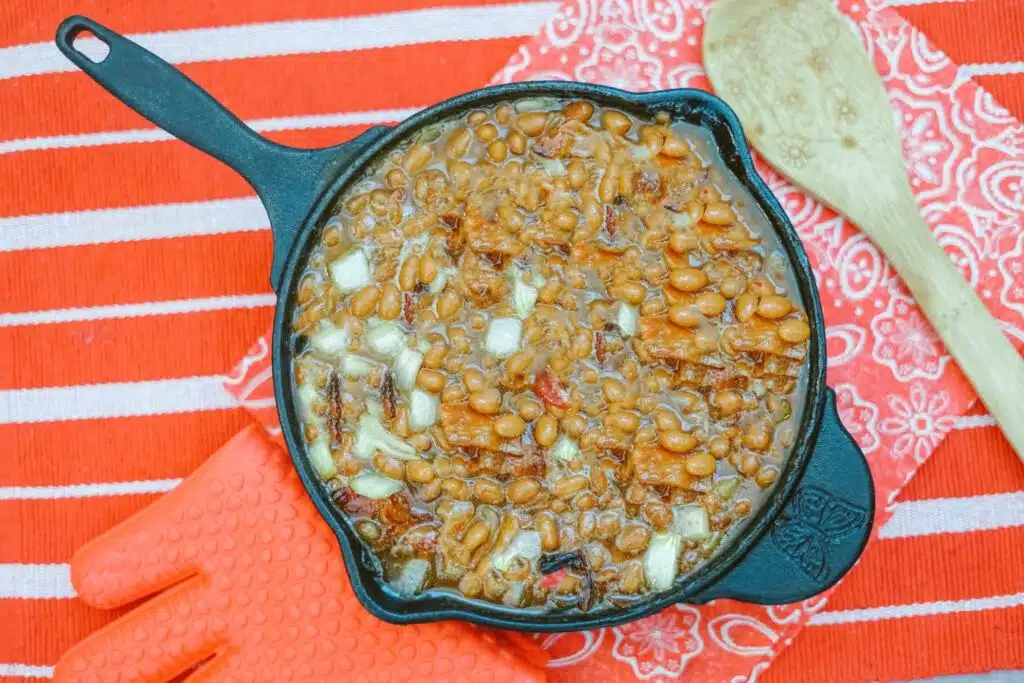 If you are looking for more easy side dishes, you might like these:
Why You Will Love This Recipe
Canned baked beans let you skip the step of having to prepare dried beans.
No need to cook on the stovetop and then move the pan to the oven.
These ingredients are common and you probably already have them on hand. Combining them together creates a unique flavor profile.
These beans can be cooked in a cast iron skillet on an open campfire or in an oven.
Coca-Cola, Pepsi or Rootbeer can be substituted for Dr. Pepper. While the flavor won't be exactly the same, it will be very similar with the added sweetness.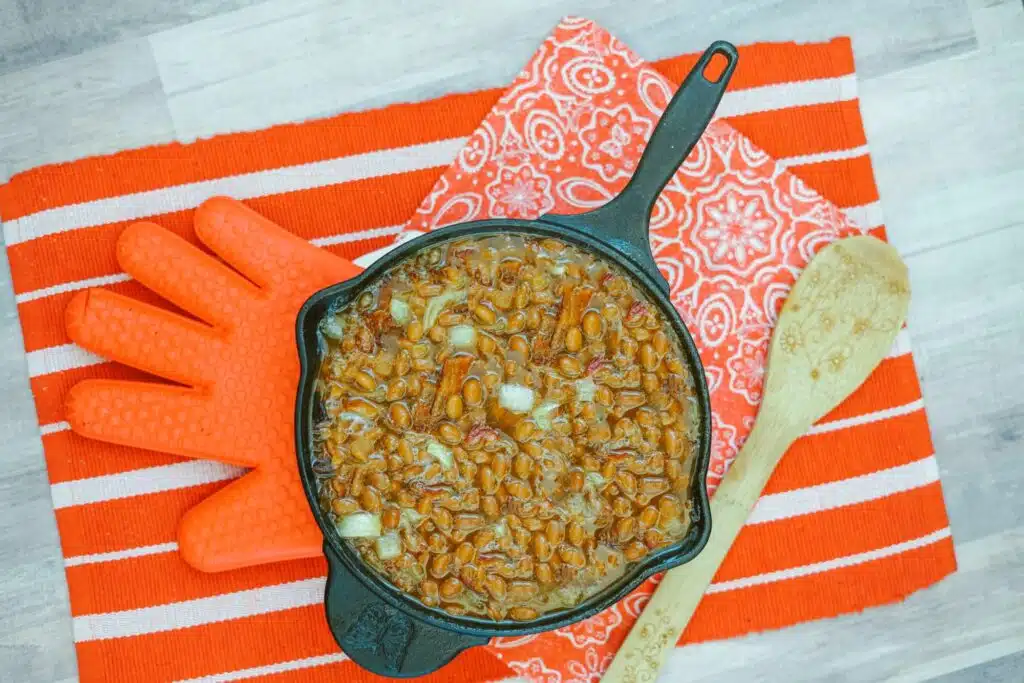 Dr. Pepper Baked Beans Recipe with Bacon
Ingredients
1 can (28 oz) Baked Beans (we used Bush's Best brand)
4 slices Bacon, cooked and crumbled
1/2 Medium Onion, chopped
1/4 cup Brown Sugar
1/4 cup Dr Pepper (or other brown soda such as Coca-Cola, Rootbeer, etc.)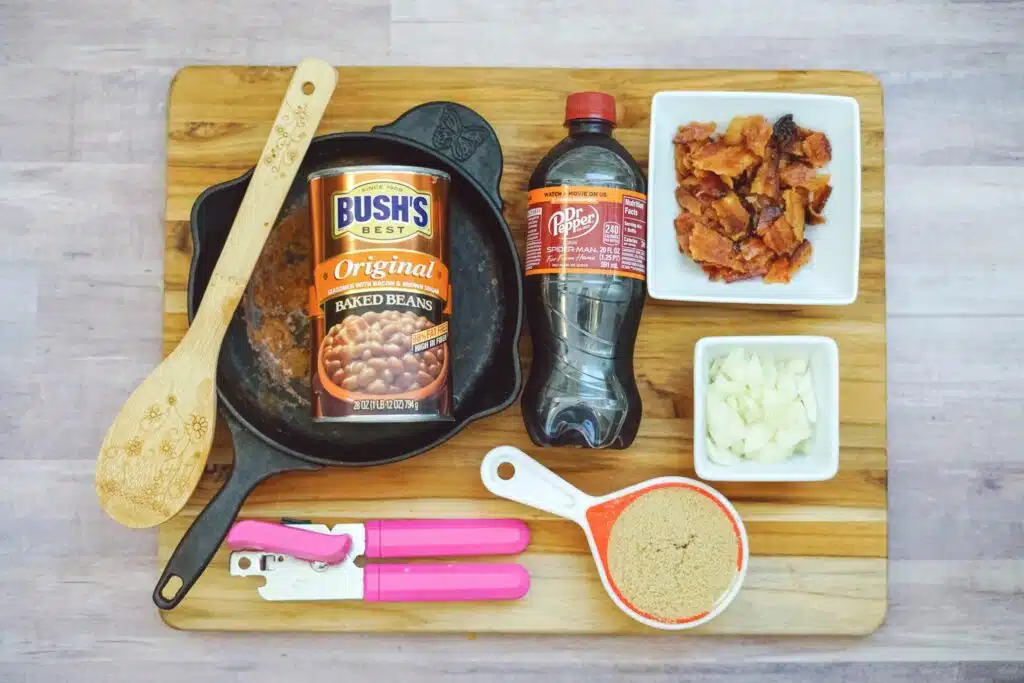 Directions
Step 1
Combine the baked beans, bacon, onion, and brown sugar together in a bowl.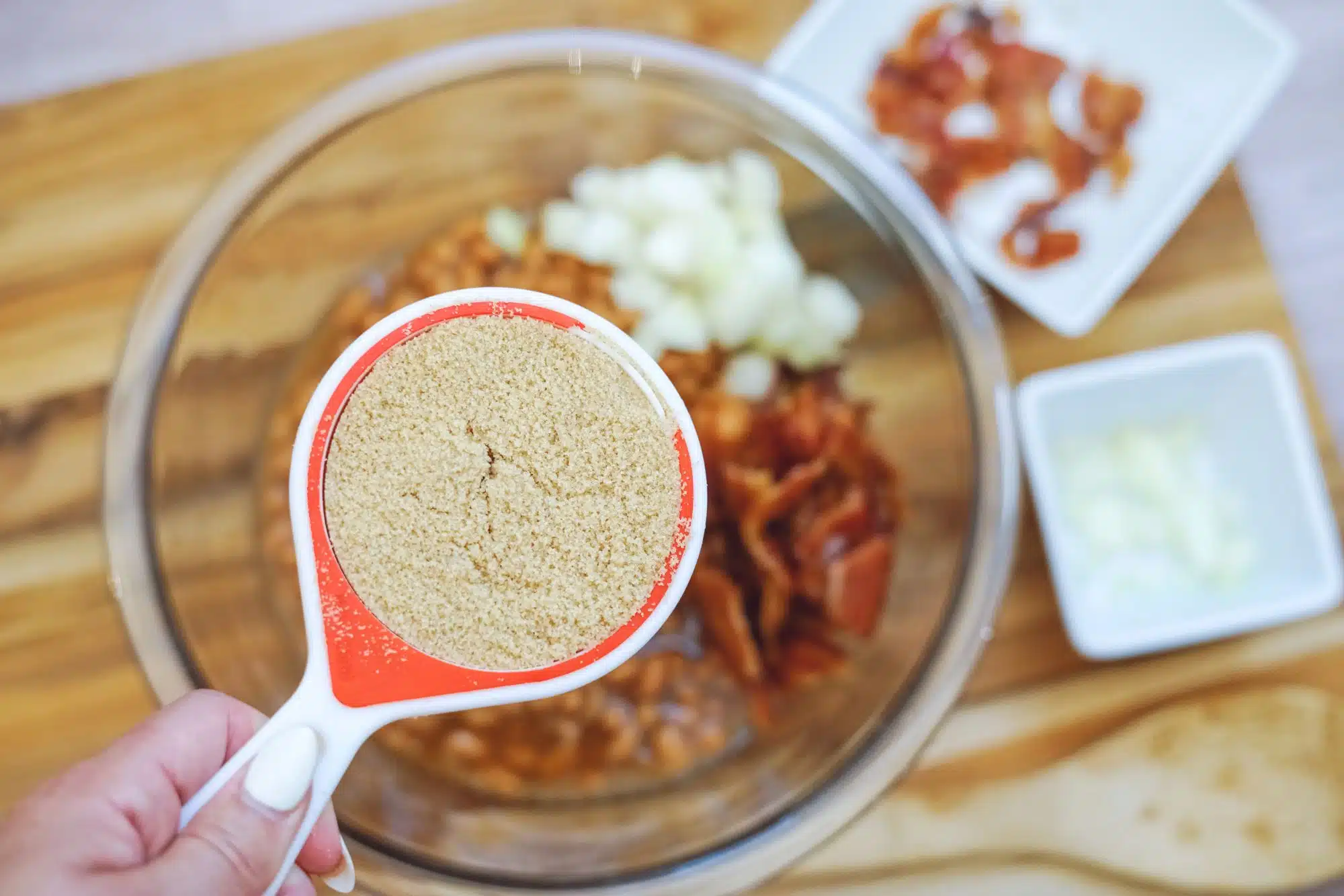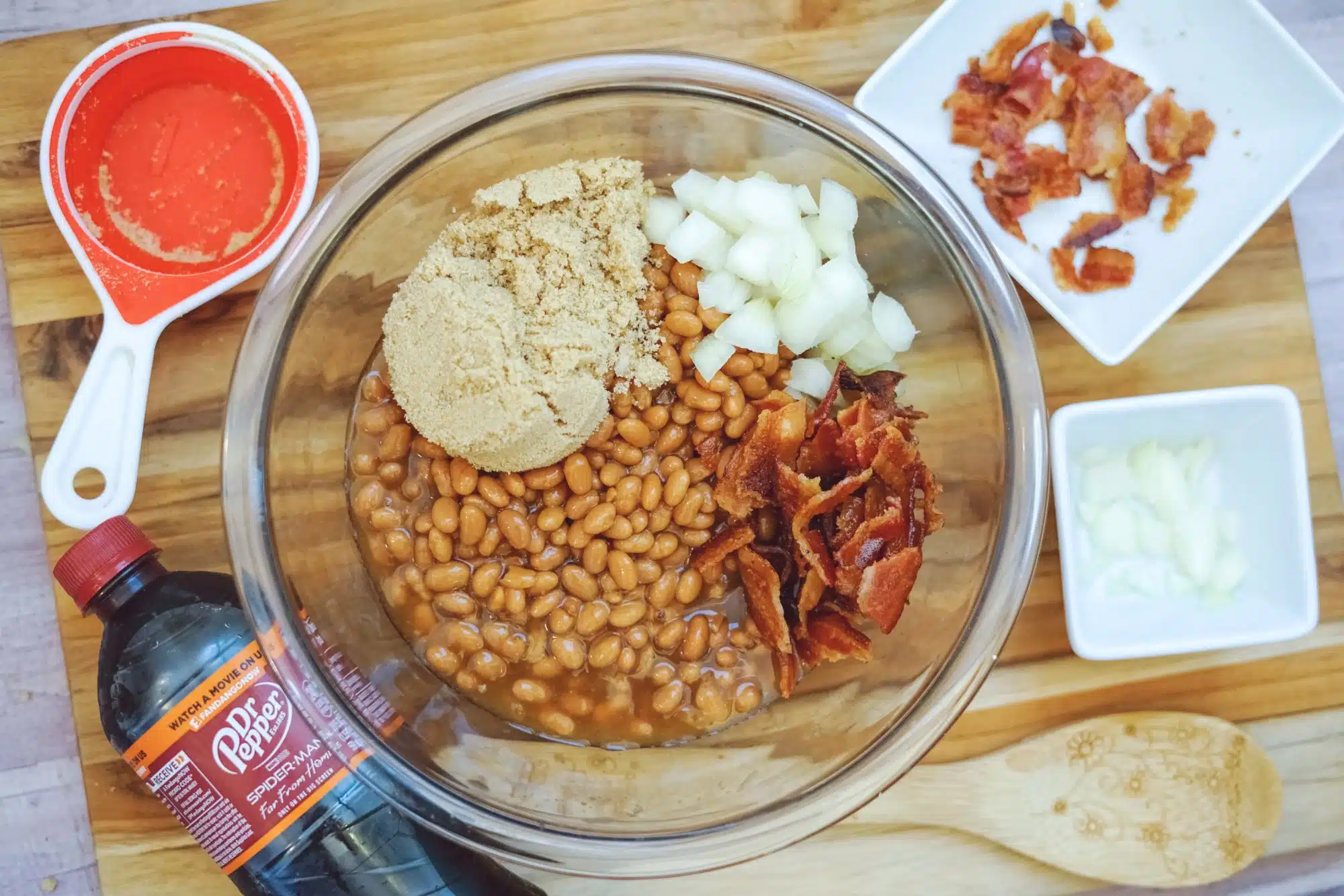 Step 2
Add 1/4 cup of the Dr.Pepper beverage and mix all ingredients together.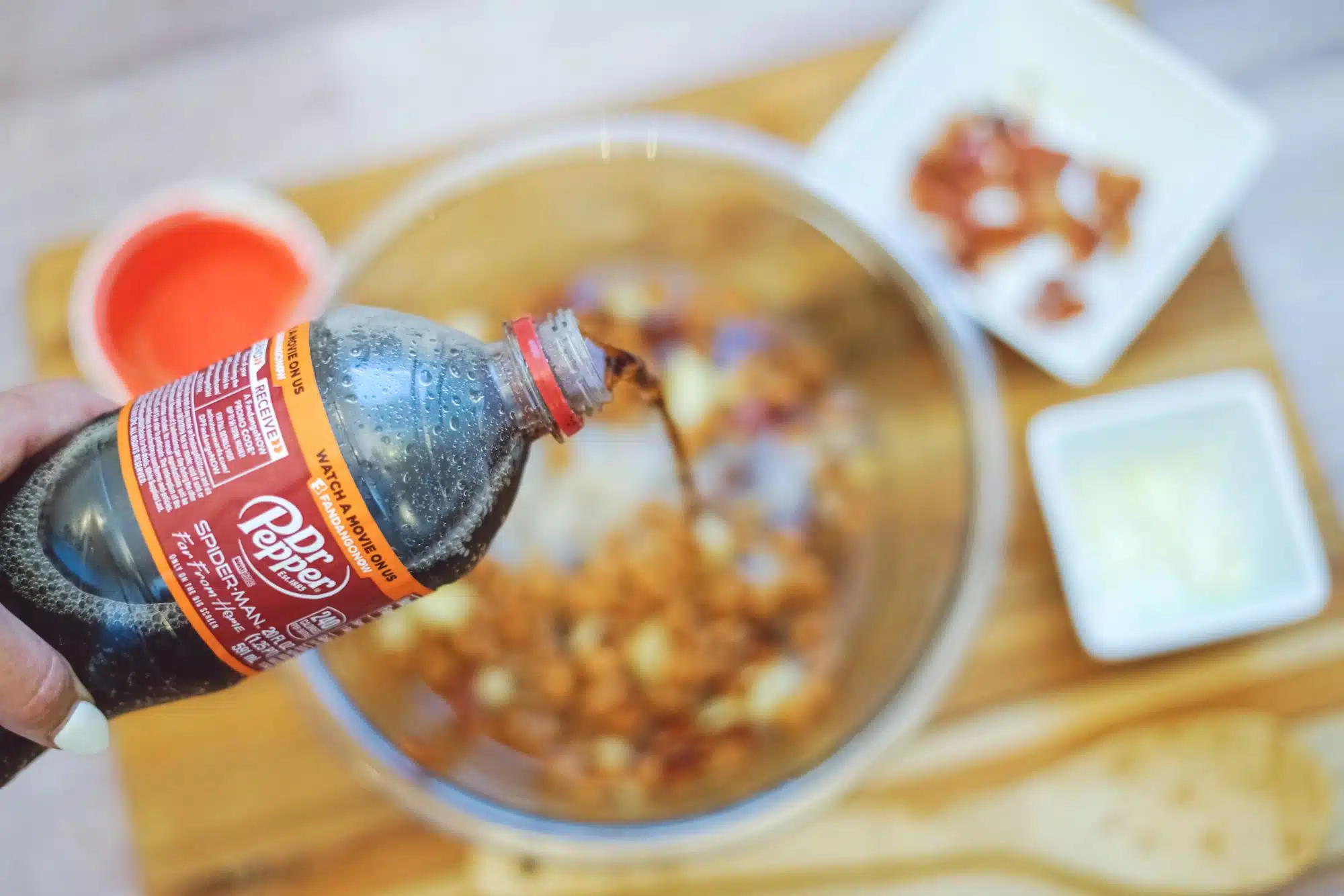 Step 3
Pour the bean mixture into a 2 quart baking dish or a cast iron pan.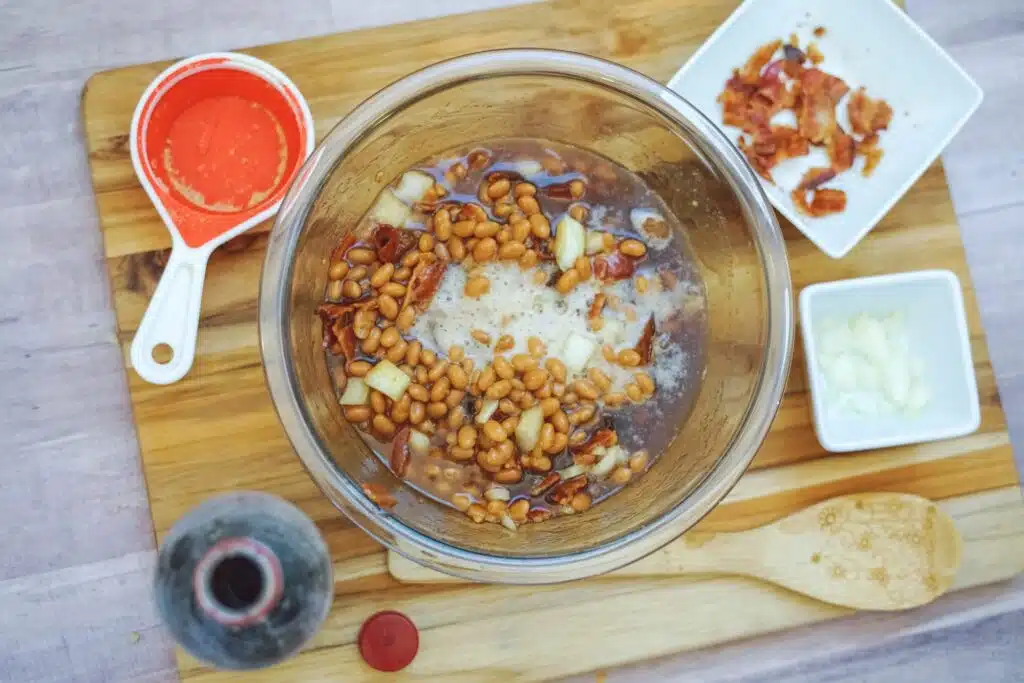 Step 4
Bake uncovered for 1 hour at 350 degrees, or until bubbly.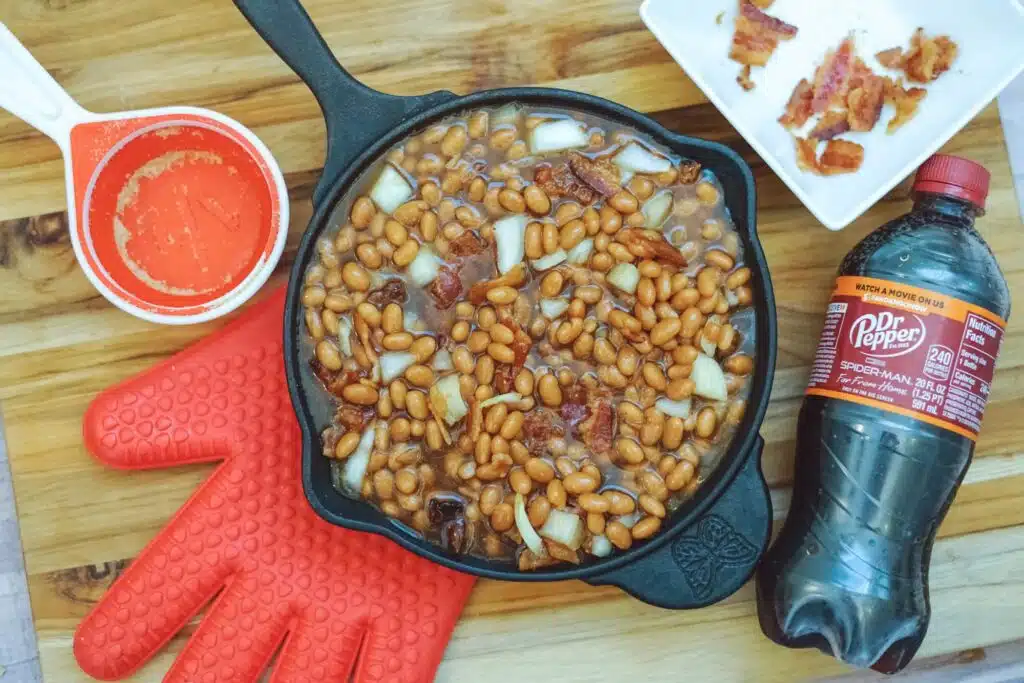 What Main Dish Should Be Served with Baked Beans with Bacon?
Any traditional picnic or grilling food is going to taste great with these Dr. Pepper baked beans.
Hamburgers or hot dogs are perfect meals to serve with this easy baked beans recipe. Baby back ribs are also a great accompaniment, too.
Any grilled chicken dish is going to be great with baked beans. Our white wine vinegar marinade grilled chicken pairs really well, with the tangy chicken complimenting the sweet and salty beans.