This old fashioned pea salad is the perfect go-to side dish for any camping get together. If you are having a family potluck, BBQ or tailgating party, bring this crowd-pleasing side dish with you!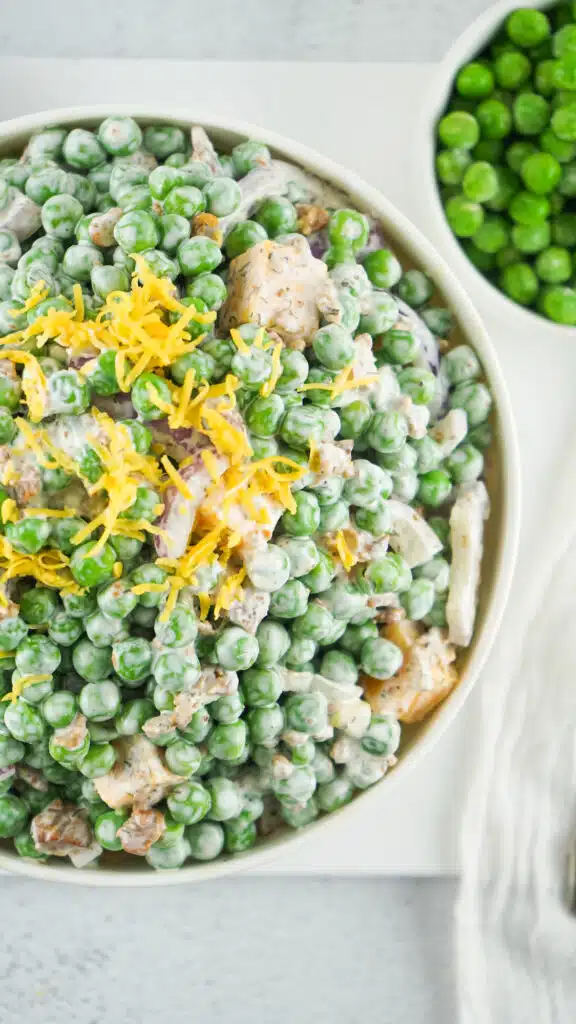 Be sure to see all of our easy camping recipes, including our big list of make-ahead camping breakfast ideas.
Using Frozen Peas
This recipe uses frozen peas, which are convenient and inexpensive to find. However, you do need to defrost the peas and bring them to room temperature before making the pea salad, unless you are using our time saving tip below.
To warm the peas, gently bring them up to room temperature by soaking them in warm water for a few minutes and then draining. Or you can microwave them for 30 seconds at a time.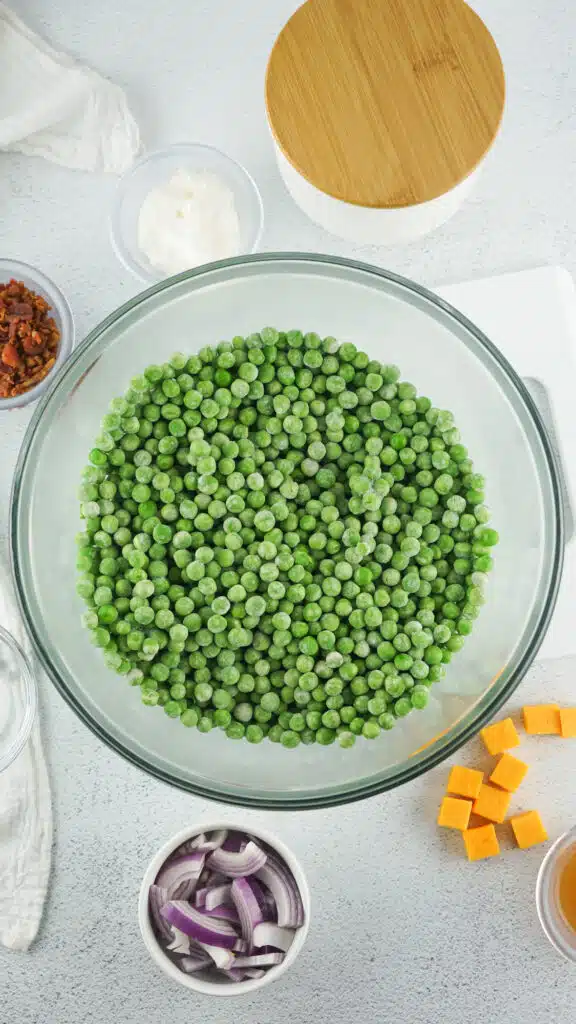 Either way, be sure to prevent them from being mushy in the salad mix by not heating them up too much.
Time Saving Tip
You can make this pea salad recipe ahead of time and store it in the refrigerator until you need it. And you don't have to defrost the peas, first!
Combine everything together, including frozen peas that have not been warmed. The peas will naturally defrost on their own overnight. Just make sure to store the pea salad in an airtight container or cover it tightly with plastic wrap.
For more easy side dishes to enjoy while camping, see our easy Cherry Fluff Salad, Dr. Pepper Baked Beans and Orange Fluff Salad.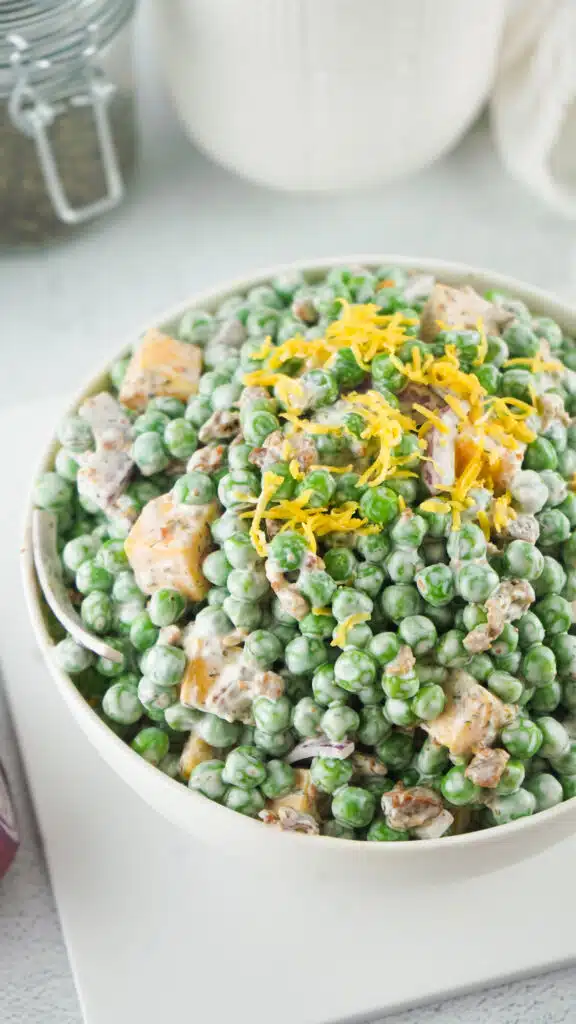 How to Make Old-Fashioned Pea Salad with Frozen Peas
Serves: 6-8
Prep Time: 15 Minutes
Ingredients
32 Ounces Frozen Peas, warmed
8 Ounces Cheddar, cubed
3 Ounces Real Bacon Bits
1 Red Onion, slivered
⅓ cup Mayonnaise
⅓ Cup Sour Cream
1 Tablespoon Apple Cider Vinegar
1 Teaspoon Dried Dill
1 Teaspoon Salt
1 Teaspoon Pepper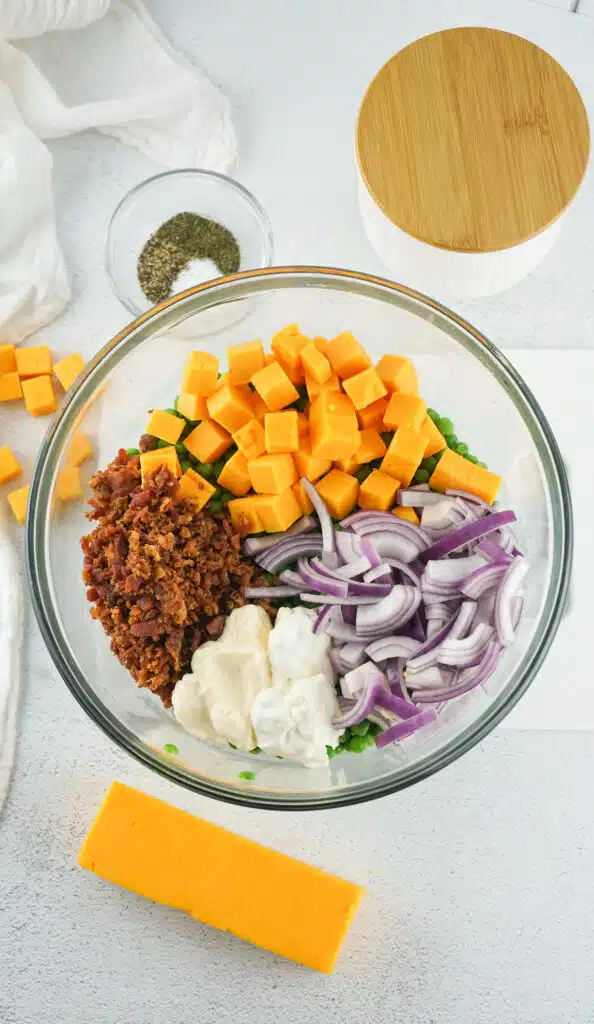 Directions
Once you've prepped the peas, onions, and cheese, combine all ingredients in a large mixing bowl and fold until fully combined.
Eat immediately or place in the fridge, covered, until you're ready to serve it.
Helpful Tips
There are quite a few variations to this recipe since it's been around for a long time. However, this combination is pretty classic.
You can swap the mayonnaise for Miracle Whip dressing, and the cubed cheese for shredded cheese, if you would like.
Do not over warm your peas. You simply want to warm them enough to where they're not frozen, but not piping hot. You want them to still be cold, as this will save you chilling time. If you overheat the peas, no problem, just chill the salad before serving.
This salad will keep in the refrigerator for up to 5 days in an airtight container. Do not freeze.