An old-fashioned Cherry Fluff recipe is a perfect salad to bring for camping meals, cookouts and pot lucks. This crowd-pleasing favorite, just like grandma used to make, can be either a side dish or a dessert.
What we like about our Cherry Fluff Salad is that you only need one refrigerated item. All of the rest of the ingredients are canned or non-perishable. Which means you can easily make this dessert at the campsite and you don't need to find room for a huge bowl of the salad in your refrigerator or cooler ahead of time.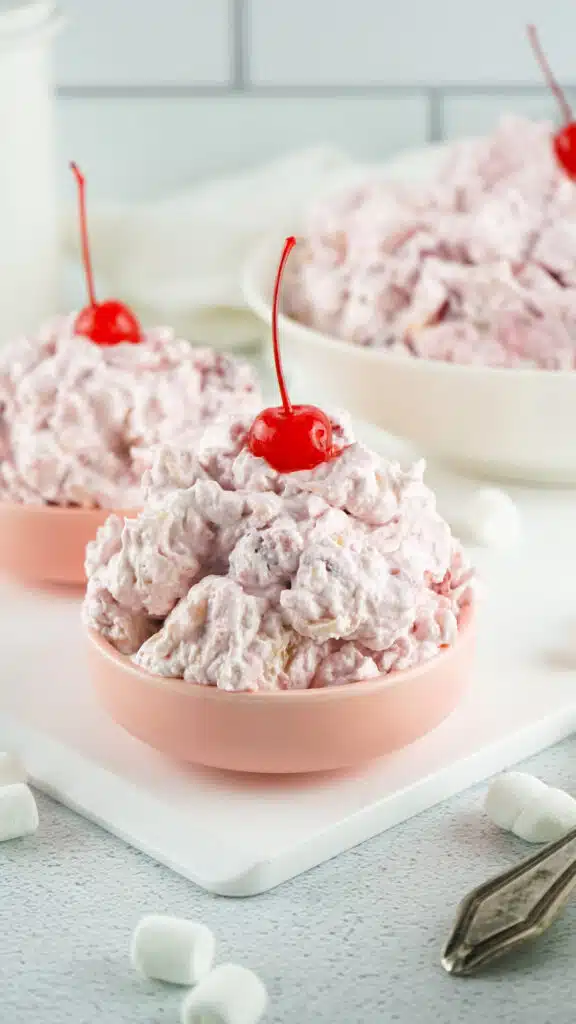 Also known as "Pink Fluff," this dessert recipe uses Cool Whip, sweetened condensed milk and marshmallows.
Be sure to see our Orange Fluff Salad Recipe, too. And this old-fashioned pea salad recipe is a popular side dish for BBQs.
If you need to bring a dish to a tailgate party, campground pot luck or a family gathering, this is the one that you want to make!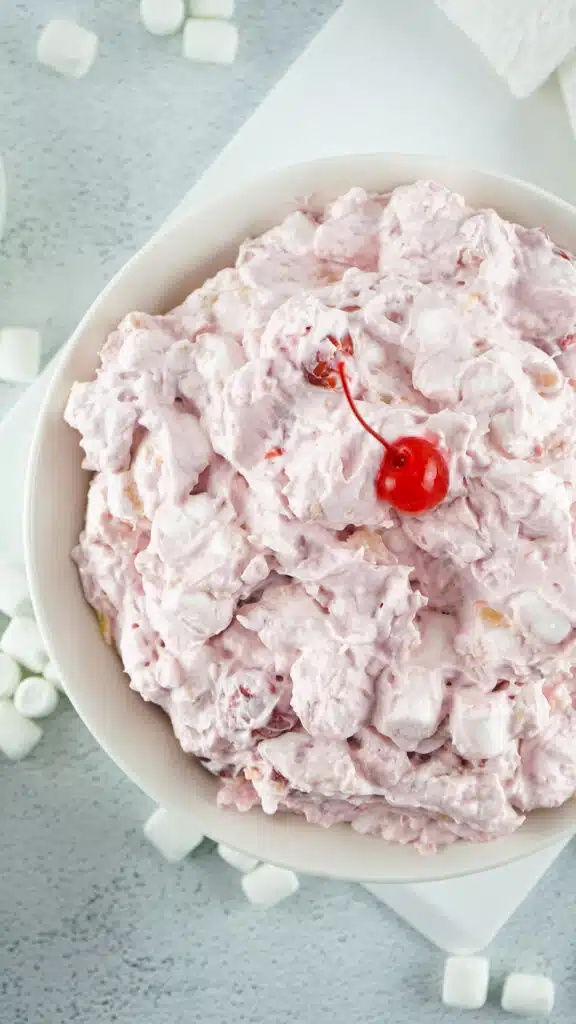 Cherry Fluff Recipe
Ingredients
1 Can Cherry Pie Filling (21 ounces)
1 Can Crushed Pineapple, drained (20 ounces)
1 8-oz. Tub Whipped Cream (such as Cool Whip)
7 Ounces Sweetened Condensed Milk
1 ½ Cups Mini Marshmallows
1 Cup Sweetened Shredded Coconut
Maraschino cherries (optional)
Directions
Combine all of the ingredients in a large mixing bowl. Start with the whipped cream first, followed by the cherry pie filling and then all of the other ingredients.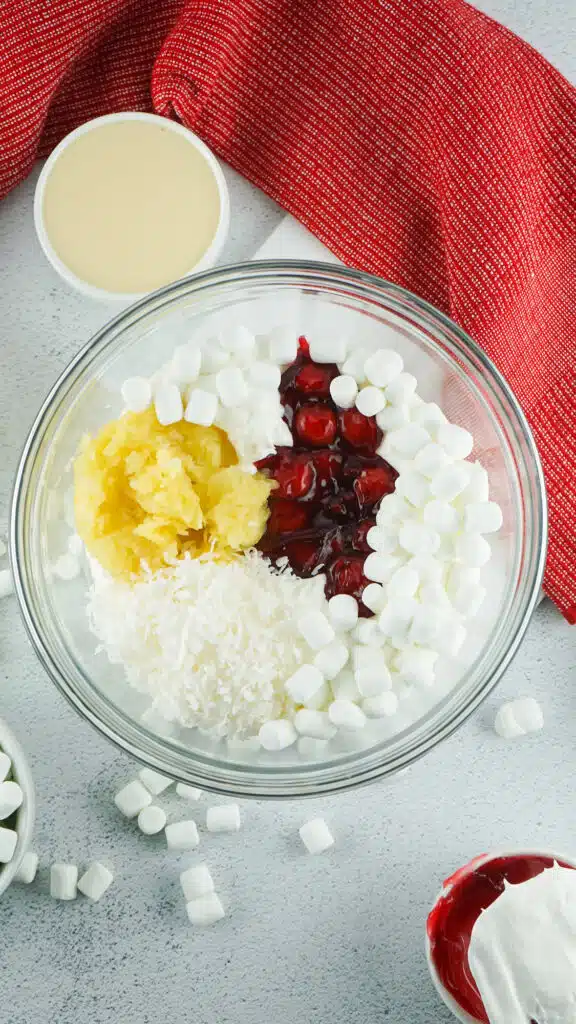 Mix together well.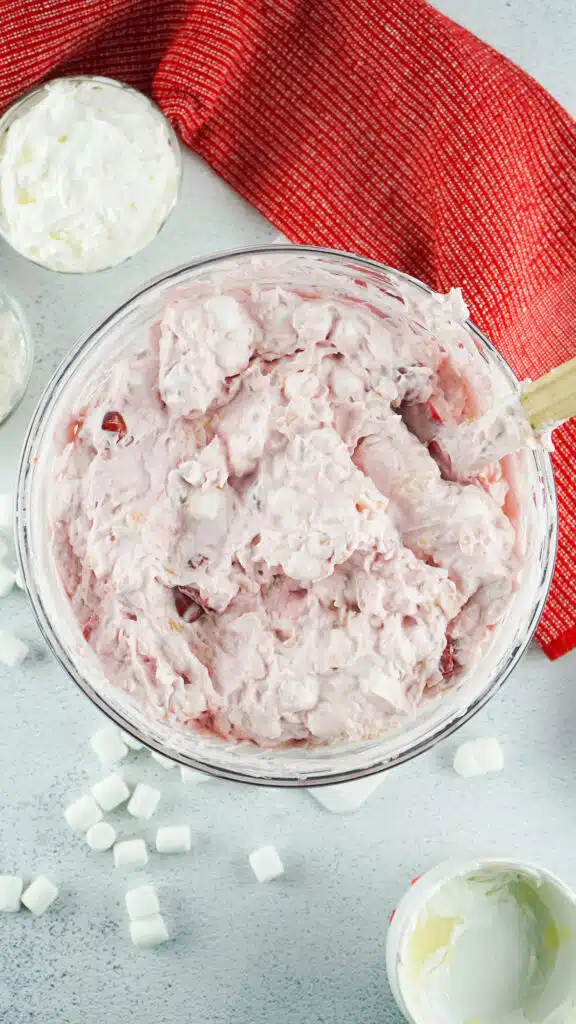 Top with a maraschino cherry, if desired.
You can serve this salad immediately, or cover and store in the fridge until it is ready to be served.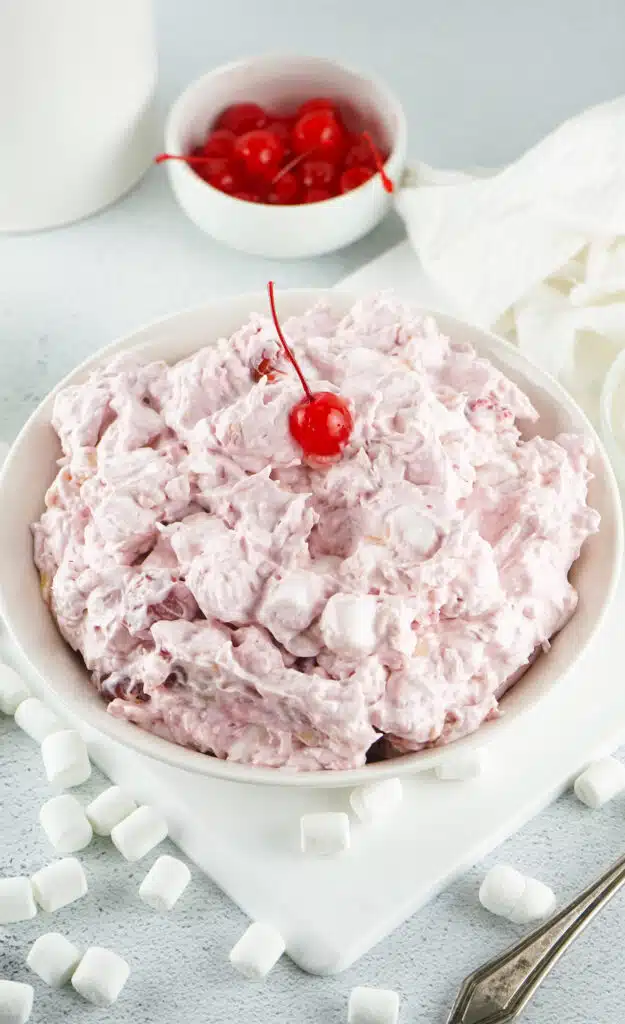 Helpful Tips
Variations on this classic recipe are to use maraschino cherries instead of pie filling. You could also add in chopped pecans, sour cream, cottage cheese, etc.
If not eating immediately, be sure to cover the pink fluff salad with plastic wrap or a lid when storing in the refrigerator so that it doesn't dry out. Store for up to a week.
Do not freeze this salad ahead of time.
When storing it in the fridge, you will want to stir it up before serving to distribute the moisture that has usually accumulated on the top.
After being stored a few days, the marshmallows will absorb the liquid and soften quite a bit. I actually like it when the marshmallows are more soggy!
Be sure to see all of our camping recipes for easy meals and dishes to enjoy while outdoors.