If you are camping near Petrified Forest National Park, the Petrified Forest KOA Journey Campground is the closest full service campground and is well worth the stay!
Located right off of I-40, the KOA is just 20 minutes from the National Park. With the heat of Arizona, it's nice to have air conditioning, water and some wind protection while staying just a short drive from the Petrified Forest. There is no campgrounds within the National Park, so this KOA is an excellent choice.
We chose to stay here on our way from the Grand Canyon, which is about 2 1/2 hours away. If you are traveling along I-40 and visiting National Park Service sites, this KOA Journey location is great.
Here's 33 must-know tips for traveling to Petrified Forest National Park.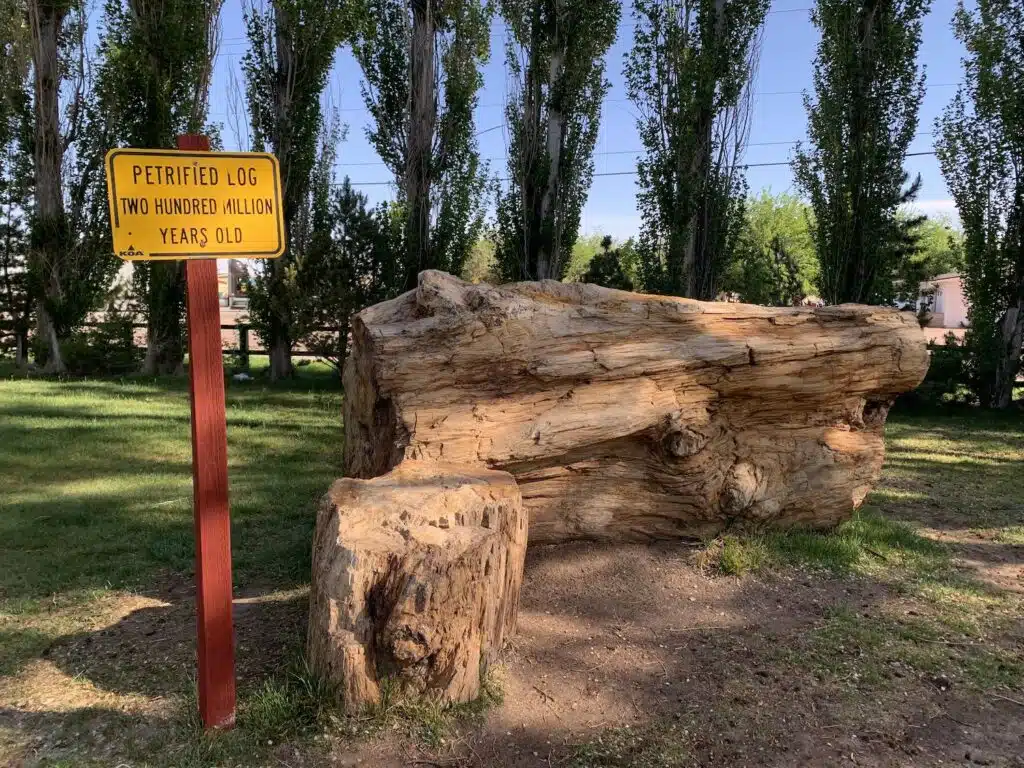 Petrified Forest KOA Journey Campground
Location: Holbrook, Arizona
Type: KOA Journey
Hook Ups: Water, Electric and Sewer available (not all sites have same amenities)
Number of Sites: 109 RV sites
When We Stayed: May 16-18, 2021
Our Site: #58
Rate: $61/night with taxes included
What We Liked About Petrified Forest KOA
First and foremost, we loved having air conditioning and full hook ups! With the heat (even in late May), we were finding boon docking not enjoyable.
The winds in the area are NO JOKE! Wow, they can be severe. And it's not enjoyable to have your windows open or screen door open for a breeze with the wind whipping around blowing sand everywhere. In fact, we tried keeping the screen door open for fresh breeze. However, the wind kept slamming the exterior door shut and the trailer was rocking. So I wouldn't want to have to rely on just the breeze in this area of Arizona to cool down the RV in those conditions.
We also really loved the outdoor patio area that was at our site. No campground we have ever stayed at has had a set up like that before!
They do have extra wide and extra long campsites that are available. Plus, there are sites with cable TV hook ups.
The bathhouse was very spacious and clean.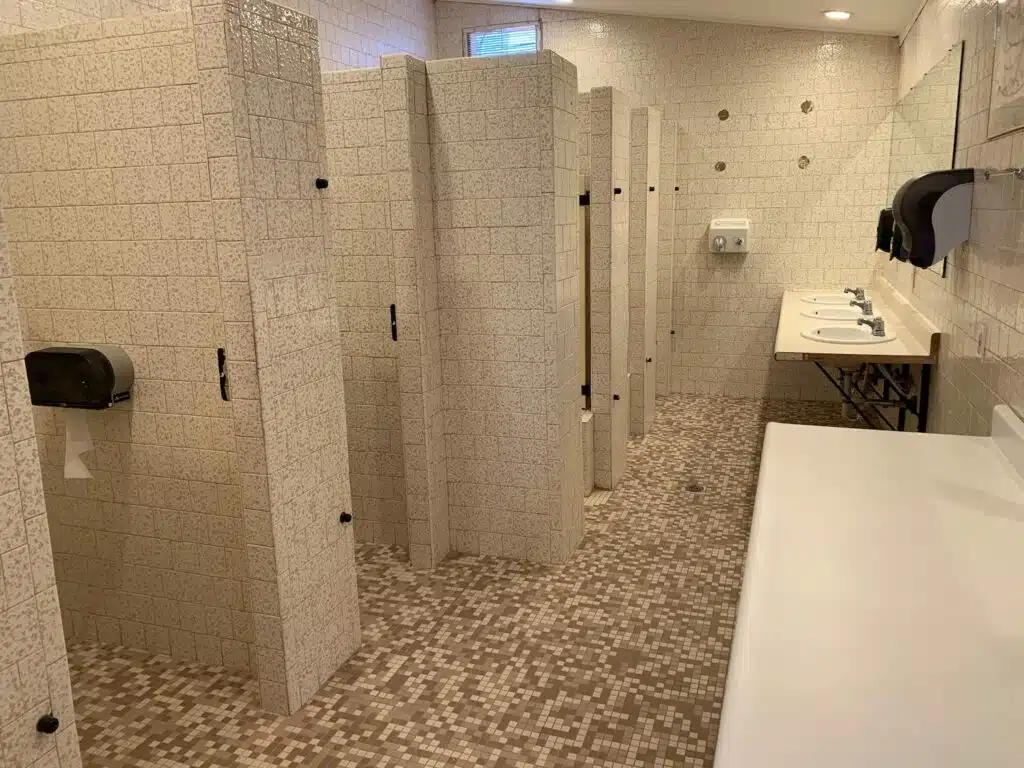 If you are camping with a pet, be sure to read the campground rules to see how to get a treat for your dog!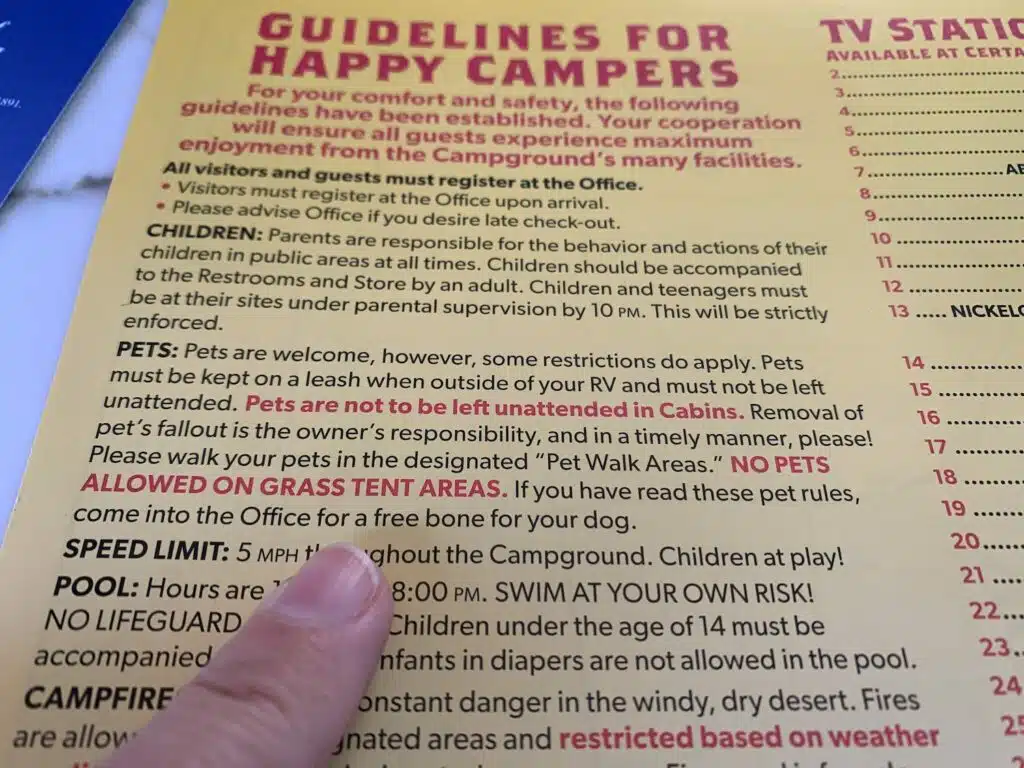 Helpful Tip! 50 to 30 amp adapters are NOT allowed at this campground!
Our Camp Site
We stayed in Campsite #58. This was a surprise as we didn't remember booking a patio site. But, wow, are we ever thankful we got this one!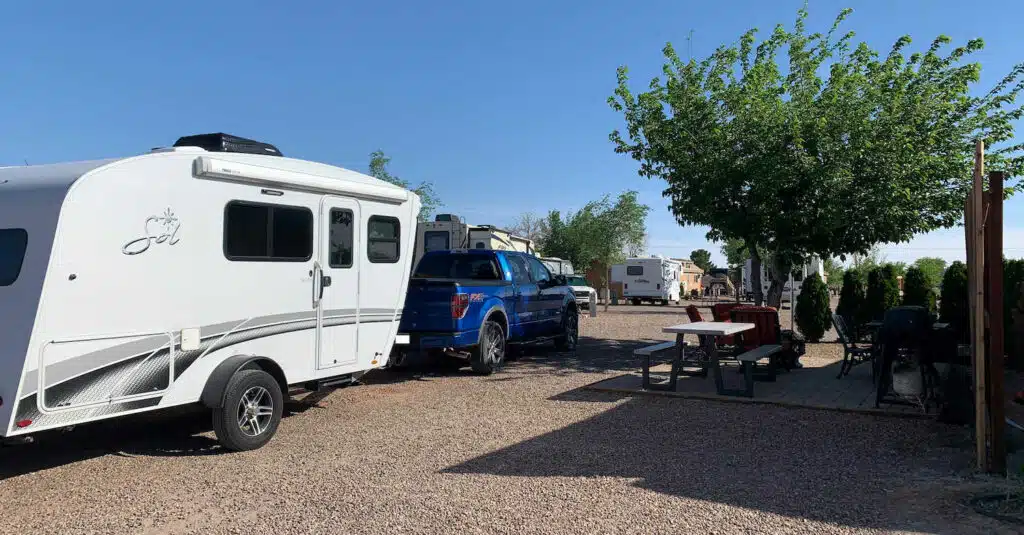 I really feel like we got one of the best sites. I don't think you can reserve specific sites at this KOA, but maybe you could ask for this one!
The Patio Site (different from the other category of sites) had patio furniture with cushions, a fire pit at the site, a BBQ grill with propane, and a picnic table.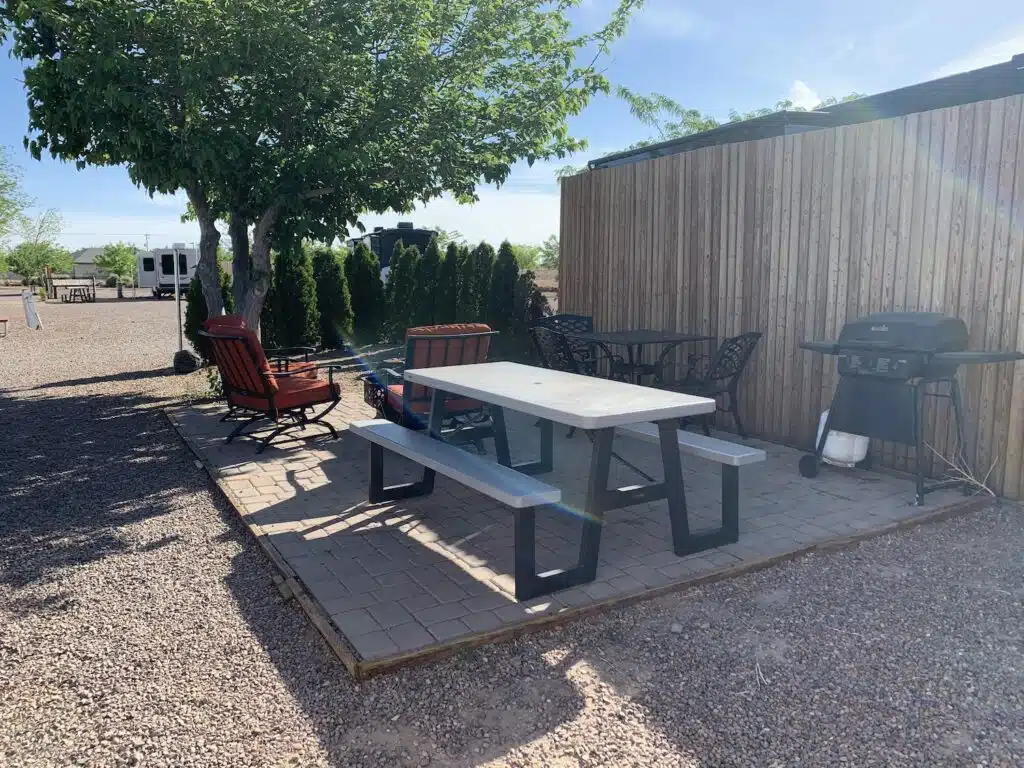 Most importantly, though, was that we had a wind break on either side and that's what we loved (and used) the most!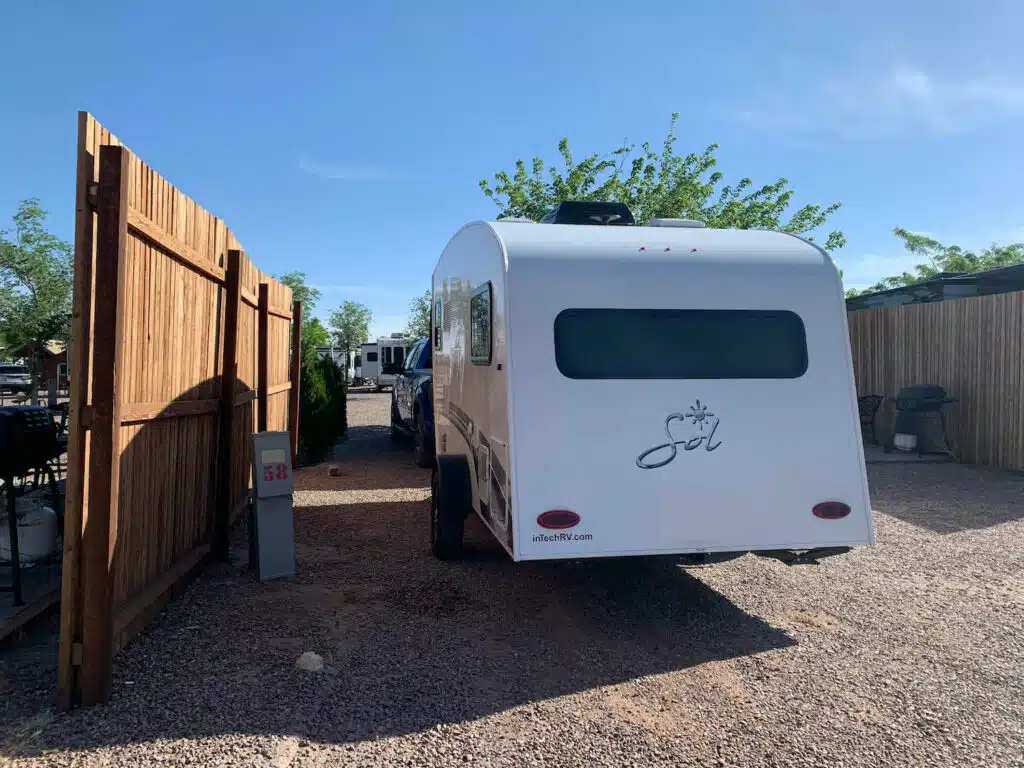 The site was a pull-through. It was plenty wide enough and long enough to accommodate large RVs, which were all around us.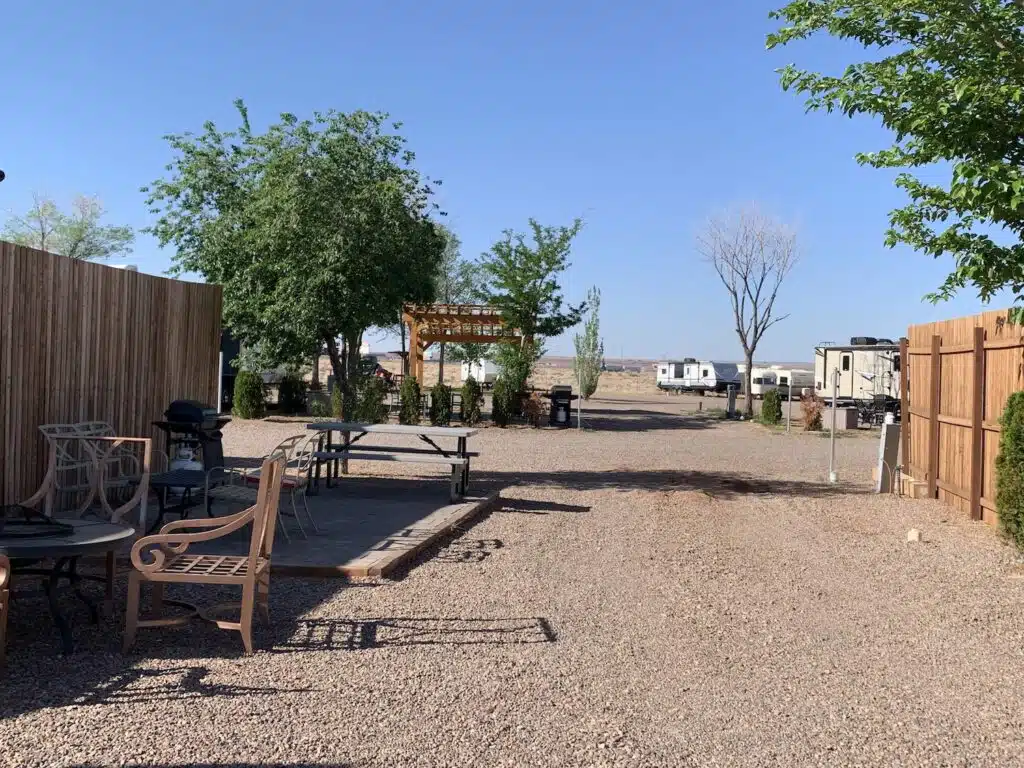 We found the campsite to be very level. We didn't need any leveling blocks.
The campground is definitely big-rig friendly. Most RVs there were large fifth wheels and travel trailers.
You can see even more of our campsite and the campground in our video review:
Recreation
As with KOAs, there was a lot of recreational activities in the campground.
This was one of the biggest playground areas we've seen in a KOA so far!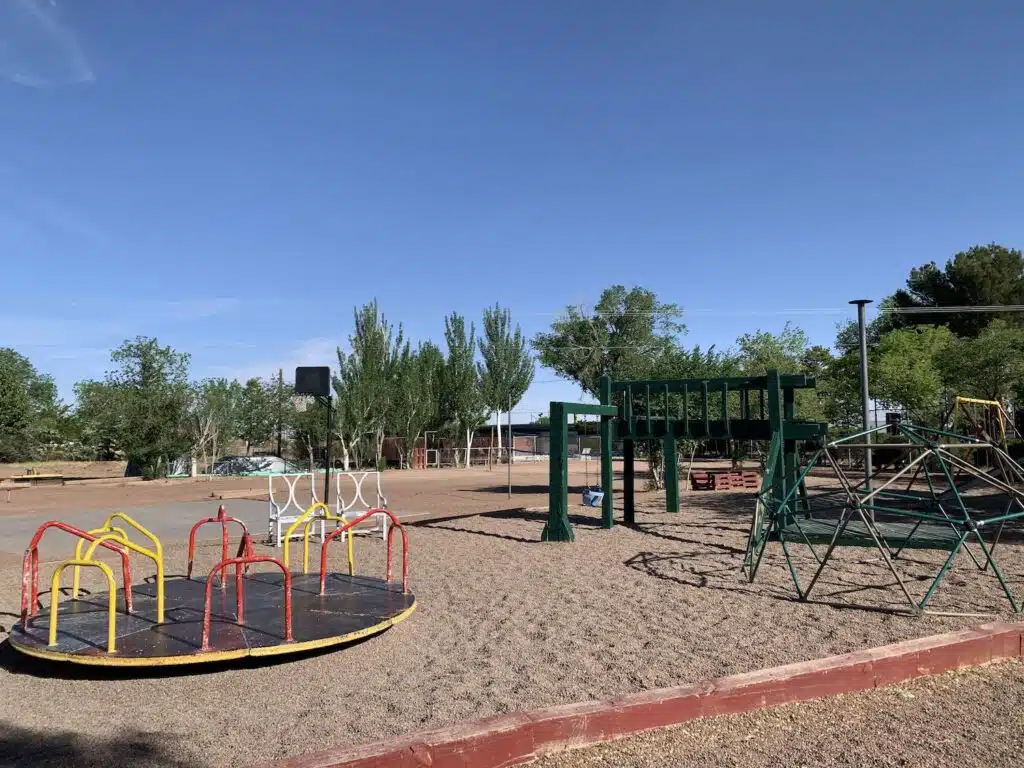 The piece of 200 million year old petrified wood is something very unique! If you don't go to the National Park, you can still see what petrified wood looks like and get your picture sitting on a piece of ancient forest.
There is a pool at the campground. There was a basketball hoop and volleyball net set up, as well.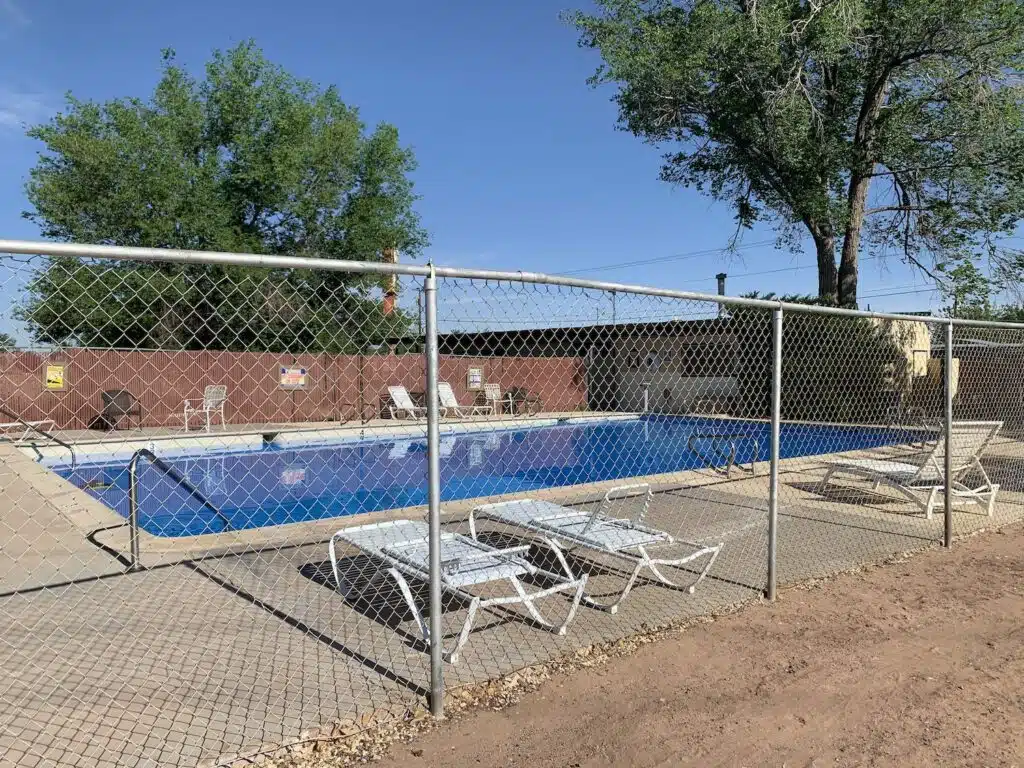 BBQs and Fire Pits are available through the office.
WiFi Coverage
We have Verizon, and the coverage was decent. We had between 2-4 bars LTE. We did not test the campgrounds Wifi as we were streaming on our own data plan.
What We Didn't Like
The winds! Wow, are the winds ever strong here!!!
This is just the nature of the area. In the morning, there is little wind and it's pleasant. But as the day gets warmer, the winds start becoming strong.
If you are in a campsite without a wind break, I would think it might be a little bit windier. But we don't know since we didn't camp in the general sites.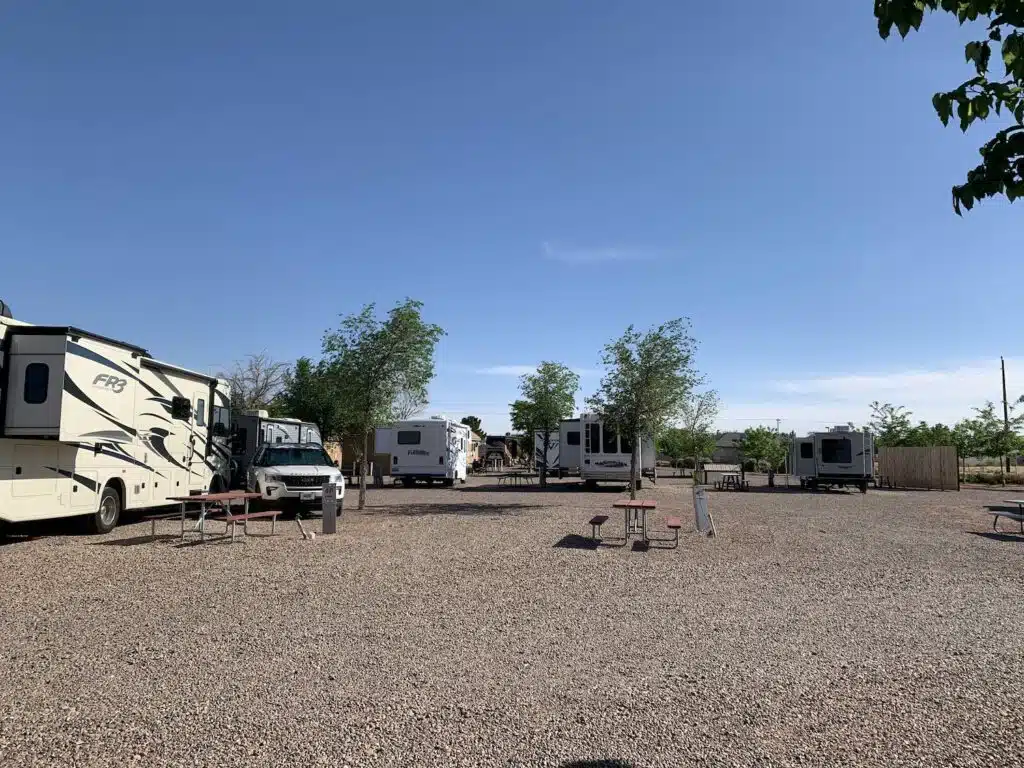 We did notice that some of the general sites on the end of each row have a wind break.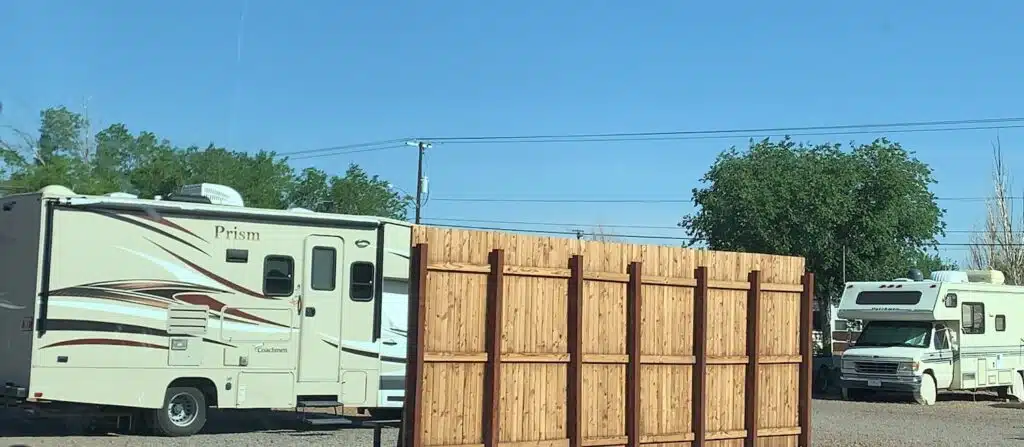 If we had a normal site, it wouldn't have been bad. But the sites are just gravel with hookups. Nothing fancy, for sure.
I felt bad for the tent campers, who must have been whipped around from the fierce winds in the evening. Add in the dust flying everywhere, and I'd think that tent camping would be rough. But then again, tent campers might be used to it in the environment around this area, unlike us.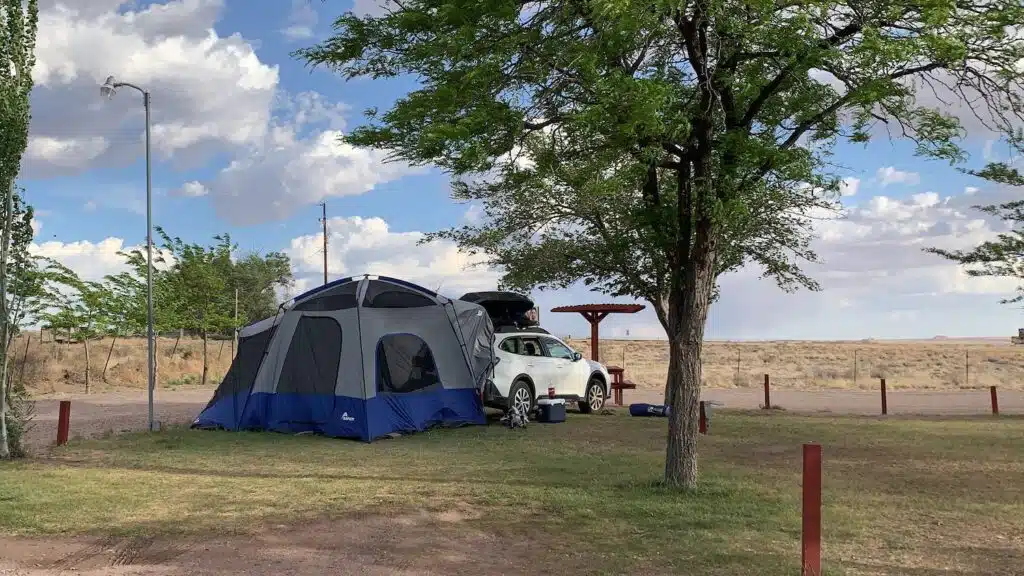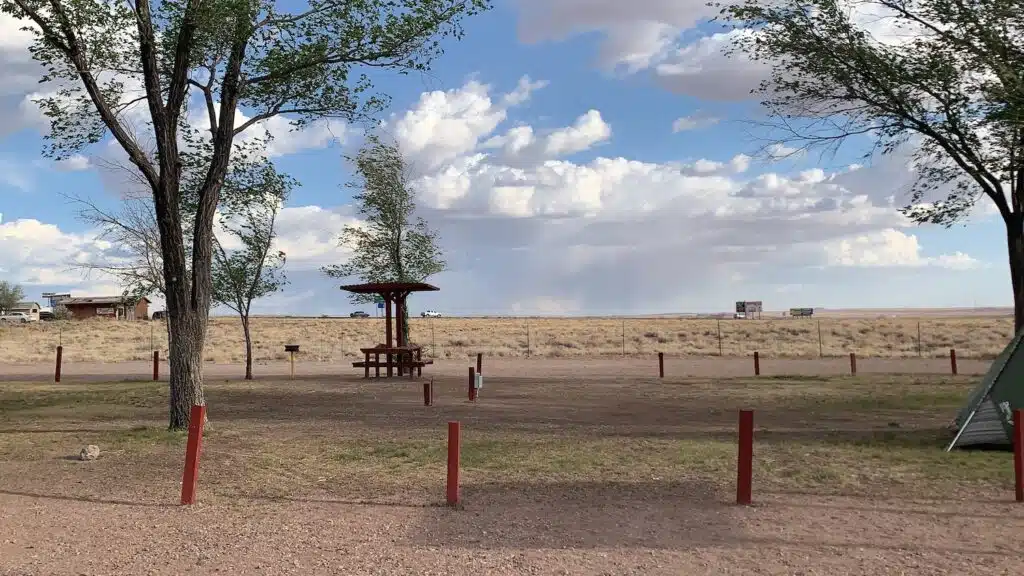 The campground is also located very close to I-40. Which is a good thing for ease of access. However, there is just a little bit of noise. Nothing that RVs would complain about, but tent campers might not enjoy the slight road noise.
Check out average campground costs across America in our planning guide.
What's Nearby
The Petrified Forest KOA Journey campground is located in the town of Holbrook, Arizona which has a lot to offer visitors. In fact, we were really surprised at how much was in the town we'd never heard of.
You can drive on the original Route 66 through Holbrook. Even if you're camping, be sure to check out the kitschy Wigwam Motel! And the world's longest map of Route 66.
There are plenty of Route 66 memorabilia shops in the town, as well as chain restaurants, local restaurants, hotels and gas stations. We especially recommend the Maverick gas station in Holbrook which has RV lanes and lots of room.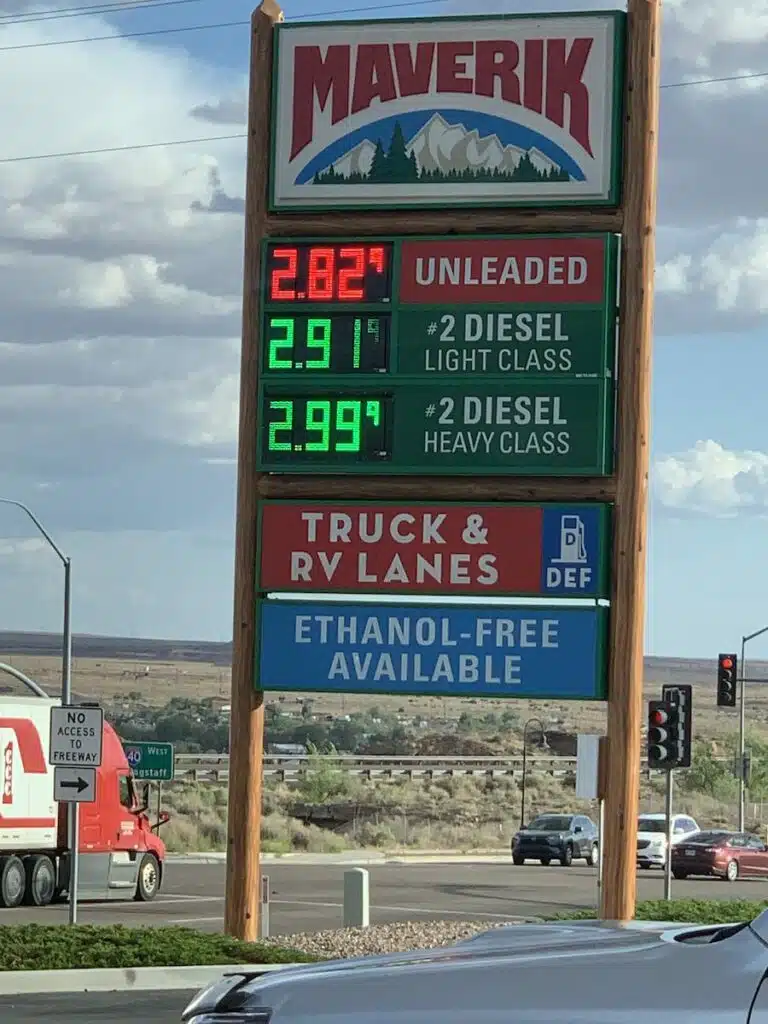 Canyon de Chelly is 1.5 hours away. Fort Apache is 1.5 hours away. The Grand Canyon is 2.5 hours away.
*Be sure to see all of our Campground Guides as you're planning your travels.